Now that I've had a baby I feel like I'm allowed to say the following: Sometimes I hate kids.
Don't get me wrong, I usually love kids. Their chubby little faces and adorable giggles are just too cute for words, but there's a time and a place for this cuteness and sometimes I don't want to be anywhere near it.
Sometimes I want peace and tranquility. I want to relax and not worry about swearing and not hear the shrill cries of little ones running around. One of the times I definitely want tranquility is on holiday, especially if I'm after a relaxing, sun soaked beach holiday.
That's why I'd like to tell you about the latest hotel to make it onto my travel wish list. It's a new hotel in Lanzarote from the Barcelo hotel group. Barcelo specialise in 'adult only hotels' and The Barcelo Teguise Beach looks like a gem in the Canary Islands.
I've stayed in a few child-free hotels and you notice the obvious lack of children but there's also a different atmosphere. I know it's stating the obvious but it just feels a bit more grown-up. It's classier, more stylish and often more luxurious. More emphasis is placed on quality food and wine and there won't be a chicken nugget or a sticky Fruit Shoot in sight. Health and wellbeing are important and the décor is impeccable with lots of elegant white walls and furnishings– after all, there are no grubby fingers to ruin anything.
This all seems to be true for The Barcelo Teguise Beach and that's why it's firmly on my travel wish list.
A lot of people seem to overlook the Canaries as a holiday destination. Maybe we're thinking of the cheap and cheerful package holidays of Tenerife but the Canary Islands are a great option for a relaxing break. Temperatures are warm all year round and flights from the UK are an absolute bargain!
Sorry, back to Barcelo Teguise Beach….
Barcelo Teguise Beach has recently been renovated and designed with an avant-garde style. It's minimalist, simple, stylish and oh so classy. They say a picture speaks a thousand words so I'll let the photos do the talking here…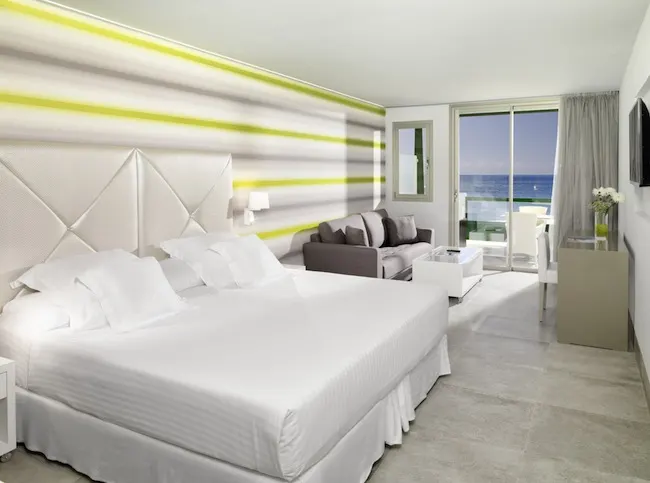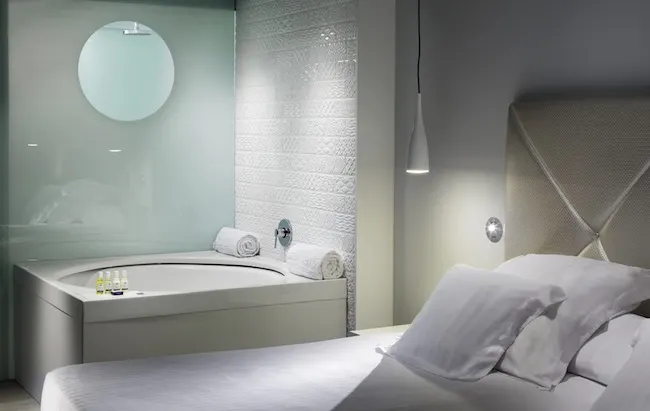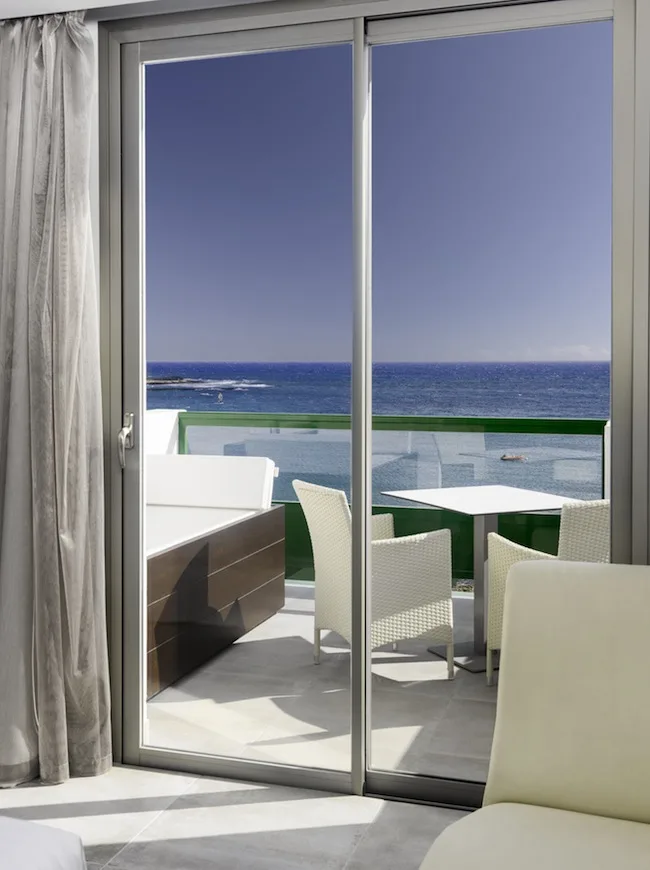 The hotel is located on the seafront with Balinese beds overlooking the Atlantic Ocean. This is the place to sit back and relax with a cocktail or two as you soak up the sun and those incredible views.
The hotel has a gorgeous wellness centre with massage and treatment rooms, a Turkish bath, sauna and 'sensation showers'. I'm not sure what sensation showers are but they sound sensational! And if you've never had a Turkish bath before you really need to give it a go. It leaves you feeling soft and smooth for weeks afterwards – the perfect compliment to sun kissed skin!
If all that relaxing is getting too much you can always explore the gorgeous island. Lanzarote is known as the 'Black Pearl of the Atlantic' and I think the island is totally underrated. You can go hiking through the volcanic national parks or go snorkeling and scuba diving in the clear sea. It's a pretty windy island so surfing and windsurfing are popular activities too.
If this sounds like your kind of holiday then you can find out more at Barcelo Teguise Beach.
What do you think about adult-only hotels? Are you a fan or do you think kids should be welcomed everywhere?
This post was brought to you in partnership with Barcelo Teguise Beach.