If you're trying to cut down on the amount of single use plastic you use then I can't recommend beeswax wraps enough. I've been using beeswax wraps for about six weeks now and my first reaction was, 'Why haven't we always used these!?'
What are beeswax wraps?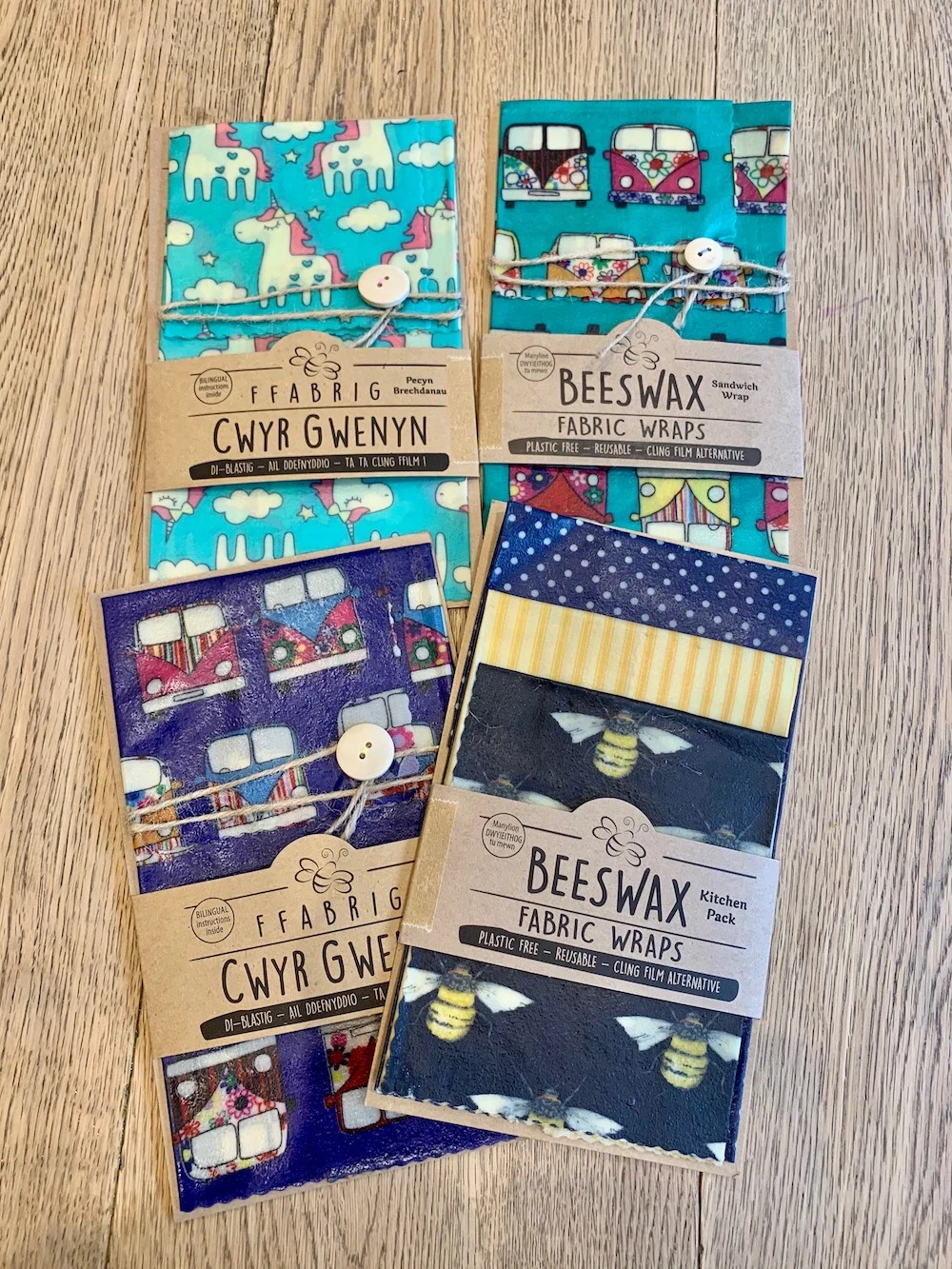 Beeswax wraps are simply cotton sheets infused with beeswax to create reusable food wraps. They're a lovely, colourful alternative to using single-use plastic or plastic tupperware to store your food.
Once the cotton is infused with beeswax, the wraps become tacky and mouldable so you can use them similarly to clingfilm. You wrap them around food or as an airtight cover over dishes to preserve food.
They are tough and strong so they won't tear like cling film tends to. And because the wraps are tacky, you can stick it together to create a seal – a little like you'd fold tinfoil onto itself.
I really want to stress the fact that they're 'tacky' but not sticky. They stick together and create a perfect airtight seal but you won't be left with any sticky residue on your hands, food or dishes.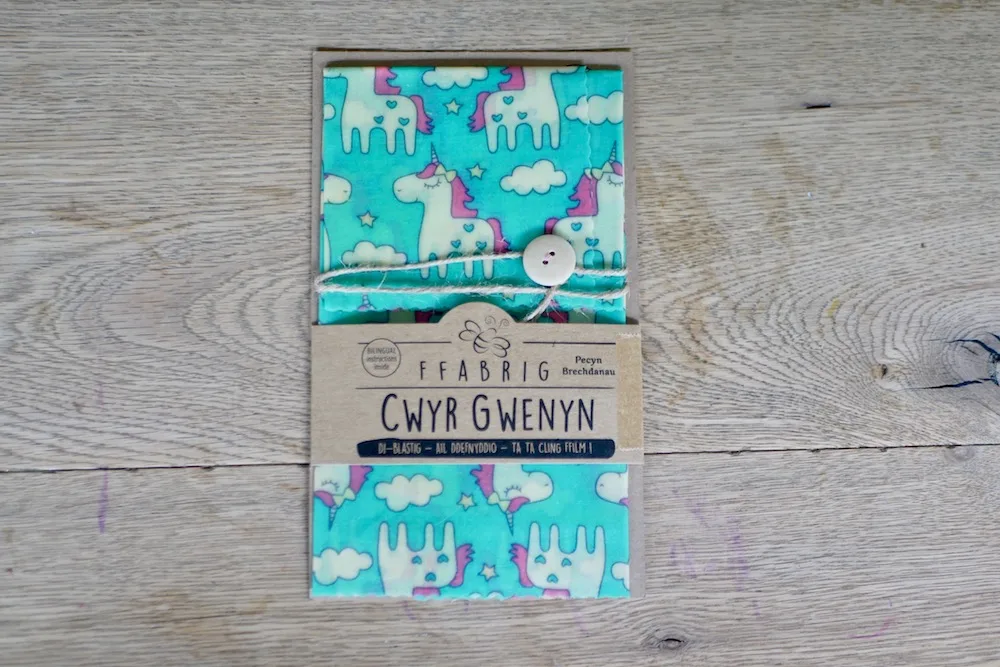 Why use beeswax wraps?
Beeswax wraps are a great alternative to clingfilm or plastic tupperware for loads of reasons:
They look so pretty! My fridge has never looked so colourful with all these gorgeous wraps covering my food.
You'll cut down on the amount of single use plastic you're sending to landfills.
They create an airtight seal around your food so it will last longer and have less food waste
You don't need to use plastic lunch boxes for picnics or lunch bags – which are fine when they're filled with sandwiches but take up unnecessary space once you've eaten your lunch! With a beeswax wrap you can just fold it up and put it away.
Beeswax wraps last about a year so you might actually even save money using them
They're clingier than clingfilm! (Does anyone else get really annoyed with cling film that isn't even very clingy!)
Kids love them in their lunchboxes
I love them in my lunchbox!
They're great for covering leftovers. I used to add leftovers to a plastic tub to store in the fridge but then this is just making even more washing up! Now I just cover the dish the food is in.
They're easy to wash and keep clean using cool water and a little bit of washing up liquid.
Beeswax Fabric Wraps review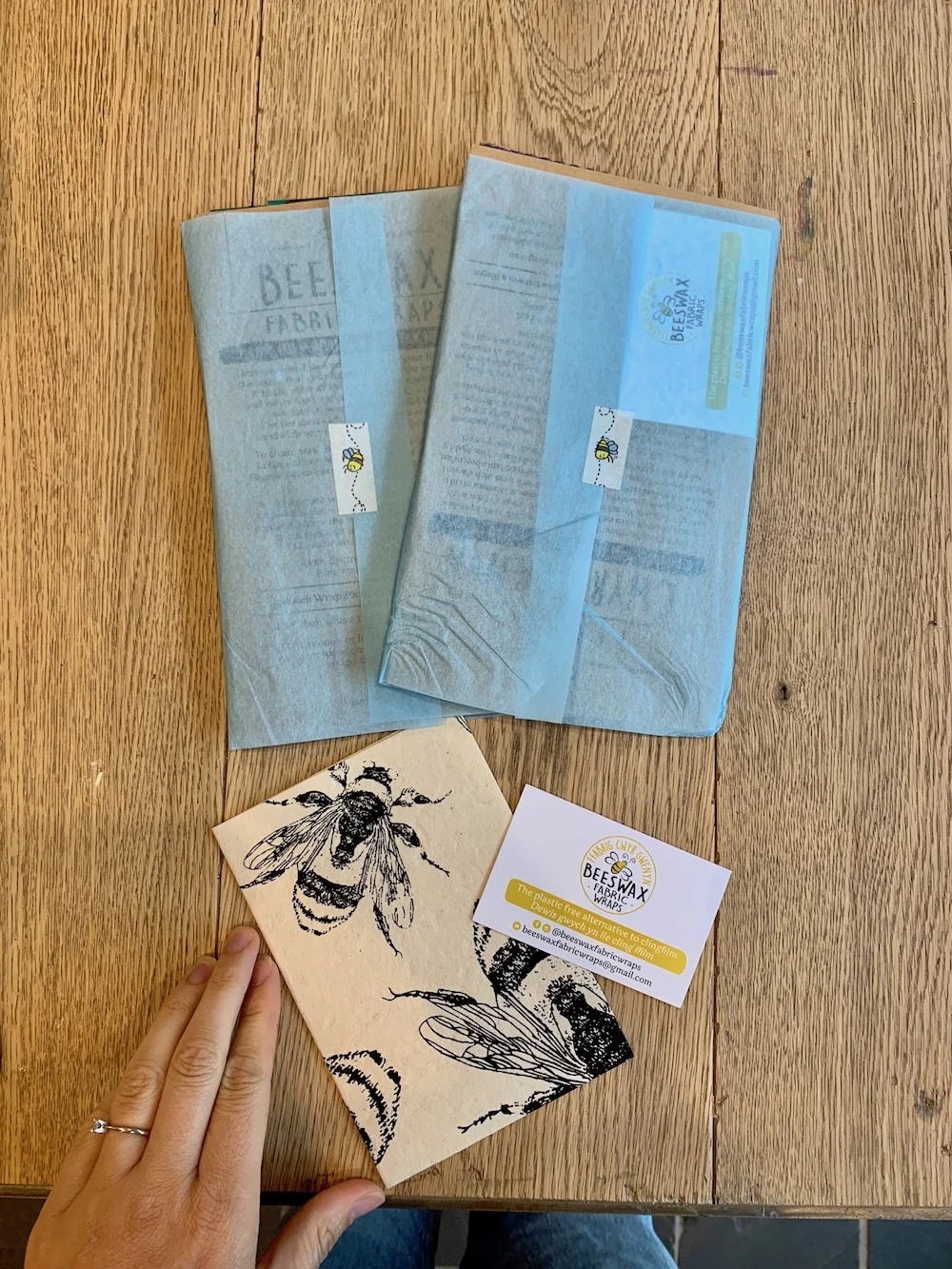 All of my beeswax wraps are from Beeswax Fabric Wraps which is a local lady based in Anglesey, North Wales. I love her designs and the wraps really are super sticky! I particularly like the sandwich wraps as they have a button and some string on them so you can make sure they stay closed and neatly folded all day. To be honest, they don't actually come unstuck anyway but they just look so cute all neatly wrapped up with a string and a pretty button!
Whenever possible I do like to support local businesses and Sally seems so lovely and enthusiastic about her amazing product. She's also managed to get her wraps on this years I'm a Celebrity and you may spot the contestants using her wraps for their food!
She also has some DIY kits to make your own beeswax wraps and I have one of these that I'm really excited to do. (I'm just waiting for a few hours when Alba isn't around!)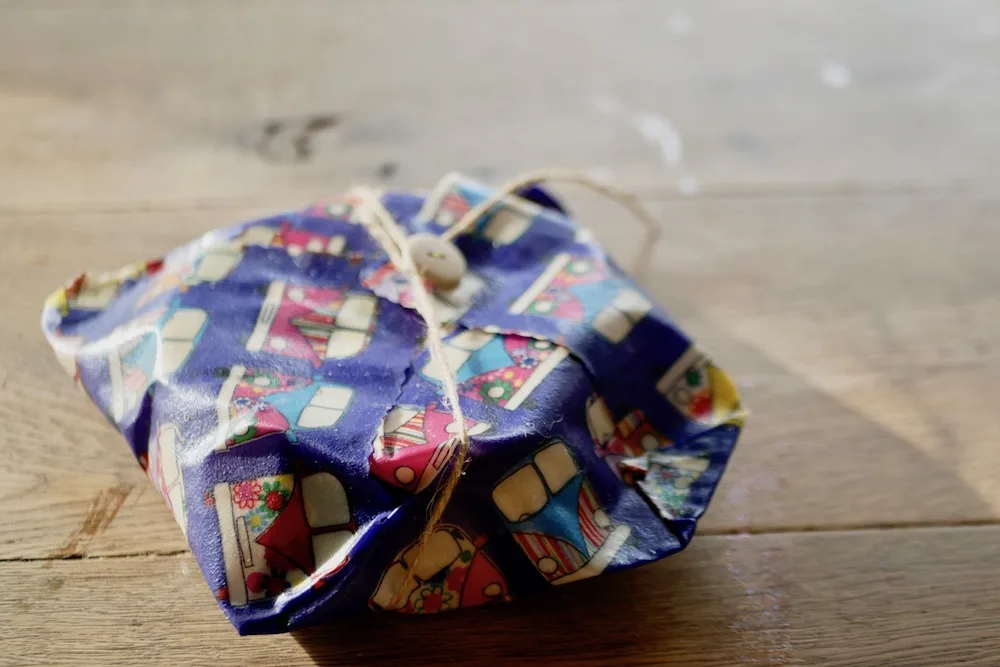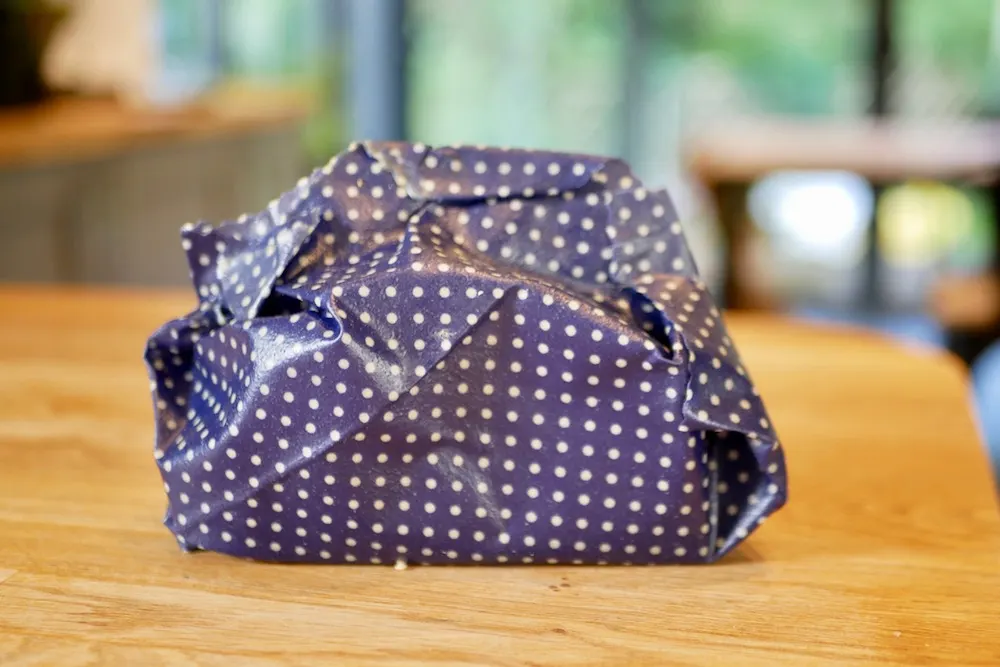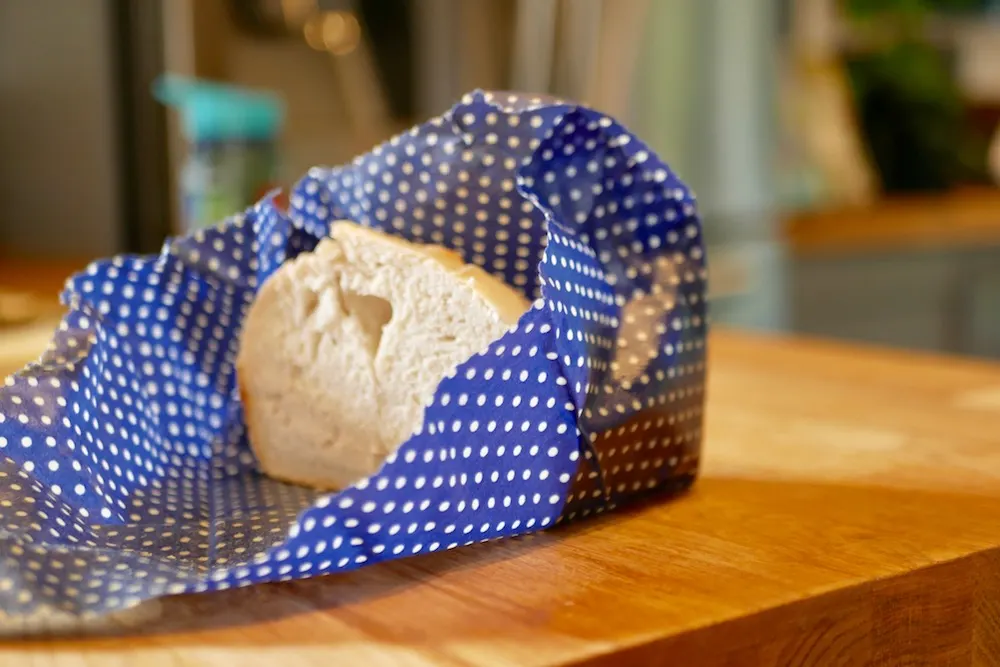 How to clean beeswax wraps
Beeswax wraps are so easy to clean. Just use cold water and a mild detergent and wipe clean with a damp cloth or sponge.
To be honest, I quickly wash mine in the normal warm water I'm doing the washing up in and they're fine but it's important to not use hot water because you may melt the wax.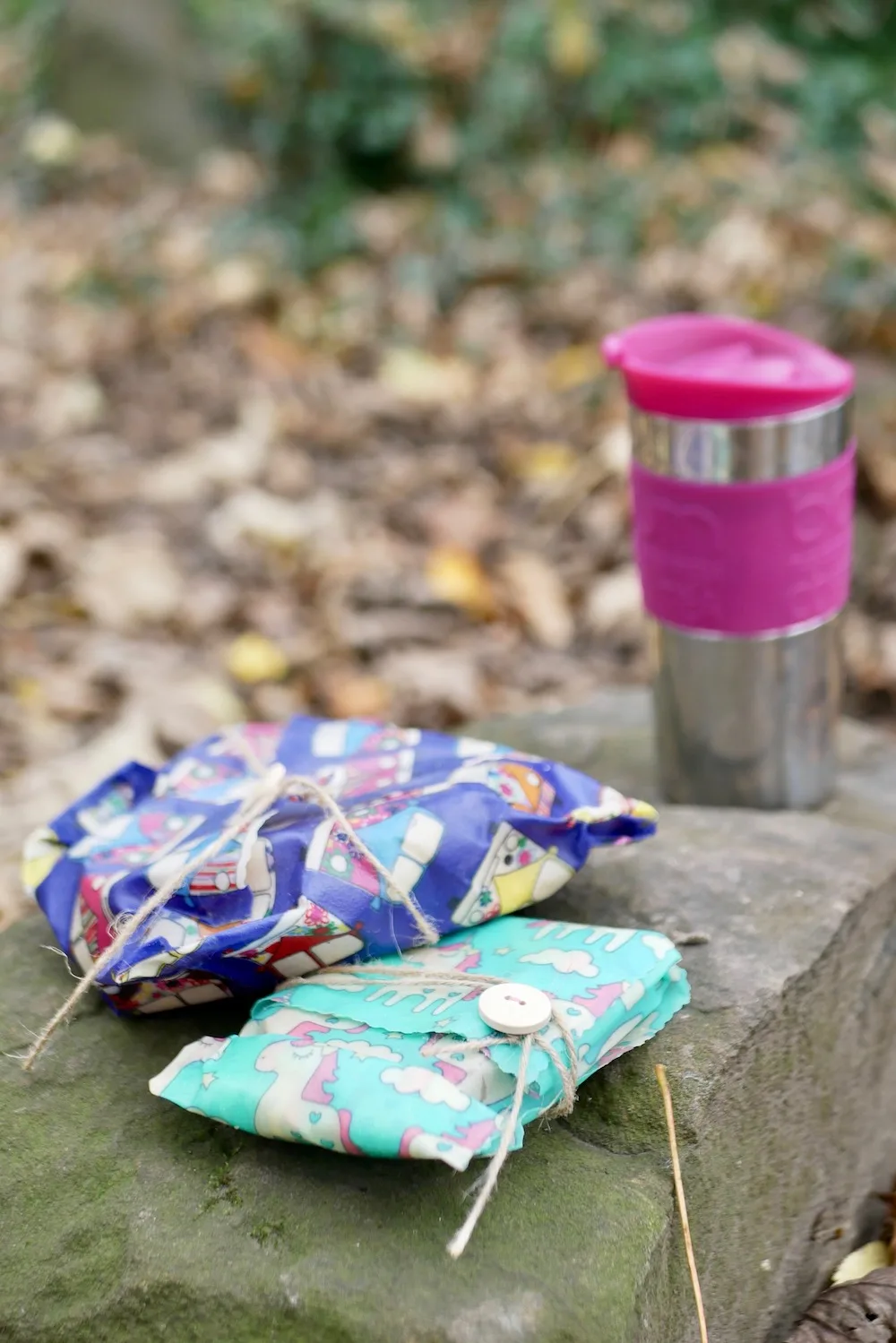 What to do if your wrap loses its stickiness
A few people have messaged me on Instagram saying they love the idea of reusable wraps but they've found that they quickly lose their stickiness. I haven't found this with my wraps at all. They're still super sticky.
If I've just had biscuits or sandwiches or anything dry in my wraps then I don't scrub them clean. I'll just give them a quick rinse or even just brush the crumbs off them. It's only when I've used them to cover things like dinner leftovers or stinky cheese that I give them a proper clean.
But if your wrap is losing its stickiness then you can simply pop it in a low temperature oven to re-melt the wax and your wrap will be good to go again! Make sure you put the wrap on some greaseproof paper, pop it on a baking tray and keep a close eye on it for when the wax melts.
Sally from Beeswax Fabric Wraps has more information about refreshing your beeswax wraps here.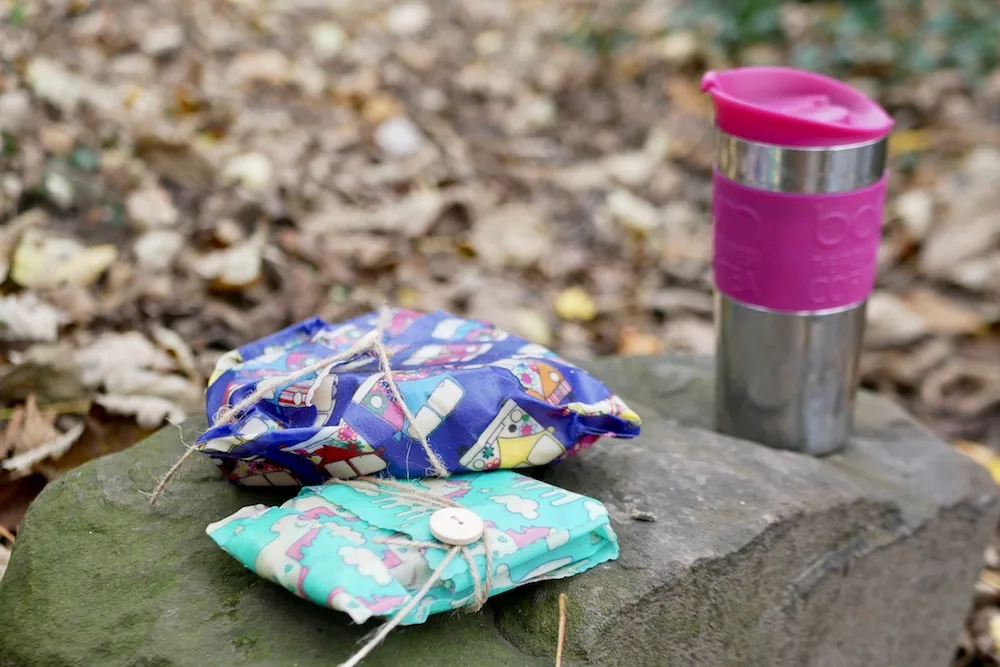 Read more about my ideas and blog posts about cutting back on single use plastic.
A month without plastic: How did I get on?
How to reduce your plastic use while travelling
Simple, sustainable ways to help the environment and your wallet
Getting started with natural beauty products and homemade facial oils
Pin this for later ->