This post is sponsored by Make Holidays Greener.
It's 2018 and I feel like most of us are getting pretty good at making environmentally conscious decisions and reducing our plastic waste. I was brought up on the 'Reduce, Reuse, Recycle' message and, while I'm at home, it's second nature to do everything I can to avoid wastage – whether that's water, electricity, food or packaging. However, while travelling it can be a different story. This is why I am taking part in Make Holidays Greener again this year and sharing my travel tips to help you find alternative ways to reduce the amount of plastic on holiday. Follow my updates #MHG18.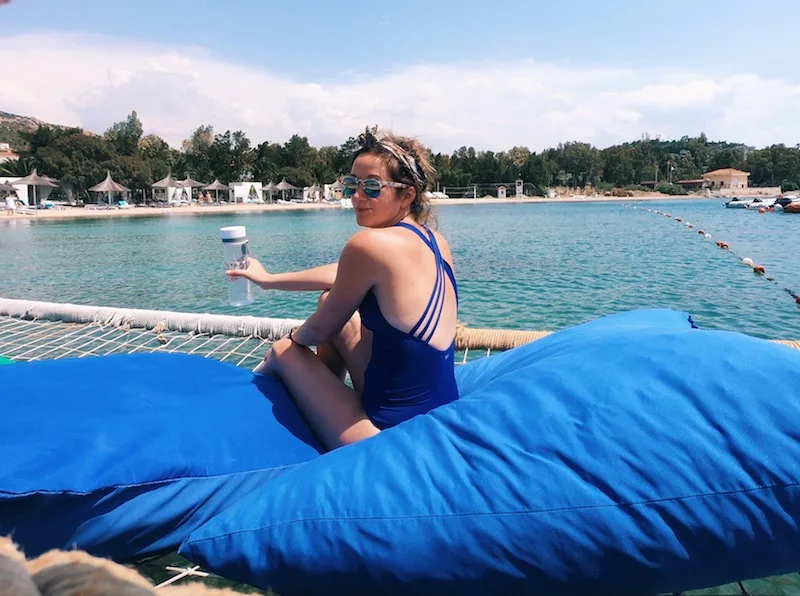 Plastic bottles, plastic packaging, plastic bags are everywhere. I especially notice it when I'm travelling with my family because we can end up with so much plastic rubbish we just have to throw away. We make impulse purchases and buy single use plastics like water bottles and pre-packaged items that can be handy when you're travelling but such a waste.
According to The Guardian, a million plastic bottles are bought around the world every minute? Every single minute.
It's estimated that by 2021, the world will use 583.3 billion plastic bottles and, according to National Geographic, 91% of plastic isn't recycled.
That's crazy. It's mostly crazy because so much of this can be so easily avoided by making just a few small lifestyle changes at home and on holiday.
Last year I wrote a post about ABTA's annual campaign, Make Holidays Greener in partnership with Travelife. Once again, they're asking people to make simple pledges during their next trip to make holidays greener and take positive social and environmental actions while travelling. If you'd like to see which pledges myself and The Travel Hack Team took last year, you can read them here.
How to win a GoPro
Once again, you can make a pledge to make your holidays greener on the Make Holidays Greener site. When you make your pledge, you'll be entered into a prize draw to win a GoPro with waterproof casing. GoPro's are my favourite travel cameras for capturing those fun, candid and adventurous travel moments and all the pics in this post have been taken on a GoPro!
Make Holidays Greener have 15 pledges on their site, like buying local souvenirs, eating and drinking local, choosing a Travelife Hotel (which follow standards to reduce the amount of plastics used) or taking part in a beach clean. Head on over to their site, select your pledge and you'll be entered to win the GoPro!
Enter the competition here and make your pledge to make your holidays greener.
How to reduce your plastic waste while travelling
This year, the Make Holidays Greener campaign is really focusing on reducing plastic waste by encouraging holidaymakers to find alternative ways to where they can. I'm so pleased because it's something I feel really passionate about – and that's mostly because it's SO easy to reduce the amount of plastic we use!
I'm not perfect but these are the things I do to reduce the amount of plastic I use while I travel.
Invest in good quality refillable miniature bottles
Even if you're travelling for two weeks, there's usually no need to take a massive bottle of shampoo or other toiletries. It takes up space and extra weight in your case so it's easier to take miniature bottles. But how many of us actually refill our miniature bottles versus buying new ones at the airport?
I've recently invested in some really good quality refillable travel miniature bottles and they're the best. They have wide necks so they're easy to refill and they're super squishy so you can squeeze them and get those last blobs of conditioner out of the corners. They also came with nice sticky labels so you know what's in them and I know I'll be using these for years to come.
Always carry a canvas tote
This one can take a while to turn into a habit (especially for men who don't already have a handbag) but we have to start getting used to carry a canvas tote everywhere we go. Yes, even when you're not planning to go to a shop and buy anything! I rarely go out with the intention of buying something but if I spot something I love, I'm definitely going to buy it! And if I'm out and about without a tote bag, I'll have to pay for a plastic bag and that is adding to more plastic waste.
Get yourself a re-useable bottle that suits your needs
I'm sure we all have a few reusable bottles lurking around at home, but if you find you're not using yours, try looking for one that really suits your needs so you actually want to take it with you everywhere! i.e. Do you like icy cold drinks? Then get a stainless steel one with a wide neck – big enough to pop ice cubes inside. Ordo you hate carrying an empty bottle around with you? Then get a collapsible bottle so you can roll it up and tuck it away when you've finished. There are so many reusable bottle options these days, it's really easy to say "no" to single use plastic bottles.
Ask your hotel if they can refill your water with filtered water
If you're unsure about drinking tap water, ask your hotel if they filter water and if they could refill your water bottle for you. To make the water even tastier, pick up some lemons, limes or strawberries and add them to your water to give it a healthy, fruity flavour.
Try to shop at markets and avoid packaged food
Now this is an easy one because it's much more fun. I love going to food markets while I'm away. It's a great way to get a glimpse into local life and see all the different produce on offer, but it also means you'll be buying less food that comes wrapped up in plastic. Buying things like freshly baked bread, freshly prepared sandwiches or loose fruit and veg means you usually get a better produce AND use less plastic.
Though the Make Holidays Greener campaign, as well as pledging 'say no to plastic' you can also pledge to eat local and drink local or to buy locally made souvenirs. Indirectly, by making these pledges you could also be reducing the amount of plastic you consume on holiday.
Bring your own Tupperware
I do this while I'm travelling with the kids because we usually make picnics for lunch times (kids menus in restaurants are usually just chicken nuggets and chips or sausage and chips and that gets boring very quickly!) so we bring our own lunchboxes to avoid wrapping everything up in plastic. And the extra bonus here is that it's cheaper and healthier too and you can find a perfect picnic spot rather than squishing into a tiny café and trying to get your kids to sit still for an hour.
So go ahead and make a pledge to "say no to plastic" on holiday this summer.
If you make a pledge, don't for get to tell your friends and use the hashtag #MHG18.
This post was sponsored by Make Holidays Greener.