I don't know about you but I'm often overwhelmed by the amount of travel blogs floating around the blogosphere.
There are loads of blogs I love to read but they get lost in the epic mass of boring updates and pointless posts. My Twitter feed is a never-ending stream of 'new posts' and 'latest reads' and my Facebook is filled with sponsored ads and ice bucket challenges.
Surely there's a simple way to read blogs and keep up to date with your favourites without missing their latest posts?
Here are some of my favourite ways to keep up-to-date with blogs and how following and sharing blogs can help grow your social media following.
How other blogs can help grow your Facebook and Twitter following
As a freelancer, one of the main things I do is social media consultation with bloggers and brands. The first question I'm always asked is how they can grow their social media following.
Here's what I always say:
Share valuable content – People will follow you if you're regularly sharing content they find interesting and valuable. Become an expert and give people a reason to follow you.
Share sharable content – The best way to organically grow your following is by getting retweets, shares and comments. Share things that are valuable or entertaining to encourage other people to share too.
Share regularly – There's a fine line between spamming and being active on social media but if you're sharing the right content then the more active you are, the more followers you will have. If you don't have time to sit on Twitter and Facebook all day, look into scheduling things via Tweetdeck, Hootsuite and Facebook.
Share the love – Don't just share your own content. Share from blogs of all niches, from websites, news sites, anywhere really.
It's usually around about now that most of my clients are starting to panic. Argh, where are we going to find all this amazing content to share? We only have so much of our own content, it'll take all day to find valuable content from the rest of the web and we don't have the time for that!
It's OK, don't panic. There are easy ways to read your fave blogs!
How to keep up to date with your favourite blogs
Feedly
My favourite tool for reading blogs is Feedly.com. It's really worth spending some time on this to get it set up exactly how you like. I have about 500 blogs in my Feedly and I have them split into different categories. (The rest of my life isn't this organized so I have no idea how I've managed it with my Feedly!)
My categorize are things like travel blogs, fashion blogs, food blogs, blogs about blogging, news, London blogs, friend's blogs. You get the idea!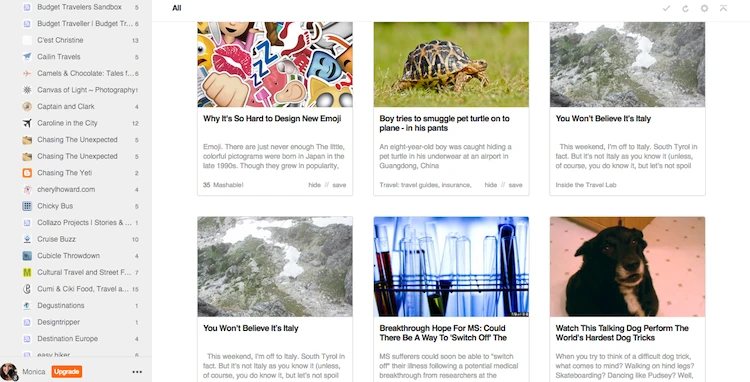 ---
Bloglovin'
My second favourite tool is Bloglovin' and I like this because it suggests new blogs based on the ones you already follow. You can also organize your blogs into categorize and mark off the ones you've read. The Bloglovin' app is great for when you're on the go or to lazily scroll through before you get up in the morning.
Top Tip: If you want a quick cheat, go onto the profiles of active Bloglovin' users and check out who they're following and follow the same. Here's who I follow.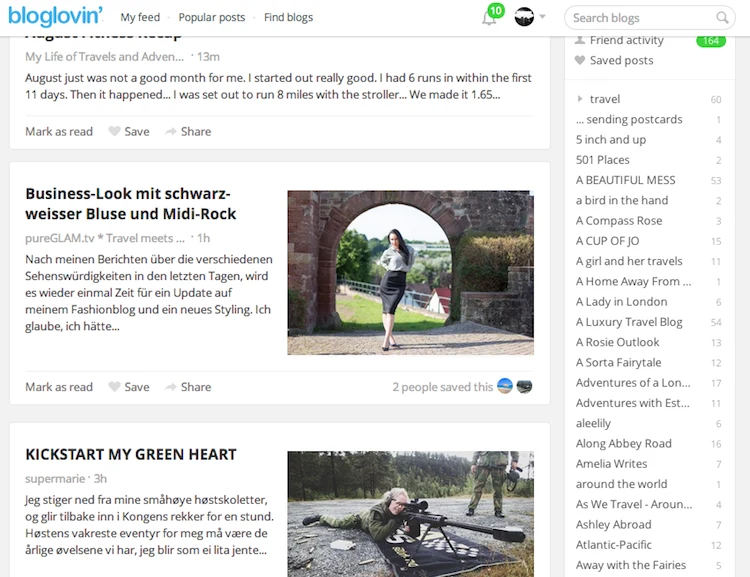 ---
Twitter Lists
I'm surprised more people don't take advantage of Twitter lists. I organize the people I follow on Twitter into different lists (similar to my Feedly categorize). I then use Tweetdeck to show those lists in streams. I currently have bout 20 streams showing different types of content. I follow nearly 4,000 people on Twitter so without some kind of organization it's just a mess and I can't keep up! I 'favourite' a lot of tweets if it's something I know I'll want to come back to and read properly.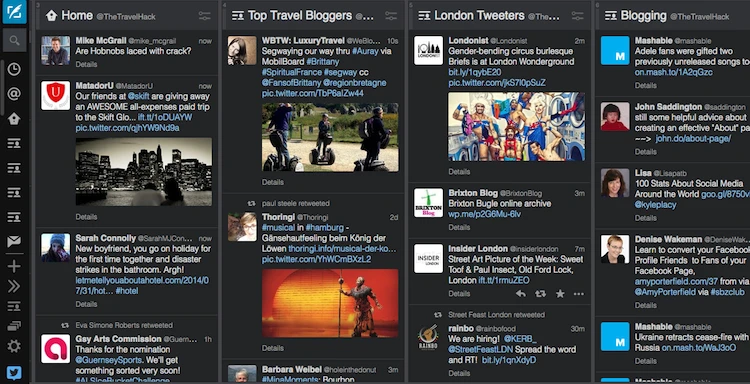 ---
Sign up for email updates
For my absolutely favourite blogs I sign up for email updates. I don't do this for many blogs because it can clog up your inbox but this is a fool proof way to make sure each blog post comes to you.
Do you have any more ways you like to keep up with your favourite travel blogs?