Here's my honest review from our family holiday to Tenerife and our Hard Rock Hotel Tenerife review with Jet2Holidays.
I was a little worried about writing my blog post about our family holiday to Tenerife with Jet2Holidays. The reason I was worried was because it was perfect. No, really. Everything. Every single little detail was perfect. And writing a review from such a perfect holiday is difficult because, I either won't do it justice and you won't see just how perfect it was, or it'll come across a phoney.
But, as a travel blogger, the best thing is when I go on a holiday that was absolutely perfect and I can wholeheartedly say to each and every person who reads this blog, 'That holiday was incredible and I 100% recommend it!' Whether you're travelling with your kids, as a couple or a group of friends, The Hard Rock Hotel in Tenerife is a beaut of a hotel for a luxurious but relaxed holiday. This is simple, laid back, friendly luxury – which is why it's perfect for families!
So let me tell you more about our family holiday to Tenerife with Jet2Holidays and my Hard Rock Hotel Tenerife review.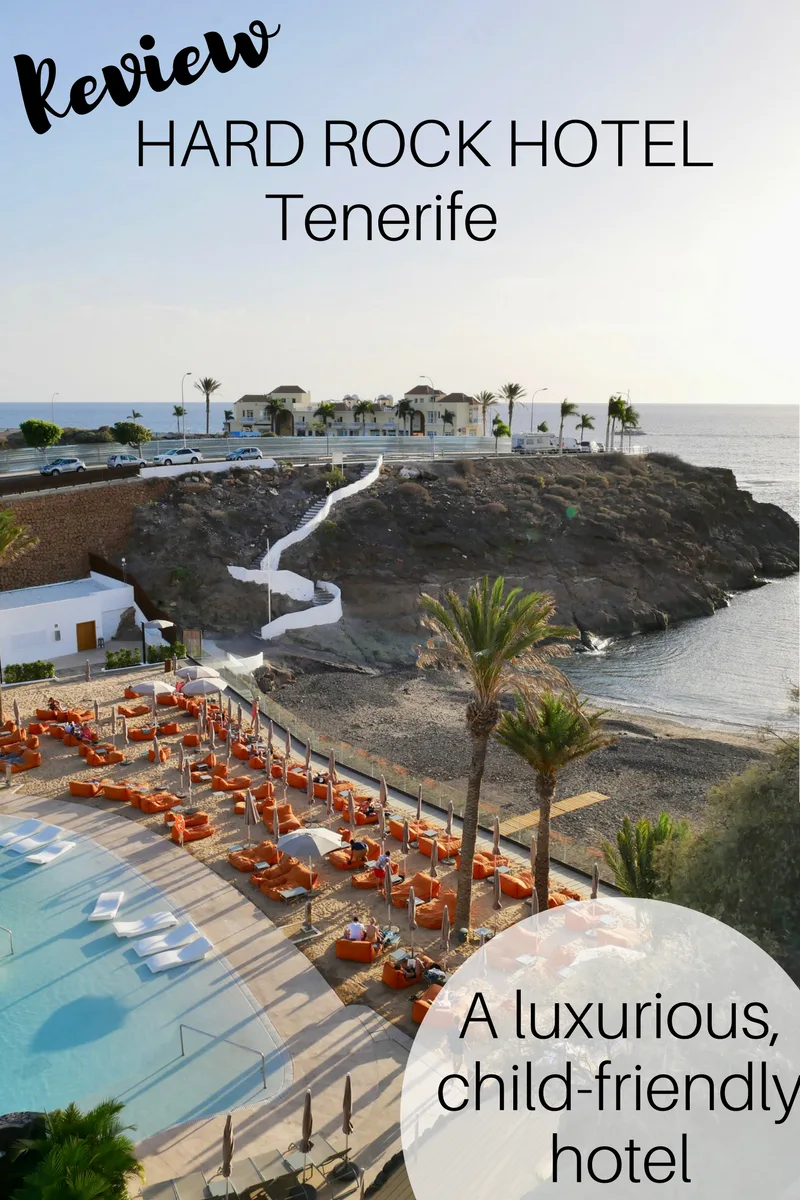 At the end of November, I travelled out to Tenerife with Sam and our two boys, George (2) and Joseph (1). We were really looking forward to our holiday but, I've got to admit, we weren't expecting to love it like we did. And oh my goodness, did we love it.
The flight to Tenerife was a little over four hours, a fairly easy flight with kids, especially with Jet2. I'd flown with Jet2 a few times before so I knew we'd have generous legroom, generous luggage allowance (22kg each!) and just generally an easy and friendly service. But this was my first holiday with Jet2Holidays and all I can really say is that it was easy. Booking was easy, the flights were easy, the staff were all lovely and, most importantly, the price was better than anything we could have got if we'd booked things separately! I was really impressed and will definitely be booking through them in the future.
We didn't use the Jet2Holidays transfers from the airport to the hotel as we'd booked a hire car from the airport because I knew we'd want to get out and explore the island but, actually, once we got to the hotel I didn't want to leave!
We were staying at The Hard Rock Hotel near Adeje in Tenerife. The main reason I chose the hotel was because during my last visit to Tenerife I'd met some people at the airport when I was flying home. They'd stayed at there and their Hard Rock Hotel Tenerife review was amazing and they were raving about it!
They told me stories about this glamorous resort that literally had everything you could possibly want or need. They told me about the three incredible swimming pools, their enormous suites, the 10 bars and restaurants, the friendly staff and the fun and welcoming atmosphere at the hotel.
When I got home I had a look at The Hard Rock Hotel Tenerife reviews online and had to admit that it looked nice but my immediate thought was that it wouldn't be child-friendly. A place like the Hard Rock had to be adults only, right?
Oh no, no, no, no.
This was the best thing about The Hard Rock Hotel, it was SO child-friendly. But it wasn't child friendly in a noisy, garish kind of way that you expect from family hotels. It was perfect for kids but kept the sophistication and style that parents are looking for.
I'm not going to lie, from a distance The Hard Rock Hotel Tenerife isn't exactly a beautiful building. In fact, it's a bit of an eye sore. But once you're inside you forget about those two towers and feel like you're stepped into a stylish little world that I can guarantee you won't want to leave.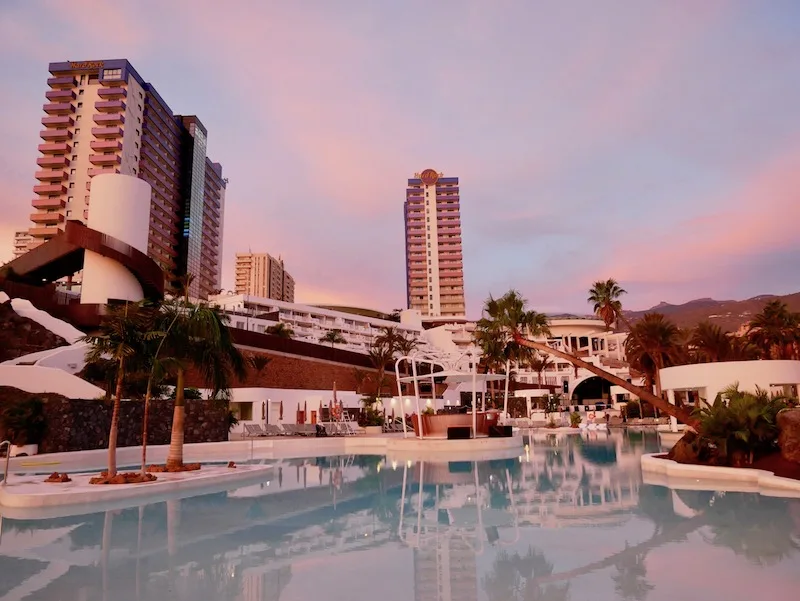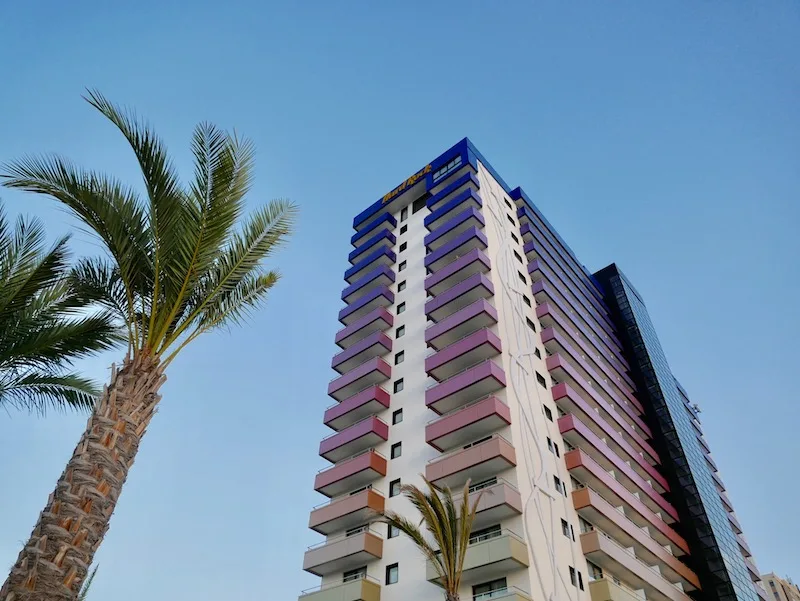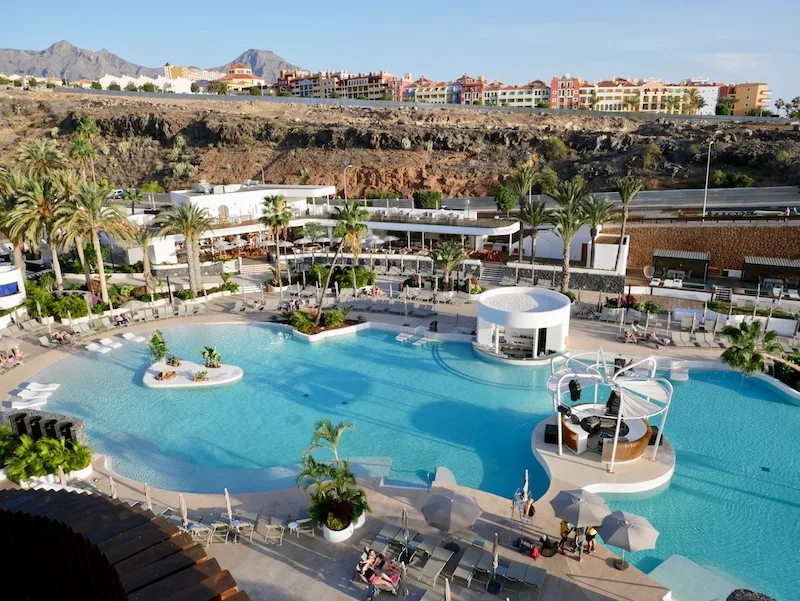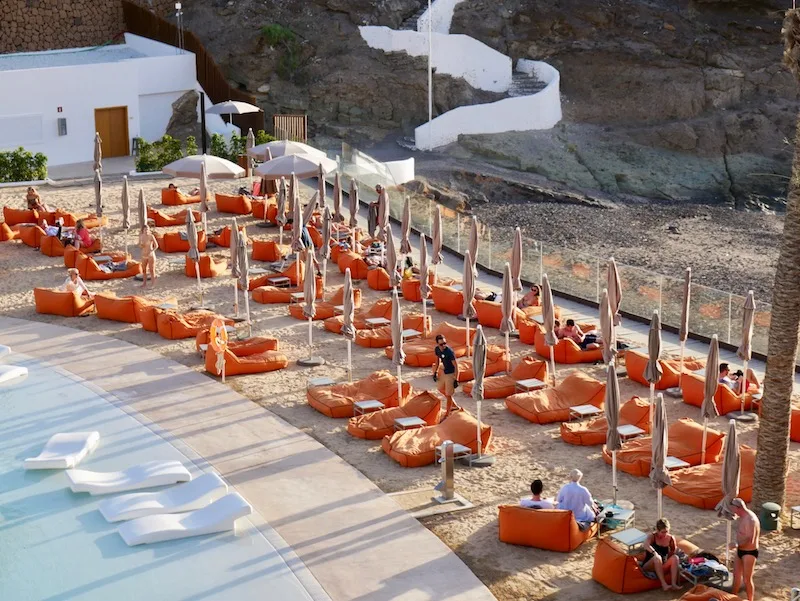 The child-friendliness of the hotel started with the doormen who playfully welcomed the boys with high-fives and jokes as they helped us out of the car and took the away to park it. The doormen looked like stylish hipsters with their braces and rolled up shirt sleeves that revealed colourful tattoos along their tanned arms. They sang along to the music playing outside the hotel and even got George dancing with them!
We arrived at our room, a Studio Suite Silver, to find balloons, activity books, mini cookies and plenty of space for us all. We were half tempted to just order room service and stay in the room for the rest of the day but we did manage to peel ourselves away and go to a restaurant. We chose the 3rd Half which is the hotel's sports bar and with its casual atmosphere and outdoor area it was perfect for an early dinner with two tired kids and two exhausted parents.
Thankfully, the lovely staff kept the boys busy with toy diggers while Sam and I enjoyed a quiet beer! Our waitress let George keep the digger he was playing with and I think he fell in love with her there and then. He got so excited every time he saw her around the hotel after that!
It was about 6pm and we were tired after the flight, so after a quick play in the park we retreated to our room where a big Jacuzzi bath kept the boys busy until they collapsed into their massive king size bed!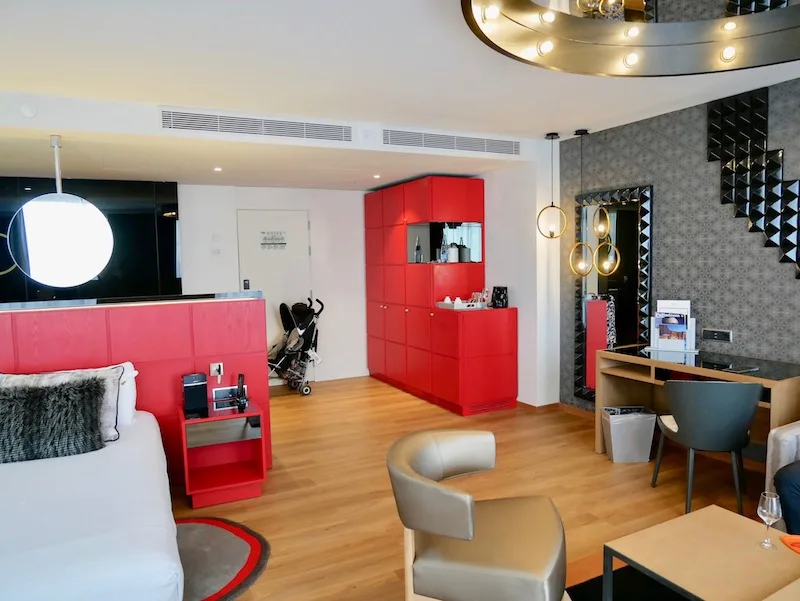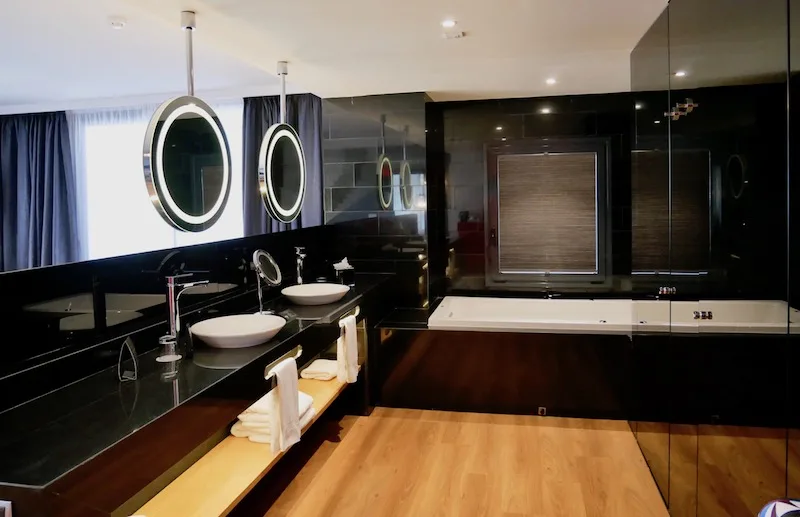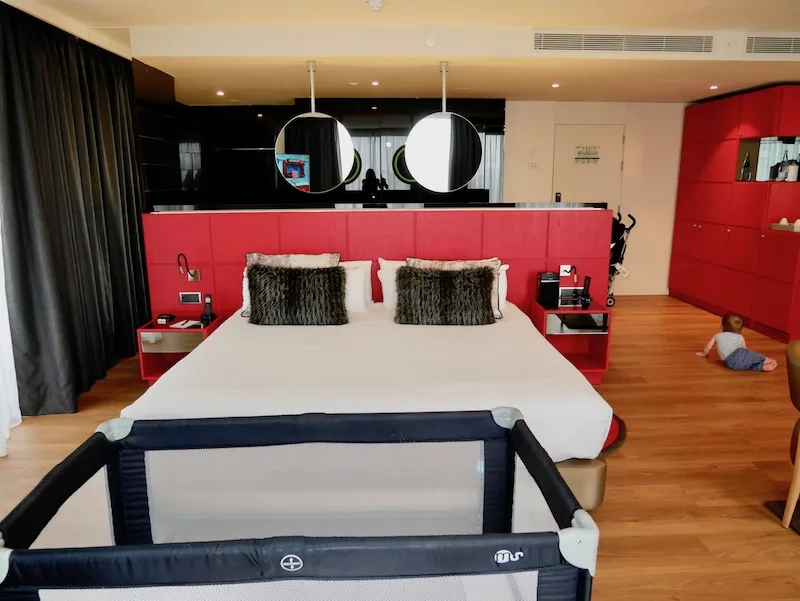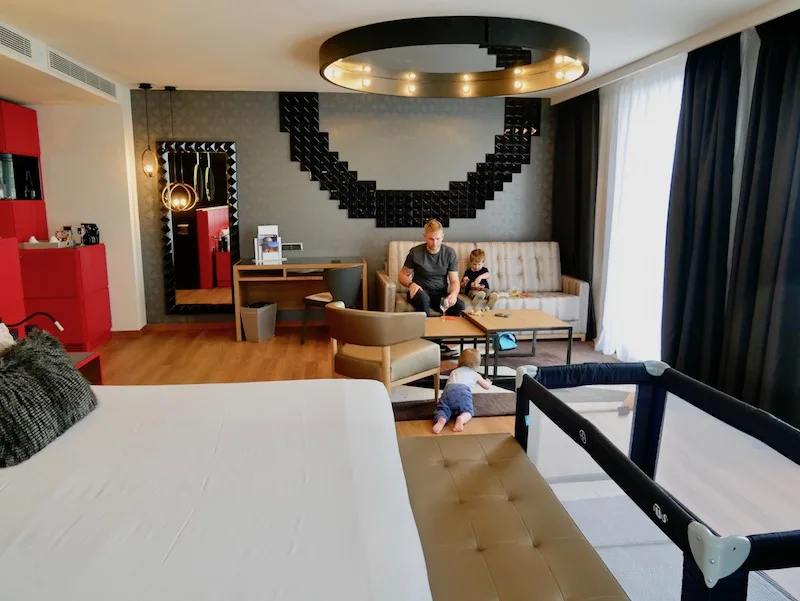 The following morning we made our way to the breakfast buffet that was so overwhelming (in the best way possible) that we made about 6 trips up the counters! Fresh fruit, yoghurts, smoothies, ham, cheese, fresh breads, pastries, cakes, donuts, omelettes, pancakes, waffles, bacon, sausages, sandwiches and even kebabs were available. I didn't know where to start!
We found our favourite table next to the kid's pool and playpark and made it our regular spot all week. The friendly waiters got to know us and would bring over our coffees and freshly squeezed apple juice for the boys before we'd even sat down.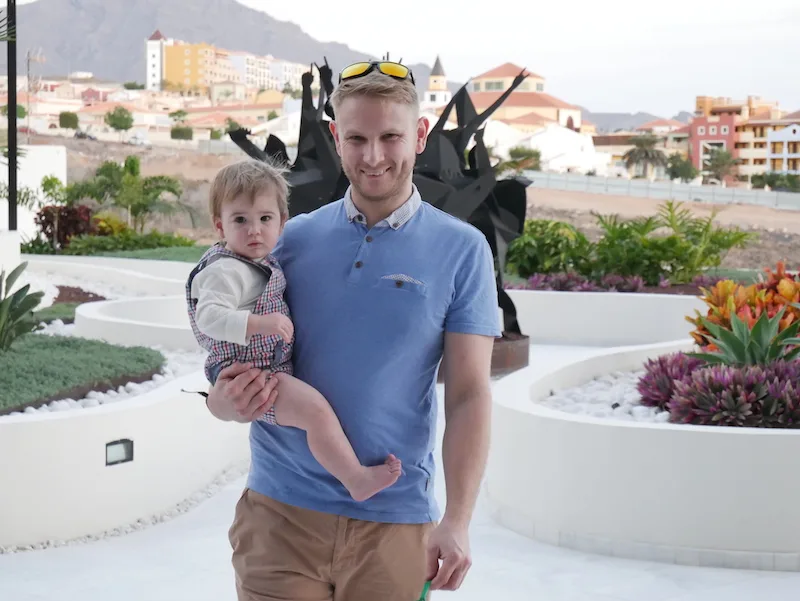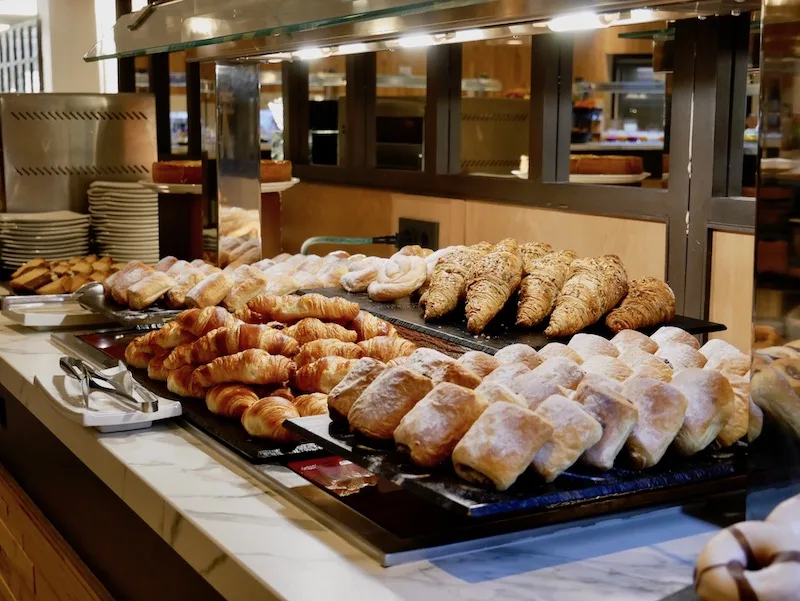 It was our first time staying in an all-inclusive hotel with our boys and we've always liked to think of ourselves as more adventurous travellers but we kept saying, 'I can't believe we haven't done this before!'
It was just so easy and completely stress-free and, for the first time in ages, Sam and I felt like we could 100% relax. Self-catering is convenient but, when the buffet is this good, it's just so much simpler to be all-inclusive. We were actually on a bed and breakfast package but we wished we'd just gone all inclusive.
On our first morning we went to check out the kid's club, which is absolutely incredible. It's split into three clubs with one for older kids, The Teen Spirit Club, and one for younger kids, Roxity, and one for under 3's which is the Lullaby Club.
The Teen Spirit Club was amazing as it was filled with things to keep moody teenagers occupied. I remember travelling with my parents when I was a teenager and finding it so difficult. I was too young to do anything without them but too old to want to hang out with them for the whole holiday so I think this is the hardest age group to keep happy and this hotel has nailed it.
We were travelling during term time so there weren't many children there at all but I was still impressed that all of the kid's clubs were staffed with lots of energetic and friendly staff welcoming the few children they had.
Our boys were in the Lullaby Club and they loved it. They go to nursery at home but they were nervous about staying with strangers so we stayed with them for a while before they got so distracted with all the toys and games and the lovely staff that we could sneak off for a few hours! I really appreciated that the staff would call us to let us know the boys were fine and happy and being able to hear them laughing and playing in the background was a big reassurance!
The kid's club was also completely free – something I wasn't expecting at all! We didn't leave the kids there for long but it was so nice to relax and have a bit of child-free time.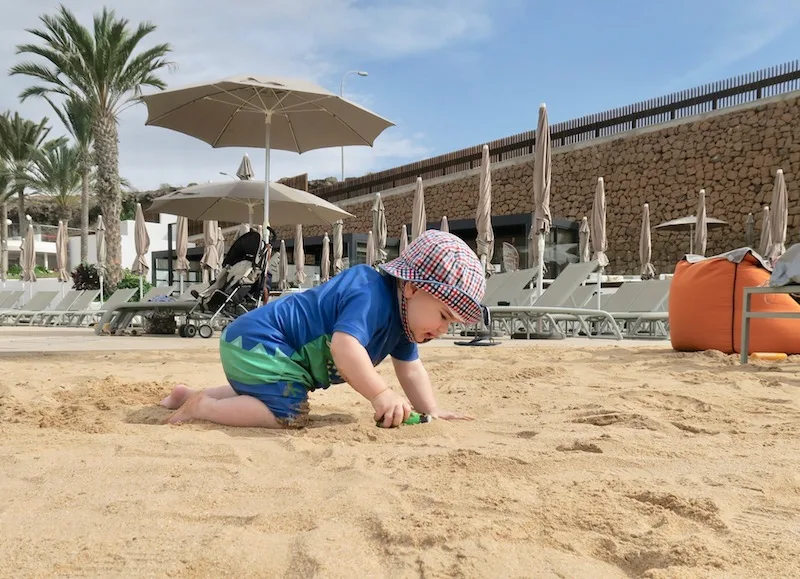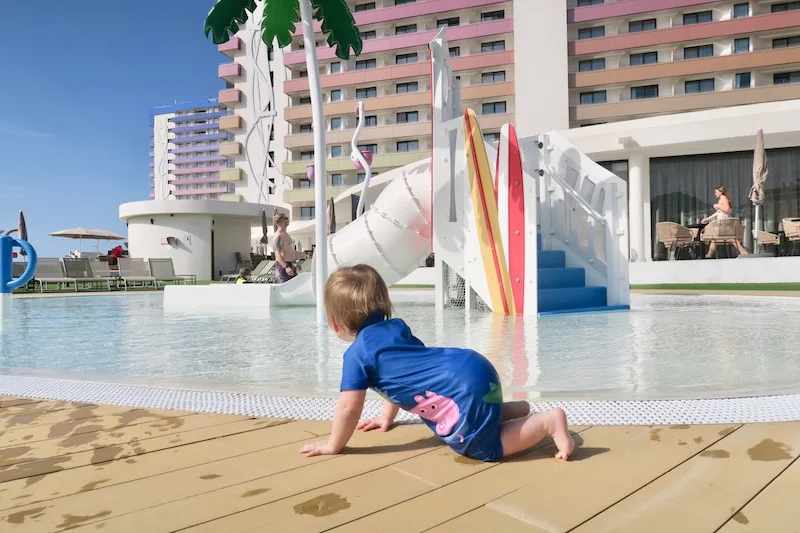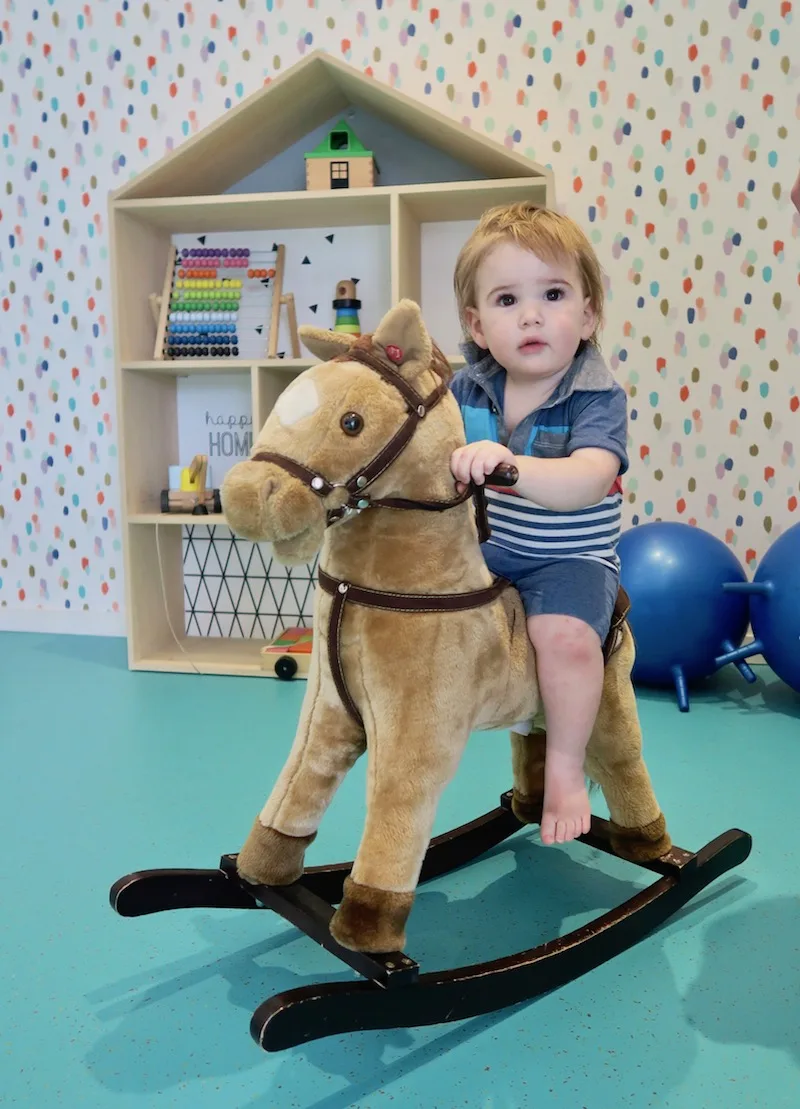 The hotel is in an OK location, not great but not bad either. There's a small beach you can walk to and a couple of bars and restaurants nearby. There's nowhere to eat that's as nice as the Hard Rock Hotel but there are some very cheap bars nearby. The bar across the road serves a pint for €1 but I think it was about $4-5 in the hotel (I can't remember the exact amount but I know it was a lot more). There's a small supermarket across the road which came in very handy and I really appreciated that the large fridge in our room was empty (rather than being packed full of mini bar items) so we were free to fill it up with our own drinks and snacks.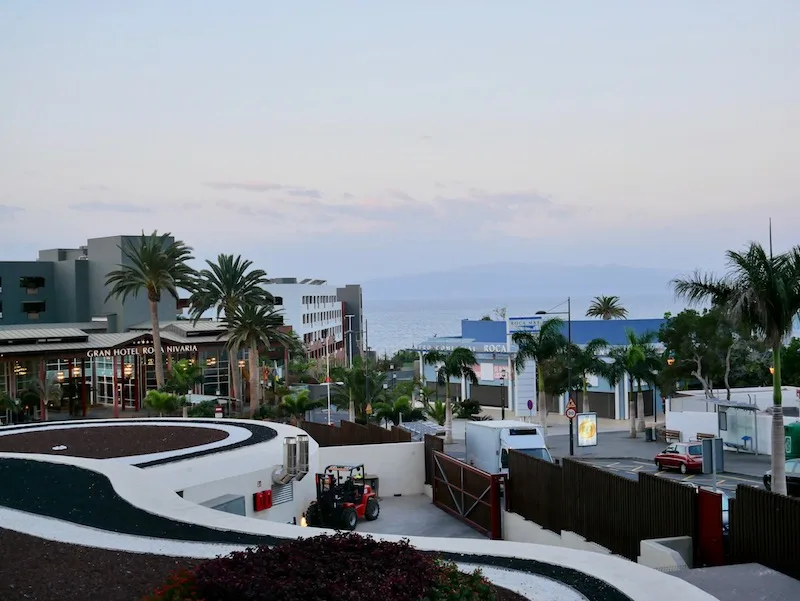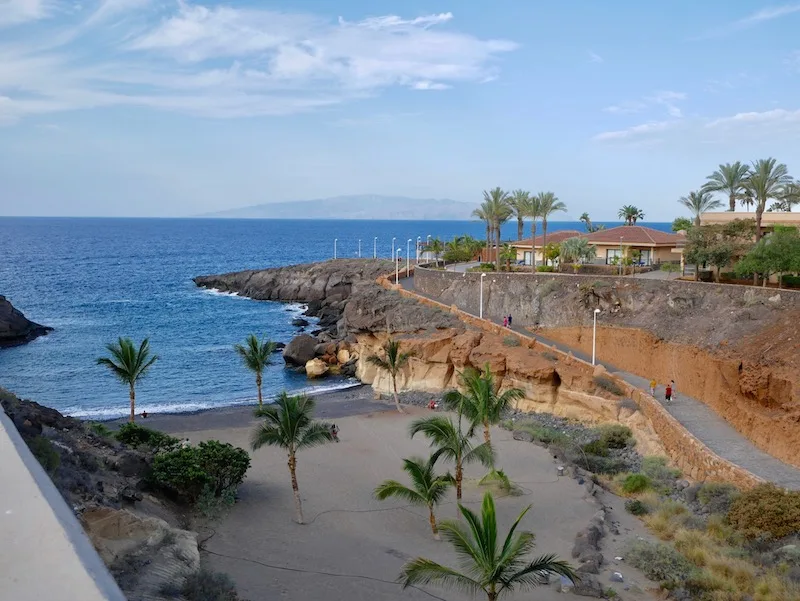 The Hard Rock Hotel Tenerife does have a party vibe with music playing in most communal areas and a DJ by the main pool. It's fairly loud but never annoying and George loved being able to dance everywhere he went. While we were at the hotel there was a big Jet2Holidays conference and they had a big party each evening. I was so impressed that despite the parties going on until the early hours each morning, we didn't hear a thing in our room. The hotel is so big that we barely even noticed the conference going on.
Despite having a car, we did spend the majority of our time around the hotel. With the swimming pools, the kid's play area with giant sand pit and 'mountains' to climb and all the places to eat and drink around the hotel, there really was no reason to leave.
Of course, we did get out and about a bit so I'll be telling you more about our day trips in tomorrow's blog post!
Here are some more photos from around the hotel for my Hard Rock Hotel Tenerife review…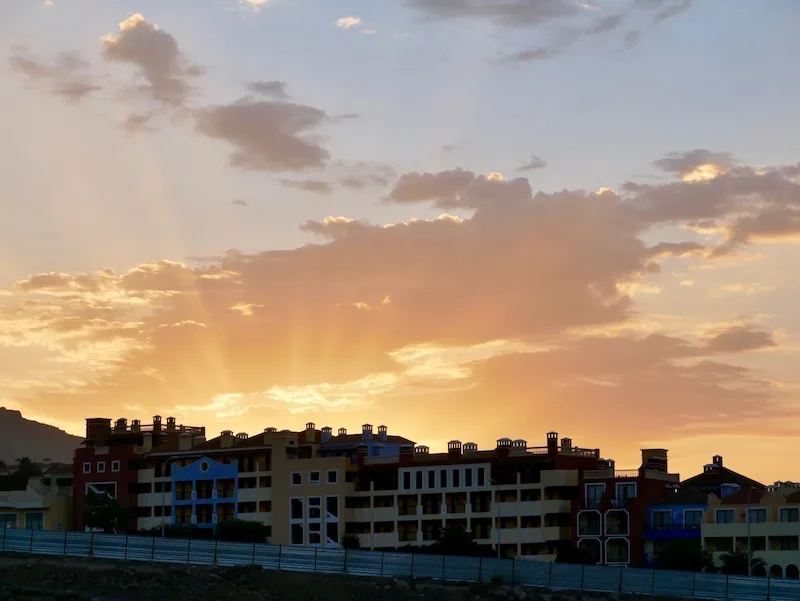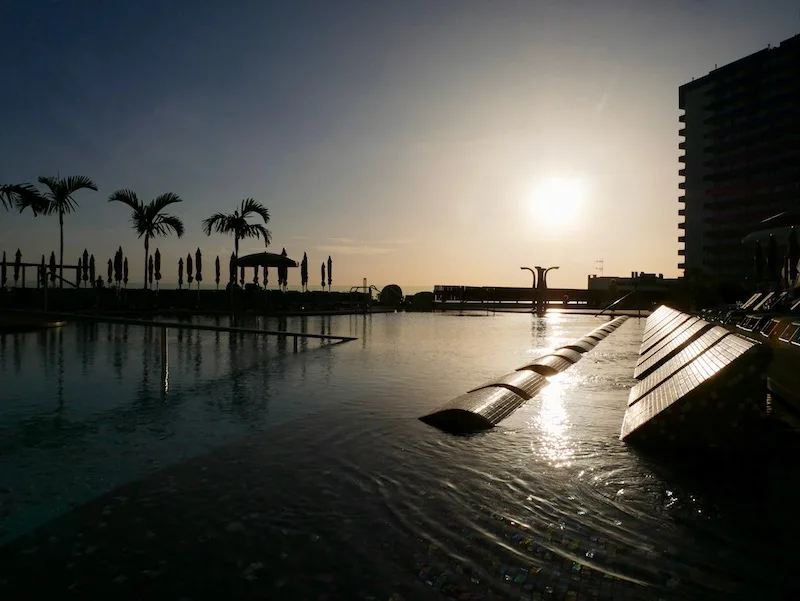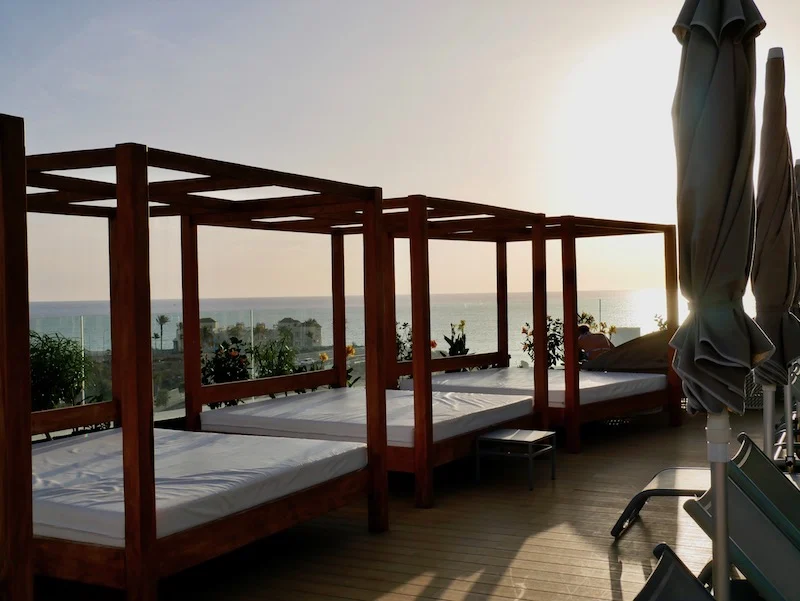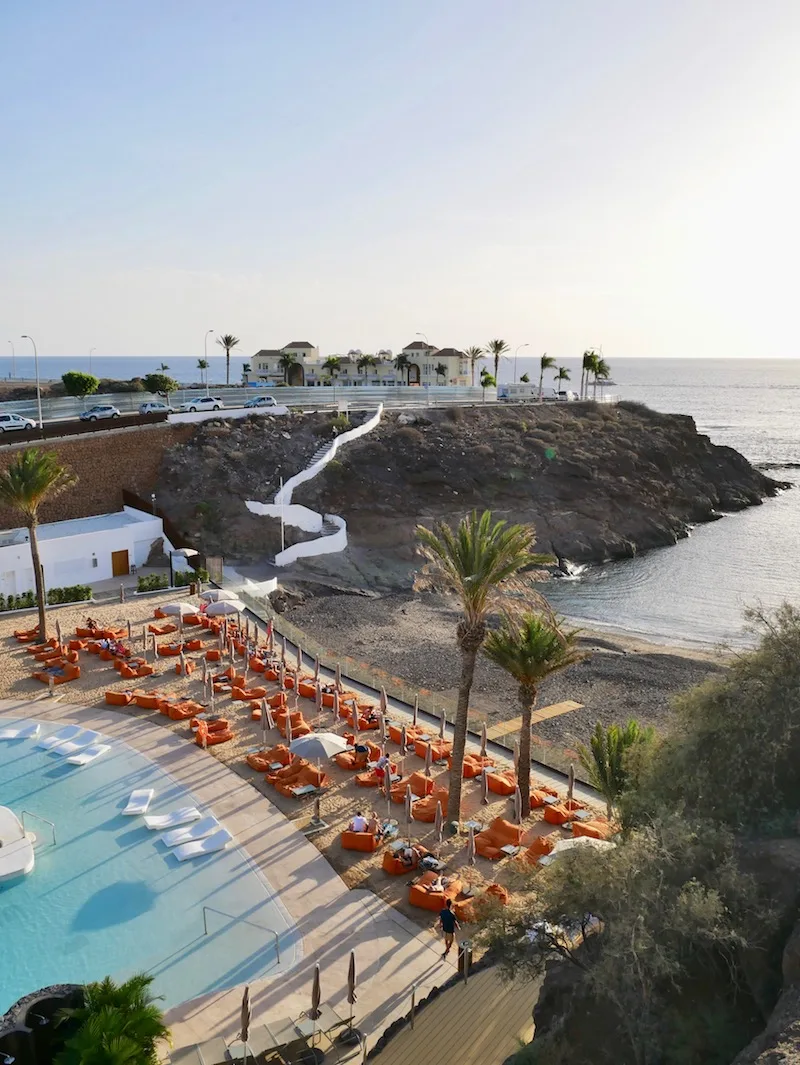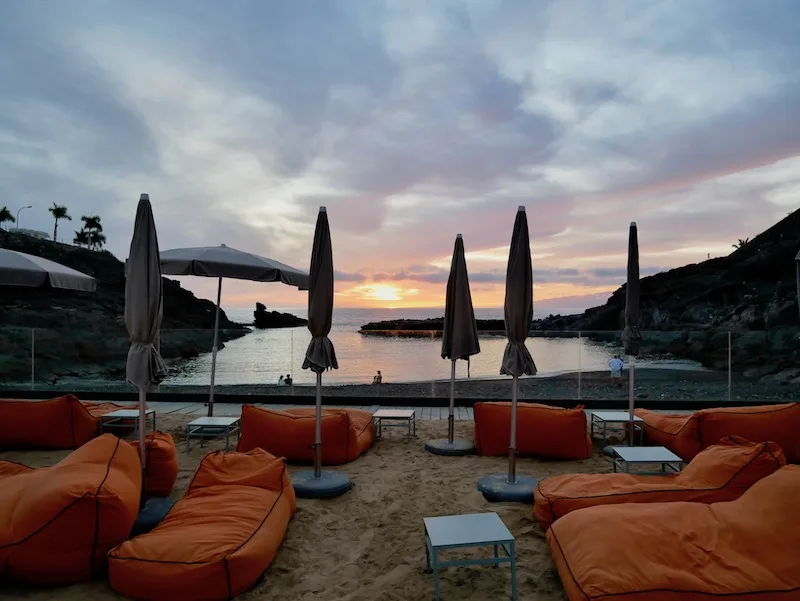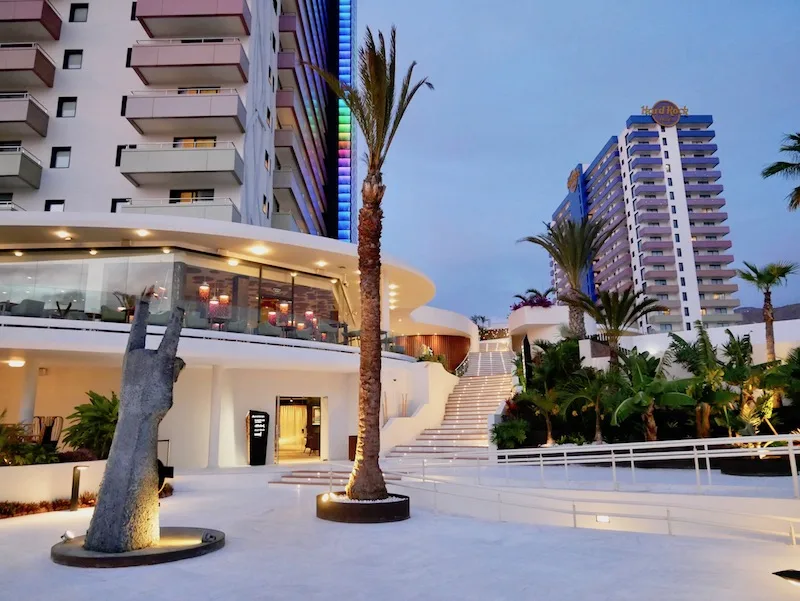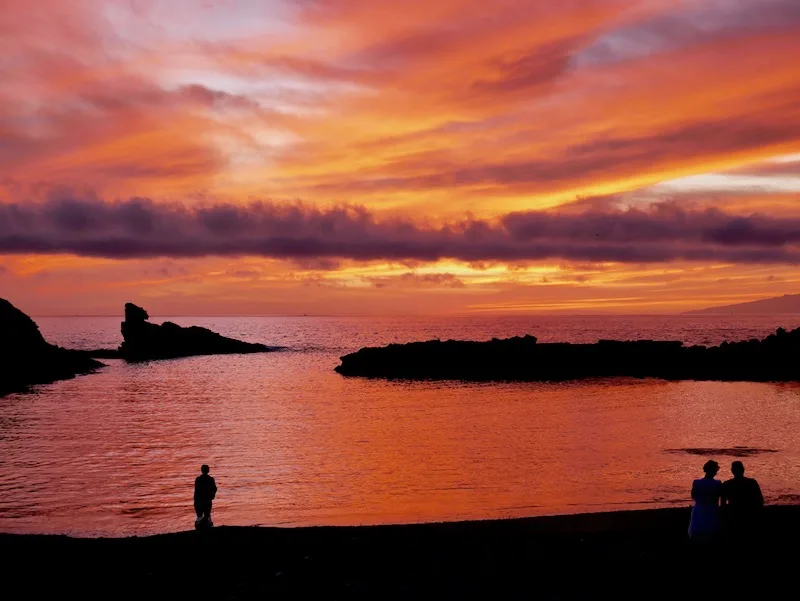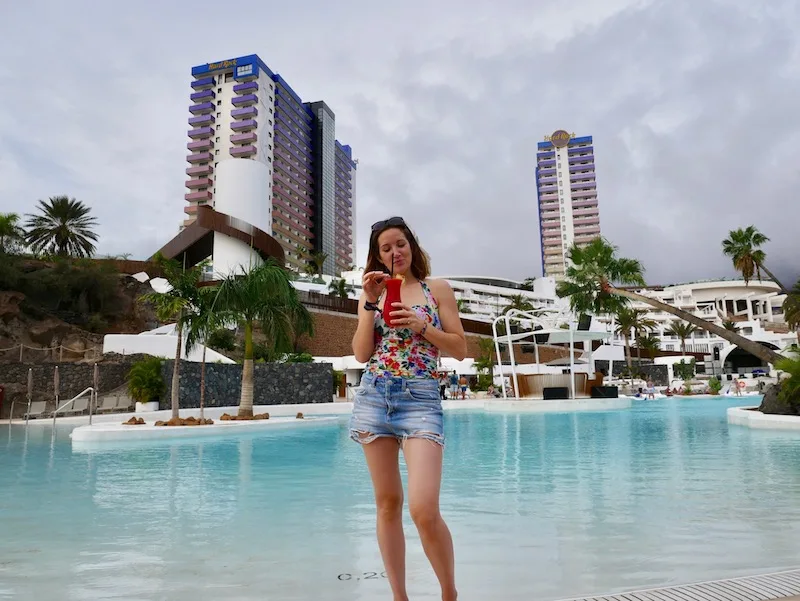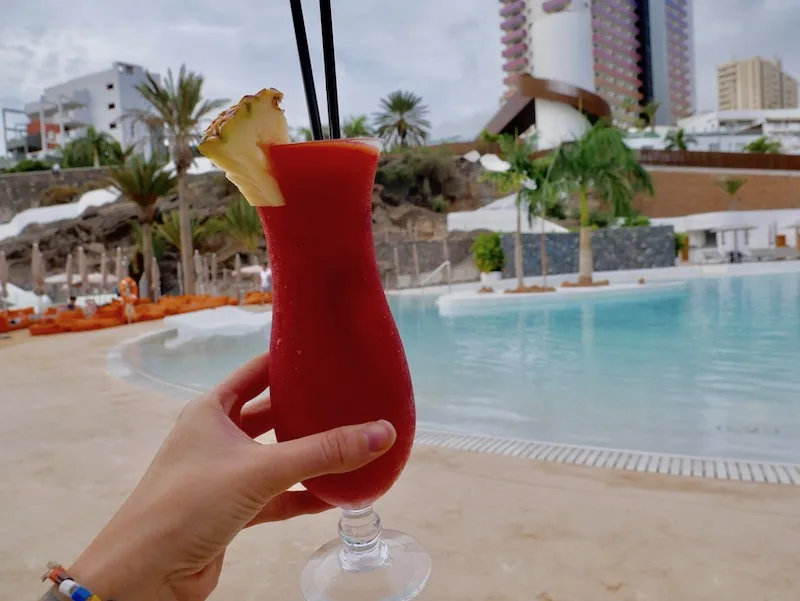 Hard Rock Hotel Tenerife Review: The holiday details
We travelled to Tenerife with Jet2Holidays. This was a complimentary trip for the purposes of this review and coverage on The Travel Hack
We flew from Manchester to Tenerife South with Jet2.com
We stayed at the Hard Rock Hotel Tenerife for 5 nights in a Studio Silver suite on a bed and breakfast package
The room had a king size bed, a double sofa bed and a travel cot
If I were to go again I'd go all inclusive – especially with kids because there weren't many places to eat out nearby
The flights included 3 x 22kg checked bags and 3 x 10kg hand luggage bags
We also flew with one pushchair and two car seats
Transfers were included but we hired a car through Gold Car for 6 days for £36.86 through Auto Europe (plus a £50 fee because we were late returning the car so be very careful when booking online because I'm sure I put the details in correctly!)
The holiday would have cost £1,300 for 2 x adults, 1 x child and 1 x infant
Read more of my Tenerife Travel Blogs
10 reasons to add Tenerife to your winter holiday bucket list
Can you visit Tenerife for 3 days!? Yes!