The problem with luxury hotels is that old-fashioned, stuffy air they often have. They can be formal and uncomfortable with outdated routines and overly complicated menus. The décor might be fancy but it looks a hundred years old and I feel like I can't relax.
Why can't luxury hotels be young and stylish? Why can't the staff talk to you like an old friend and the menus be filled with delicious meals you really want to eat?
Well it turns out they can and I found exactly that at The Hospital Club in London's Covent Garden.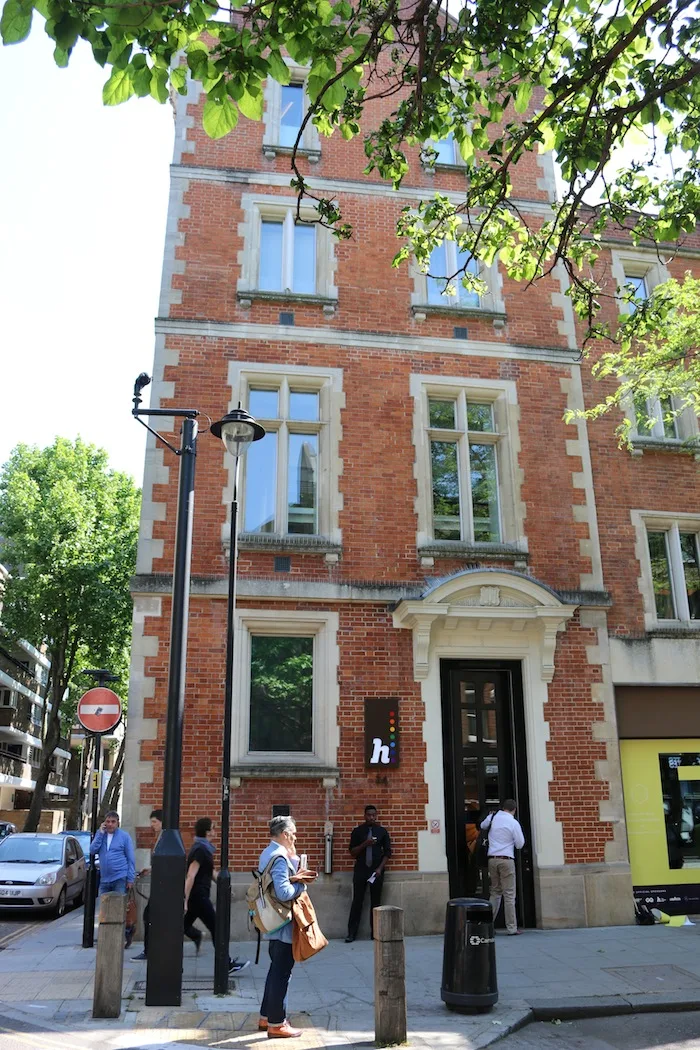 Sam and I stayed at The Hospital Club when we were in London a few weeks ago. It was our first baby-free night away together so we were ready to let our hair down somewhere sophisticated and cool. Basically – somewhere a million miles away from our messy home that is now filled with Fisher Price toys singing a tinny version of 'Twinkle Twinkle'.
We entered The Hospital Club feeling like the irresponsible young adults we were just one year ago. That's one of the things I love about hotels; you can be whoever you want to be just for one night.
The Hospital Club is spread across seven floors so the building doesn't look like much from the outside. The lobby is stylish but small and the staff are friendly, familiar and efficient. There isn't a stuffy air or grace in sight.
The Hospital Club is a creative place and private members club for people in creative industries. It was founded in 2004 by Paul Allen, a co-founder of Microsoft and the Eurythmics' Dave Stewart. It has a restaurant, four bars, 15 bedrooms, a screening room, function areas and gallery space. But you don't need to be a member to make the most of these spaces – they're just going to cost you a pretty penny more.
We arrived a little early and it wasn't quite time to check-in so we were whisked up to the restaurant which had a relaxed vibe and yet more cool décor. It has a 'hipsters with loads of money' vibe to it and was filled with 'media types' in meetings.
We dipped into the extensive wine list and enjoyed a cool glass of white without worrying about being the parents who were getting drunk with a baby! I ordered spatchcock chicken cooked in chilli butter with sweet potato wedges. It tasted deliciously unhealthy and I loved it.
Our Suite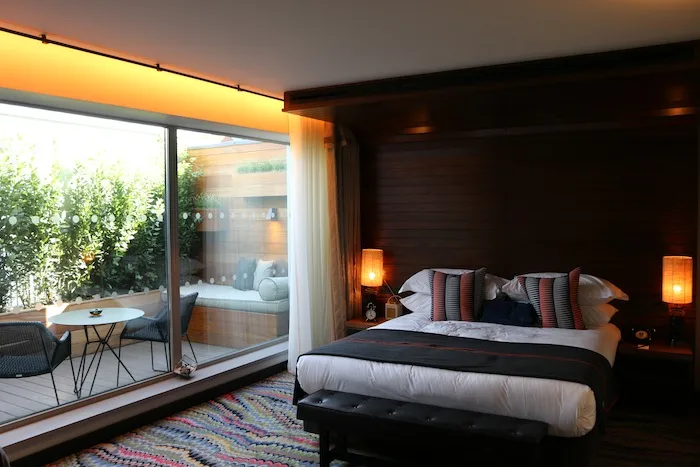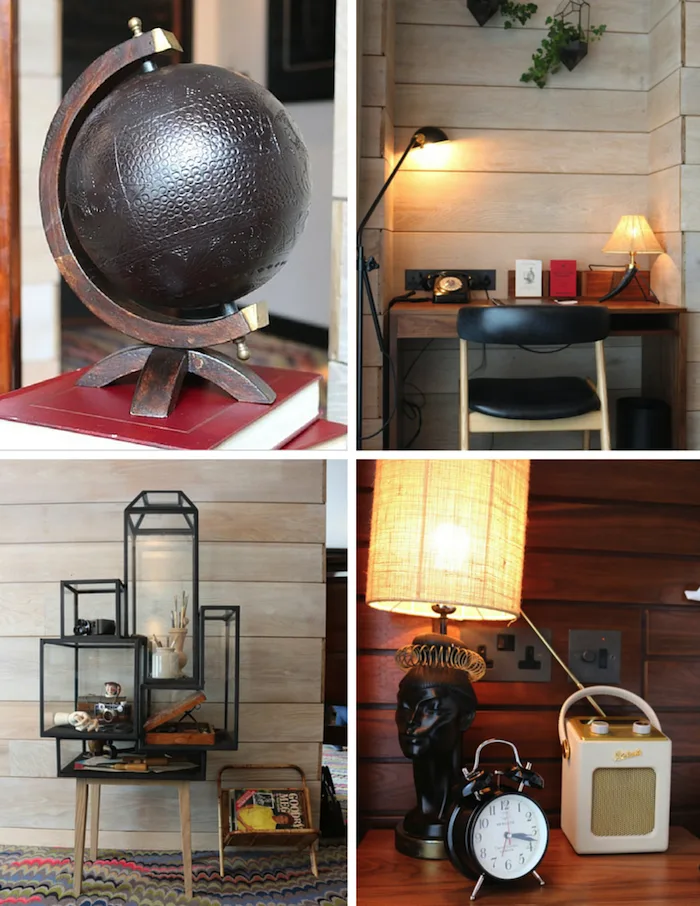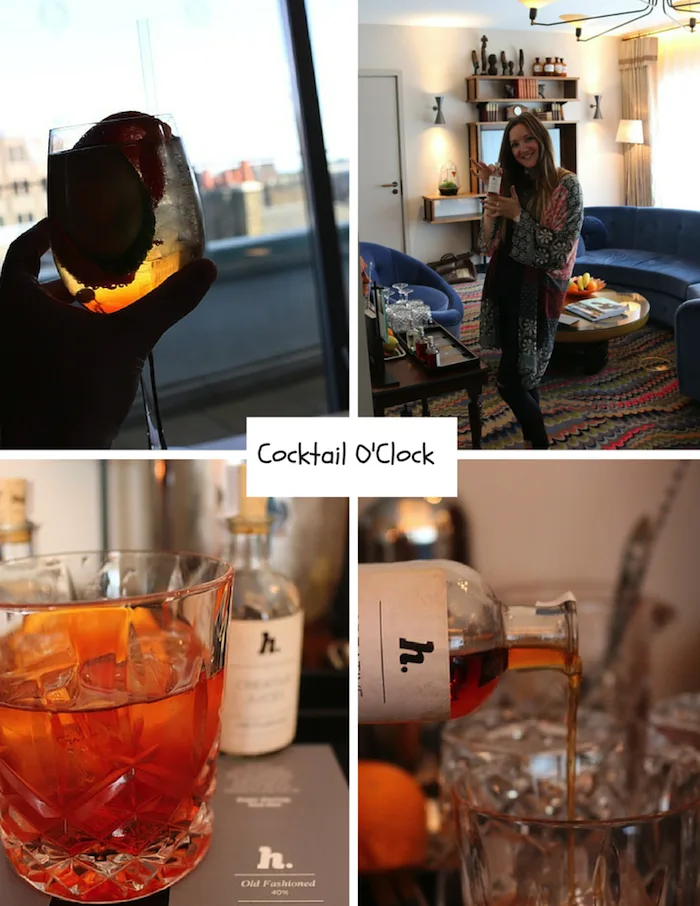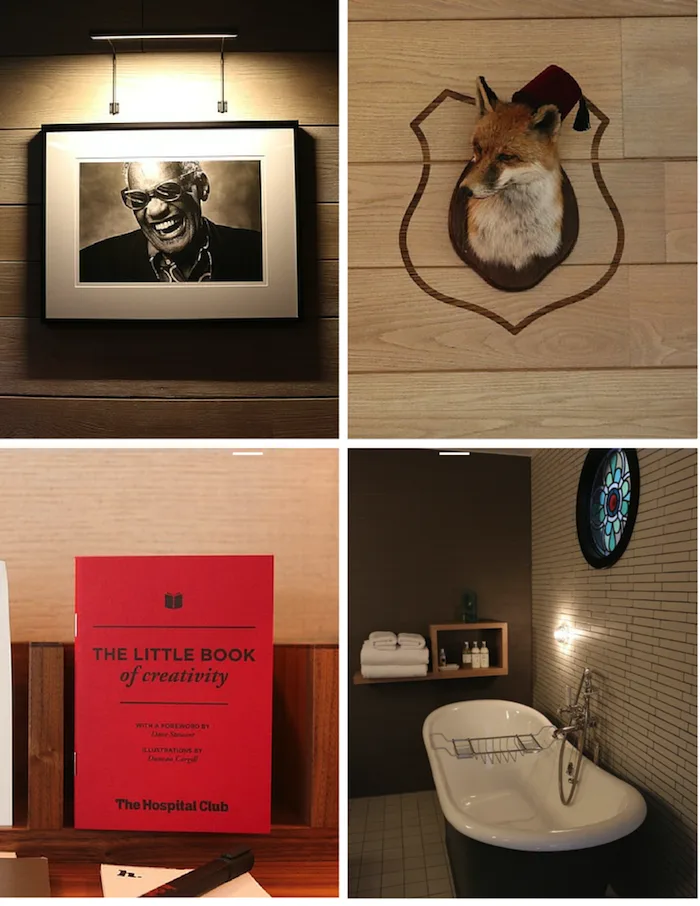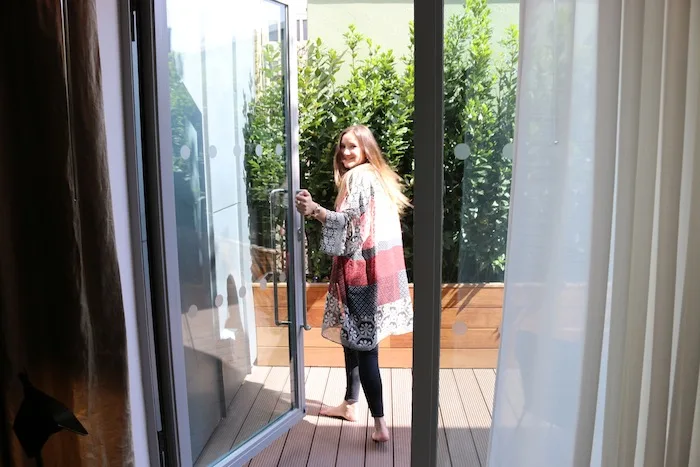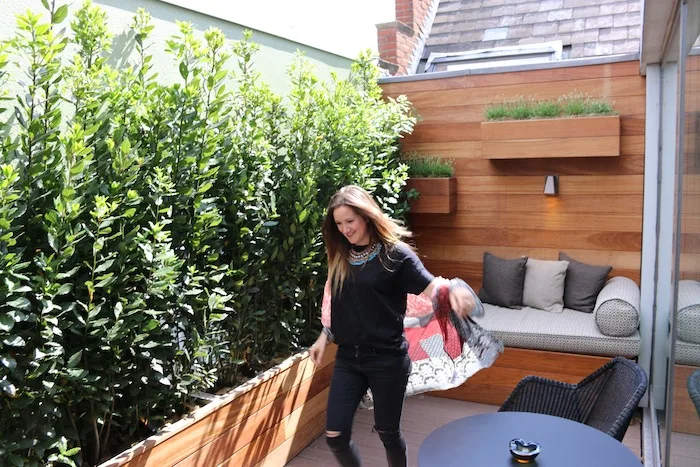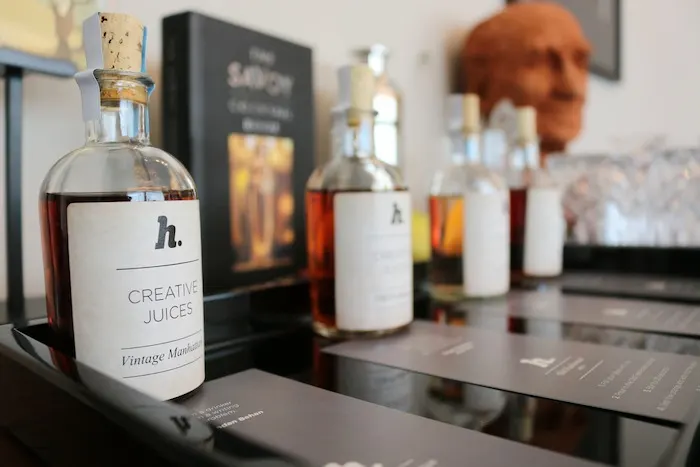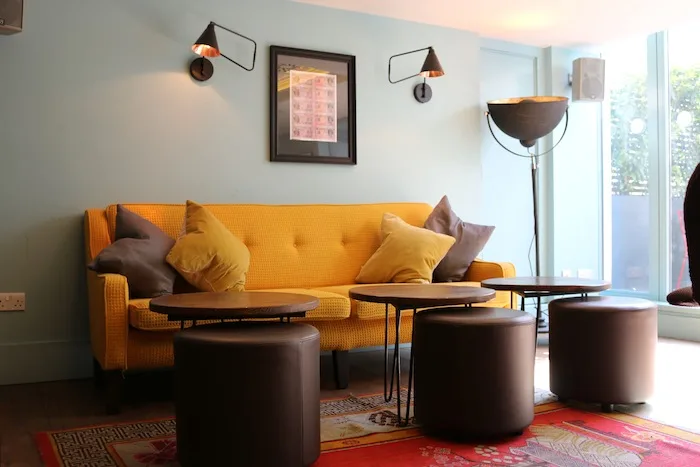 Our suite (yes, suite!) had a retro 80's and African theme. It sounds a little naff, I know, but it was cool and stylish. It helped that everything was the highest quality and the sheer size helped too. At 400sq foot, this is an enormous room for London's standards. We even had a spacious roof top balcony that turned out to be a perfect sun-trap for morning coffees.
Our cocktail cabinet was stocked with four pre-mixed and potent concoctions. It probably wasn't a good idea to drink those before we went out.
The club also offers a cocktail trolley service at around 7pm. It's like a turndown service but a million times better because someone comes to prepare your chosen cocktails. Unfortunately, we missed it but I'm pretty sure we didn't need any more cocktails (I'm a pretty cheap date after having George!)
Why stay: For a luxurious, unique and cool experience
What to pack: Anything to make you look fabulous without even trying, Darl-ing. You can leave the toiletries at home as they have large bottles of REN toiletries in the gorgeous bathrooms.
You should know: Bring your credit card, you're going to need it
Don't forget: To be in your room at around 7pm for the cocktail trolley service
Disclaimer: I was a guest of The Hospital Club but, as always, all thoughts and opinions are my own.