So you're looking for somewhere to stay for your next holiday.
Do you:
a) Opt for a standard budget hotel that is as generic as a Primark cardigan. You know the type; they're boring, they're unmemorable, they're beige and they all look the same as soon as you've closed your room door. The overall experience is just 'meh'. You know, unforgettable.
b) You could blow your budget and stay in a super luxury hotel. We're talking 5* accommodation with breath-taking views over the city, a king size bed, a fluffy robe, spa treatments, breakfast in bed and a sack full of toiletries you're going to steal.
In an ideal world this is where I'd stay on every trip but unfortunately this isn't an ideal world and I don't have the ideal budget to fund such luxury.
c) You could stay in a stylish hostel that is unique, quirky, friendly and reasonably priced. You can opt for your own room with private bathroom and you may even meet some new people too.
Sounds like a no brainer to me.
This is how I ended up staying at KEX Hostel while I was in Reykjavik, Iceland. I'm bored of standard budget hotels and Iceland is expensive so a luxury hotel was out of the question so KEX became the perfect option
KEX Hostel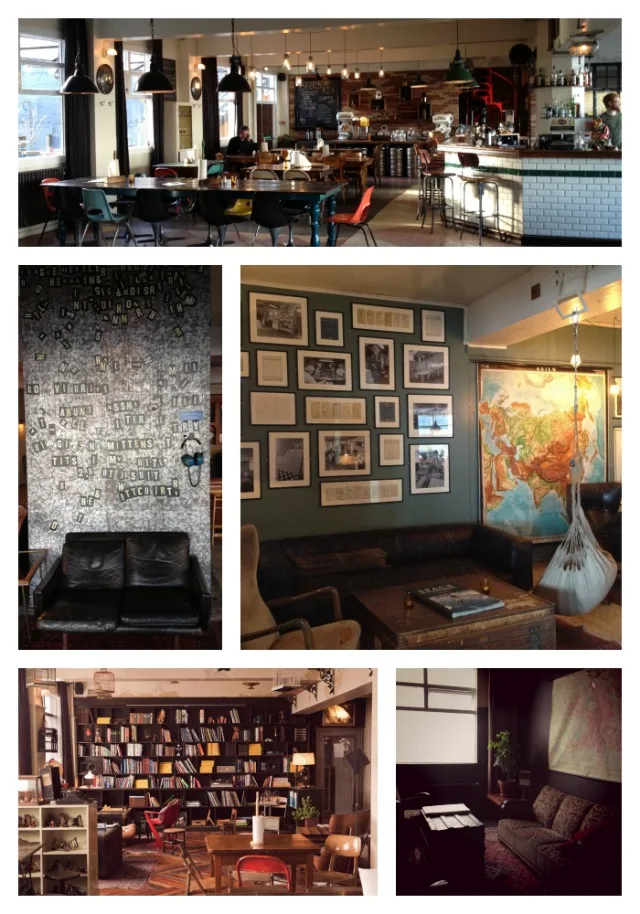 KEX is a super stylish hostel by the waterfront in Reykjavik. The building is an old biscuit factory and 'kex' literally means biscuit in Icelandic. Due to the building's history, the outside of KEX is as ugly as it gets. It's a giant grey block with lots of small windows looking out to the sea like beady little eyes. But, in some ways, this giant grey façade makes the inside even more special because it feels like a secret and unknown hideaway.
KEX has an industrial but vintage feel thanks to the huge spaces that are decorated with up-cycled furniture and odd nick-nacks. It's often called a 'hipster hostel' thanks to the cool décor and even cooler clientele. The main area is open-plan and combines the bar/chill-out area, reception and some cosy little corners with comfy sofas. It's huge but warm, cosy and welcoming at the same time.
KEX has different theme nights and while I was there I enjoyed a jazz night and a local band. The bar was packed with stylish locals who lounged around drinking local beers while looking effortlessly cool with their beards and thick Icelandic jumpers.
I sometimes find hostels to be a bit unnatural and the theme nights are a pathetic attempt at forcing fun onto a group of strangers, but there wasn't any of this at KEX. The fact that so many locals came here for a night out made it feel much more like a huge bar rather than a hostel. Admittedly, it was a little noisy in the rooms when a band was playing but what would you be doing in your room if a band is on downstairs?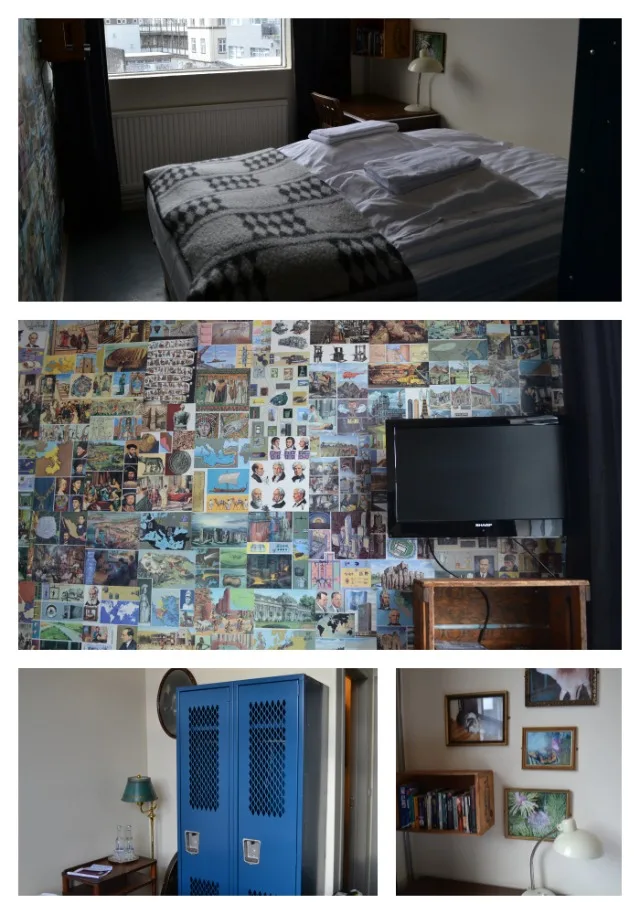 I stayed in a private room called 'Tiny Room' with en-suite and it was surprisingly spacious given the name. It has everything I needed including a hot shower, TV and DVD player, plenty of storage, a comfy bed with a thick duvet, towels and the room was lovely and warm.
Things I like about KEX
Great location and just a 5 minute walk from the centre of town
There is plenty of parking outside and it's really cheap at about £4 a day (perfect if you're road tripping in Iceland)
They have space for up to 142 guests
There are a variety of room options from large dorms to private rooms
Fast and free wifi
The staff at reception were really helpful and great at suggesting places to go and giving directions
The buffet breakfast was amazing
Massive thanks to KEX for hosting my stay for the purpose of this review. All thoughts and opinions are, as always, my own. Check out more of my posts from Iceland here if you'd like to see what else I got up to in this incredible country.
Prices start from 2,300 ISK for a 16 bed dorm and Tiny Room (where I stayed) starts at 11,500 ISK.
Breakfast costs 1,450 ISK and was really delicious but there are great kitchens available if you'd rather make your own.