I'm really excited to bring you an insider's guide to Goa by Sheena, the blogger behind This is Sheena. I've been desperate to visit Goa for years and Sheena's guide has made me want to visit even more!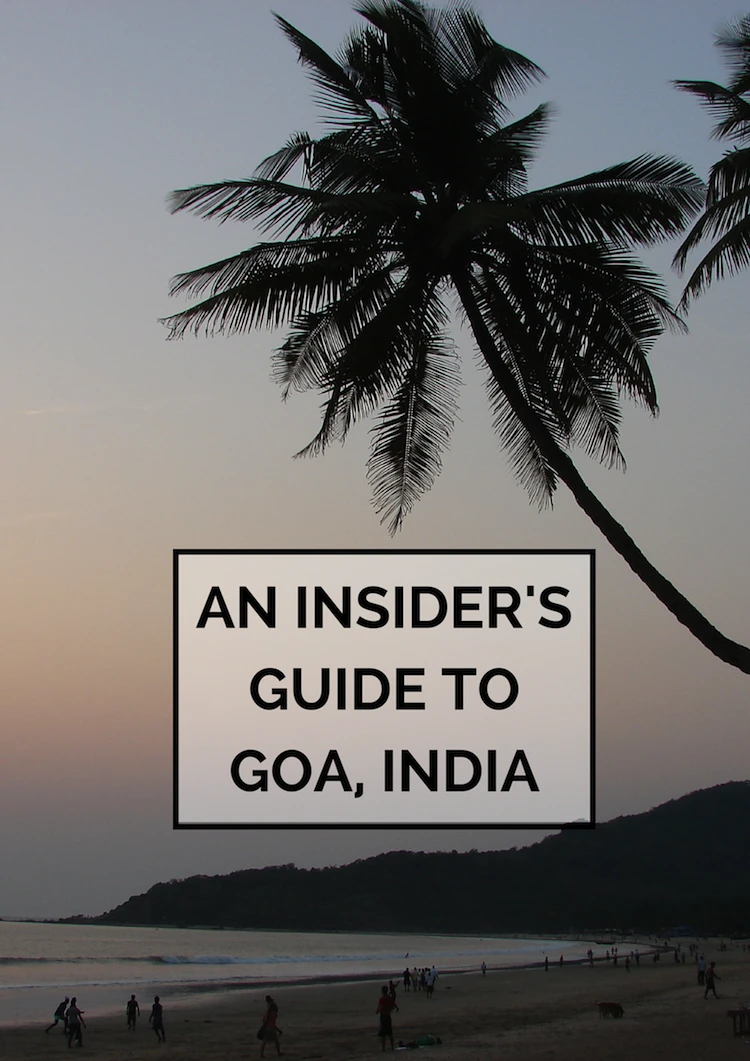 1. Can you begin by telling us how/why you know Goa so well?
I've been spending my summers in Goa since I was a wee toddler. I'm half Goan and I have always had family there and I've made probably dozens of trips with friends.
I love that I'm able to experience Goa in two distinct ways. I appreciate my life of a local – buying fresh rock crabs just off the Zuari bridge to cook, tending to my family's garden, swimming in quiet coves like Hollant but I also enjoy my holidays with friends, getting massages, sunbathing and partying for days.
Lately I've been spending more time in Goa than ever, a few weeks at a time every couple of months.
2. What 5 words would you use to describe Goa?
Beautiful
Tranquil
Fun
Atmospheric
I'm going to cheat and use the word 'susegad' (an all encompassing word used to describe Goa's carefree, relaxed and laidback attitude towards living) thus buying myself two free words!
3. Give us one reason why you think everyone should visit Goa
Goa is unique, it's Indian while being an antithesis to most of India. If there's only one reason to go, it's because it's the one place you'll feel like you've hit reset.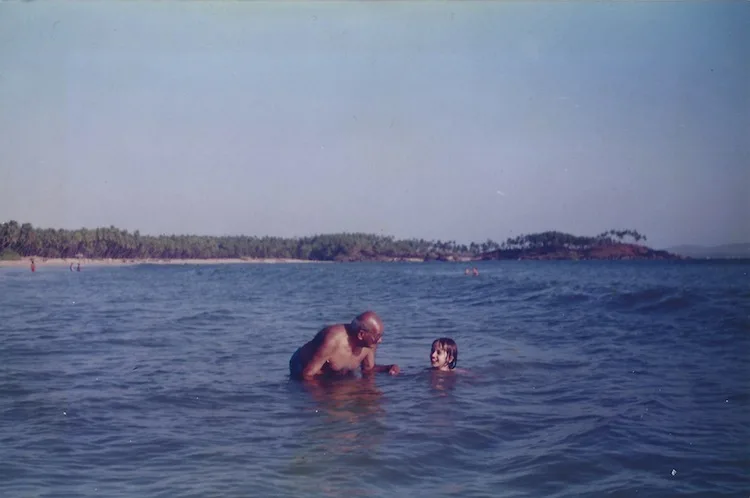 4. Are there any traditional meals or dishes everyone should try when they visit Goa?
Yes Goan cuisine! It's food for carnivores, and the food I grew up with.
Goan food features lots of seafood, beef and pork, cooked with ingredients from the Konkan region and with several Portuguese influences (Goa was a colony until 1961).
You've probably heard of vindaloo and it's likely available at your local Indian restaurant but in Goa, where it originated, it's dramatically different. Vindaloo in Goa is full of garlic and vinegar which gives it a lovely, complex flavour.
Try that, try a good cafreal perhaps at Florentine's in Saligao, xacuti which is a coconut and poppy seed curry and if you can get your hands on it, a spicy, fatty pork curry called sorpotel. I'm also really partial to a Gomantak prawn curry with rice which you'll find on most shack menus.
For dessert you must try a sticky, many layered cake called bebinca.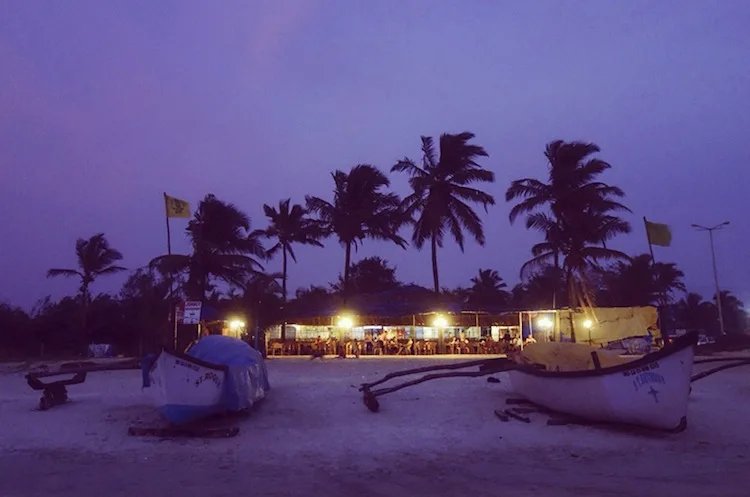 5. Can you tell us 3-5 of your favourite restaurants/places to eat in Goa?
Goa has some of the finest restaurants in the country offering all sorts of international cuisines. I recently ate at Sublime and it blew my mind! My clams with Goan pork sausage, pork belly and risotto were all executed perfectly.
La Plage, also in Morjim, is always fabulous. It's shack dining made sophisticated and I love the seared tuna and the beef carpaccio.
Thalassa is Greek food and the setting is just magical so you have to go for sunset.
I should mention now that Goa is seasonal and the season starts at the end of October and goes onto April which is when these are open for business.
I also just discovered the unassuming Sheela Bar and Restaurant opposite the Sao Jacinto island near Vasco. It's a short drive from the house and makes an excellent beef tongue roast and oysters in recheado masala!
6. What's an unusual thing most tourists wouldn't know about?
Goa's backwaters! I actually only discovered these myself a few weeks ago when my friends and I took a boat out on the water for the afternoon. It was peaceful and really lovely, we slowly meandered down the Mandovi river, and spotted all kinds of birds and crocodiles on the banks.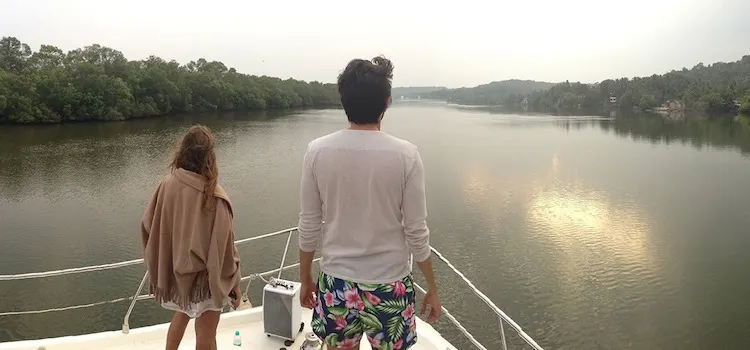 7. What's the one thing people need to pack when visiting Goa?
Definitely a swimsuit! There are so many beaches to choose from (though if I had to choose one, it would be Mandrem in the north).
8. What's your favourite touristy thing to do in Goa?
The Saturday Night Market in Arpora. It starts around sunset and goes on until late and there's entertainment, food and drink but also some of the best shopping in the country. You'll find silver jewellery and common handicrafts but also handmade shoes and accessories and beautiful clothes by independent designers (many of whom divide their time between Europe and Goa, and often times they'll go on to hit the big time).
9. Can you share your favourite photo from Goa and tell us a little about it?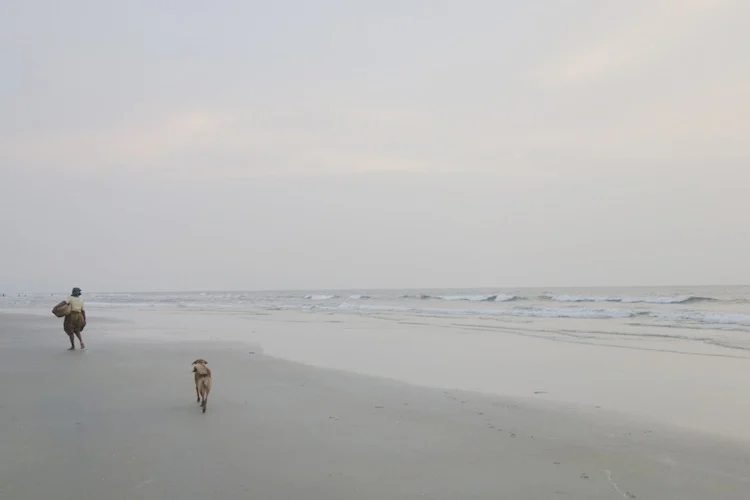 I took this photo just a few months ago at the end of the Goa monsoon. My grandmother, aunt and I were taking a walk on Benaulim Beach and I saw this fisherwoman collect this basket from a boat that came in and this sweet dog just followed her everywhere.
10. Can you recommend a cool place to stay in Goa?
Goa has it all from luxury tents, beach huts and suites with private pools. But I like houses and Michele's Garden bed and breakfast is the last place I forked over money to stay in. It was adorable, and run by the very jolly, very pink and very French Michele who happens to be an incredible cook and baker. The two rooms are spacious and simple but so pretty and there's free wifi. Anjuna is also a pretty nice area to stay in. Though for maximum convenience, you must rent a scooter or motorbike to get around in Goa.
---
Sheena Dabholkar likes exploring, writing, taking pictures and above all, growing or making things with her hands. She lives between India and the rest of the world and she blogs about travel, food and design at thisissheena.com.