I'm always harping on about how important it is to travel light. Travelling light gives you extra freedom and flexibility that you just don't have with heavy luggage. You can move quickly through airports and train stations and it's so much easier to take public transport with a small bag. You'll save money by not having to check your bags in on a plane and you can keep your luggage close when you're on trains and buses. You're also less likely to lose things when you travel light because it's easier to keep track of your belongings.
I've been thinking a lot about travelling light recently because I'll soon be travelling with a baby and I'm pretty sure that travelling light + baby is pretty much impossible. I might not be able to pack light for the baby but I'll definitely be able to pack light for me so the travelling light challenge is about to get extreme!
I could go on all day about the benefits of travelling light but I'll leave it at that and start sharing my top tips for travelling light.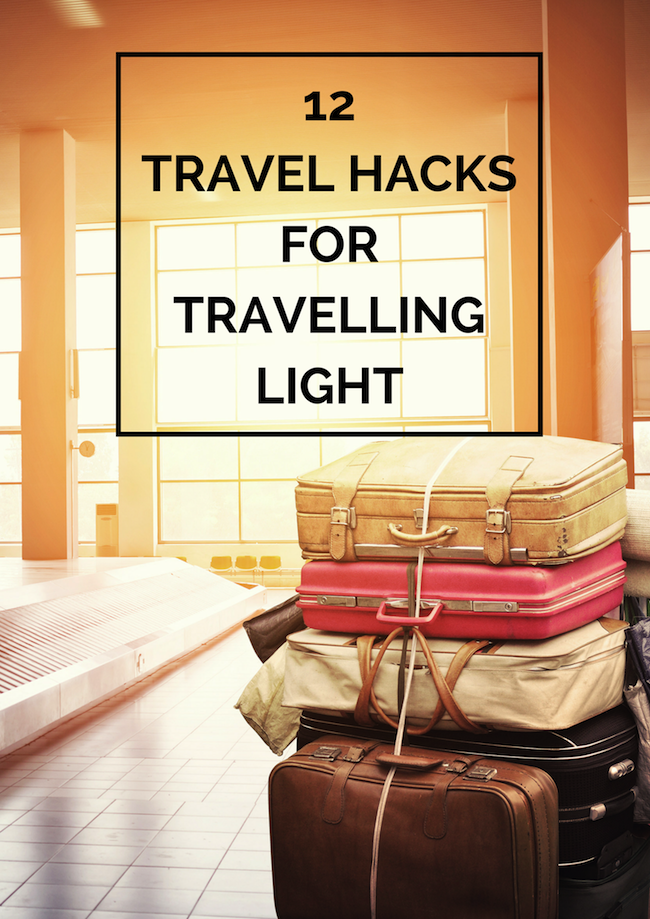 #1. Use a small, lightweight case
The oldest trick in the book and possibly the simplest way to pack light: Use a small suitcase or backpack so you can't possibly fit too much in it. Don't be tempted to get a case that's slightly too big because you will fill that space with unnecessary crap.
For more inspiration and proof of the benefits of travelling with a small bag, check out this post by Chris over at Backpacker Banter: My 25L Backpack Challenge. Yep, he travelled for 3 weeks around Thailand with nothing but a 25L backpack!
I like to travel with just hand luggage and recommend my case, The Travel Hack Pro Cabin Case. It's designed to be the perfect size for cabin baggage, meaning it's as big as it possibly can be without being too big. It has separate compartments to keep everything organised and is an absolute dream to travel with. This is a great option is you plan to travel with cabin luggage only.
#2. Pack 2 pairs of shoes and no more
Shoes can often be the bulkiest items in our bags so never travel with more than 2 pairs. Wear your bulkiest pair on the plane and an easy to carry pair in your bag.
You can't beat a light pair of Converse for the day and an easy kitten heel for the evenings.
Read more: What shoes should I take travelling?
#3. 1 pair of trousers/jeans
Jeans or trousers are another bulky item to travel with so never travel with more than one pair and you should always wear these on the plane.
I usually opt for cotton Leigh jeans from Topshop. They're soft and comfortable but they're easy to dress up for the evenings too. I have them in a few different colours but black is the best for travel because they'll match everything and no one really notices them, so you can get away with wearing the same jeans for days (don't judge).
#4. Minimise toiletries
If you're staying in a hotel you can guarantee you'll be provided with shampoo and shower gel so leave these at home. This means that most guys can get away with nothing more than a travel sized deodorant and toothpaste.
Most ladies will find it a little more difficult because there are some toiletries you just can't leave home without.
Look out for hardworking products that do a few different jobs. Baby oil is great for removing waterproof mascara and is also really moisturising. Opt for 2-in-1 products like BB creams that have SPF (I really like Clinique CC cream) and stock up on sample sachets of products that come free in magazines. Always wax rather than shaving so you don't need to take a razor. Leave the bulky hair dryer at home and take a couple of head scarves if you have crazy, curly hair like me.
#5. Take an iPad/tablet
Cut down on tickets, books, magazines, a laptop, games, notepads, music, maps and travel guides and simply pack a tablet. My hand luggage used to be chocker with all sorts of entertainment options but now I just have my iPad and it's made travelling so much easier.
Consider buying a portable charger
if you're planning on taking long journeys. I have one that isn't much bigger than a lipstick but it will charge my iPad for about 5 hours. It's a good backup for emergencies too – like if you've got your hotel confirmation email stored on your iPad and the battery has died!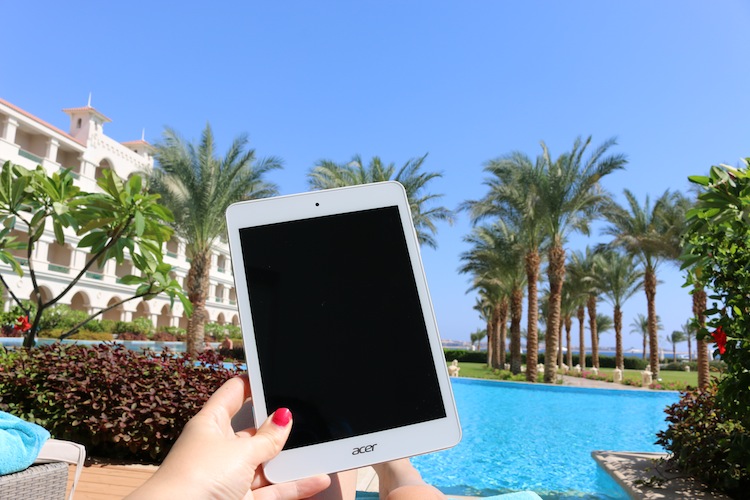 #6. Pack simple clothes and lots of accessories
If you look at my Travel Style board on Pinterest you'll see that I'm a bit obsessed with jeans and white t-shirts. It's such a simple, easy style and so easy to pull off while you're travelling. I'm really tempted to pack a bag full of white t-shirts next time I go away.
Team your jeans with flip flops, Converse, winter boots or heels. Then team your t-shirt with a blazer, a cardigan, a sweet jumper or a big scarf and you've got outfits for any situation without having to pack too much. Easy peasy, lemon squeezy.
#7. Pack 'hard working' clothing
No, you're not sending your clothes to work, you're looking out for clothes that have more than one use.
Think things like sarongs and scarves which can be used as towels, blankets and wraps. You also can't go wrong with black leggings. They're easy to wash and dry and go with virtually everything. I recommend River Island's leggings. They're a bit more expensive than your average H&M or Primark ones but they last much longer, keep their shape and come in different leg lengths.
It can be harder to pack light in colder climates. I love UNIQLO's range of Ultra Light Down coats because they pack up into a tiny bag (similar to a cag in a bag) but they're really, really warm!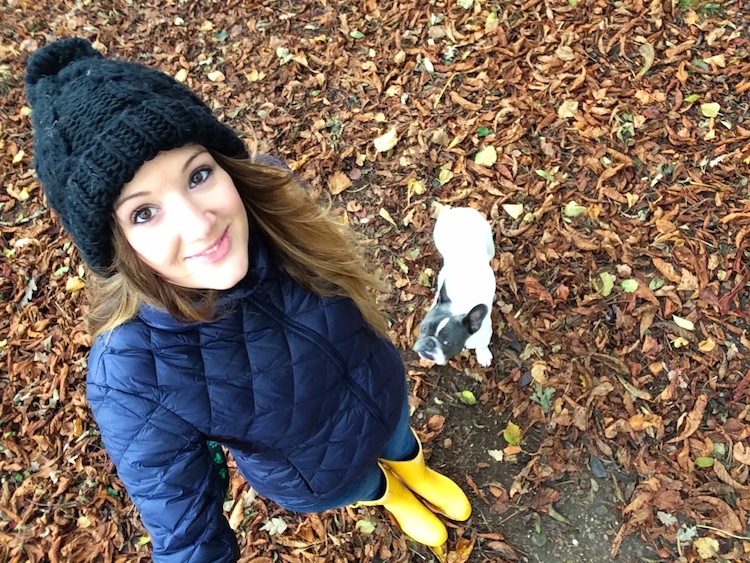 #8. Use packing cubes
I LOVE packing cubes. Not only do they keep your bag organised but they help make the most of your space and stop you overpacking. I tend to travel with four packing cubes. One for tops, one for bottoms, one for underwear and one for evening clothes. Once each packing cube is full you can't possibly squish anything else in so you're forced into packing light whether you like it or not.
Top Tip: I find the rectangular packing cubes like these
are much easier to use rather than the stuff sacks.
Read more: Are packing cubes worth it and do they really save space?
#9. Wash your clothes while you're away
No matter where in the world you're travelling, it doesn't need to be expensive to get your clothes washed.
Fancy hotels in certain cities will charge a fortune to wash your clothes so look out for laundrettes or, cheaper still, wash your clothes in your hotel bathroom. I usually soak my clothes in the sink and rinse them out while I'm showering. Laundrettes and apartments with washing machines will become your best friend if you're travelling for a few weeks or more.
If you're travelling in a developing country it costs next to nothing to get your clothes washed but be aware that if you're paying £0.50 for a load of washing, you don't want to be giving them your expensive designer clothes.
#10. Remember: you can buy everything out there!
No matter where you're travelling, you'll always be able to find the necessities. You might not find your favourite brand of shampoo but you will find something very similar.
If you're going somewhere where you think you'll need specialist equipment, wait until you get there to buy it. You're not the first traveller to visit and you won't be the last so you can guarantee you'll find local shops selling everything you need.
When I travelled to Borneo I climbed Mount Kinabalu. I'd spent the past 18 months in Australia and didn't have a single item of warm clothing or a decent pair of shoes. I was panicking but when I arrived to Kota Kinabalu I realised I wasn't alone and the city was filled with hiking shops thanks to all the travellers who pass through and pick up the necessary hiking items.
#11. Don't use lots of small purses and pouches
(This doesn't apply for packing cubes – I mean really small pouches for tiny things)
The first time I went backpacking I was super organised and had a separate little pouch for everything. A pouch for medicine, one for toiletries, one for souvenirs. Yes, my bag was organised for about the first 5 days (out of about 450 days!) but I had lots of unused space in my bag. Socks and toiletries are the perfect items to squeeze in your bag and fill up the gaps. Lots of pouches lead to lots of gaps and lots of wasted space.
#12. Use a bag or case that opens fully
I don't recommend using a top-loading backpack. This means smaller items slip to the bottom and are forgotten. Use a bag that opens all the way and you have access to everything. You don't need to be quite as organised and this reduces the needed for all those little purses and pouches.
Do you have any more travel hacks to help you pack light?
You can find even more packing tips over here.