The first thing I noticed about my hotel room was that there was no bed.
Curious, I looked in cupboards and searched for hidden panels in the wall where perhaps a Murphy bed could be hiding. Nothing. Then it dawned on me.
My room search had revealed that another fairly important feature was missing from my hotel room: a bath or shower.
This traditional Japanese hotel was located in Oita Prefecture, on Kyushu Island in the country's south-west. This area is known for its hot springs, called onsen, and visitors travel from around the world to bathe in the naturally hot water.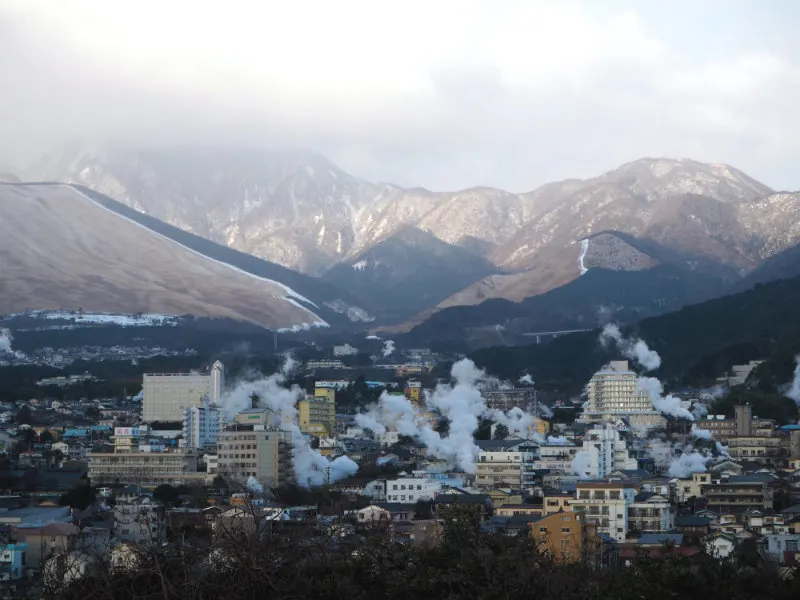 In the town of Beppu alone, there are over 2,000 hot spring sources, and on a winter's morning the steam rising from the onsen makes it look like the town is on fire.
So at Musouen Hotel, where I had no bed and no bath, onsen is not only encouraged, it's pretty much compulsory. And what a beautiful way to get clean! These particular onsen were open 24 hours, so you can freshen up at night beneath the stars, or in the morning as the sun begins to hit the peak of Mount Yufu.
Or, like me, you can just do both!
Like so many things in Japan, the culture of onsen is steeped in tradition and ritual. It can be daunting for a first-timer to navigate, especially because the instructions provided aren't particularly comprehensive.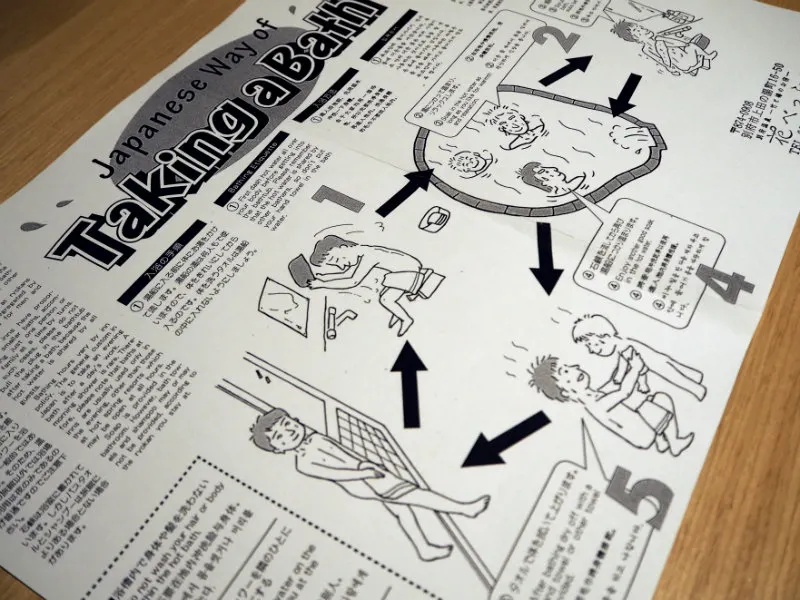 Don't let that put you off, though. If you're visiting Oita Prefecture you absolutely cannot skip the onsen experience. To help you navigate it, here are some tips and tricks I learned from the locals (as well as from a bit of trial and error).
Oh, and in case you're still wondering about the bed, when I got back from dinner the traditional Japanese futon was set up on the tatami mat floor. And I had a great night's sleep!
Leave your bathing suit at home
When I packed for this trip – knowing that onsen was on the itinerary – my swimsuit was the first thing to go in my suitcase, as well as a pair of flip flops. I laugh at my naiveté now that I know better. In Japan, you onsen naked. No exceptions.
And before you panic, the onsen aren't mixed. Men use one area, and women another. Historically, the onsen were shared but these days that's extremely rare, and if you're using the public onsen at your hotel they'll always be separate.
I know that for many western cultures, public nudity can feel extremely uncomfortable, but here in Japan it's just the way things are. No one is staring and no one is self-conscious. Plus, once you're in the onsen you're covered by the water and won't be exposed.
It's surprisingly liberating, too, so leave your togs at home and get ready to strip off.
Don't just wing it – follow the rules
Navigating the onsen culture isn't something you can just catch onto when you're there (unless, of course, you speak Japanese and can ask someone for instructions).
There are specific steps to follow, and if you break the rules you might upset the locals who cherish their onsen time. But don't worry – if you read this guide and follow these steps you'll be just fine!
Relieve yourself
The onsen that I visited didn't have restroom facilities inside. There are changing rooms and showers, but it's best to visit the bathroom before you go.
Dress the part
Most hotels will provide you with some kind of robe to wear to the onsen. In one hotel I stayed in, this was something like a pyjama set, with loose trousers and a button-down top. In the other, it was a yakuta, which is a cotton kimono. You'll also get socks (the kind with the big toe separated from the rest of your toes) and some sandals, so you can walk outside comfortably.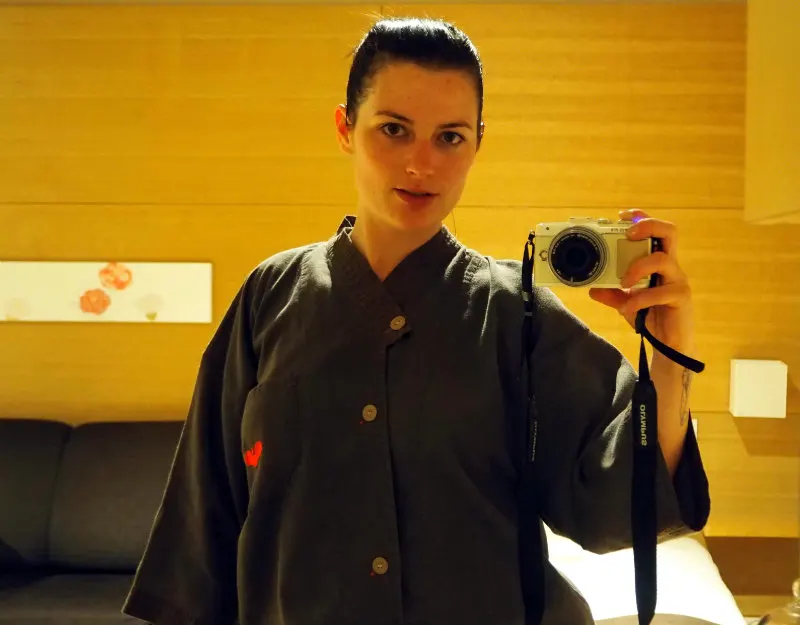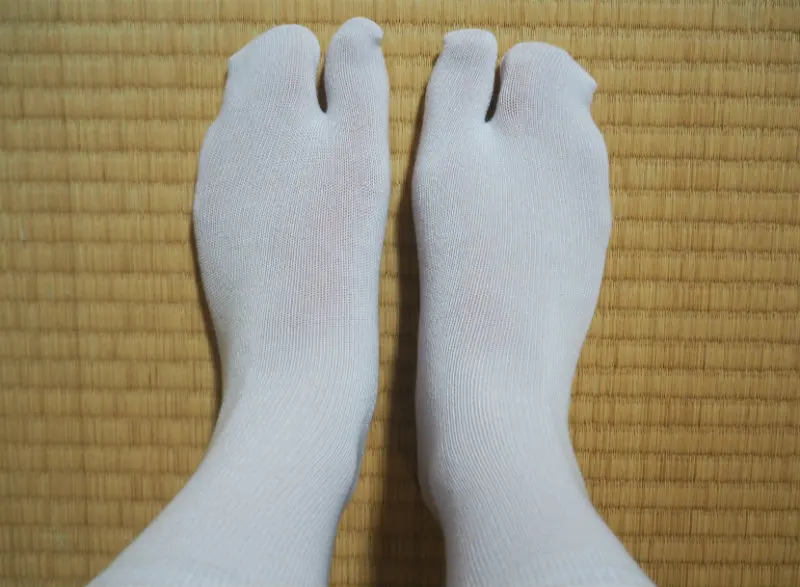 There's no need to go fully dressed in your regular clothes – it's actually much nicer to get into something loose and flowing after a relaxing onsen.
Cover your ink
Japanese history and culture means that tattoos are a complicated thing. The long and the short of it is that not many people in Japan have tattoos, and they're mostly banned in onsen.
If you have extensive ink, you can find onsen that accept visitors with tattoos, but you might need to do your research first and you could be restricted as to where in Japan you can go for a traditional onsen.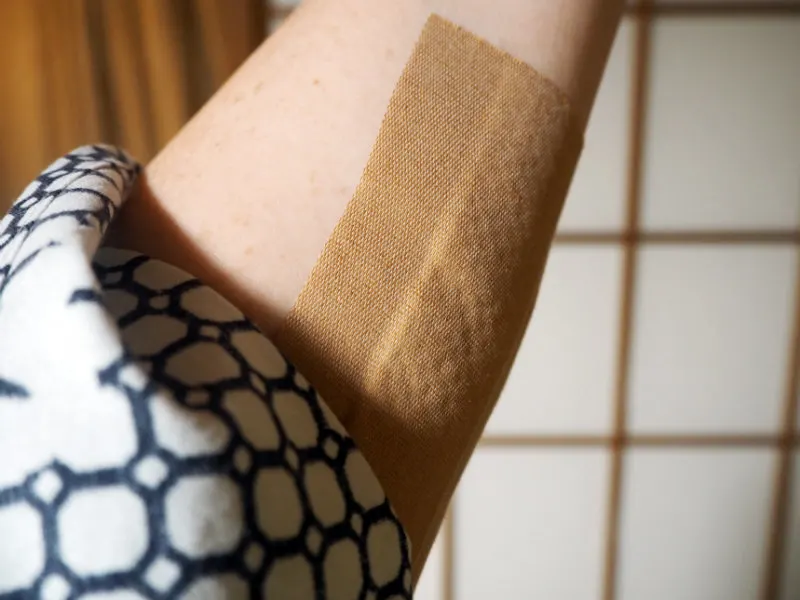 If you have small tattoos, like I do, cover them up with plasters before you enter the onsen. I have to admit, I totally forgot to do this on one of my trips to the hot spring (it's just not something I ever have to think about) and I only realised halfway through.
I didn't get kicked out, and no one said anything, but it's best to be respectful and keep that ink hidden.
Bring only what you need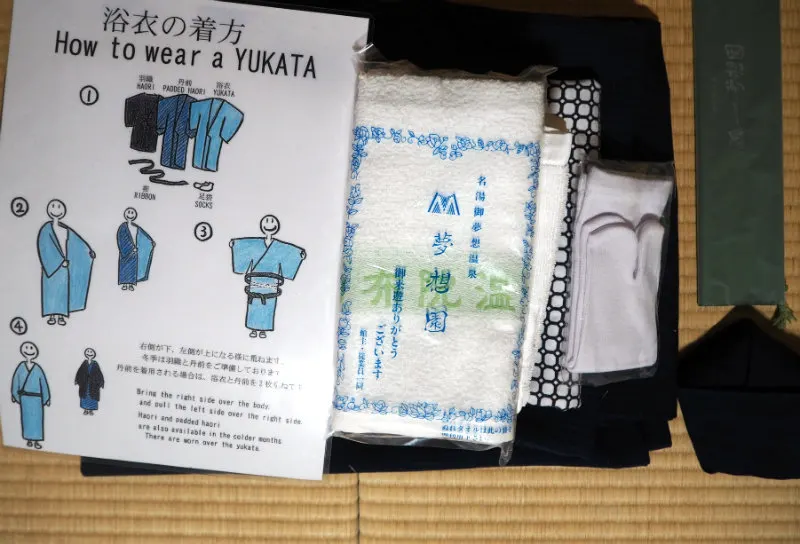 You can't really bring anything into the onsen with you, so leave most of your belongings in your room if you can. There are free lockers for your valuables, but these are relatively small – designed just to hold your yakuta, socks and towel.
The locker key can be placed on your wrist and taken inside the water, so you don't need to worry about losing it.
No cameras
There's one rule that's made clear at every onsen: no cameras!
Although many of the onsen are spectacularly beautiful, please resist the temptation to sneak a camera in and take photos. People are naked, and they want to feel comfortable and relaxed in this environment.
Please don't be that westerner who gives us all a bad name by thinking you're above the rules!
(The pictures of the hot springs on this blog were provided by the onsen).
The towel dilemma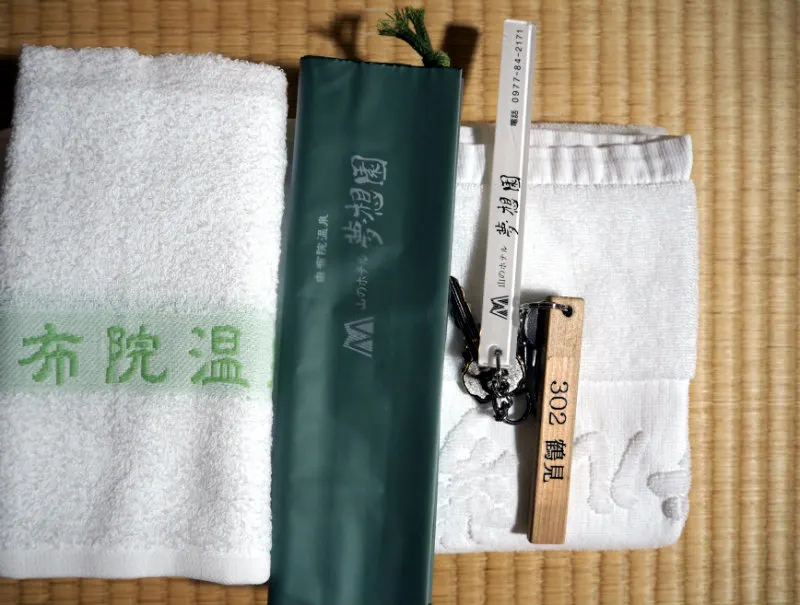 This one took some extensive explanations from a local before I understood.
For an onsen, you bring two towels: a regular bath towel, and a small, thin hand towel. Here's the deal. Leave the big towel in your locker, and bring the small one into the onsen with you.
In fact, this is all you will take once you've left the changing room. I'll explain what you do with it shortly.
Shower first
Okay, so you're totally naked, you're carrying a small towel, and you've stepped outside to the onsen. You'll see open-air showers around the hot spring, so head to one of these and rinse yourself thoroughly, keeping your towel dry. No need for soap at this stage.
On the rare occasion that there is no shower, there will be small buckets around the onsen. Use these to scoop up water from the hot spring and rinse off outside.
Soak in the hot spring – towel on head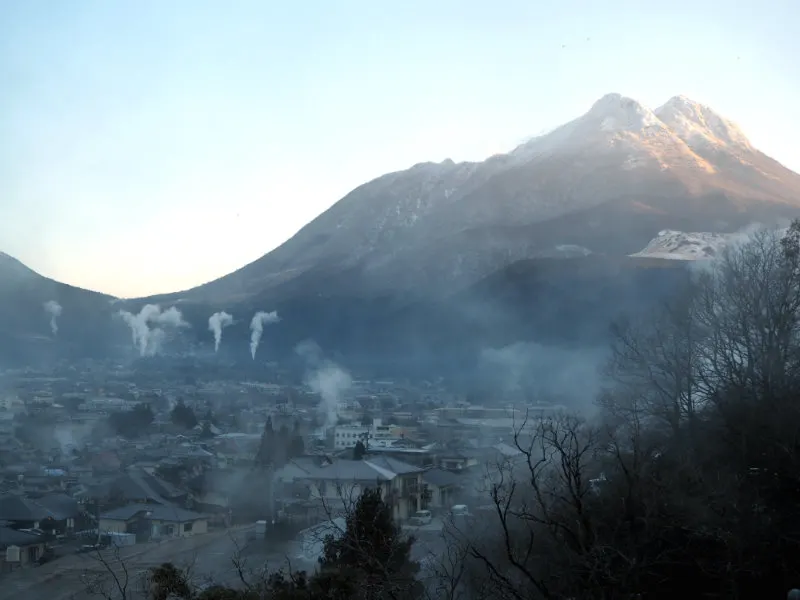 Now you can finally get into the onsen!
Go slowly and carefully, giving your body time to get used to the heat and being careful not to disturb the water too much.
You also need to make sure – and this is very important – not to get your towel in the water! You can hold it up or put it on your head as you move gently around the onsen, and once you find a place to sit you can place it on the side.
Enjoy the soothing water for ten minutes or so, or until you feel ready to get out.
Get out and scrub
Now's where the towel comes in handy. It's time to shower again, but this time you'll do more than just rinse. Sit on the stool in front of the shower and, using the soap provided (and shampoo if you want to wash your hair), scrub yourself with your towel all over, including your back.
Rinse yourself very thoroughly, and when you're done, rinse the towel until there's no soap left in it. Squeeze as much moisture out of it as you can before you get back into the onsen.
You can also use this time to grab a drink of water if you need (and if there's a drinking fountain available).
Onsen again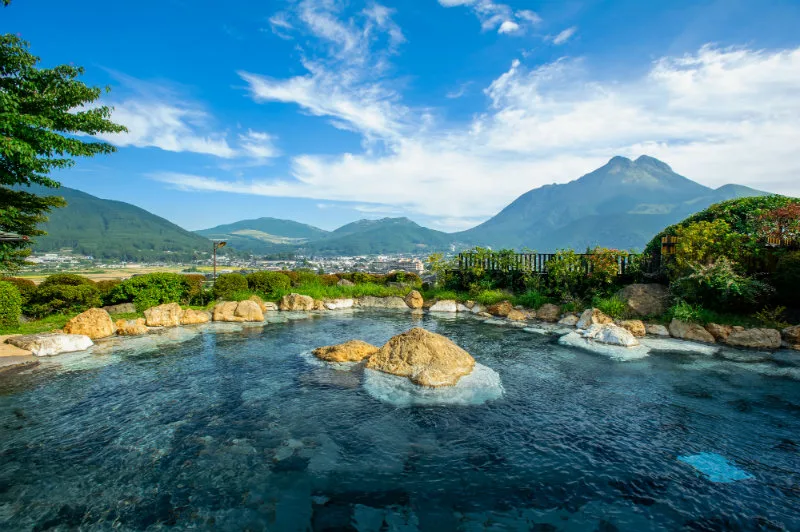 Back into the onsen!
Once you're thoroughly scrubbed, head back into the hot spring for round two of relaxation. Soak for another ten minutes or so – being careful once again to keep your towel out of the water.
Get out and rinse
When you're ready, get out of the hot water and rinse yourself in the shower one final time.
Dry yourself before going back inside
Using your damp (but well wrung) towel, wipe the excess water from your body so you're not dripping wet when you go back into the changing room.
Pamper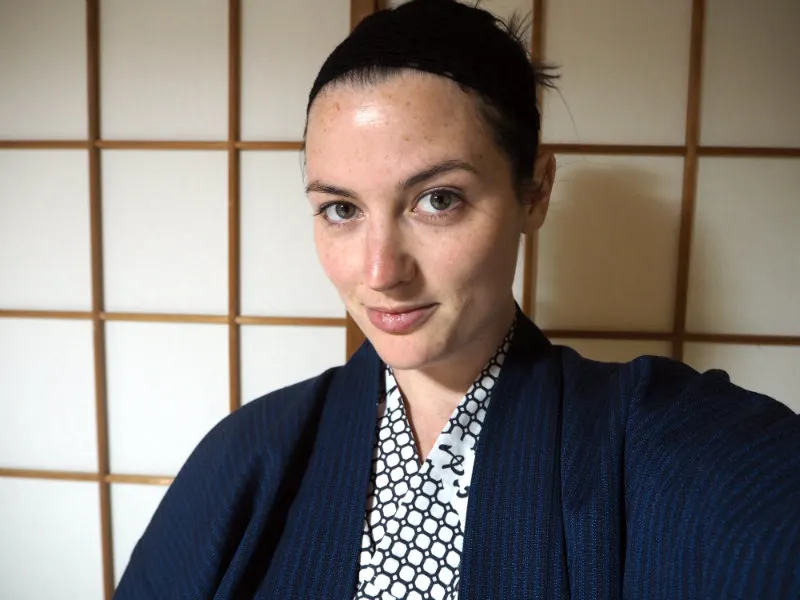 You can now collect your bath towel from your locker and dry yourself completely. Many changing rooms have hair dryers, moisturisers, tissues, and cotton pads so you can do your hair and makeup before you leave.
Get back into your yakuta, socks and sandals, and leave the onsen in a blissfully calm state.
Repeat
Once you've successfully navigated a Japanese onsen once, you'll be hooked. In Oita Prefecture there are countless locations for you to enjoy the onsen experience (check out the region's onsen here). It's said to have many health benefits (they say you'll live an extra three years for every onsen you take!).
So stay a while, rejuvenate, and soak up this Japanese tradition like a local!
I experienced Japanese onsen at Hotel Hana Beppu & Musouen Hotel, thanks to Tokyo Metropolitan Government