Eating in the home of a perfect stranger is probably up there with the top 'worst-nightmare' situations for the majority of Brits. Dinner parties are awkward enough but dinner parties where everyone is a stranger takes it to a whole new level.
I'm always telling myself that life is about trying new things so when I was invited to have dinner at the home of a professional chef, Danny Jack, I couldn't exactly say no.
I was invited by the people behind EatWith which is a community that offers authentic dining experiences in people's homes around the world. They've been described as the Airbnb for the food industry and they look set to be just as popular. EatWith brings together local hosts, with a passion for cooking and entertaining, together with travellers and other locals who are looking for a totally new kind of dining experience.
It's a little like a supper club but it feels less hidden and secretive and much more accessible for tourists.
London is a crazy, confusing and expensive city for most tourists. Beyond the main attractions it can be difficult to know what's worth spending your money on so it's great if you can spend some time with a local to pick their brain about where to go.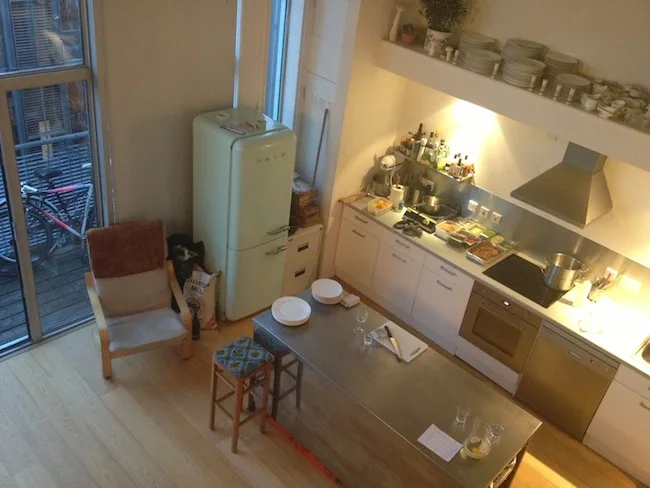 I arrived at Danny's super stylish flat in east London where a small group of Londoners were sipping elegantly on homemade elderflower infused water. Why is it that whenever I make flavoured water it remains bland and dull but this was a delicious concoction that was sweet and subtle and flavourful? They'd even picked the elderflowers themselves!
The rest of our party arrived and brought together an unusual collection of investors, bloggers, architects and artists. It was the kind of group that you'd never normally see together but somehow it worked. We were united by a love of London and good food and the conversation flowed as well as the wine.
Most EatWith hosts won't be professional chefs so we were very lucky to experience such delicious food as well as an authentic experience in his home.
The menu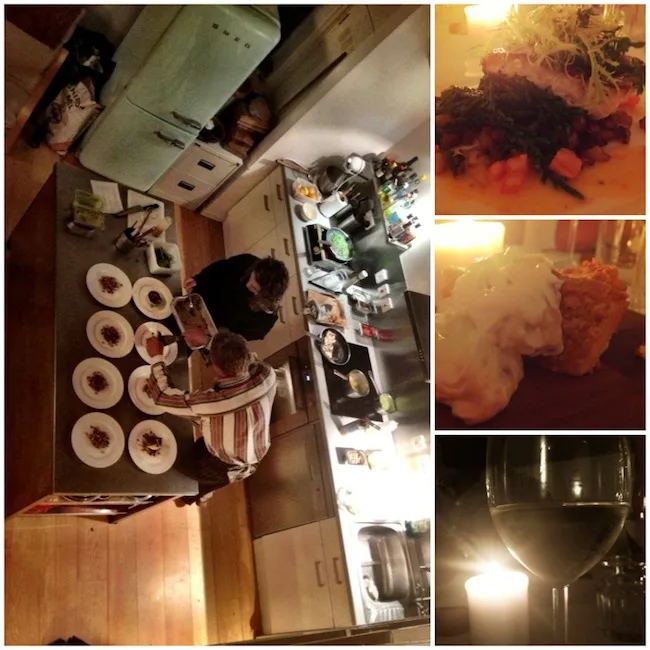 To start
Fennel and fresh pea riosotto, lemon zest, ticklemore goats cheese and pea shoots
Main course
Pan fried cod fillet with new potato salad, leek puree, samphire and butter sauce
To finish
Orange and polenta cake with sweet lemon yoghurt and pistachios
Needless to say, the food was beyond delicious. And I may have lived in London for two years but there are so many hidden gems I still don't know about so it was great to hear about some new places to visit.
More about EatWith
EatWith began in Barcelona and there are now over 300 hosts around the world. They've now received thousands of applications from people eager to become hosts.
All hosts are verified by an EatWith member of staff so, don't worry, you won't end up in the home of someone who is as terrible at cooking as I am.
Each and every EatWith meal is home-cooked from scratch using fresh, local ingredients. It's usually quite an informal dinner so in most cases you'll be able to watch or help your host so you can recreate the meal at home.
Over 100 different nationalities and 50 different cuisine types are represented within the global EatWith community.
EatWith was one of just 30 start-ups from around the world chosen to launch at TechCrunch Disrupt NY 2013.
I've been to a dining experience like this before in Belgium (Comme Chez Moi: At Home with the Belgians) and, as a tourist, it was a brilliant way to learn more about a new city. The locals can tell you all the best places to go that most tourists would never discover. So if you're visiting London for the first time, I can't recommend this enough. It's also a lot of fun if you're a Londoner and fancy trying something new with the chance to meet some interesting people.
So, tell me, would you try a dining experience like this where you have dinner in the home of a local?