No matter how old I get, I will always be a big fan of celebrating birthdays. Your birthday is the one day of the year when it's all about you and celebrating your very existence. And if that's not something to celebrate, I don't know what is.
I've been very lucky and I've celebrated my birthday in some incredible places. Last year I was in a tree house in Wales, the year before in Iceland, one year in London, one in Sydney and one in Laos. And this year got even better as I was in the Maldives!
Yep, I spent my 28th birthday in paradise and it couldn't have been more perfect.
So what do you do if you want to spend your birthday in paradise?
Here are a few Travel Hack ideas…
The night before, you might want to get your boyfriend to propose so you can wake up with a big smile and an enormous smug face. If the birthday feeling hasn't got you walking on air, that ring on your finger certainly will.
Get up early and just before 6am enjoy a sunrise breakfast on the beach. It's served with exotic fruits, freshly baked pastries, poached eggs, crispy bacon, coffee, orange juice and champagne.
What a way to start the day.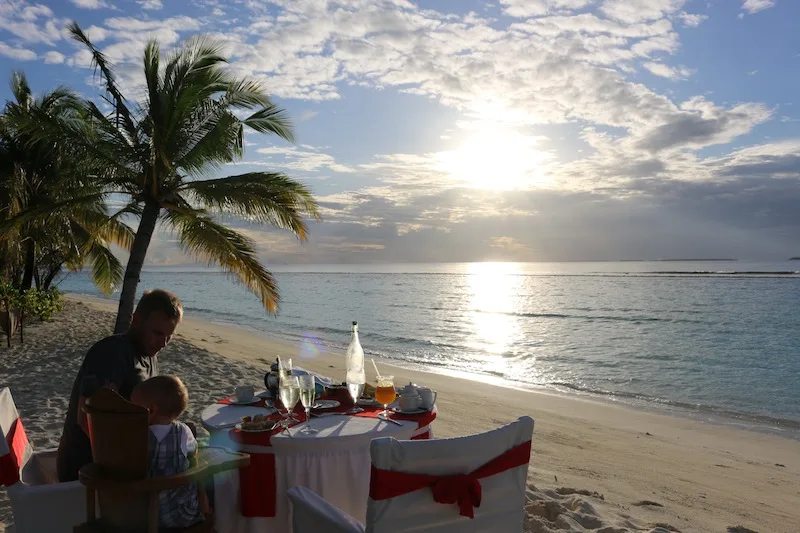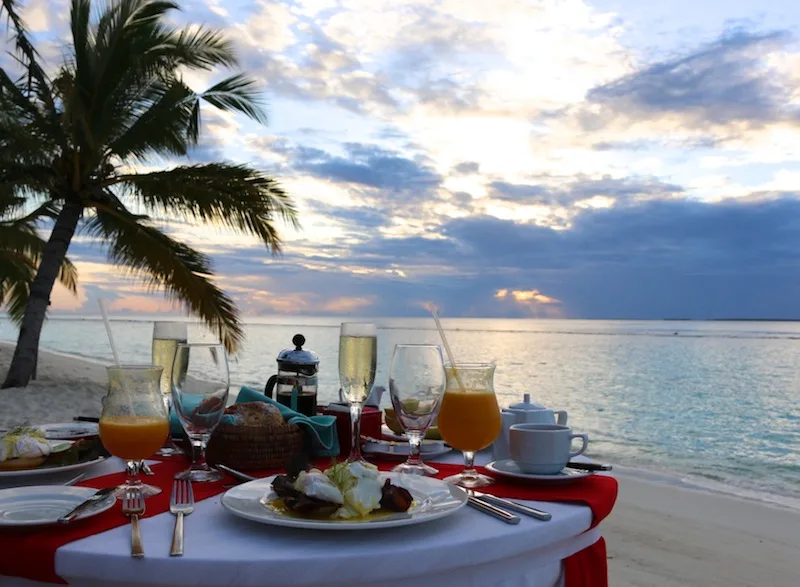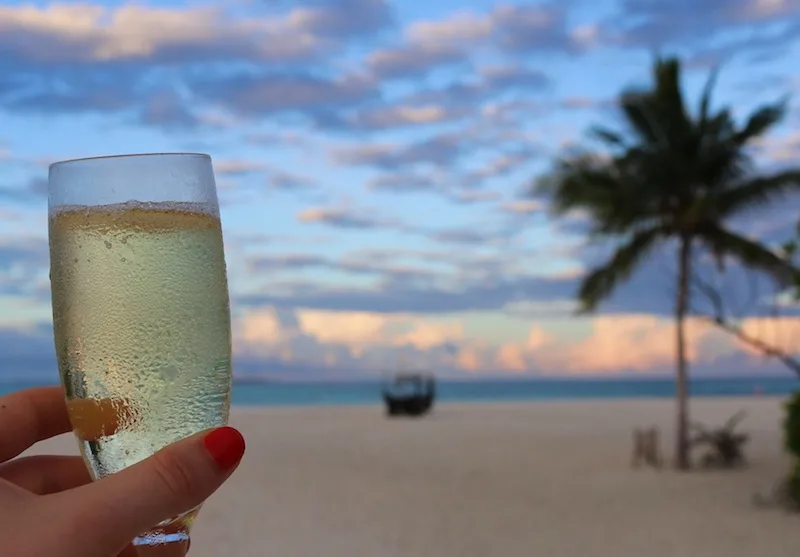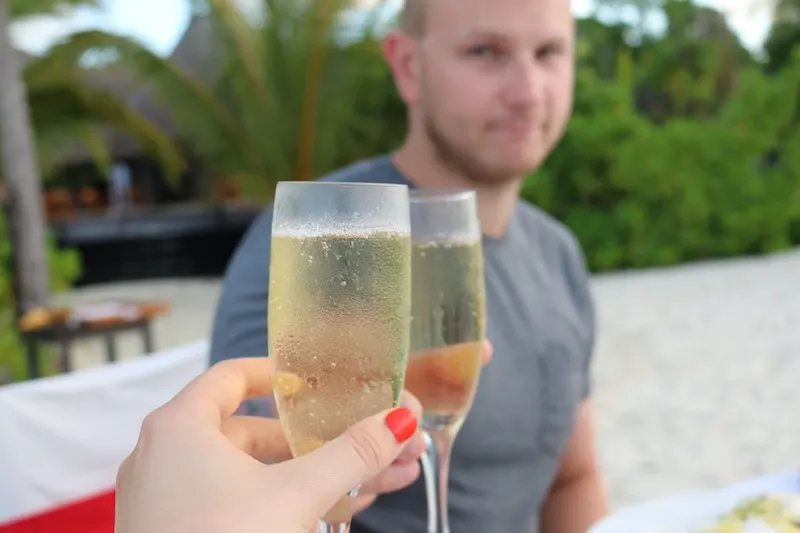 By 8am the heat is cranking up so move into the shade to enjoy your breakfast champers because it's present time (obviously the best part of a birthday!) I was a very lucky lady and Sam and George spoiled me rotten.
After a quick rest it's time for a boat trip to spot dolphins. Sit back and relax as the warm air breezes through the boat while you skim across the blue seas. Within minutes the boat crew are pointing and shouting from the front of the boat.
'Dolphins! Dolphins!'
Get your camera ready to capture them leaping through the waves and playfully splashing around the boat. This never gets old, no matter how many times you see those grey fins skirt across the surface of the sea – and trust me, you see a lot!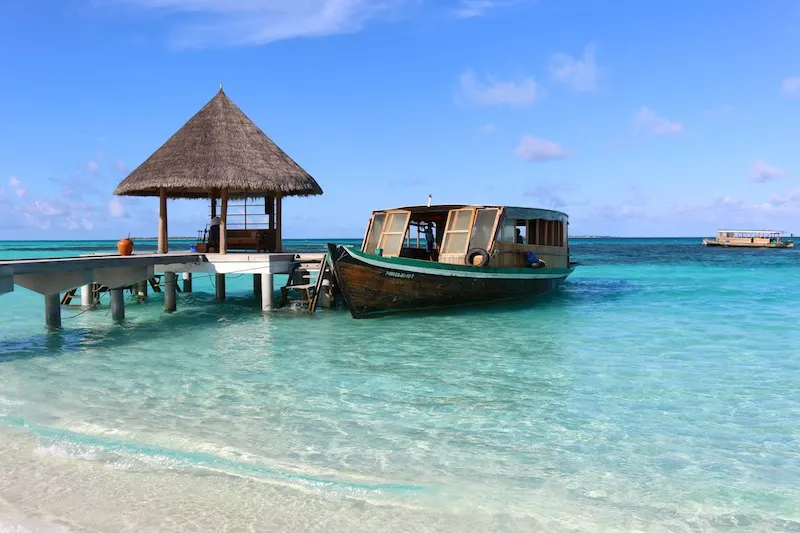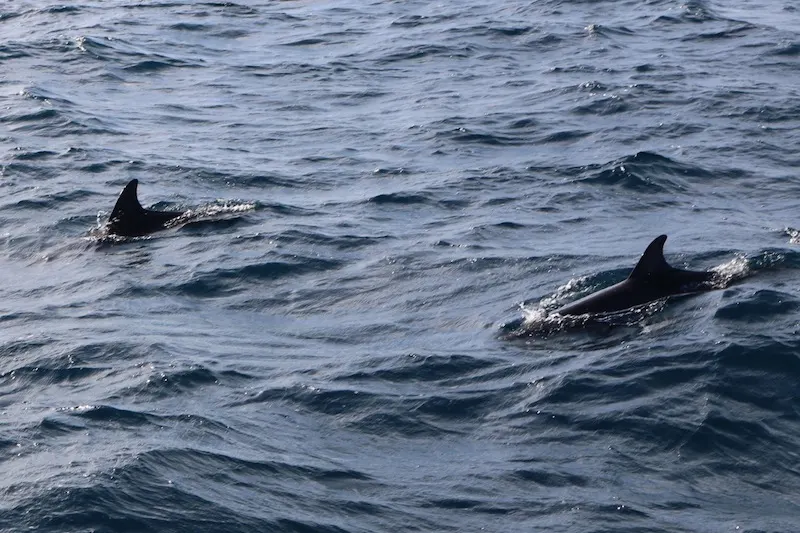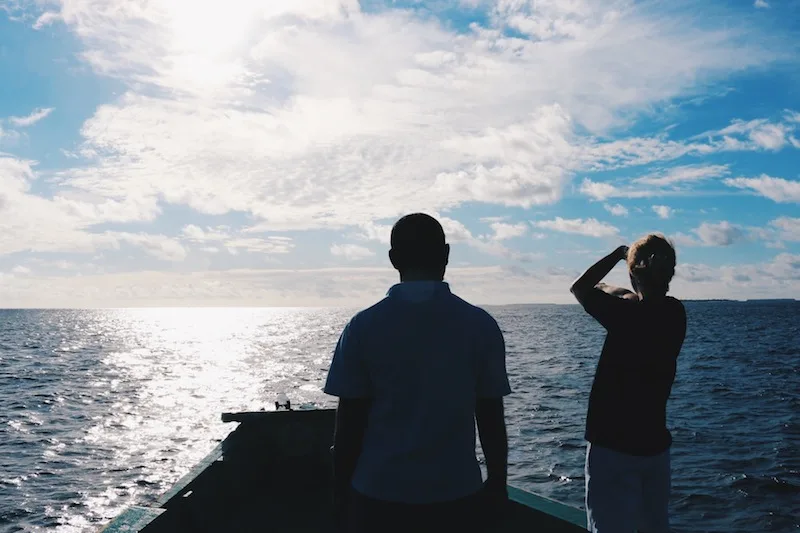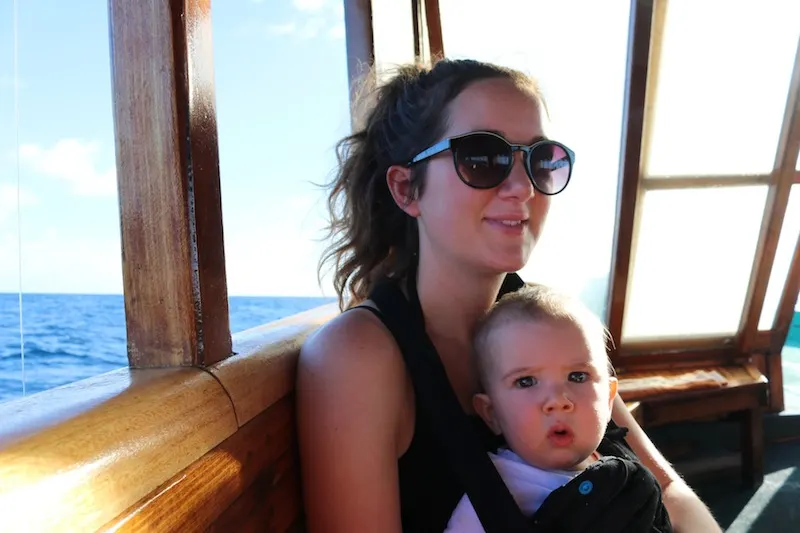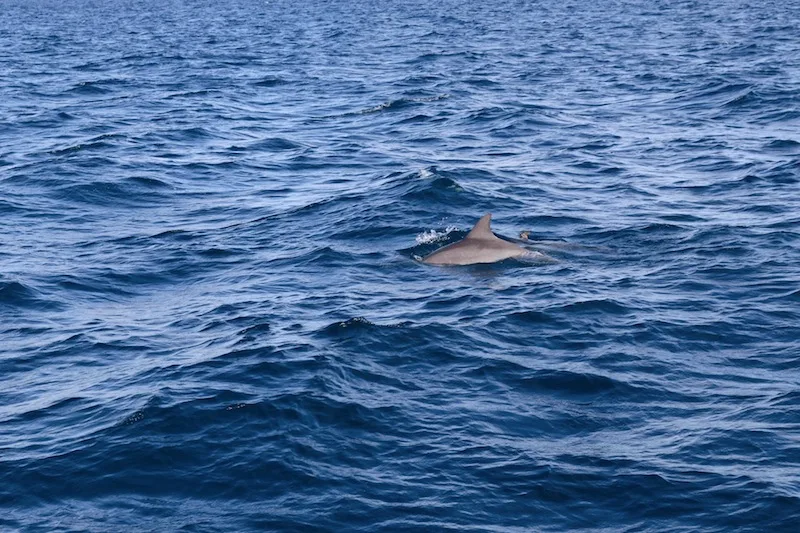 Head back to your perfect little beach villa to chill out take a swim. Don't forget your snorkel and mask as there's so much to sea.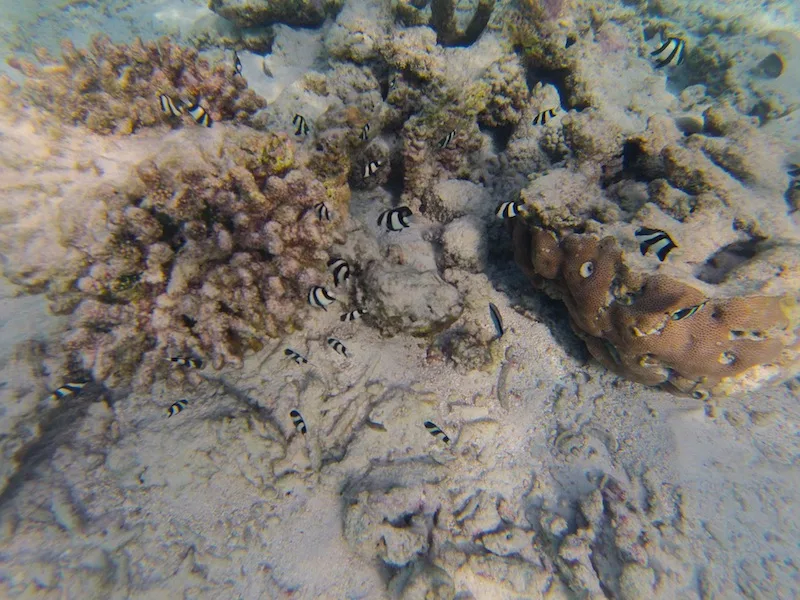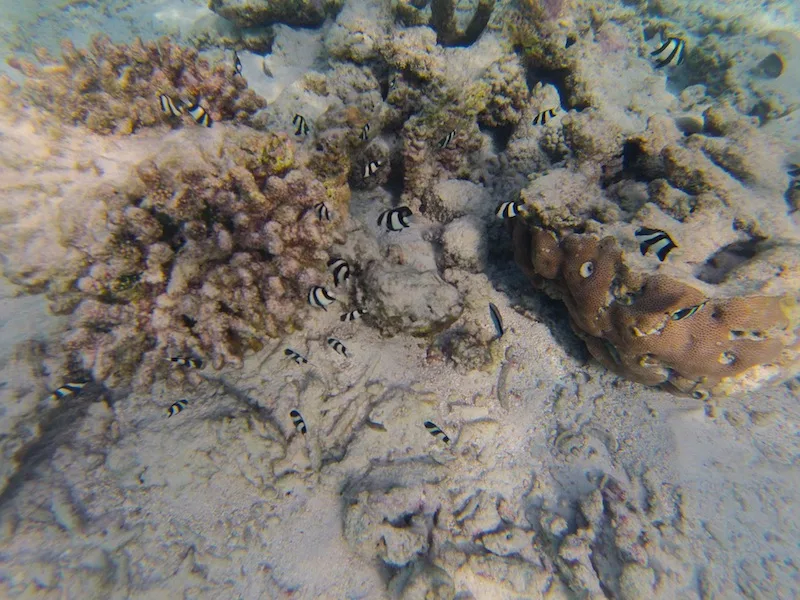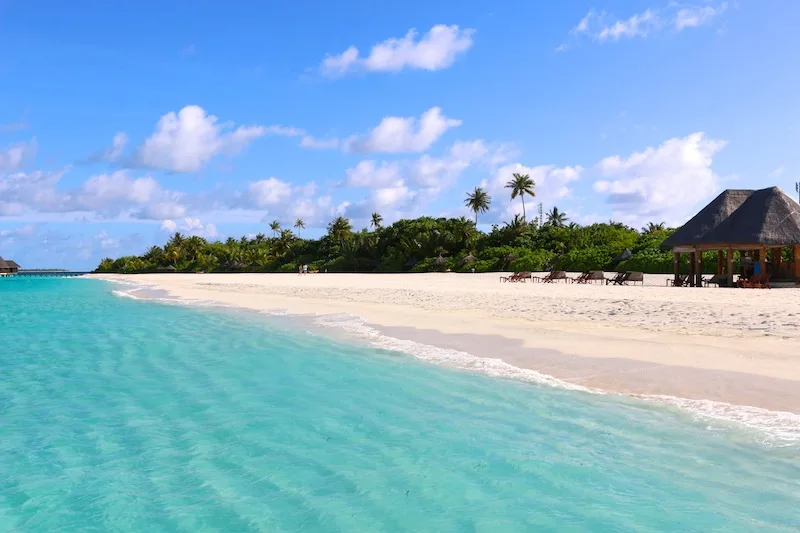 Head to the open air restaurant for lunch where all the friendly staff know it's your birthday. I was greeted like a celeb as they all wished my happy birthday while I tucked into a random combination of foods. Sushi and salads and pizza and fresh fish were followed by cakes and chocolates and ice cream. Calories don't count on your birthday. Fact.
Relax in the sunshine and read a book after lunch. Once your meal has gone down, head to the spa where you'll be greeted with hushed voices and ginger tea. The spa is hidden in the depths of the forest and relaxing music plays from within the trees. Signs indicate this is a whisper zone and the magical atmosphere is punctuated by nothing but the occasional bird chirping from above.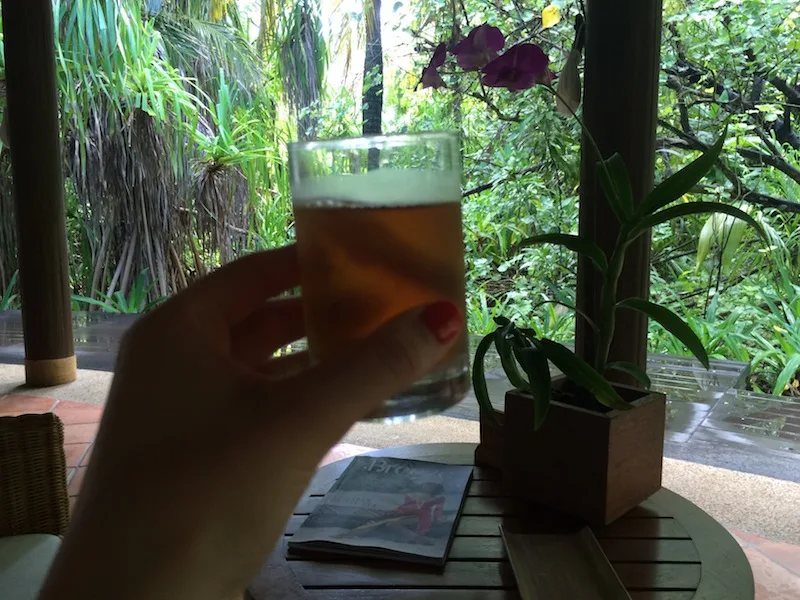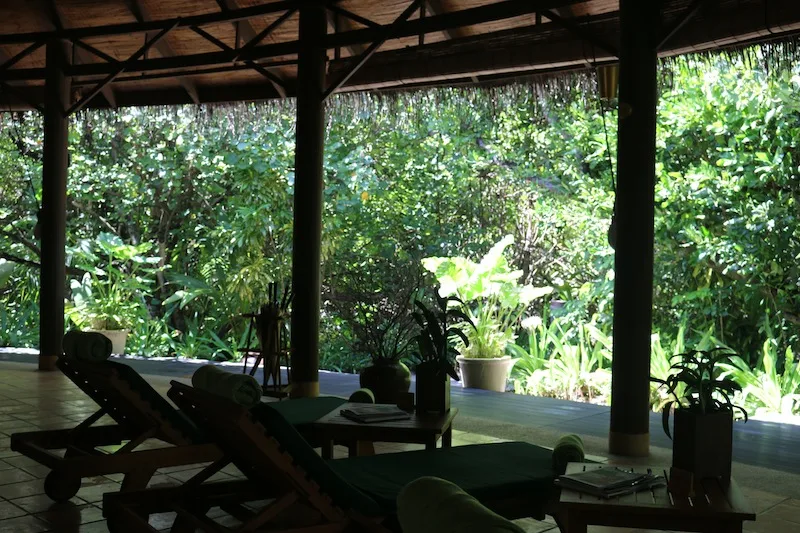 Opt for a full body massage to have every muscle indulgently pampered. Every knot is smoothed away until your limbs feel light and your eyelids feel heavy. Relax in the Jacuzzi after your massage for an extra level of relaxation.
Head to the island's beach bar just before sunset and order a cold beer. Sit back and enjoy the colourful show as the sun sinks beyond the horizon.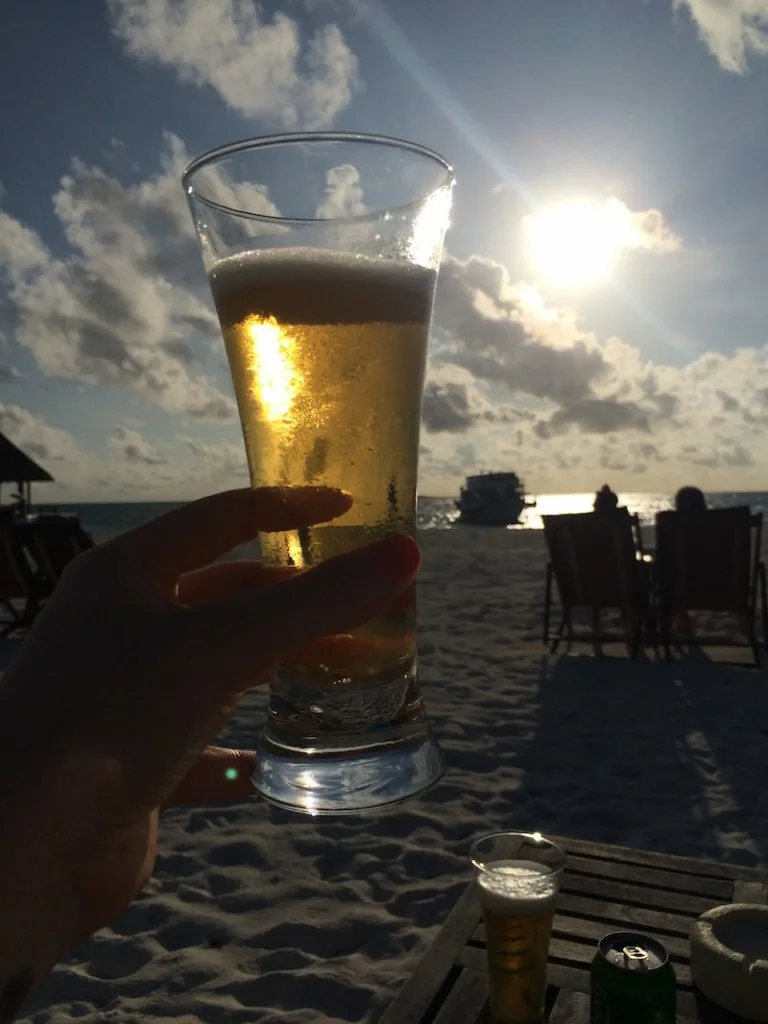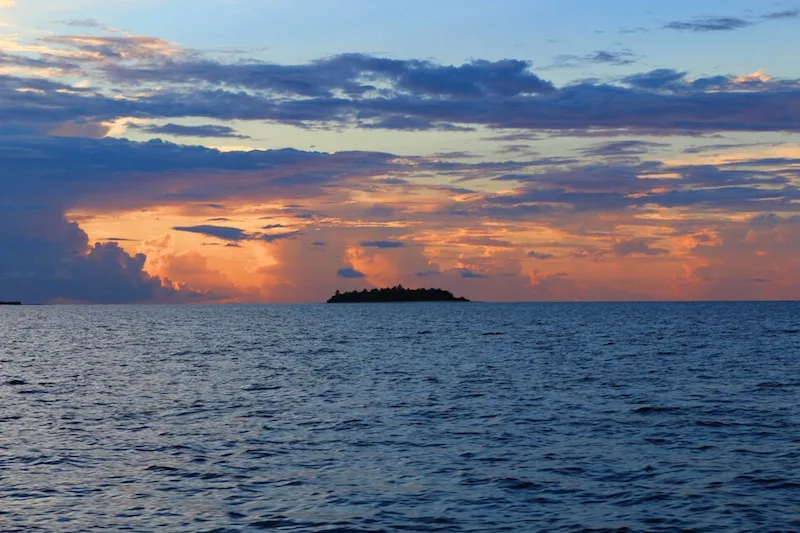 Take a hot bath in your private plunge pool in your open-air bathroom and get glammed up for dinner. The best thing about island glamour is that you can let your hair go wild and there's no need for heels. There's not even any need for shoes – this really is barefoot luxury.
Enjoy the cool of the evening and take a stroll around the island. The hidden torches illuminate the forest and there's something magical about walking along the beach in the dark. A long walk will also send a baby to sleep so you can enjoy your birthday dinner in peace!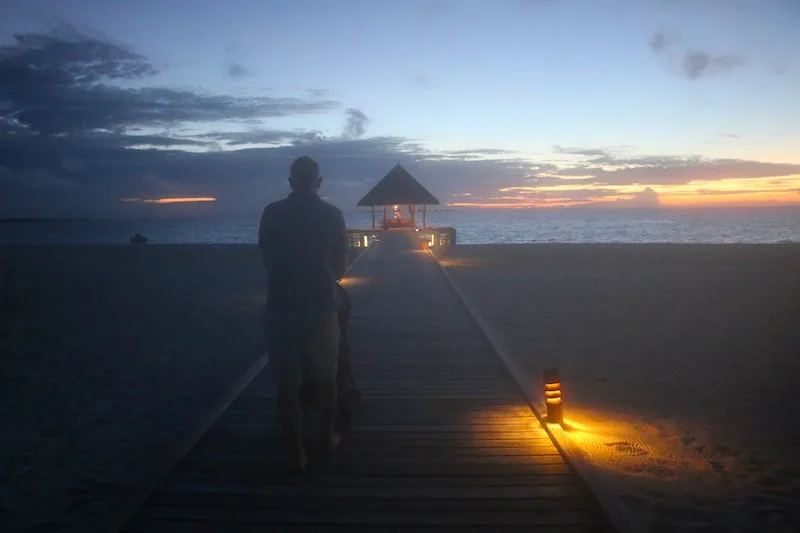 For dinner, try the BBQ banquet, a feast unlike anything you have seen before. The BBQ is served under the stars unless there is the rare chance of rain. Waiters will bring you enormous platters of lobster, prawns, squid, crayfish and fish wrapped up in banana leaves. And that's just your first course. Next up you'll have steak and chicken and kebab sticks. Make sure you save space for the desert buffet and the surprise birthday cake they're waiting to bring out!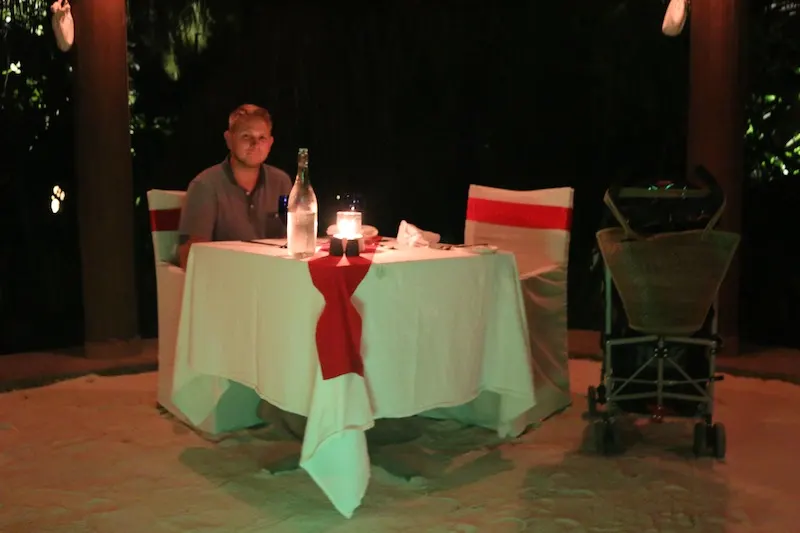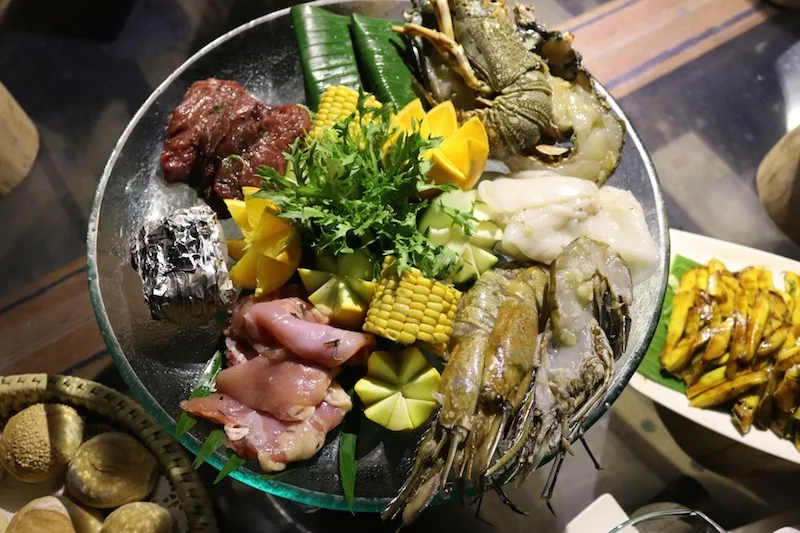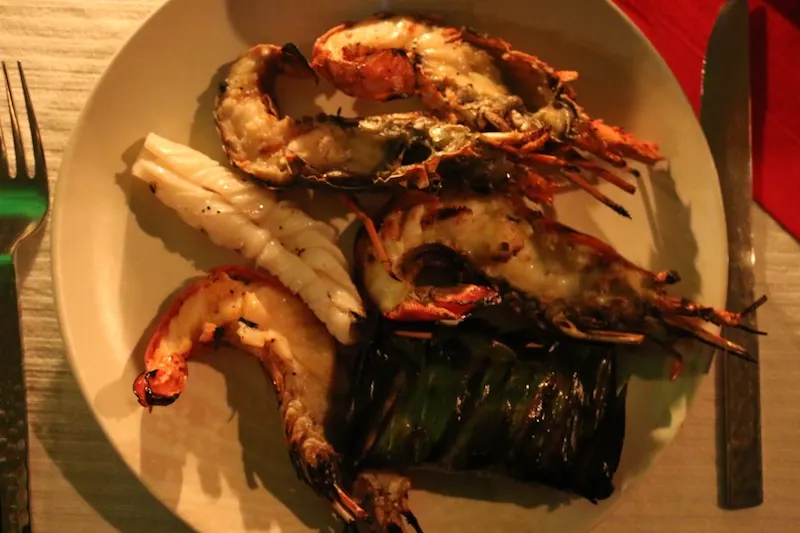 Head back to your villa to enjoy a glass of wine next to your private pool. It's still so warm you might even want to take a dip.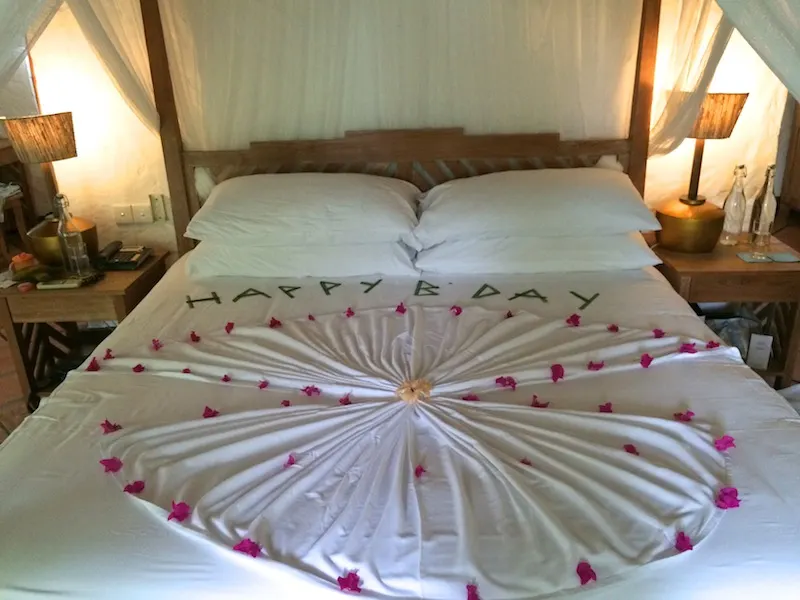 There you have it, how to spend your birthday in paradise. Sounds pretty perfect, right?
---
The holiday low-down
I flew to Male with Turkish Airlines. I departed from Birmingham with a 3-hour layover in Istanbul – a good choice if you're travelling with little ones!
I stayed at Coco Palm Dhuni Kolhu for 6 nights in a Deluxe Villa on a full board basis.
Massive thanks to Visit Maldives for helping to organise my trip.
---
#ShellMeMyName Competition Winner!
Remember when I announced that Coco Palm Dhuni Kolhu were hosting a competition to win a trip to the island?
Congratulations to Tatiana Humphreys who is the #ShellMeMyName competition winner. Tatiana chose the name Nanaboozhoo.
Nanaboozhoo was a central figure in a legendary Native Indian creation story. Tatiana is a photographer and animal lover so she is the perfect winner. Have an amazing time, Tatiana!