When we arrived at Coco Palm Dhuni Kolhu we were told there was a turtle nest on the island and asked if we'd like a phone call if the baby turtles hatched.
'Yes!!' we nodded enthusiastically at the thought of seeing baby turtles hatching but were told it was unlikely to happen during our stay.
That didn't stop me feeling excited and optimistically checking the turtle nest each morning before breakfast.
By our fifth day on the island I'd accepted that it was unlikely to happen. I actually almost forgot about it. We'd just returned from an excursion to a nearby island where we took a look around a Maldivian village. It was such a cool trip and the last thing I was thinking about was the turtles. Our boat was being tied up to the jetty when we saw one of the marine biologists sprinting across the beach. One of the other marine biologists had been on the trip with us and she started shouting something, jumped off the boat and ran after her.
OK, this was weird.
And then one of the guys from the boat started shouting, 'Run, run, the baby turtles!'
Ahhh. I grabbed my camera and did my best to sprint after her. Sprinting across soft sand isn't as easy as she made it look but the thought of missing the turtles kept me going. (They should make this into some kind of workout at the gym because I was exhausted when I got there!)
I arrived to a small crowd who were bent over a hole in the sand beneath a palm tree. They ooooh'd and ahhhh'd gently as though a sleeping baby were nearby. The stillness around them made me tiptoe over – I'm not sure why because it's not like I'd be clip-clopping as I ran barefoot on the sand!
'The turtles are hatching,' someone whispered as they made space for me on the sand beside them.
At first I couldn't see anything except for a twitching pile of sand and then a tiny grey flipper emerged at the surface. I'd got there just in time to see the first turtle make it to the top!
The silent spell was broken and quiet cheer erupted from our little crowd, encouraging the little guy to keep digging.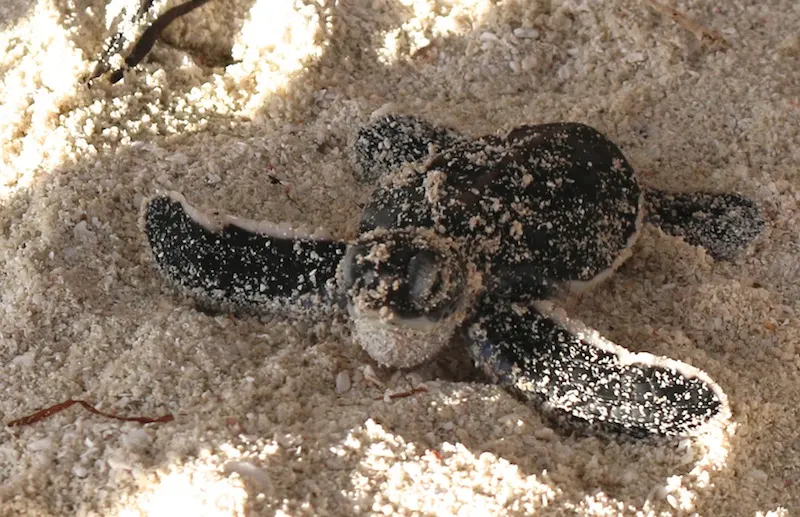 I couldn't help but feel sorry for him. He'd only just hatched and here he was digging his way out and struggling through the sand. He blundered around for a few seconds, initially digging in the wrong direction and flipping over onto his shell. I wanted to pick him up and help him but I knew this was all part of the process and turtles need to make their own way to the shore so they can imprint on the island and come back here when it's their turn to nest.
Then it was as though he woke up from a sleepy dream and was a turtle on a mission. He spotted the sea and a powerful instinct forced him towards it. His tiny flippers scooped the sand behind him and he wriggled across the beach towards the water. Once he was off there was no stopping him!
The marine biologists allowed his instincts to take hold for a couple of minutes before scooping him up safely and placing him a box.
The tiny turtles are briefly captured and kept together in a damp box. Once the lid is on they settle down as though they're back in their nest so it isn't cruel. Then the following morning they're all released in one go to give them a greater chance of survival.
When the tiny hatchlings make it to the sea one-by-one they have very little chance of surving. They're picked up by birds or quickly eaten by bigger creatures. It's a sad fact that even when they're released together they still have very little chance of living to be adults, but at least this method gives them the greatest chance of survival without interfering too much with nature.
Once the first little guy had emerged it was like the nest exploded with turtles. A lady stood next to me did her best to count them as they scurried past her towards the sea.
'10…15…21…..36….45….55…65…70…71….72!'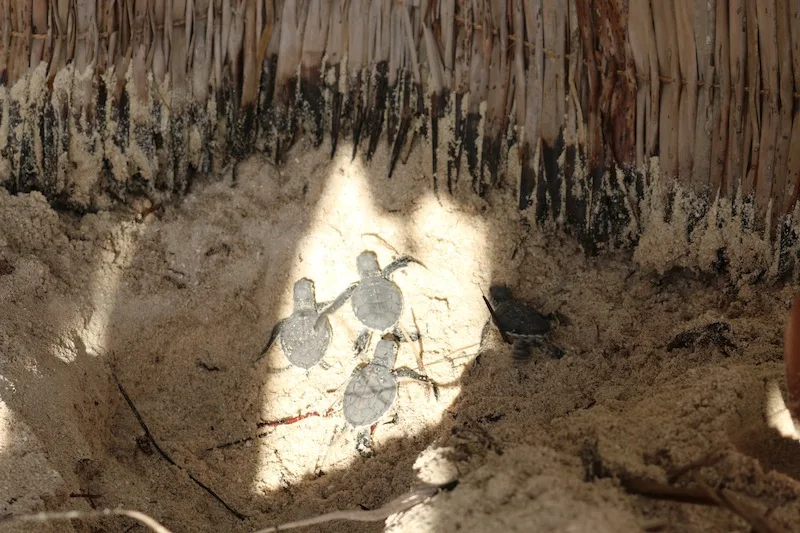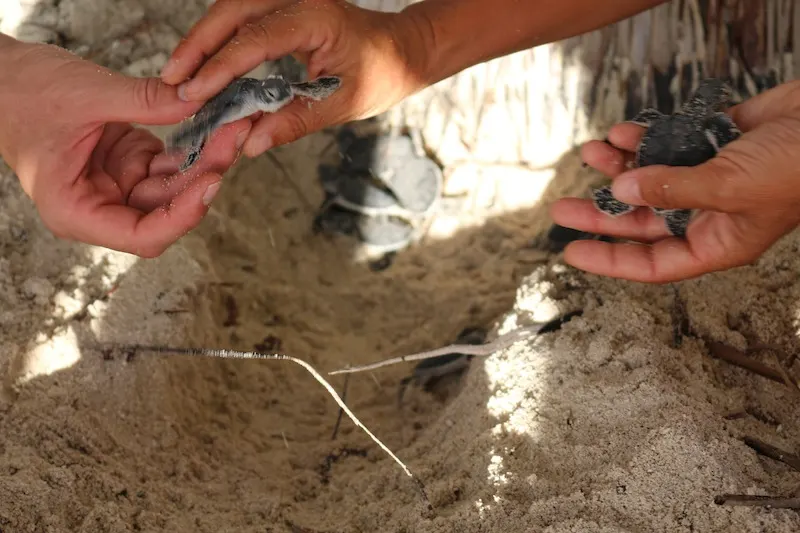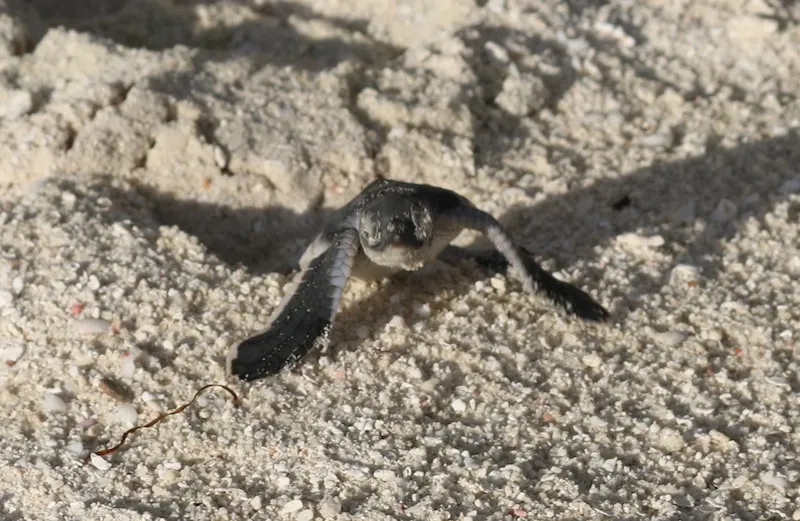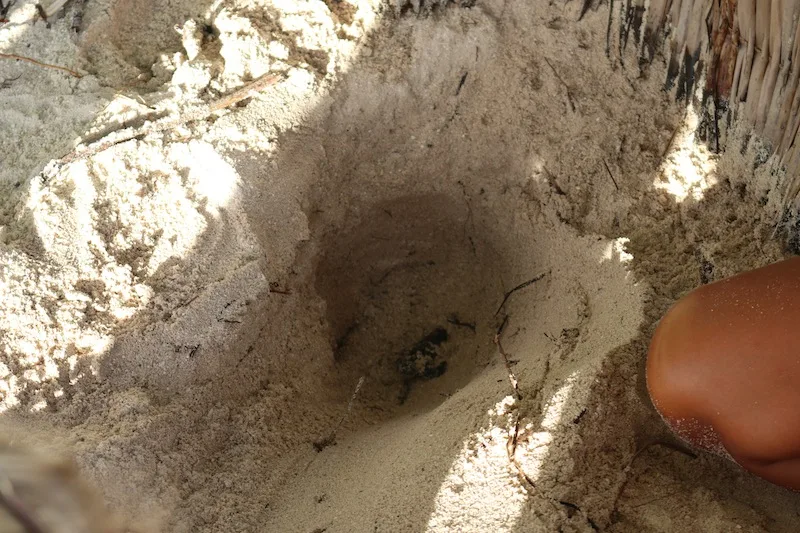 Within just a few minutes 72 turtles had dug their way out of their nest. They came so thick and fast we had to help the marine biologists as they gently scooped them into the box.
Once they were in the box they wriggled around like crazy, clambering over one another in their frantic determination to reach the sea.
The whole process took less than 20 minutes but afterwards I felt exhausted. We'd willed them all to be OK and the excitement of seeing them emerge was such a rush.
Once they'd been taken away I sat with a few of the other people who'd watched the turtles hatch. I'd never spoken to these people before but suddenly we were friends, bonded by such an incredible experience.
The following morning the turtles were released and I hope with all my heart that at least a few of them made it to safety.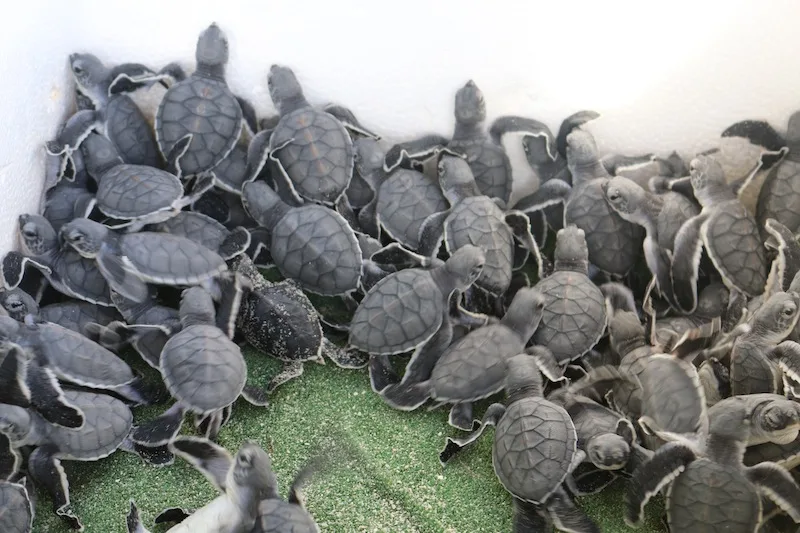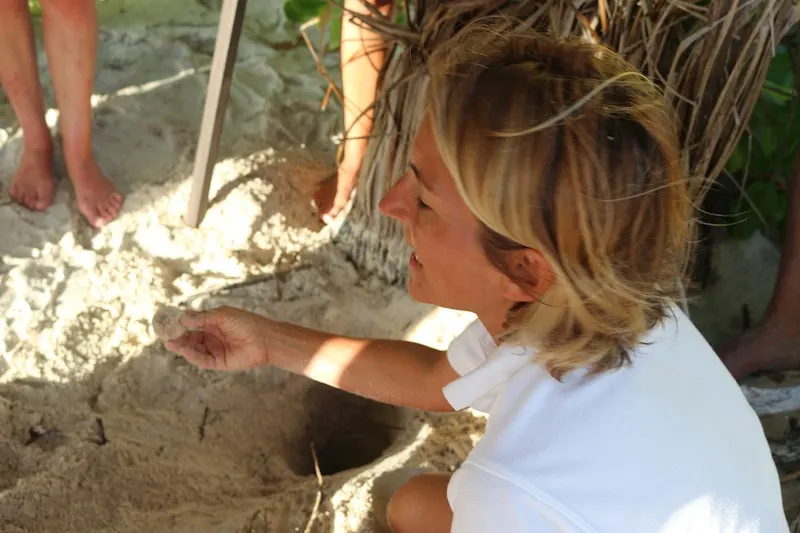 Coco Palm is committed to preserving the precious environment. Dhuni Kolhu Island is a nesting site for the endangered green turtles so everyone on the island takes protecting them very seriously.
This year, the island joined forces with The Olive Ridley Project, with the aim to prevent the entanglement of Olive Ridley Sea Turtles and other marine organisms. Initiated by a group of marine biologists located within the Maldives, the partnership welcomes the first Olive Ridley Project Turtle Rescue Centre at Coco Palm Dhuni Kolhu.
---
The holiday low-down
I flew to Male with Turkish Airlines. I departed from Birmingham with a 3-hour layover in Istanbul – a good choice if you're travelling with little ones!
I stayed at Coco Palm Dhuni Kolhu for 6 nights in a Deluxe Villa on a full board basis.
Massive thanks to Visit Maldives for helping to organise my trip.