Life is so much easier when you travel with a tablet. When I went backpacking in 2009 I didn't even have a smartphone, never mind a tablet, but I can't imagine travelling without one now.
Here are some of the things I use my tablet for while I travel:
To store all your documents and tickets and then print them out as and when (or if) you need them
To download airline apps so you don't even need to print out flight tickets
To check emails – perfect for keeping in touch and also in case you're contacted regarding alterations to bookings
Making bookings
Travel research
Social media updates
Skype chats
Games – to keep me entertained during long journeys
Books and magazine downloads
Photo editing
Making notes and writing a journal
Watching movies and TV shows
There is honestly so much more I could add to this list but that's the general gist of it for while I'm travelling.
Having a tablet also helps keep your luggage light because you can cut down on the heavy stuff like books, magazines, notepads and games.
If you're thinking about buying a tablet to travel with I would 100% say 'yes!'
The only problem you'll have while you're travelling is the risk of loss, theft or damage.
If your tablet normally sits on your bedside table you don't need to worry about this but when you're travelling, constantly moving around, packing and unpacking bags, taking public transport or visiting places where theft is common then there's a high chance something will happen to it. This doesn't mean you should leave all your valuables at home but I wouldn't take the most expensive tablet available.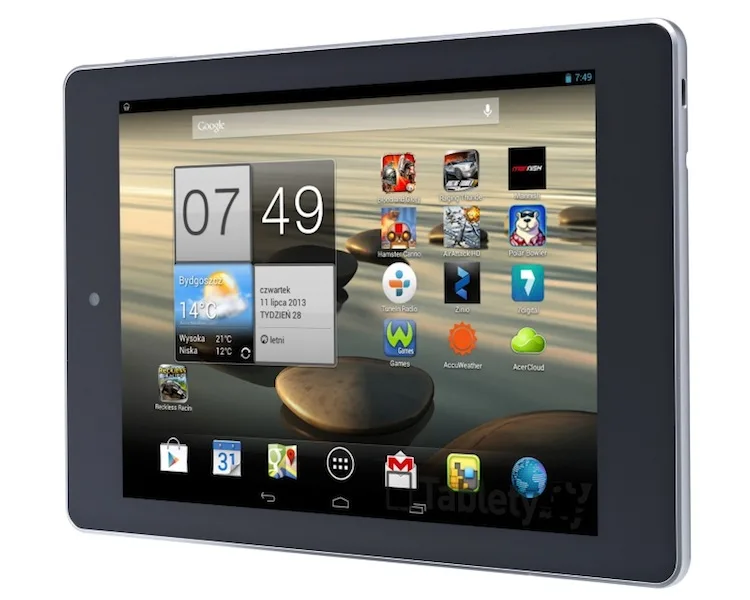 This is where the Acer Iconia A1 comes in…
The Acer Iconia A1 is less than £100 (£93 on Amazon UK
). When you think the latest iPad is over £300, that's a big difference.
I know that a £100 gadget is still a big blow to your budget if you break it or lose it but it's not really going to ruin your trip.
I must admit, at just £100 I didn't have particularly high hopes for the Acer Iconia A1. £100 isn't a lot of money for any kind of gadget these days so is it any good?
The honest answer is yes, it's fantastic!
You probably know by now that I love my gadgets but I don't understand all the jargon that goes with them so I'm going to tell you a few reasons why I loved the Acer Iconia A1.
The size
The Acer Iconia A1 has a 7.9" screen. This makes it a little bigger than a Kindle but much smaller than an iPad. To put it simply, it's hand sized. The iPad is too big for me to hold in one hand for any length of time but the Kindle is too small to actually do anything on it other than read books. The Acer is a nifty and comfortable little size to hold like a book but actually use to get stuff done.
It's easy to use
It's basically the same as any Android phone. It's really intuitive and easy to use with all the apps you could want.
The camera is pretty good
I'm not going to pretend this is the world's best camera because it's not but it is surprisingly good. It's perfect for Skype chats and taking photos in well-lit areas.
It's quick
Even when my tablet was filled with photos and books and movies it was still really quick.
Battery life
The Acer Iconia A1 has a battery life of 7.5 hours. That's pretty good going for a budget tablet. When you're travelling you basically need it to last for one long-haul flight so this would just about cover it. It's unlikely you're going to use the tablet for the entire duration of your flight.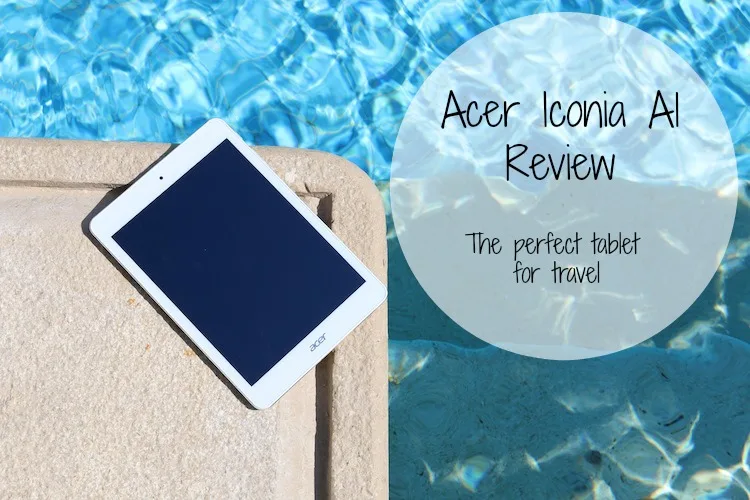 The verdict
If you're looking for a budget tablet then you really can't go wrong with the Acer Iconia A1.
It's a great option for travelling, camping, kids, small budgets and people who aren't sure they'll use a tablet to justify spending a lot of money on one.
It isn't as good as an iPad but it's one third of the price so you wouldn't expect it to be. But at £100 it's a bargain and does everything you could possibly need and more.
Tips if you're travelling with a tablet
If you're not sure if you need a smart phone AND a tablet, I'd opt for a tablet. I'd buy a cheap unlocked mobile and buy local sim cards in each country to keep costs down.
Make sure you have an external memory drive for your tablet or use some kind of online storage so you can backup your photos (if you're travelling with a camera).
Remember you might need to get an external adaptor in order to plug your camera or memory card into your tablet. Lots of camera have Bluetooth or WiFi but it's often easier to have a cable to connect the two.
Buy a cheap cover for your tablet and allow it get dirty and a bit wrecked – This will mean it looks less flashy and is less likely to get stolen.
If the 7.5 hour battery life won't be long enough for you (maybe if you're travelling in areas without reliable power) consider getting an external charger. My old phone would only last about 4 hours with heavy usage so I use an STK Power Bank for emergency charges.
Big thanks to Acer for sending me Iconia A1 for the purpose of this review. As always, all thoughts are my own.