My video and Living Room Tree House review from an incredible weekend staying in a tree house in Powys, Wales.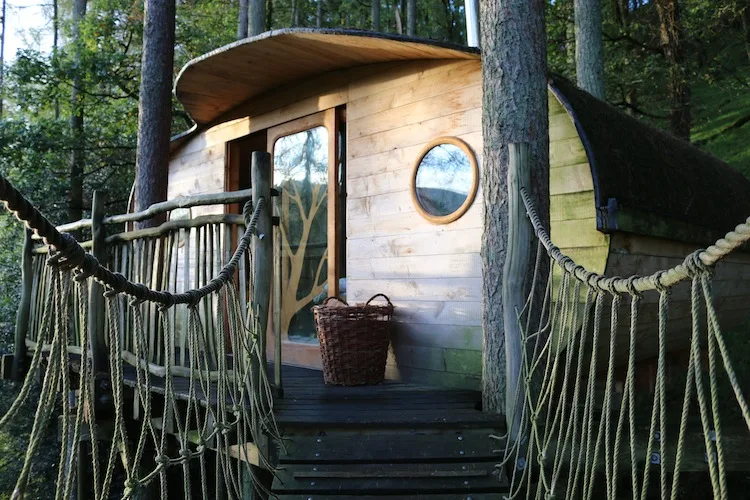 This weekend I had the chance to make a childhood dream come true and stay in a real tree house! You may be picturing a rickety shack in the trees but Living Room tree houses are secure, comfortable and even luxurious. Yes, I said it. I stayed in a tree house that had a touch of luxury!
We arrived at 7.30pm on Friday meaning it was dark as we wound our way through the narrow country lanes towards Living Room Tree Houses.
"We're definitely lost! You're taking us the wrong way!" we shouted at the satnav.
I don't know if this makes us a modern couple or a stupid couple but we rarely argue about directions, we just shout at the satnav as though the posh lady inside it can hear us.
But it turned out she knew exactly where she was going and after an hour of driving through the Welsh lanes we arrived at our tree house.
Note: We were told that the satnav wouldn't get us to Living Room Tree Houses so it's best to have a backup map option just in case your satnav takes you off on an adventure.
We were met by Peter who walked us through a pitch-black field. By torchlight we could see nothing but the reflective eyes of sheep staring at us as we carefully negotiated the slippery ground.
Once through the field we made it to the woods and over a few bridges and through rickety gates. Peter pointed to a spot in the distance where we could see a glowing fire and little else.
"Your tree house is up there. I've lit the fire and you've got plenty of wood. There's a compostable toilet outside and the fire takes an hour to heat the hot water. Check out is at 11am. Oh, and it's a tree house, it will sway in the wind. Don't call me at 2am if your tree house is swaying."
And then he was gone.
And we were alone in the woods with a tree house.
We climbed up a steep incline and came to a spiral staircase around a tree. It was hard to figure out what everything was in the dark but once we'd climbed it we came to a wood and chain-link bridge and then our tree house.
I slid open the door and was welcomed by a warm blast of air escaping from inside. The log burner was roaring and the tree house was flickering with the light from tiny tea lights.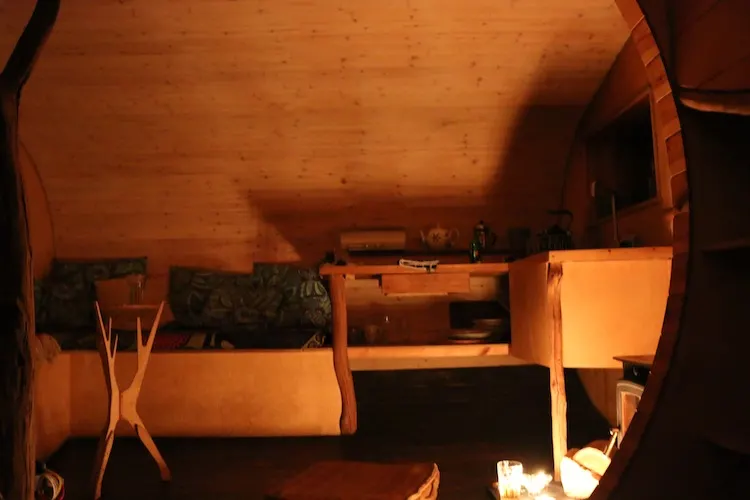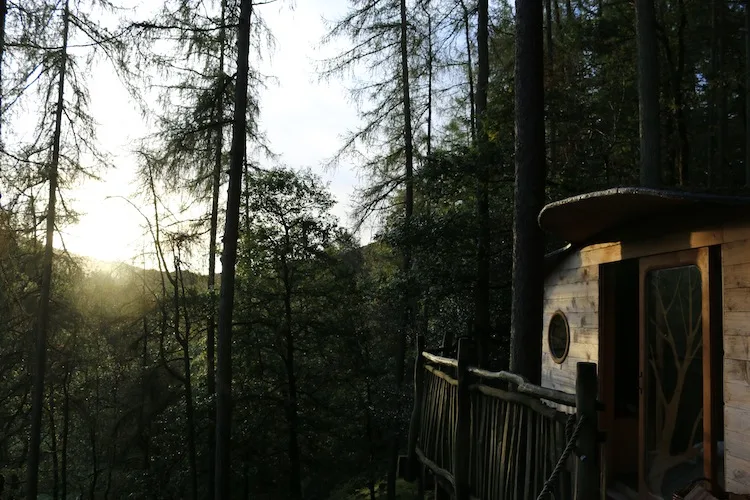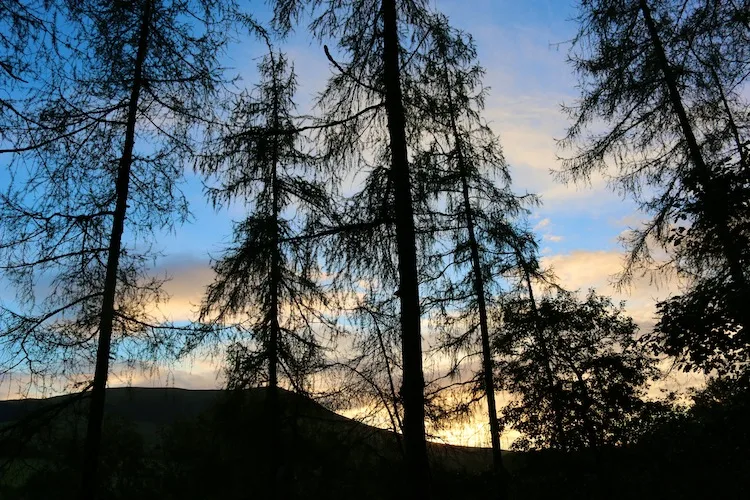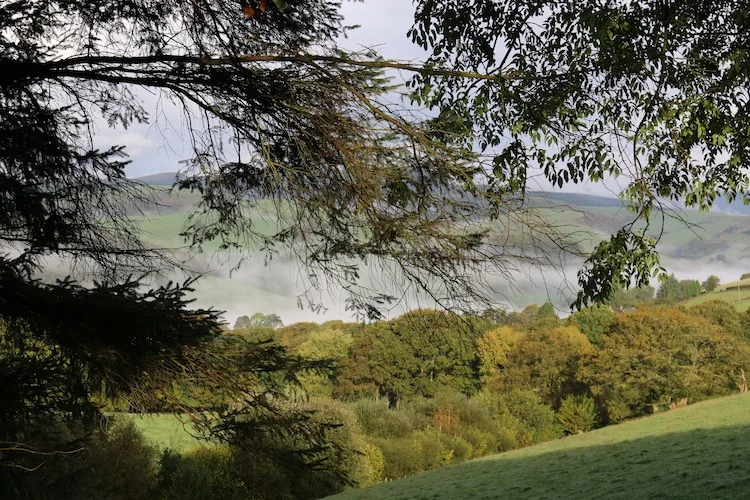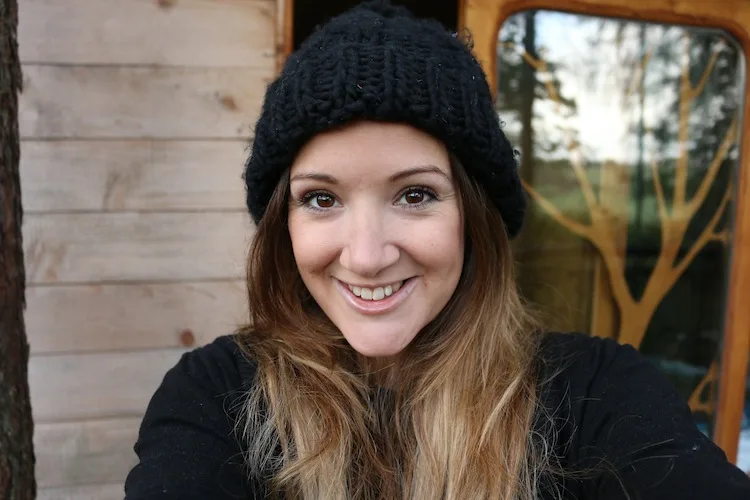 This is my happy face. My 'I've just woken up in a tree house and it's amazing face'!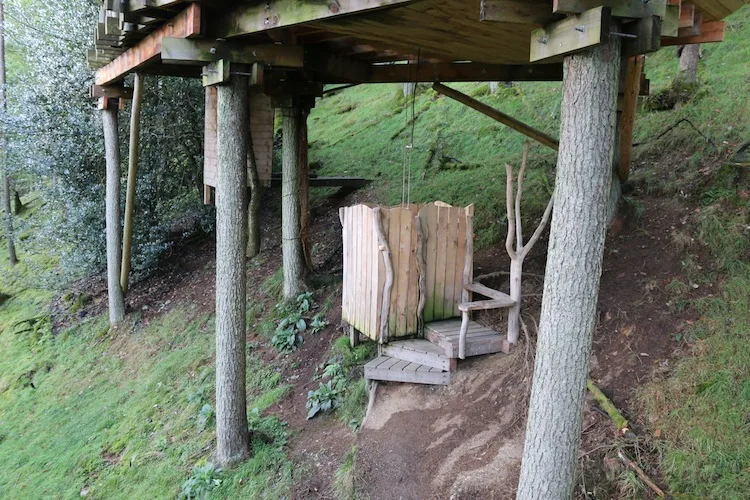 We woke up the following morning to the hazing sunshine streaming through the mist and trees. Being this high up gave everything a magical atmosphere as the clouds hung around our feet. All you can hear up here is the relaxing shush of the streams below and the chatting of birds in the trees.
Sam got the fire roaring while I hid under the duvet. In no time at all it was toasty and warm and we had enough hot water for a long and steamy shower.
The shower is below the tree house and there's a water tank heated by the stove.
After bacon sandwiches and plenty of cups of tea we walked across the fields to where our car was parked and set out to see the coast.
There are loads of walking trails around the tree house and places to visit nearby but, despite the gloomy weather, we really fancied a trip to the beach.
We made our way to Aberporth, a beautiful seaside village and a place Sam used to visit for holidays when he was a kid. We also stopped in Aberystwyth and Aberaeron along the way.
We had a huge meal of fish and chips and mushy peas on the beach in Aberporth before making our way back to our tree house.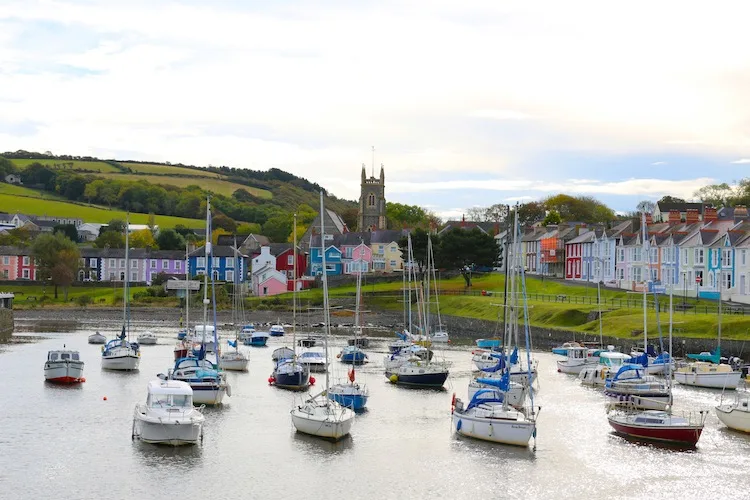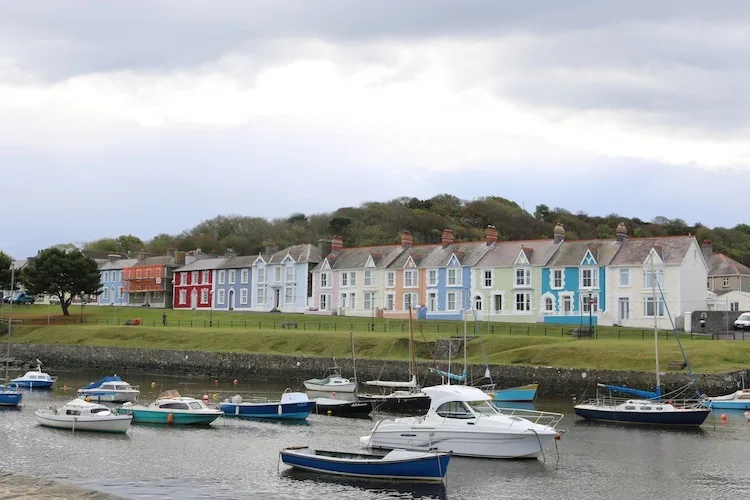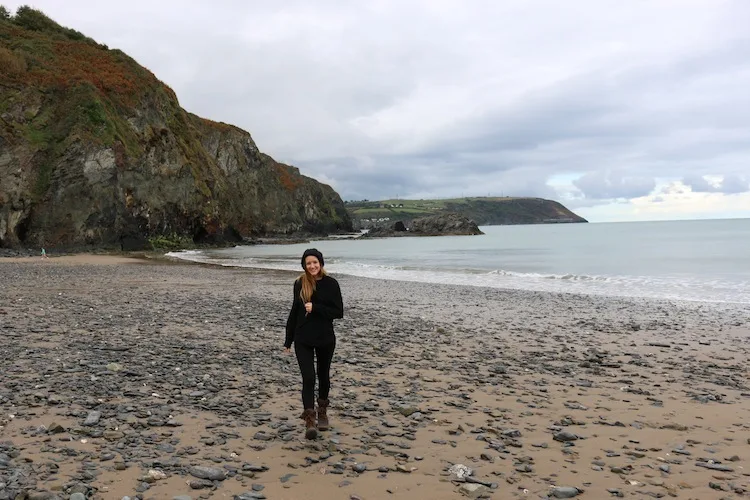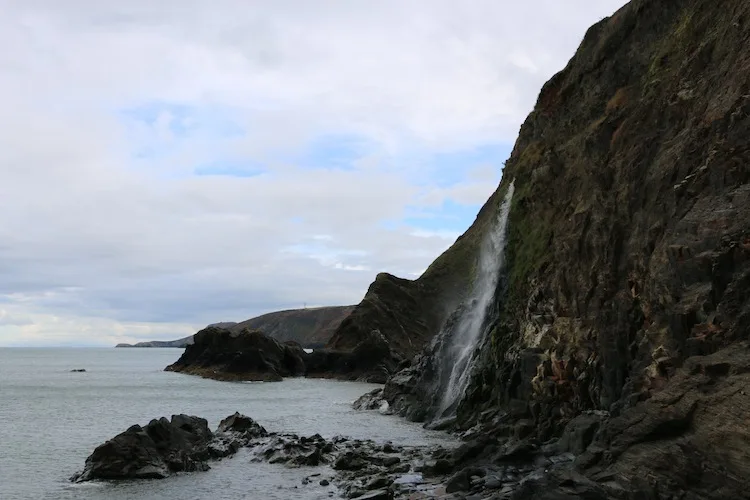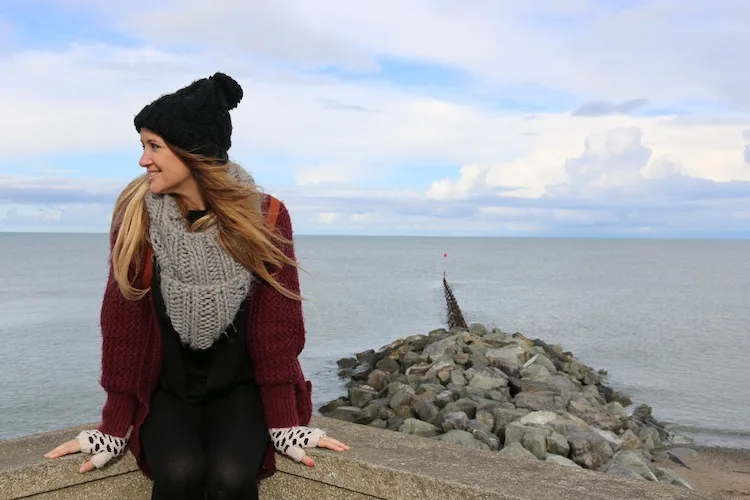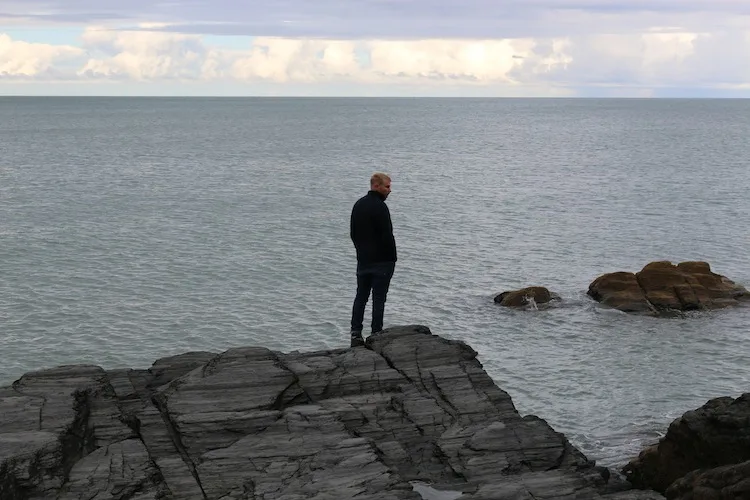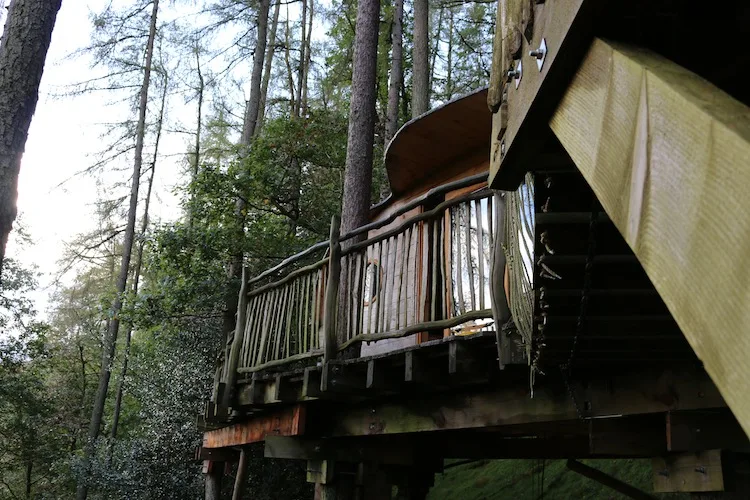 There's no electricity in the tree house and it's unlikely you'll get phone signal so it's the perfect opportunity to switch off from the world. Sam and I took books (actual paper books!), wrapped ourselves in blankets and sat out on the deck of our tree house. When it got too cold and dark we read by candlelight inside or from the light of the fire.
This place is just over one hour from our house but we felt a million miles from home.
There are five other tree houses but you feel like the only people in the world. We could just about see two of the tree houses as we walked across the fields but we didn't see or hear any people all weekend.
More info
There are five tree houses and you can find out more about them on living-room.co.
Prices start from £349 for two nights for a family tree house or £339 for a tree house for two people for two nights.
I booked mine through Buy a Gift and you can see it is slightly cheaper to book through this site rather than directly through the website. On this site they have a two night stay beginning from £319 and if you arrive on the Sunday you get an extra night free.
Admittedly, it isn't a cheap weekend away but it's a really unique and magical experience. I read the guest book in our tree house and it was filled with people saying what an incredible time they had. Most of the guests had been bought the weekend away as a birthday present.
A lot of people have asked me if it was cold in the tree house but it wasn't at all. The log burner kept it toasty and warm. In fact, it got so hot on our second night we had to sleep with the door open until about 3am.
The water in the shower is perfectly hot so you won't feel the cold while you're in there at all. But, of course, when you get out you're going to feel the chill so you'll probably do a quick nudey run back inside where the log burner will be waiting to warm you up. (Don't worry, there's no one around to see you!)
The tree house has two gas ring burners, a kettle and basic kitchen equipment so it's enough to make simple meals while you're away.
You can't take dogs to the tree houses. This is because of the chain-link bridges and spiral staircases (apparently dogs just can't cope with them!) but also because it's an organic sheep farm and they don't want dogs frightening the sheep.
You'll need to book early! I booked this weekend away in February and October was the closest weekend date they had. They're already filling up for 2015! If you're thinking about going in the winter and you're worried about being cold, you definitely won't be, you'll just need to be brave about getting out the shower.
If you're looking for a unique weekend away I can't recommend this enough.
If you liked the tree house video, please subscribe to my brand new YouTube channel. You'll be seeing lots more videos from me in the future and my channel is looking a bit sad with just a few subscribers 🙁