How are you liking the sexy new makeover on The Travel Hack?
I've updated the design of the blog to make space for bigger and better images. We all love a good travel story but it's the images that grab your attention and make you fall in love with a new destination.
As part of the new design I'll also be adding a few new features to The Travel Hack. You're going to be seeing more travel tips where (hopefully!) I'll be able to pass on some great travel advice, tips, hacks and reviews.
One of the new features you're going to be seeing more of is the App of the Week. I'd hate to be one of those travellers who spend their entire holiday on their phone or tablet but travelling with a smart phone does make life so much easier. My phone is packed full of useful apps and I'm always testing out new ones to see which ones can make travelling easier. I have apps with everything from currency conversion to language translators, hotel booking and restaurant finders.
I do love guidebooks but they can be inconvenient when travelling due to their size and weight. I love the ease of having everything I need on my iPhone, particularly the maps which are so much easier to use when the little red dot tells you where you are!
Make my Switzerland
This week I've been testing out a cool new app for anyone travelling to Switzerland. It's called Make My Switzerland, a new app created by Switzerland Tourism. It's a free app (yes, a decent app that is actually free!) and it helps travellers discover hidden gems and unusual attractions all over Switzerland. It's a great app for first time visitors but also for anyone who has been to Switzerland a few times and is ready to get off the usual tourist trail.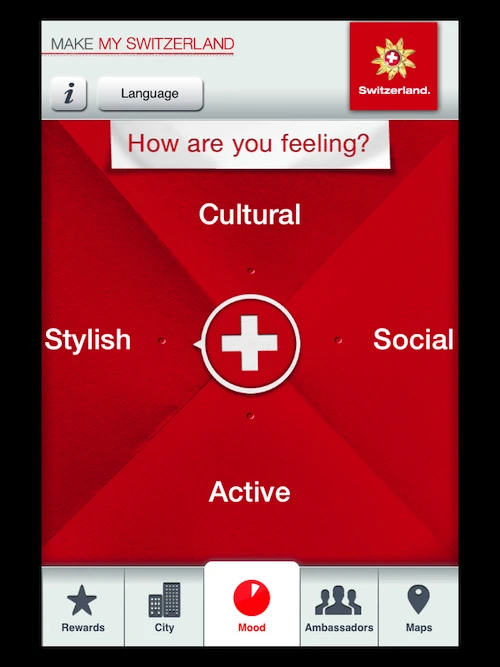 Choose your mood
When you launch the app you can select which Swiss city you are in or near: Bern, Basel, Geneva, Lausanne, Zurich, Lugano and Lucerne. Now it's time for my favourite part of the app and that's selecting how you're feeling. Choose from feeling cultural, stylish, social or active (or a combination of some or all) and your recommendations will appear based on your mood. You can also view recommended attractions on a map so it's easy to find things to do nearby.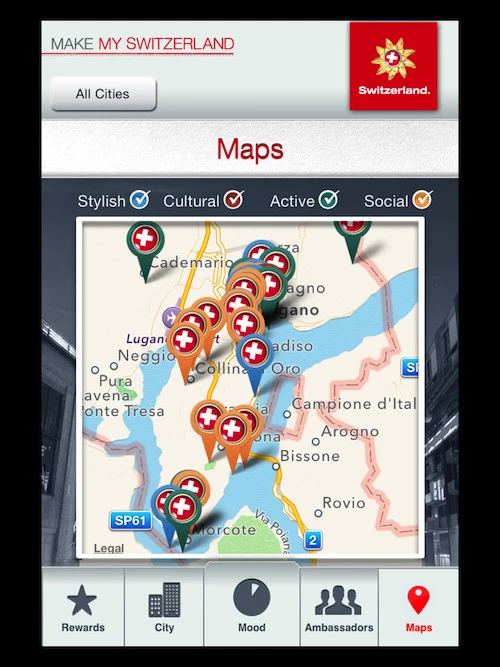 Make my Switzerland ambassadors
Over 30 ambassadors in Switzerland have helped create the app by providing recommendations on their favourite things to see and do as well as places to eat and drink.
When searching for recommendations, an option is to select an ambassador and have a look through all of their recommendations. Each ambassador has a small description about themselves so you could find one that you can relate to and chances are you'll enjoy their recommendations. The ambassadors are from all walks of life and you'll find everyone from students to musicians, photographers, stylists and journalists sharing their recommendations.
Design
The app design is clear and attractive with tiled images you can scroll through. The app ambassadors have then written a small explanation about each attraction. Some of the descriptions are great and provide a really clear description. Other descriptions are a little brief but still give enough detail to decide if it's for you or not. You can also find the contact details for the place as well as their social media links.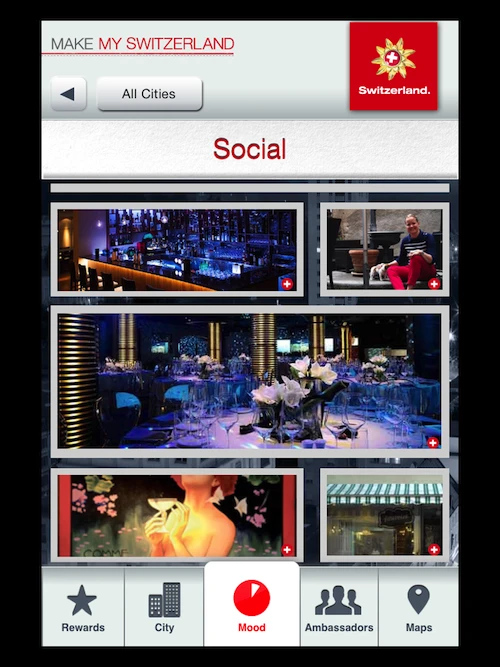 Rewards
There's also a cool 'Rewards' section on the app where you'll find competitions and discounts. Unlike a lot of apps, these are discounts that you would genuinely want such as a £25 discount on Swiss Flights (ends June 30th), a free cocktail at Eat Me, a free Lugano Holiday Card which gives you discounted entry to museums and attractions or 50% off a Lake Geneva cruise. There are loads more on there too. The best competition on there at the minute is the chance to win £1,000 towards your next Swiss adventure!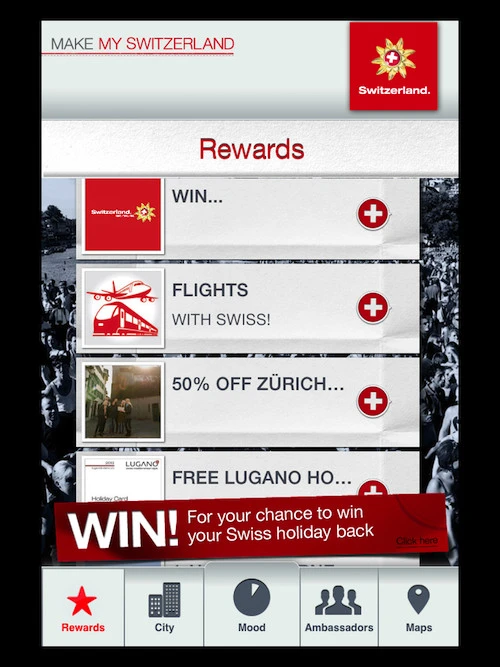 So if you're travelling to Switzerland I would definitely recommend checking out Make My Switzerland. I like it best for finding places to eat and drink – something that can be tough when the best choices are often tucked away down side streets or may look plain from the outside.
I found that the images wouldn't load when you're not connected to the internet which is a little disappointing. Everything else works fine and you can read all the recommendations, you just can't see what they look like. Click here to download the app on ios or here for android.