The Aston Rose pushchair is Ickle Bubba's latest pushchair and we were lucky enough to be sent one to review when it was released in November 2019. We're a busy, active family so it's fair to say we've been putting the Aston Rose through its paces!
This pushchair was gifted but I am under no obligation to write a review.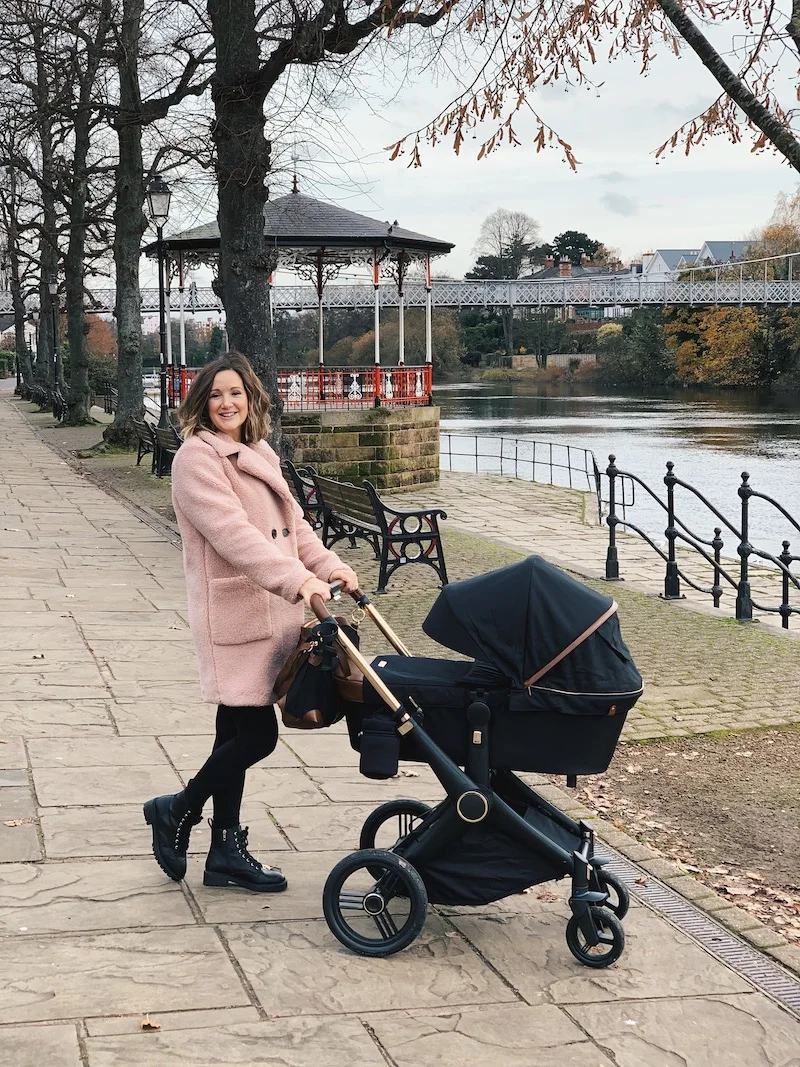 I've been using this pushchair on an almost daily basis and I'm really pleased with it. We've been using it for our third baby, Alba, and have used it since she was a couple of weeks old. We've only used the carrycot so far so I'll be updating this post in a few months to add my thoughts about the seat.
I should probably add that I'm a bit of a pushchair geek and spend a lot of time researching pushchairs! We've had A LOT of pushchairs over the years (we have two older sons and I've tried SO many pushchairs for them!)
There are two main selling points for the Aston Rose pushchair and these are:
The stylish design

The affordable price
Let's start with the design which really speaks for itself. I always get compliments about the elegant style of the Aston Rose and I love having a pushchair that's eye catching yet subtle, glamorous yet understated.
Not only does it look nice but all the materials are great quality so I don't think it'll look shabby and old within a year (which is what happened with our Mountain Buggy). I feel confident chucking it into the boot of the car and going about our everyday lives with a boisterous family! The older boys ride on it, they also like to push it and have the odd collision with a wall and the shopping basket is always spilling with heavy bags! I don't need to worry about the chassis scratching easily and I've found it to be really easy to remove the seat and shopping bag and hose the pushchair down when it gets muddy.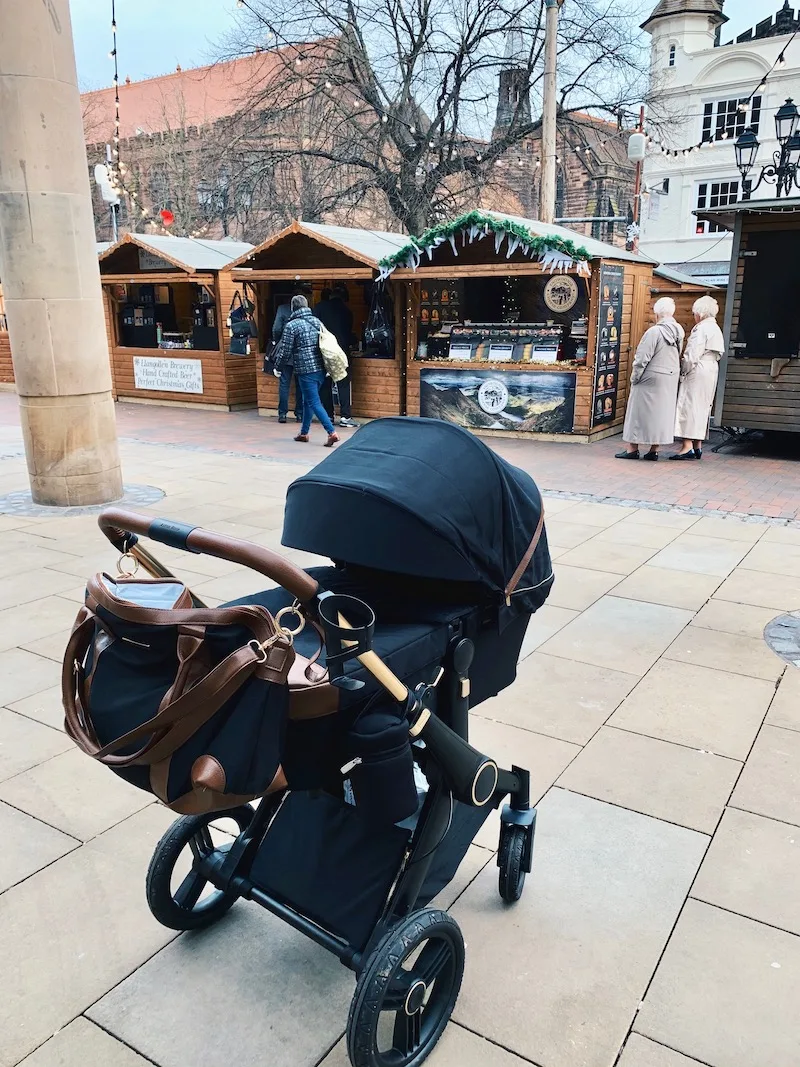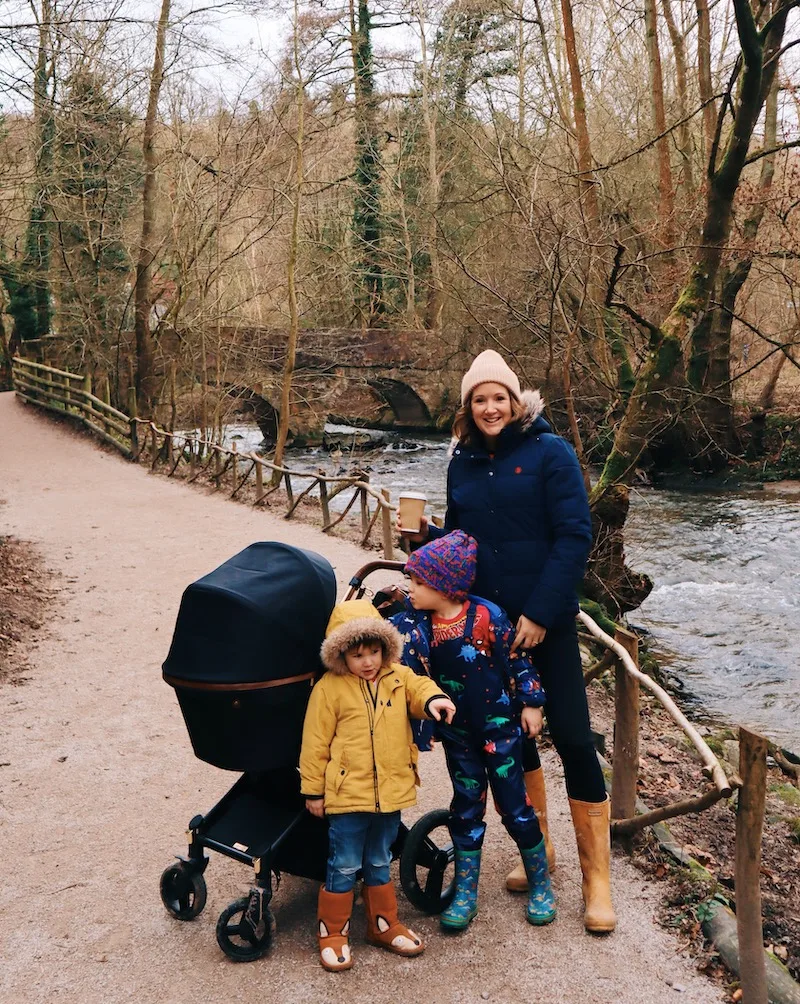 The price – £899 for everything!
Now let's talk about the price and what you get for your money.
For £899 (price correct February 2020) you get:
The pushchair

The carrycot

Mercury i-Size car seat

Mercury isofix base

Car seat adaptors

Changing bag with mat

Seat liner

Foot muff

Cup holder

Rain cover
For £899 I think that's a brilliant price!
They also have an 8-piece bundle available for £699 which is everything above except for the car seat and the isofix base.
Our previous pushchair was a Bugaboo Cameleon which I absolutely loved. I bought it second hand and used it with both of the boys and then sent it to the charity shop because we weren't sure we'd have a third child.
I've just priced up a similar package if you wanted to buy this whole package it would cost £1,534.65 if you wanted a new Bugaboo Cameleon. That's a difference of £635.65!
The fold
I've only read one other review of the Aston Rose so far and the reviewer had a few little niggles that I've got to admit I don't find at all. They found it difficult to fold and I actually think it's one of the easiest pushchairs i've ever folded! Folding the Aston Rose is so easy. Pop the break on, remove the seat and then lift the release clips to push the handle right down. Once the handle clicks down you can lift the pushchair by the handle and the whole thing folds up. It really is a one-hand fold!
Lifting it into the car however definitely requires two hands as it is quite heavy and it doesn't lock in a folded position so if you're resting it on its side then it does have a tendency to come open again.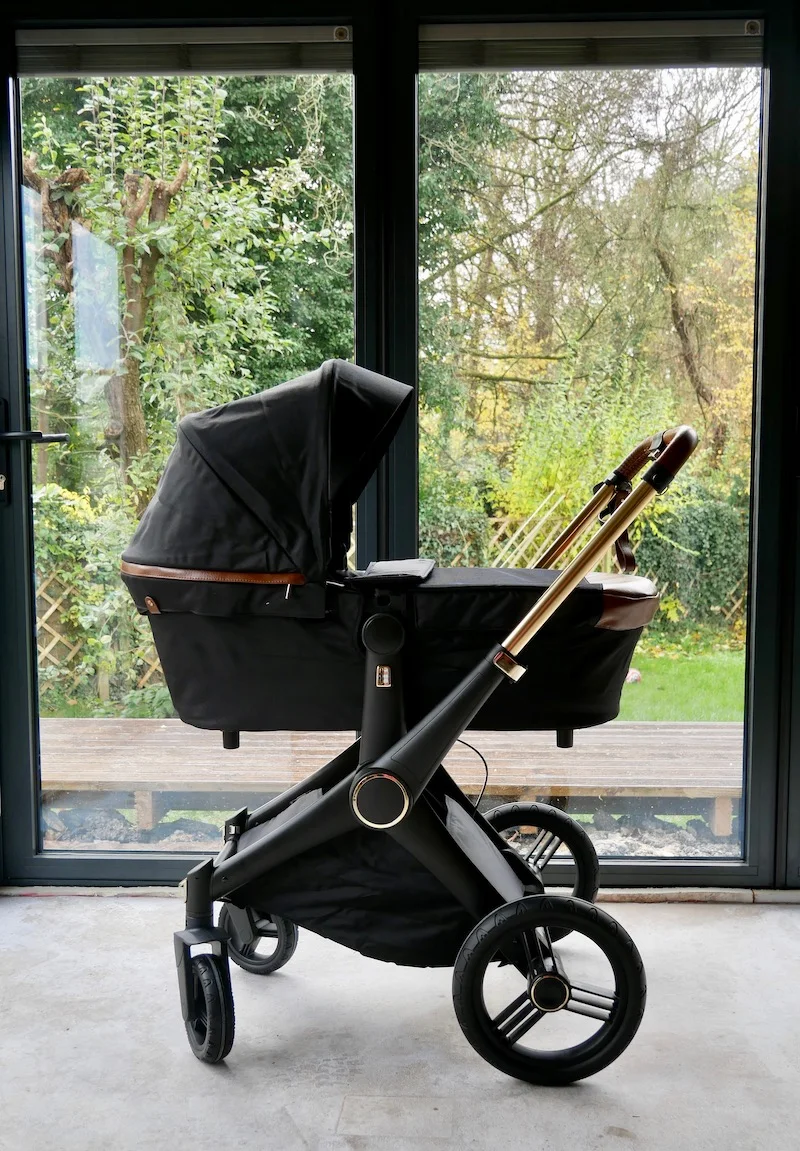 The carrycot
As Alba is only 4 months old we've only used the carrycot so far. The carrycot is lovely and spacious with a removable mattress. There's an additional piece of fabric that goes over the carrycot and sticks in place with magnets. I really like this magnetic feature as it's easy to put it on and off and the magnets keep the fabric smooth and fairly tight over the carrycot.
I saw a reviewer say it's a shame that the carrycot doesn't come with any additional cosy bedding but I wonder if this is due to all the regulations? I've added a cot sheet to the mattress and Alba seems really happy inside the carrycot.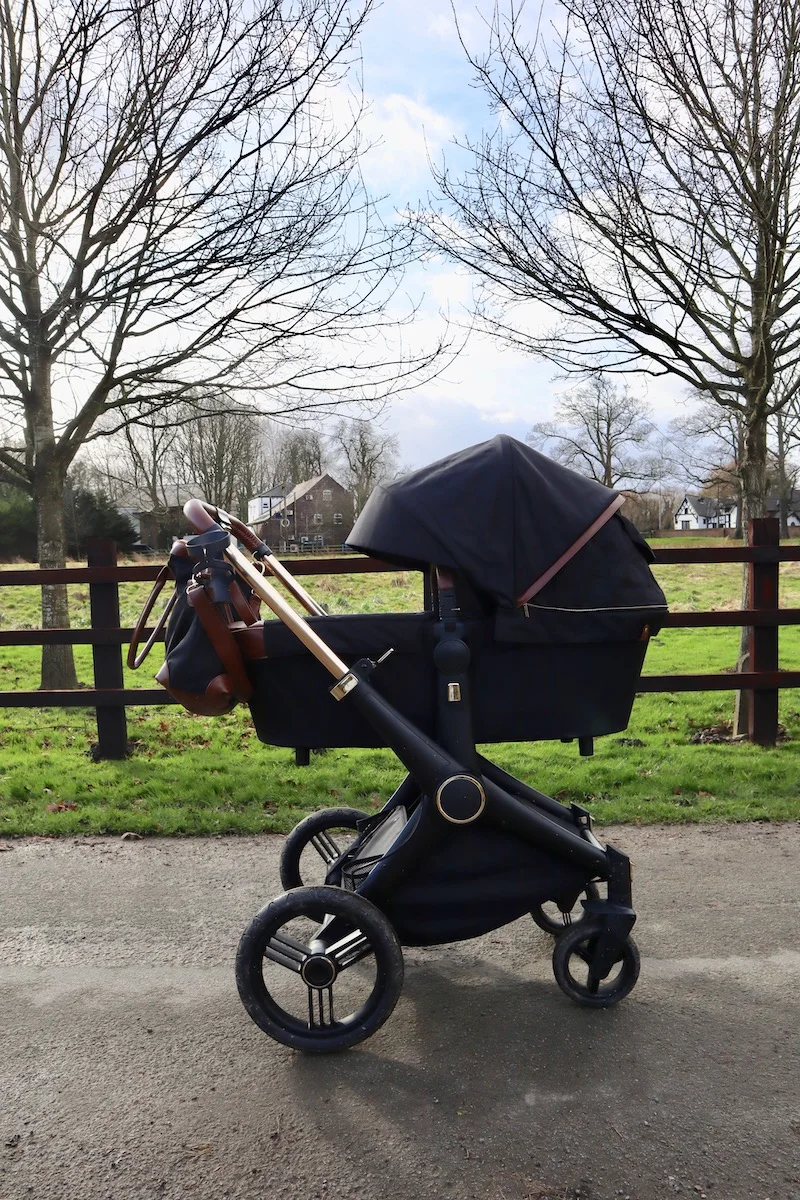 The ride
I think the Aston Rose pushchair is let down a little by 'the ride'. I don't really know what else to call it but it doesn't feel very smooth. I'm often walking along cobbled streets and bumpy roads and I do feel like Alba is bumped around a lot, especially in comparison to our Mountain Buggy or our old Bugaboo Cameleon. It definitely doesn't have the suspension of the Bugaboo and it doesn't have the air filled tires that both of these pushchairs have.
The tires are harder and don't seem to absorb the bumps so well. But on the plus side, the tires aren't air-filled so you'll never need to pump them up or risk getting a puncture.
(As a sidenote: I wouldn't let air filled tires put you off a pushchair. We pump them up on the Mountain Buggy maybe twice a year and it's not a big deal).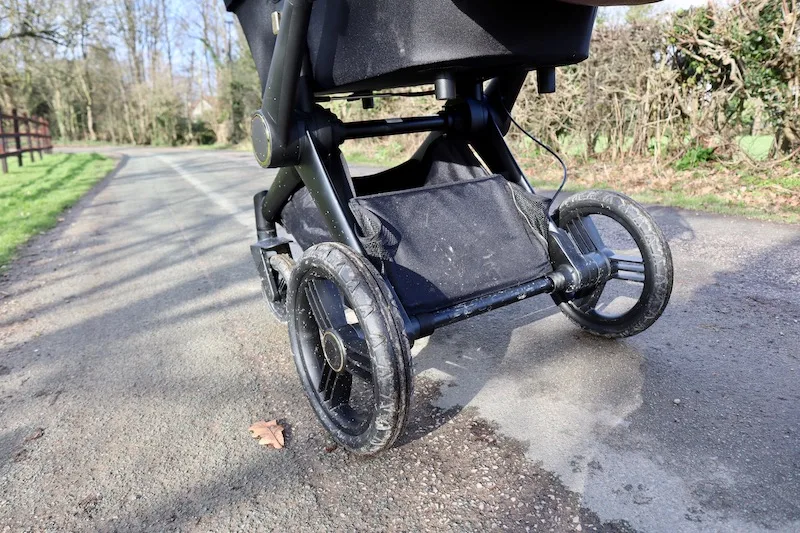 The push
I'd give 'the push' an 8 out of 10 for the Aston Rose. It's nice and easy to push and it can be pushed one-handed, which is absolutely vital if you have a toddler or a dog!
It isn't perfect and I do find myself stumbling over pavements or catching the back wheels on things like doors and gates. The back wheels are much wider than the front wheels so that catches me out sometimes.
It's worth noting that our other pushchair is a Mountain Buggy Duet which is designed for all terrain. With the Mountain Buggy you barely even need to slow down for pavements (going up and down) and the wheels are so swively it's really easily manoeuvrable. I'd give the Mountain Buggy a 10/10 for the push and I'd give the Bugaboo Cameleon a 9/10.
The hood
I actually think the hood is one of the best features with this pushchair and I don't know why all pushchairs aren't the same! The hood is enormous. It can be pulled all the way down to protect your baby completely from the rain or sunshine. It means you don't need anything extra like a snooze shade and it makes the pushchair a great place for a nap. It's also really handy if you're caught out in the rain without your raincover as the hood alone will keep baby dry.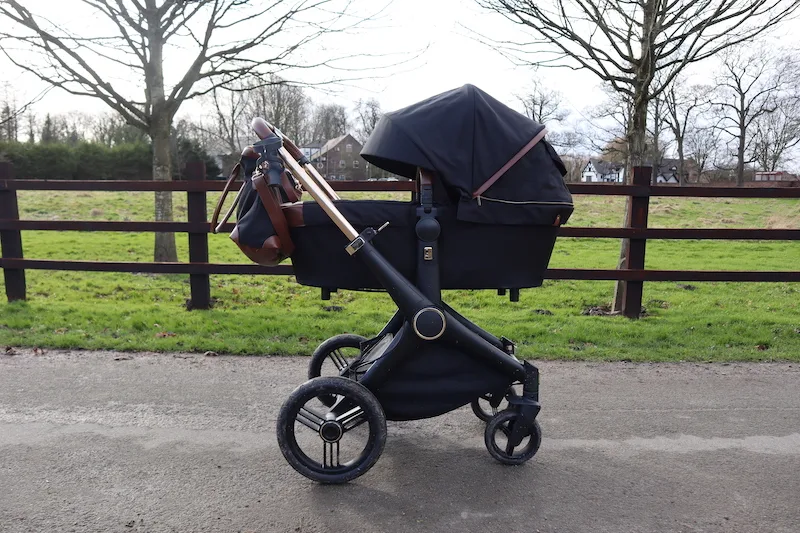 The basket
It's huge! Huge! And extendable. And you can actually get into it without taking the seat off the chassis.
It's the dream! Why aren't more pushchair baskets like this?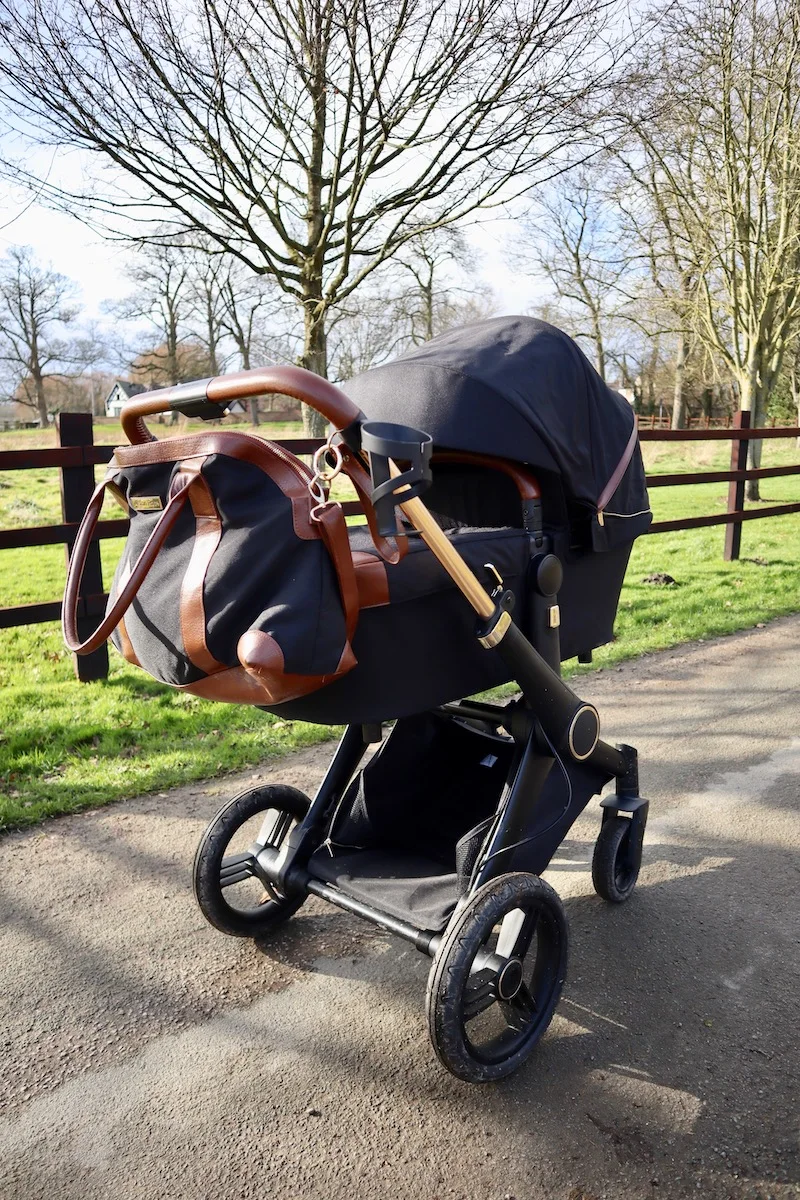 The brake
It's a 10/10 for the break. It works and feels very sturdy and trustworthy.
When you release the break you do need to pull the pushchair backwards before it releases and goes forwards. I'm actually not sure if this is a niggly fault or a safety feature, but either way, it works for me.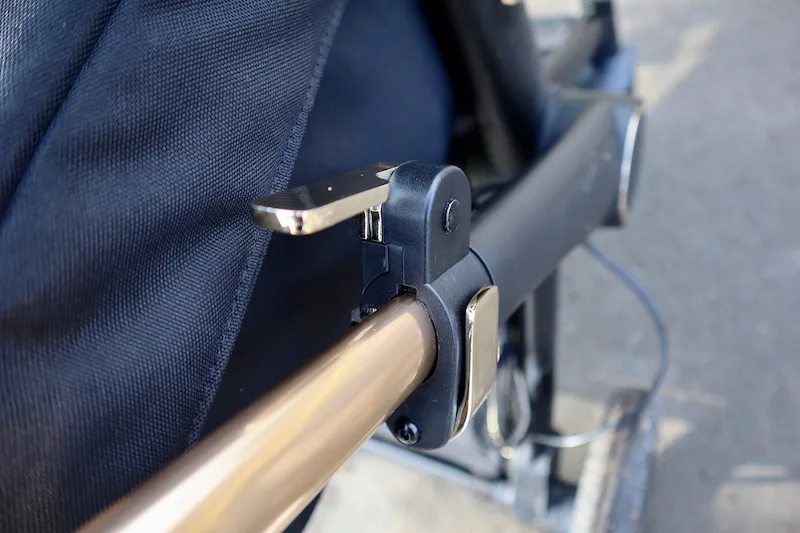 The car seat + isofix and pushchair adaptors
The car seat is fab and Alba is super content and snug in there. It isn't too heavy so it's easy to carry in and out of the house while Alba is still in the car seat. It lasts from birth until about 15 months and has a newborn insert for little babies (Alba is 4 months and I will probably remove the insert in the next few weeks).
The isofix base is really easy to insert into the car and it couldn't be simpler to clip the car seat into the base. It automatically clips in when you insert the seat – providing you've got the seat in the right position which can initially take a bit of getting used to. But one you know the position it just clips right in. Releasing the seat from the base is just as easy but does require two hands as you press the release button at the same time as lifting the seat.
It might be worth measuring the seat and the base to see if it fits in your car. We have a Kia Sportage so it's fairly spacious in the back but when Sam is driving, the driver's seat almost touches the car seat. Sam is about 5"10 so isn't mega tall so if you have a small car and you are particularly tall then you may struggle.
I really like using the pushchair adaptors and putting the carseat onto the pushchair chassis. Alba loves this because she's quite high up and can see everything. It's really handy for the school run or when you pop to the shops.
It's also great (although NOT recommended) because when the carseat is on the chassis, there is plenty of space for a toddler to stand on the bar at the back and catch a ride like they would on a buggy board. I'm sure Ickle Bubba don't recommend this but it is handy!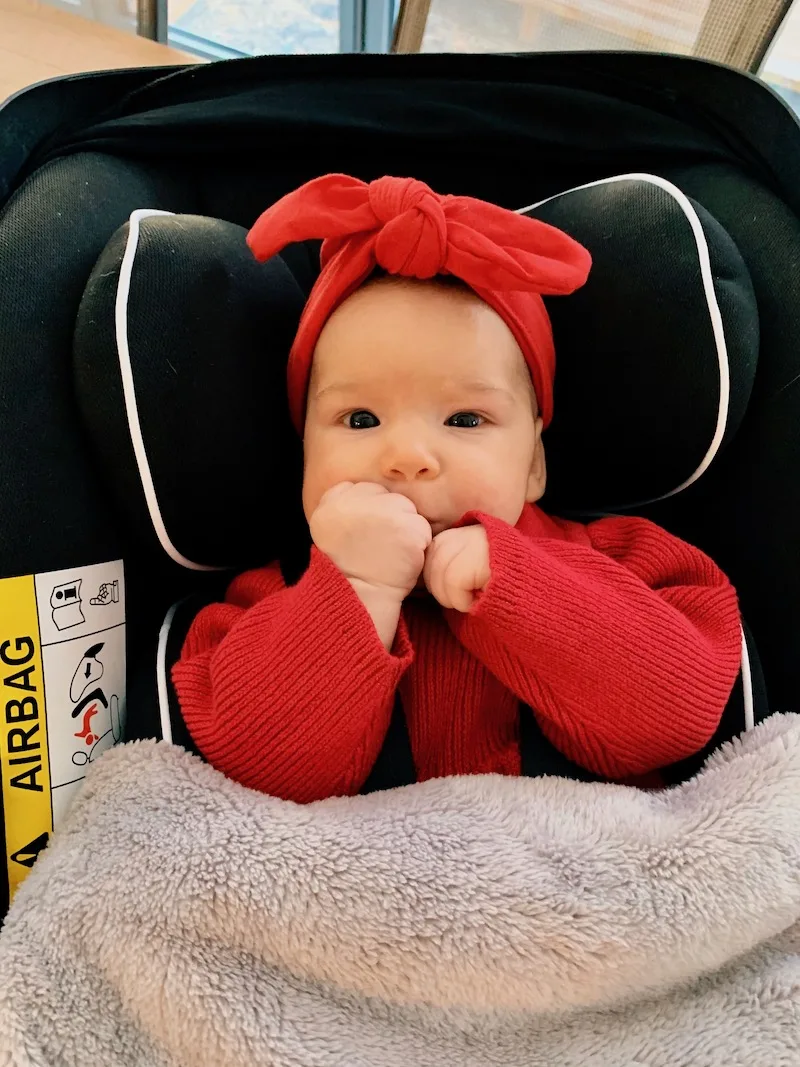 The changing bag
I love love love the idea of having a matching changing bag to my pushchair. I don't know why I was so excited about this and I loved being able to clip it onto the pushchair and not take up the entire shopping basket with my bag! At first I used it everyday and it made me feel so organised, but after a while I found the bag to be a little difficult to use because it doesn't have any interior pockets. The bag is just one big pocket and I found it difficult to find anything in it. The changing bag could do with a little upgrade to include separators and pockets inside.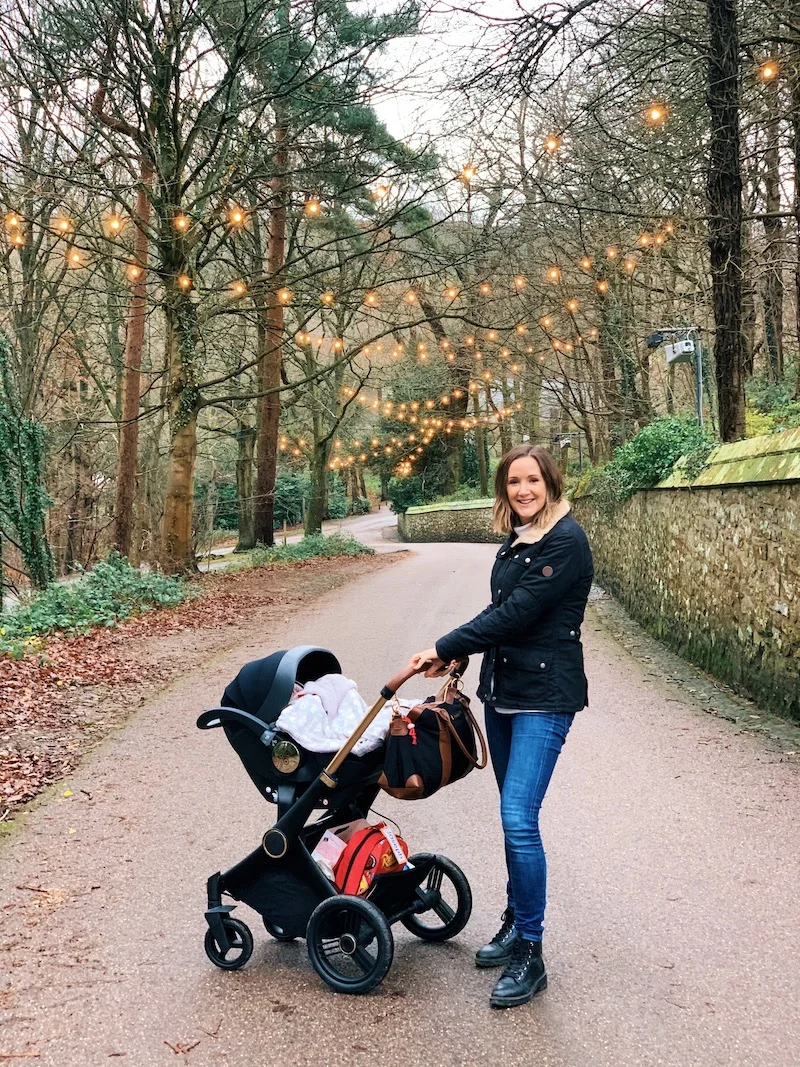 The bumper bar
We actually don't use the bumper bar yet. It does clip nicely onto the carry cot and looks really nice but you have to remove one side every time you want to put your baby in or out so I stopped using it after a while. I'm sure we'll use it again once Alba is in the seat and will enjoy holding onto it as she's pushed along.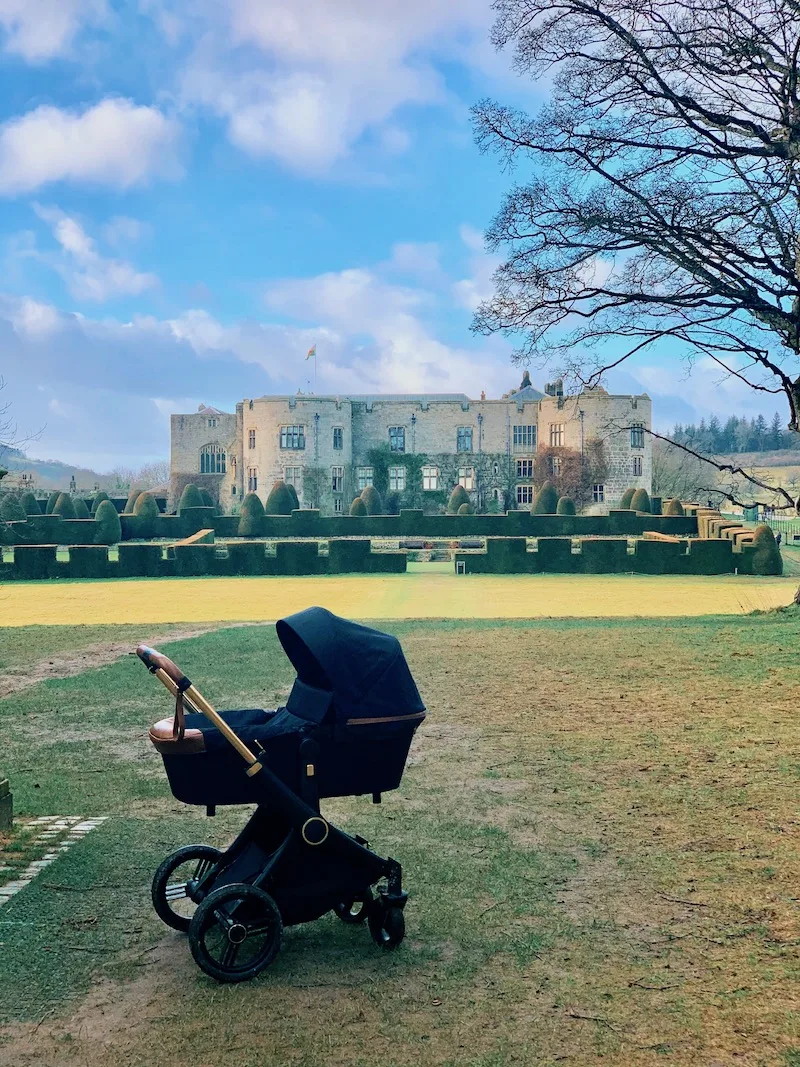 The cup holder
I love having a cup holder and I do use this one a lot but I've got to admit that it feels a bit flimsy. It doesn't fall over and holds a large bottle of water no problem so I don't worry it'll break or spill my drink, it's just flimsy. It pops on and off easily so when I'm not using it I put it in the shopping basket because I think it would break if I clipped it against a wall or caught it on something – which is something I regularly do because it does stick out! It would be nice if it was on the inside of the pushchair chassis so it didn't stick out so far.
Rain cover
It's an absolute 10/10 for the raincover. Every single pushchair I've ever had has had a rubbish raincover but I can't fault the one on the Aston Rose. It's the perfect size and isn't too tight or too baggy. It's really easy to put onto the carry cot and is nicely ventilated so it doesn't steam up.
Final thoughts on the Aston Rose pushchair
I hope my review of the Aston Rose pushchair is useful for you if you're considering buying one.
I would 100% recommend this pushchair if you're looking for a stylish design at an affordable price.
My other experience with a similar pushchair is the Bugaboo Cameleon and I would say the Bugaboo is better but the design isn't as stylish and you'd have to pay an extra £635!! It's slightly better but I don't think it's over £600 better.