Today, George and I are reviewing the Urban Iki bike seat, a stylish and comfortable seat that is helping us have more adventures!
"Faster, Mummy! Faster!" George giggles from just behind me as I take a deep breath and pedal as fast as I can along the quiet country lanes. I can't help but think this is better than any spin class I've ever been to and George is a tougher instructor than any PT I've ever had! I'd never imaged a three-year-old to have so much authority but here I am, accepting every challenge!
"Arrgggh, bumps!!" he screams dramatically as I swerve around a pothole and hit the next one. "More bumps, more bumps!"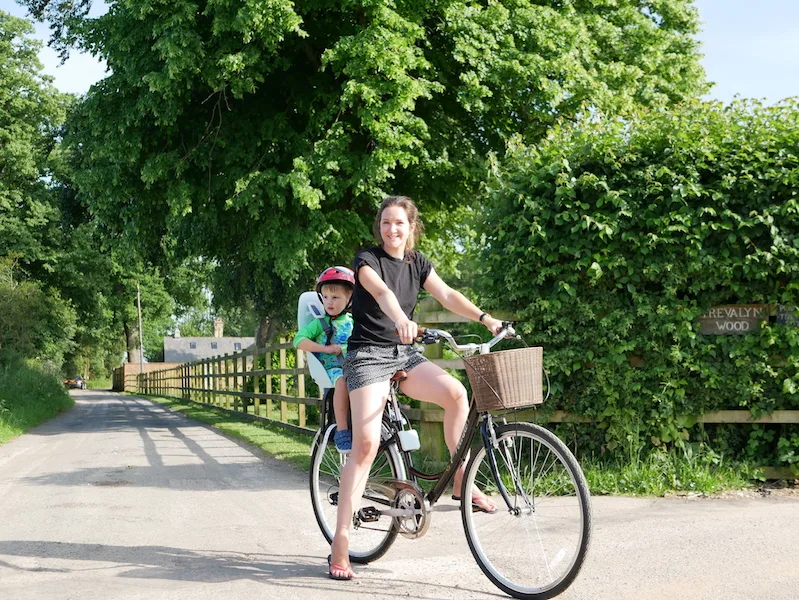 It's been three weeks since I dusted my bike off and fitted the Urban Iki Bike Seat to the back and since then we've had lots of little adventures. I hadn't used my old bike for well over three years. It was actually around the time I found out I was pregnant with George when I hung up my helmet and my bike slowly got pushed further and further into the back of the shed. I didn't think I'd use it again until George was six or seven and we'd be going for bike rides together – but here we are, having a bike ride together already, although I'm doing a lot more of the hard work than I'd imagined!
It took George a few minutes to warm up to the Urban Iki Bike Seat. He's a cautious little boy, the kind of kid who takes a mother's casual warning to 'be careful' very, very seriously.
When I'd told him the seat was for him so we could go for a bike ride together he looked unsure.
'Come on, Georgie!' I encouraged him. 'We can go really really fast and fly down the roads!'
'Oh no, Mummy,' he told me sternly. 'No, no. Not too fast. We'll go slowly. Be careful Mummy, don't crash!'
George is constantly telling me not to crash.
Don't crash the car. Don't crash the pushchair. Don't crash the shopping trolley.
He clearly doesn't have much faith in his mother's driving skills!
'OK,' I promised as I changed my tactics. 'We'll go really slowly and really carefully and I definitely won't crash.'
He let me buckle him in and I slowly wheeled him up and down the drive until something flashed in his eyes. We both saw it and a smile crept across his face. He was reluctant at first but then he gave in as the smile made its way to his eyes and he was beaming.
'Mummy, I like it!'
'I thought you might….' I said as I hopped on the bike myself and off we went.
Within seconds George was giggling hysterically as he clung to my waist and pointed to objects he wanted me to race to.
'Mummy, get the dog!' he shouted as I put my head down and we caught up with the dog, then a distant tree, a car, a man, a house and anything else he could point to!
We were soaring through the country lanes, purposely bouncing over potholes and ringing the bell whenever we passed someone.
'Hello, hello!' George would shout when we passed. 'I'm on a bike!'
I couldn't help but laugh and his excitement kept me peddling when I would have given up long ago if I was alone.
It was that week in May where the trees around us had gone from being stark and bare to suddenly being in full bloom. It felt like winter last week and now we've been plunged into summer with wild flowers all around us and the trees have exploded with their gorgeous, leafy greenness. George stretches out his hands to touch the enormous leafy bushes around us and desperately tries to grab the dandylions that are just out of reach.
'Do you like your new bike seat, George?'
'Yes. But be careful, Mummy,' he says as he signals for me to turn around and focus on what I'm doing. 'And go faster…' and that big grin and a giggle is back.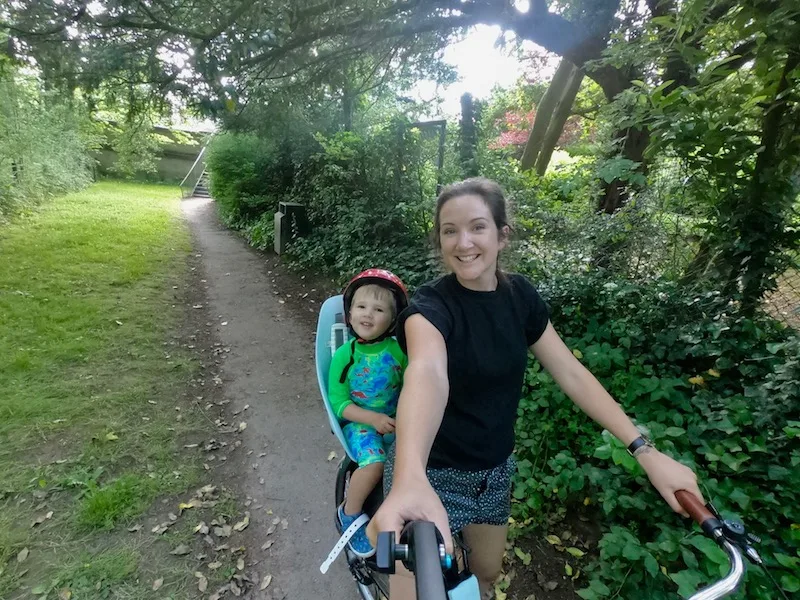 About the Urban Iki children's bike seat
Urban Iki bike seats are designed in the Netherlands with the aim of making family cycling accessible, safe, smart and affordable. They incorporate gorgeous design with quality and safety and take inspiration from technology in Japan (where cycling is a bit part of the culture). You can see the Japanese influence in the simple, sleek design and the seat comes in lots of lovely colour combinations.
Urban Iki do a front seat for ages 9 months to 3 years or a rear seat for 9 months to 6 years.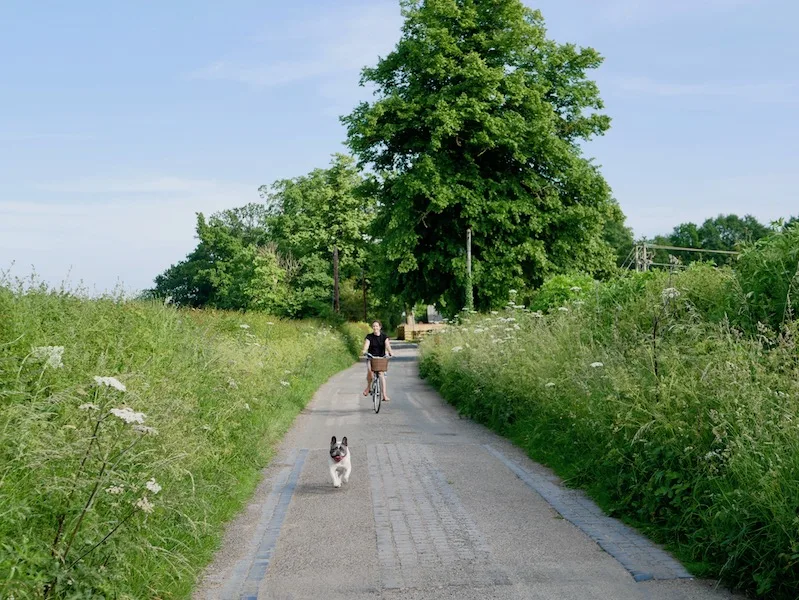 Fitting the Urban Iki Bike Seat
It was actually Sam who fitted the Urban Iki Bike Seat to my bike so I asked him what it was like.
'Yea, really easy,' was his elaborate answer.
'Errmm…anything else…?'
'It was really easy. Simple instructions. Took a couple of minutes. You can't fit it on carbon fibre bikes so I can't put it on mine.'
And that was pretty much all he had to say. Can you tell I'm the talker in this relationship?
But I think that basically says it all. Fitting the seat to a bike was really quick and simple and now it's on it feels really secure.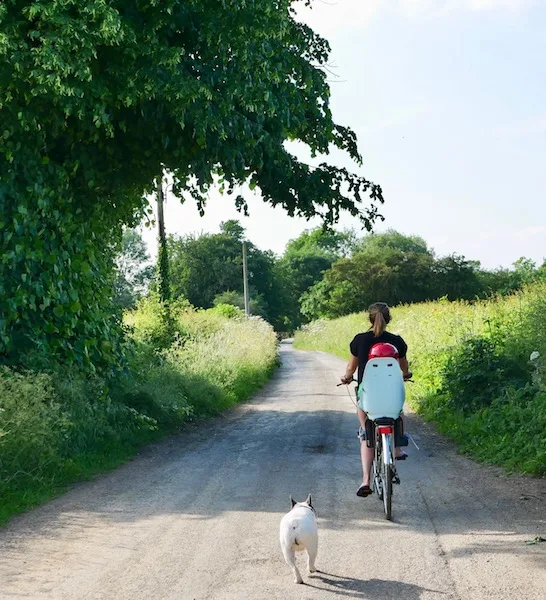 What does George think?
It's fair to say that George loves it but something that I think speaks volumes is that he fell asleep in it the other day. Even a tired toddler won't fall asleep unless they're comfortable and relaxed so it obviously passes those two tests!
I was a bit offended as I'd been chatting away to him for a good five minutes but he'd been fast asleep the whole time.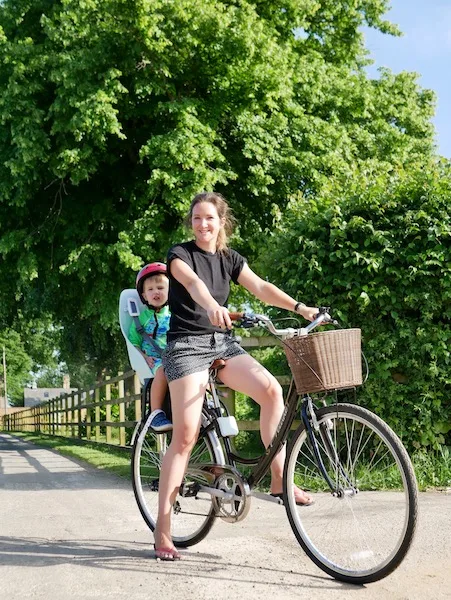 Safety
The Urban Iki Bike Seat feels really safe and George is comfortable but very secure in the seat. There are foot stirrups to keep his feet in place – which for the rider's comfort as well as the child's because when their feet are in the wrong place they'll kick you in the back. The safety straps have padding for extra comfort and I love that you can clip them in one side at a time. Why are safety straps normally such a faff and you have to link them together before putting them in the buckle!? These don't do that which is handy when you're balancing the bike. Opening the buckle is really clever too because you need to push two parts in together – meaning a toddler could never unbuckle themselves – but it's still really easy to do and an adult can do it with one hand.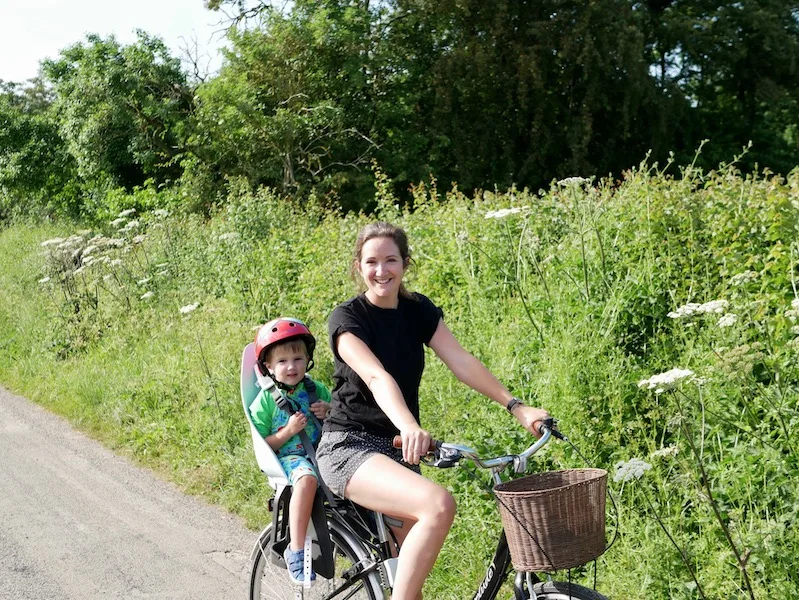 How does it feel to have a toddler on the back of a bike?
I thought it might be a nightmare. I imagined George swaying from side to side and me struggling to stay upright but I barely noticed him move at all. I am more aware of wobbling when I have him on the back but I don't think I do actually wobble more, it's just I'm more cautious. It doesn't feel too much harder to pedal with a little person on the back, only when he starts demanding we go at full speed! You see some parents with a seat on the front and one on the back which I am tempted to try – not only to give Joseph a go but because that's got to be a great workout!
It took a bit of getting used to getting George onto the bike without an extra pair of hands. For the first few times, Sam held the bike steady while I strapped him in, but I soon learnt to do it myself. I don't trust the wobbly stand on my bike so I rest my bike against a wall while I put him in.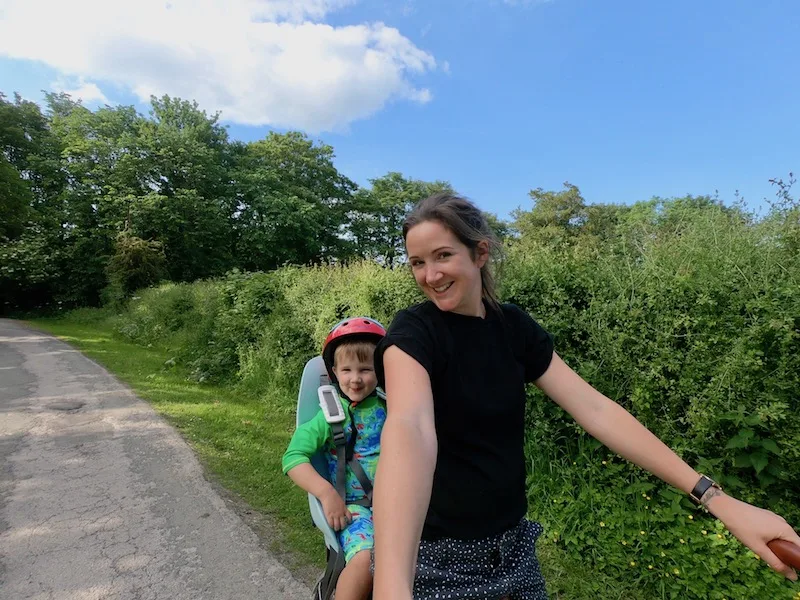 Overall thoughts
Overall, I absolutely love this seat. I love it when you find activities that both toddlers and parents love equally and this is definitely one of them. I hadn't realised how much I'd missed going for bike rides until I went for one and had so much fun!
The Uban Iki Bike Seat is a great price at €49 for the front seat or €59 for the rear seat.
Disclaimer: This post has been created in collaboration with Urban Iki.