This is a luggage review for all the backpackers and adventurous travellers out there.
I've recently been testing out the SMASHII Anti Theft Rucksack
, a super secure backpack perfect for long-term backpackers and flashpackers. I've included flashpackers because as a self confessed flashpacker I know how many gadgets we have so we need somewhere safe to keep them!
Smashii is a new company launched by a guy who had his backpack stolen in Thailand. If you've ever been to Thailand you will have undoubtedly met someone who had their backpack stolen there! But this guy decided to do something about it. He then came up with the idea of a safer backpack that is difficult to steal or slash. One of the downsides to backpacking and staying in budget accommodation is the high risk of theft. It usually happens in hostels or on public transport and it's almost a guarantee that either you or your travel buddies will have something stolen at some point.
What makes the Smashii Backpack so safe?
The Smashii secure backpack is made from Kevlar, the same material used for anti-stab vests, so it's almost impossible to cut through it. It also has a snazzy zip protection system and retractable wire system allowing you to secure your rucksack to a fixed object such as a bed. The zips and wires are held shut with the Smashii shield combination locks for extra security.
The Smashii backpacks come with 15L detachable daypacks with padded laptop and passport pockets. This bag can be attached to the main bag with clips and a security combination clip.
What other features does it have?
Rain cover – Surprisingly handy and often necessary during tropical storms
Adjustable Back System – The support straps can be moved to fit your back. Shorter people (like me!) will find this handy.
Padded laptop compartment – I know I already mentioned this but it's so important if you're travelling with your laptop.
Full length opening – Meaning it zips all the way open to access your stuff. I can't stress enough how annoying it is if your backpack opens from the top. Whatever you do, never, ever buy a top loader. My last backpack was a top loader and it drove me insane every single day for two years.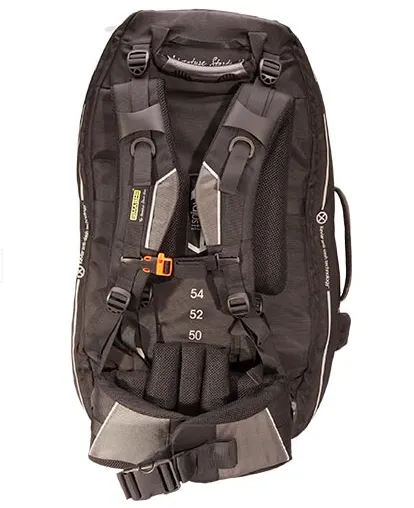 Is it comfortable to carry?
The Smashii backpack is surprisingly comfortable to carry. The back is very ridged compared to other backpacks I've tried so I thought it would be uncomfortable but it's actually OK. There is plenty of padding and lots of space to adjust the straps so it fitted pretty well. It also seems to come high above the head so I thought this would feel strange but it doesn't. I wouldn't want to carry this up a mountain or anything but it's fine for your usual backpacker distances provided it isn't too heavy.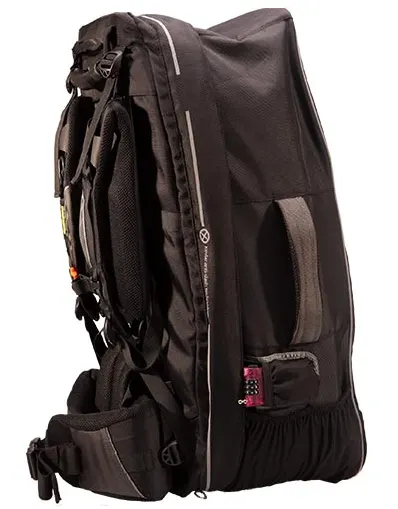 What do I like about the backpack?
Obviously, the first thing I love is how safe it is. You can buy external things to cover and protect your bag but it's so much easier if it's built it. I feel really uncomfortable leaving my backpack in hostel dorms so I'd feel much more relaxed if everything was safely locked away in this bag.
It feels very well made and sturdy and none of the straps feel loose or as though they may break.
It opens all the way! (See about to read why I love this)
What don't I like about the backpack?
It's pretty heavy! I know it's going to have some extra junk in its trunk due to all that security gear but at 2.93kg for the main bag it feels pretty chunky.
To me, the day bag looks like a laptop bag. It's the exact size and shape of a laptop without any extra pockets or features to distract from that. Even if someone was just carrying a book, I'd assume they had a laptop and that doesn't seem very secure.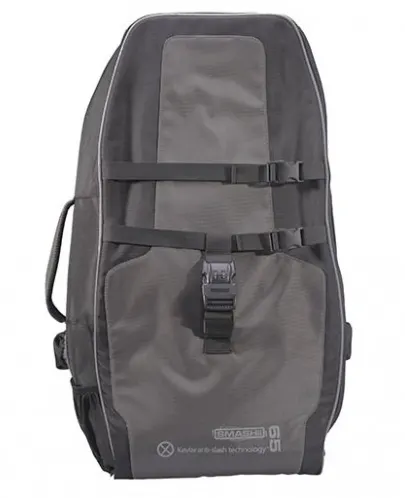 Overall thoughts
If you're looking for a secure, anti-theft backpack then this is the one for you. If you know you'll be staying in large dorm rooms or taking public transport then security will be an issue for you. I don't want to scare you but backpackers are such easy targets and at some point someone will definitely be eyeing up your possessions. The obvious answer is to minimise your possessions and not have anything worth stealing but this is easier said than done. You'll likely have a tablet, a smartphone and a camera as well as your credit/debit cards and passport. Then there are all your clothes which may not have much value but would be a nightmare to replace.
Admittedly, it isn't the prettiest of backpacks and has a very boxy feel. I opted for the grey one because the blue and the pink are a bit garish but the grey feels a little dull.
Personally, I'd be looking for a smaller backpack. I know I'd end up filling a 65L bag and I couldn't cope with that kind of weight unless the bag had wheels. But this is the first backpack from Smashii so I wouldn't be surprised if they release different designs. (Wheels and smaller bags please, Smashi!)