I'd like to take this opportunity to make sure you all know that I don't usually stay in swanky hotels. Of course, from time to time I'm lucky enough to stay in a gorgeous boutique hotel or somewhere exotic or on the beach. But the majority of the time, particularly on city breaks, I'm in a budget hotel or an airport hotel. A central location is usually more important to me than a 5* rating so my standards have to slip. *Massive sad face.
I don't let this get me down and I'm a huge believer that attitude is the difference between an ordeal and an adventure.
I know you don't spend much time in your hotel but it's nice to come back to a nice, relaxing space and chill out for a few hours.
So it's time to look on the bright side of life, avoid looking at that dodgy stain on the carpet and learn to make your budget hotel feel as luxurious as possible.
1. Do the hotel room check
Before you do anything to beautify your hotel room, you need to do a spot check. Don't even take your coat and shoes off, you might not be staying in this room long.
Sit down on the bed and listen to see if you have a particularly noisy room. Of course, if you're in a city there are noises the hotel managers can't control. Maybe you're next to the lift and it's really loud. Are you by a clunking ice machine or a slamming fire door?
Next check your sheets are clean.
Check your airconditioning works before moving onto the bathroom.
In the bathroom check it's clean with clean towels and, most importantly, check there's hot water. There's nothing worse than realizing the water is cold when you're naked and shivering with half removed makeup smeared across your face.
It's also worth checking the lock on your door and windows to make sure your room is secure both when you're in it and out of it.
You're checking for:
Noises
Cleanliness
Hot water
Air con (depending on your destination)
Safety check
If you aren't happy with anything then ask to move. It doesn't matter how much you paid for a room, you shouldn't have to put up with dirt or a room so noisy you can't sleep.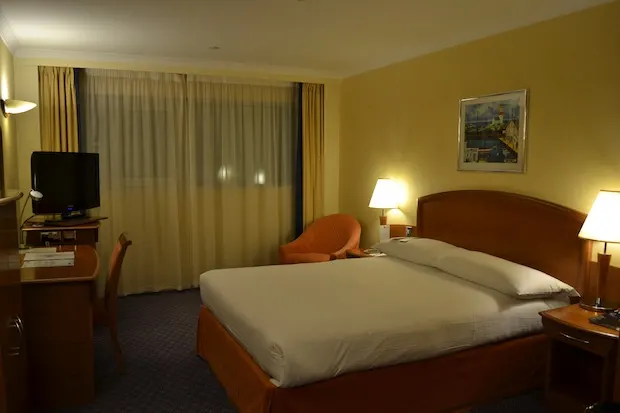 2. Scented candles
OK, so you're happy with your room. It's time to make it cosy.
Scented candles are something I've just got into. I think it's when you hit the 26 mark that you suddenly have a new appreciation for nice smells.
Budget hotels often have a stale smell so make it feel like home with your favourite scents. Yankee Candles are my favourites but they can often be too chunky for travel. At the minute I have some sweet pea scented candles from Aldi. They cost less than £2 and come in a little tin so they're great for travelling and smell delicious.
3. Silk pillow case
Nothing feels more luxurious than a silk pillow case and it's something light and easy to carry. It can be nice to have your own pillow but, unless you're driving from home, it's usually too bulky to carry.
If you're staying in a budget hotel or guest house in a developing country you may consider a silk sleeping bag liner too. I'm speaking from experience in Indonesia where the sheets were so filthy I slept fully dressed and still itched all night.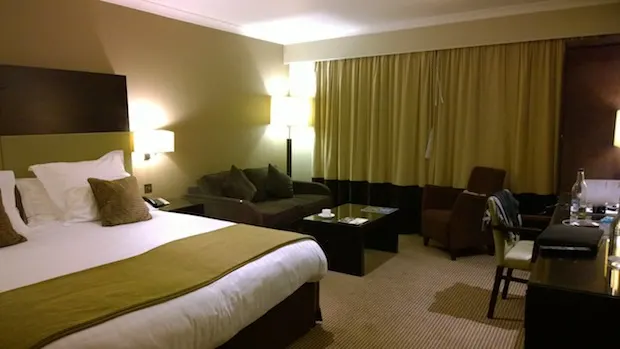 4. Luxury toiletries
Just because the hotel doesn't have any luxury toiltries it doesn't mean you can't have a miniature pamper session. Stock up from duty free or bring your favourites from home. I often keep samples or satchets that come in magazines for this very occasion.
Travel tip: Ask for samples in department stores and act really interested and as though you're going to buy and they give you LOADS of stuff. The more expensive the product, the more freebies you get. Obviously, don't go in looking like a tramp while carrying a Primark bag and a Big Mac because they might sus you out 😉
I love having pamper sessions in hotels because it's something I never do at home. There's always work to be done at home or things to tidy or people to see. But when you're in a hotel you have nothing to do but relax.
5. Earplugs
Even if you did a sound check when you arrived, there's still a chance you can hear through your paper-thin walls or windows. Pop some earplugs in and you won't hear a thing.
6. Snacks, treats and wine
Even budget hotels have an overpriced room service menu but it's usually pretty shocking. Stock up on snacks before you arrive so you have some tasty treats. I'm a big fan of wine sold in individually sealed plastic wine glasses, especially if you can buy them chilled from a nearby supermarket.
If you want to go the whole hog, get take out and sneak it up to your room.
If I'm staying in a hotel for a few nights I'll even buy some nice tea or coffee to help me get out the right side of the bed.
If you're travelling with someone else, buy some chocolate mints to pop on their pillow before bed. It's a totally unnecessary luxury we all love.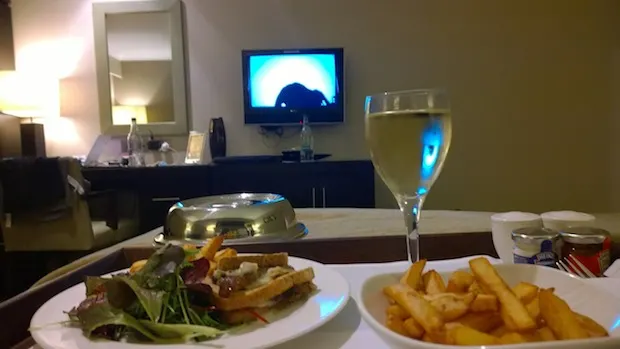 7. Download some movies
OK, you may not have an enormous TV with surround sound and on-demand movies but that shouldn't stop you watching the latest blockbuster from the comfort of your bed.
I always travel with either a laptop of an iPad and download a few films before I leave the house. Don't wait until you arrive at your hotel in case you have a slow internet connection.
8. Chat to the staff
One of the best things about a luxury hotel is usually the staff. They're friendly, polite, and knowledgeable and can't do enough to ensure your have everything you need during your stay. The staff may not be so accommodating in a budget hotel but if you make friends with them they're much more likely to go out of their way to help you. Put in a little bit of effort and it will be worth it.
Do you have any recommendations to make a budget hotel room feel luxurious?