I realise that The Travel Hack can get a tad girly from time to time so I thought it was about time I posted a review for the guys.
I was recently sent the Track Jack Board Case from Crumpler but as soon as it arrived I knew it was one for my guy.
He doesn't share my enthusiasm (OK, my weird obsession) with luggage but as a frequent traveller he's always on the look out for a decent bag.
He isn't a wheeled suitcase kind of guy but (although he hates to admit it) he's long outgrown his backpacking days so the Track Jack Board Case was the perfect option.
Here's a pretty nifty video showing the bag in action.
The Crumpler Track Jack Board Case from Crumpler on Vimeo.
The bag was clearly designed to be a weekend bag or for those days when you just seem to have loads of stuff. Despite this, Sam used the bag for a 3-week camping trip around the USA and found that it was plenty big enough – I seriously need to get a few tips from him on packing light!
It's cleverly designed with loads of pockets and compartments to help keep everything organised and secure. It has a padded pocked perfect for a 17" laptop and an outer pocket great for toiletries.
The straps can be lengthened so you can carry it over one shoulder or it can be converted into a handy backpack.
It comes in two colours, black and golden tweed. Personally I'd describe the 'golden tweed' as khaki. It also has a reflective stripe which is great if you're using it at night.
I asked my guy a few questions about the bag. He's a man of few words but you've got to hand it to him, he gets straight to the point.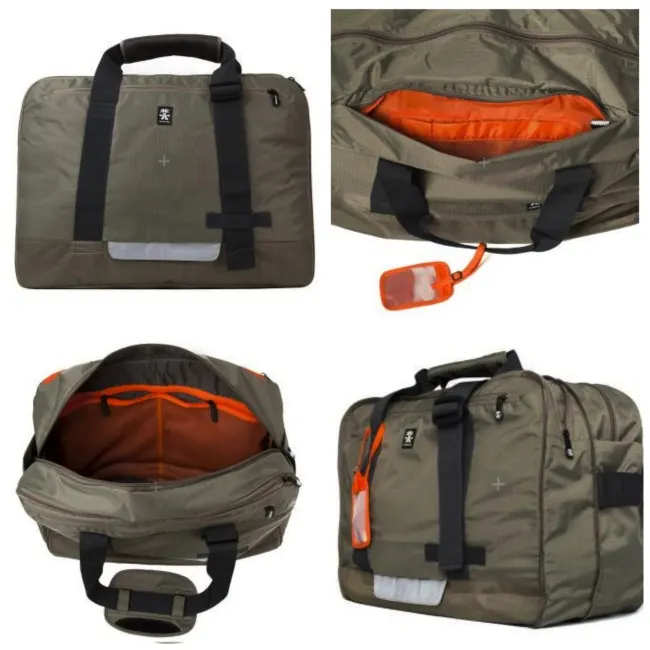 What do you like about the bag?
It's just ace. Loads of space. Loads of pockets. Really organised. I like the way it's spacious and unzips for extra space. And I like being able to use it as a rucksack or a carry bag.
Anything you dislike about the bag?
The straps loosen as you're carrying it so you need to tighten them as you're walking. (This can be counteracted by folding the strap back up and tucking it into the buckle but this is fiddly.)
What do you look for in a bag?
Sturdiness and how hardwearing it is.
Are you pleased with how hardwearing this bag is?
Yea, it's doing well. I've used it a lot now and chucked it around and it still looks good as new. I can't see this bag ever breaking.
[alert type=white ]The Track Jack Board Case from Crumpler costs £149.90. I was sent this bag for the purpose of a review and, as always, all thoughts and opinions are mine (or in this case, Sam's.) [/alert]