Nothing can induce the jealousy in me like someone who lives in Thailand. Yes, actually lives in Thailand. And that includes all Thai people because Thailand is one of my favourite countries in the world. That's why I'm really pleased to have an Insider's Guide to Chiang Mai on the blog this week.
Big thanks to Alana from Paper Planes Blog for telling us more about this fabulous city…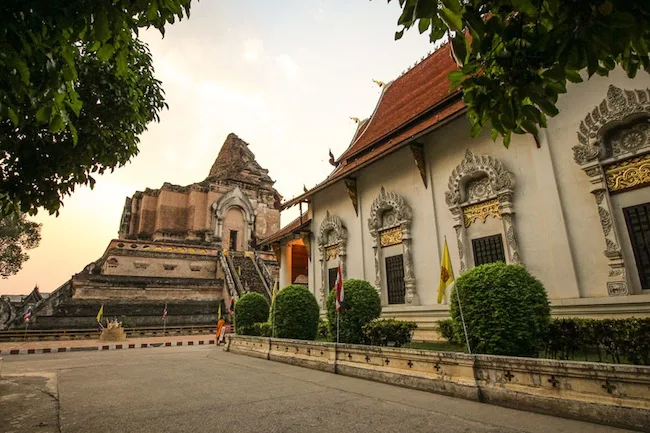 Let's begin our Chiang Mai travel guide with an introduction to Chiang Mai
Thailand's second city, located in the scenic and authentic north of the country and recognised as something of a cultural capital in both Thailand and Southeast Asia; Chiang Mai is a wonderfully laid-back city, full of history and charm.
It's real contrast to the hustle and bustle of Bangkok. Many visitors are looking for a more relaxed pace when heading to Chiang Mai, and whether you visit as a budget backpacker or a holidaymaker after a touch of luxury, the city's tourism infrastructure will have you sorted.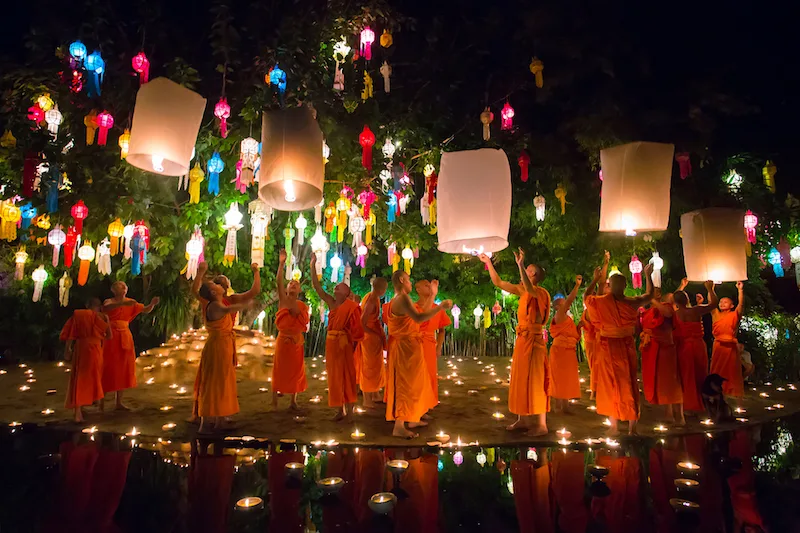 It's the culture and history that is the primary attraction in and around Chiang Mai, as well as its untouched Thai identity and authenticity, which is perhaps lost in other popular destinations around the country.
There are countless signs of the old Lanna Kingdom, in the city's architecture, landmarks and attitudes. Temple-hopping is an undeniable pastime here, and there are so many beautiful structures and complexes to choose from, all giving a great impression of the heritage of Thailand's north.
Beyond this journey into a bygone era, you'll find plenty more to create a memorable trip to Chiang Mai. It's location, nestled in verdant foothills, makes for some great outdoor adventure and exploration. From visiting scenic elephant camps and exploring rainforest reserves, to trying your hand at some adventure sports and soaking in bubbling hot springs, there's plenty to do outside of the city.
Back in the main hub of Chiang Mai, visitors will have plenty of other attractions to indulge in. Whether that is sampling some of the fantastic Northern Thai cuisine that is best enjoyed in this city, or perhaps laying back and enjoying a traditional Thai massage to help recharge your batteries; you'll have plenty to choose from in Chiang Mai.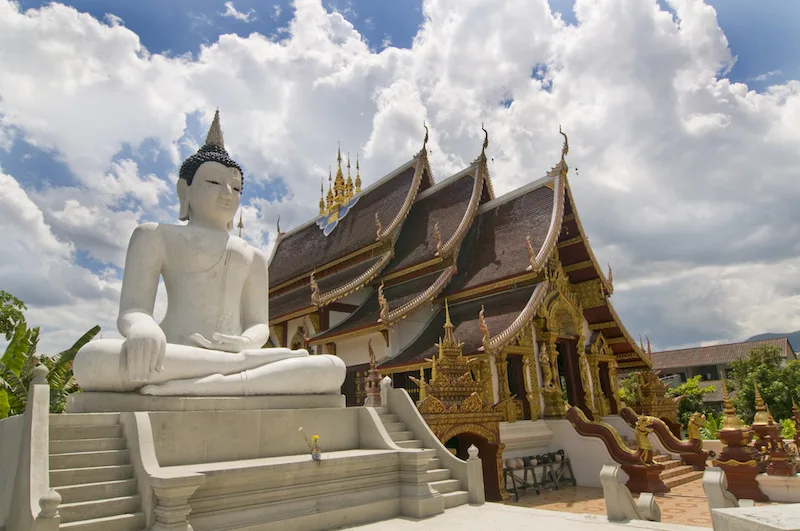 Top 10 things to do in Chiang Mai
Visit Wat Prathat Doi Suthep – this mountaintop temple is arguably the most impressive in Chiang Mai.
Check out Wat Chedi Luang – constructed in 1401, the ruins of Chedi Luang boasts some amazing carvings.
Head to Bua Thong Waterfalls – a stunning natural scene surrounded by beautiful forest, providing a haven from the city.
Experience the Loi Krathong celebrations – the most spectacular festival celebrations in Thailand, Chiang Mai becomes illuminated by fire and light.
Take part in a cooking class – a great way to get a comprehensive flavour of the delicious cuisine of Northern Thailand.
Visit Elephant Nature Park – a sanctuary to these gentle giants which gives a once-in-a-lifetime encounter.
Stroll around the Sunday Night Market – bustling, aromatic and full of bargains, this market is one of many in the city.
Enjoy a wellness treatment – yoga, Thai massage, a spa experience; you decide how best to recharge.
Sample local cuisine – follow the locals and sample regional delicacies across Chiang Mai's superb street food scenes.
Discover hill tribe villages – encounter villagers from the 12 different hill tribe groups that reside in Northern Thailand.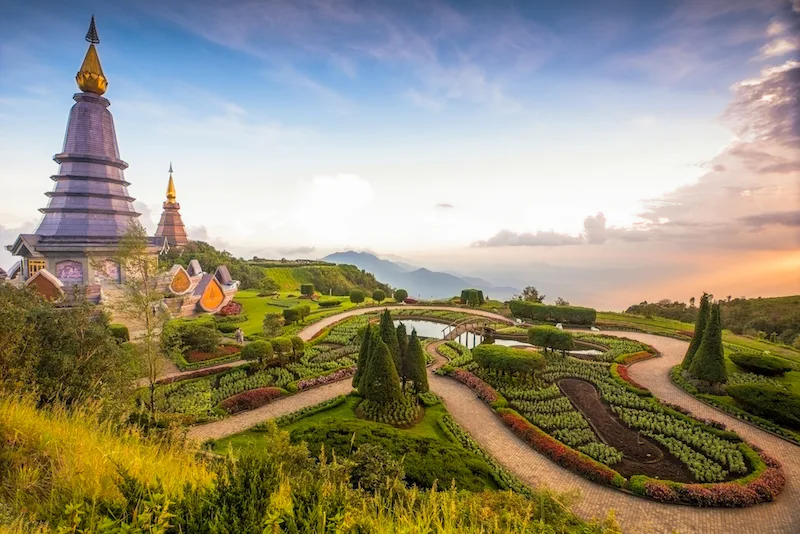 Getting around Chiang Mai
Chiang Mai is a pleasant city to explore through walking and cycling, though it is important to be wary of traffic which may not abide by the same rules as back home. The cheapest and most convenient way to get from attraction to attraction is to either hail a tuk-tuk or hop on a songthaew, the latter usually set to fixed routes and with shorter journeys within the city costing around 20 baht. For longer journeys out of Chiang Mai, a great range of trains, buses and flights will serve you well.
Now let's get on with our insider's guide to Chiang Mai…

Hi Alana! Can you begin by telling us how/why you're a Chiang Mai expert?
I've been living in Chiang Mai for the past four years, which – in a place where most people are transient – seems like forever. I worked for while in a number of Thai schools and, though I've now moved away from teaching, can't seem to quit Chiang Mai and live in town with my boyfriend (who's Thai) and our puppy.
How would you describe Chiang Mai in 5 words?
It fits just right.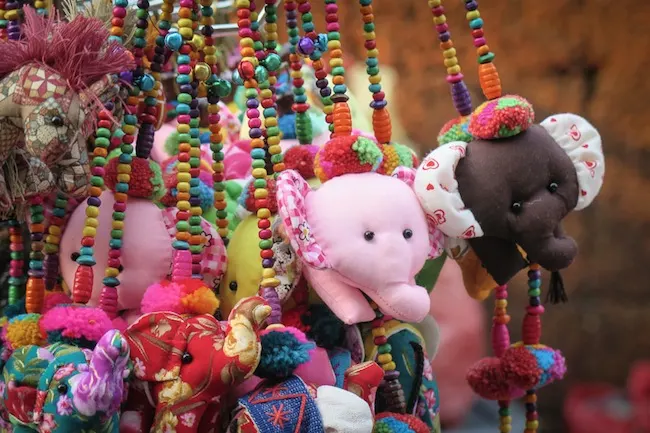 Give us one reason why you think everyone should visit Chiang Mai
It has a little something for everyone plus a feel and atmosphere all of its own. It's a small city, so feels much more manageable than Bangkok, but still has so much to see and do, from shopping local markets to temple hopping, to Muay Thai and massage training.
Can you tell us about some of your favourite restaurants/places to eat in Chiang Mai?
This question is so hard, especially since I tend to go to specific places for specific dishes.
Some longtime favorites though are trying out the food stalls in the evening at Chiang Mai Gate.
Rustic & Blue off of Nimmanhaemin Road which serves incredible farm fresh Western food.
The veggie-friendly Bird's Nest Café and Wang Singh Kham on Charoen Rat Road close to the Nakorn Ping Bridge – it has the best, big bowls of noodles with roasted duck you'll ever try!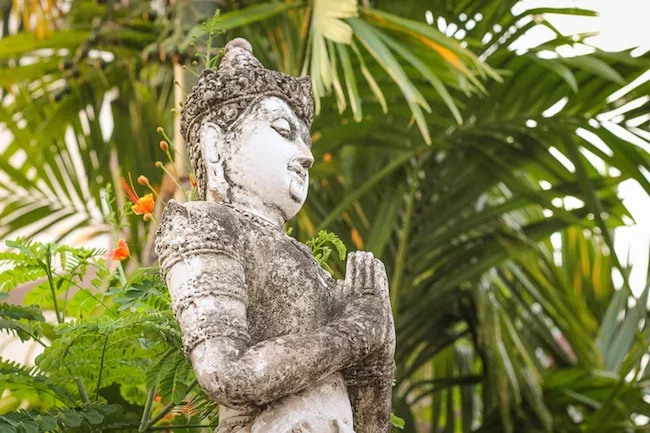 What's the one thing people need to pack when visiting Chiang Mai?
A camera. People dress pretty casual here and you can buy anything you need (or may have forgotten), but if you don't have your camera, you'll be sorry.
Check out: My Lumix G80 review for a great camera for travelling
What's an unusual thing most tourists wouldn't know about?
Many of the fresh markets selling meat, produce and plants are open all night or starting around 3 or 4 in the morning. It's fascinating seeing the markets alive with people in the middle of the night! If you want to see it, try heading to Muang Mai Market close to the Ping River then walking along the river to the back of Wororot Market where all the flower stands are – everything is dark, but the stalls are completely lit up and colourful.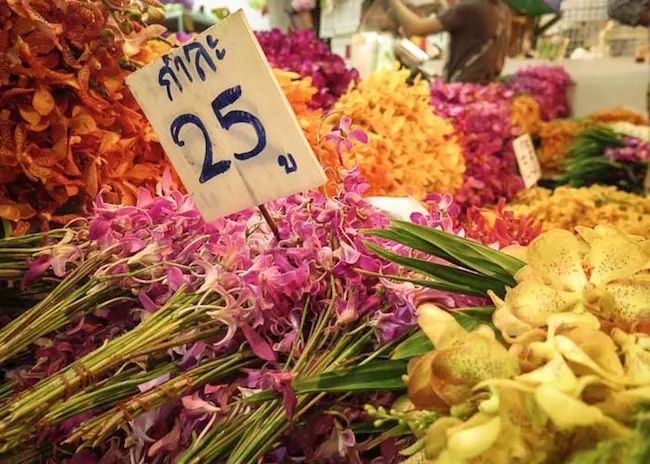 What's your favourite touristy thing to do in Chiang Mai?
Probably visiting the Sunday Night Market or taking a cooking class. I totally know what to expect from each, but they're still interesting and there's always something new to try. Most of the cooking courses offer similar sessions so you can't go wrong.
What's your favourite place outside of the city?
I love going to Chiang Dao, a small village in the hills only about 40 minutes from town, and staying at The Nest. You're in a comfortable bungalow in the middle of the jungle and it feels worlds away from the city. (Also, the food at the hotel is incredible – especially considering you're practically in the middle of nowhere.) There's not much to do but relax and take in the beautiful scenery – the perfect weekend getaway.
Can you share your favourite photo from Chiang Mai and tell us a little about it?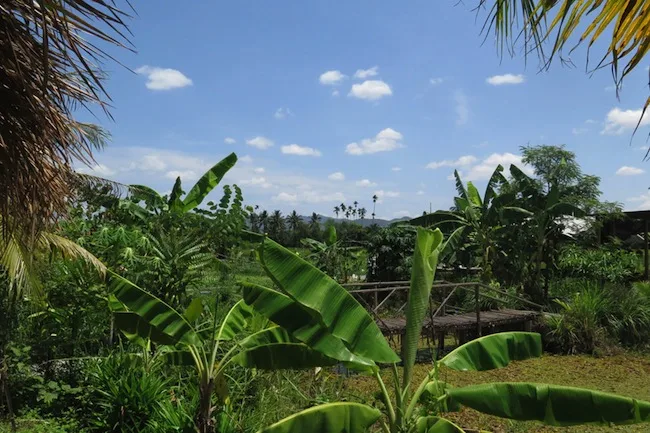 The actual city of Chiang Mai isn't that attractive. There are cute parts, but as a whole I find it a little dingy. As soon as you get out of the city center however, it's gorgeous with bright young rice fields and leafy green hills in the background. This photo was taken just 20 minutes out of town and shows the vibrant beauty of Northern Thailand that I love so much.
Can you recommend a cool place to stay in Chiang Mai?
There are a ton of accommodation options in Chiang Mai, from $3 hostel dorm rooms to some of the most beautiful 5-star resorts in the world. The great thing is, that even if you're on a budget you can find a cool place to stay. I usually recommend Villa Duang Champa right in the center of town that has rooms for about $30. It's light and airy with a bit of retro style.
---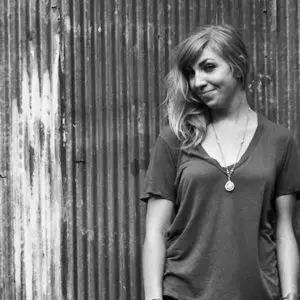 Alana Morgan is a twenty-something traveller trying to figure out life one place at a time…and blogging about it at Paper Planes. Originally from Seattle, she's been living, working, and travelling in Thailand and Southeast Asia for the past four years with no plans to 'settle down' anytime soon. You can see more of what she's currently up to, and get an insider's look into life in the Land of Smiles, on Facebook, Instagram and Pinterest.
Here are some tours you can book in Chiang Mai if you're feeling organised and want to get your trip booked before you get there…