Here at The Travel Hack we're all about luxury hotels without the luxury price tag so I'm excited to share with you a new hotel-booking platform.
This new platform is called Dayuse.com and allows you to book hotels during the daytime for between 3 to 8 hours.
OK, OK, the alarm bells are ringing already, right? A hotel that allows you to book by the hour sounds a little dodgy but this isn't that kind of hotel booking.
Day Use is an ingenious idea that allows hotels to make money from empty rooms and also gives guests the chance to save money on hotels and only book them for the time they need them. Because hotels don't just need to be for night times!
Why would you use Dayuse.com?
The kind of people who use Dayuse are:
Jetlagged travellers who want to rest when they first arrive in a new destination
People who have a long wait between connecting flights
People who need to shower and get changed before heading out to a meeting
Business people who want a quiet space and a desk with wifi during a business trip
Couples (yes, let's not forget there probably will be some couples wanting some afternoon hanky panky)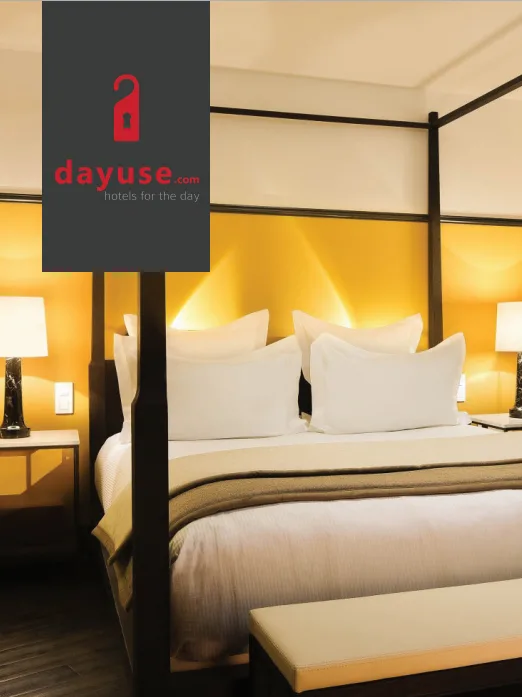 I can imagine it would be great if you've had a long flight and arrive in a new destination first thing in the morning. You just want to have a nap and a long shower and chill out for a few hours but you can rarely check into your hotel so you're left hanging around and killing time. Day Use would come in perfectly!
It would also be great if you've found bargain flights with a long layover in a destination. Rather than wasting your time hanging around the airport you'd be able to book a hotel room and have a sleep and a shower before the final leg of your journey. You can still access all of the hotel's amenities so you could use the pool and the spa and then have cocktails on the rooftop terrace before heading back to the airport. That sounds much nicer than a day in a terminal!
The rooms are typically 30-75% cheaper than the price of a full night and you book either online or over the phone. You can book the hotel room for day use or a late break which allows you to stay from midday until 11pm.
Day Use has 1,500 hotels available to book during the day. They have locations in London, New York, Milan, Paris, Miami, Rome, Munich, Berlin, Geneva, Brussels, Toronto and Chicago.
They're all 3*-5* hotels and they've been selected for their great locations. A lot of these are really gorgeous hotels such as the Hilton London Paddington which is available between 9am and 5.30pm for £119 rather than the usual £364 for a night. There are also hotels next to airports and train stations that I'm sure would come in really handy for frequent travellers.
What do you think? Would you consider booking hotels for day use?
Check out dayuse.com for more information.