Khao Sok National Park is one of my favourite places in Thailand and that's saying something when you consider the fact that Thailand is my favourite country in the world. It's a reserve in Surat Thani, southern Thailand, and has some of the country's best preserved jungles and wildlife. A huge artificial lake was created in the park in 1982 with the damming of the Pasaeng River.
We spent a couple of days in the national park and during that time we had one night staying in the Floating River Huts and this is one of the many instances that I feel like my words can't do the place justice so just take a look at some of these photos.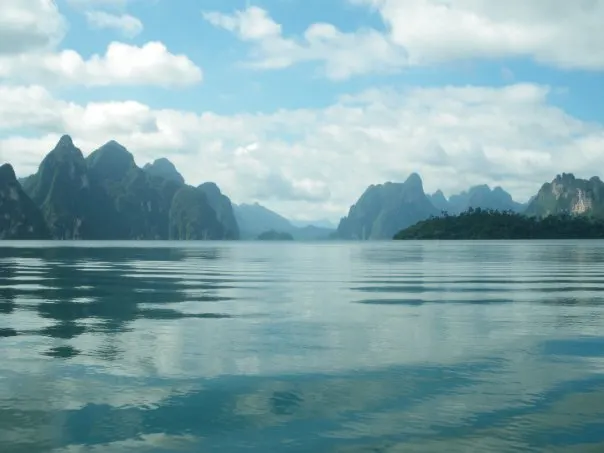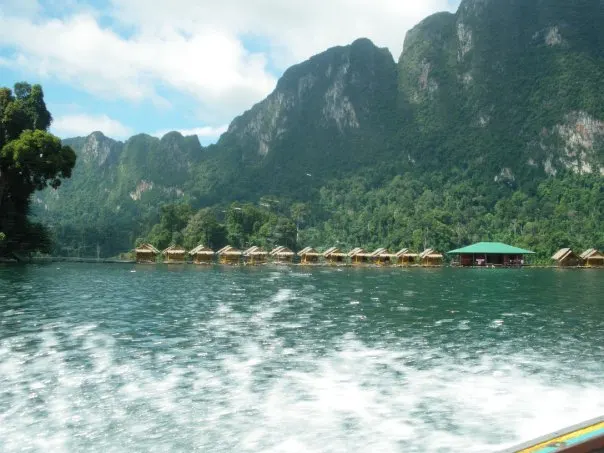 There were about 20 bamboo huts lined up in a neat little row. We were in the middle of the jungle so they couldn't have possibly looked more out of place but this gave it a magical kind of feel. A rickety walkway joined the huts together and in the middle there was a bigger hut where we ate our meals in a communal dining area. There were toilet blocks but no showers because the river was so clean and warm that everyone just washed in there. The huts were very basic with nothing more than a mattress on the floor with a mosquito net around it. Sleeping at night was pretty hot and uncomfortable but being able to listen to the sounds of the jungle all night was well worth it.
To get to the huts we took a speed boat followed by a slightly more relaxing long tail boat to the huts and allowed the sprays and splashes to keep us cool as the boat skimmed through the clear water. It was a deep turquoise colour that looked like it had jumped straight out of a postcard. We zoomed past little islands and stopped a few times while the driver pointed out animals in the trees
We were in the water at the first available opportunity and quickly scrambled into canoes to explore the area. We pulled up to the little islands that peaked out of the water and people pointed out Gibbons swinging in the trees, other monkeys and eagles.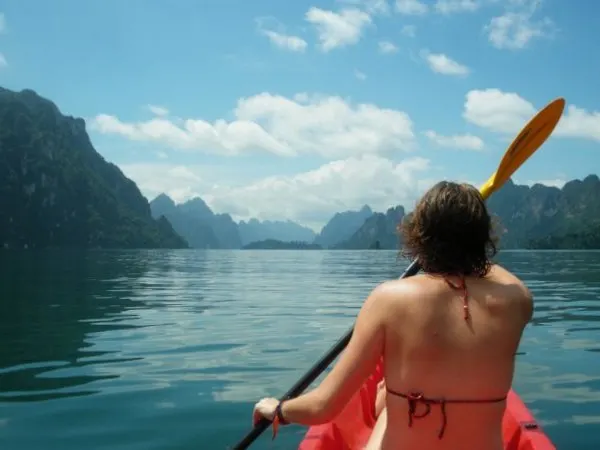 It was around about this point that I decided that I'm probably blind because I could see nothing. We were with a guy who kept insisting I borrow his binoculars because he felt so sorry for me. I just pretended most of the time and I 'Ooooo'ed' and 'arrr'd' along with everyone else.
At least I could hear the Gibbon's as they 'Ooooooo'd louder and louder and for longer and longer as they built up the courage to swing from tree to tree. I felt a bit sorry for the Gibbons because they were trapped on the islands that were created when the lake was created.
After working up an appetite with all the swimming and kayaking we feasted on a huge fish banquet and spent the night being lulled by the gentle swaying as we bobbed on the water.
We got up at dawn the next day and were taken out on a kayaking tour by a guide to do some professional wildlife spotting. We paddled over to the islands where we could see Gibbons yelling and swinging from the trees and, thankfully, I actually saw them this time!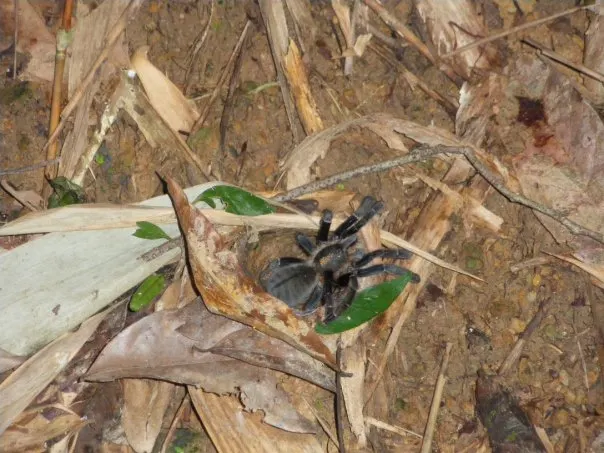 We then pulled up to a larger island and went on a trek around it and through the forest. The guide showed us tracks from different animals and pointed out some of the biggest bugs and spiders I've ever seen in my life. He was amazingly good at finding where the trapdoor spiders were hiding.
How we got there:
We booked the trip through Limestone Lake Tours who organised everything in the national park for us. This included flights from Bangkok to Surat Thani, transfers and a night in the Cliff and River Jungle Resort, transfers and a night at on the floating river huts, transfers and a night Art's River Lodge (with elephant trekking) and then transfers to Ao Nang. It was by far one of my favourite experiences in Thailand so if you get the chance, I would definitely recommend it.
I will be blogging about the other places every Tuesday in my new 'Track-Back Tuesday' feature where I will bring you the best from my travels in SE Asia. I spent 6-months in Asia before I figured out how to blog so I have a lot of stories to share!