I am officially a yoga goddess. Well, nearly…
I signed up for 10 classes at The Yoga Barn in Ubud, Bali. Yoga is something that has always interested me but I've always been a bit scared to try a class. I'm about as flexible as a wooden ruler and didn't fancy being the one at the back who keeps falling over and can't touch her toes.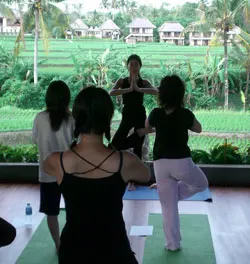 But traveling is all about new experiences and not being afraid to try new things and Ubud is 'the cultural capital' of Bali so I thought this would be the perfect place to give it a go.
There are yoga centers all over the place and the streets are lined with skinny little yoga chicks in their 100% natural leggings and a yoga mat rolled up under one arm. I want to be one of those skinny little yoga chicks!
My first few classes have been great, although I was the one at the back who kept falling over. But, among the many things that traveling has taught me, I have learnt to not worry about what anyone else thinks but myself. There are many advanced students in the class but they are all kind and supportive and encouraging.