Does anyone else find packing your hand luggage can be just as tough as packing your main case?
I begin with just a couple of things, maybe a magazine and my phone, and before I know it my bag is overflowing with stuff. Cosmetics and gadgets and entertainment and food are spilling out of my bag and it's so heavy I can barely lift it. By the time I get on the plane I'm a flustered mess because I just have so much stuff!
After years of practice I've finally managed to keep my hand luggage to a minimum and here are the 10 things I always fly with.
My 10 hand luggage essentials to try and keep that bag a little lighter
1. trtl sleepscarf

The trtl sleepscarf calls itself 'the next generation of travel pillow' and it's a really comfortable way to get some shuteye during a long journey.
When I first saw it I thought it was one of the strangest designs ever but as soon as you're wearing it you have that light bulb moment where you think, 'How has this only just been designed?'
It basically a scarf with a strengthening rib you can rest your neck, chin or jaw against. You can comfortably relax and fall asleep with no head lolling or drooling on your neighbour's shoulder. It's particularly good if you have a middle seat on a plane and have nothing to lean on. It's also small and lightweight so you don't need to carry a bulky pillow.
2. Face wipes
I always travel with a pack of make-up removing face wipes. They'll help you freshen up and remove the make-up smudged across your face after that awesome nap.
3. Battery to charge your phone

While I'm at an airport I pretty much spend the entire time on my phone as I send the last few emails and catch up with friends and family before I leave, so I always arrive in my destination with a dead battery. There couldn't be a worse time to have a dead battery when you need to use your maps and internet and get in touch with people.
I've arrived before and expected a driver to be waiting with my name on a sign but he wasn't there and my battery was dead so I couldn't phone anyone.
The moral of the story is to always have an external charger and write down important phone numbers and addresses!
Something like the Anker PowerCore + Mini is perfect as it charges quickly and it's small and lightweight.
4. A huge cardigan
After travelling on a freezing cold overnight flight I never travelled without a large cardigan again. You can use it like a light blanket to keep you warm as not all airlines will have extra blankets to hand out.
A nice cardigan can also dress up a plain outfit so you can get away with wearing leggings and T-shirts.
5. Toothbrush and Toothpaste
Nothing freshens you up as quickly as brushing your teeth. This is especially important if you're meeting a special someone at the airport!
6. Headphones
You can't beat a comfortable pair of noise cancelling headphones for a flight. Block out the sounds of kids screaming, shouting parents, rowdy passengers and the noisy hum of the plane then close your eyes and escape to your own little world. I currently use Beats headphones but I'm drooling over the rose gold headphones by Frends.
7. iPad
I can't imagine travelling without an iPad these days. An iPad helps you pack light as you have all your entertainment in one place. You've got your books, magazines, games, videos, movies, TV shows and music. Then if you decide to do some work you've also got all the tools you need for that too.
8. Vapur Water Bottle
I'm a big fan of the Vapur water bottle
because they can be rolled away once you've finished with them. Save money on bottles of water and reduce wastage too.
They're really handy when you're flying. Long-haul flights usually have a drinking water tap onboard that is just big enough to fit a tiny glass beneath (it's almost shot glass size, it's ridiculous). This tap is handy to wet your whistle but a nightmare if you're parched because you have to stand there for 10 minutes knocking back tiny cups of water. The Vapur water bottles, however, are flexible so you can bend them under the tap to fill them up. Handy!
9. Healthy snacks
I know the thought of eating healthy snacks isn't particularly exciting but nothing makes you feel tired, bloated and groggy like a few beers and a tub of Pringles. Bring along some fruit and you'll feel much better when you get off the plane. I usually stock up while I'm at Boots or Pret ready for the journey.
10. Posh eye mask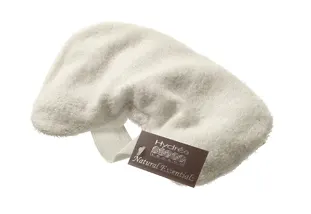 This is the luxury extra you could definitely fly without but is always nice to have. This relaxing lavender eye pillow is slightly weighted so it helps you relax and the delicious smell will soothe you to sleep. Most airlines will provide an eye mask during a long haul flight but you can't beat this posh one!
Are there any items you have to have in your hand luggage?
Pin this for later ->