Each year we spend the entire winter dreaming about beach holidays. White sands, blue seas, bright sunshine and golden tans. Arrhh, this is what dreams are made of.
Just after Christmas we re-join the gym and spend hours finding the right skin care regimen, hoping that it will have us looking as beautiful as Beyonce within 6 months.
And then before we know it, summer is here.
Agh, what happened to the fitness plan? There is no time!
Yes, this happens to me every year so I've found a few ways to fake that perfect beach bod in no time.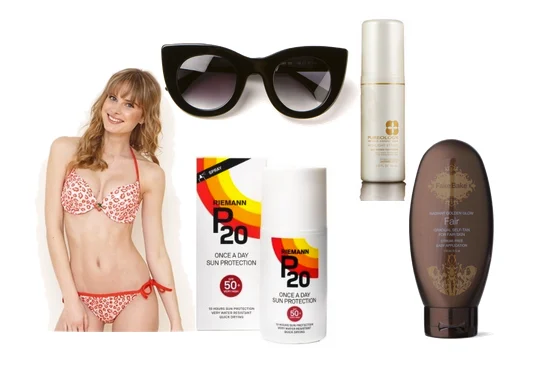 1. Max Cleavage bikinis – I can't tell you how many people I've converted to Max Cleavage bikinis and they always thank me as though I've shared the secret to eternal life. I know the name sounds a little dodgy but these bikinis are gorgeous. They do exactly what the name suggests and boost your bust and they fit perfectly. This summer I have the Cherry Pie Bikini and I'm pretty much in love with it.
2. P20 Sun Cream (Look out for it in Primark where it's a bit cheaper) I love this once a day sun cream. It lasts for 10 hours while you're active and I haven't been burnt once since I started using it.
3. Cattish sunnies – I'm currently drooling over these Black Orgasmy sunnies from Thierry Lasry.
4. Pureology Sea Kissed Texturizer (Feel Unique is the best price I've found) I love the whole Pureology haircare range but it is pricey. If you only buy one thing for your hair I'd go with the sea kissed texturizer. It gives beachy waves without drying it out like sea salt spray does. Just spray it in and scrunch your hair up and you're good to go.
5. Fake Bake Tanning Lotion
(Buy from Amazon – it's much cheaper) Fake Bake has been my secret weapon and go-to tan for almost 10 years. I'm rubbish at applying any other tan and always end up looking like a streaky Umpa Lumpa but you can't go wrong with Fake Bake.
When you have a tan you instantly look like you've lost a couple of pounds and generally feel healthier and sexier. Skip that pasty look during the first few days of your holiday and fake it. Just remember to avoid tanning your knees, ankles and wrists because they're always the giveaway areas.
If you have any more 'fake it on the beach' tips, let us know in the comments below.