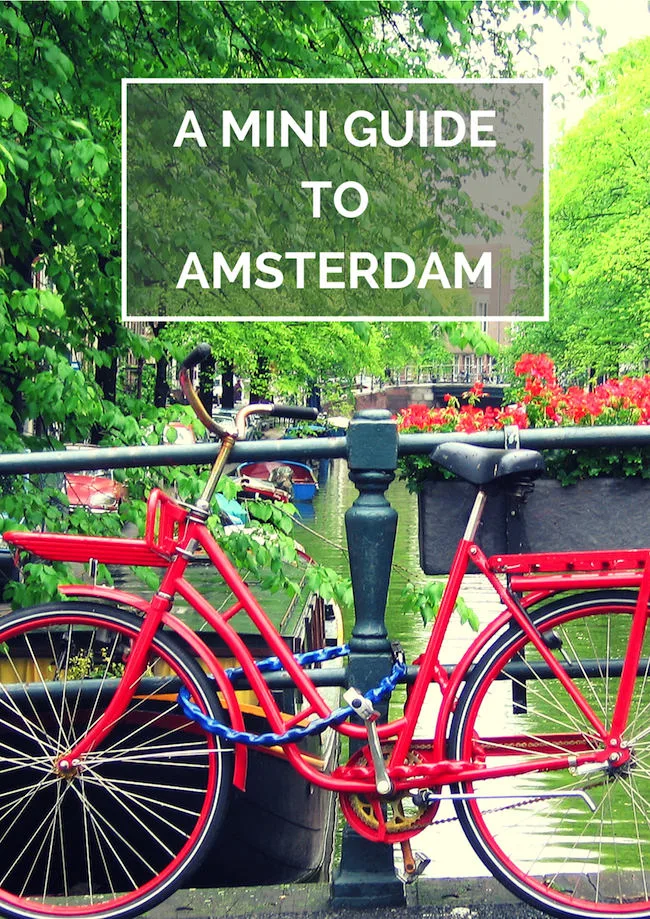 Photo credit: Red bicycle
Everyone thinks they know what Amsterdam is going to be like before they visit and I've spoken to lots of people who love Amsterdam and lots who hate it with equal measure.
Personally, I love it and I think it's a great city for a long weekend break. Parts of Amsterdam are very touristy and there are some people just there for the weed and others just for the Red Light District but there's so much more to this incredible city.
So get on your bike, it's time to explore!
How to get there
Flights to Amsterdam can be really cheap, particularly if you can be flexible with your dates and departure airport. As always, I'd take a look at Bravofly and select up to 5 months worth of dates to travel. I've just had a look for flights in June and they're £42.10 return from London! Travelling from Wednesday to Saturday is usually your cheapest option and 3-4 days in Amsterdam is perfect.
Another option would be to take the ferry. I did this a few years ago as I took the overnight ferry from Harwich to Holland. I left on a Friday night arrived by 7am on Saturday and then hopped on the train to Amsterdam for 8am. This isn't the cheapest option but it's a lot of fun and due to the timings of the ferries you get full days in your destination and don't lose half a day travelling.
Where to stay
Stylish Hostel – Generator Hostel
Generator is opening in 2015 so if you're planning a trip this year, hopefully it will be open in time for your trip. I stayed in Generator in London and loved it (and that's coming from someone who generally hates hostels).
Boutique Hostel – Coco Mama
I know I shouldn't put two hostels on the list but Coco Mama looks more like an affordable boutique hotel than a hostel. Situated in an old brothel, this uber cool hostel has rave reviews and 6-bed dorms start from around €27. They also have family rooms and deluxe doubles.
Affordable Luxury – Hotel Vondel
Hotel Vondel has single rooms right up to family apartments. If you've got a small group of friends then the family apartments are a really affordable option.
The quirky option – Houseboat
I love this houseboat option on Airbnb. It's really affordable too! Airbnb has so many great options for Amsterdam.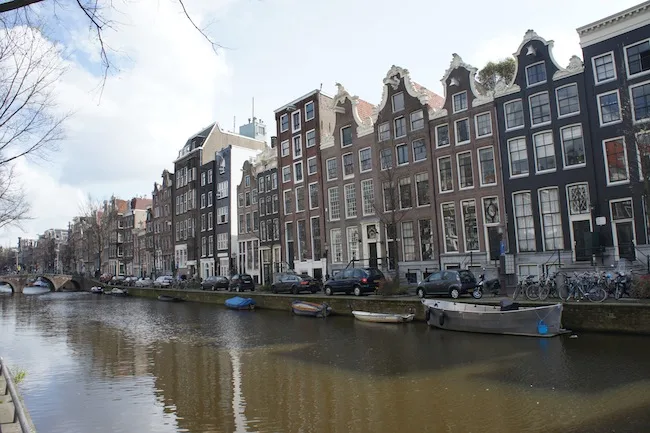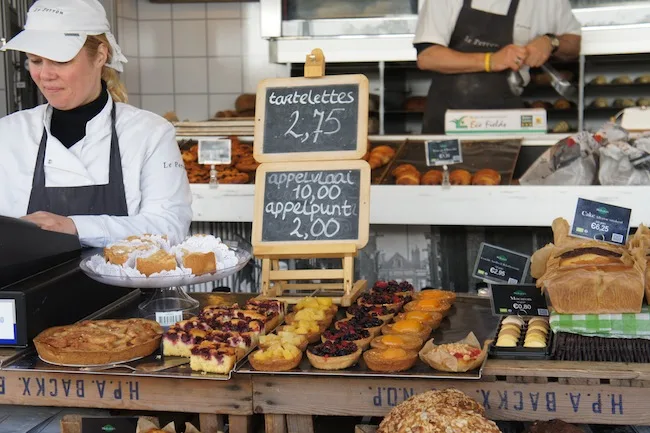 What to do in Amsterdam
1. Hire a bike
Cycling is the best way to get around Amsterdam so hire a bike as soon as you arrive. They're really cheap to hire but the longer you have it, the cheaper it will be.
Check out Cycle Routes Amsterdam for some great cycling options. If you only have time for one, make it Cycle Route 9.
2. Get the I Amsterdam Pass
If you plan to visit a lot of Amsterdam's museums, it's worth buying the I Amsterdam Pass to save money on entry fees. This also includes a canal tour and public transport so is definitely worth it if you're not cycling.
3. Avoid the Heineken Museum
This might be a controversial one but I don't understand the fuss about the Heineken Museum. Save your money and go to a pub where you'll be able to buy much more beer without having to sit through an 'educational experience' in order to enjoy it.
4. Amsterdam's Markets
Amsterdam's markets are amazing. The locations can change but you'll always find vintage clothing, local crafts, antiques and amazing food and drink. There's more info here about which markets are on which days and where.
Don't miss Bloemenmarkt, the world's only floating flower market.
Waterlooplein fleamarket, held daily in the old Jewish quarter, Jodenbuurt, is also worth a wander.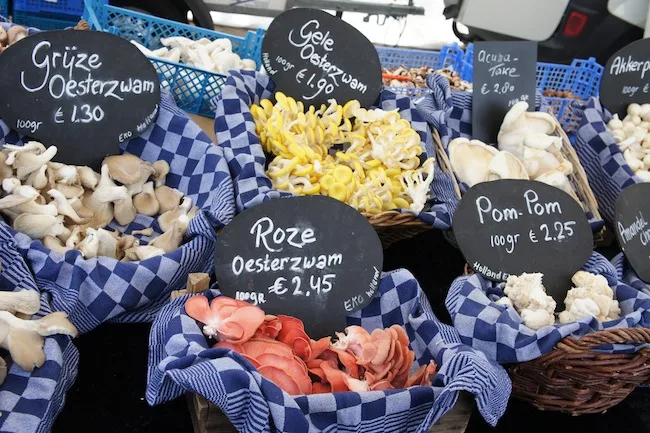 5. Free Walking Tour
If you only do one cultural/touristy thing in Amsterdam, make sure it's the free walking tour. It's a great tour and there's a lot of interesting things going on behind those wonky doors that you'd never know about without a local guide.
6. Visit the Jordaan
The Jordaan is next to Amsterdam's city center and is a really cool area packed with cafes and bars.
7. Check out Anne Frank's House
There are SO MANY museums in Amsterdam but my favourite is definitely the Anne Frank House. See where she went into hiding and learn more about her experience.
8. Stroll through Vondelpark
This 47 acre park is gorgeous no matter what season you visit.
9. Hang out in a coffee shop
If you chose to smoke anything it's up to you but you can't visit Amsterdam without at least poking your head in!
10. Visit the Red Light District
I hated the Red Light District but, as with the coffee shops, you need to have a peak while you're in Amsterdam. I wrote about Sex and Drugs in Amsterdam with a little insight into how much prostitutes actually earn.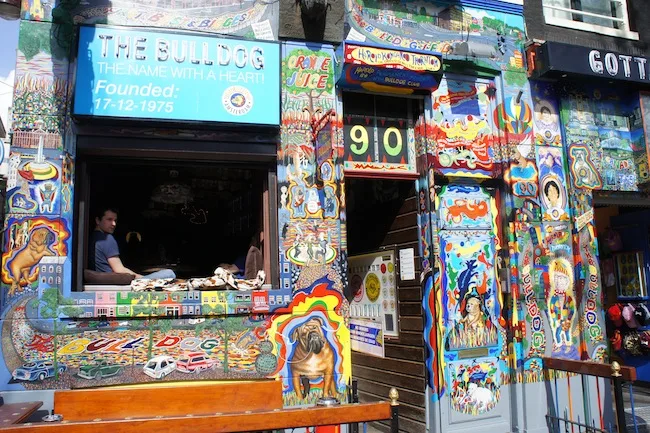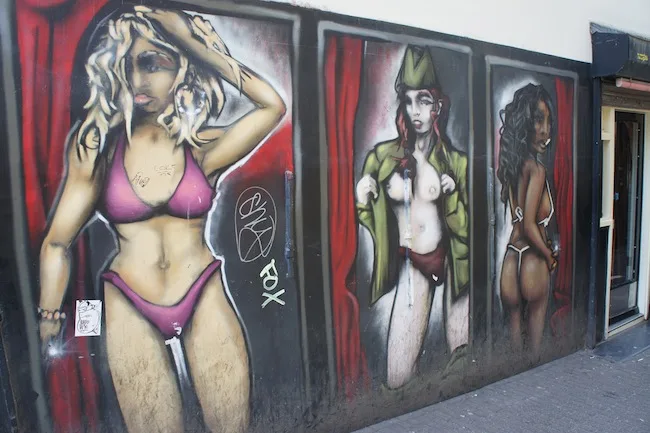 Where to eat in Amsterdam
I haven't included any recommendations for places to eat in Amsterdam because restaurants and cafes change so quickly. I always think it's best to go to an expert destination blogger for foodie recommendations so here are some of my favourite foodie bloggers based in Amsterdam.
Your Little Black Book – An awesome blog, not just for foodie recommendations but also shopping and things to do.
Awesome Amsterdam – With so many recommendations this could potentially be a little overwhelming.
Amsterdam Porn Guide – Don't worry, this link is safe to click, even if you're in work! We're talking food porn here with just a little bit of good old-fashioned nudity.
As the Bird Flies – My blogger buddy Frankie lives in Amsterdam so she has loads of great insights, tips and recommendations.
Spotted by Locals – I love the Spotted by Locals app. It's one of the few apps that is well worth paying for so buy this before you even consider buying a travel guide.
Do you have any Amsterdam recommendations to add to the list?