What's the best travel steam iron for your next trip?
If you haven't come across the wonderful world of travel steamers yet then be prepared to have your life changed! I've been using a steamer for years now, mostly because I'm terrible at ironing and too lazy to get the ironing board out every time I want to iron one little thing!
I hadn't originally intended to use my steamer for travelling. I'd bought it to quickly steam my kid's school uniforms but I soon realised this was a great little gadget to take on holiday.
I bought my clothes steamer on Amazon from a brand called Dodocool. The one I bought isn't listed anymore but there are others that look like they're basically the same. You know how Amazon do that!
This is the same one: Hilife Clothes Steamer
I like mine so much I bought a second one for our static caravan so I don't have to take mine back and to all the time.
I'm going to tell you a bit more about clothes steamers and share the two I think are the best…
What is a travel steamer?
A travel steamer is somewhere between a kettle and an iron. You fill it with water and it begins to boil, releasing steam which you can then press against your garments to release any creases.
If you've ever done the old fashioned trick of hanging up your creased clothes next to a steamy shower then you'll know how this works. It's like that, only much more effective because you press the steam into the creases whilst smoothing out your clothing.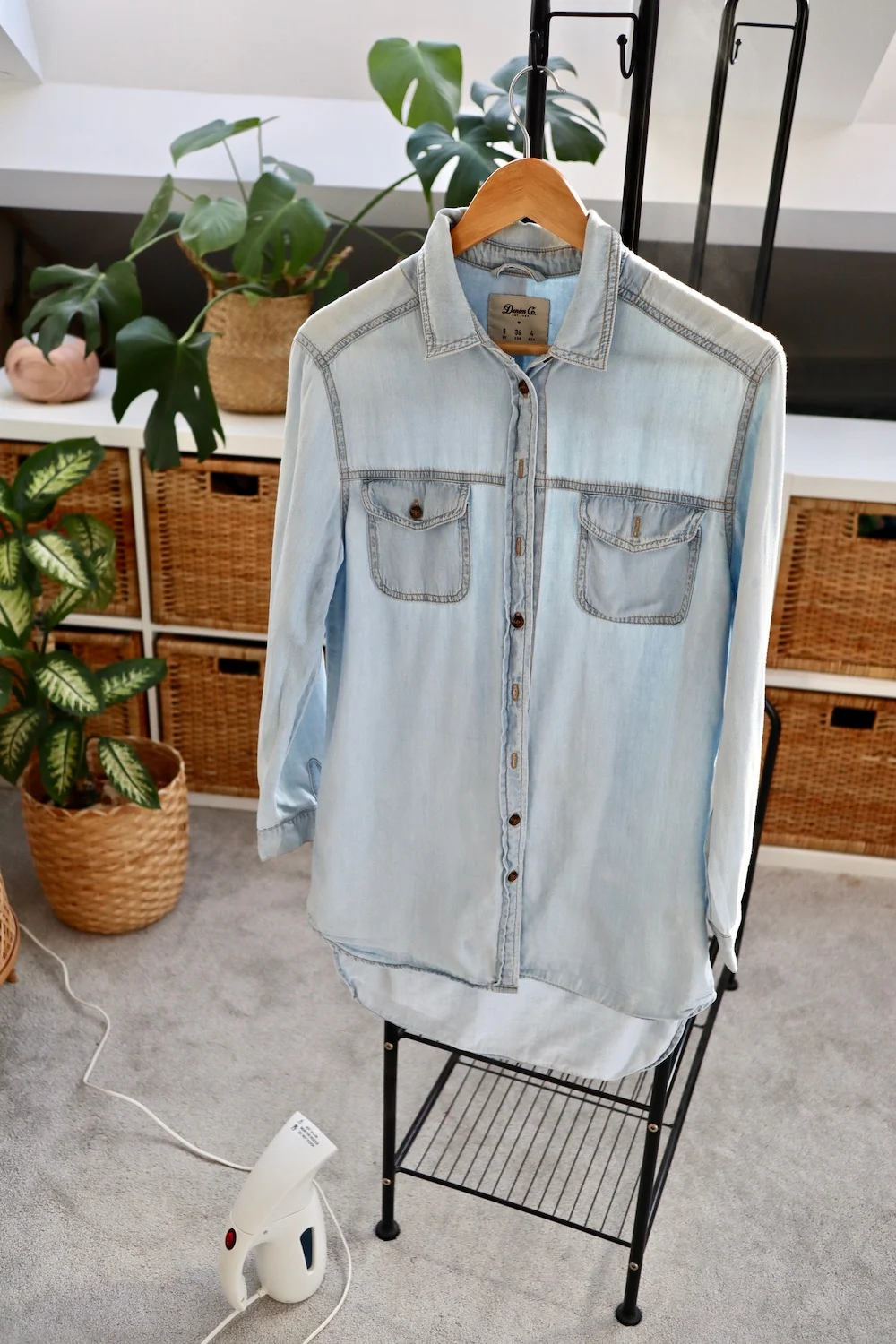 This denim shirt took 3-4 minutes to steam. My steamer takes less than a minute to heat up so it's less than 5 minutes to do this (and I personally find it much easier than ironing).
How do you use a garment steamer?
Begin by hanging your clothing on a clothes hanger and hang it in a well ventilated area.
This sounds silly but I was surprised by how much steam was created with a steamer! Whenever possible, I'll steam my clothes near an open window or in a bathroom with a fan.
When I'm at home I'll do it in the bathroom as we have a plug right outside the bathroom door but most hotels won't have a plug near the bathroom so it's not possible.
Never use your travel steamer near a smoke detector as it may set off the alarm due to the steam. I still have nightmares about the girl's showers at uni setting off the smoke alarms at all hours of the night due to people having hot showers and not opening the windows!
You run the garment steamer up and down your clothes, a little like you would with an iron.
You simultaneously pull your clothes taut (without over-stretching them) to pull them smooth and encourage the creases to come out.
If your clothes have just a few light creases from being packed in your suitcase then you'll be able to quickly run over them with the clothes steamer. If you've got some deeper creases then simply keep running over them until they're gone.
Sometimes your clothes will feel a little damp after steaming, especially if the creases were deep and you had to keep going over them. But they're not wet and this feeling goes in less than 5 minutes. I usually steam my clothes before doing my hair and makeup so it's not a problem for me.
I find it difficult to create sharp lines or pleats in my clothes using a garment steamer. It isn't as effective as an iron for pleats down the front of your trousers or sharp lines in the sleeves of your shirts. If you're looking for something to sharply press your shirts and suits then a steamer probably isn't for you. But if you're looking for something quick and easy to remove light creases from everyday clothes then this is perfect.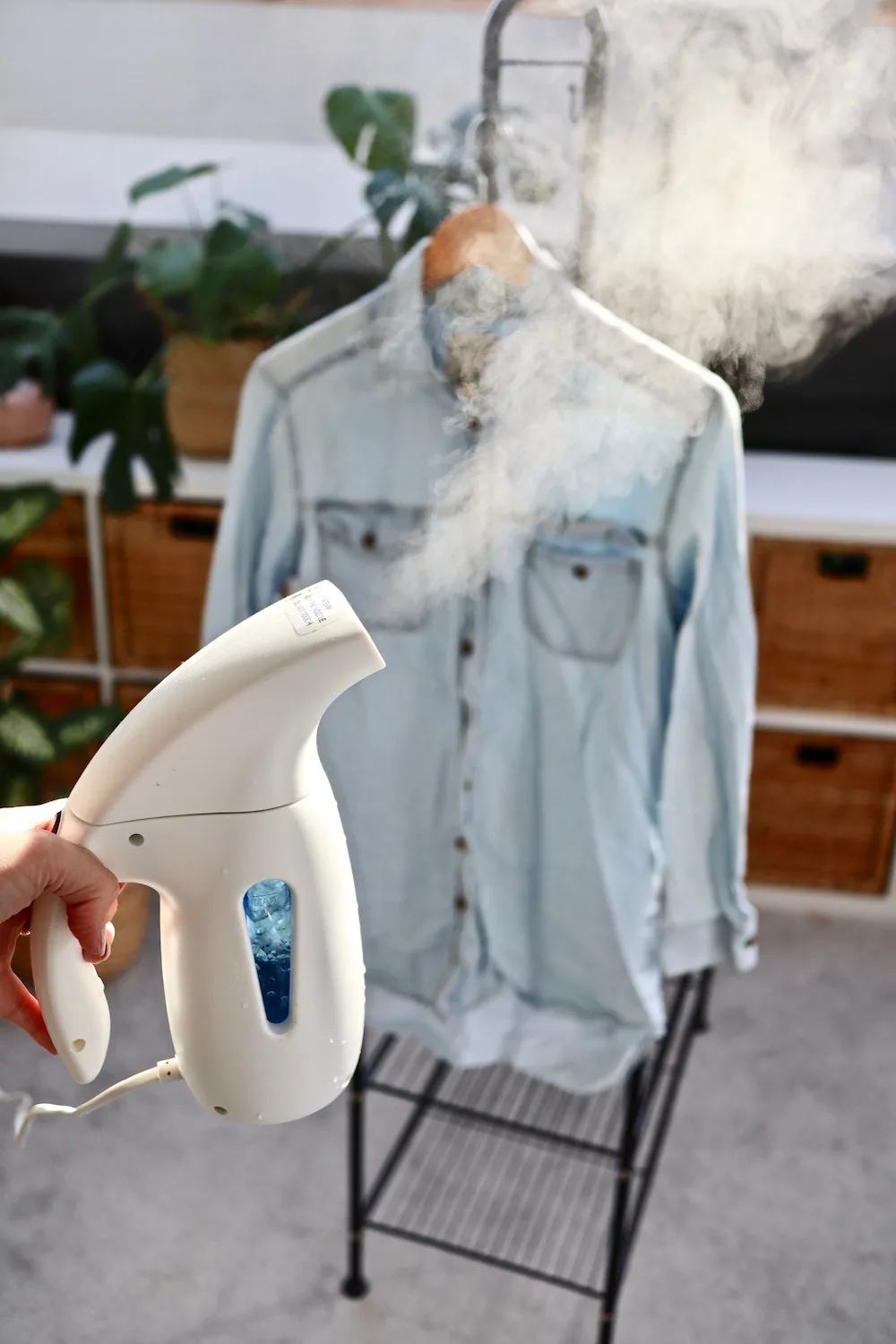 What are the benefits of a clothes steamer over a travel iron?
Personally, I just find it much easier to use a travel steamer rather than an iron.
You don't need much space to steam
You don't need an ironing board
A small, lightweight steamer is more effective than a cheap travel iron
You can't burn your clothes so it's good for delicate fabrics
They're really good for garments with ruffles or frills or anything that's normally hard to iron!
However, a really good iron is better than a steamer so if you're after crisp, ironing perfection and don't mind lugging a heavy iron around with you, then an iron is the way to go. And if you're staying in accommodation with an iron and ironing board available then you'll be better off using that.
Personally, I find that I use my steamer way more than I use an iron because it's so convenient.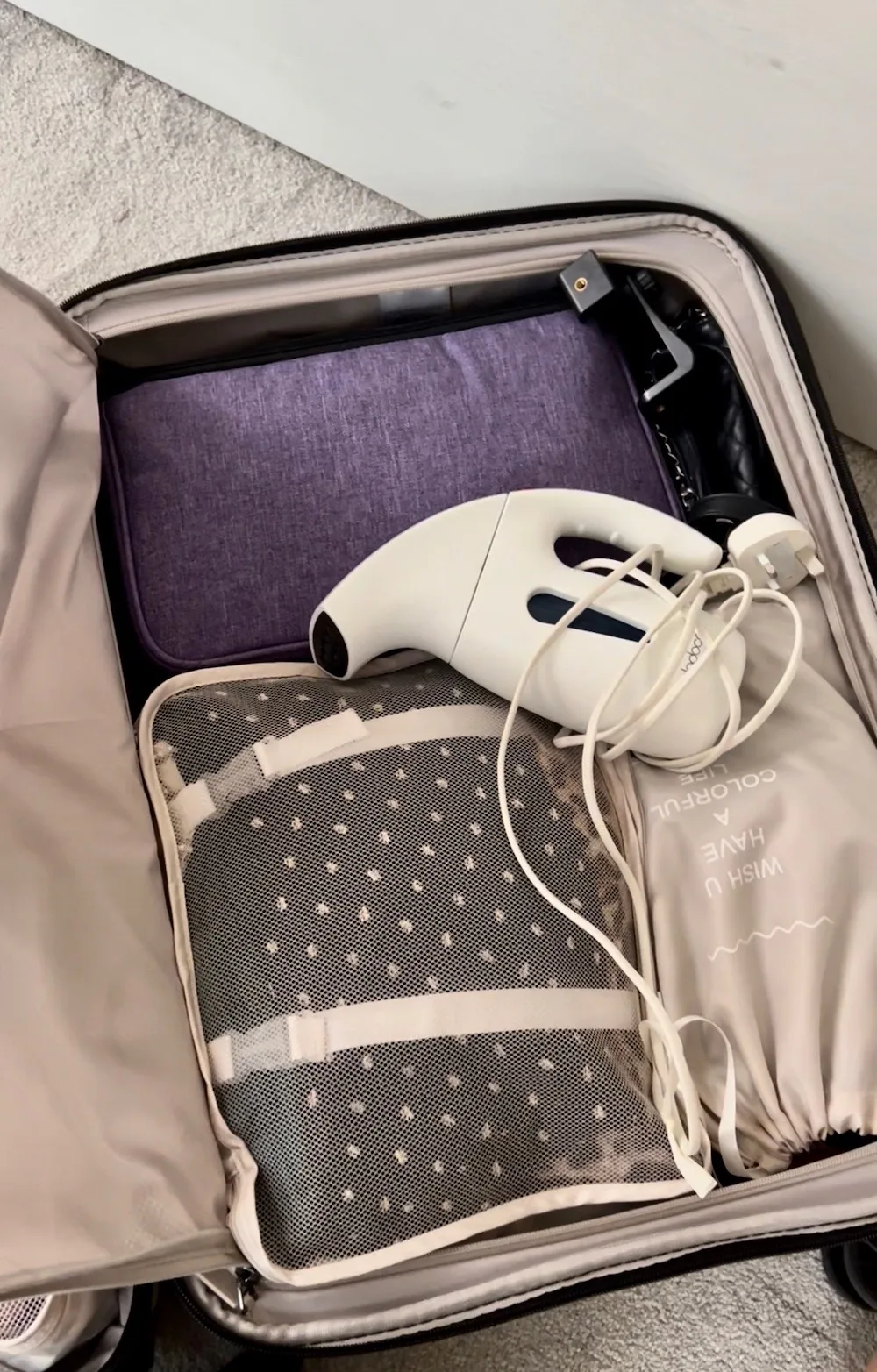 Should I get a cordless travel steamer?
As far as I can tell, there is no such thing as a cordless steamer….
Please do correct me if I'm wrong!
Many steamers call themselves 'handheld' but they all seem to have a cord. Some (rather naughtily!) have their cords photoshopped out for some photos but I am yet to find one available in the UK without a cord.
Can you use a travel steamer on a cruise ship?
For obvious reasons, you're not allowed to take a regular travel iron on a cruise ship. But I have taken a travel steamer on all three of my past cruises and haven't had a problem. I've left my travel steamer out on the dressing table and the cleaning staff haven't moved or mentioned it so I'm assuming it's fine to take a travel steamer on a cruise ship – just make sure you use it in the bathroom or next to an open window!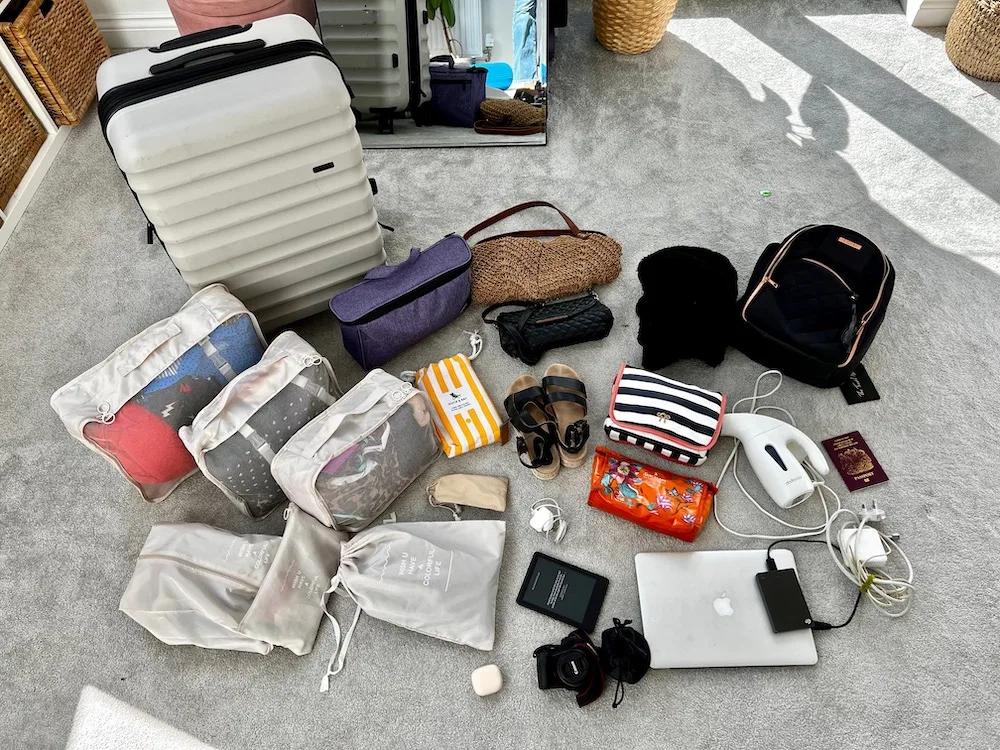 What's the best travel steamer?
I'm not going to beat around the bush here and give you 25 options depending on colour and style and weight and a billion other variants.
Most travel steamers are very similar. All it really does is steam!
So I've done the hard work for you and I've got two to choose from:
The cheapest but best travel steam iron
The best travel steam iron
1. The cheapest but best travel steam iron
The cheapest but best travel steam iron is the Hilife Clothes Steamer. It's also the bestseller on Amazon and with over 80,000 4* reviews I think it's fair to say that most people like it.
It's lightweight and easy to travel with, holds 240ml of water so it'll easily steam a whole outfit without needing to refill. It will automatically turn off when it runs out of water and it has a nice, long power cord which is great for hotels where the plug could be a long way from a window!
Sale
Hilife Clothes Steamer, Steam Iron, Mini Handheld Garment Steamer Clothing, Fast Heat Up,...
[Easy to Use] This steamer generates strong, long-lasting steam and has a 9- foot power cord, so you'll never have to worry about operating it remotely and you can iron clothes from a distance. Note:...
[Compactable and Portable] This garment steamer is portable and lightweight, making it an ideal travel companion. This travel steamer is compact enough to fit in any suitcase or carry-on luggage.
[Large Tank] This clothes steamer has a water-holding capacity of 240 ml and can provide up to 15 minutes of continuous steaming to eliminate wrinkles flawlessly.
The best travel steam iron
The BEST travel steam iron is the Tefal Access Steam+.
It works at 1600W which is considerably more powerful than most travel steamers. It has a 3 metre cord and comes with a door hook, fabric brush, pleat attachment, steam bonnet and travel bag! It also has two steam levels (delicate and turbo) which I personally think sounds a bit gimmicky as you'd always use turbo as it's not like you can damage your clothes with steam anyway. But I do really like the accessories it comes with, especially the door hook so you can hang it anywhere to steam it.
Sale
Do I need a door hook?
If you decide to go for the cheaper steamer, I would recommend getting a door hook to make it easier to hang your garments in a handy place to steam them. It's much easier to steam them using both hands (one to pull your clothes taut while the other holds the steamer) so you do need to hang them up. Obviously you can't just hang them in your wardrobe and it needs to be somewhere conveniently located near a plug socket but also well ventilated for the steam. So a portable over-the-door hook is a great solution.
Check out Amazon for a 'single over the door hook'.
No products found.
Is it worth travelling with a steam iron?
I think so!
I travel with my steam iron for every trip where I'm taking luggage (I often travel with just my 'free' personal bag).
Even if my accommodation has an iron I prefer to use my steamer because it's quicker and easier, especially if I'm in a hotel room where an ironing board would get in the way.
I'm pretty good at rolling my clothes to avoid creases but things still get creased and end up looking scruffy.
If you have any more questions about travelling with a steam iron, please do pop them in the comments below and I'll get back to you ASAP!