We've had a few family camping holidays abroad and we always find them to be one of the easiest and most affordable types of family holiday. We're getting to that time of year when everyone is starting to think about their annual summer holiday and I'd like to make a case for the glamping holiday. So if you've 'done' the all-inclusive resorts, the self catered apartments and the big family villas and still fancy trying something different then why not consider a glamping trip?
This post has been created in collaboration with Yelloh! Village. Yelloh! Village have 84 luxury camping sites in France, Spain and Portugal and their premium accommodation will seriously have you rethinking what a camping holiday is!
Here are 10 reasons to take a family glamping or camping holiday abroad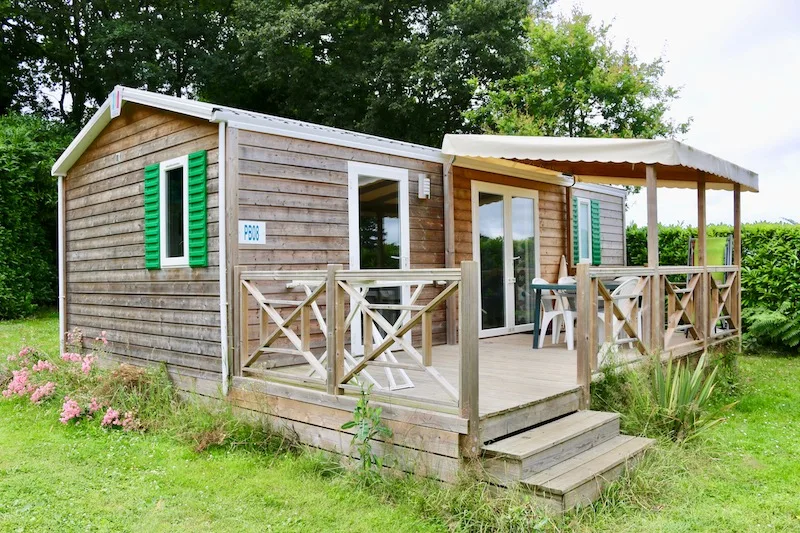 1.It's affordable
The main reason we've always taken camping holidays abroad is because it's a really affordable way to have a family holiday in the sun. It's often much more affordable than staying in a hotel and you'll usually get a mobile home that sleeps 6 with a kitchen, a living room, two bathrooms and an outdoor BBQ area for the same price as one small hotel room.
We're now a family of 5 and I can't see us ever sharing a hotel room with the kids again!
2. The campsites are not like the are in the UK!
If I say the word 'campsite' and you picture a muddy field with a cold and grimy shower block and a stray sheep wandering between windswept tents then I beg you to think again because campsites abroad are not like this!
They're more like all-inclusive hotel resorts aimed at families. Only they don't have a big hotel, they have lots of different styles of camping across an enormous site. There'll be places to pitch your own tent, ready-pitched tents you can hire, mobile homes, wooden lodges and quirkier glamping style accommodation such as juts or treehouses.
3. The swimming pools
When we ask our boys about their favourite holiday ever they always say it was 'the one with the swimming pools and water slides!' All of the campsites we've stayed in have had incredible waterparks with multiple swimming pools and waterslides. These are all within the resort and you don't need to pay extra to use them – so you know exactly what your kids will be doing all day everyday!
While we did our best to prize the kids away from the campsites and have a day out or do something 'cultural', they really just wanted to be back at the resort in the swimming pools!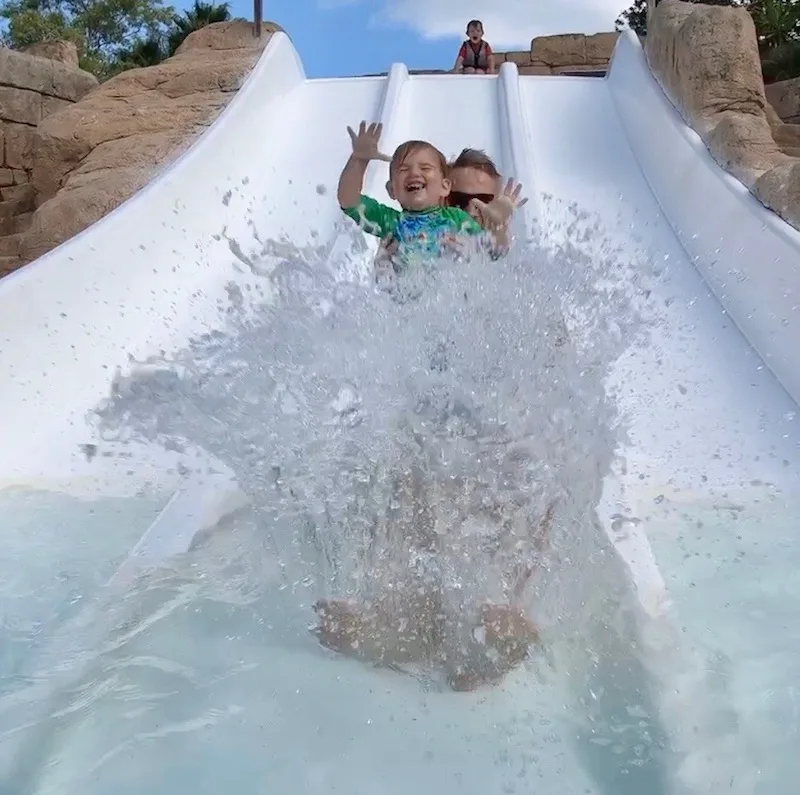 4. The weather
Of course, for us Brits, going abroad is often about getting some sunshine and enjoying much better weather than we ever have at home! I love holidays in the UK but we just can't guarantee the weather in the way you can in places like Spain, France and Portugal.
5. The kid's clubs + activities for teenagers
Just like an all-inclusive hotel resort, many campsites abroad have kid's clubs with plenty of daily activities.
I always think teenagers are difficult to travel with (I know I was!) They don't want to hang out with their parents all the time but younger teenagers can't be left to their own devices all the time. But when you're within a resort complex it's much easier to give your teenagers the freedom they crave and many campsites have teenager-friendly activities to keep them busy.
6. Other resort facilities
As well as the swimming pools, the campsites often have gym facilities, tennis courts, mini golf, fishing, sailing, exercise classes, libraries, bakeries, small supermarkets, tourist information, tour booking services, bike rental, laundrettes and WiFi. Yes, we can't forget the all-important WiFi!
7. Casual dining
Most campsites will also have plenty of dining options on site so you don't need to go 100% self-catering if you don't want to. In my experience, there are always cafes, fast-food bars, bars and a couple of nicer places to eat too.
8. An active and outdoorsy holiday
One of my favourite things about camping holidays is how outdoorsy they are. Your accommodation will usually be fairly small (although bigger than a hotel room!) but with plenty of outdoor space so make the most of the sunshine with meals outdoors, BBQs, plenty of walks and lots of outdoor fun.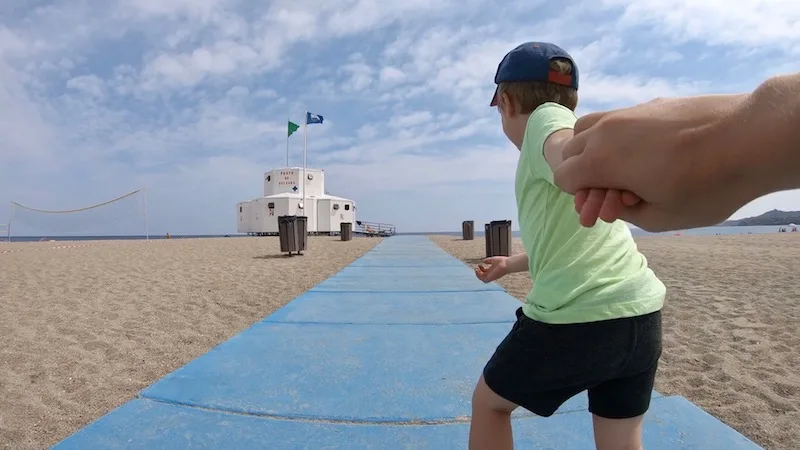 9. Evening entertainment
Most campsites have shows and discos and family-friendly entertainment. And because most people on the site will have children, you'll never feel like the people who inappropriately brought their kids to a posh restaurant.
10. You can take your dog
Another reason to take a family camping holiday abroad won't apply to everyone but will be a big selling point for some. Yes, you can take your dog! Many campsites are dog-friendly and if you take your own car and the ferry over to your destination then it isn't too difficult to get your four-legged friend abroad with you.
11. Freedom and flexibility
One of the reasons I'm not a huge fan of all-inclusive hotels is because you're often restricted by meal times. I know this can be a really cheap way to have a holiday but the whole holiday ends up revolving around the breakfast, lunch and dinner buffet and you have to plan your day around this. I prefer to self-cater and simply pack up a picnic and have the freedom to do whatever you want throughout the day.
12. Lots of accommodation styles
Choose from your own tent to a pre-pitched tent to a mobile home, a luxury chalet, a treehouse, a yurt or a teepee. It's nice to have so many options!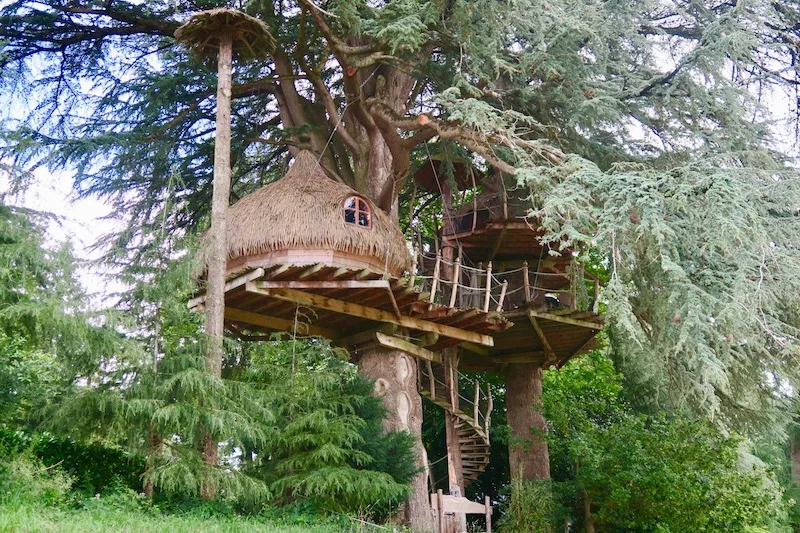 Have you ever taken a camping holiday abroad? Would you like to?