Next week I'll be going into hospital for my third elective cesarean. I've written a lot of packing posts for The Travel Hack but, unsurprisingly, this is my first packing post for going into hospital! Despite it being my third cesarean I've still loved reading blog posts, watching YouTube videos and trawling the internet looking for cesarean packing lists! Every woman's packing list seems to be a little different so I thought it was time to add my c-section packing post to the internet!
A packing list for an elective cesarean isn't too different to someone having a natural birth. You'll just need to keep in mind that most women will stay in hospital for a minimum of two nights after a cesarean so you might be there a little longer than someone who had a straight-forward natural birth. I actually only stayed for one night after both my previous c-sections but you can read more about my two elective cesareans here.
When you're having a cesarean you obviously won't need to pack anything for giving birth and the whole 'pushing part' of labour. You'll wear a hospital gown to go into theatre and you will wear your own slippers or flip flops to walk in so that's all you really need to pack for having the baby.
You'll probably stay in the hospital gown for a few hours after the operation and then change into a nightie when you feel ready. You might then want a fresh nightie for when you go to sleep. You'll stay in that nightie until the following day when you'll put fresh PJs on or some loose, comfy clothes. Whatever clothing you choose to pack, just make sure you won't have something resting on your cesarean incision and won't be tight on your tender tummy. You'll also want to wear something light and cool because it's very hot on the ward. If you're buying something new, I'd look for either stylish PJs, light loungewear or the classic high-waisted leggings and a long cami vest.
The suitcase I'm using for the hospital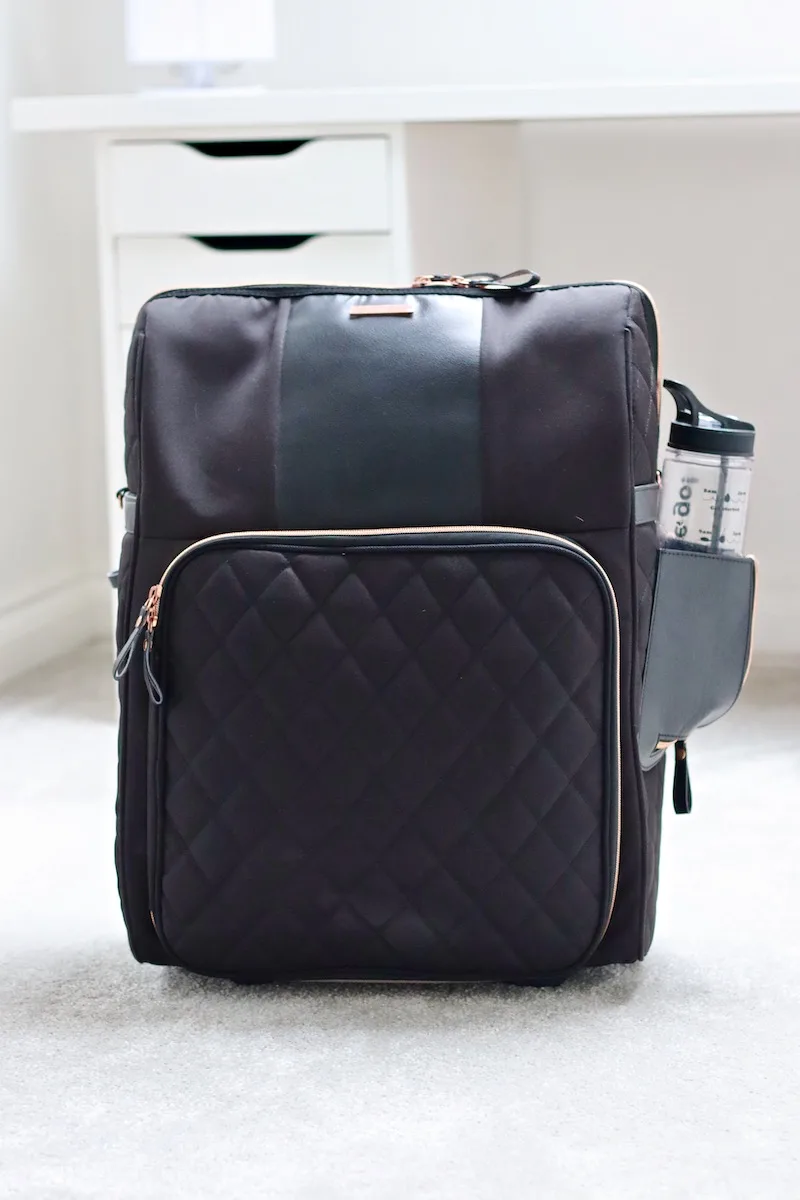 I prefer to use a suitcase rather than a holdall. It's not like I will be carrying it (that will be Sam's job!) but I find large holdalls to be awkward and you have to rummage through them to find your stuff.
With my first cesarean I thought it might be weird to turn up at the hospital with a suitcase as though I were about to board a plane and go on holiday. It felt too big and formal and I was sure I'd get lots of, 'How long are you staying!?' kind of comments, but no one batted an eyelid.
I'll be using The Travel Hack Pro Cabin Case (of course!) and I'm finding it's the perfect size.
The laptop compartment at the back is the perfect size for your hospital notes and means you can access them quickly and easily when you arrive.
Then the large main compartment is huge so there's plenty of space for your stuff.
There's a smaller top compartment that is great for baby's stuff to keep your things separate – but I'm actually taking a separate bag for baby's things because I've got too much stuff! The bag I'm using for the baby is just a small, basic holdall. This bag is light so I know I'll be find carrying it.
Clothing for me for my c-section hospital bag
[one_half padding="0 5px 0 5px"]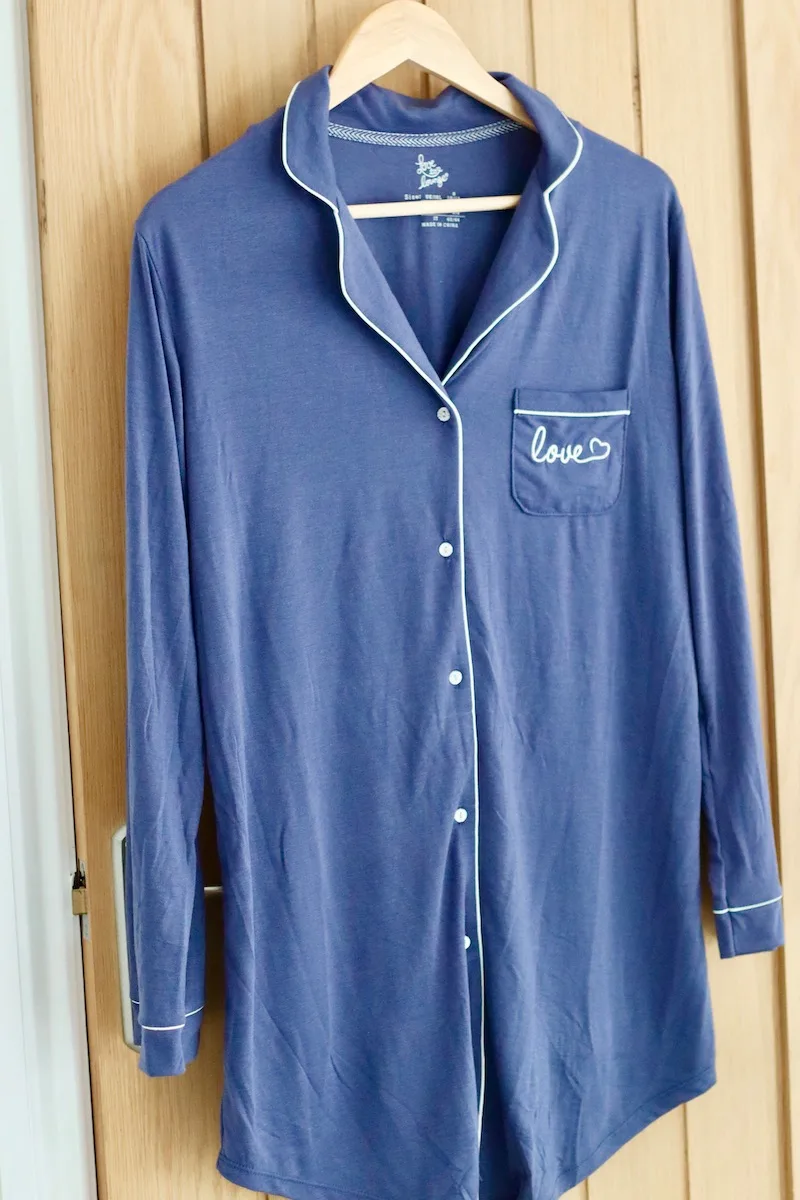 [/one_half][one_half_last padding="0 5px 0 5px"]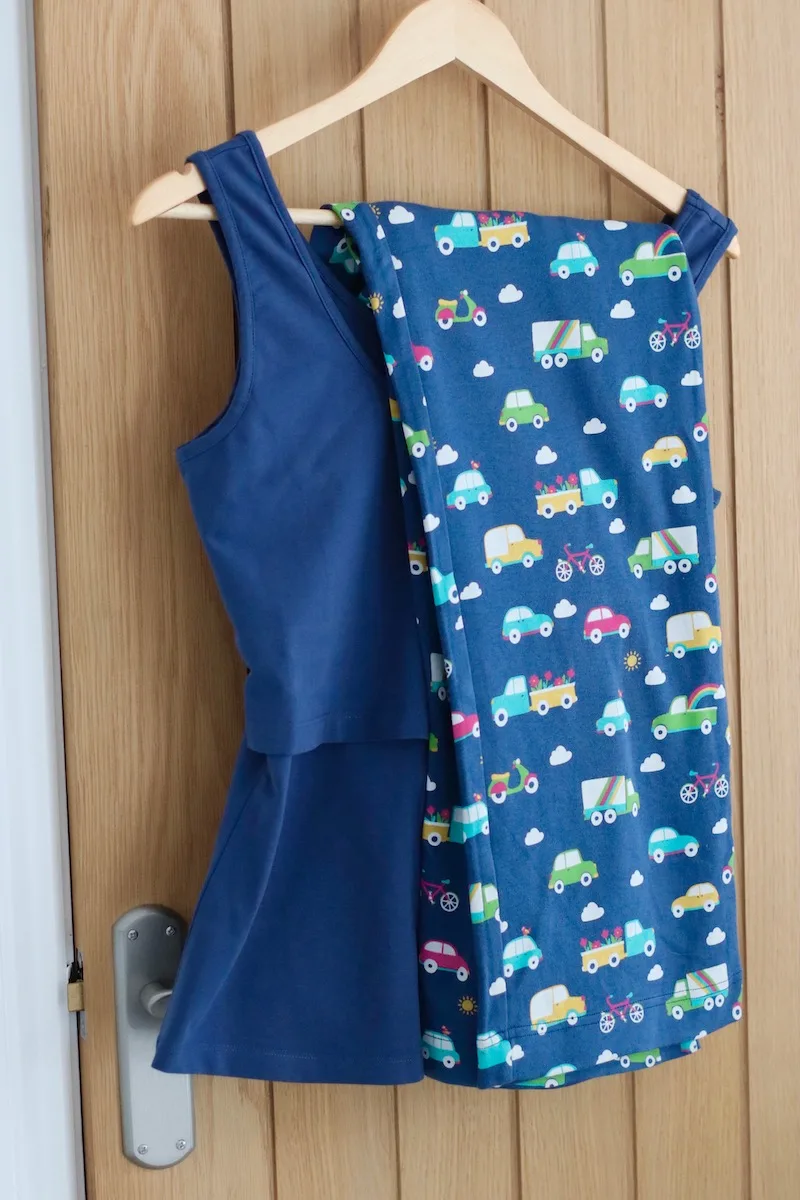 [/one_half_last]
1 x nightie – This is what I'll wear when I come out of surgery. After the cesarean you'll have a catheter in so you'll need to wear a nightie rather that PJ bottoms because you'd get all tangled. I've chosen a dark coloured nightie because there's a high chance it's going to get blood on it. It also has buttons so I can unbutton it and easily breastfeed. It's also light and thin because hospitals are HOT! I was roasting last time and would have happily sat there naked if the ward was a bit more private! This nightie is new and was from Primark. It's really soft but was cheap so if it gets ruined I won't mind throwing it away.
1 x PJs – I'll also be taking some PJs because I'll probably need to stay two nights. I hate wearing nighties because they always end up twisted up around my belly so I've got PJs for the next day/night.
The PJs I have are from Frugi and the top is a breastfeeding top. I chose a pattern with cars and bikes and trucks on them because I know my older boys will love them and I'll probably be wearing these when they come and visit me in the hospital.
1 x comfy daytime outfit – I've got one outfit for the daytime incase I don't want to sit around hospital the day after wearing PJs. I've got some leggings and a top I can easily breastfeed in.
The leggings are cheap Primark leggings and I'm taking these ones because they're really thin. They're actually really old and crap quality but it's the thinness I like – they won't be too hot and they're easy to put on.
The top I have is a Bravado classic nursing cami – I like this because it's long and has a built-in bra and clips so it's easy to breastfeed and means I won't need to wear a bra as well.
Make sure the leggings can comfortably come above your cesarean incision so they're not resting on the cut. Also remember that it's still really hot during the day so a vest top is probably best.
1 x loose, light cardigan – I'm not taking a dressing gown because I found it was too hot to wear it anyway but I am taking a light cardigan. It's really just to have something to cover me up when I go to the toilet – but I might not wear it. You're surrounded by women who have just given birth so no one is exactly looking glam!
1 x going home outfit – Again, just something comfy, loose, dark coloured and easy to breastfeed in. I'm planning to wear the same outfit to come home from the hospital as the outfit I'll wear to go in. I think this will be a pair of super comfy and lose maternity jeans with a cami vest and a t-shirt.
For my first two babies it took AGES to get discharged from the hospital. I was all packed and ready to go and then ended up sat around for hours waiting for a doctor to sign me out, so keep this in mind when planning your outfit. Keep it cool and comfortable and not just something glam for that 'Take baby home' photo opp! I'll also have a large, cosy, black cardigan to wear to walk out of the hospital.
It's also worth remembering that you'll still have a big bump when you go home, you'll probably actually be a similar size to when you went in, so there's no need to start thinking about those smaller sized clothes just yet.
1 x nursing bra – I didn't put a bra on until I l was leaving the hospital with my first two babies so I won't take more than one nursing bra. I'll be taking a Bravado nursing bra because I know it was my favourite last time.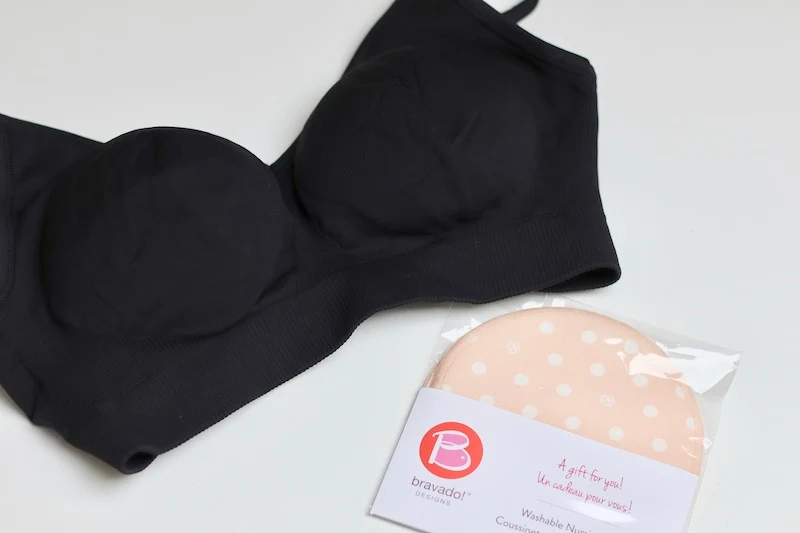 5 x pairs of granny pants – Big old knickers a few sizes too big! I usually wear a size 10 (pre-pregnancy) but have size 14 knickers in black that will definitely come way above my c-section incision. I'm taking lots of knickers, purely because they came in a pack of 5, but I might not wear them because I'm also taking disposable knickers.
1 x pair of socks – It's unlikely I'll wear them but just in case
1 x towel + flannel – A huge, cosy, fluffy towel. I have a big, brown, designer towel I have which is lovely – it was sent to me by mistake (who has brown towels!?) but I kept it for this moment! I can't remember if the hospital give you a towel or not so I'm taking my own just in case. If they do give you one, I imagine it would be little and scratchy and white.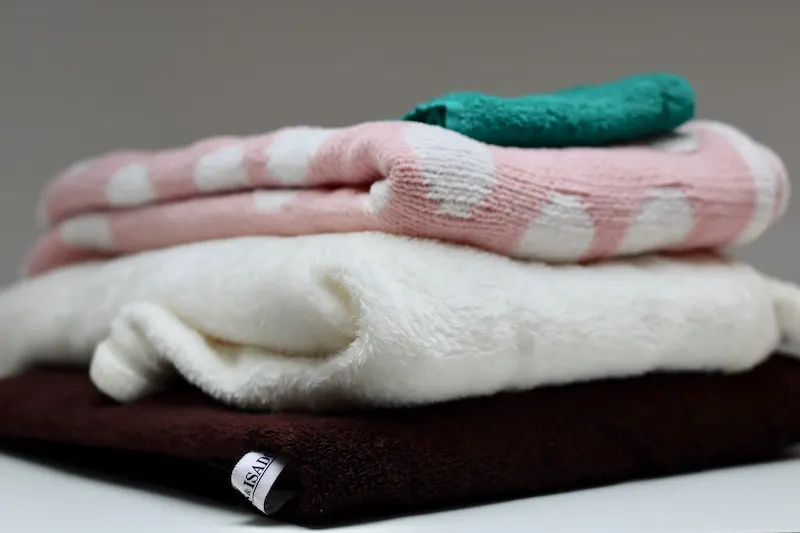 1 x flip flops – If it's warm enough I'll probably wear these to go into and out of hospital and I'll also wear them like slippers around the ward and in the toilets. I didn't want to wear normal slippers because it was too hot but it is good to have something that is easy to slip on and off because you'll probably have swollen feet and won't be able to bend over after the cesarean.
Maybe I'm gross but I'm not taking flip flops to wear in the shower. The showers were clean when I was in last time and they were actually showers above a bath. I remember being quite unsteady on my feet while I was having a bath/shower and flip flops are just one more thing to trip over.
1 x slip on shoes – In case it's too cold to wear flip flops to go home.
Personal hygiene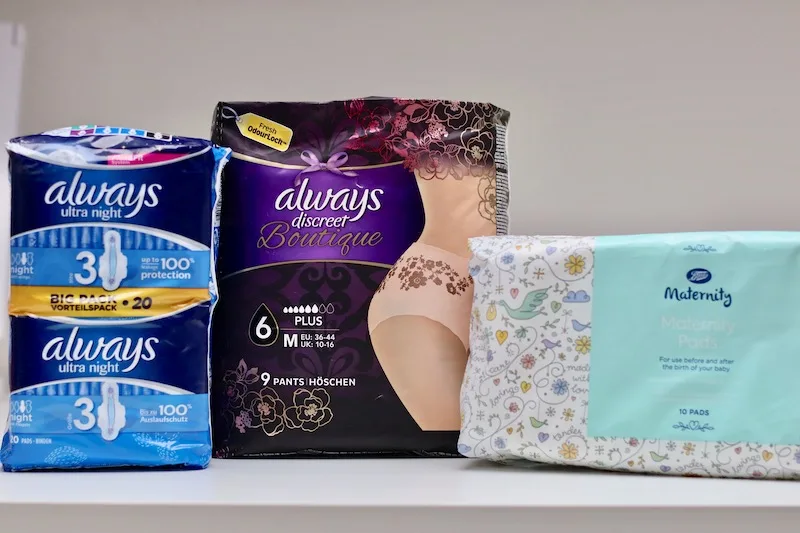 1 x pack of disposable knickers – I didn't use disposable knickers with my first two babies but I thought I'd give them a try this time. I absolutely hate wearing sanitary pads so hopefully these will be a bit better!
1 x pack of night time Always sanitary pads – Normal sanitary pads aren't recommended for women immediately after giving birth but I think this only applies if you've had a natural birth. It's something to do with the chemicals in a sanitary pad rubbing against that sore skin that often has stitches. But if you've had an elective section you won't be sore so I think it's OK to use normal sanitary pads. I've gone for the biggest ones I could find because I bled heavily after both my previous cesareans.
1 x pack of maternity pads – They do provide maternity pads at the hospital but they weren't very nice so I'll take one pack of my own. I already know that I hate maternity pads but I feel like I should take them anyway! Maternity pads don't have harsh absorbing chemicals in them but they're enormous, not great at absorbing and feel like a huge and uncomfortable nappy. But I still feel like I should take some!
Handful of sanitary bags or nappy bags – Don't think I need to explain this. I impulse bought some sanitary bags while in the queue at Boots but nappy bags are exactly the same.
1 x pack of reusable breastpads – It's unlikely I'll need these at the hospital but I thought I'd pop them in just in case as they came with my nursing bra. I doubt I'll need them until my milk comes in which is usually around day 3 and I'm hoping I'll be home by then! But I've heard your milk can come in faster if you've breastfed before. I have no idea if this is true!
Nipple cream – I use Medella nipple cream and thought it was fab. The trick is to start applying it before you need it so just start applying it straight away! Once your milk comes in and your baby starts properly feeding then I'd apply it after every feed but in the beginning they're just constantly on the boob so apply it every few hours to avoid getting sore.
What's in my washbag for an elective c-section?
Essential toiletries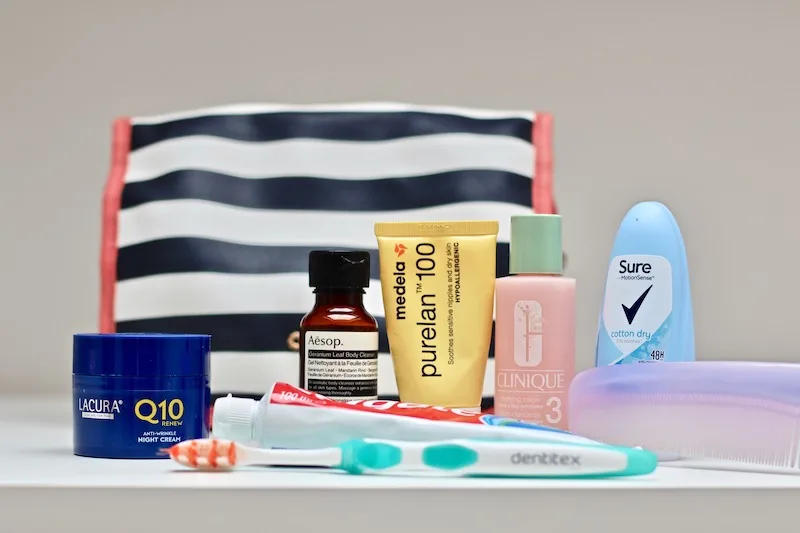 Toothbrush
Toothpaste
Mini micellar water – I've decanted this into the Clinique bottle
Cotton wool pads (plus extras in case we need any for the baby)
Shower gel
Facial moisturiser
A comb
Hair bobbles
Extra 'it's nice to have' toiletries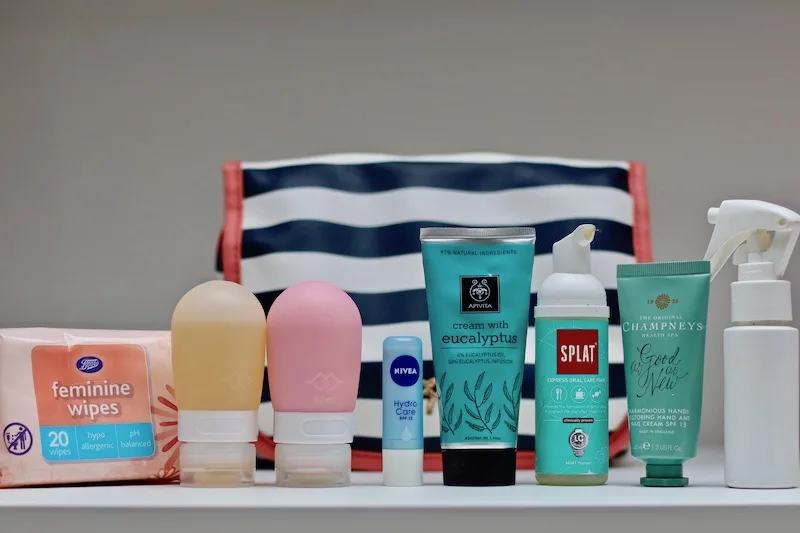 Lip balm
Shampoo
Conditioner (it's really unlikely I'll wash my hair but just in case)
Dry shampoo (not pictured because I keep forgetting to buy a mini one!)
Feminine wipes (could just use babywipes but I impulse bought these in the queue in Boots!)
Mouthwash
Hand and body moisturiser
DHC facial oil (I use this for removing my make-up so I'm taking it just in case I do decide to put makeup on)
Cream with eucalyptus – this is just the most delicious, refreshing cream ever. I bought it in Romania when I had a cold and it instantly perks you up and clears your head and I'm a bit addicted to applying it to my temples now.
My make-up bag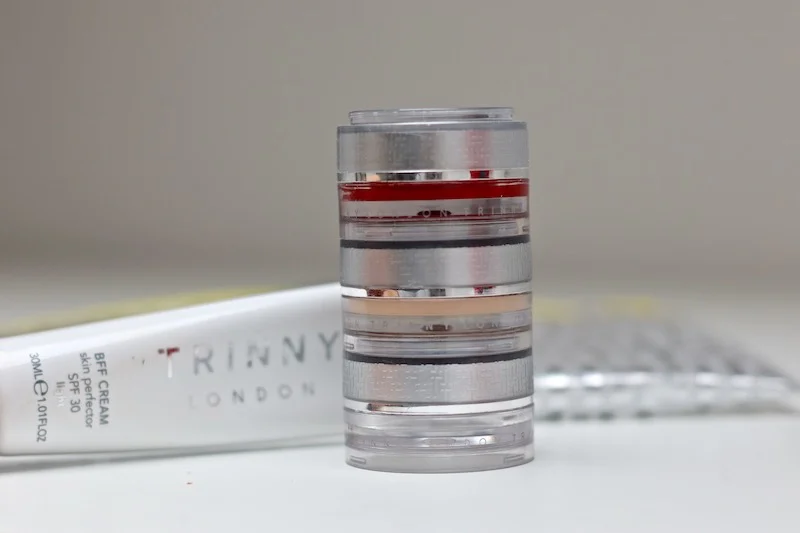 I can't remember if I applied make-up the last two times I was in hospital. I don't think I did but it feels weird not to take anything!
I've packed:
A light BB cream

Mascara

Tinted lipbalm that can also be used on my cheeks

Concealer

Bronzer

Eyebrow pencil

I've got a couple of products here from Trinny London which will be really nice because they come in this stackable pot that's really designed for travelling but will be handy for the hospital too.
Things I'll take and leave in the car
A fan – I want to take this just in case they don't have any available at the hospital. I did eventually get one when I was in with both boys but I don't think they have one for every single person on the ward and I don't want to risk not having one! It seems a bit ridiculous to walk onto the ward with my own fan so I'll leave it in the car and Sam can get it later if we need it.
1 x blanket for me – I'm also planning to take my own cosy blanket in case I need to stay more than one night. I must be a wriggler when I sleep so I hate sleeping under multiple sheets and blankets like they have at the hospital. I remember getting all twisted and tangled up in the sheets and then with the catheter and being unable to sit up properly. I got disproportunately pissed off with those blankets and longed for one clean, soft, comfy blanket. I won't use my own blanket on the first night though because I might get blood on it. I've got a large velour blanket from Primark.
The carseat – We're using the Doona carseat/puchair again. We had this for both of the boys and loved it.
A snowsuit for the baby – Just in case it's cold when we're leaving the hospital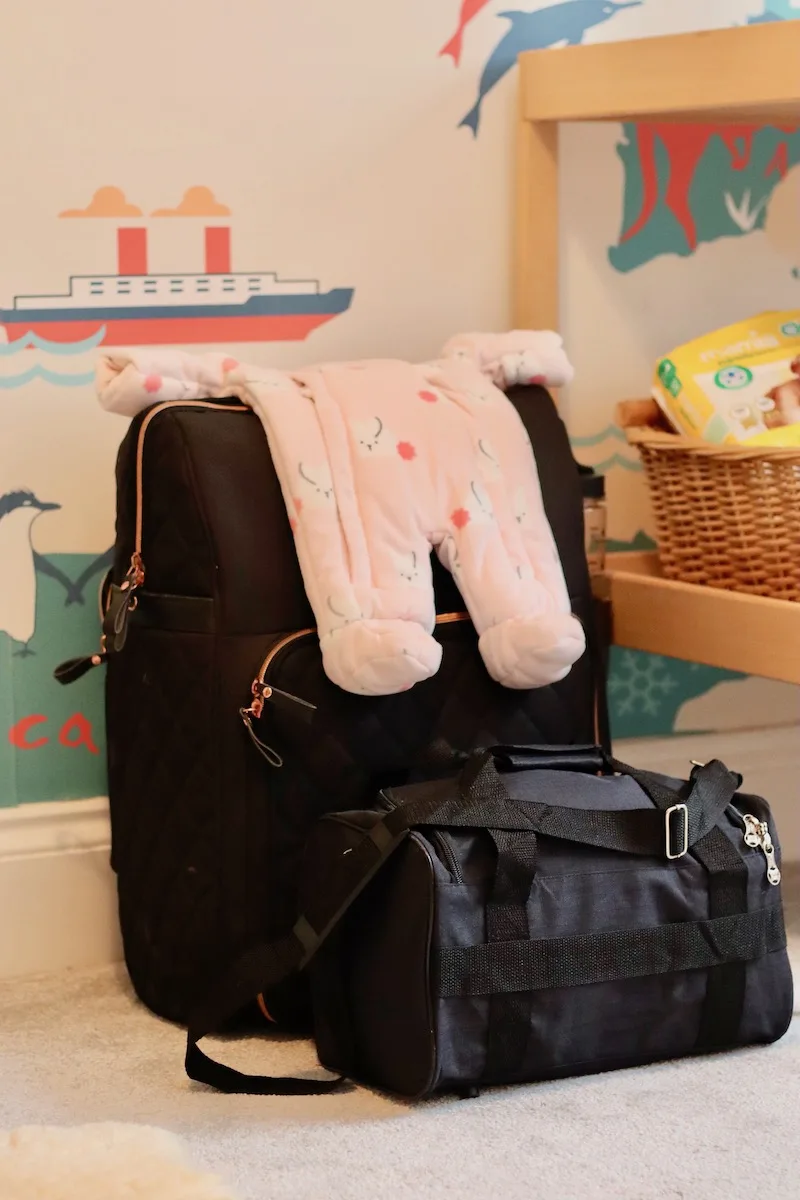 What to pack in the baby's hospital bag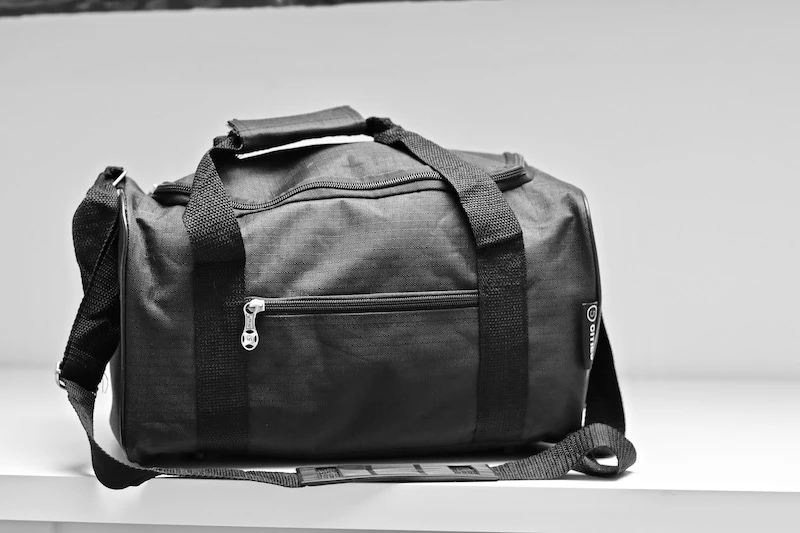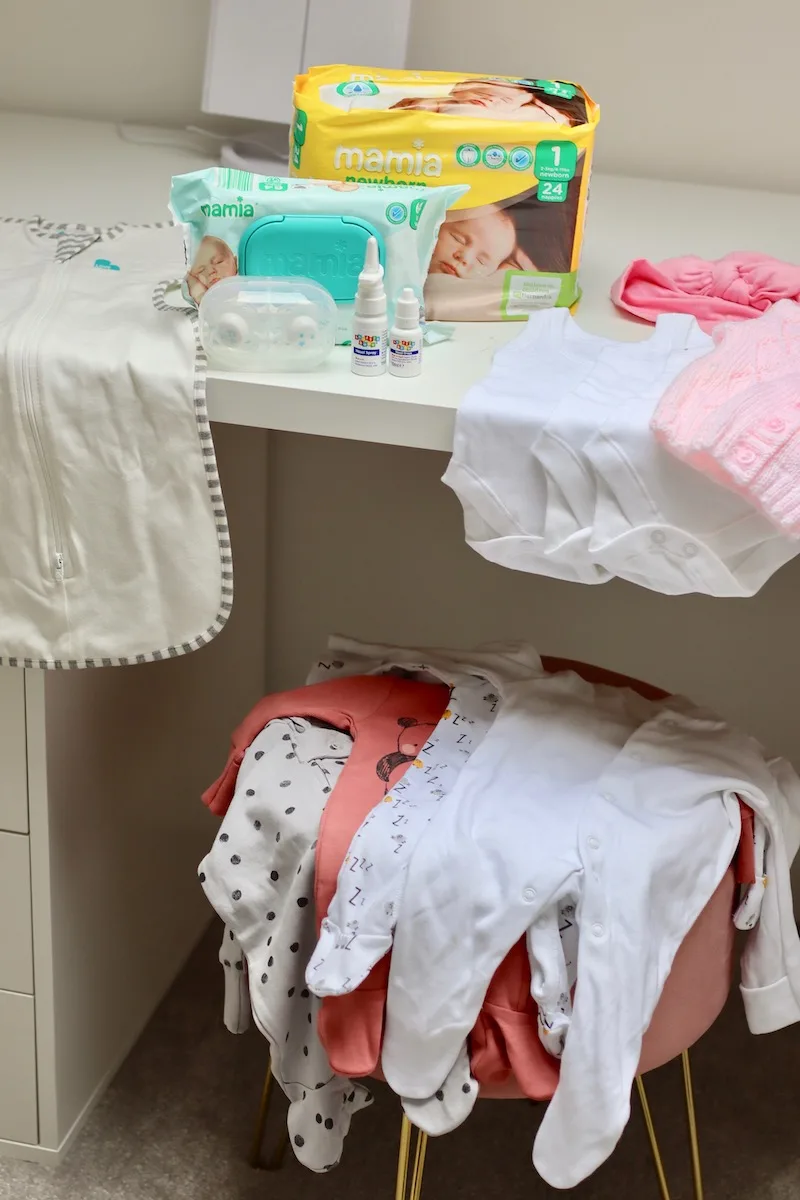 1 x pack of newborn nappies – I'm sure we won't need an entire pack but just in case we have to stay longer. I've just bought Aldi nappies for the first week or two this time because I know we'll be changing the baby's nappy so frequently that we won't need the more absorbant Pampers nappies (which we used for the boys).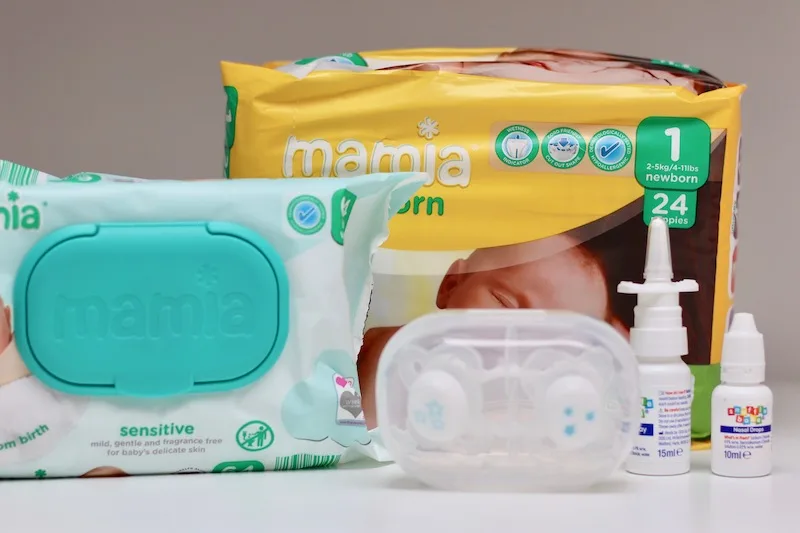 1 x pack of wipes – I like the Aldi sensitive wipes. I think the NHS recommend using cotton wool and water for newborns but we always used wipes.
Nappy bags – A large handful of nappy bags
Newborn dummies – Neither of our boys would take a dummy but I wish they had, it just looks so much easier if you can settle them with a dummy! I'm going to try again with this baby and I've got a variety of dummies at home but I'll just be taking two with me to the hospital.
Snufflebabe spray and drops – When Joseph was born he was really congested and snuffly so I'm taking this Snufflebabe saline nasal spray just in case this baby is the same to hopefully relieve some of that. I bought these from HomeBargains but if you plan to stock up then they are cheaper for packs of 3 on Amazon.
Clothes for the baby in the hospital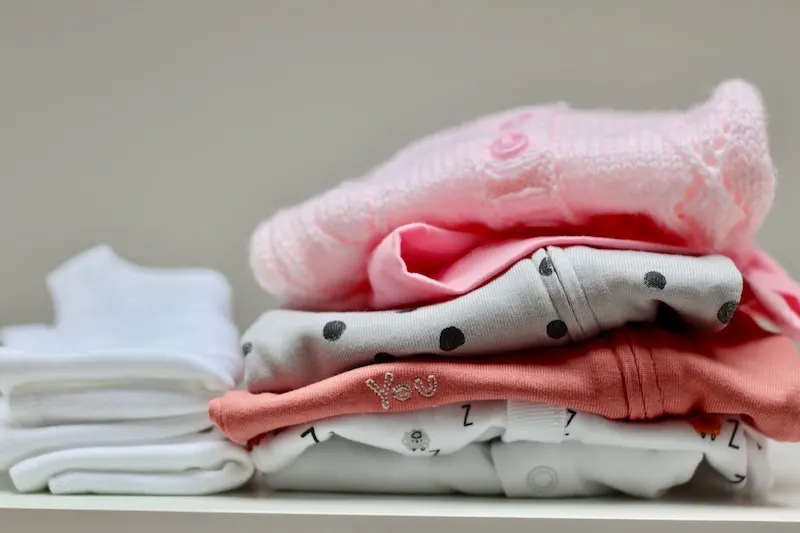 3 x white vests in newborn size
2 x zippy babygrows
2 x white babygrows. One in tiny baby size and one in newborn size with scratch mitts and feet built in. Most people probably wouldn't buy tiny baby size but both my boys were tiny baby's so, up until recently, we were expecting another tiny one! It actually looks like this baby will be bigger but I'd already bought a few bits in tiny baby size so I'll take one with me.
2 x white cotton hats in newborn size
1 x blanket
1 x cardigan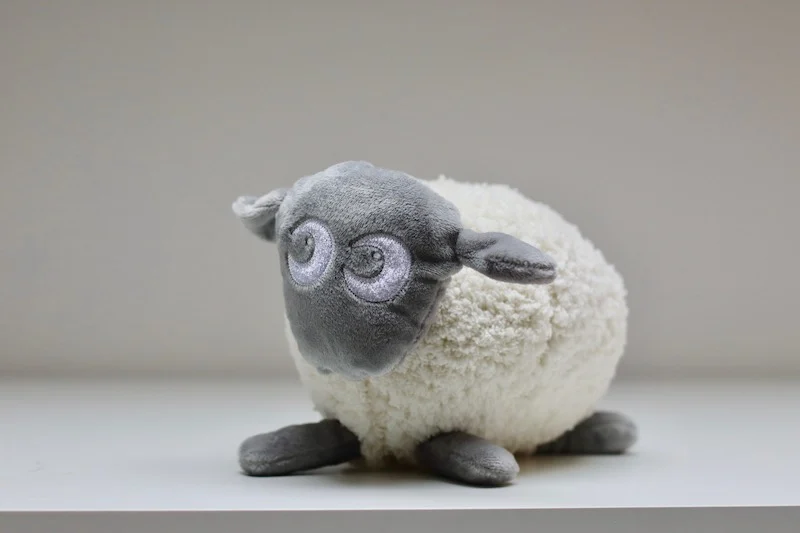 Ewan the Dream Sheep – our eldest son, George, absolutely loved Ewan. Ewan the Dream Sheep is a soft toy sheep that plays white noise and it could instantly settle George to sleep. Our second son, Joseph, wasn't fussed and Ewan didn't really do anything for him. But we've got a new Ewan just in case he can work his magic on this baby! We placed Ewan in the crib with George from the day he was born but I don't think I took it to the hospital with Joseph so maybe the early introduction to him helped? I'm not sure but I'll be doing the same again and taking it to the hospital and using it from the first day.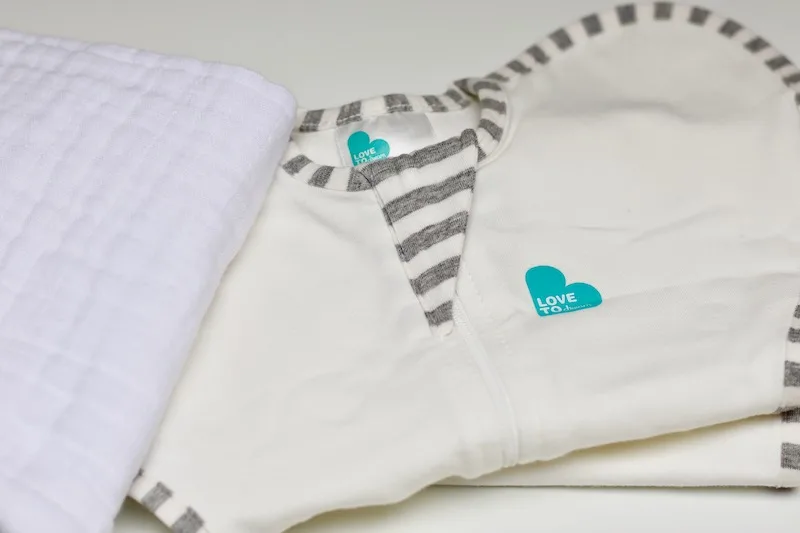 Love to Swaddle – we didn't use swaddles with the boys. Well, I think we tried once or twice and didn't get the hang of it so didn't bother again. But my friend Jayne from Girl Tweets World raves about the Love to Swaddle so I've bought one hoping we'll get a good little sleeper like her baby boy, Miles! I've bought the newborn one in 0-1 months.
Muslin – In my last post about my newborn baby essentials I said that we didn't use muslins but I'm taking one with me. Everyone else raves about them so I feel like I'm missing something. Maybe it's because our previous two weren't sicky babies but I'm not entirely sure what you're meant to do with them.
Entertainment
You might be wondering why I'd have 'entertainment' on the list but there's actually a lot of waiting around at the hospital – especially when you're having a cesarean.
With Joseph I had to arrive at 7am but the operation didn't happen until early afternoon so it's a good idea to have some kind of entertainment to distract you. You're also not allowed to eat so it's a VERY long wait when you're starving hungry.
There's also the chance you might get a bit bored in hospital if you have to stay a few days. Your baby will probably be asleep most of the time, your partner has to leave between 9pm-9am and visiting hours are restricted. While you will want to stare lovingly at your gorgeous, sleeping baby for the majority of the time, you might also want to watch a movie!
1 x Kindle – With a couple of easy to read books downloaded
1 x Kindle Fire – My Kindle with all my books on is just a basic Kindle do it doesn't have all the apps to download films and TV programs. I'm going to take one of the boy's Kindle Fires so I can download and few Netflix shows and a film.
1 x pair of headphones – just in case the ward is super quiet and I feel bad playing a film
Other things
Phone charger and phone – Obvs
Proper DSLR camera – I took this for both the boys and didn't use it but it feels wrong not to take my 'proper camera' and capture some photos from the first days. I'm hoping I'll have the energy to make the effort and take some proper pics.
An enormous water bottle – I have one with a straw so it's easy to drink lying down
Snacks
All the snacks. I was so hungry after my last two cesareans and, while I did get some tea and toast quite quickly, I wish I'd had more snacks to tide me over. I think I was too late to get the hospital dinner provided so Sam also went to the hospital cafeteria at about 7pm and got me a huge portion of curry and chips as well as ice cream and a chocolate bar! Oh my goodness, that was the best curry and chips I'd ever eaten!
My mum will be in charge of bringing me some 'proper food' when she comes to visit. Last time she brought me an absolute feast with a fruit salad, pasta salad, sandwiches, cakes, biscuits. Honestly, she brought enough to feed the entire ward! But I'll also take some fruit and some biscuits and pre-wrapped cakes and crisps.
That's everything that's in my hospital bag for an elective c-section! Do you have anything else you'd add to the checklist?
Disclaimer: Some of the items on this list were gifted and some are linked to using an affiliate link. They're almost all items I used with my first two children so everything made it onto the list because I love them!