Today I'd like to introduce you to EarnAway, a hotel booking website that allows you to earn cashback on the hotels you book. I used the website for my recent trip to Budapest and here's my EarnAway review…
You may already be familiar with cashback websites. Basically, when you buy something online, the website you buy through is usually making a commission. If I buy a pair of shoes on a website, that website will earn a commission for generating that sale. Sometimes the commission is tiny (like 2%) but sometimes it's pretty high (maybe around 24%) and this is how a lot of websites are funded.
If you booked a hotel online, the website you booked through will take a small commission.
Now the difference with EarnAway is that they give the commission back to the customer.
Oooo, now you're interested!
But hang on, this sounds too good to be true. My dad always taught me that if something sounds too good to be true, it probably is.
EarnAway have a section on their website for suspicious people like me. It says:
"Unsurprisingly, you're not the first to raise an eyebrow at our business model. To put your mind at rest, we can assure you that there is no catch. Signing up and using EarnAway is completely free, there are no hidden costs.

We simply make money by being paid advertising fees from our partner booking sites.

We get paid a commission each time you complete a booking that you've sourced via our site. It's this commission – paid to us by our partner sites – that we pass back to you as cashback.

We're not the only site that works like this, all hotel price comparison sites work similarly. The difference is that we pass the cashback back to you rather than pocketing it all for ourselves."
OK, so now I can breathe easy and get on with my booking!
For my recent trip to Budapest I booked two of our nights away through EarnAway. Here's how I got on…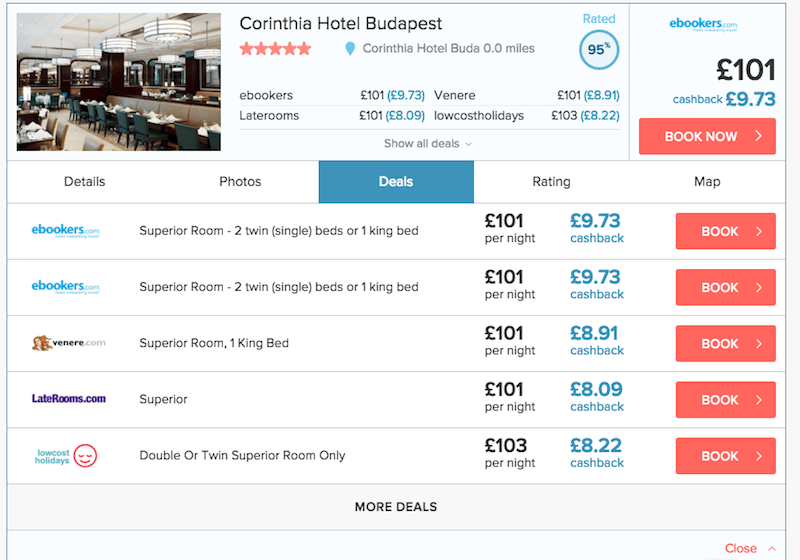 Using EarnAway
The EarnAway website is simple and easy to use. There don't seem to be any bugs or glitches which is unusual with new websites. You simply type in your destination, your dates and if you want a single, double or family room and it comes up with the results.
The only thing that is a problem is that there aren't enough boxes to refine your search. You can't search for apartments or hostels or input anything such as wanting a spa or to be pet friendly or baby friendly. You can filter by price, the number of stars the hotel has, miles from a specific location and guest rating so it does cover all the basics. But if you already know which hotel you want to stay at then the website is really quick and easy.
I already knew I wanted to stay at the Corinthia and this was the first hotel to come up in the search so the searching and booking process was very easy.
You're shown a list of booking agents and their best price for the hotel. This is similar to any price comparison website you've probably used before. You'll see all your options and, surprisingly, there can be a big difference in price for the same hotel room. The difference with EarnAway is that it also gives you the amount you'll earn back in cash back if you book through that agent.
My booking came to £172.47 and Venere.com was the cheapest option at the time. I earned £15.18 cash back. It's not going to make me rich but it's definitely not to be sniffed at – especially in a budget friendly destination like Budapest where £15 could buy you a decent meal.
I was transferred to the Venere website and booked everything through them like I normally would. I received email confirmation immediately and everything ran without a glitch.

Overall thoughts of EarnAway
If you're booking a hotel, there is no reason why you wouldn't book it through EarnAway. You find the hotel you want for the best price AND you get a bit of cashback. Winner winner. There's really nothing to not love about that!
Note: It takes 30-60 days for you to receive the cashback from your booking. This is to prevent fraud. My trip to Budapest was just last week so I haven't had my cashback through yet but I'll be updating this post as soon as I do.