Did you know that if you're flying in the EU or you're flying with an EU airline and your flight is delayed by more than 3 hours you may be entitled to compensation? Yes, up to €600! Read on to find out more and learn how you could claim this compensation
We all know by now that travelling is a wonderful, exciting, glamourous experience…when everything goes to plan. I love everything from researching to booking, making plans and reading blogs. I even love going to the airport and flying. I love hotel breakfasts and evenings walking around new cities. I love stumbling across surprises or visiting iconic landmarks I've dreamt about visiting for years.
Yes, travelling is amazing…until something goes wrong. And this is when travelling can become one of the worst experiences ever.
Flight delays or cancellations can be up there with some of the worst experiences so I'm here today to tell you what to do when it happens to you. Because there is something you can do. You don't need to just sit there and wait in the airport getting angrier and angrier while the airline staff make yet another promise you'll be leaving 'soon'.
I've had a couple of flights cancelled and it's so frustrating, especially when you don't know your rights.
Here are my tips and what you can do when your flight is delayed or cancelled.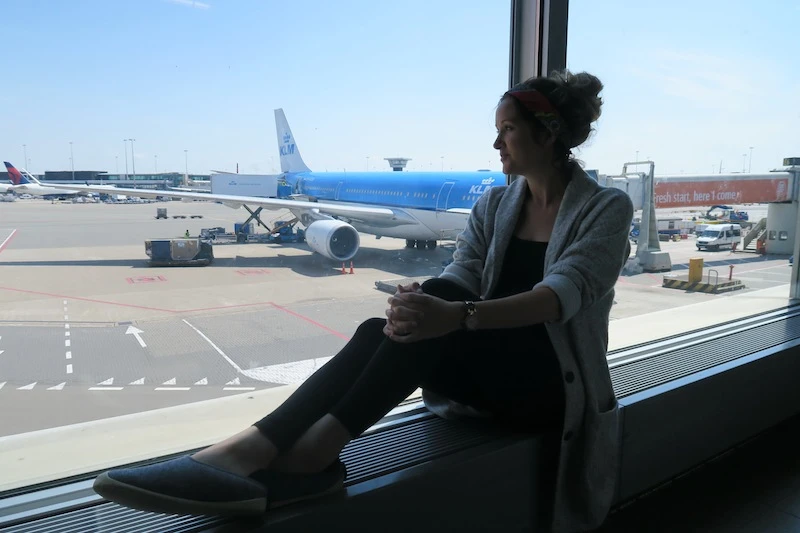 Be nice to the airline staff
My first tip is a simple one – just be nice. It's not the airline staff's fault that there's a delay and a lot of the time they don't know the answers to your questions. They might not know why there's a delay and probably won't know how long it's going to take to get you in the air. They're probably just as frustrated as you are because they want to get going so they can finish their shift faster! They're tired and annoyed too and now they have hundreds of angry passengers being rude and possibly even aggressive to them.
Be nice to the staff and they're much more likely to help you out and let you know what's going on. BUT, while you're being nice, don't forget to be firm and make sure you get what you're entitled to and don't get pushed to the back of the queue.
Make sure you have travel insurance
Travel insurance isn't just for injuries while you're travelling, it will also cover you for delays. You can usually claim on your insurance for food or hotel rooms if you're delayed for more than 4 hours.
Check your flight status 24 hours before you're due to leave
Sometimes flights are cancelled due to the weather, aircraft problems or not enough passengers to justify flying, so check the status of your flight the day before you fly.
I once had a flight from Kuala Lumpur to Borneo cancelled and I'd had an email to tell me. But this was 2009 and I didn't have a way to regularly check my emails and I arrived at the airport all ready for me flight, only to be told to come back the next day!
Thankfully, it's much easier to keep in touch with an airline these days and I'd recommend downloading the airline app so you automatically get updates.
Try not to fly with checked luggage
Checked luggage can become the bane of your life if your flight is delayed or cancelled. This is especially true if you have a connecting flight because if you end up with 20 minutes to get to your connection then you're going to miss it if you need to then wait for your bags.
When your flight is delayed for less than 3 hours
OK, if your delay is less than 3 hours you're not eligible to claim for anything. Sorry guys. You're not even entitled to food vouchers.
Many airlines will give you food vouchers and drinks and possibly even lounge passes to keep you happy and to stop the crowds complaining, so sometimes it's worth asking.
The worst thing with short delays is that they often don't tell you how long you're going to be delayed for – which can make the situation even worse because you can't relax as you don't know when you'll be leaving.
I have had countless 2-3 hour delays so here's what I do:
As soon as you realise there's a delay try and get yourself into an airport lounge. They're often not expensive and it's going to be a much nicer and more relaxing place to chill before your flight. You'll get food and drinks included as well as magazines, wifi, comfy seats, a TV room and often showers too. It's an extra expense but it's so worth it. Get yourself a good book and some magazines and just accept this is happening. Don't get mad about it because there's nothing you can do. Use this time to research your destination, maybe call your mum for a chat, catch up on your fave TV series or do some work.
Just don't sit there quietly fuming for 3 hours because that won't help anyone.
If you have a connecting flight
If your flight delay will cause you to miss your connection, the airline will help you organise a new flight. They're very good at this and it often doesn't matter if they need to put you on a flight with a different airline, they'll sort it.
If you're going to have to get a connecting flight the following day then your airline will sort out a hotel for you.
Note: If you booked two individual flights rather than one flight with a connection then you're not eligible for the connection. It's always best to book one flight!
When your flight is delayed for more than 3 hours
When you're delayed for more than 3 hours your airline will provide you with refreshments. If you'll need a hotel overnight then they will put you up in a hotel and provide transfers to the hotel. You may also be entitled to compensation….
Compensation for delayed or cancelled flights
If you're delayed for more than 3 hours and you're flying with the EU or on an EU airline then you may be entitled to compensation. Claiming doesn't need to be a long and difficult process, you can use a service like airFair and apply via their app. It's a no win, no fee service and it can take the hassle out of your claim.
If your flight is cancelled
If your flight is cancelled then your airline will usually do everything they can to get you on the next available flight. You will also have the option to get a full refund on your flight if required.
Do you have any more advice or personal experiences from delayed or cancelled flights?
This post was created in partnership with airFair, who offer a free, no obligation flight check to see if you are owed compensation. By law, you could be owed up to €600 per person. Whether your flight was delayed, cancelled or you were refused boarding, the AirFair app could be telling you how much you're owed within minutes.