I found this post hidden amongst the chaos of my documents folder. I wrote it months ago after a particularly long flight delay. I was tired and naggy and was pissed off about everything and everyone around me.
Paul Theroux once said: 'Travelling is only glamorous in retrospect," and I couldn't agree more.
I usually love flying and the excitement of the airport but on this particular day I didn't. Please excuse the grumpiness of this post, we all need a good rant from time to time, right?
Here are a few of my do's and don'ts when flying.
Please add your own in the comments below and let me know what annoys you when you're flying!
Check how many bags you can take onboard
On virtually every Ryanair flight I ever get there's always someone arguing with the cabin crew about their luggage. Someone always has a bag that is too big or too heavy or they try to sneak five bags on at once. And then the funniest part is that they try to argue with the staff about it!
With most flights you're allowed one small case and a small handbag or laptop bag. THAT. IS. IT.
They will not let you take the kitchen sink onboard with you so check it in. They're also pretty good at spotting overweight bags so leave the bricks at home too.
Only take well-behaved children in airport lounges
We all know how much I love a good airport lounge but if there's one thing that can spoil the serenity it's a screaming child. I'm not anti-children at all, I'm just anti-children screaming in a lounge I've paid to use.
Why are you queuing?
This is a personal one but I never understand why people stand up and queue to get on the plane as soon as the gate opens. It take at least 20 minutes for everyone to board the flight so sit down or stretch your legs for as long as you can.
I'm usually the last person to board because the less time I can spend on the plane the better. (I realise that not everyone could do this!)
Be nice to the cabin crew
They have a really tough job to do. On one of my recent flights they were short staffed because two members had been so badly injured during turbulence that they couldn't fly.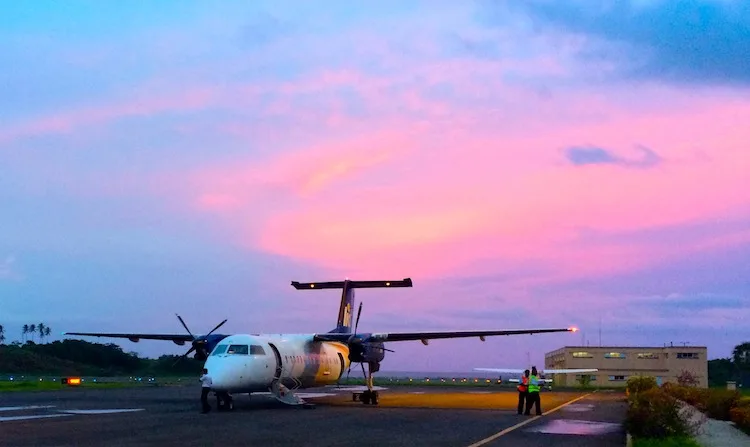 Use the toilets before you get off the plane
You know that massive queue outside the toilet when you've just stepped of the plane and got into the airport? Yep, the one that seems to go even slower because you're busting for a pee and you've just held it in for the past 8 hours? You could avoid that queue by using the toilet on the plane just before you land. You can then by-pass all those people and get through immigration and get out the airport as fast as possible. You're then first in the taxi queue and therefore first to start enjoying your holiday.
The passport scanners aren't that difficult to use
I have no idea what some people do when they're trying to use their ePassport. All you do is place it in the scanner and then look directly into the spot where it tells you to look. That's it. Don't look at your feet. Don't look at the ceiling. Look at the arrow and the doors will open.
Don't crowd around the baggage carousel
Did you know that your bag won't come out any faster if you stand as close to the baggage carousel as you possibly can. Yes, really!
It drives me insane when everyone gathers so closely around the carousel. If everyone took one step back, everyone would be able to fit around it without standing on their tip toes to see over your shoulder. It would also mean that you wouldn't get smacked in the shins or elbowed in the face when someone hauls their case off the belt.
OK, rant over!