For every traveller out there, there comes a point when it's time to go home. For me, that time has come.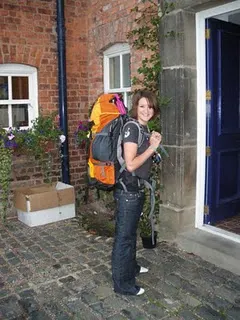 Looking all fresh and squeaky clean! This is me 18 months ago, ready to leave home.
After 18 months of travelling, on March 26th 2011, I am going home. In case you didn't know, home for me is in North Wales where, apparently, the sun has begun to shine once again, flowers are beginning to bloom and little lambs are hopping around. It's a good time to go home.
I have to admit that I'm a little bit nervous about heading back to the UK, not only because so much will have changed over the last 18 months but also because of the dire economical climate. It worries me because everyone from home has been telling us how awful things are at the moment with job cuts and price rises everywhere. Everyone seems to be sure that we'll be on the first flight back out here as soon as we touch British soil.
I'm aware that I'm optimistic and I see my whole life through rose tinted glasses, and I really hope that I always see the world like this, but I am beginning to wonder if the UK really is that bad. After all this time away, I only seem to remember the good things; Sunday roasts and green fields that stretch as far as I can see, country pubs and great cities to shop in. I didn't come away travelling because I hated the UK, I came away to see a different world, and I wonder how much that is going to effect how I see my world back at home.
I know that it will be difficult to find work when I get back but I'm a firm believer that good old fashioned work goes a long way. And, yes, the British weather isn't exactly the best but after 2 years of summer I can't wait to get some warm, cosy clothes on! I'll be moving back in with my parents but I've missed them so much that I really don't mind.
It will take some adjustment going from long lazy days on the beach or visiting amazing towns and cities and seeing new cultures and having new experiences every day, but it will be nice to have a regular routine. It will be nice to sleep in the same bed every night and finally have my old friends around me to gossip and giggle with on a Friday night.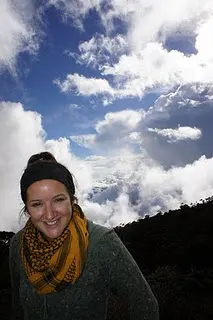 Climbing Mt Kinabalu
So let's hope that this optimism lasts and returning to the UK after 18 months of travel is as good as I hope….But don't think that because my travels are over that my blog will slowly dwindle away. Oh no, I'll now have the time and resources to post all those stories I never got round to doing, including 14 months in Australia and the remainder of my time in Asia. I also have thousands of photos, travel tips, thoughts and general musings about travel. So if you haven't already, grab my
RSS feed
so you won't miss everything thats coming!
Do you have any tips to make moving home and adjusting back to life a bit easier? Let me know!