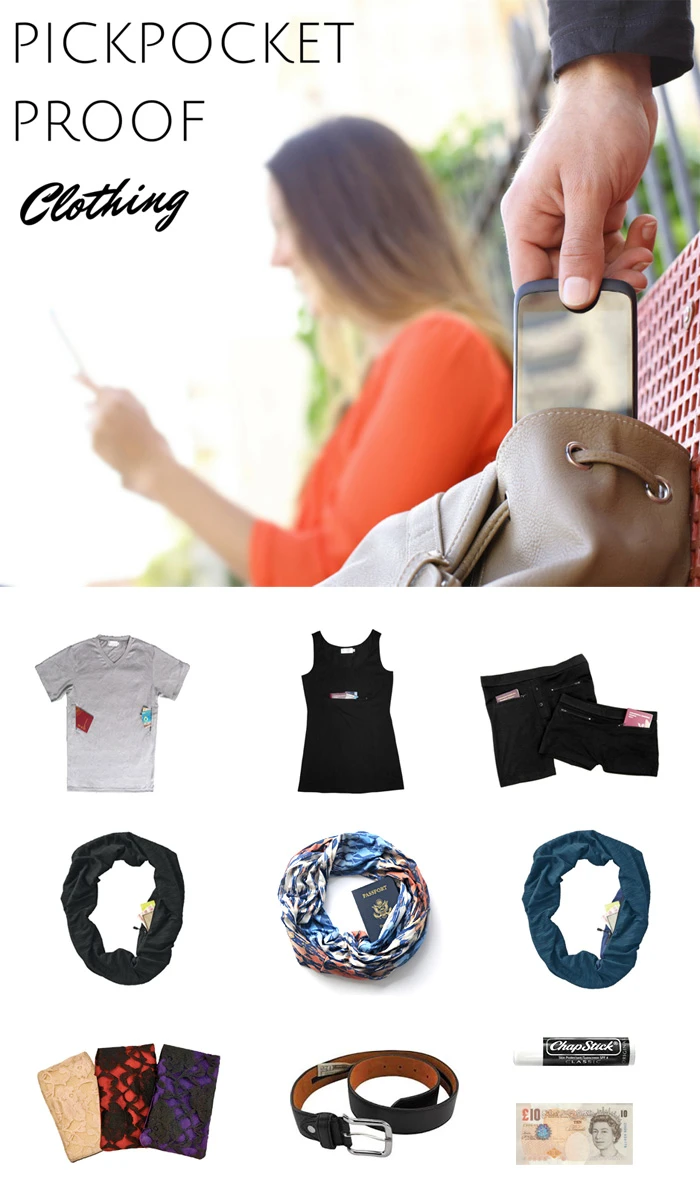 If there is one thing that a pickpocket loves it's tourists! When you're unfamiliar with a place or distracted by sightseeing it's easy to become vulnerable. I've heard countless stories of stolen purses and wallets over the years and in most cases the thief was long gone by the time they realized their stuff was gone.
Pick pocketing is one of the oldest crimes there is and since it's probably not going out of business any time soon, the best thing you can do is pickpocket proof yourself so you're not an easy target.
While there are plenty of pickpocket products available on the market, they all seem to lack one thing: style. Since the Travel Hack is a blog about stylish adventure travel, we made it our mission to search for travel security products that not only protect your valuables, but are also stylish.
The Clever Travel Companion
I usually find clothes designed for travel safety very disappointing. They tend to be unflattering, boring, and definitely not stylish. Enter The Clever Travel Companion, a clothing line with hidden pockets. I recently learned about this company and from the outstanding reviews online I was excited to try them out.
And let me tell you, the reviews weren't lying. I tried the black tank top and was really, really impressed! The material is fantastic, the fit was great, and overall it's probably one of the best quality tank tops I've ever tried on. You can see the zippers of the hidden pockets if you're up close, but they aren't overly noticeable.
I had my husband, Mike, try the boxer briefs and he felt the same way about the quality. He felt these products would be great to store your money and passport in if you're sleeping in a hostel or on a train.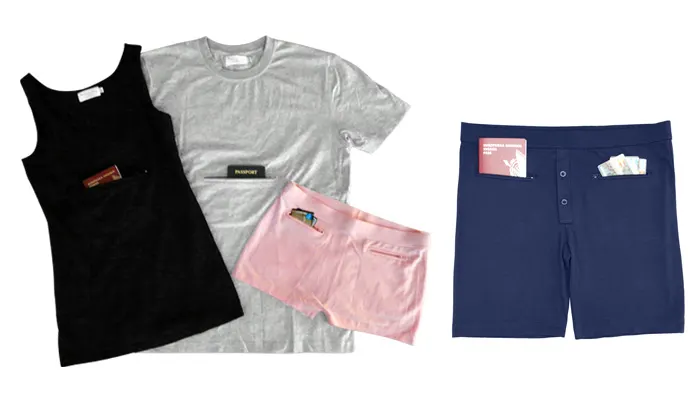 Security Scarves
I came across these scarves and couldn't help but think, why didn't I think of that?! Scarves are one of the best packing hacks because they are lightweight and create the illusion of different outfits. So if you asked me, a stylish scarf that also protects your valuables is the perfect travel accessory. I found several solid colors here. And a lovely array of prints here.
Bra Stashers
These Braza bra stashers are more feminine than the normal beige and grey versions on the market. A bra is one of safest places for women to store their valuables and since they take up very little room they are an excellent travel safety product to pack in your luggage.
Belt
A classic belt with a hidden zipper is a great alternative to an uncomfortable money belt or bum bag for our male travelers. You can find both a black and brown version here.
Chapstick
Although not clothing, storing extra money in an empty Chapstick container can be a lifesaver if your purse or wallet is stolen. Most thieves aren't going to grab this out of your bag or pocket, so it's a great place to hide your 'just in case' money.
What other products do you use to keep your valuables safe? We'd love to hear!
If you're looking for more tips on pickpocketing and travel safety, I compiled my best tips here.