We all want a gorgeous summer glow but, these days, everyone is pretty savvy and aware of the risks associated with too much sun. a lovely tan is nice, but not when it comes at the cost of premature aging, wrinkles and sunburn!
I remember when the phrase, "Ooh, you've caught the sun!" used to be a compliment but these days it's more of a warning. Looking burnt or tanned like a leather handbag is not a good look to be going for and, thankfully, the subtle golden tan is more desired!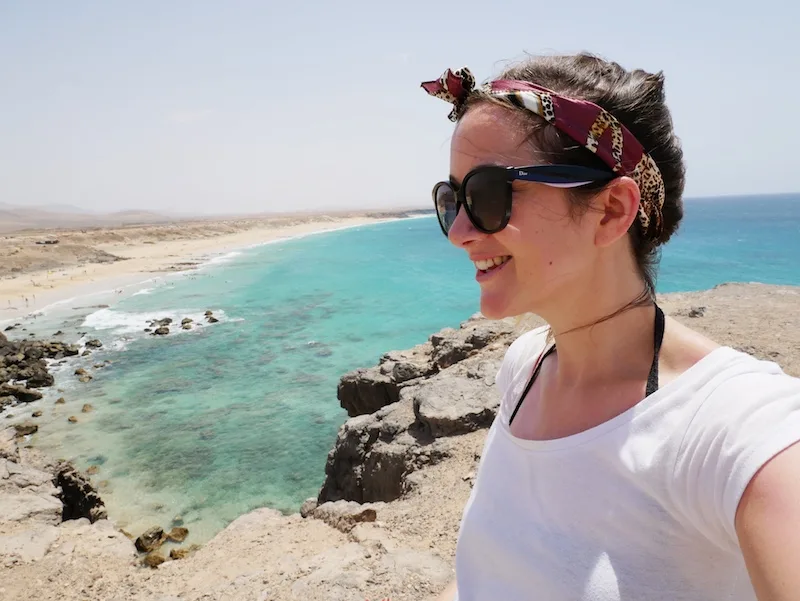 I don't know about you but I'm always slathered in sunscreen. After spending 18 months in Australia, during which time I didn't even touch a bottle of sunscreen, I really saw the damage I'd done to my skin. I really wanted to turn back the clock and rewind what I'd done but it was too late. These days, all my make-up has SPF in it and there's always a bottle of sunscreen in my handbag.
Even though I am super safe, I still end up getting burnt from time to time. Sometimes it feels like I was only outside for two minutes all day so I'm really confused about how I got burnt! It's my neck and chest that get it worst and I have permanently weird tan marks on my feet depending on which sandals or flip flops I've been wearing.
As we're coming into sumer holiday season I think it's time to chat about ways to stay safe in the sun but, more importantly, what to do if you end up getting sunburnt. All too often people give advice about how to not get sunburnt without acknowledging the fact that it does happen and it's quite handy to know a few tricks on how to treat it!
I've written this post in partnership with Soleve, which is a sunburn relief lotion available over the counter at Boots. It is the only licensed product for sunburn and has been clinically researched to be effective. Their email landed in my inbox a few weeks ago when we were having that gloriously hot spell here in the UK and both Sam and I had got burnt the evening before. We'd been in the garden at 7pm and didn't even think to apply sunscreen! This email was perfect timing and, while I hope I don't get sunburned again, at least I've now got a product to help if I do!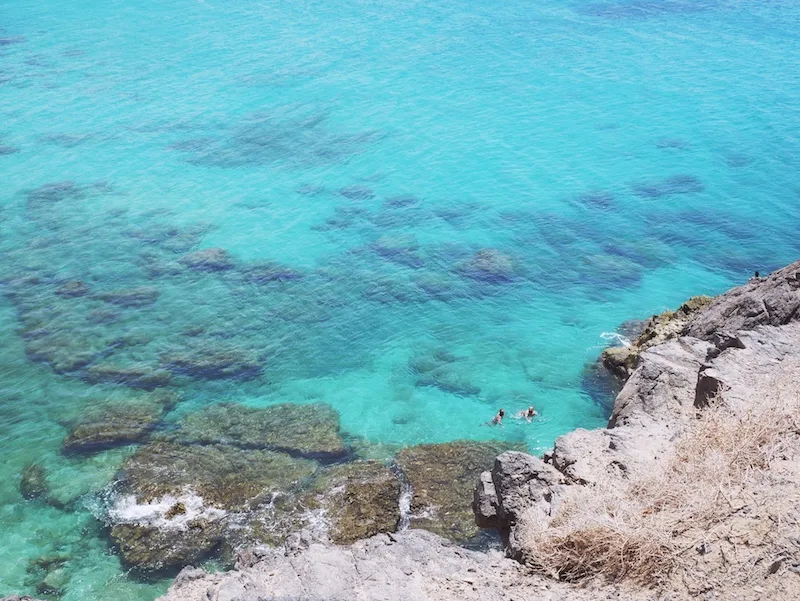 So let's start with the obvious stuff
How to not get sunburnt…
Use a once a day sunscreen
Many sunscreens need to be reapplied every few hours, but this is just annoying and easily forgotten if you're busy! Use a once a day sunscreen so you don't need to keep reapplying. Ideally, you probably will need to reapply more than once but you've got that bit longer than with a tradition cream. Once a day sunscreens are a bit more expensive so you might want to keep these for when you know you'll be outdoors.
Use sunscreen like a daily moisturiser
Don't wait until you're out in the sunshine to apply your sunscreen, apply it at the start of the day like you would a moisturiser. Sunscreen isn't just for when you're on holiday, it should be part of your everyday routine. If you're thinking that sunscreen is too expensive to slather on everyday then get a cheap supermarket own brand. It doesn't need to be a fancy one to be effective. Always use a high SPF sunscreen (SPF 30+) for UVB protection and check it has a minimum of 4 stars for UVA protection.
While I'm happy to use any brand for my body, I do splash out on nicer ones for my face so it's not too greasy.
And another tip here is to apply it before you put your clothes on. How many times have you put sunscreen on and missed a little patch around the straps of your top or haven't gone quite to the collar of your t-shirt?
Make this part of your morning routine to make sure you're covered for the morning.
Be just as careful at home as when you're on holiday
I actually end up getting more sunburnt at home than when I'm on holiday. I'm really careful on holiday but tend to be more forgetful at home.
Don't forget the bits you always forget
I'm talking ears, lips, noses, necks, the backs of your legs, the parting of your hair and your feet!
Beware of cloudy skies
Don't be fooled by seemingly protective overcast skies… the sun is still there! 30-40% of UV will still penetrate through cloud cover. For example, if half the sky is covered in clouds, 80% of UV will still shine through.
This explains why I end up getting burnt on days where I barely even thought I was in the sun!
Sand reflects the sun
We all know that water reflects the sun but sand does too. Believe it or not, sand can actually increase reflected radiation by up to 17%, so if you're going to the beach take extra precautions by avoiding the sun's most powerful rays between 11am and 3pm.
If you're a photo taker like me, photos on the beach always look best early in the day and late afternoon so you'll probably be best going early or late anyway. And if you've got kids, they often end up getting too hot, sweaty, tired and irritable in the middle of the day so save your trip to the beach for around 3pm.
Reapply every time you swim
Obvs
Keep kids out of the sun completely
This gets more difficult as kids get older but little ones, especially babies, should simply be kept out of the sun completely. I find that Joseph (8 months) gets irritable when he's hot anyway so doesn't like to be in the sun. George (aged 2) is a little more difficult as he wants to jump in and out of the pool (or paddling pool if we're at home) so he wears a full swimming onsie with UVB protection and waterproof sunscreen in SPF50 (even if it is a battle to get it on!) He'll usually wear a hat and sunnies too.
What do you do if you get burnt
Even if you follow all of this advice perfectly, there's still going to be the odd time when you slip up and get burnt.
So, what do you do when this happens?
Use Soleve
Soleve is sunburn relief lotion. It has pain relieving ibuprofen, which takes the sting from burnt skin, and the soothing and rehydrating emollient isopropyl myristate to help lock in moisture, reduce skin tightness and minimise any further irritation from clothing. It's easy to apply and should be used at the first sign of sunburn. Keep applying it up to 8 times a day for sunburn relief.
You'll find Soleve in the Boots sun care aisle (next to sun protection) or order online.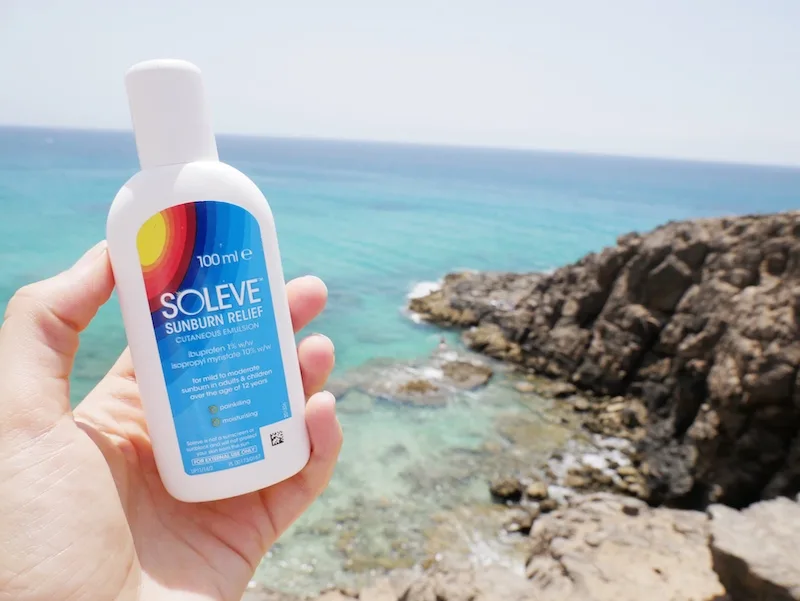 Stay hydrated
Part of the danger of sunburn is dehydration so make sure you drink lots and lots of water. If it's a child and they don't want to drink much then give them ice pops and ice cubes.
Have a cool bath or shower
Cool the skin down and relieve the uncomfortableness with a cold shower.
Soleve Sunburn Relief is an over the counter medicine available in the UK from Boots and Sainsbury's nationwide. So, if you are planning a trip abroad, consider packing it in your travel first aid kit just in case. Suitable for adults and children aged twelve years and over.
RRP £9.95 for 100ml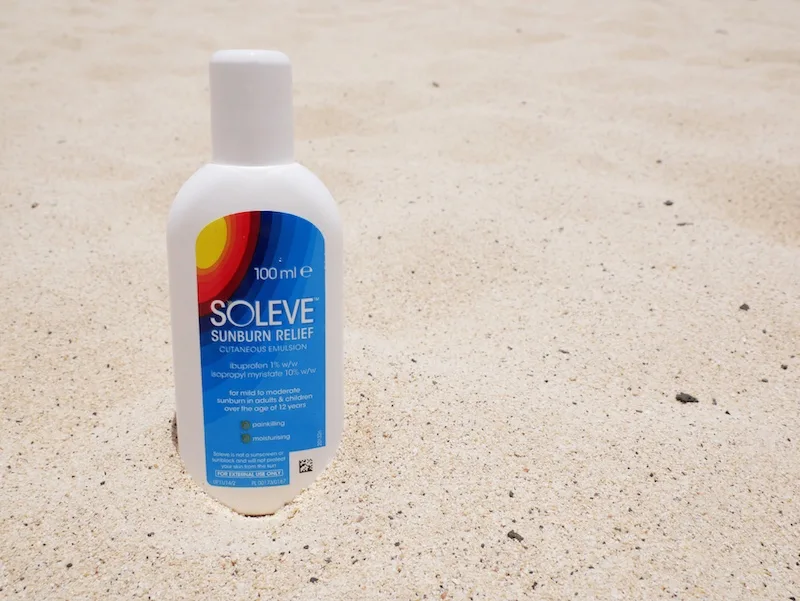 LATEST FACTS FROM SOLEVE SUNBURN RELIEF:
Three out of five (60%) of us have had our holidays spoilt by sunburn
Only half of us (50%) prepare for our sun care routine before we go on holiday
Only half of us bother taking a first aid kit on holiday (50%)
Just two women in a hundred top up their protection after swimming
Three in four do not know which protection factor is recommended for their skin