This week's Travel Hack of the Week comes from one of my favourite travel bloggers, Abigail King from Inside the Travel Lab. Abi mentioned this travel hack to me years ago and it's something I've adopted myself so I'm really pleased she's shared it with us this week.
The last few years of careering around the globe have transformed me into a lean, mean packing machine. From the most uninspiring of beginnings.
Time was, I ended up in Ireland with 13 tops and no pants. And that was one of the less embarrassing anecdotes.
But the tip that turned my packing life around? The unassuming travel draw.
You see, back in the old days, my passport lived in my "essential paperwork" section, my suntan lotion in my bathroom (for quick access, because the UK has so many sunny days) and my travel adaptors lost in a box of spare cables and other wiry things I'd kept just in case I had to reconfigure the motherboards of the nation to keep us in power (that's not actually true. I have no idea why I kept so many)
In reality, why did I ever need to separate these things?
The solution? The travel drawer.
The Travel Drawer
Throw in travel insurance documents, money belts, small size toiletries, spare glasses cases and some sugar free chewing gum. And, of course, the passport, sunscreen and travel adaptors, naturally. And then you're done.
Over time, I've built up a few more niche sections. A winter sports holdall. A business conference suitcase. But the hub for it all remains the travel drawer.
Minutes, if not hours, shaved off the dull, dull, dull task of travel packing.
And the best part? It saves time unpacking as well. Dirty laundry out; everything else back into the travel draw in one easy move.
Life – and sanity – reclaimed.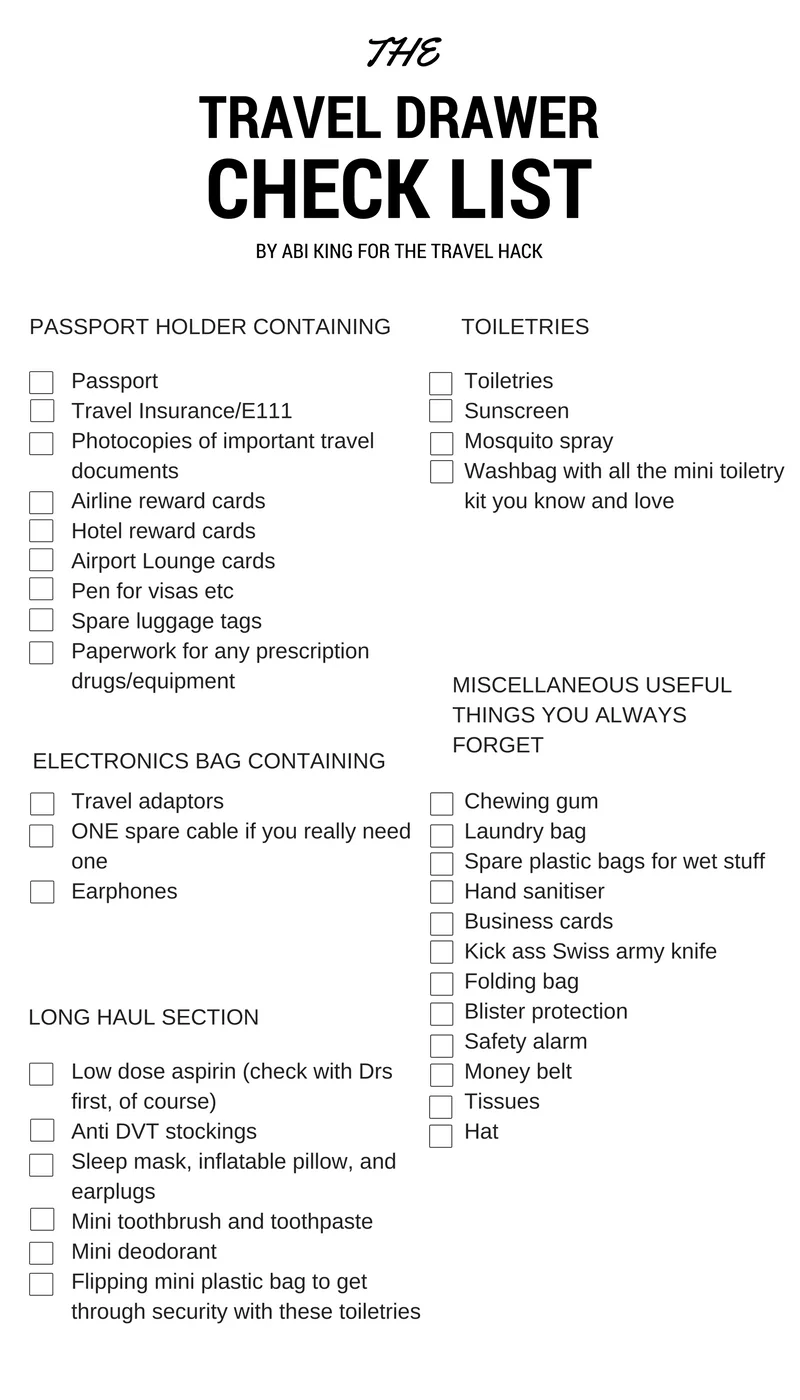 Abigail King is a writer and photographer who swapped a career as a doctor for a life on the road. She writes the award-winning travel blog Inside the Travel Lab on thoughtful luxury and unusual journeys. She's also on Twitter, Pinterest, Instagram, YouTube and Facebook, where she does her best to be interesting, inspiring and informative. Ever so occasionally she manages to pull it off.