This month I've challenged Anne to write a travel hacking guide for people who don't use credit cards. There's often the feeling that travel hacking without a credit card is impossible and you have to be spending huge amounts on a credit card to collect any points. Admittedly, this does make travel hacking a hell of a lot easier but it's still possible to travel hack without a credit card. I'll leave it to the expert to tell you why…
---
Well, congratulations you don't use credit cards and this makes you a sensible spender. You may be sensible with your spending but without a credit card, travel hacking can be much more difficult. You won't get to benefit from airline rewards which are best accumulated using credit cards.
Before, don't worry, it is still possible for you to earn hotel nights and fly business class for less than economy, but it may take a little more planning and a while longer.
So what can you do?
Well you could start by getting a credit card and paying the balance religiously each month or week (which in reality is little different to managing your bank account, although admittedly it involves extra time).
If you are however aghast at the thought of those flexible friends, then fear not, you can still earn air mile rewards but I'm not going to lie, it is going to take you much longer to earn enough miles to fly business class for less than economy. Forget flying economy out of the U.K as taxes and fees account for the majority of the flight cost and an economy flight saves you so little money I personally don't think it is worth it!
There are plenty of other ways for you to travel hack without a credit card and earn air miles. Check out the Beginners Guide to AVIOS for a full list but the options below offer better prospects for earning chunky points for non credit card holders.
So here goes, my ultimate list of 14 ways to earn airmiles and travel hack without a credit card in sight.
Shop
1. Avios Online Store
I earned over 25,000 points in 2015 simply using the AVIOS online store for as many of my shopping purchases as possible.
This is an incredible way to build AVIOS points quickly without additional spending. By redirecting your spending through the store, you can earn up to 12 AVIOS per £1 from over 200 shops including Debenhams, Argos, and Apple.
Just last night, a new lampshade and extension cable from Argos banked me yet more AVIOS! Hardly glamorous is it?
2. Gate 365 Online Store
Gate 365 is the British Airways equivalent of the AVIOS store and works the same way, except you access your chosen store from the British Airways website. You can earn up to 12 AVIOS for every £1 spent at more than 150 online retailers.
3. Tesco Clubcard
Calling all Tesco lovers. Turn your everyday shopping into air miles with your Clubcard. For every pound spent (in store, online, at Tesco Direct, and Tesco Mobile) you will earn 1 Clubcard Point. Fuel purchases earn 1 point for every £2 spent.
Once you spend £250 you earn a £2.50 voucher that converts into 600 AVIOS (or 625 Virgin Flying Club Miles).
You can automate the conversion by logging into your ClubCard Account and changing the preferences although this isn't recommended. Occasionally Tesco offer enhanced deals on conversion, so you may be better building a substantial balance and then waiting for a bonus deal.
4. Heathrow Airport Shopping
For those flying from Heathrow, every pound you spend at the airport can earn you additional AVIOS. Use your Heathrow Reward card for shopping, eating, and drinking and earn one AVIOS for every £1 spent.
You can also earn an extra 600 Heathrow Reward points just for signing up, and once you have 250 in the bag, you can convert them into AVIOS.
Travel
There are a number of different travel earning options which allow you to feel smug in the knowledge that the trip you are enjoying will be paying for future trips. The best earners are:
5. Regular Flights
It goes without saying that this will earn you miles. Virtually every airline has some kind of loyalty club so depending on where you are based, select the one which gives you the greatest potential to earn.
In the UK the British Airways Executive Club is a OneWorld airline partner meaning that flights booked with any alliance member will earn AVIOS.
It is quite commonplace for an airline to be a member of an alliance, so before signing up for a new loyalty programme, make sure that you cannot earn miles through an existing loyalty club of which you are already a member.
For example, I am a member of Miles and More, the Lufthansa frequent flyer programme. I have just booked flights to the Philippines with Turkish Airlines and have used my Miles and More card to earn miles from those flights.
Just don't forget to input your membership number at the time of booking.
6. In-Flight Shopping
The points earning doesn't end once you leave the ground. If you happen to buy anything from the High Life Shop onboard British Airways flights, don't forget to give them your AVIOS card to swipe for two Avios per £1 spent.
7. Hotels
Many hotels offer loyalty programmes which reward guests with points. Those points can then be converted into AVIOS, or you can use them for free nights. The British Airways site provides full details and I bagged an extra 13,000 points in 2015 from conversions!
There are other ways to earn AVIOS when you need to book an hotel too. From the AVIOS E-store you can book hotels through Hotels.com and earn 4 AVIOS per £1 spent (or more if an offer is running!).
It is a sweet deal because you also earn one free night for every ten stayed and in 2015, I bagged four freebies!
Kaligo and Pointshound are sites which both offer mega Avios on certain bookings. It is not uncommon to see offers for thousands for a stay and these can be converted into points with a bunch of airlines.
Only this morning, I received an email from Kaligo promoting three night stays earning 16,200 AVIOS in Hamburg, 11,900 in Mexico City and 14,700 on the Gold Coast.
I do recommend checking all three sites before booking however as prices and points vary between them. Sometimes the deals on Kaligo and Pointshound are awesome, but other times you are better just booking with Hotels.com.
8. Holidays
Through the AVIOS store, you can book holidays and earn either a set number of AVIOS per £1 or a flat amount per booking. I recently booked a trip to Lapland with Thomas Cook and earned over 4,000 AVIOS (or I will have done once the points are credited!).
Holidays booked through the British Airways store also earn two additional AVIOS for every £1 plus the AVIOS you earn from any flights. So what are you waiting for?
9. Currency Exchange
Of course, once you head off on your travels, you need spending money and this is yet another opportunity to earn. American Express Travel Money gives you 1 AVIOS for every £1 of currency exchanged on orders between £150 and £2,500.
10. Travel with an Executive Club Multi-Currency Cash Passport
If you prefer not to carry cash however, or have a habit of losing things like me, you may wish to purchase a multi-currency Cash Passport. It holds up to ten global currencies, and can be topped up online, or anywhere in the world by phone or at a bank.
You earn 1 AVIOS per £1 loaded onto the card, then your card behaves like a debit card, allowing you to pay in local currency, or withdraw cash at ATMs. Be warned, a fee of £1.50 applies for withdrawing cash at an ATM but you will likely find the same applies to your debit card.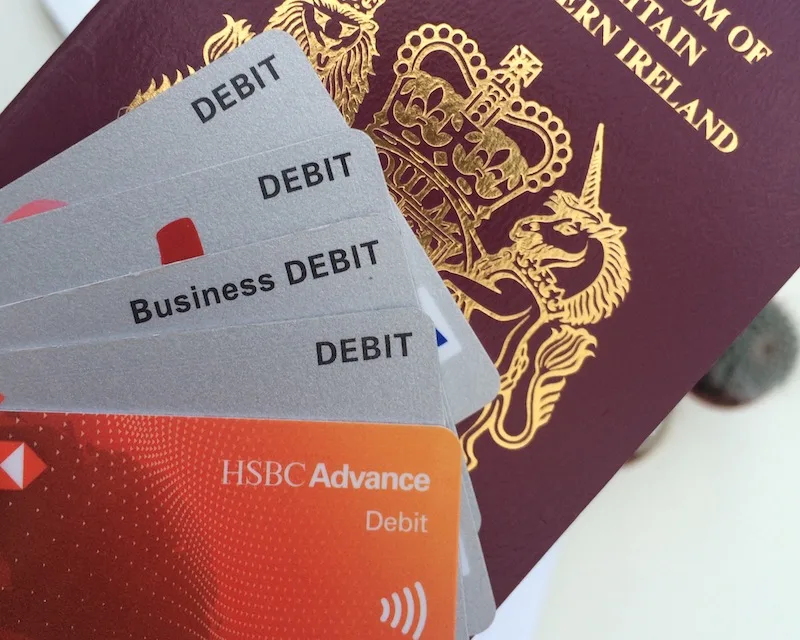 Drive
11. Shell fuel
The Shell Driver's Club rewards loyalty with 10 AVIOS for every 20 litres of fuel. If you recall, Tesco pay 1 AVIOS for every £2 of fuel, and a litre currently averages just over a pound so the earning rate is similar. Your selection is therefore likely to come down to which is the most convenient and/or the best value.
Don't forget to at least register for the Shell Drivers' Club, even if you have no intention of filling up there, as you will earn 50 bonus Avios for doing so.
12. Breakdown Cover
RAC rewards new policyholders with up to 4,500 AVIOS depending on the cover.
Get Opinionated
13. Online Surveys
Both E-rewards and Rewards For Thoughts pay you points to complete online surveys which you can convert into AVIOS. Both companies also pay a sign up bonus and my husband and I earned 3,854 AVIOS in 2015 just sharing our opinions.
Honestly though, this is the most painful way to earn. Surveys are mind-numbingly boring, can take ages and will often kick you out half way through with no reward. Personally, I don't find them rewarding enough.
Utilities
14. Eon
Switch your gas and electricity to Eon and you can earn up to 1,500 reward points each year. These convert into Tesco clubcard points, and remember 250 of those convert into 600 AVIOS, so if you earn the full 1,500, that's an extra 3,600 AVIOS banked!
I actually had my utilities with Eon long before they introduced this offer, and an additional factor I like about their service is the provision of an energy metre for your house.
If you want to become the energy police this is the tool to have. I found myself forever turning off lights, radiators and the like just to try and influence the energy consumption downwards. What's wrong with a pile of blankets to keep us warm in the lounge?!
So what does this really mean for you?
The Office of National Statistics provides data showing average household expenditure in the UK. If you are Mr or Mrs Average, then here is how you can turn that spending into AVIOS using the pointers above:
Household Expenditure
Weekly Spend
Annual Spend
AVIOS Source
AVIOS Earned

(Based on maximum number of points which can be converted)

Food & Drink
£58.80
£3057.60
Tesco
7,200
Alcohol & Cigarettes
£12.00
£624.00
Tesco
1,200
Clothing & Footwear
£22.60
£1175.20
AVIOS (Debenhams)
4700
Housing Fuel
£26.50
£1378.00
EON
3,000

(after Clubcard conversion)

Household Decoration
£1.30
£67.60
AVIOS (B&Q)
270
Household Goods
£33.10
£1721.20
AVIOS (Argos)
6884
Personal Transport (inc. fuel)
£34.00
£1768.00
Tesco Fuel
1,800
Telephone
£10.60
£551.20
Tesco
1,200
Internet
£2.80
£145.60
Tesco

600

(Includes points from Personal effects below to qualify for a 250 point conversion)
Personal Effects
£3.00
£156.00
Tesco

See Note above

Holidays
£11.80
£613.60
AVIOS (Thomas Cook)
2,400
Totals
£216.50
£11,258
29,254
I've been a little strict here and excluded all the recreation and culture spend because who buys a TV every year? Of course, if you do, you will be quids in!
Obviously there are tons of variables depending on which store you use to get the best deal from the AVIOS store, so these figures will vary hugely from individual to individual. They also do not take into account any special offers from the AVIOS store so are definitely on the conservative side.
They do, however illustrate that AVIOS earning is not purely reserved to those who love their flexible friends. With quite conservative spending, 30,000 points would bag one person business class flights to over 40 destinations in Europe including Moscow, Kiev, Lisbon and Stockholm.
Final Musings
In my case, I accumulated 78,318 AVIOS from non credit card activity in 2015 by ensuring I maximised special offers in the AVIOS store, and took advantage of as many different ways to earn as possible.
There's no denying though, for those willing to take on a bit more effort in managing their finances, credit cards are the real winner. I earned 72,502 from credit cards and that was without aggressively churning them. Of course, the other major benefit of credit cards are perks such as the British Airways Companion Voucher which allows two people to fly for the same AVIOS as one.
In short, you can earn AVIOS and travel hack without a credit card but it will be a longer journey!