Today I'm sharing a quick and simple post about what to wear on a plane.
You want to be comfy but look stylish, be warm but not hot and potentially be prepared for a dramatic change in weather!
Thankfully, athleisure wear is at the top of its game right now so the shops and online brands are filled with comfy, stylish but uber comfy outfits!
Here's a simple guide to what to wear on a plane…
Comfy shoes you can easily slip on and off
If it's a long-haul flight, you'll probably want to slip your shoes off at some point.
I'm not suggesting you walk around the plane with no shoes on but it's a good idea to give your feet some space to breathe.
If it's warm enough in both my departure and arrival destinations then I'll wear simple sliders or Birkenstock style sandals. If it's cool then I'll be going for a classic pair of trainers.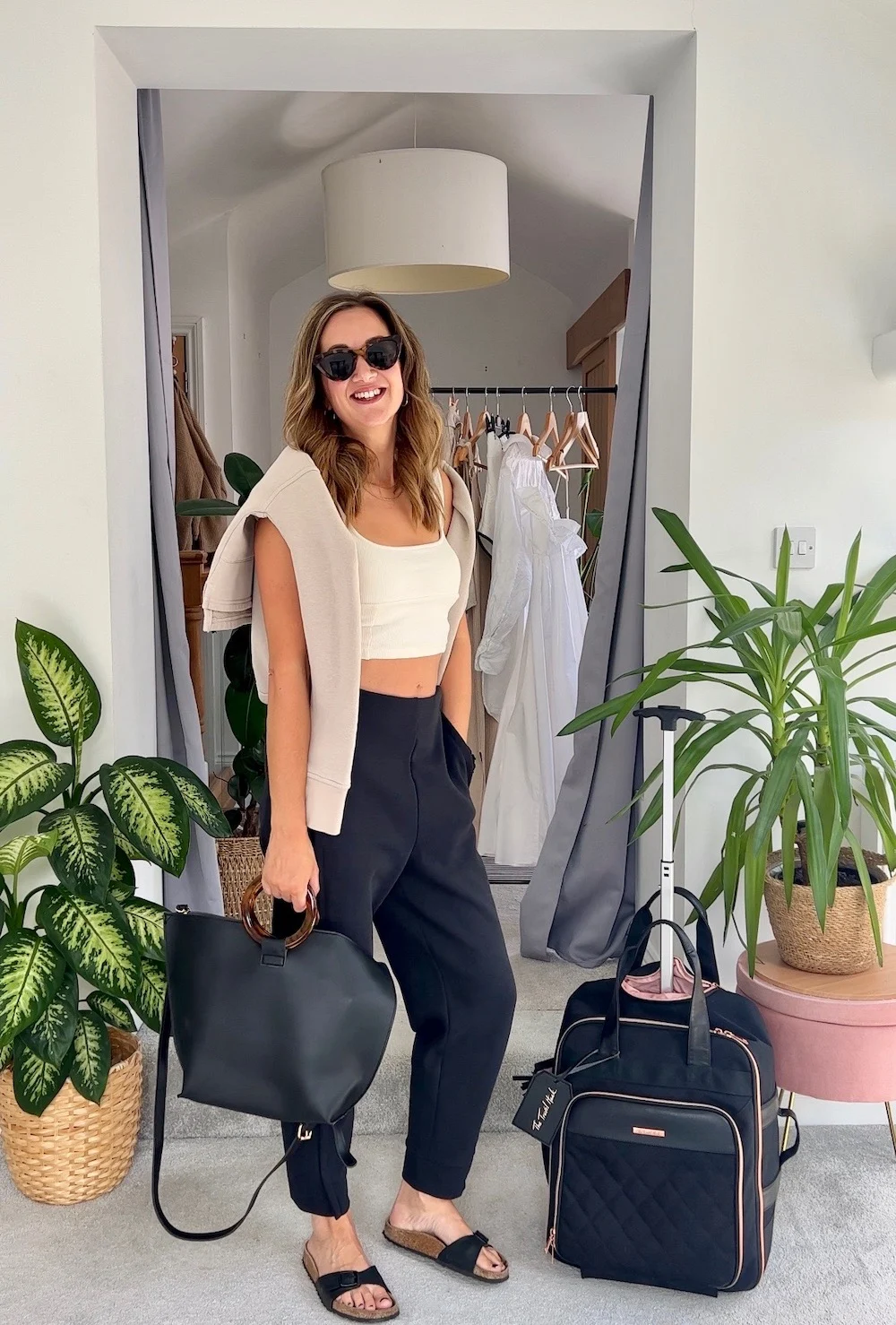 Comfy underwear
The topic of what underwear to wear on a plane is so important and not discussed enough! You have to be wearing comfy underwear during a flight. There is nothing worse than being stuck on a plane for 10 hours with an underwire sticking in your ribcage or a thong riding up your bum.
Adidas has some great sports bras and a massive selection.I really like their yoga studio luxe range and it's always nice when you can get a matching set to go with your leggings or joggers! Opt for a light support sports bra or crop top and a comfy pair of knickers that you know won't ride up your bum!
Dark colours
I always wear dark colours on a plane. You never know what will happen, which grubby seats will leave a mark or when a bounce of turbulence will cause you to spill your drink!
I also tend to wear the same outfit on both my departure and arrival flight so I don't want it looking dirty for the journey home!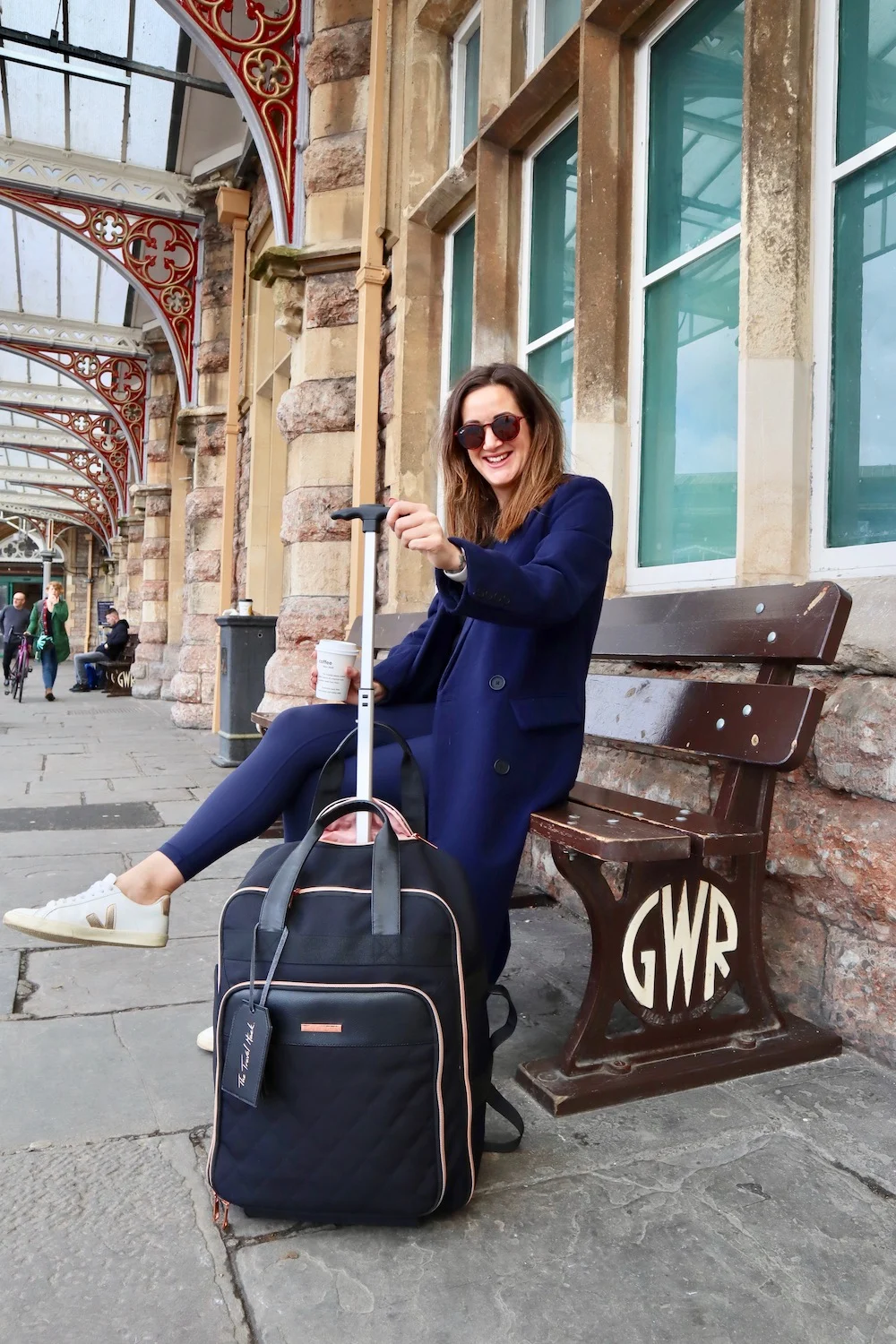 Comfortable trousers that look smart
The real trick when deciding what to wear on a plane lies in your trousers!
Choose a pair of trousers that are super comfortable but also look stylish.
Something like tailored joggers are perfect.
They're comfy, cosy, soft, elasticated and warm. But with tailored details they don't look like the scruffy joggers you'd wear on the sofa at home!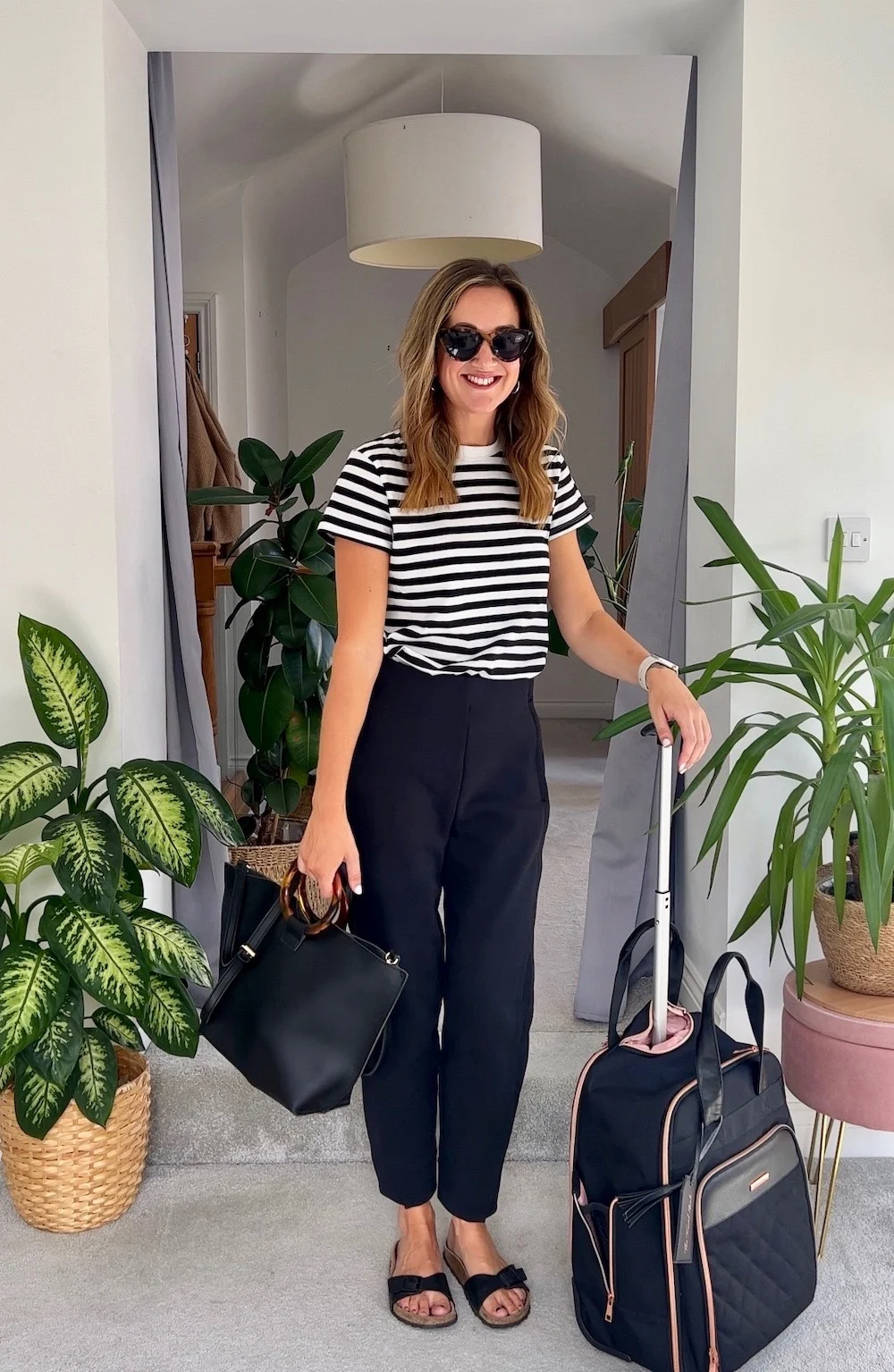 These joggers from adidas are soft and comfy but they've got a pin tuck crease down the front that just makes the seem a bit fancier!
Light layers on top
Temperatures during your journey can vary massively so you'll need layers to peel on and off. One minute you're boiling and the next you're freezing.
I usually opt for some kind of tank top or light t-shirt, with a sweatshirt on top and a jacket on top of that!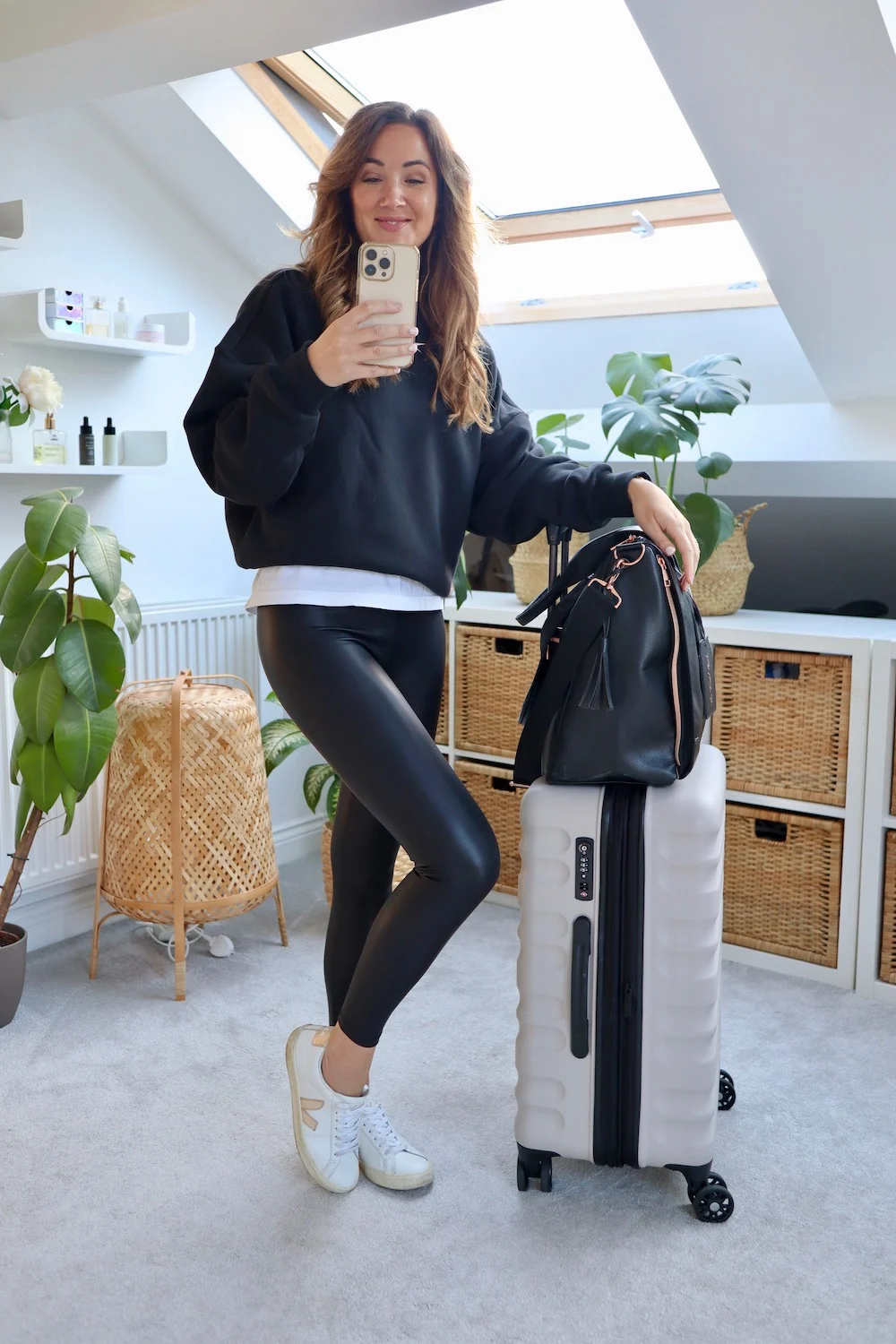 Small bag
If your luggage allowance allows then I'd definitely recommend having a small bag for the personal items you need to get to frequently. I like to take a small crossbody bag for my passport, phone, headphones and Kindle. It helps to have them close when you're going through security and it makes things easy when you're buckled into your seat on the plane.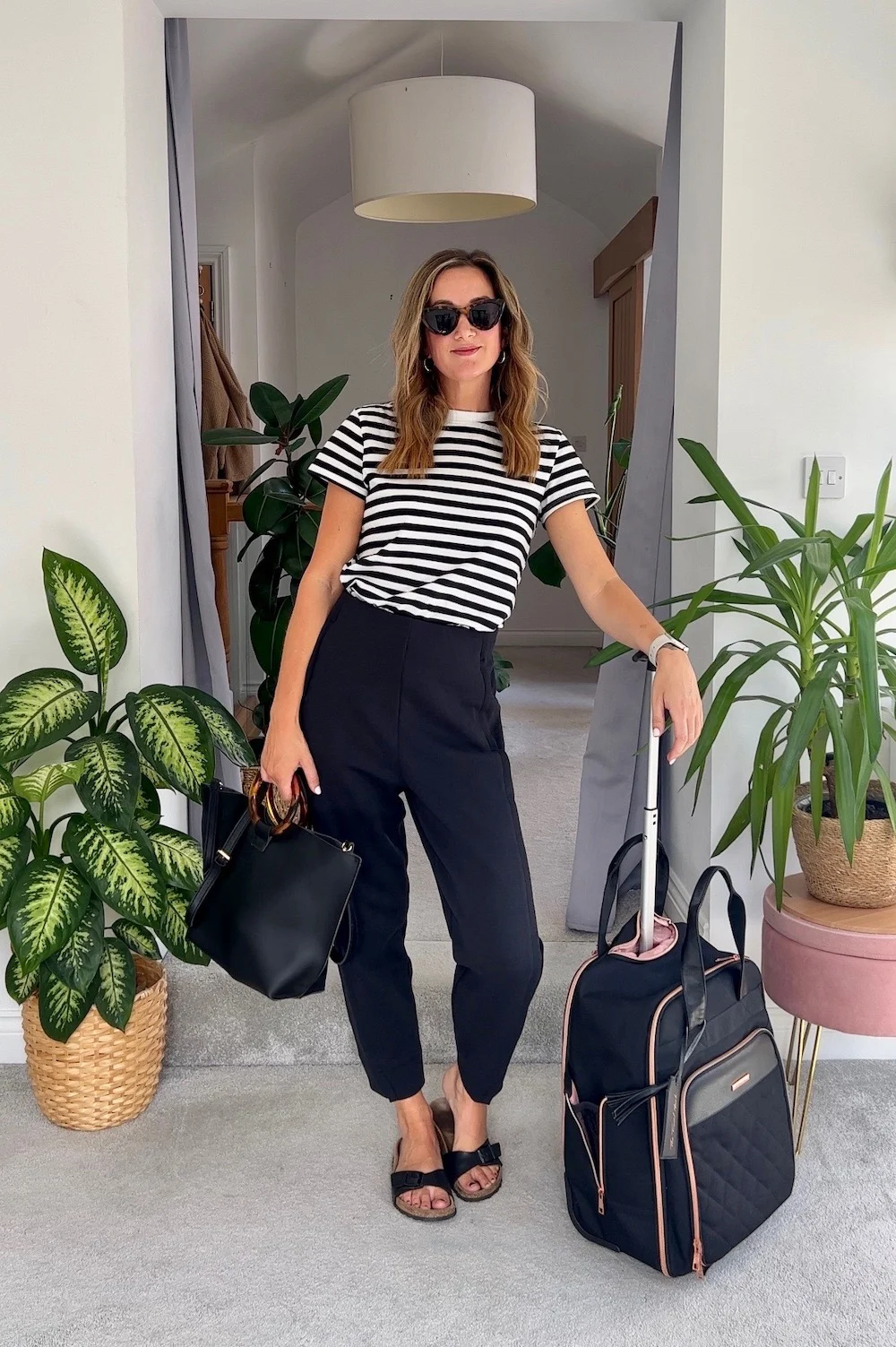 Sunglasses
Whether you need them to protect your eyes from the harsh sunlight at the window seat or to hide your tired eyes when you arrive! Always have your sunnies handy.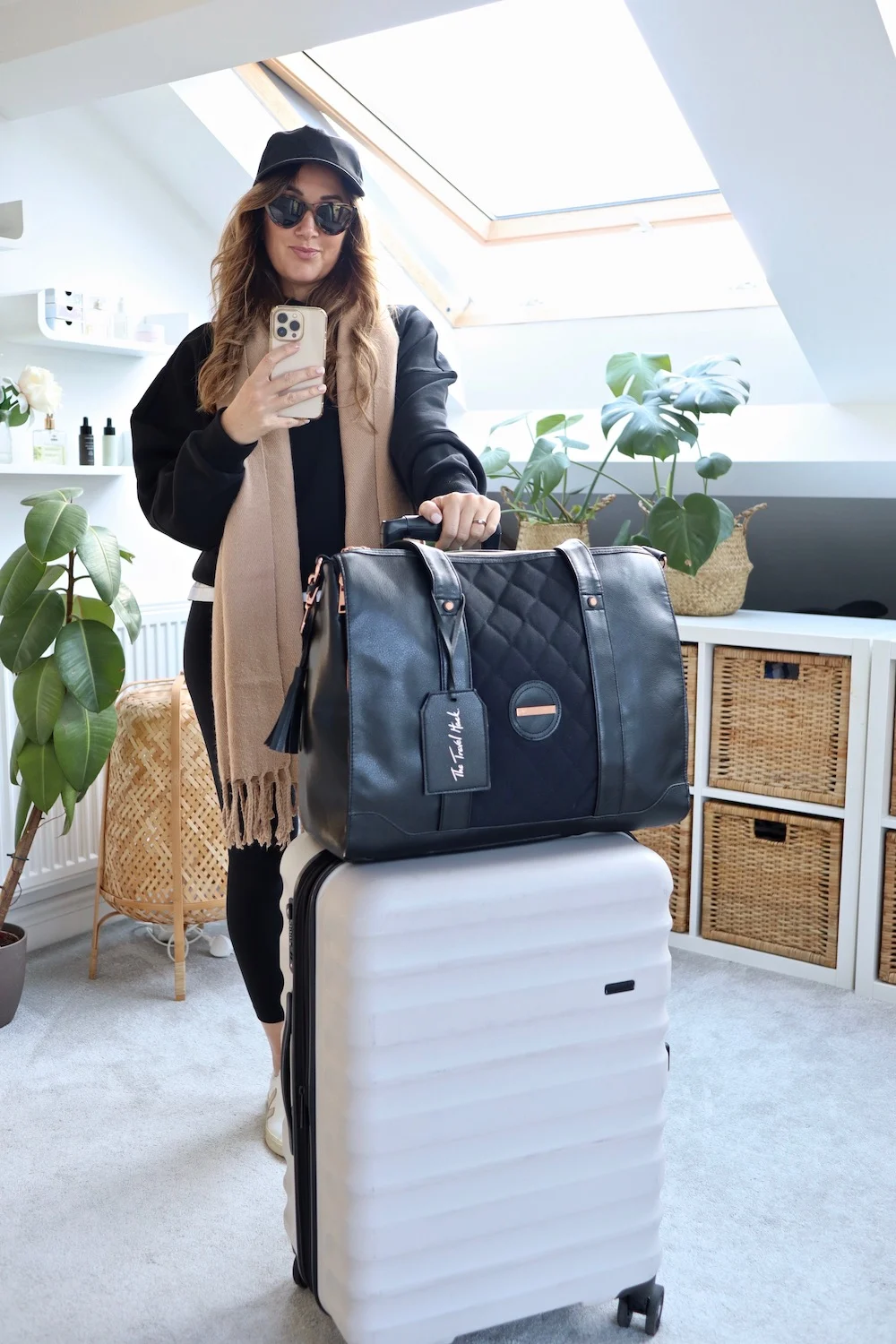 Warm socks
If you're wearing sandals for the flight then I highly recommend taking some warm socks too. Sometimes it's freezing on planes and your feet will be cold!
What NOT to wear on a plane
While we're on the topic of what to wear on a plane, it's useful to mention the things you shouldn't wear on a plane!
High heels – in case you need to run to catch your flight
White clothes – Just no, someone WILL spill something on you
Skimpy outfits – You don't know who will be sat next to you and it can be cold on planes
Bulky jumpers with no top underneath – It could also be boiling on your flight so you'll want to take that bulky jumper off
Jumpsuits/playsuits – Nightmare to take off in a tiny toilet
Tight jeans – Ouch.
Choosing your plane outfit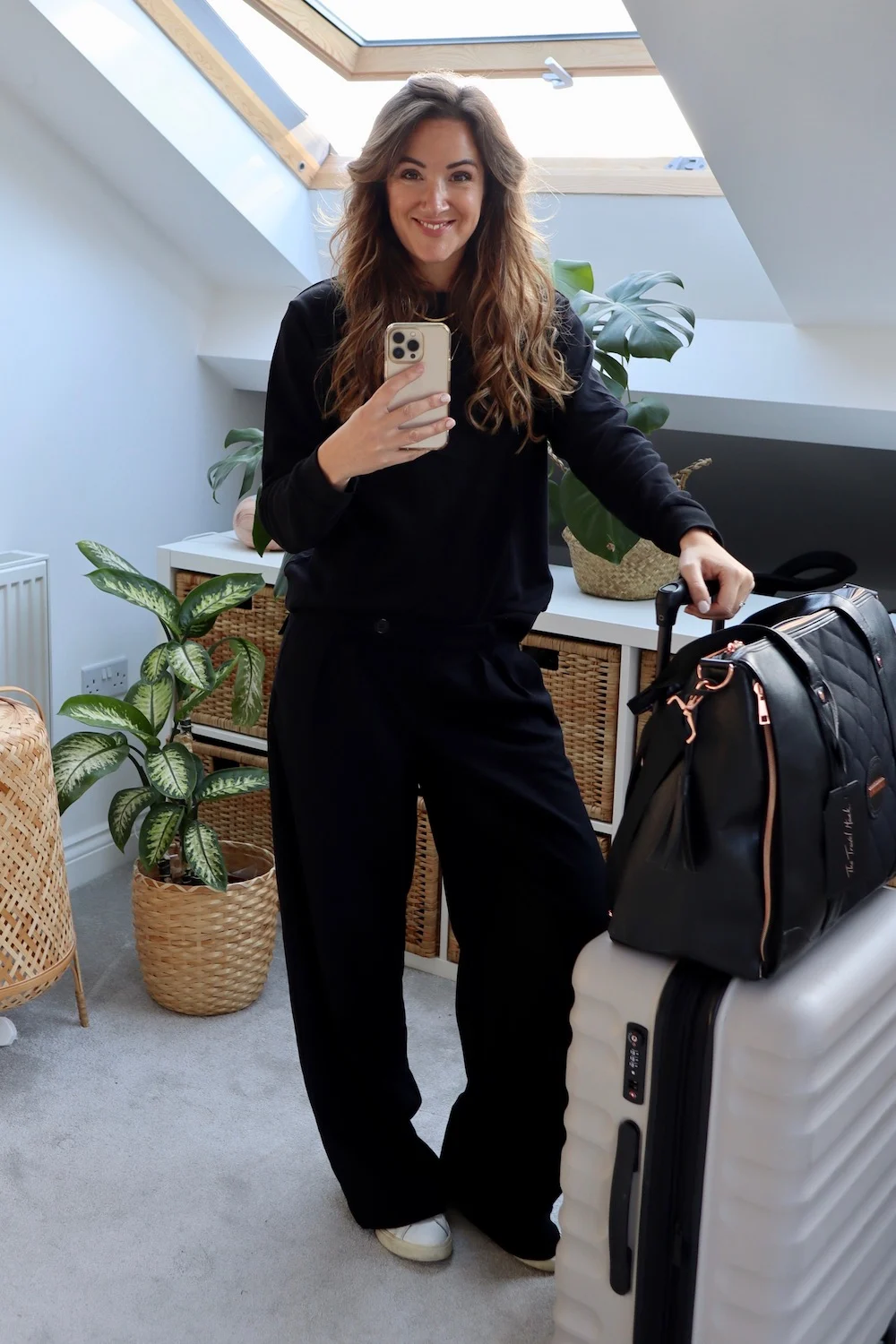 When choosing your plane outfit, it's worth remembering that it's VERY UNLIKELY you'll get an upgrade based on what you're wearing. I know some people wear super smart clothing because they think they might be given an upgrade. To be honest, it's not the 1950's anymore. Flying is not glamorous. You don't need to look fancy and glam to be upgraded. You need to be an influencer or be a loyal member of their flight club!
What you wear on a plane should be all about comfort with an elegant twist. Don't dress like you're lounging on the sofa but you are going to be sat on your bum for the best part of a day so you'll want to be comfortable!