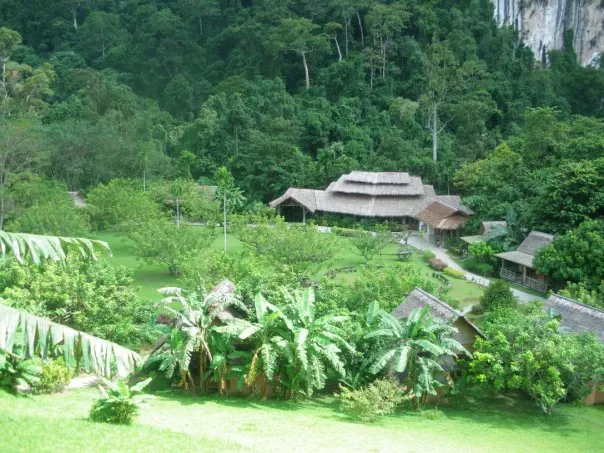 Cliff and River Jungle Resort is located in the heart of the rainforest in Khao Sok National Park, Southern Thailand. It's surrounded by limestone cliffs that tower so high it's a genuine strain on your neck and there is nothing but lush greenness all around. There are gorgeous little huts dotted around the immaculately kept gardens and miles and miles of forest filled with all kinds of wildlife.
It took about five hours to get to the resort from Bangkok. This included a two hour flight to Surat Thani and a 2-3 hour drive from there. I'm not entirely sure because I slept all the way so it felt like I fell asleep in the manic, alcohol fuelled streets of Bangkok at 5am and arrived in the most peaceful and tranquil setting you could possibly imagine, just in time for lunch.
Waking up to a place like this was honestly like waking up in a dream.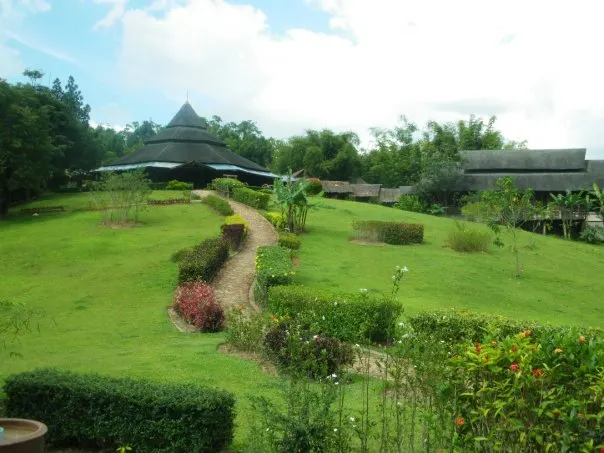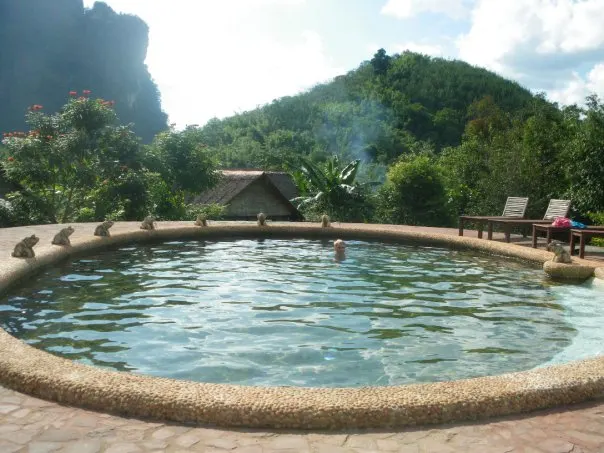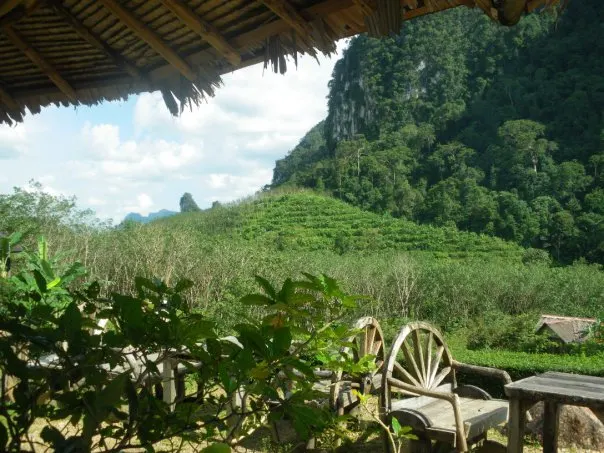 A young boy greeted us with fresh fruit and cold drinks as we took in the incredibly grand reception area. It wasn't grand in the traditional sense but in the incredibly simple way that the Thai's know how to do best. It was a huge, open air hut with a roof made from palm tree leaves and supported by wooden poles.
It was surprisingly cool under there and was filled with bamboo furniture, giant flowers in massive vases, huge wooden benches and some very cute and fluffy dogs were sprawled out on the cool mosaic floor.
The boy led us through the gardens to our hut. The gardens seemed to go on for miles and a little brick footpath curved through massive, bright flowers and palm trees. In the distance there were huge limestone cliffs that towered into the clouds and through the trees I could just about see a river flowing through. It was so green and perfect it almost felt like an exotic version of Teletubbie Land.
There were little huts dotted around everywhere and by the river there was a massive hut where food was served. There was a small swimming pool surrounded by pink and red flowers with little elephants around the edge that spurted water from their trunks. The pool was lined with pebbles rather than the usual bright blue tiles so it looked more natural and like it had always been there and fit in perfectly with the rustic wooden huts.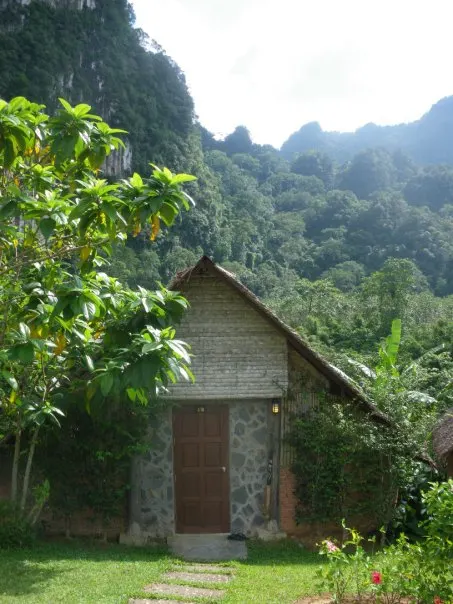 We came to our hut which was opposite the pool and the front door was surrounded by gorgeous pink flowers. The toilet and shower were in outside compartments on either side of the hut and, with some well-placed trees and the help of a steep hill, you were outside and could see right out over the gardens and to the massive cliffs but no one could actually see you. The front of the hut had a balcony and a glass wall so from the bed you could see all the way to the river.
I'd never been anywhere so beautiful so I immediately set about taking photos and we had a walk around and a swim. It took about an hour or two to realise that there was something a bit weird about this place, then it clicked….there was no one else there.
There were probably about 20-30 huts but we hadn't seen another guest anywhere. The peacefulness was borderline creepy but we didn't worry about it for too long and just enjoyed having the whole place to ourselves. We found a few guests at dinner time when the gorgeous Thai curries lured a few Japanese guests down to the river hut for dinner.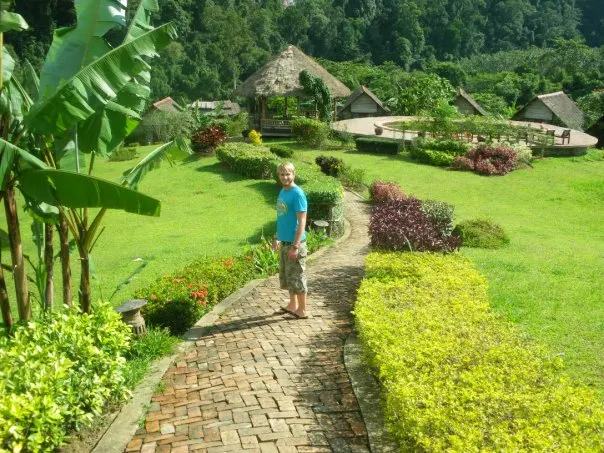 How we got there:
We booked the trip through Limestone Lake Tours who organised everything for us. This included flights from Bangkok to Surat Thani, transfers and a night in the Cliff and River Jungle Resort, transfers and a night at on the floating river huts, transfers and a night Art's River Lodge (with elephant trekking) and then transfers to Ao Nang. It was by far one of my favourite experiences in Thailand so if you get the chance, I would definitely recommend it.