Today's blog post is another fab one by Bonnie Friend from the Good Hotel Guide! She's sharing 10 quirky hotels in Wales for anyone looking for a unique stay somewhere a little different in Wales!
From a retreat favoured by Dylan Thomas to a suite in a windmill, views of Snowdonia to a former priory inhabited by Augustinian monks, a holiday in Wales is never just an ordinary escape at these hotels. Each beautifully decorated and offering its own unique brand of warmth and hospitality, here the Good Hotel Guide shares 10 of its top quirky hotels in Wales…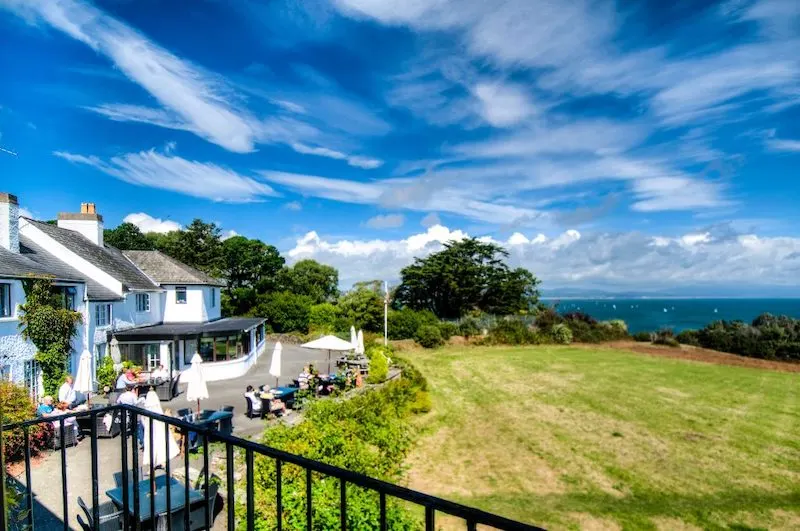 There's no standing on ceremony at Porth Tocyn Hotel, where, when looking for the non existent reception, you are quite likely to be greeted by a loud "BOO" from resident proprietor, Nick Fletcher-Brewer. In the same family since its inception more than 70 years ago, the Porth Tocyn is tucked between Snowdonia and Cardigan Bay, morphed from a cluster of lead mining cottages into the comfortable idiosyncratic family hotel it is today.
It's a rambling rabbit warren with a series of six sitting rooms tumbling into each other offering relaxation, books, antiques, log fires, help yourself coffee and a children's snug with toys and games.
There is lots for children to do as well – there's a swimming pool, beach, rambling, even a special high tea, but dinner is for those over six only.
his place is a real class act, offering fun for the family yet adult sophistication too. Comfy bedrooms can be put together to form a suite, bathrooms with thick towels, power showers and a sublime dinner with a daily changing set menu offering five choices per course.
---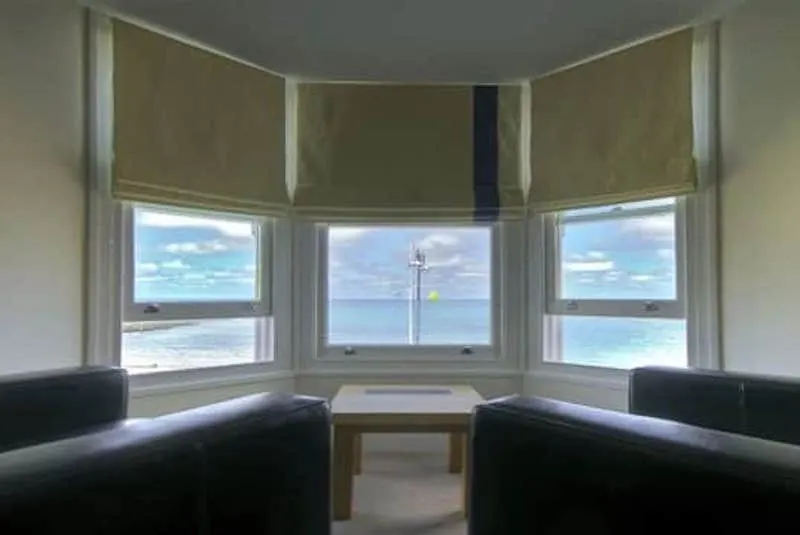 Note the name – Gwesty Cymru – simply translated from Welsh to English means "Welsh Hotel" and as such the name embodies what Gwesty Cymru stands for; Welsh heritage and identity.
Situated on the promenade in the elegant Victorian resort of Aberystwyth, this eight bedroom beautifully appointed boutique hotel is a showcase of everything Welsh from illuminated Welsh poetry on the walls to specially commissioned local oil paintings, handcrafted wood and slate furniture to Welsh lamb and larva bread on the menu.
Enjoy a visit to this ancient university town, take a walk along the prom, hear the seagulls squawk and the sea roar. Enjoy immersing yourself in Welsh culture at this modern hotel full of Welsh tradition.
---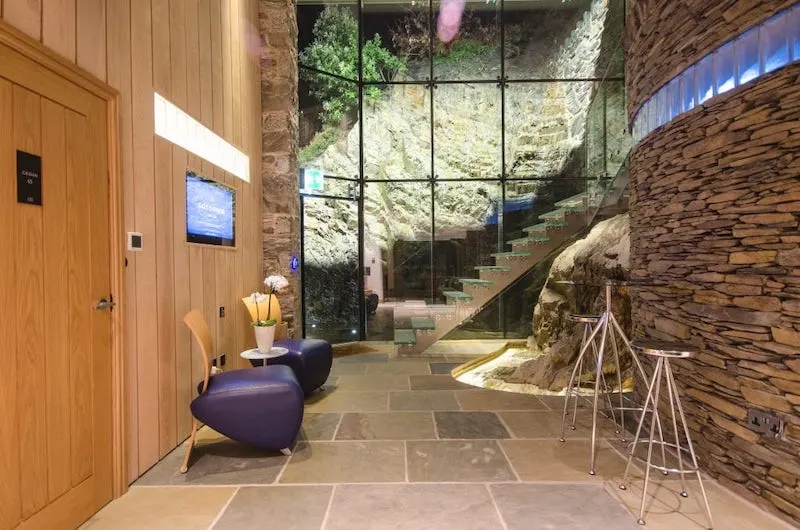 Coes Faen has the largest all-glass ceiling in Great Britain, a 30 acre private woodland garden that tumbles into the atrium, a cascading natural water feature, bespoke bedrooms, each with their own spa feature (some including one room with a private outside hot tub), terrific food served in a relaxed and comfortable atmosphere and it even facilities to bring your dog or horse.
Situated on the edge of Barmouth, with its Snowdonian backdrop, breathtaking views of Cardigan Bay, picturesque harbour and a golden carpet of a beach, this small hotel is somewhere you won't stop talking about.
Apart from its incredible architectural attributes and food, rooms have modern touches such as integrated sound systems, remote control curtains, underfloor heating, multi-setting lighting and a privacy button on the shower which turns the clear glass opaque!
---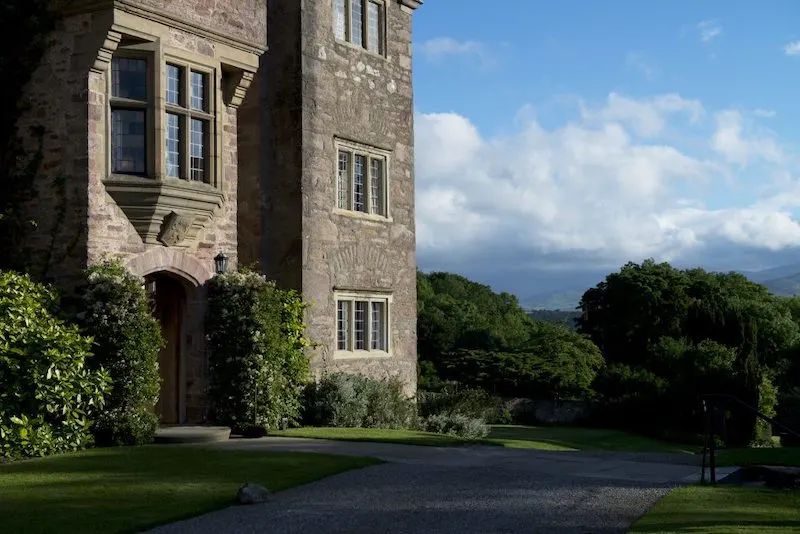 Believed to have begun life in the 13th century as a watchtower for Conwy Castle to ward off a surprise attack, this majestic National Trust owned hotel and spa is set in 200 acres of wooded parkland and has one of the finest arts and craft gardens in Wales, including a herb scented 17th century parterre (an ornamental hedged garden forming a pattern) – around which tours with the head gardener can be arranged.
Inside, history is stamped all over it with Coats of Arms of the families who have lived here proudly displayed in its ancient wood panelled Grand Hall, beautifully tiled fireplaces and higgledy piggledy corridors.
It is a grand and well staffed establishment with the added benefit of a spa with a 16 metre pool, a refined restaurant and comfortable bedrooms.
Pretty garden and woodland walks are right on the doorstep, but you're also just a couple of miles down the road from Llandudno, with its 19th-century pier, promenade and sandy beaches. Conwy, Britain's most intact walled town with the aforementioned Unesco listed medieval castle, also isn't far away.
---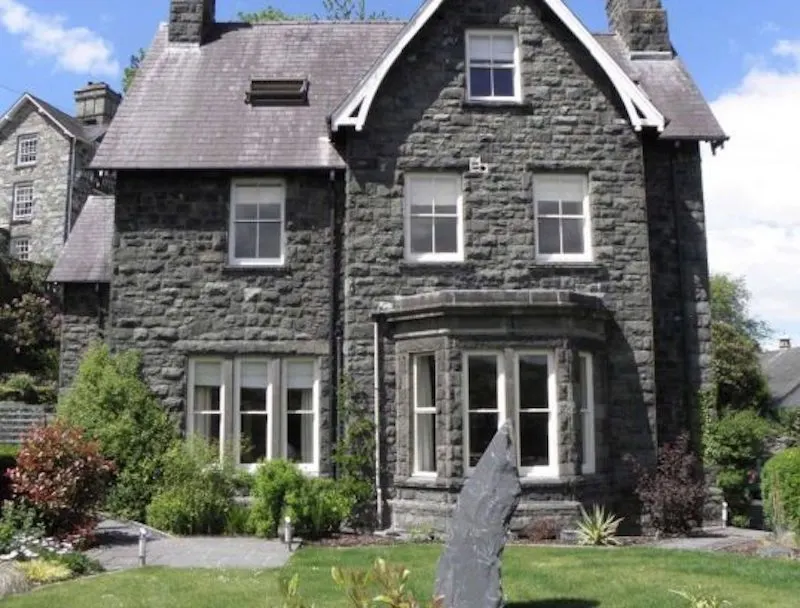 Just a bit eccentric but nevertheless stylish and elegant, this grand Victorian pile, situated at the foot of Cadair Idris in Snowdonia, has had an interesting history.
Now a romantic luxury boutique hotel, situated promisingly on Love Lane, one bedroom is all pink and another decked out like the set of Mikado.
In the past it's been a rectory, a First World War convalescent home for soldiers suffering from mustard gas poisoning, and a cottage hospital (the mortuary table is still there in the basement but now, obviously, put to a different use). There's a relaxing hot tub in the garden for residents (there's only six rooms) and fabulous food including a daily changing dinner menu of seasonal welsh dishes with a thoughtfully selected range of wines (five nights a week). It's a great place for exploring Snowdonia National Park and the sea's no distance either.
---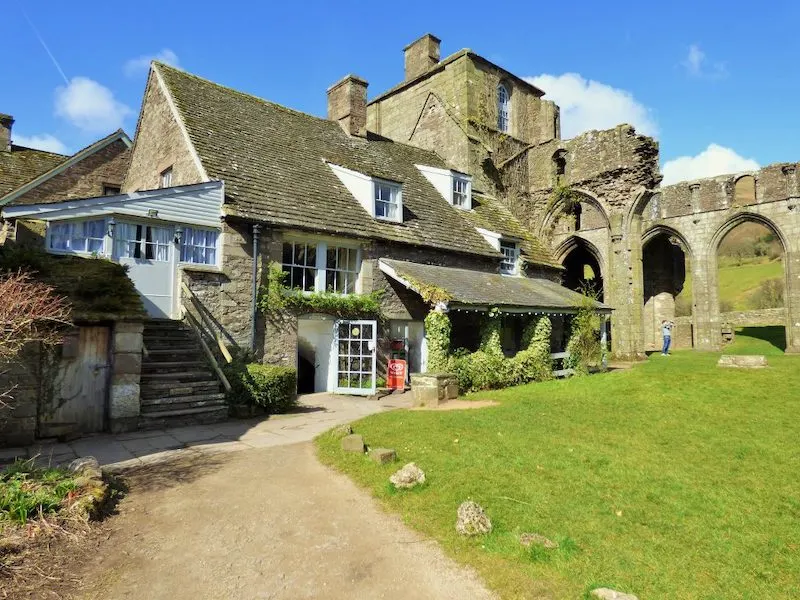 Minimal, not minimalist is a good way of describing the recently refurbished and tasteful rooms at Llanthony Priory Hotel, which were once occupied by Augustinian monks.
Going back to the 12th century and in the precincts of a ruined priory, this Grade I listed small hotel will delight ecclesiastical enthusiasts and anyone who feels the need to get away from it all, relax and unwind. There are no televisions, no mobile phone signal and no en-suites – just birdsong. It is a place to completely switch off from the rest of the world.
Simple but flavoursome food such as Brother James Pork – tenderloin simmered in apple, cider and cranberry is available in the former crypt, now a dining room with some excellent beer and wine.
The hotel is set in the foot of the Black Mountains so there's walks aplenty including to Offa's Dyke, pony trekking nearby and gothic ruins to explore.
---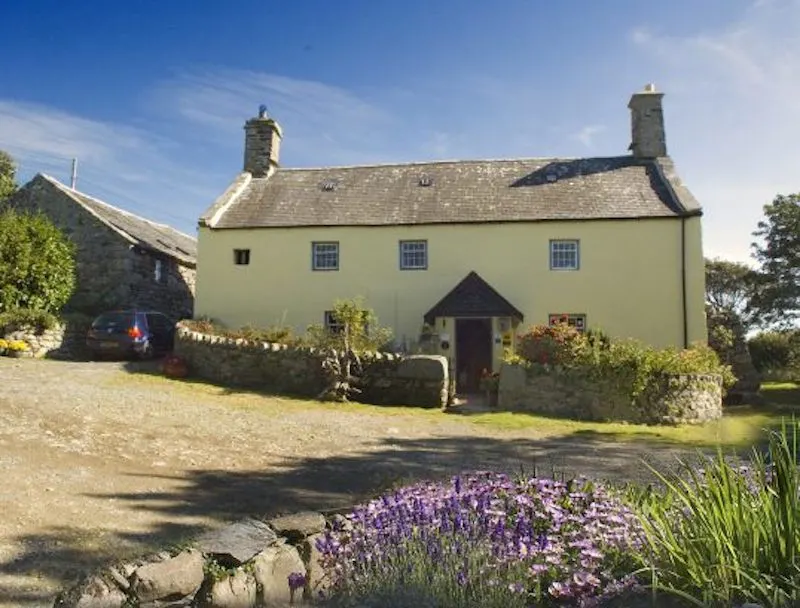 At the base of the Rhinog Mountains and overlooking Cardigan Bay and the Lleyn Peninsula, Llwyndu Farmhouse will surprise and delight you.
Dating back to 1581 owners Peter and Paula Thompson have made inventive use of the property's historical feature, incorporating such items as a former latrine turned into a walk-in wardrobe, a sink attached to a door and a spiral stone staircase. There are lovingly maintained inglenook fireplaces, mullion windows and exposed stone walls.
Wake up each morning to exceptional views and fall asleep to the sound of the waves from the nearby beach.
Take pleasure from the huge breakfast selection and optional but excellent evening meal cooked by Peter, who is a member of the Slow Food Movement.
There's a lot to see and do in the area – obviously the natural world beckons for walking, beach combing and paddling, but Barmouth, perhaps Wales' premier seaside resort, is just a couple of miles away and has plenty to keep everyone entertained.
---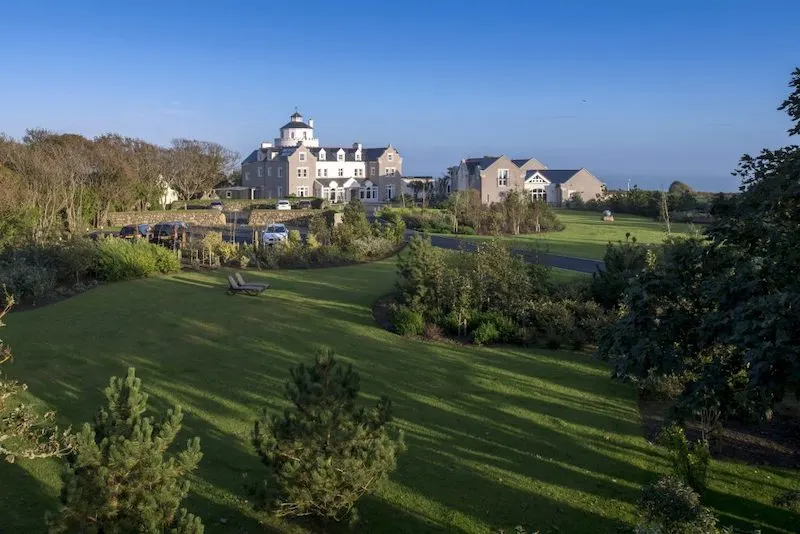 Centred upon a former Windmill built in 1806, Tyr Y Felin Hotel has had £7 million lavished on it by its Hong Kong based Welshman architect owner, turning it into "Wales' first contemporary art hotel".
Graffiti and street artists of note were invited to stay and paint taking the landscape of Pembrokeshire as their cue. The result, together with attention to detail bar none, is the creation of a modern masterpiece and is the winner of numerous awards.
The windmill suite is of particular note with its own observatory to take in the wonderful vista of St.Davids, Britain's smallest city, and the glorious peninsula as a whole.
No children under twelve and no dogs are allowed, but it's a treat for couples on a romantic break.
---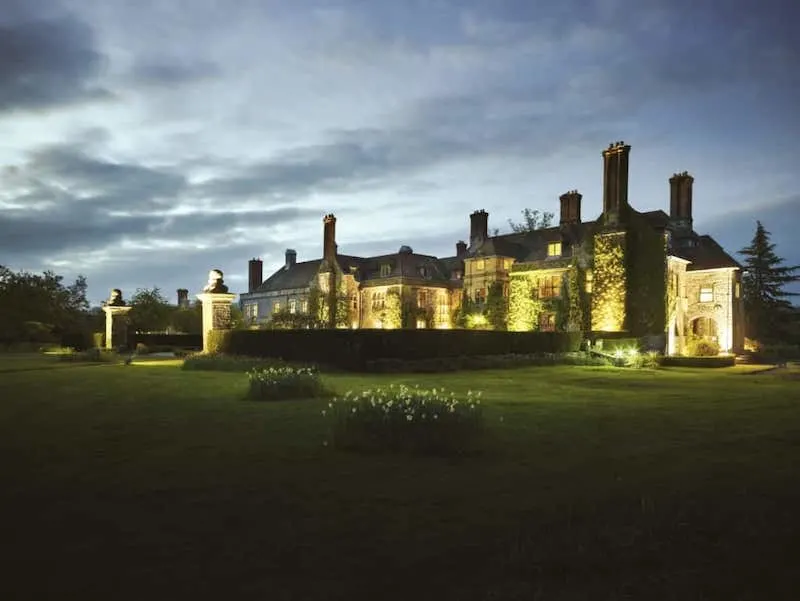 A country house hotel housing a collection of 20th century art courtesy of former owner Sir Bernard Ashley, Llangoed Hall is a Jacobean property and is, in a word, lovel.
The site is believed to have been the legendary White Palace, the home of the first Welsh parliament and came into the possession of the MacNamara family thanks to a lucky game of cards! An esteemed country house until 1987, it became a hotel in 1990 and today offers guests four poster beds, manicured gardens and a sense of grandeur in the beautiful Wye Valley. While you're here, enjoy the location tour the artwork collection which includes works by artists such as James McNeil Whistler, Herman Dudley Murphy and Augustus John, and tuck into superb local fare.
---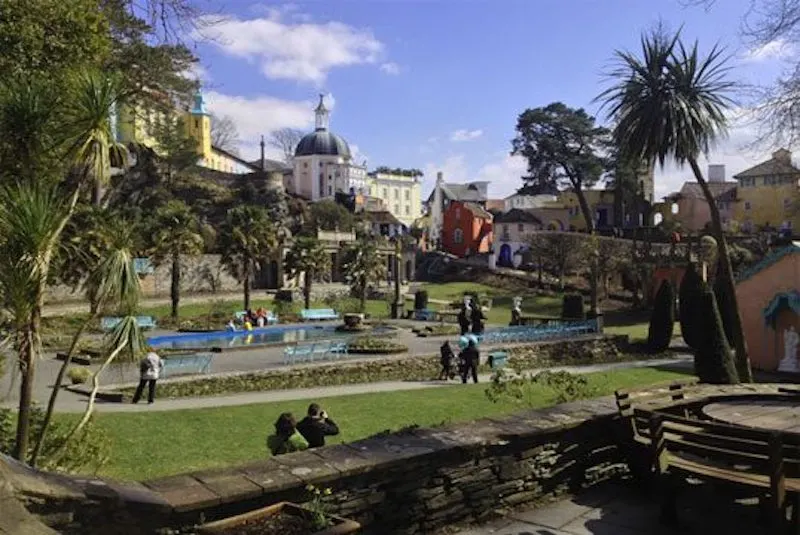 Hotel Portmeirion is the cornerstone of the architectural phenomena of Portmeirion Village, designed and created by Clough Williams-Ellis and inspired by the facades of Amalfi coast gem, Portofino.
Portmeirion is open to day tourists, but once they have left guests can roam the village undisturbed enjoying the spectacular tidal estuary, the beautiful gardens and the Italianate vibe previously enjoyed by such people as H G Wells, George Harrison and George Bernard Shaw.
The hotel is stately, sumptuous and grand with a spa and a lively and sophisticated dining room, but they also have unique rooms dotted around the village and self catering cottages included in their setup.
Porthmadog is just a couple of miles away, and also close by is the Blaunau Ffestiniog Railway.
So there you have it, some of the quirkiest hotels in Wales. Which would you like to stay at?