I'm not sure when it happened but did you know that the Lake District has become a real foodie destination? With gastro pubs aplenty as well as stylish cafes and fancy hotel restaurants, the Lake District has a lot to offer when it comes to foodie temptations. The Lake district is undeniably one of the most beautiful places in the UK and what's better than working up an appetite with a hike through the countryside and finishing at a traditional pub for a hearty local meal!?
In today's blog, Rebecca Sharp, the blogger behind Almost Ginger, is sharing her foodie guide to The Lake District with all the best thing to eat and where to find them!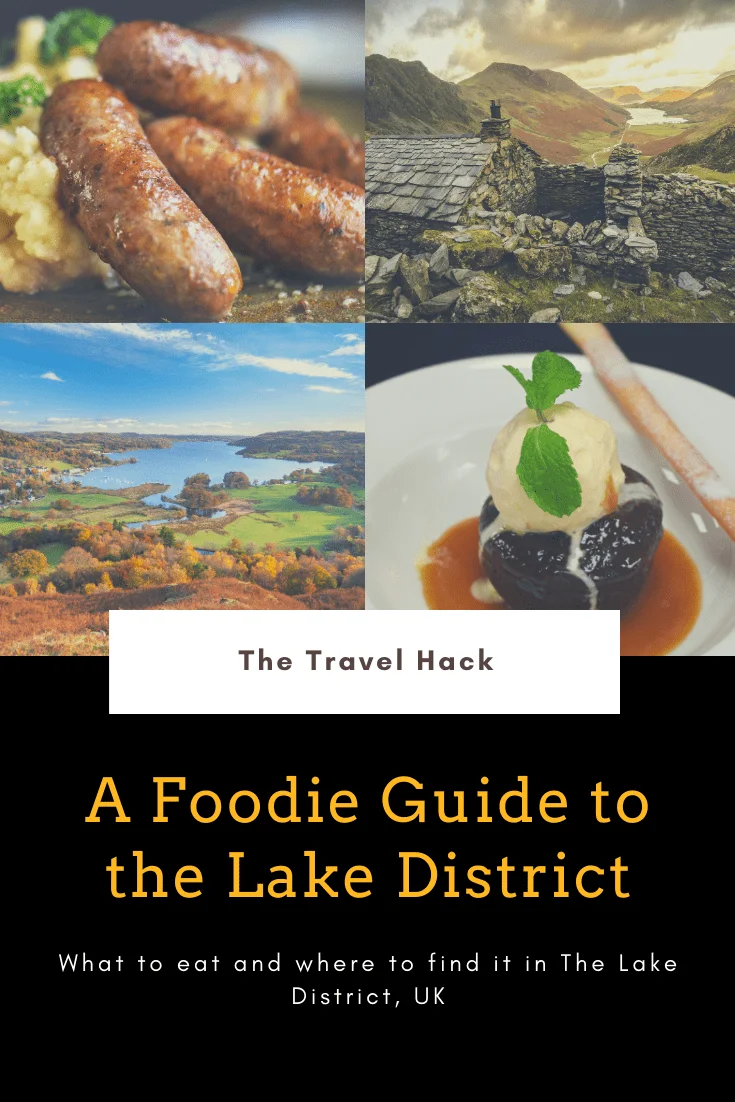 Traditional Lake District cuisine has to be experienced first hand to be appreciated. On the surface, sizable portions of meat and cake could be easily dismissed as standard English comfort food produced to help us survive our cold, wet weather. But it's rarer than you might think to find classic Lake District dishes outside of the county and it's the story (whether it's true or not quite true) behind every dish that makes Lake District food truly unique.
Let's check out the traditional food and drink in the Lake District and some of the best restaurants in the Lake District that serve authentic dishes.
What to eat in the Lake District
Cumberland Sausage
There isn't a more quintessential food to eat in the Lake District than the Cumberland sausage. It's the UK's only protected sausage recipe and can only be produced in Cumbria/the Lake District. Naturally, us locals are very proud of it (take that, Lincolnshire!)
Unlike most other sausages, the pork is chopped, not minced, and flavoured with spices like ginger, pepper and nutmeg. It's usually served on a bed of mashed potato and gravy. Nothing better to perk you up after a wet walk across the Lake District fells!
If you order Cumberland sausage from a restaurant and they throw a couple of butcher names at you, pick either. Locals sometimes take it too far and have an affinity for a certain butcher. But just be glad the restaurant cares about where they buy their sausages. Either Cumberland sausage will be delicious!
Where: The Hare and Hounds in Bowland Bridge and Hole in t' Wall in Bowness-on-Windermere are both great, but virtually any traditional pub will serve good Cumberland sausage. Head to RB Woodall if you want to take some home as they have a Royal Warrant.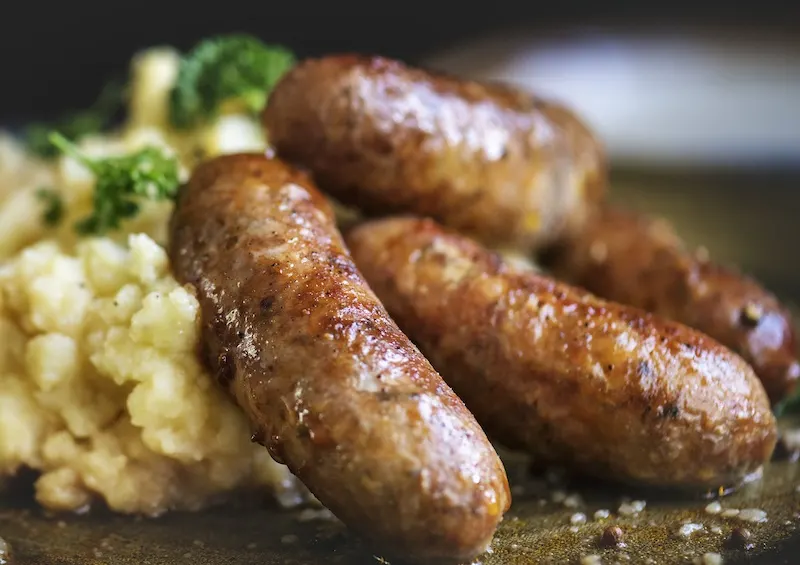 Herdwick Lamb
A slightly more obscure Lake District delicacy is Lamb Henry. It's debatable whether this dish originated in the Lake District or our neighbours in the Northeast, but we've adopted it as our own. Lamb Henry is essentially a lamb shank but made with the shoulder instead of the leg, marinaded and served with mint sauce. Authentic Lamb Henry is made from Herdwick lambs which are local only to the Lake District. The lambs are so robust, they can survive for up to three days buried in the snow by eating their own wool. I bet even Bear Grylls can't do that.
As you can probably tell, Lake District food is classic, hearty pub grub made from local ingredients with comfort and warmth in mind. It's not sophisticated but then neither are the locals (I say that as a local)!
Where to find the best Lamb Henry: The Cottage in the Wood in Braithwaite and Beresford's Restaurant and Pub in Bowness-on-Windermere
Hawkshead Relish
Hawkshead is a historic little village near Coniston in the Lake District and is home to the Hawkshead Relish Company. What started as a small, local business making artisanal preserves and chutneys has boomed into a huge business with stock in supermarkets up and down the country.
They still run their original little shop and production in the village of Hawkshead in a 16th Century converted barn. Hawkshead Relish produces over 120 chutneys, preserves and relishes but several are still traditional Lake District flavours including Damson jam, Sticky Toffee sauce and Westmorland chutney.
Where: Hawkshead Relish Company in Hawkshead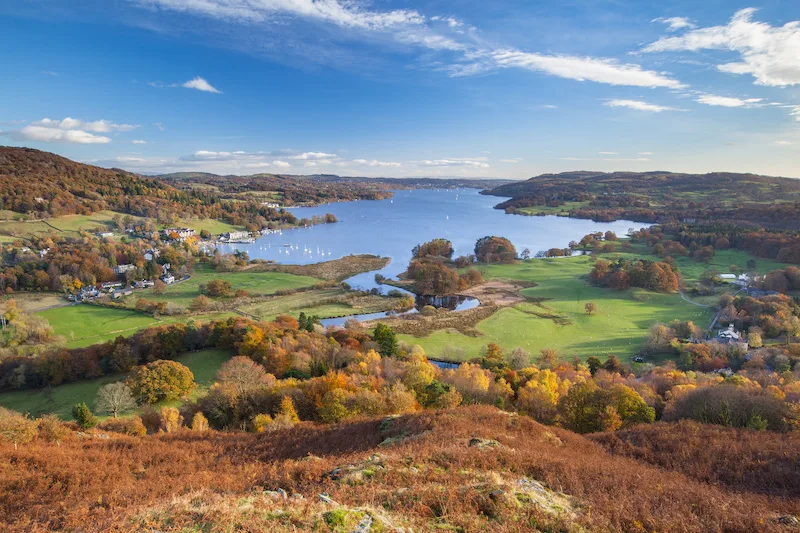 Damsons
Speaking of damson, the small plum is a native Lake District fruit (specifically, the Lyth Valley) and is used in cheese, jam, wine and more importantly gin. Damson isn't a very common fruit in the UK because it needs a really specific micro-climate to thrive including lots of wet, mild weather which the Lake District is known for providing in spades.
Sadly, the intensely-flavoured fruit is in danger of dying out in the UK. The demand for the traditional plum is decreasing so farmers are no longer replanting the damson trees. Festivals like Damson Day in the Lake District are hoping to revive a love of damsons. So, if you could say that by sampling as much damson gin as possible (responsibly, of course) then you're contributing to a much-needed damson fruit comeback. Win-win!
Where: The Lakes Distillery in Bassenthwaite and the Damson Day Festival in the Lyth Valley held every April
Kendal Mint Cake
Kendal mint cake is one of the most well-loved Lake District snacks which might seem odd when you find out what it is. It's literally a chocolate-bar sized block of sugar (with glucose syrup and water to hold all the sugar together) flavoured with peppermint. It's known as the 'oldest energy bar' as it was developed over 100 years ago to give hikers a boost of calories and carbs to help them through a long day fell walking.
Romney's Kendal mint cake shot to fame in 1953 when Sir Edmund Hillary summited Everest and packed 38Ilbs of Kendal mint cake for the expedition. Nowadays, it's a piece of local history that visitors can purchase in any gift shop for under £1.
Where: Any gift shop in the Lake District like Made in Cumbria in Kendal or Huttons of the Lake District in Bowness-on-Windermere.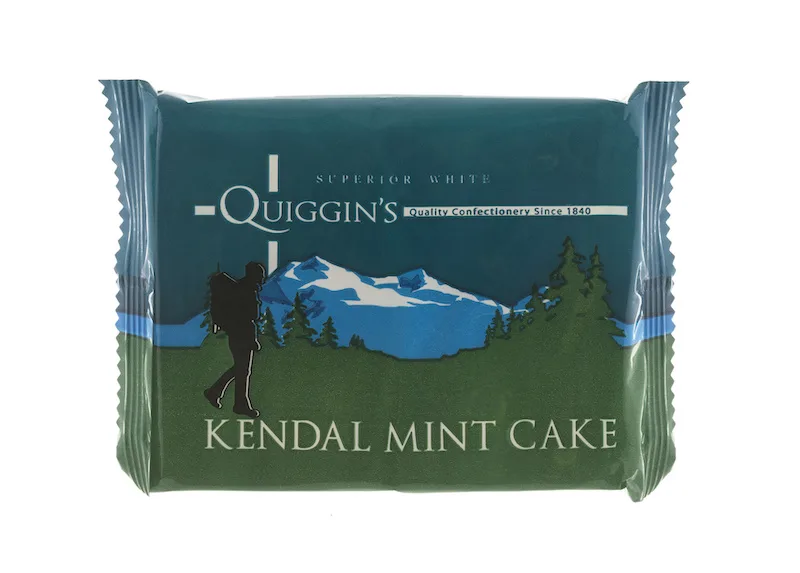 Sticky Toffee Pudding
The sausages are nice and everything but the best food in the Lake District has to be the sweets. Everyone needs to try sticky toffee pudding in the Lake District! As with all great dishes, there has been lots of debate over who invented this beautifully indulgent desert in the 1970s. Sharrow Bay Restaurant in Ullswater, one of the best restaurants in the Lake District, claims one of their chefs was inspired by a Canadian RAF Pilot's liberal use of maple syrup on his desert. Toffee sauce was used as a substitute to drizzle over figgy sponge and the famous dessert was born.
Regardless of who created the pudding, the South Lakes town of Cartmel is the place best associated with the desert and the best village in the Lake District to taste it for the first time. Try it with cream, ice cream or custard – it's always delicious!
Where: Cartmel Village Shop in Cartmel and Sharrow Bay Hotel Restaurant in Ullswater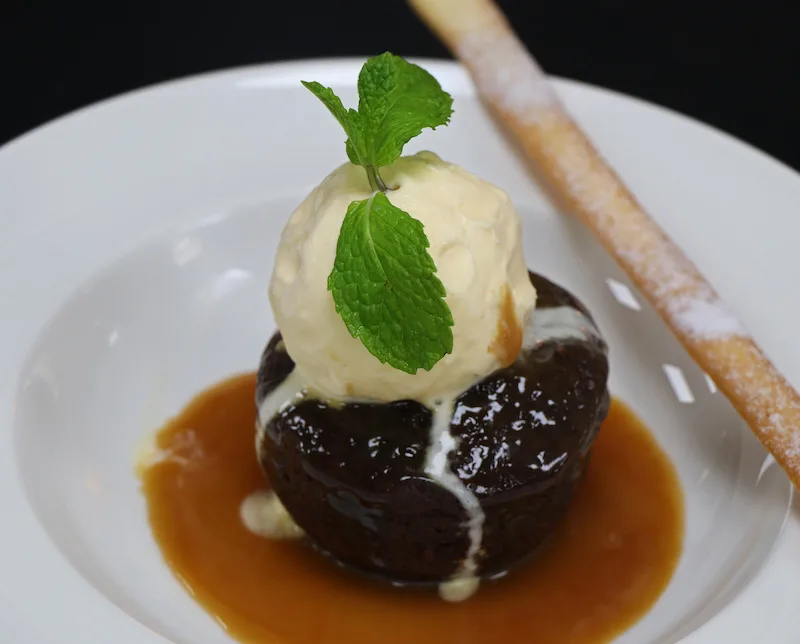 Gingerbread
Gingerbread was definitely not invented in the Lake District, unfortunately. But a special kind of gingerbread is exclusively baked in Grasmere and it's a cross between the gingerbread cake and gingerbread biscuit we all know and love. Cake and biscuit should be mixed together more often, I think.
Sarah Nelson is credited with inventing the Grasmere gingerbread during the Victorian years in 1854. Its popularity grew quite simply because people tried it, loved it and told all their friends about it. Sarah Nelson's home is now the Grasmere Gingerbread Shop and they still bake her gingerbread every day (to her secret recipe) along with other local sweet treats like rum butter.
Where: The Grasmere Gingerbread Shop in Grasmere
Non-traditional things to eat in the Lake District
Fish and chips
Sometimes, you just want a plate (or takeaway box) of good old fish and chips, especially on a trip to the Lake District. Whilst Whitby and the east coast is more synonymous with this traditional dish, there are plenty of top-notch chippies in the Lakes.
Where: Angel Lane Chippie in Penrith and Old Keswickian in Keswick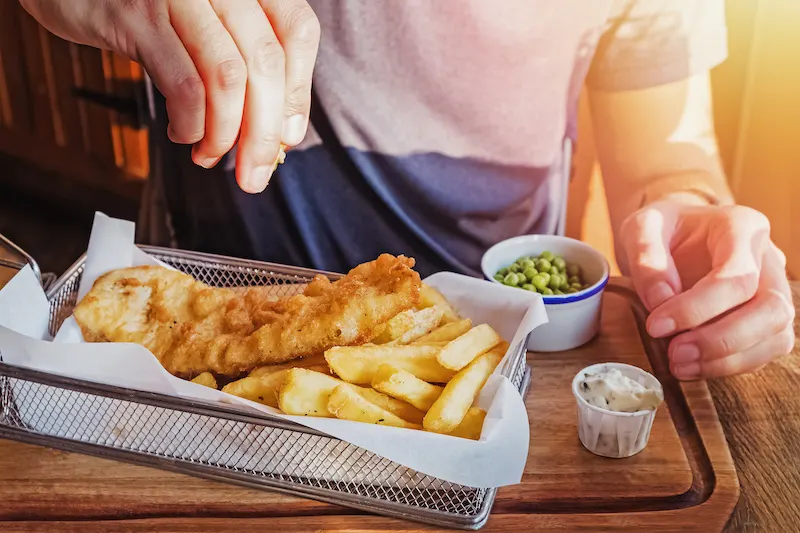 Bakeries
Perfect for lunch, some of the best restaurants in the Lake District are actually cafes and bakeries. The Bluebird Café in Coniston has spectacular views over Coniston Water and serves Cumberland sausage buns and homemade cakes. Broughton Village Bakery has won heaps of awards, including Best Bakery in the Northwest and is the ideal café to visit if you're craving some delicious scones.
Where: The Hazelmere Cafe & Bakery in Grange-Over-Sands, Broughton Village Bakery & Cafe in Broughton-in-Furness and Bluebird Café in Coniston
Asian Cuisine
Similar to the Lake District's history with rum and spices, Asian food found its way to the English Lakes via sea. Nowadays, everywhere in the UK boasts amazing Asian restaurants but there is a staggering amount in the Lake District. The best restaurants in the Lake District for Asian food include The Jumble Room in Grasmere. Their menu (like their décor) is all over the map serving Persian lamb rump (from local lambs), Malaysian seafood curry and Palawan stir fry.
Where: The Jumble Room in Grasmere and Doi Intanon Thai Restaurant in Ambleside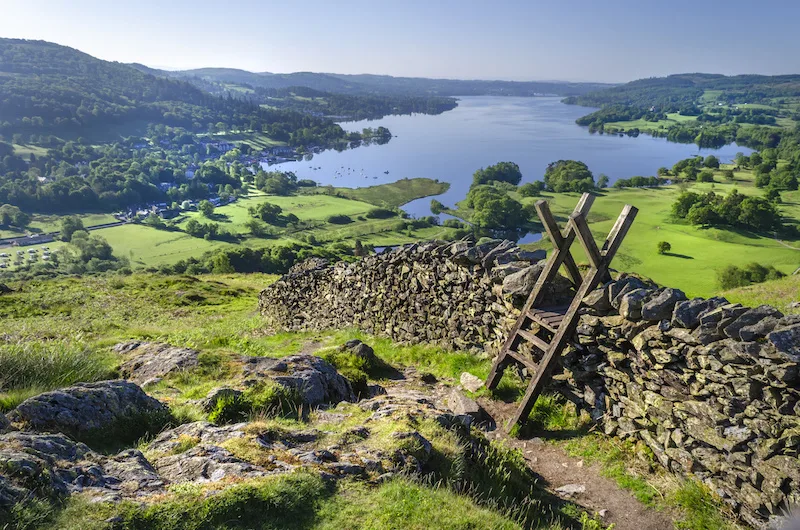 What to drink in the Lake District
Hawkshead Brewery
I have to admit, the beer and ale options in most pubs and restaurants in the Lake District leave a lot to be desired. While city bars are revelling in the craft beer boom, countryside pubs are propping up the mass-produced breweries like Thwaites and Robinsons.
But there is one shining light in a sea of average golden ales: Hawkshead Brewery. They outgrew their small barn in Hawkshead and today have a huge, working brewery which is open for tours every day. They also have a large taproom and their restaurant, The Beer Hall, serves gastronomic delights like mini burgers, BBQ ribs and beer-battered fish. Out of around 40 Lake District breweries, theirs is the most widely available craft beer in the Lake District and the Hawkshead Bitter is probably the most well-loved.
Where: Hawkshead Brewery in Staveley, Kendal
Coniston Brewing Co
Second to Hawkshead Brewery has to be Coniston Brewery Company. Similar to Hawkshead, the most popular ale in the Lake District is bitter and their Bluebird Bitter has won award after award. Bitter is a bit old school for most people's craft beer tastes today but if you're in the area it's worth ordering half a pint for a taste.
Founded by the owners of the Black Bull Inn in Coniston (the brewery is just around the back) you won't find a better Lake District pub for traditional ale and craft beer.
Where: Black Bull Inn and Hotel in Coniston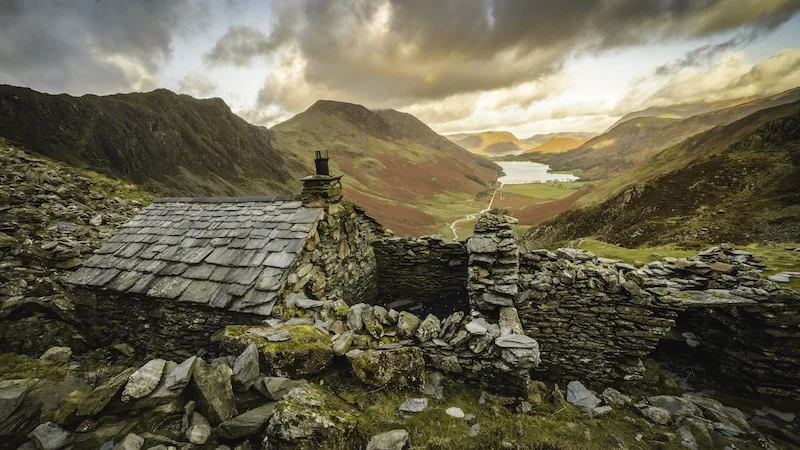 Lakes Distillery
I've saved the best until last. The Lakes Distillery began exclusively distilling whiskey, but with flavoured gin becoming extremely popular, they branched out to gin and vodka too and their bottles are sold all over the Lake District. Yes, they even sell damson gin so you know where to buy it!
Their distillery in Bassenthwaite is surrounded by breathtakingly beautiful scenery and they offer a range of tours depending on your chosen tipple. There is also a shop and a Bistro at the Distillery too serving afternoon tea so it's a fantastic place to spend a day out. Not a bad place to plan a girls weekend either!
Where: The Lakes Distillery in Bassenthwaite
Have you visited and tasted all the traditional food to eat in the Lake District? Which Lake District restaurants would you visit first?