Last week I took one of the best 'challenges' I think I've ever been set as a travel blogger. I was challenged to take a 2-day trip to London to make the most of the city as part of GTR's Hello Spring activity to get more people travelling on trains. They're offering 2FOR1 on over 150 attractions when you travel by train – making it more affordable to see all those touristy attractions that usually blow your budget.
I thought about it for a fraction of a second before jumping at the challenge.
I love London – possibly more than any other city in the world – but I usually visit for meetings, conferences, blogger events and quick catch ups with friends. It's been years since I've visited as a tourist and done all that fun but cheesy tourist stuff. I combined my challenge with some of London's main sights and a few less well-known attractions too.
Here's what I got up to and what I think is a perfect itinerary for a short trip to London.
---
London is one of those cities that comes to life as soon as the sun shines. It magically transforms from a dull, grey and unwelcoming city into what I would arguably name The Best City in the World. Yes, it's that good when the sun comes out!
Those bright blue skies and dazzling rays transform the buildings from concrete blocks into works of art. Grand and historical buildings mingle perfectly with the sleek and modern while the city's green spaces bloom with flowers. It's not just the city that appears more beautiful in the sunshine, the locals do too. As the coats come off the smiles come out and everyone's busy pace slows down. We remember to look around and appreciate the architecture and remind ourselves of how lucky we are to be in London.
I can say this from the point of view of someone who used to live in London. I didn't live there long enough to call myself a 'Londoner' – but it was long enough to get a real feel for the city and not feel like a visitor when I return. And being an outsider definitely makes me love London even more.
Arriving at The Gore Hotel
I arrived mid-morning and headed straight to my hotel, The Gore Hotel near Hyde Park. I went straight there partly to drop off my bag but mostly because I'd seen this place online and it looked incredible.
The Gore Hotel is luxuriously elegant. There's a friendly charm and a welcoming atmosphere that feels homey – just not the kind of home I'm ever likely to live in. The décor makes you want to don a ball gown and sip sophisticated looking cocktails with gloved hands. Unfortunately I didn't pack a ball gown so my Primark dress had to do.
I was pleased to discover I'd been upgraded to a suite with a delightfully tall bed that looked fit for a Disney princess. I felt right at home with those turquoise walls, gold décor, plush velvet curtains, a chaise lounge that just begged you to drape yourself across it (which of course I did) and an enormous bathtub.
[column size=one_half position=first ]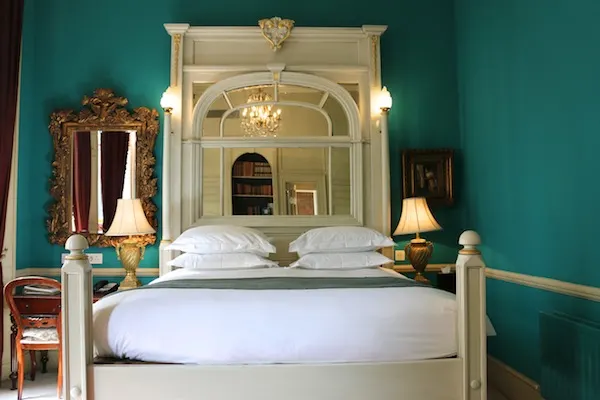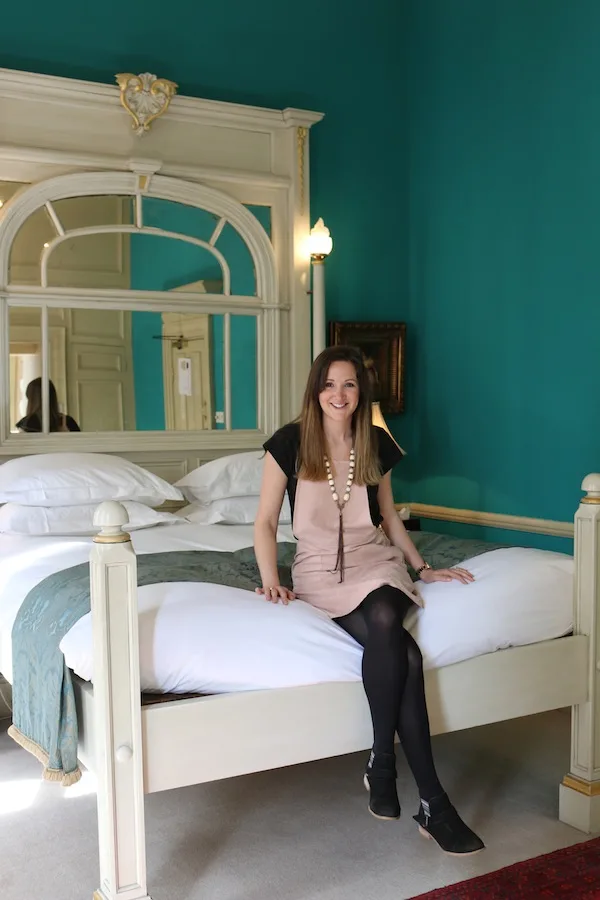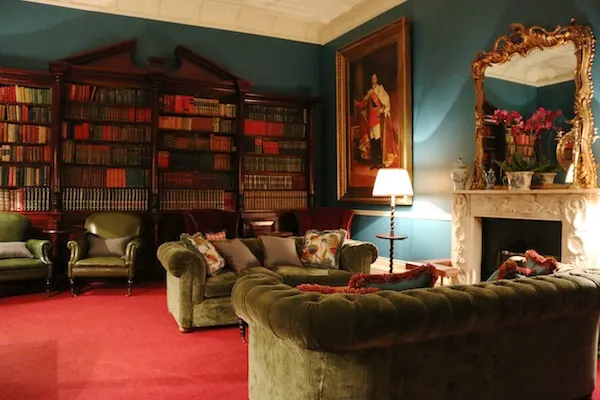 [/column][column size=one_half position=last ]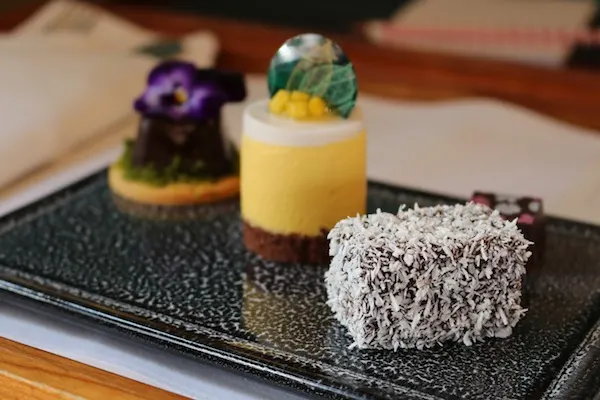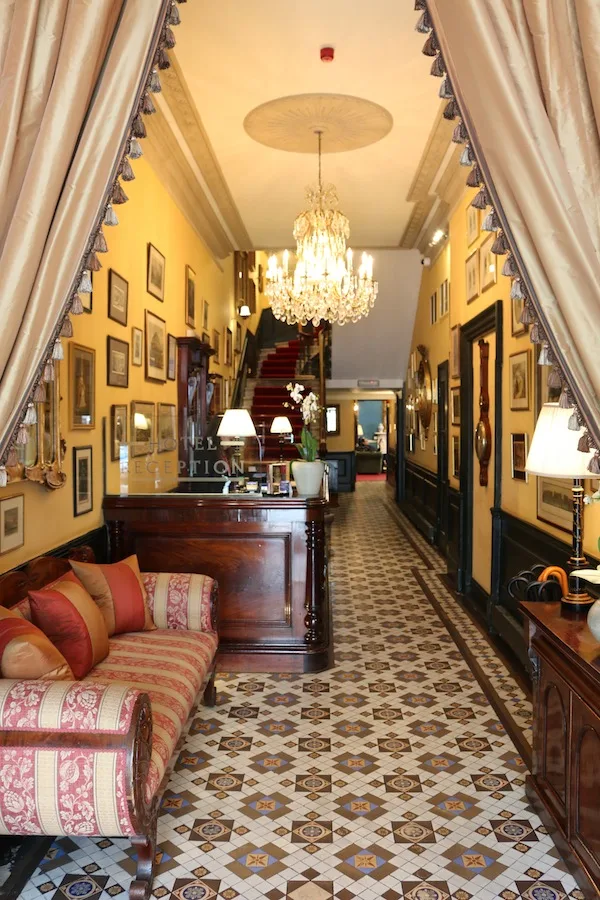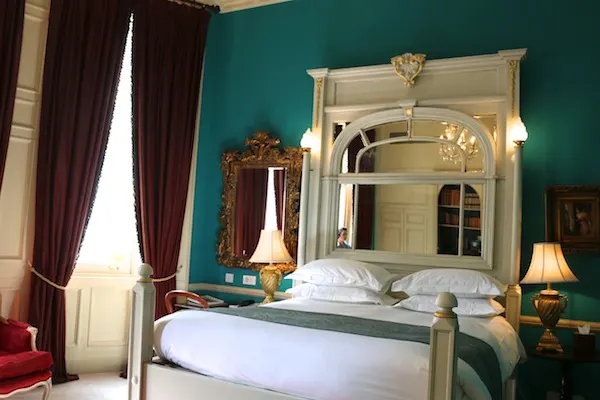 [/column]
Hyde Park + Cocktails at The Roof Gardens
Elle Croft – my fellow Travel Hack Team member and blogger over at A Bird in the Hand – met me at the hotel and we headed to Hyde Park to enjoy the sunshine. I loved seeing the park full of people picnicking, sunbathing, playing, reading and jogging. Or – if you were Elle and I – taking photos under the cherry blossom trees. The blossom comes and goes so quickly so I love the years I manage to make the most of it.
Something about that London sunshine makes you work up a thirst so we made our way to Kensington Roof Gardens.
Kensington Roof Gardens, officially named The Roof Gardens and Babylon, are just a short walk from the park and one of the best places in London to enjoy a cocktail on a sunny day. Located on the 7th floor, the bar offers incredible views over London and the feeling you're in on a hidden secret. This place is no hidden gem but you can't help but feel smug when you think of people drinking beers at street level with the London fumes in their faces while you're up in the clouds.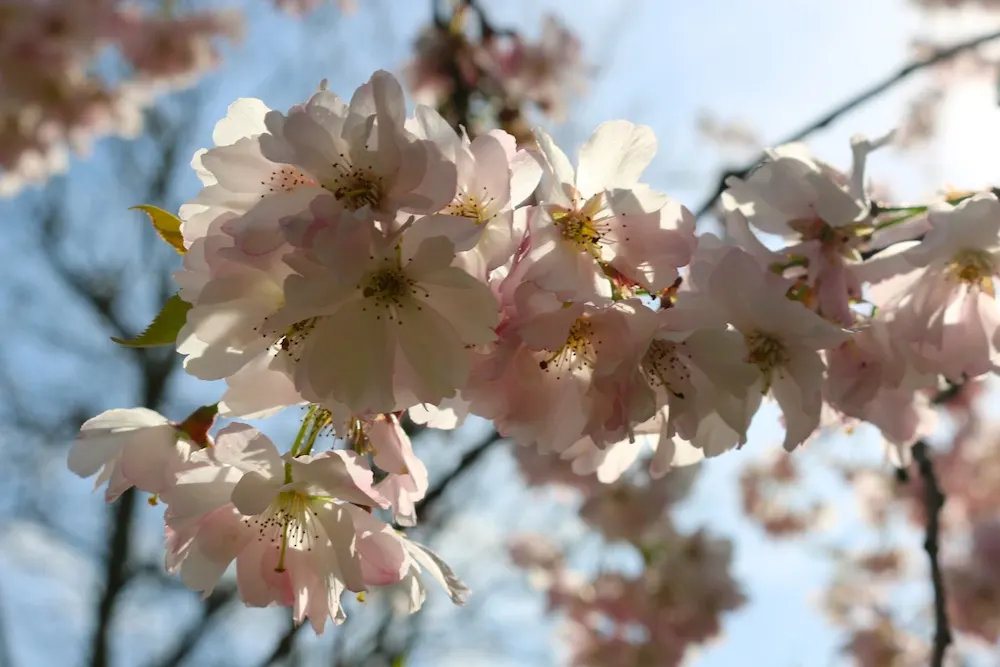 [column size=one_half position=first ]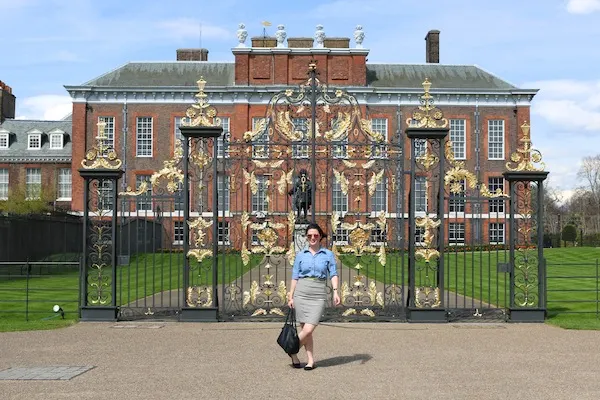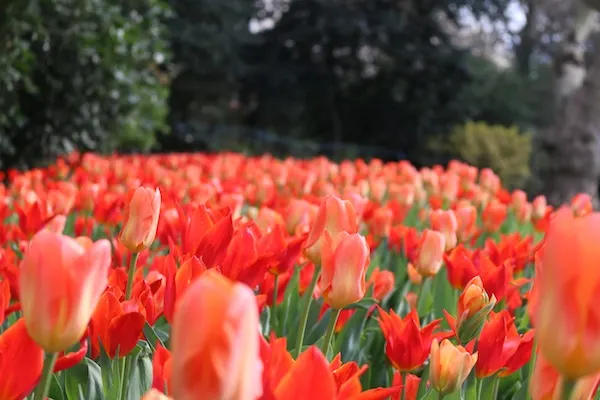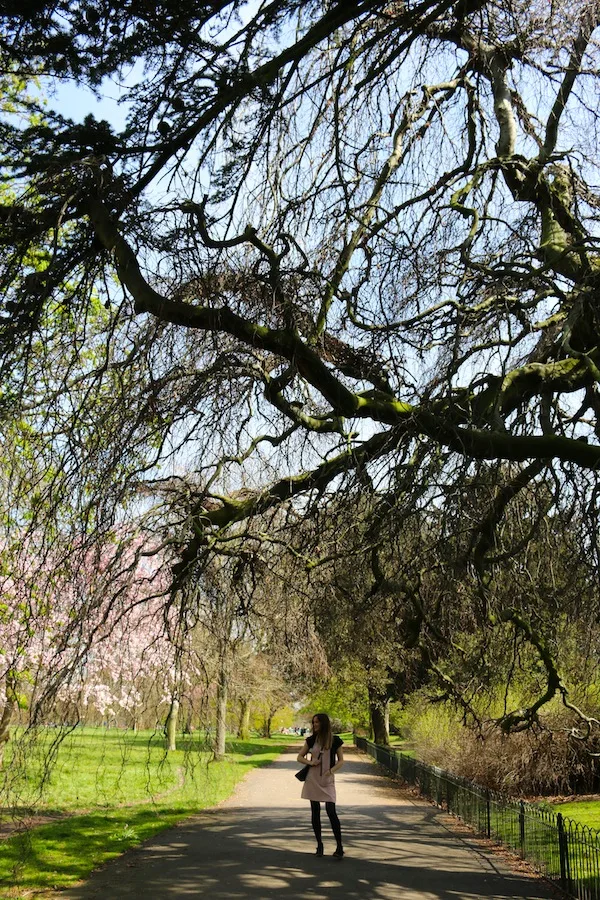 [/column][column size=one_half position=last ]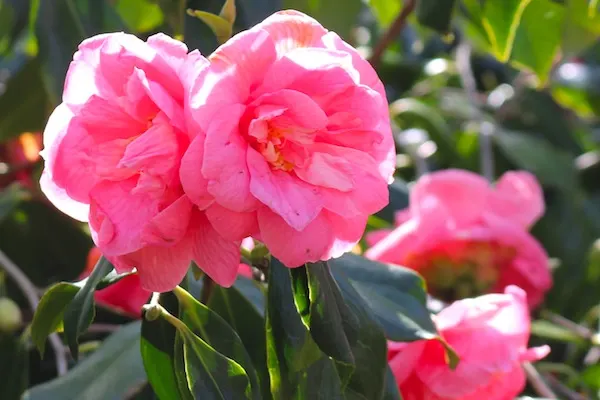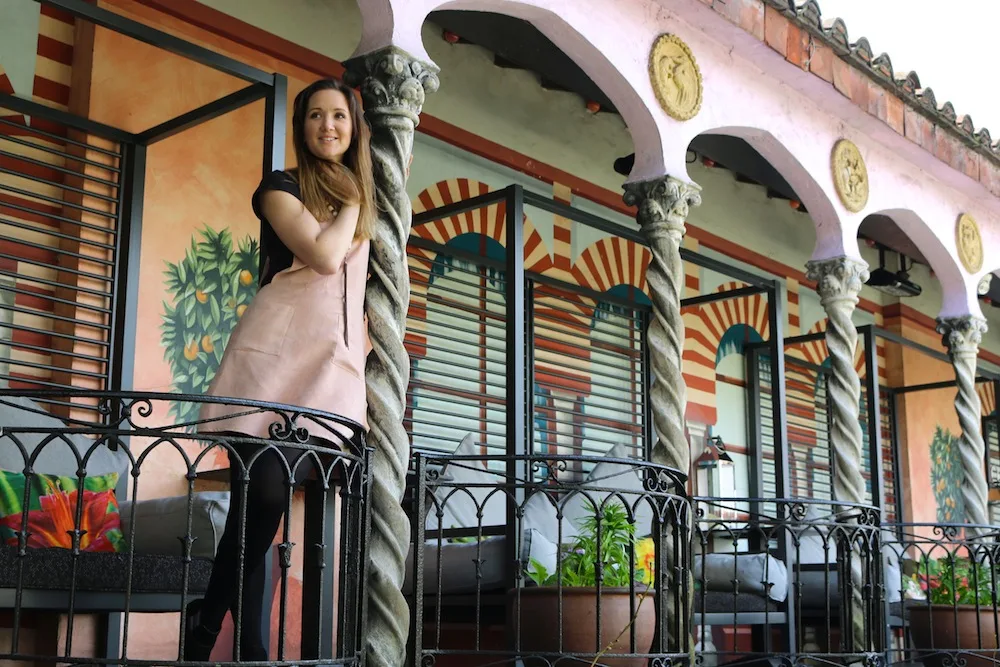 [column size=one_half position=first ]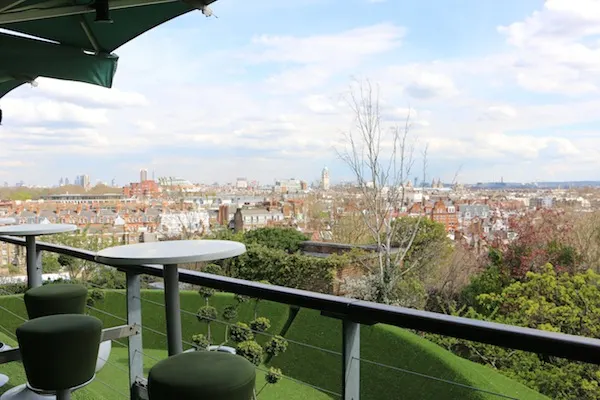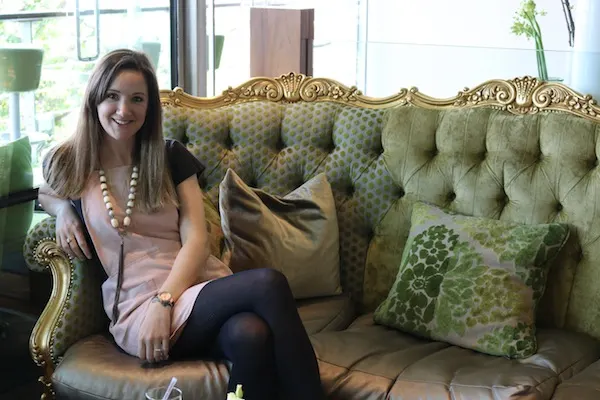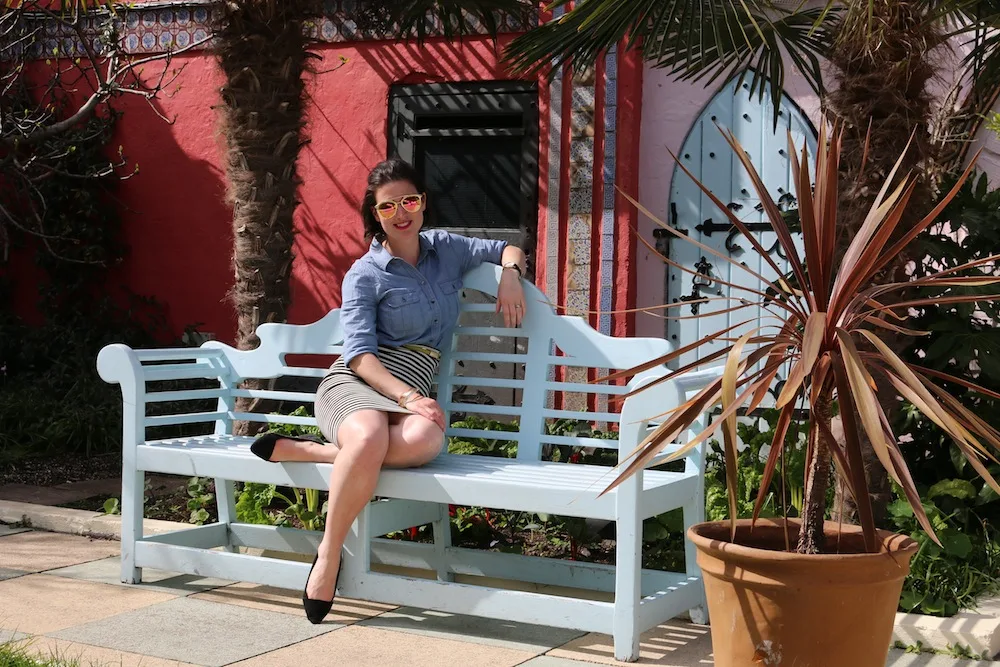 [/column]
[column size=one_half position=last ]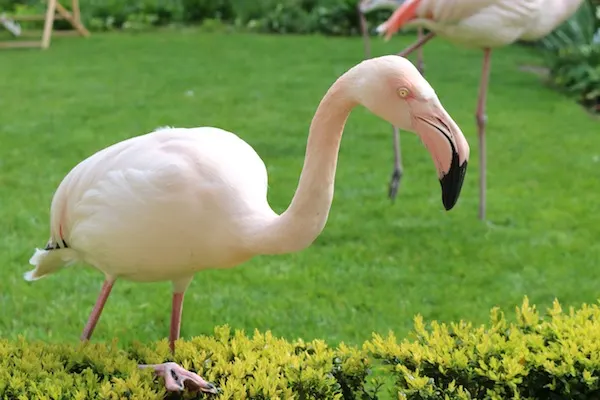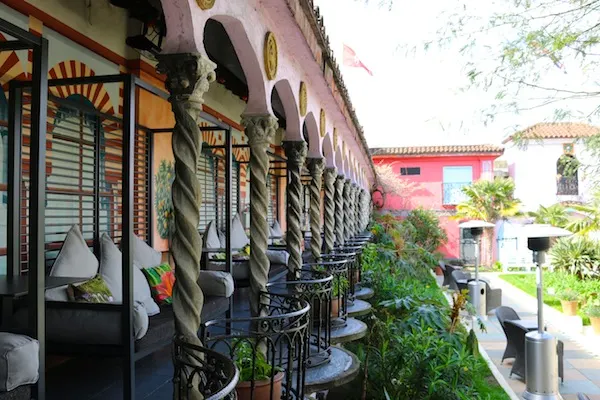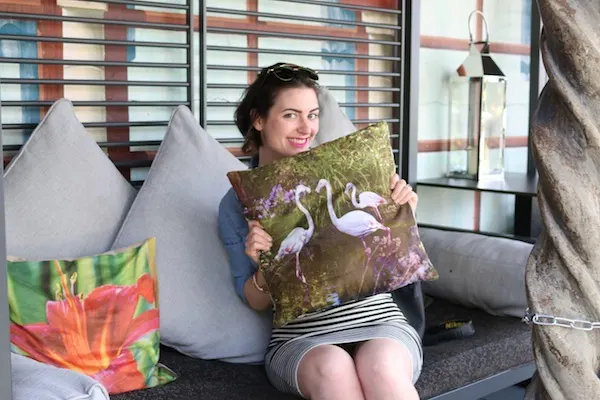 [/column]
Death by Chocolate Afternoon tea
After exploring the gardens we jumped straight in an Uber to the Hilton on Park Lane. It was a 10 minute journey across town but I'd heard such great things about their Death by Chocolate afternoon tea that it was well worth it.
We hungrily tucked into cucumber sandwiches as well as prawn, egg and one that tasted a lot like a pizza.
It was a pleasant change to have decent sized sarnies in an afternoon tea rather than finger sandwiches to nibble on. The next round was warm scones served with chocolate spread or your classic cream and strawberry jam. We took a quick tea break before tucking into the final round of sumptuous miniature cakes – why do cakes seem so much nicer when they're tiny? When we thought we couldn't squeeze another sweet treat in we realised our cakes had been sat on a slab of white chocolate – the final touch to kill us off.
Note: The actual food in the Death By Chocolate afternoon tea at the Hilton on Park Lane was delicious and great value, particularly if you get the 2 for 1 offer with makes it £36.00 for two people. But Podium, the restaurant within the hotel, didn't wow me and lacked any kind of atmosphere. Ask for a window seat and give yourself a few hours as the teapots are bottomless and the staff are happy to replenish your sandwiches and cakes.
[column size=one_half position=first ]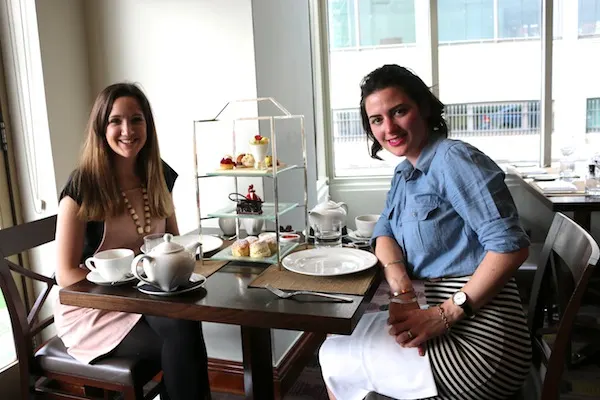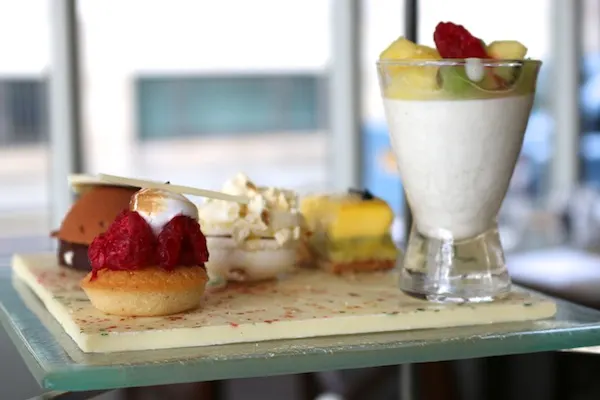 [/column]
[column size=one_half position=last ]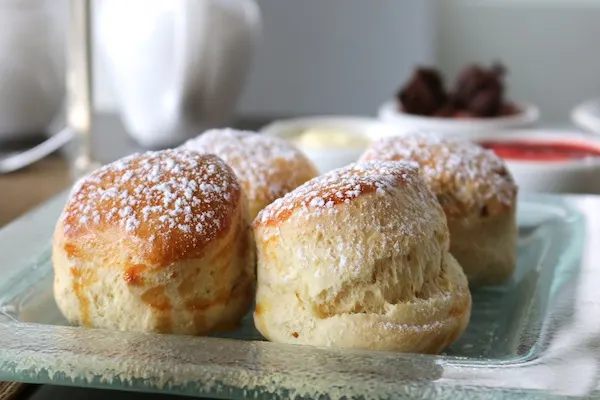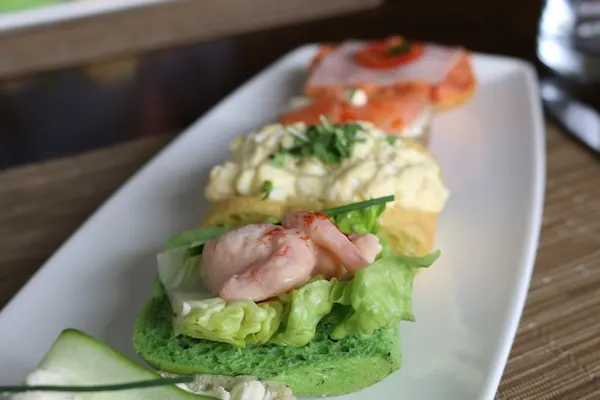 [/column]
ClueQuest Escape Room
We managed to survive Death by Chocolate but now it was time for another challenge – ClueQuest escape room.
I have a separate post coming about this soon and I don't want to give anything away but I will tell you it's so much fun. Escape rooms are a growing trend and Elle and I had already tried one in Budapest so we knew what we were getting ourselves in for. You're usually locked in a room and have to solve clues to escape. ClueQuest is slightly different as you're not trying to escape but rather trying to save the world. Keep your eyes peeled for the post for more info!
After a quick stop at Byron Burger (best burgers EVER btw) I headed back to my hotel to enjoy my luxurious suite. Before bed I set my alarm for 4.30am and shuddered at the thought of getting up so early. This had better be worth it! I'd booked breakfast for Elle and I at Duck and Waffle, the highest restaurant in the UK located on the 40th floor. The restaurant is also open 24/7 and we'd decided to go at sunrise and enjoy breakfast in the clouds.
Breakfast in the clouds at Duck and Waffle
I made my way to the tube at 5.15am and was surprised to find London is a lovely place at that time. The smell of fresh bread wafted from the bakeries and coffee shops and people greeted me warmly at the tube station. I felt like I was part of an Early Morning Club I'd never been invited to before. It was full of those happy, optimistic 'morning people' who usually irritated me in the morning but today I was joining them. Maybe I'm getting old.
I emerged from the tube to the first rays of morning light and went to meet Lauren at Duck and Waffle. We took the lift up to the 40th floor and 'ooooh'd' as the view got better and better while we climbed into the clouds. Within minutes of sitting down the sky was changing from a dusty grey into a magnificent orange to a light pink and then finally into clear daylight. Just watching the city come to life and the spectacular change in the sky made that 4.30am wake up worth it.
The staff were all perky and I could see why. Working in the sky and getting that view all day would definitely put a smile on my face!
Elle ordered the Duck and Waffle – literally a duck's leg served with a waffle, a fried egg and syrup. She assured me that it sounded weird but is actually delicious. I had the Ox Cheek Benedict served on a waffle which was a deliciously unusual take on eggs benedict.
While we were there a guy sat behind us proposed to his girlfriend. It was such a romantic setting as they sipped champagne overlooking the city. If guys are reading this and you're looking for a proposal destination in London, try Duck and Waffle at sunrise – it was perfect!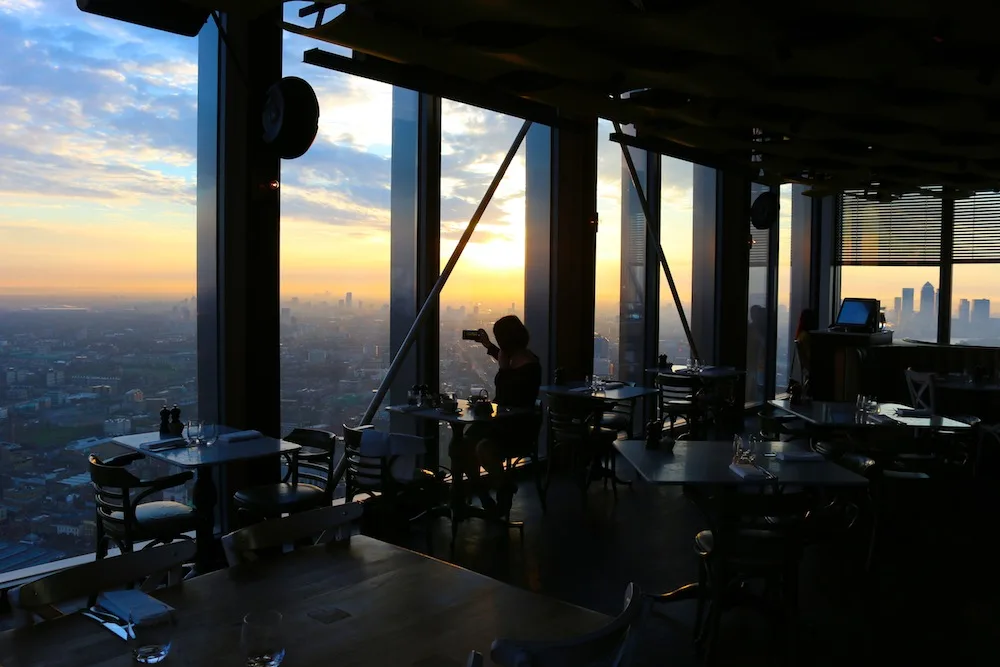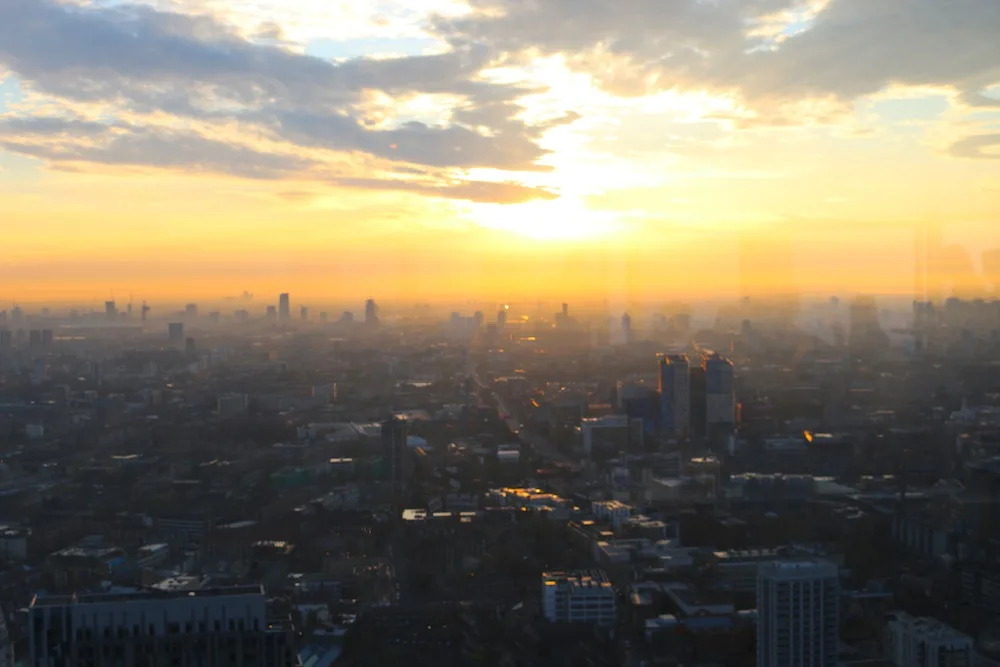 [column size=one_half position=first ]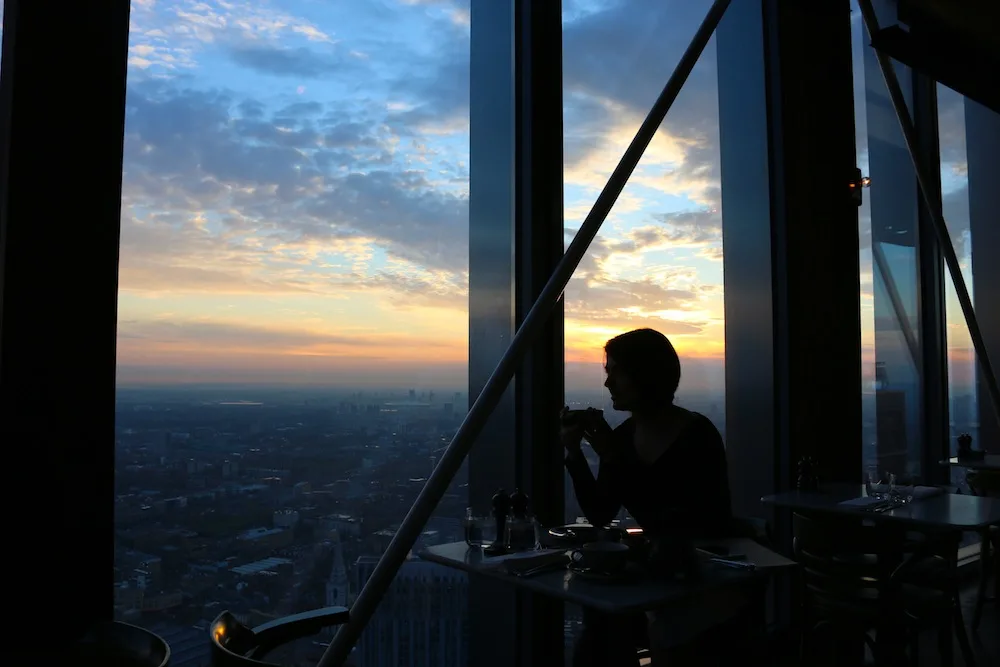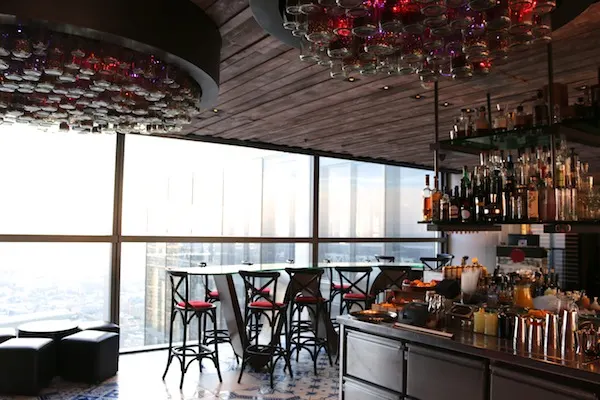 [column size=one_half position=last ]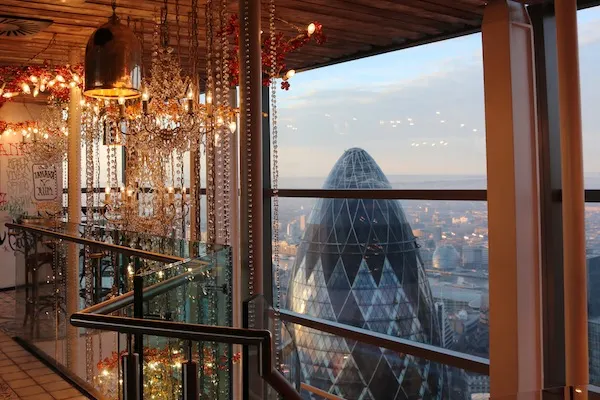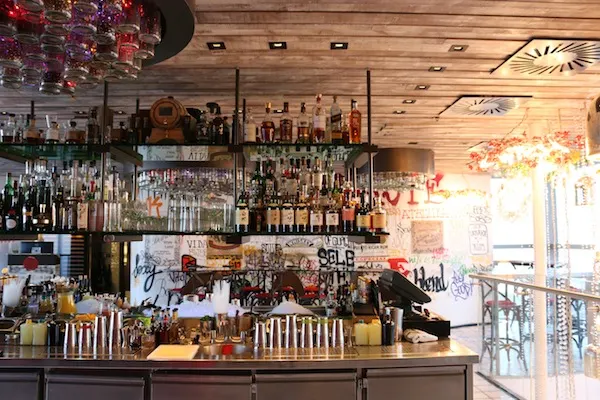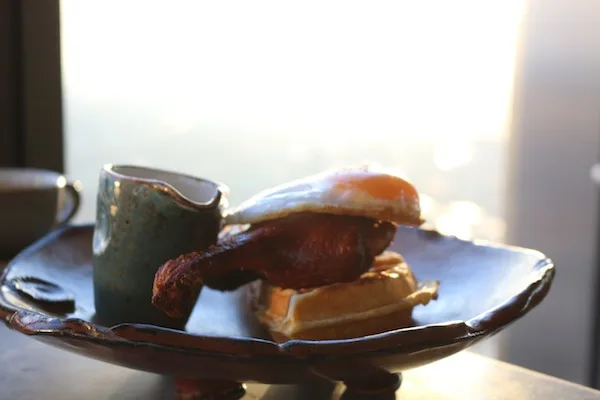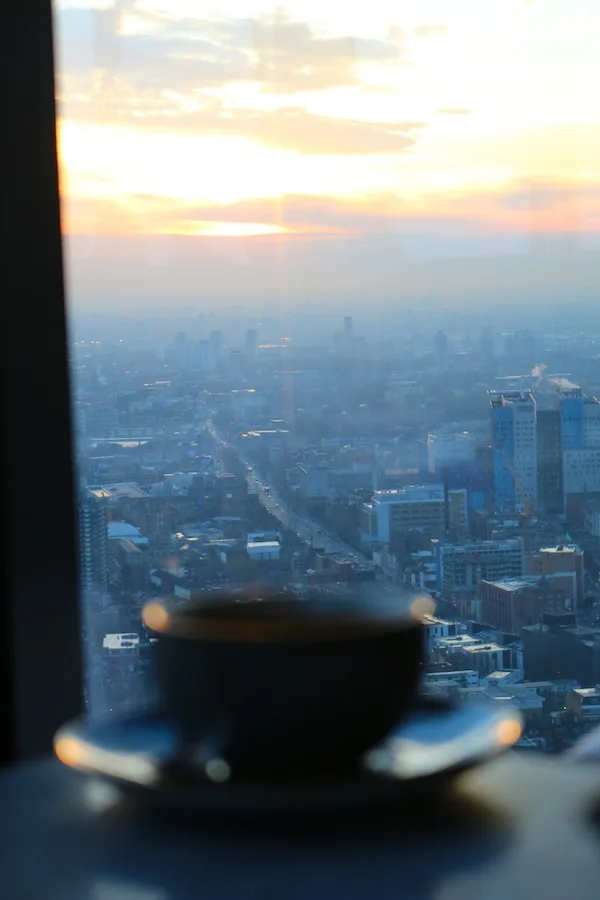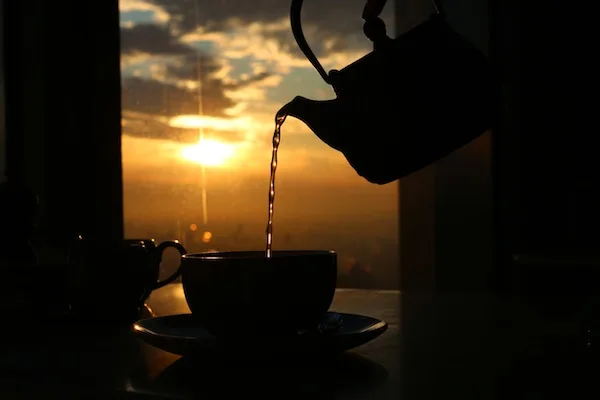 [/column]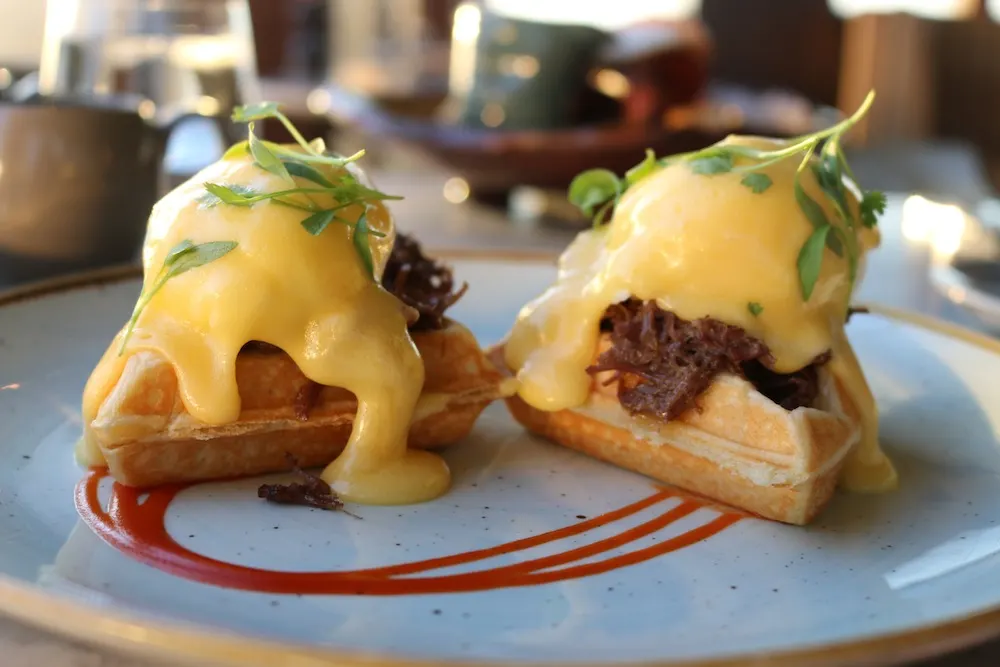 London Strolling
We then made our way to the Southbank to walk off our breakfast as we strolled along the Thames. It was still only 8am and it was a pleasant change to see London without any crowds. Commuters were quickly making their way to work as we leisurely strolled along the Southbank, past the Southbank Skatepark and then across the bridge and to Covent Garden. We stopped to refuel with coffee before setting off to admire London yet again.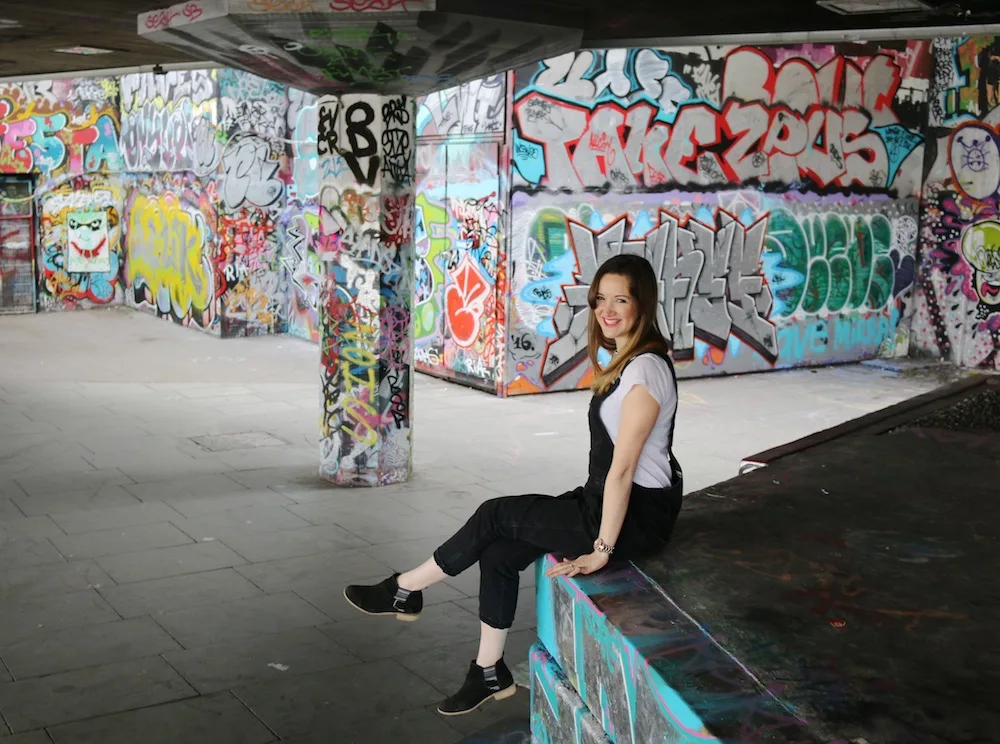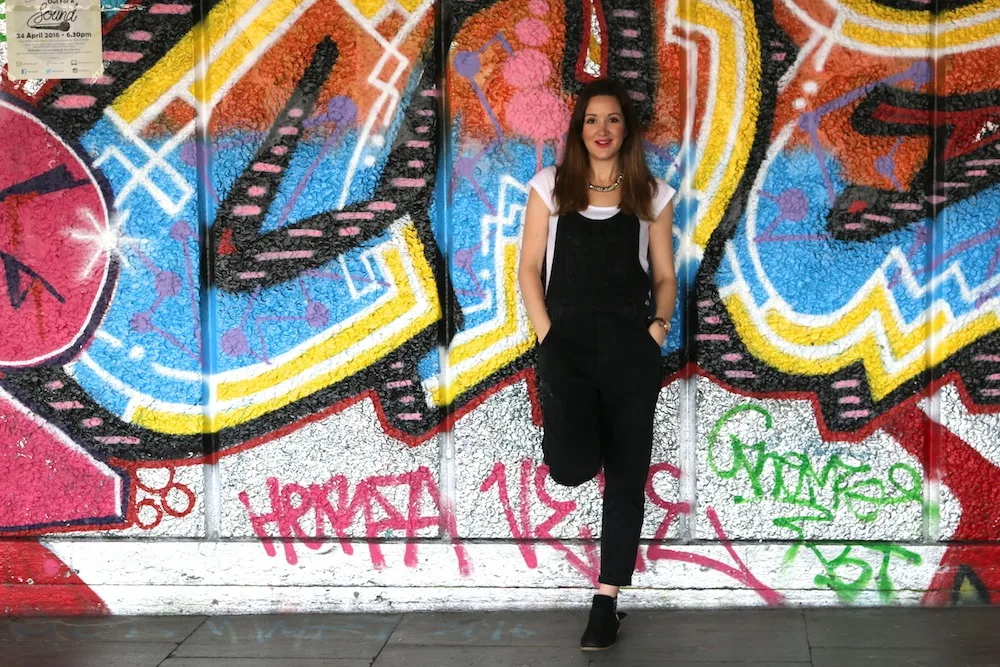 [column size=one_half position=first ]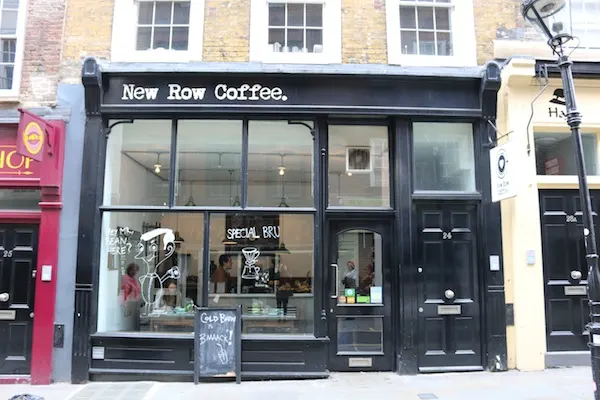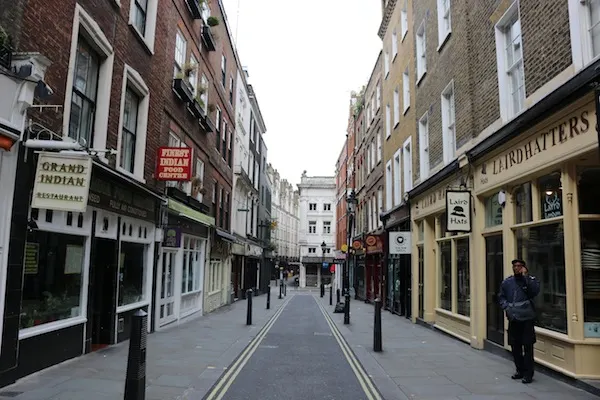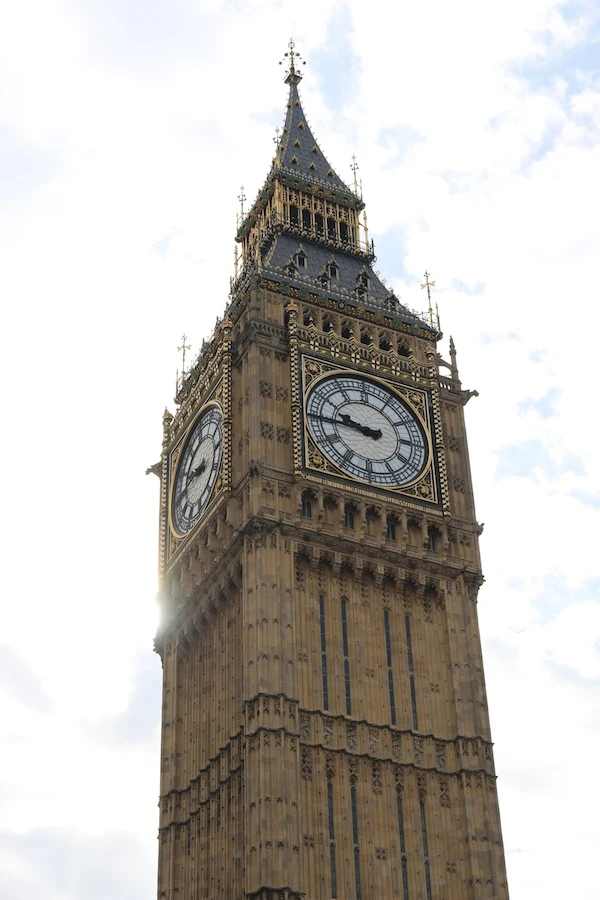 [/column]
[column size=one_half position=last ]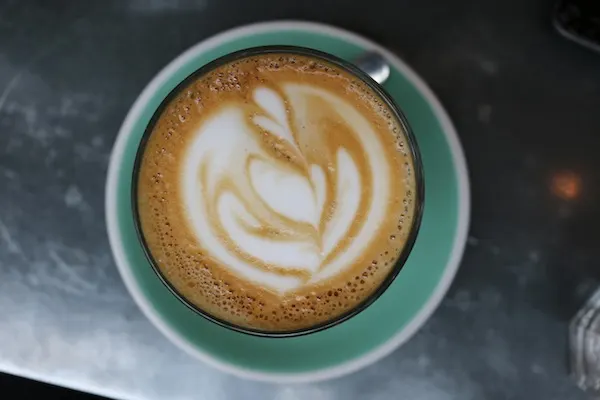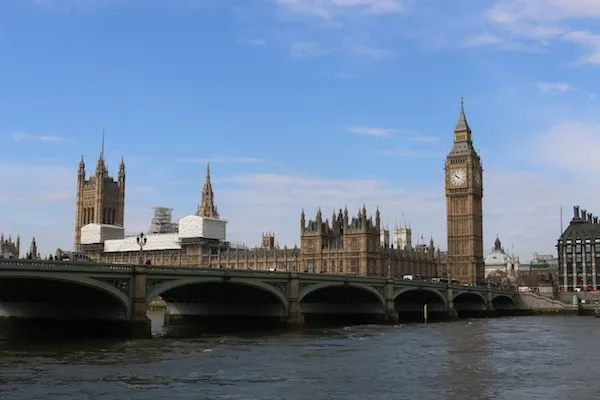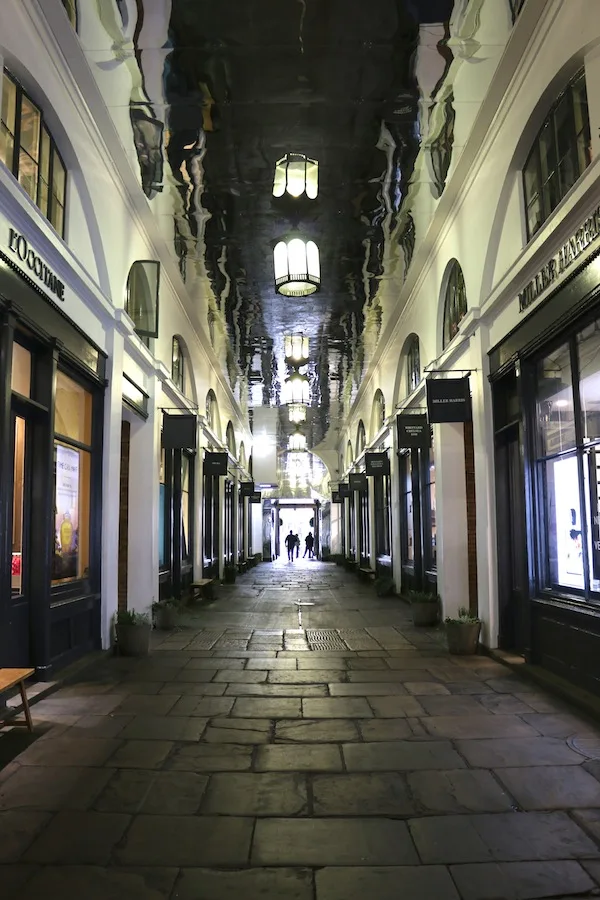 [/column]
The London Eye
Next on the list was a ride on the London Eye. Despite living in London for years, I'd never been on the London Eye before. It's one of those things I always thought I'd get round to doing but never actually did – much like many of the attractions in London!
Once again we bagged the 2 for 1 London Eye offer and we enjoyed the London skyline from a different perspective. We may not have had duck of waffles this time but the view was still incredible.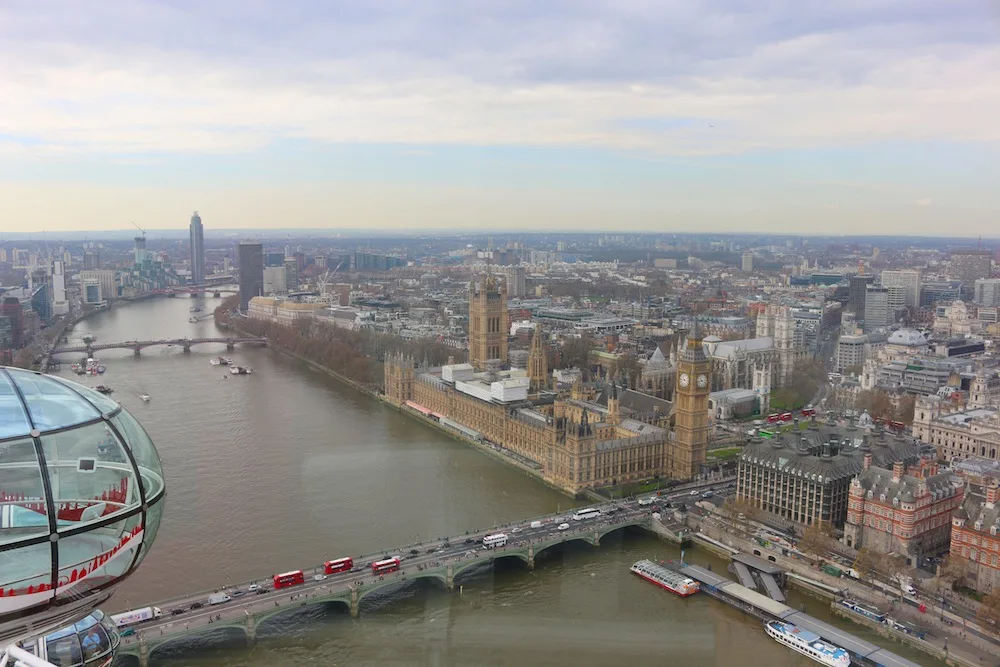 [column size=one_half position=first ]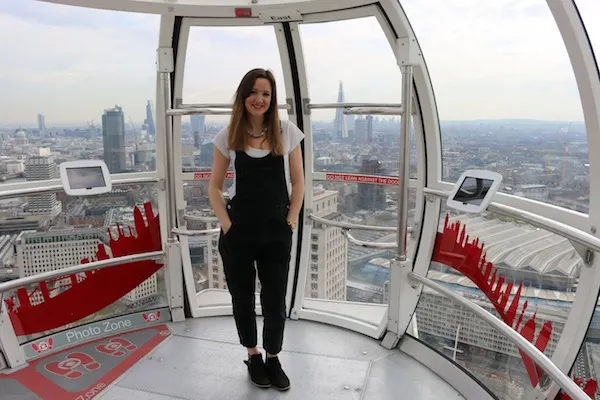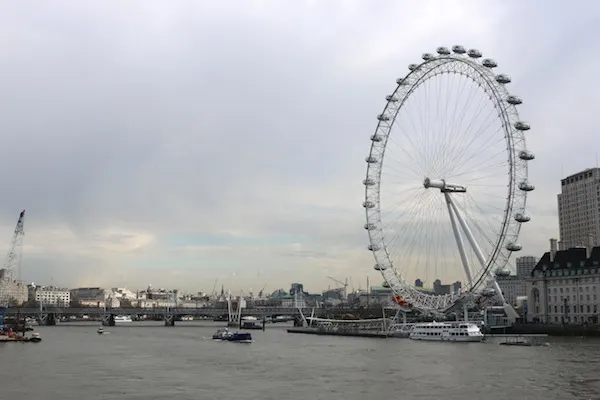 [/column]
[column size=one_half position=last ]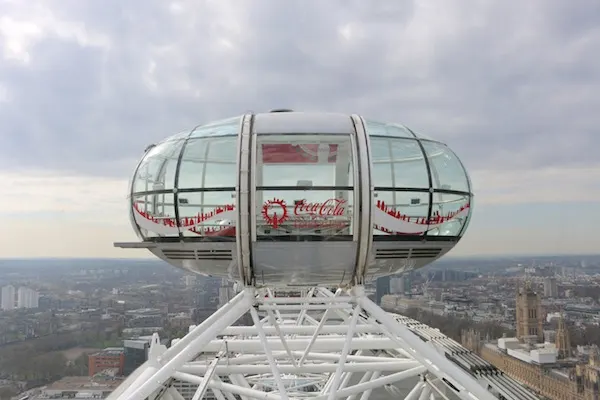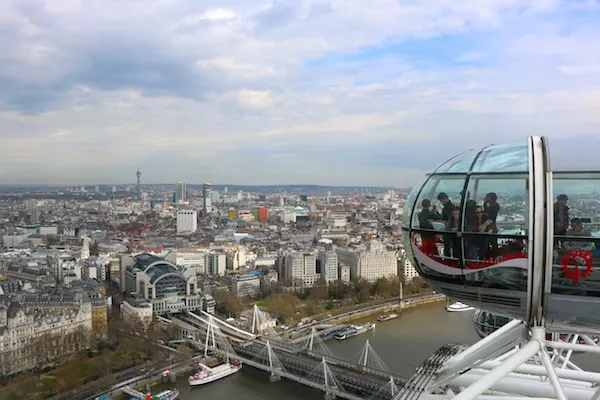 [/column]
Natural History Museum
We then made our way to the Natural History Museum – an unmissable stop during any touristy trip to London. It's also just around the corner from The Gore Hotel so this timed nicely with hotel check out.
I'm not much of a museum person and would much rather be outdoors but the Natural History Museum is one I can't resist. It takes me back to my childhood and I can help but marvel at everything like a little kid.
There are a couple of exhibitions on at the moment that are worth checking out. One is the National Geographic Wildlife Photographer of the Year (2 for 1 tickets available through Great Northern and Thameslink trains). The other one is the Michael Benson's Otherworlds visions of our solar system.
You could easily spend all day in this museum so if you've got other things to do make sure you keep an eye on your watch!
Top Tip: Check out the museum's Lates – late night openings and special evening events. These are great if you're short on time and especially great if you've visiting at the weekend or during school holidays when the museum will be extra busy!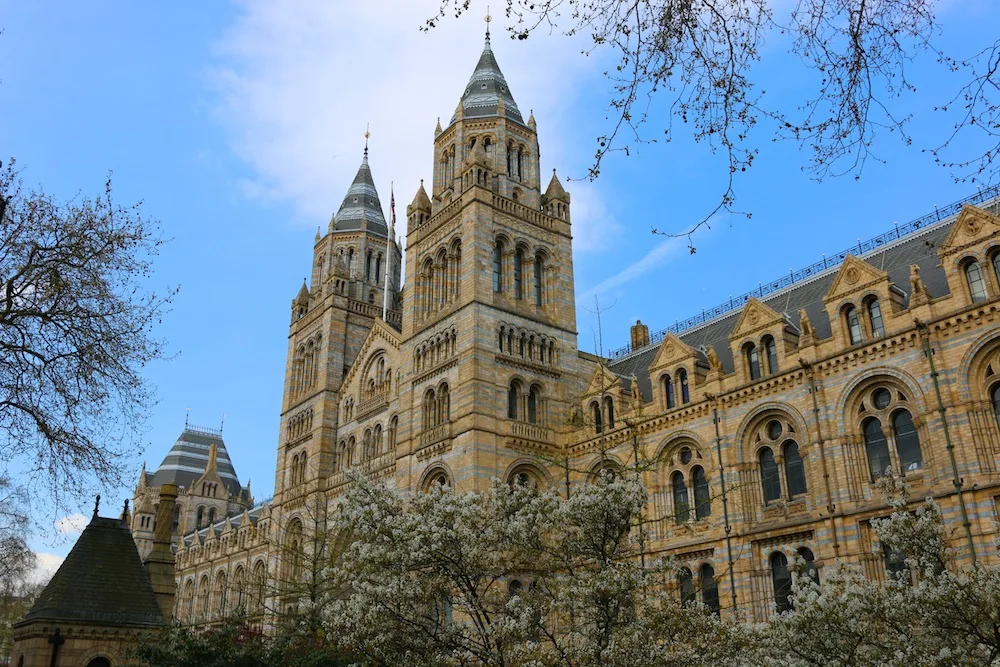 St Paul's Cathedral
My next stop was St Paul's Cathedral which I believe is one of the most impressive buildings in London – and that's saying something as there are so many amazing buildings! But after all my time in London I'd never once been inside before. I'd marveled at that amazing dome from the outside, stared up at those columns and even sat on the steps to each my lunch – but I'd never been inside.
The ridiculous reason I'd never been inside before is because tickets cost £18 and it just seems a bit too expensive. But with the 2for1 ticket it's only £9 per person – a much more reasonable price! As soon as I stepped inside I had that, 'Why didn't I do this sooner!?' feeling.
I may not be religious but I love the peaceful, spiritual and relaxing atmosphere in churches. I like taking silent steps through the long aisles and admiring the intricate paintings and dazzling gold that adorns the walls. If you're one of those people who has admired the cathedral from the outside but never stepped inside, I beg you to go in! St Paul's will not disappoint.
[column size=one_half position=first ]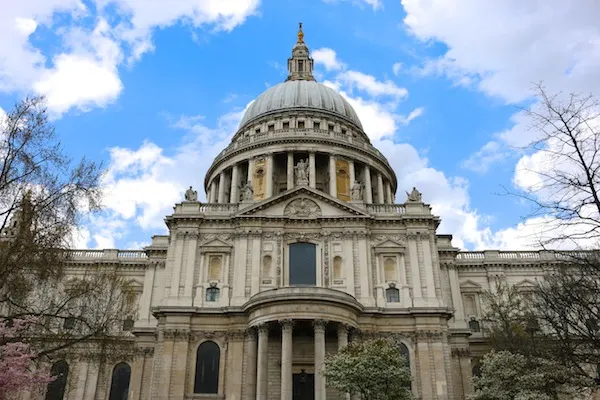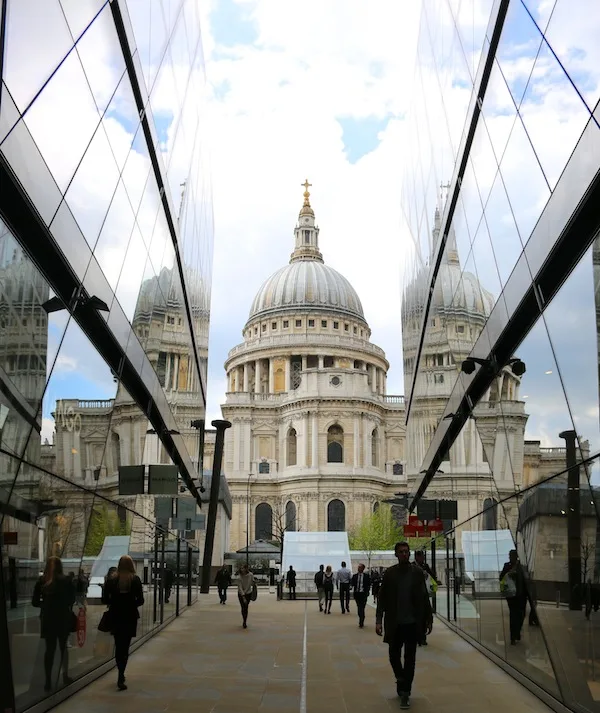 [/column][column size=one_half position=last ]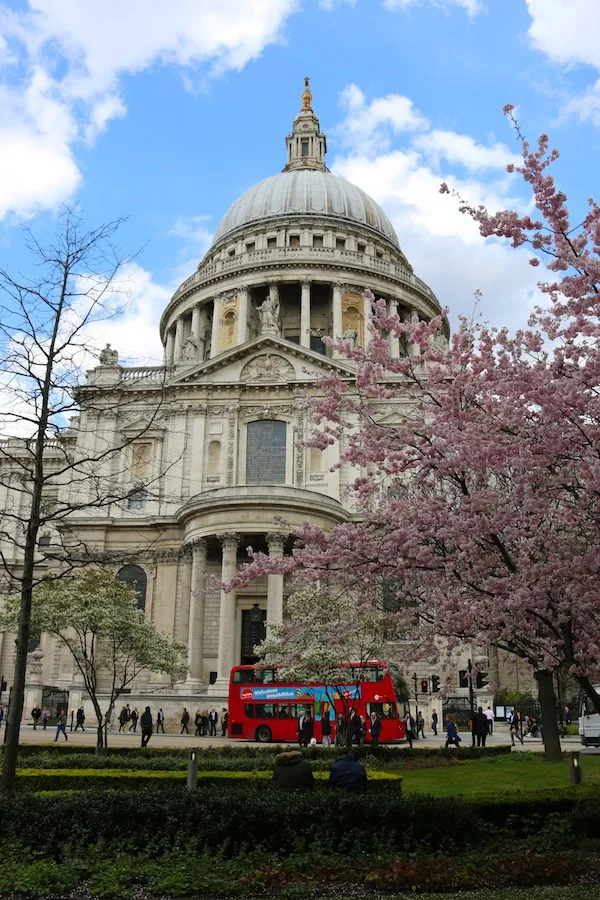 [/column]
Bea's Cake Boutique
By the point we were starting to get tired and were in serious need of a sugar hit and a sit down so we headed to Bea's Cake Boutique. It's just around the corner from St Paul's and we were lured in by beautiful looking cakes.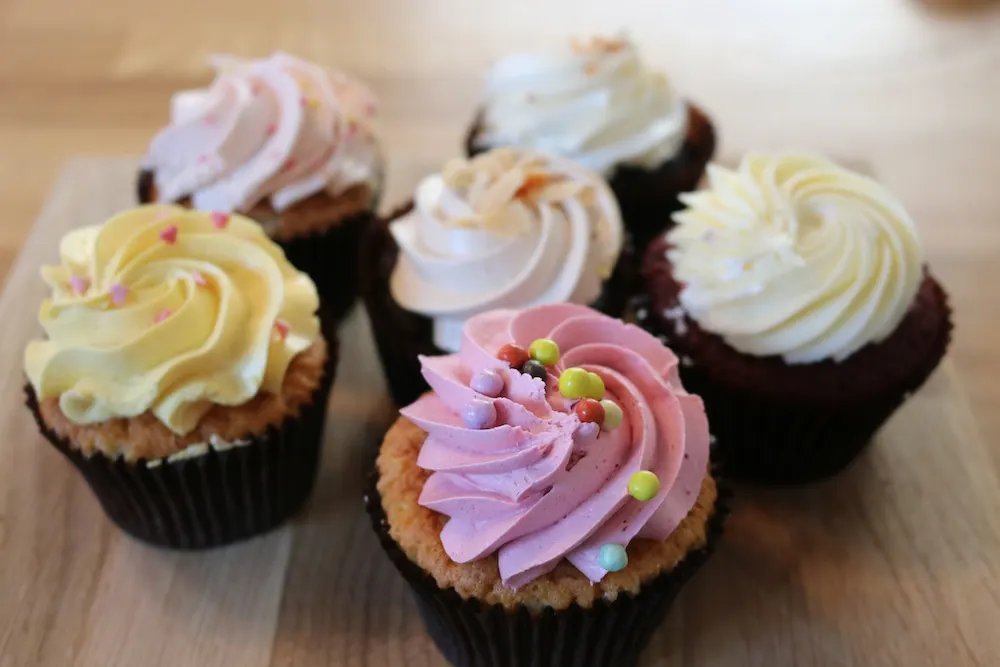 Borough Market
The final stop of the day was Borough Market – my favourite market in London because it's all about the food. Even if you're not hungry it's still worth wandering around Borough Market just to have a look at all the gorgeous stalls and tasty treats on offer.
I couldn't resist but stock up on pastries and cakes to enjoy during the train journey home.
---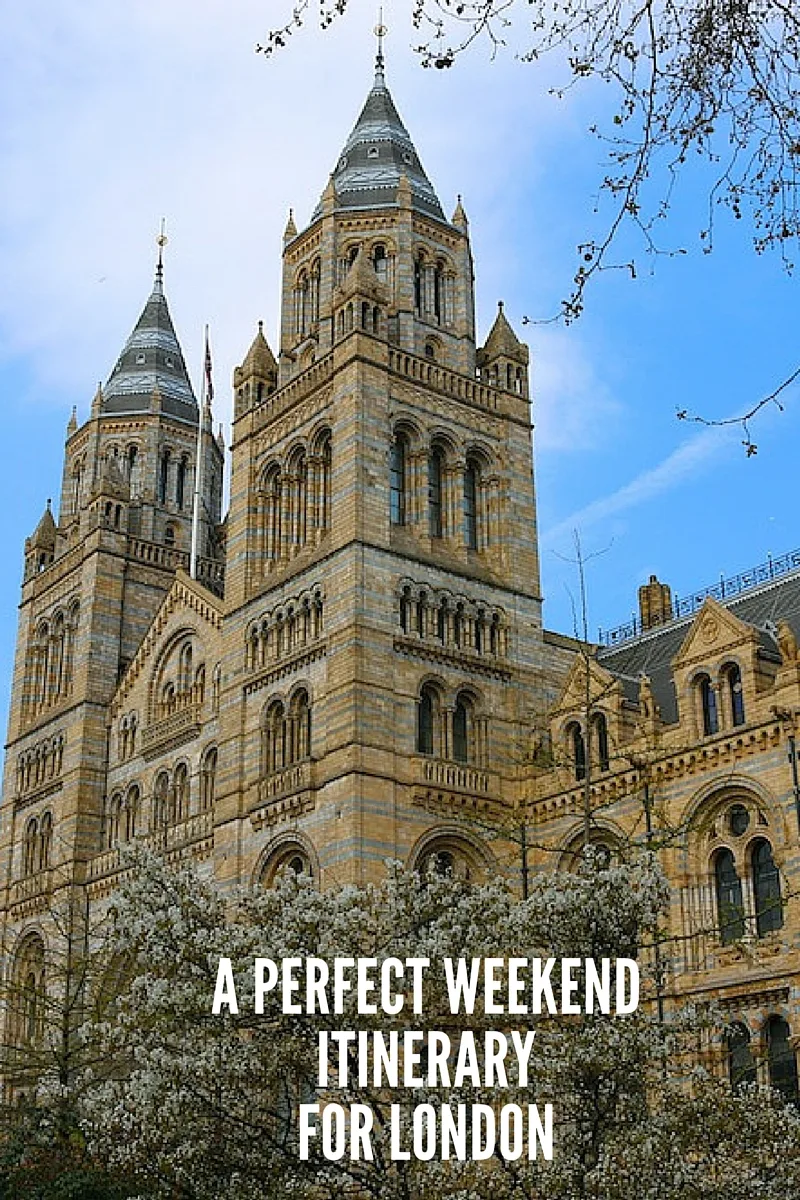 If you're travelling to London by train then take a look at Great Northern and Thameslink trains and their 2for1 spring offer. There are loads of great attractions on there that will save you a lot of money on your trip – particularly if you're going to things like the London Eye, the Tower of London, London Bridge etc. Here's there route map to see their main routes into London.
Next week I'll be talking about how to plan the perfect weekend break in London so keep your eyes peeled!