Ahhh honey. Runny honey and cloudy honey, grainy honey and smooth honey, honey like silk and honey like treacle. I love honey and, as a consequence of my honey addiction, I also have a soft spot for honeybees.
I thought I knew a lot about honeybees. I have seen Bee Movie after all, so I assumed DreamWorks Animation had taught me everything there was to know about bees. The movie seemed quite educational about honey production and the environmental impact bees have on the world. But oh no. It turns out I knew nothing about bees and Bee Movie isn't accurate at all!
Last weekend I had the pleasure of visiting Anglesey Bees and trying their 'Bee Curious' experience to find out more about beekeeping.
The three-hour experience (or four hours in my case because I ask rather a lot of questions!) is a beginner's introduction to bees, beekeeping and honey production. The experiences are hosted by Dafydd and his wife Dawn at their beautiful home in Anglesey. They live on a picture-perfect small holding, complete with sheep, a small lake and a lush fruit and vegetable garden. It's an idyllic setting for Dafydd's beekeeping experiences as well as their glamping and B&B business, The Sweet Escape.
Dafydd's background is in Environmental Research Science and he was also a biology teacher for 20 years. He's knowledgeable and incredibly passionate about beekeeping and biodiversity. I don't know about you but I love meeting people who are incredibly passionate about something. Dafydd has the ability to make everything about bees become fascinating! Not only that but his previous career as a teacher means he's able to deliver a lot of information in a really fun way.
I loved being able to visit the hives and watch Dafydd deconstruct the intricate hive. He pulled out each layer to reveal hundreds of bees busily working away.
I feel like I could talk about bees all day now (I'm becoming a real bee geek since my visit!) but I thought I'd share some of my favourite insights from my day.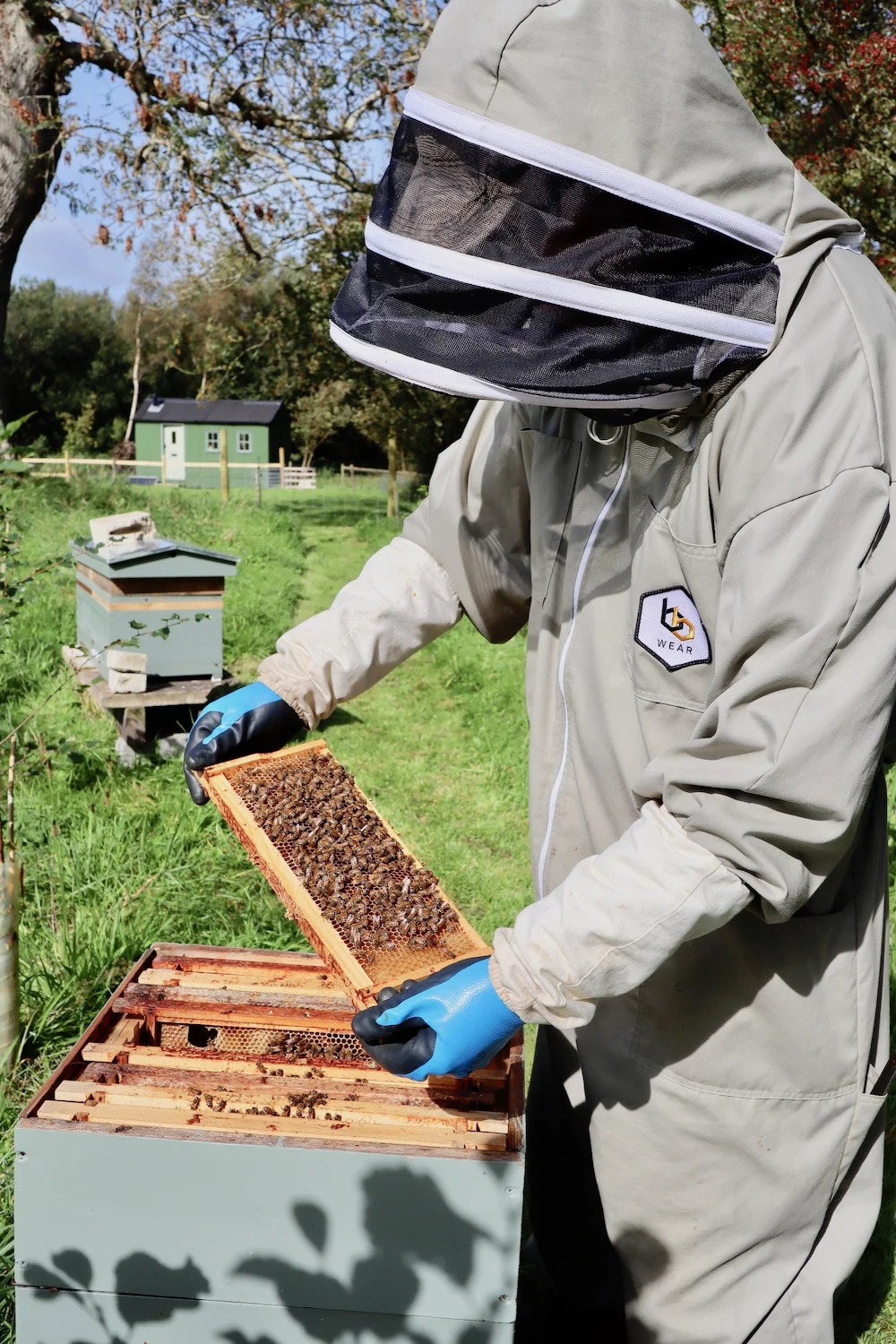 Bees under threat and their impact on the environment
It was a fascinating insight into the world of bees and their wider impact on the world. Did you know that one third of the food we eat wouldn't be available but for bees? Seeds and fruits don't develop without pollination and bees are a vital step in the pollination process. But bees are under threat and many species of bee are in decline as we gradually destroy their habitat and the places they create their hives. Dafydd told me that rotten trees make a great place for a bee hive but with woodlands being destroyed and dead trees being removed for safety reasons, bees are finding it harder and harder to find places for their hives.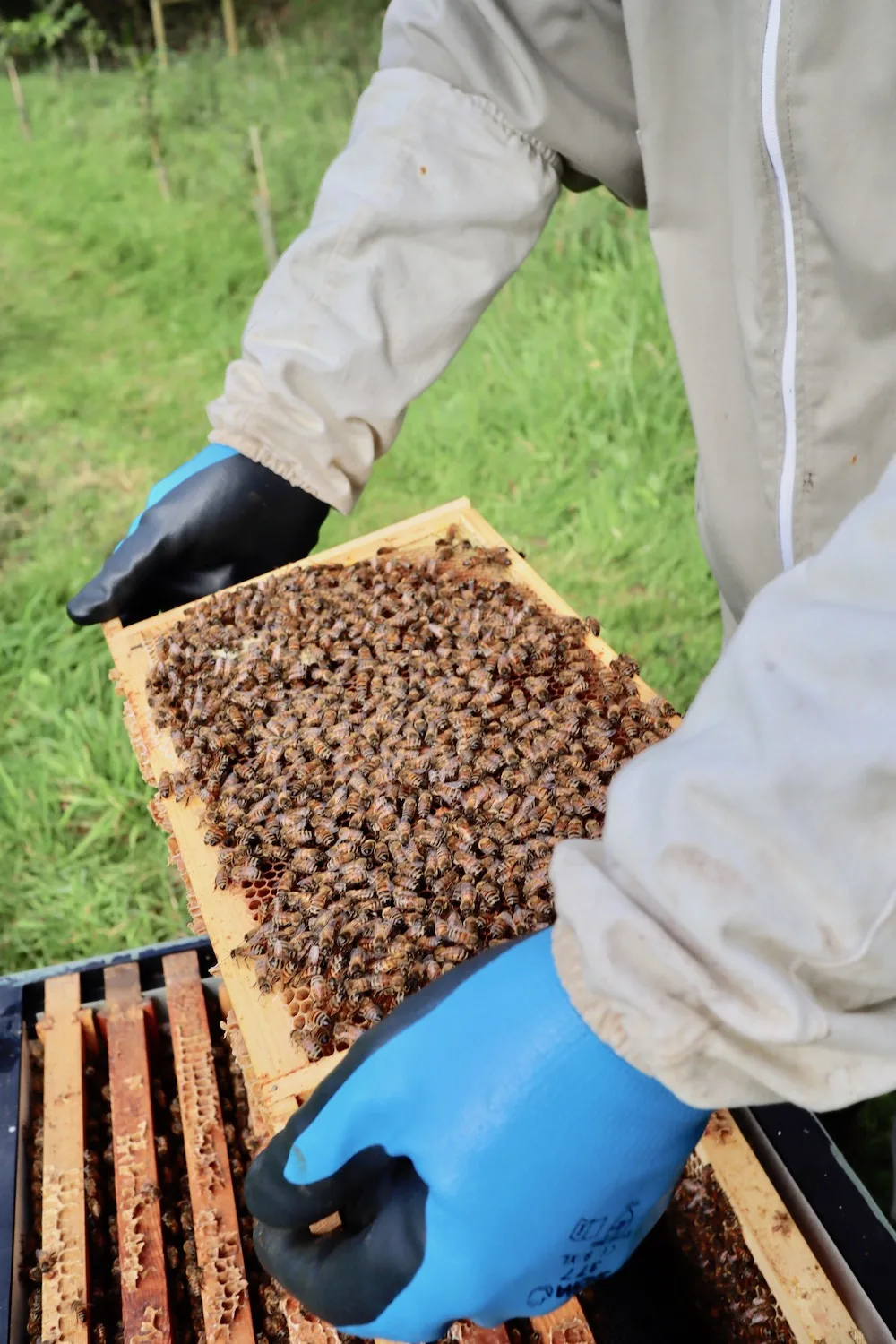 20,000 species of bee
I also had no idea there were so many types of bees. Dafydd uses a particular type of bees for his courses and experience days because they're a calm type of bee and they're much less likely to sting. You're highly unlikely to get stung due to the protective clothing you wear but I was still surprised at what a calm experience it was.
If Dafydd needs a new queen bee, if a queen died or he wanted to start a new hive, he simply orders one over the phone and it arrives in the post. Yes, a queen bee just arrives in a parcel by a regular delivery man!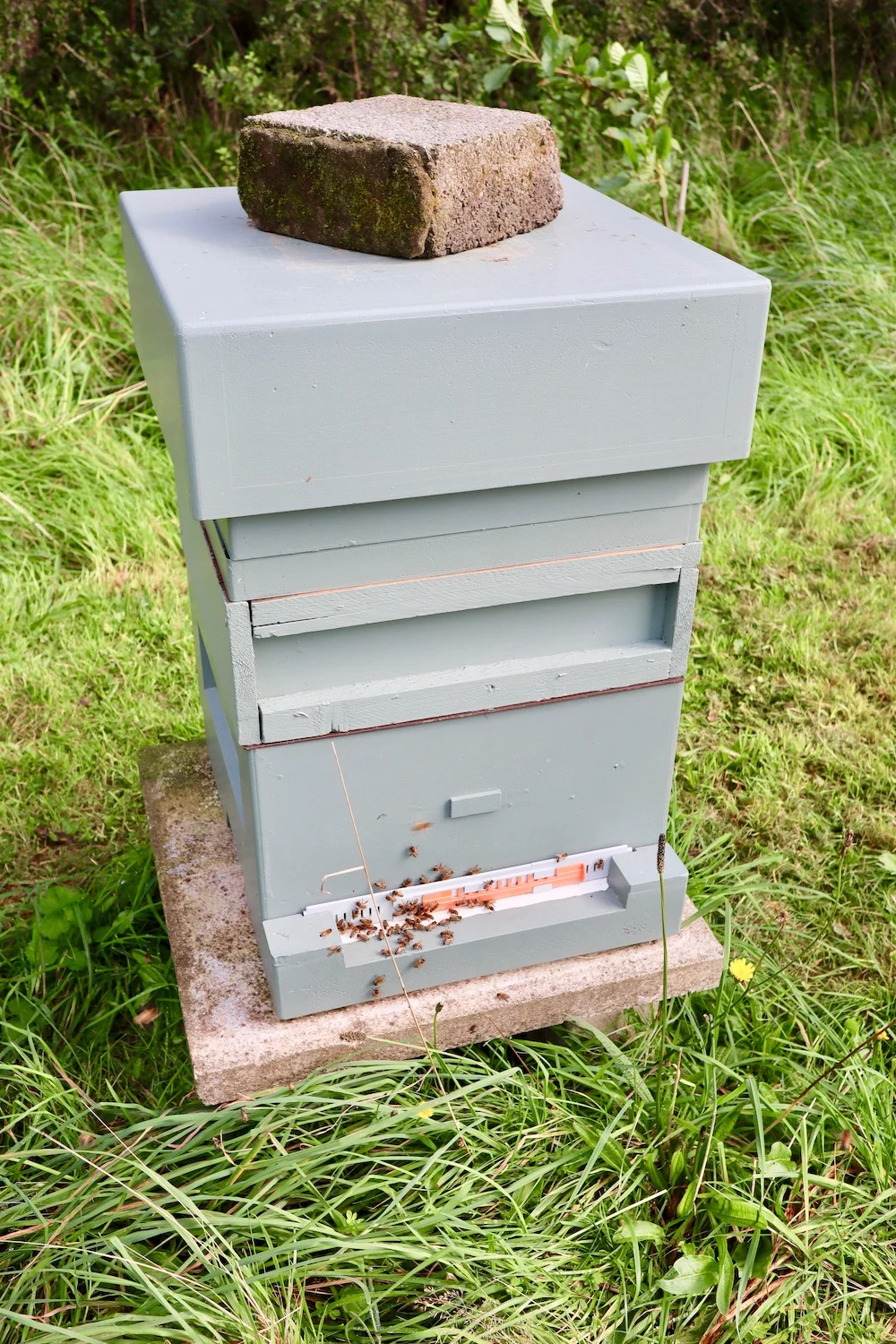 It's a woman's world in the beehive!
And did you know that male bees do nothing but fertilise the queen bee!? They don't help with anything in the hive, don't collect pollen and don't produce honey. They are literally there just to reproduce!
Male bees are called drones and the queen bee can choose when she's going to lay a drone egg. She'll lay around 1,200-1,500 eggs every single day, but only a small percentage of these will be drones because the hive needs thousands of females to run. I found it incredible she can choose the sex of her eggs!
I also found it frustrating that Bee Movie doesn't show this. In the movie, the main character is a male and the pollen collector bees are depicted as being these big, strong, masculine bees who go into the world like soldiers! I know it's just a kid's cartoon but it should be accurate!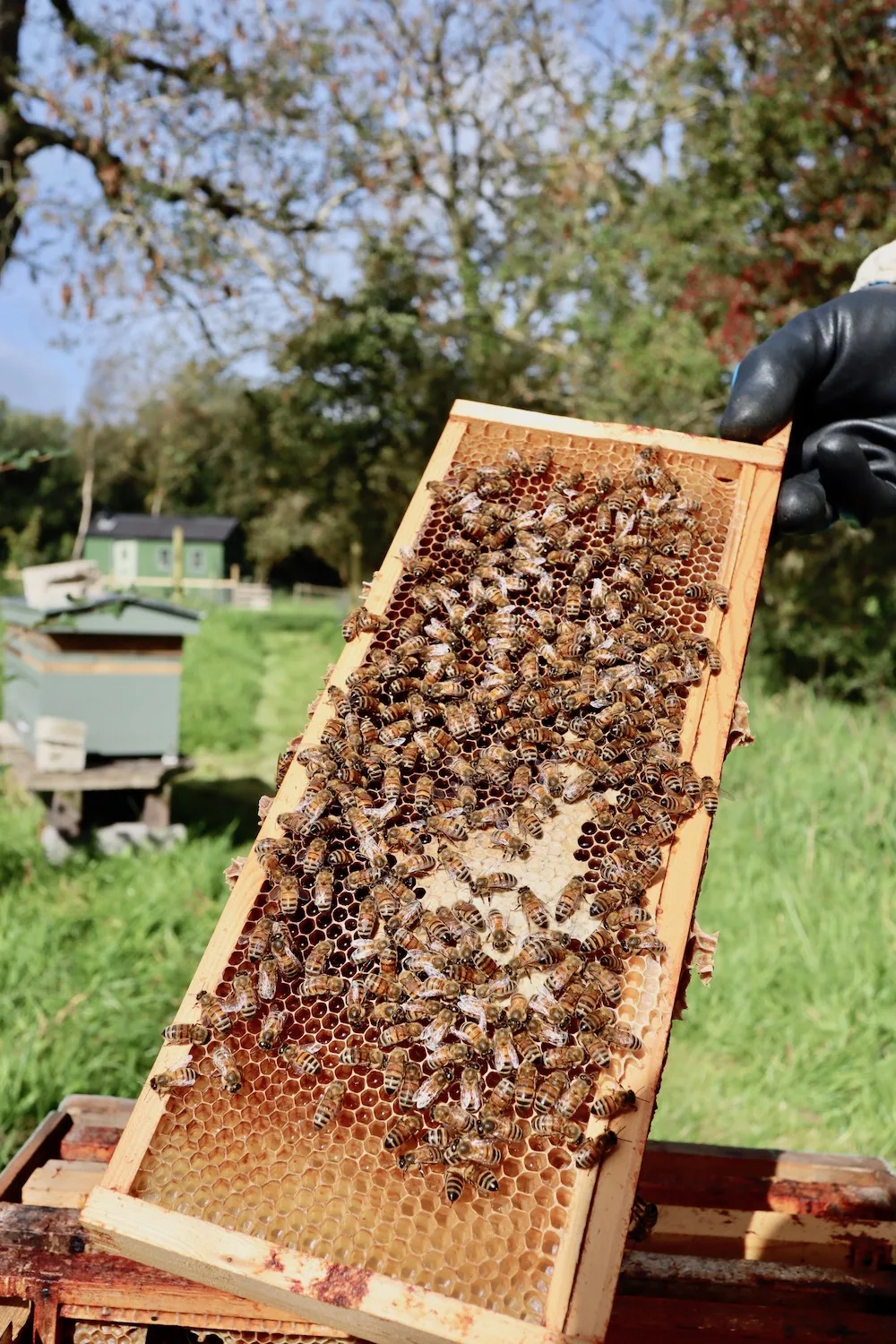 The Queen Bee isn't in charge
Another thing I found fascinating was that the Queen Bee isn't in charge of the hive. I'm sure I'm not alone in imagining her sitting on her little bee throne, buzzing out orders to the worker bees! But actually, she's controlled by an entourage of bees who surround her and tell her where to lay her eggs. They move around her slowly, controlling which direction she moves while making sure she's laying.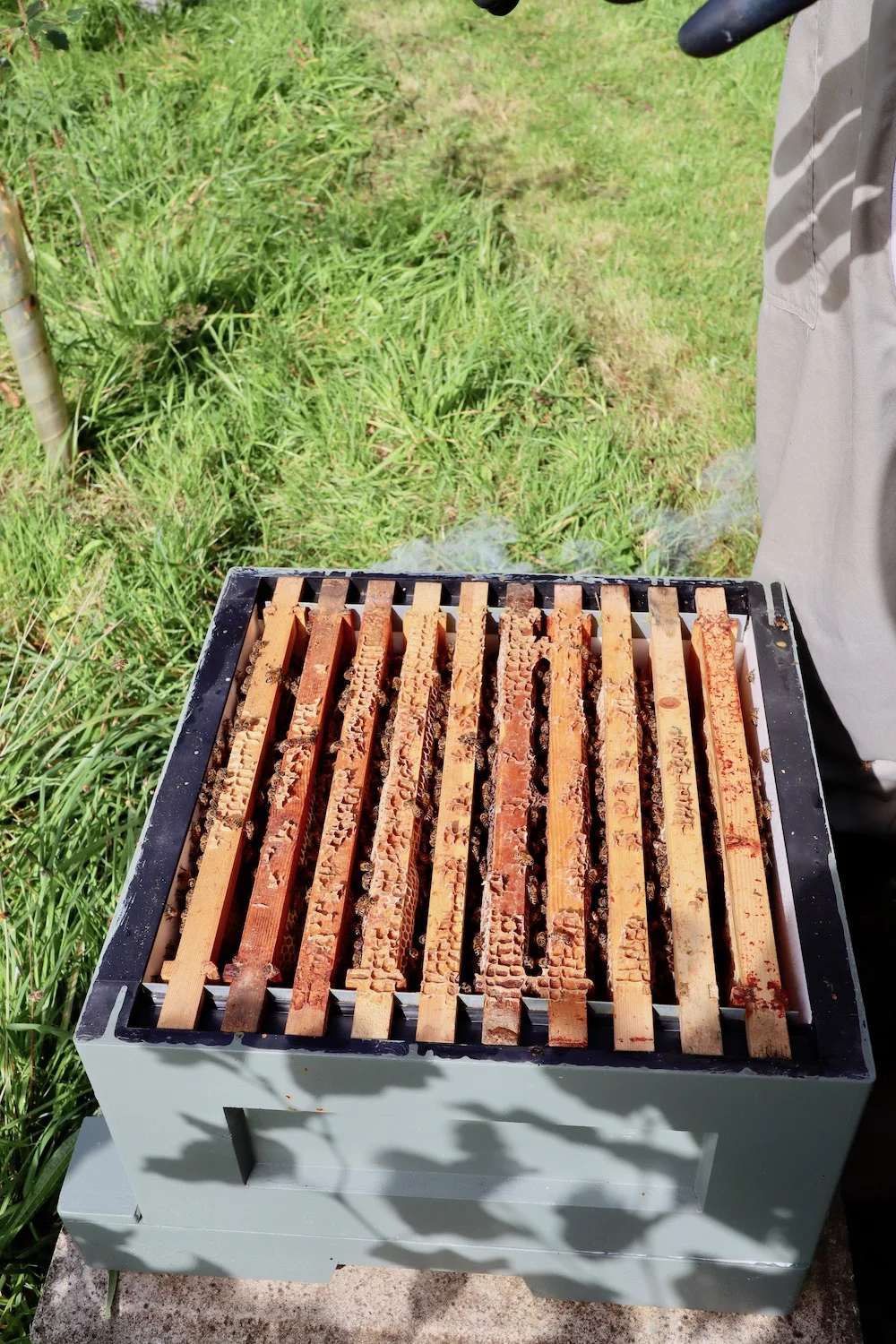 Honey tasting – now for the fun part!
After visiting the hives I was treated to a blind honey tasting experience. I tried seven honeys with the aim of highlighting how different honeys can be. I was amazed to taste the differences and to see that a bee who lives near an apple orchard will produce honey with a slight cidery flavour. There was one honey from Africa which tasted like treacle and there was a local honey with the most delicious floral smell.
It was also interesting to see that the cheaper supermarket honeys are often bulked up with sugar and syrup and there's no regulation about how much honey actually needs to go in the jar. The same applies to the super expensive medicinal honey, Manuka – there may only be a tiny amount of Manuka honey in the jar! Manuka honey is made in New Zealand by bees who collect nectar from the Manuka tree, which has antibacterial properties and has been found to have medicinal value.
China is the biggest producer of honey and the majority of supermarket honey will come from China. Even Rowse Honey, a brand who promote their Hives for Lives campaign, a program that 'protects bees and improves lives through beekeeping ….and trains the next generation of British beekeepers' gets most of its honey from 'non-EU sources'. Dawn referred to this as 'Greenwashing', a phrase I hadn't heard of before but now I'm aware of it I'm seeing it everywhere! There's an interesting article on Medium about greenwashing.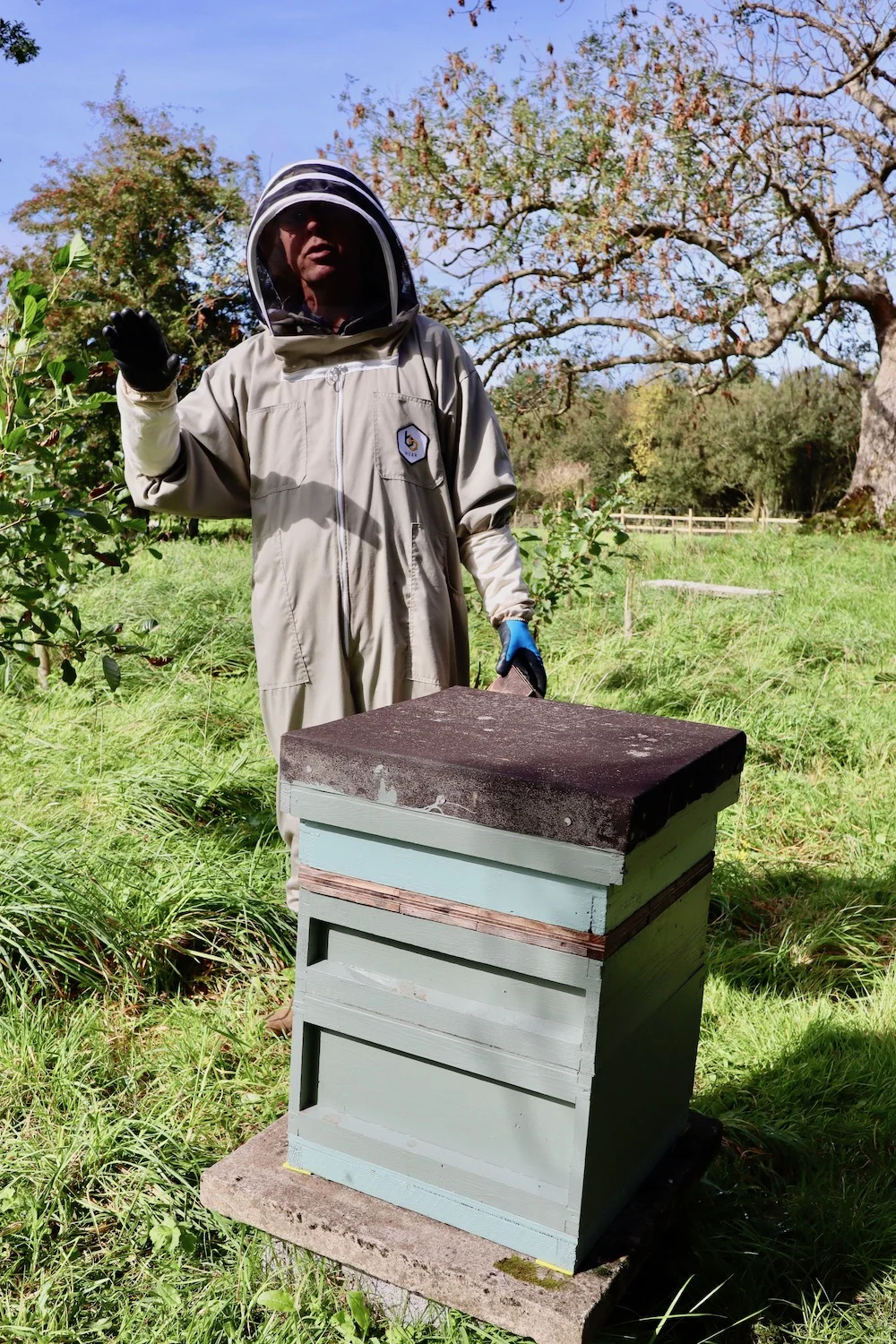 Supporting our local producers and not falling for greenwashing
I'd like to say a massive thank you to Dafydd and Dawn for treating me to a fantastic beekeeping experience. Not only did I learn so much about bees and honey but it also opened my eyes to the benefits of small, local honey producers and the important work they're doing.
But not just honey producers, all of our local producers making products in a sustainable and environmentally friendly way. Let's not fall for greenwashing but let's make the effort to support our local producers. I also think it's a fantastic experience to go and visit local producers and see how they make they products – it's a great side income for the producers, a lovely day out, an educational experience for the whole family and we as consumers are much more likely to pay extra for local products when we feel that personal connection to them.
This beekeeping experience has made me want to do more and get out there more often and meet local producers! I want to teach my kids about where our food comes from and not raise them to think that our food just magically appears on the supermarket shelves!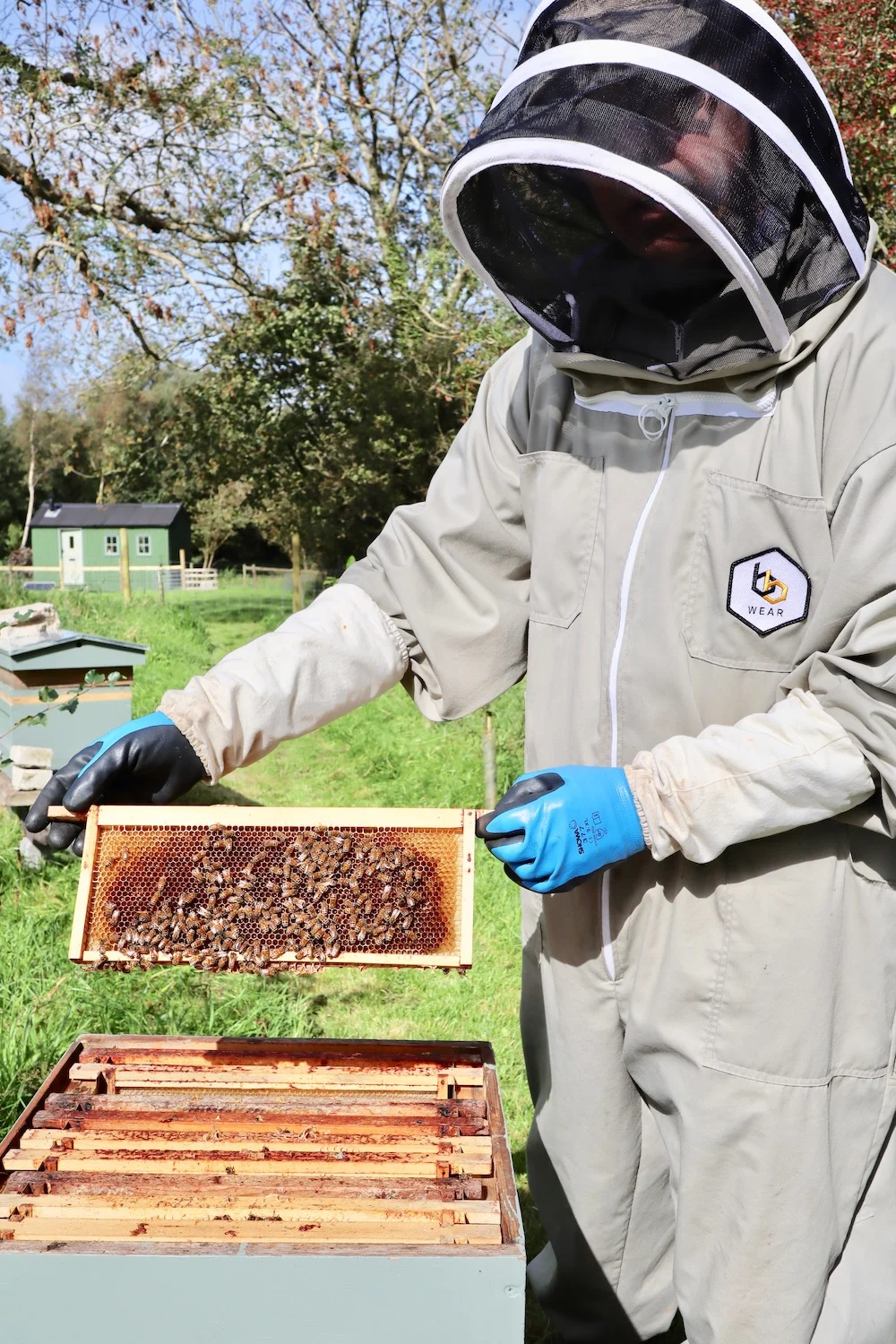 Curious Cymru and Airbnb Experiences
My beekeeping experience was part of a partnership with Curious Cymru and Airbnb Experiences. If you've booked accommodation through Airbnb you will have noticed that they promote unique experiences and activities available in the area you're staying. Curious Cymru aim to raise the prominence of all the amazing experiences available in North Wales so people can see even more of what this gorgeous destination has to offer. The people guiding these experiences are usually local people with a passion for their local area or a unique activity and I'm really looking forward to trying a few more of them!