It's been a couple of weeks now since Game of Thrones left our TV screens for another season and left a gaping hole in our Monday evenings. What did we do on Mondays before GoT? I aimlessly flick through hundreds of channels in search of something half as captivating and dramatic as Game of Thrones but nothing compares. Nothing is as edge-of-your-seat-exciting as the medieval drama.
If, like me, you're missing having some Game of Thrones action in your life then you could spend your Monday evenings planning to visit the action for yourself and see the fantastical film locations in Northern Ireland…
---
For the last six years the beautiful coastline, countryside and character of Northern Ireland has been the backdrop for many Game of Thrones scenes and there's no better way of geeking out than visiting the film locations. There are loads of great tours you can take to visit these destinations, or you could DIY it with your own wheels and go on a personalised fandom adventure.
At the end of May I visited Northern Ireland and was lucky enough to see some of these places for myself. Not only are they totally stunning (so none GoT fans will enjoy them too!) but they'll take you back to your favourite scenes from the show.
Here are some of the most famous locations Game of Thrones fanatics can seek out. The nature of the show means it's highly likely one of your favourite characters was brutally and tragically killed off in one of these locations. Just try and overcome the heartache and let the geekiness take hold.
The Dark Hedges
One of the most visually spectacular scenes from the second series of Game of Thrones featured County Antrim's Dark Hedges, which served as the King's Road. The road and its avenue of beech trees is one of the most photographed natural sights in Northern Ireland, even more so now that it welcomes Thrones' fans looking to follow in the footsteps of Arya Stark.
Top Tip: The road can be really busy now with people coming to photograph it. Apparently I was really lucky when I was here as it was relatively quiet. It was around midday and we stayed for about 20 minutes. I put the photo on Instagram and someone asked me what time it was because it was heaving when he visited that same afternoon. I'd recommend visiting as early as possible or just be patient and plan to wait for a gap in the crowds. You might be there a while – especially if a tour bus arrives – but it's worth it for the photo opp!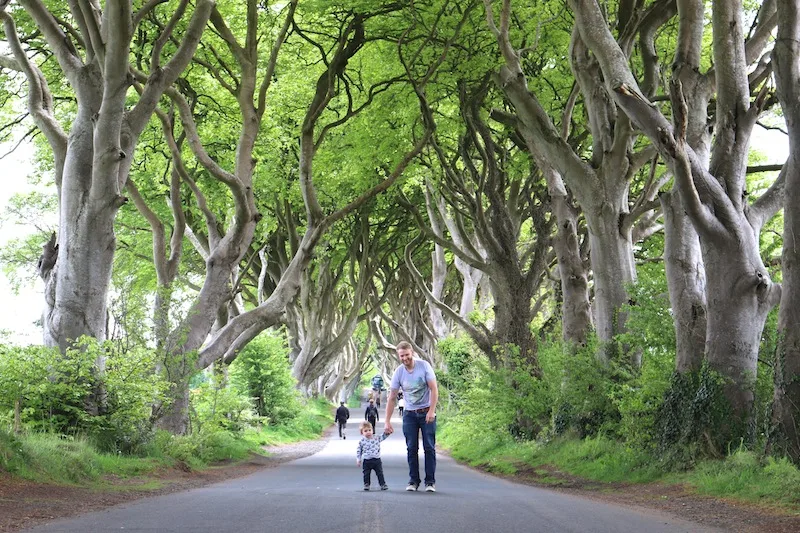 Binevenagh, The Antrim Plateau
Formed over 60 million years ago, the steep cliffs and rolling green of the Antrim Plateau is at its most impressive at Binevenagh on the plateau's western tip. This is where Daenerys Targaryen was captured by the Dothraki in the finale of season five. Any scene featuring the Dothraki is pretty badass, but the backdrop of Binevenagh's cliffs and a mass of galloping horses make this extra impressive.
There's more info here about an Binevenagh Mountain Walk you can take – something I would have loved to have done if I wasn't travelling with a one year old!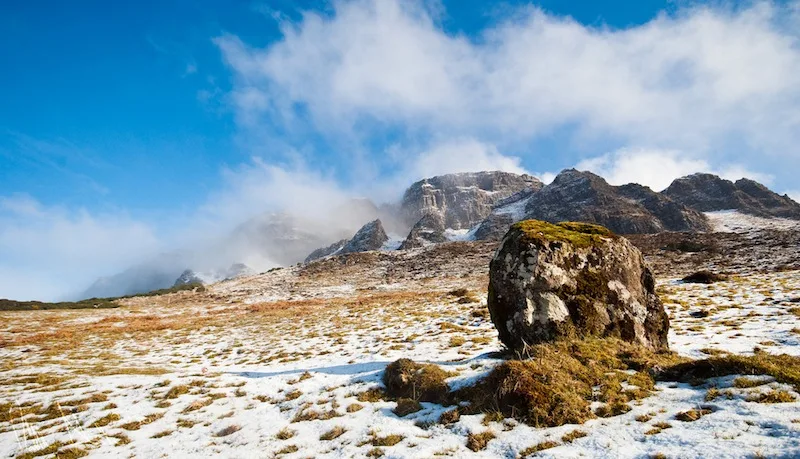 Ballintoy Harbour
Ballintoy is a small village on the coast of County Antrim where you can find a quiet fishing harbour. The area shows none of the flamboyance of show business, but it was here that Theon Greyjoy sailed to as he returned to Pyke and the Iron Islands in season two. The area has since been used as a set for the Iron Islands.
Cushendun Caves
The Cushendun Caves can be found near the village of the same name on County Antrim's wild and beautiful east coast. The caves formed over 400 million years ago and it was here where the mysterious, and slight creepy, Red Woman, Melisandre, gave birth to some sort of evil shadow baby who then went on to murdered Renly Baratheon. Who said this show was just castles and dragons?!
Cairncastle
Cairncastle is the perfect representation of the wild lands of The North in Game of Thrones. The rocky slopes of Cairncastle was one of the first backdrops we see in the entire series, used as the location where Ned Stark executes a Night's Watch deserter while giving his speech to Bran about how 'the man who passes the sentence should swing the sword'. Ned Stark was great.
Castle Ward
The National Trust property of Castle Ward in County Down is home to an 18th-century mansion of both classical and gothic architecture but, more importantly, is the setting for the Stark's home, Winterfell.
Winterfell has taken a bit of a battering since season one, burned by Ramsey Snow and taken by the Boltons. Castle Ward hasn't had to suffer any of this peril however, because after season one the backdrop of Winterfell was relocated. The castle is open year-round for visitors.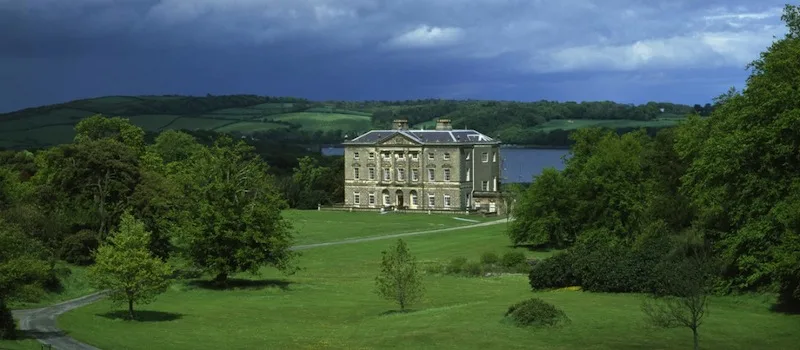 Photo: National Trust
Qouile River
Quoile River and its surrounding countryside in County Down is made up of a large wetland retreat featuring woodland and riverside trails. In the world of Game of Thrones, the Quoile River aptly served as the location for Riverrun in The Riverlands. The most memorable scene which took place here was that of a Tully funeral attended by Rob Stark and his mother Catelyn.
Inch Abbey
Inch Abbey is a set of remains from a Cistercian Abbey founded in the late 12th century and is located beside Qouile River in County Down. The abbey's location has great views across to the spires of Down Cathedral in Downpatrick, the burial place of Ireland's patron saint.
Robb Stark's camp in Riverrun was filmed at the abbey, featured just before the battle where the Stark army capture Jaime Lannister and learn of the death of Ned Stark.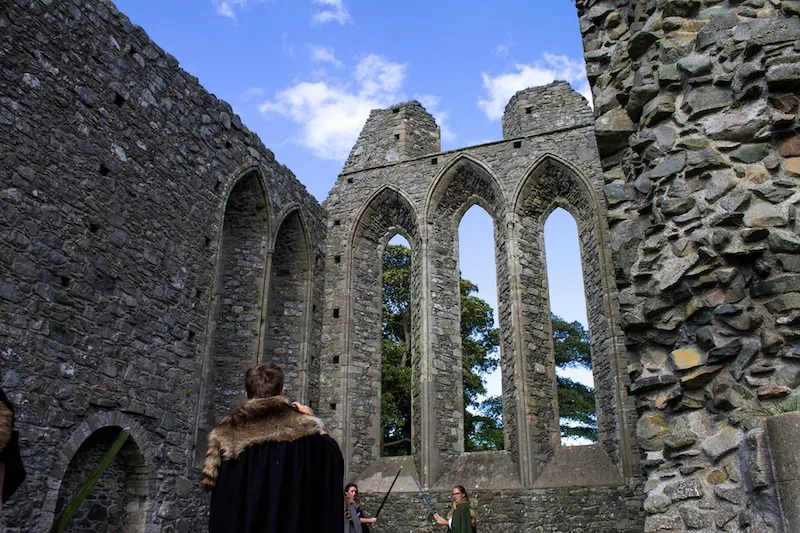 Photo Credit
Larrybane Quarry
OK, it might not be the most impressive of all the filming locations because Larrybane Quarry is now an overflow car park for the nearby Carrick-A-Reed rope bridge. Larrybane Quarry was used as Renly Baratheon's war camp in the Stormlands. The site itself is gorgeous but when it's filled with cars and tour buses it does lose a little bit of the magic! But as most people visiting Northern Ireland will pay a visit to Carrick-A-Reed rope bridge anyway I thought it was worth a mention!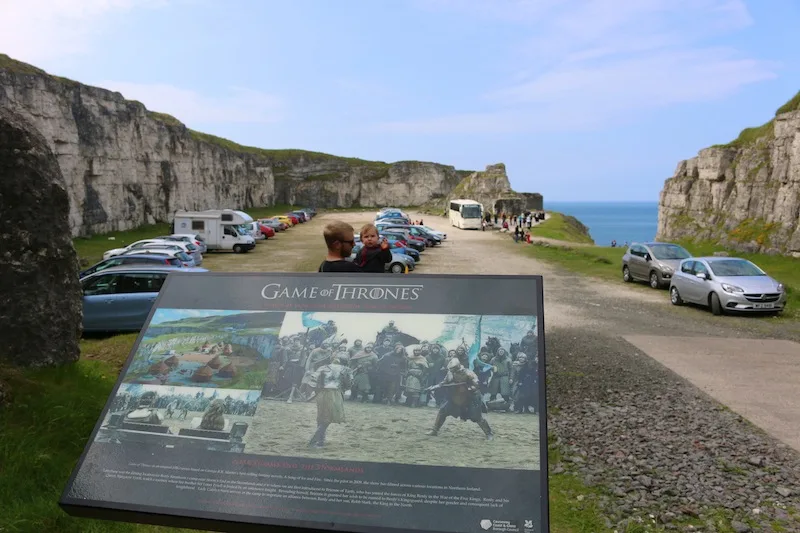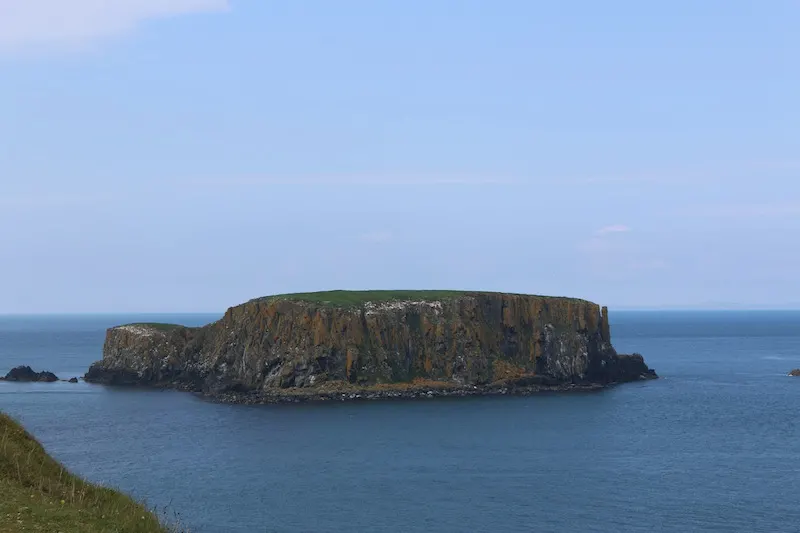 Tours to visit Game of Thrones film locations in Northern Ireland
If you're short on time during your trip to Northern Ireland or you'd like a simple way to see the Game of Thrones filming locations then I'd recommend taking a tour – especially if you don't have a hire car.
Here are some Game of Thrones tour locations in Northern Ireland.
Winterfell Castle Private Tour – Take a tour of the huge castle and your private guide will show you around the most important filming locations.
Belfast Iron Islands & Stormlands Adventure – Experience the medieval ruins and wild coastline where important parts of the story were filmed. Pretend you are part of the cast and immerse yourself in the GOT world.
Stones & Thrones Tour – Visit where the shadow baby was born and travel down the Dark Hedges road where Aryra famously dressed as a boy to escape the King.
McCombs Coach Tours – Tour the Giants Causeway and jump the queue at Carrick-a-Rede Ropebridge where Baron Greyjoy died. (This jump the queue add-on is well worth it as the queues can be ridiculous!)
Game of Thrones Tours TV – Take a cruise ship day trip around all the main filming locations from GoT, including Dunluce Castle and Sandy Bay.
Pin this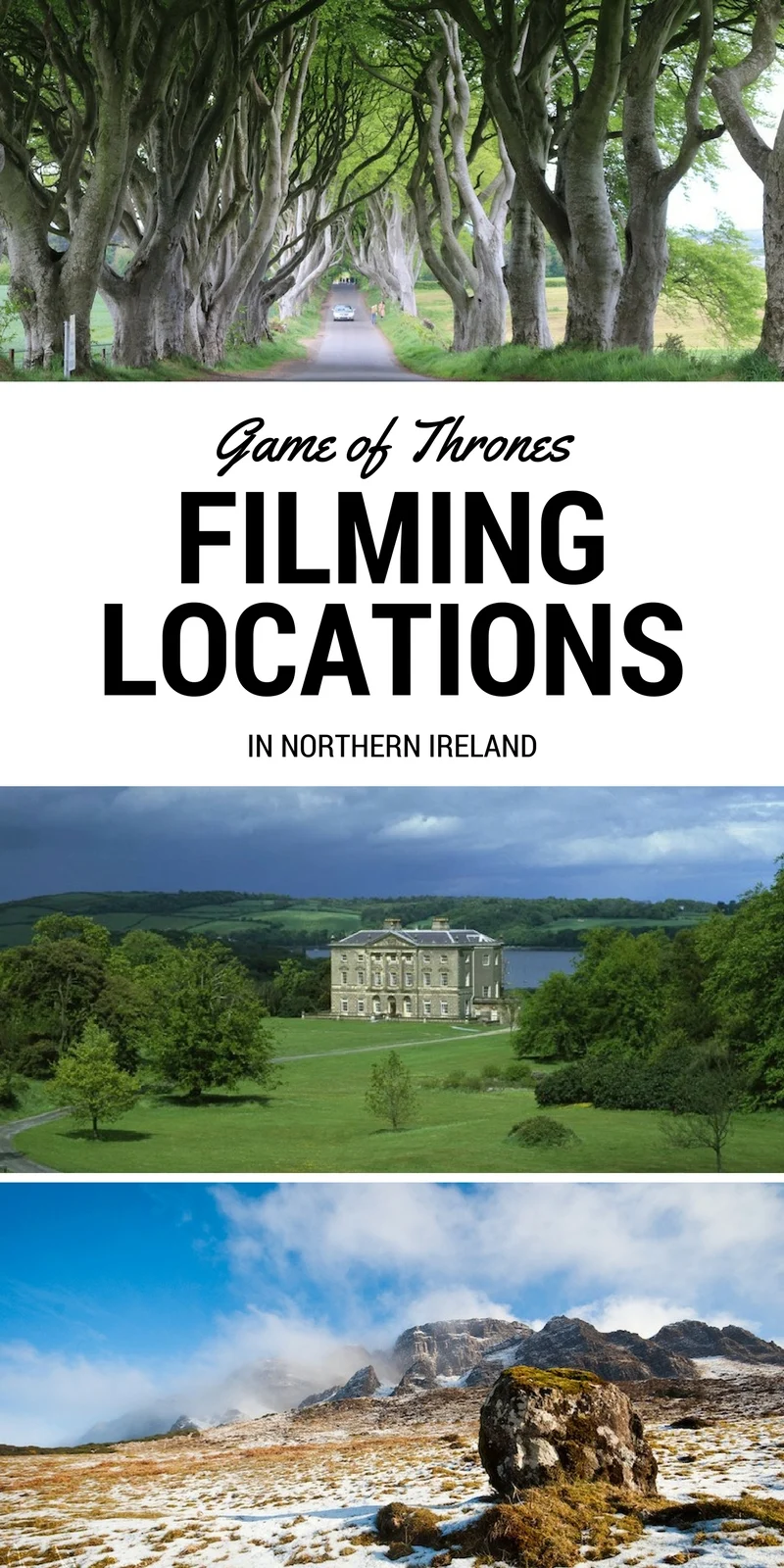 Now the only question is…when are we going to Croatia, Morocco and Iceland to see the other Game of Thrones filming locations?