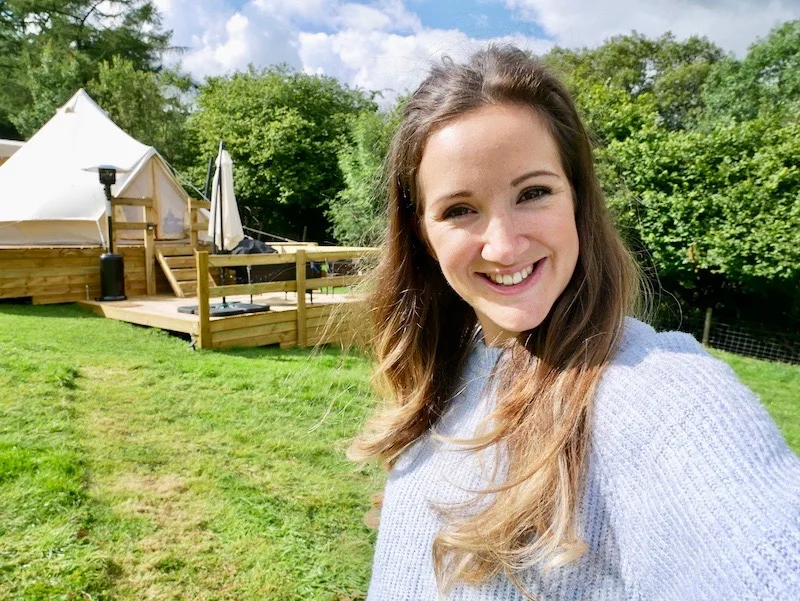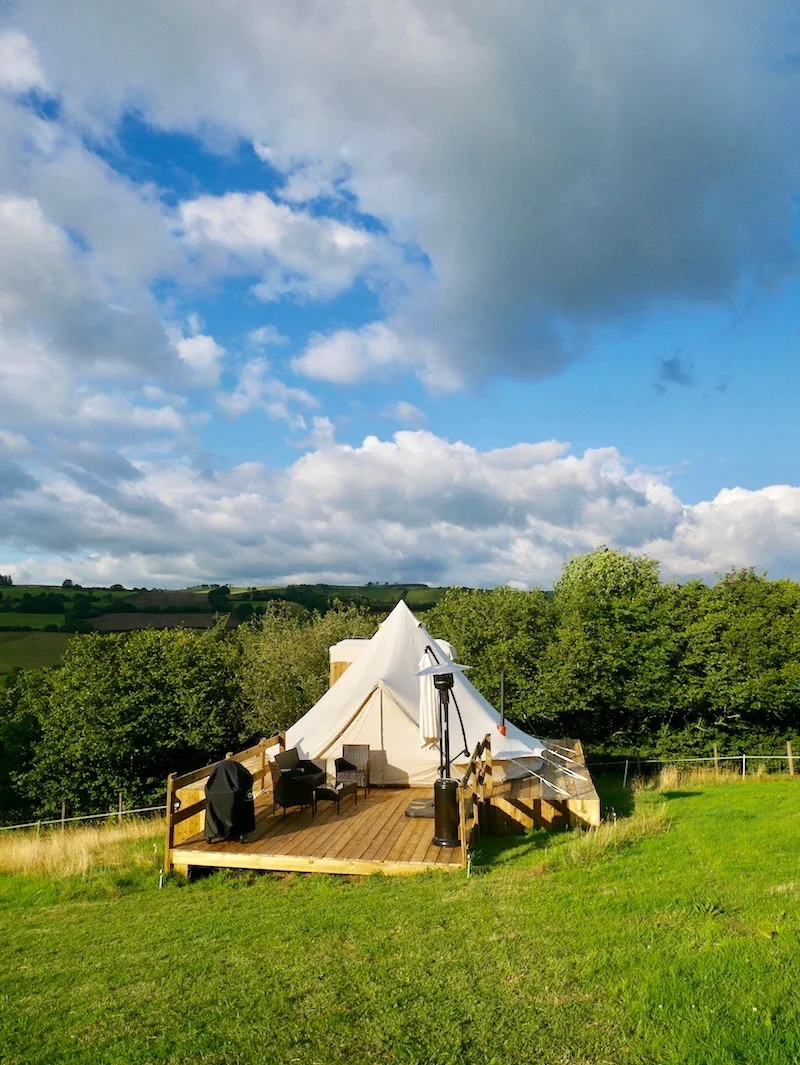 Driving up to Brandy House Farm was like driving into a scene from an old fashioned story book. A single track lane ran through a field filled with lambs who leapt about in the long grass to signal my arrival. I came to an enormous, ramshackle farm house framed by colourful flowers, happy daisies and pastel pink roses. There were leafy shrubs and fruit trees that were just begging to be climbed by curious kids in search of juicy apples.
You can tell at first glance that this is a house that has been lived in and loved in for generation after generation and it had that warm, welcoming feeling that makes you feel right at home (while seriously wishing this was your home!)
I parked my car next to the stables and had a look around. There were cottages and glamping pods and I could see the canvas tent that would be my home for the night.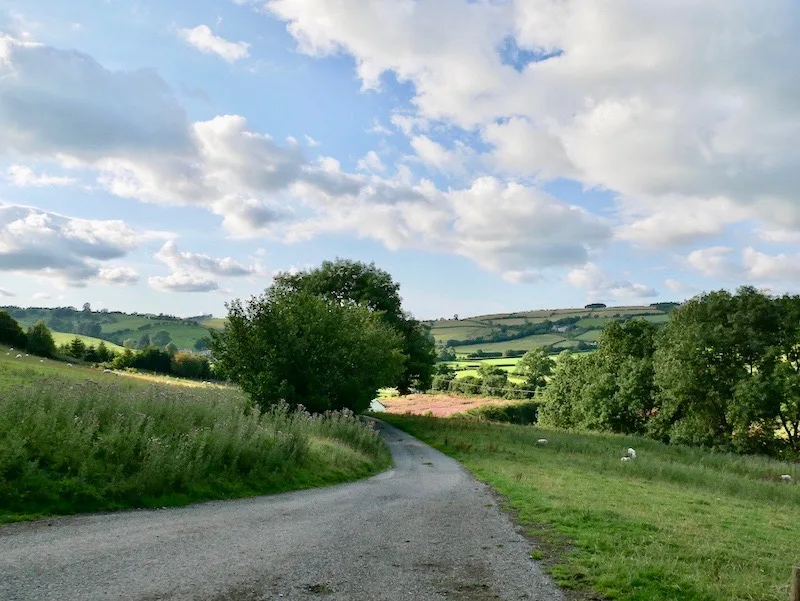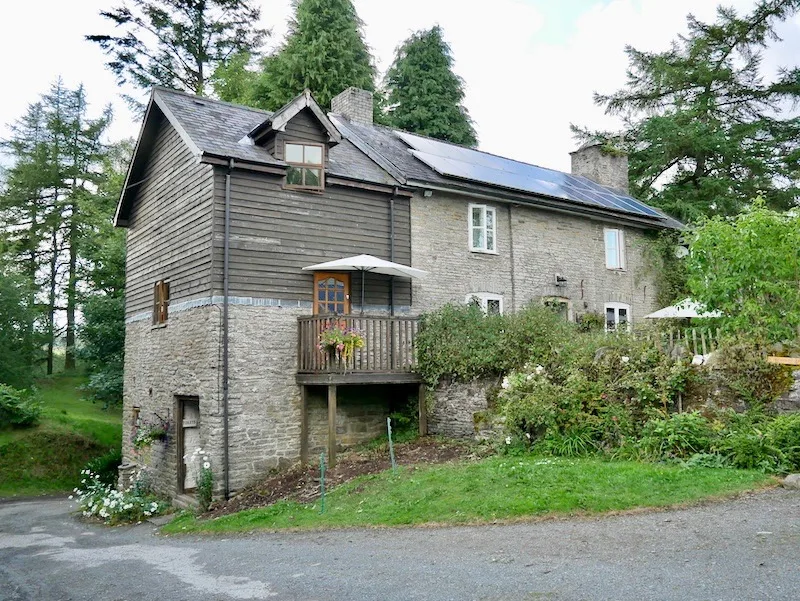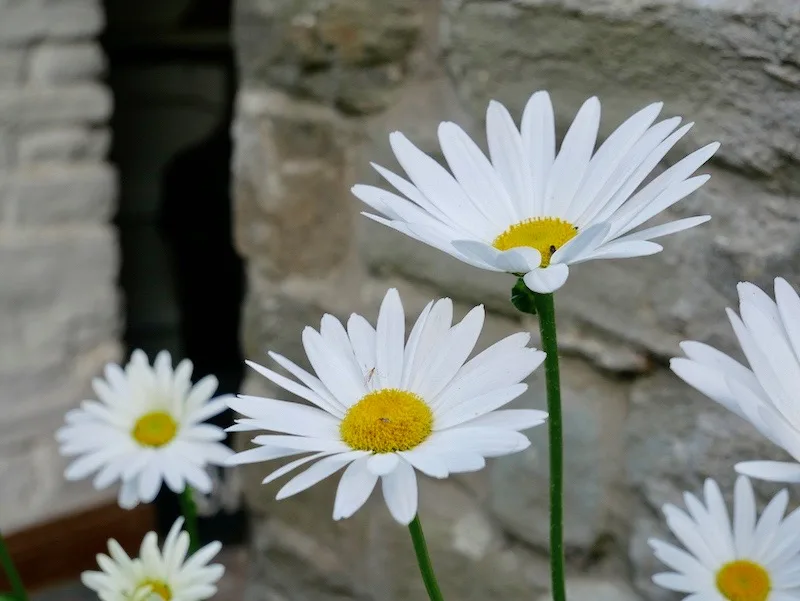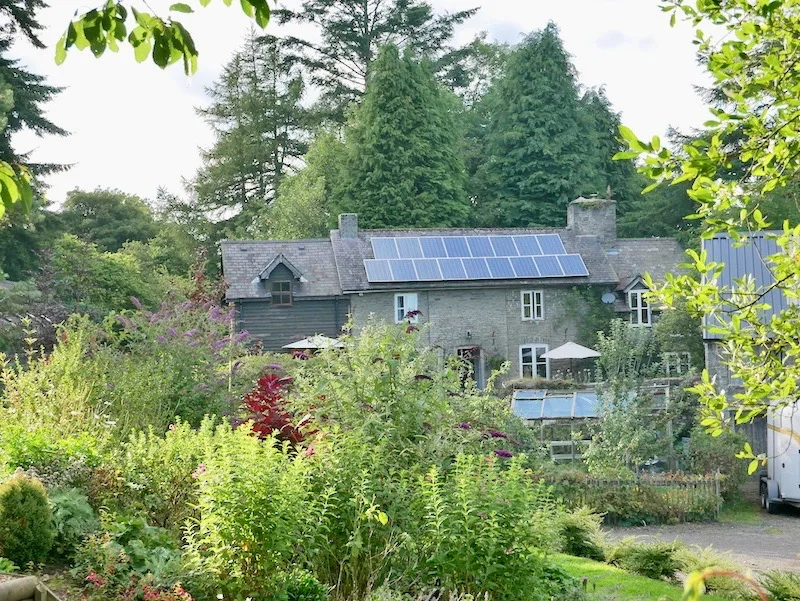 I was staying at Brandy House's latest accommodation option, Glampotel.
Glampotel claims to be the world's first eco-tourism glamping hotel 'chain' and this is the first to open in Wales. Founded by Paul Woolnough, Glampotel combines the simplicity and joy of sleeping under canvas with the little luxuries of a boutique hotel. They refer to these gorgeous tents as Canvas Cottages and, once inside, they do feel much more like a spacious and luxurious hotel room than a tent.
Glampotel aims to be the most luxurious and sustainable eco-tourism canvas hotel chain in the world. They partner with a mixture of businesses to house their Canvas Cottages and you'll find them within places like B&Bs, wineries, stately homes, chateauxs, boutique hotels and campsites. But something that really sets them apart from other glamping options is that they're as eco-friendly as possible and have almost zero impact on the environment.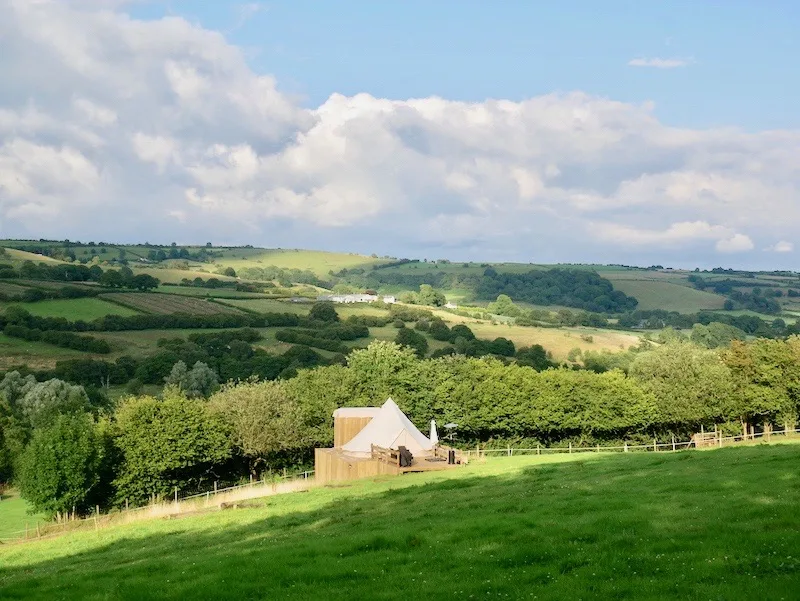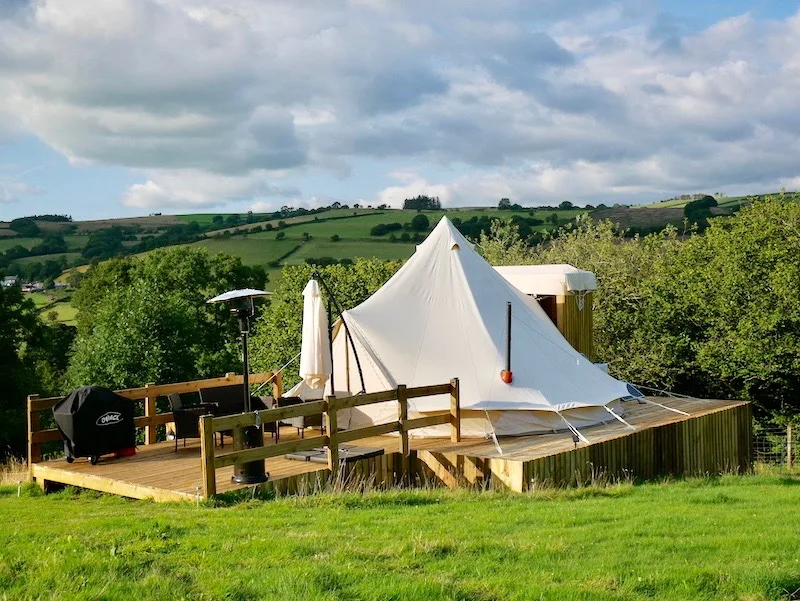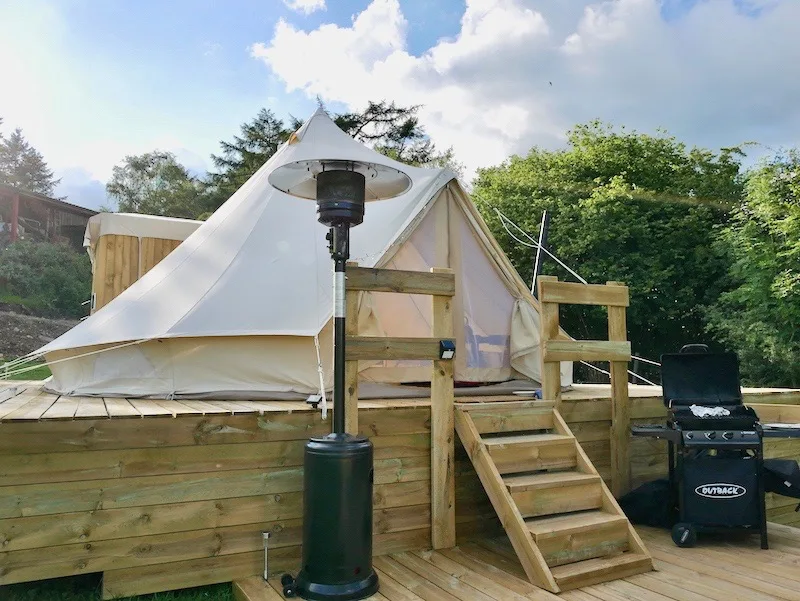 At Brandy House Farm, the two tents are pitched on a (perfectly even!) raised wooden platform, with a decked veranda looking out over the hills. If you ignored the comfy outdoor furniture, patio heater and gas BBQ then you'd probably think this was a regular bell tent…until you stepped inside.
Opening up the triangular tent doors and you get your first glimpse at the luxury inside. Stepping onto the wood flooring and into the tent is like steping into the wardrobe that leads to Narnia. You expect it to be small, poky and dark but it's bright and spacious and the unexpected scene takes you back.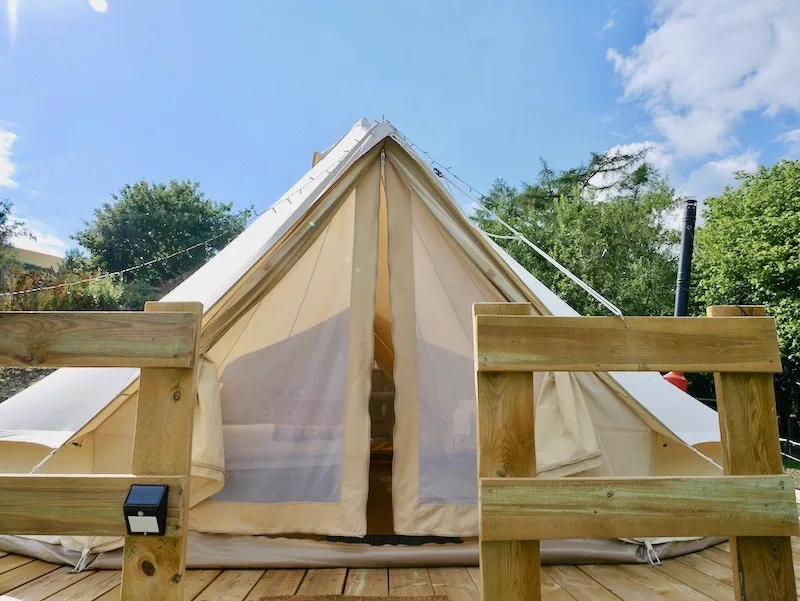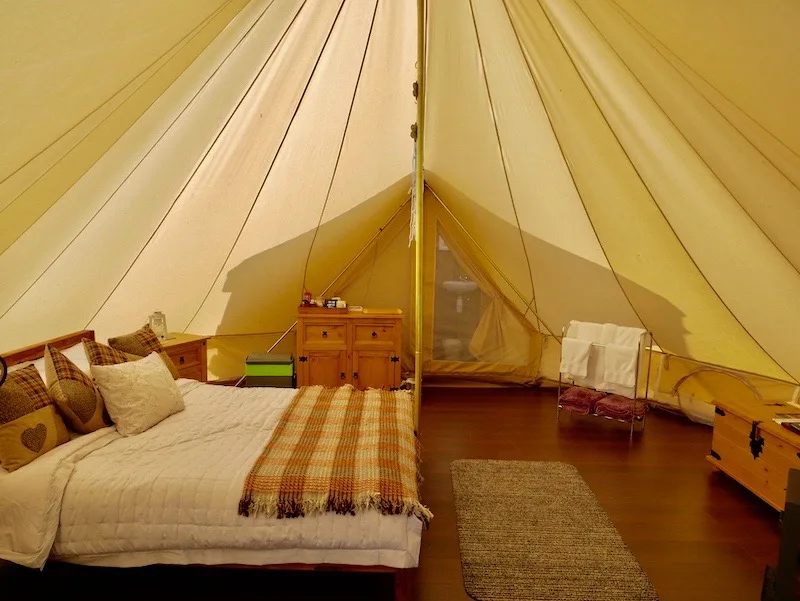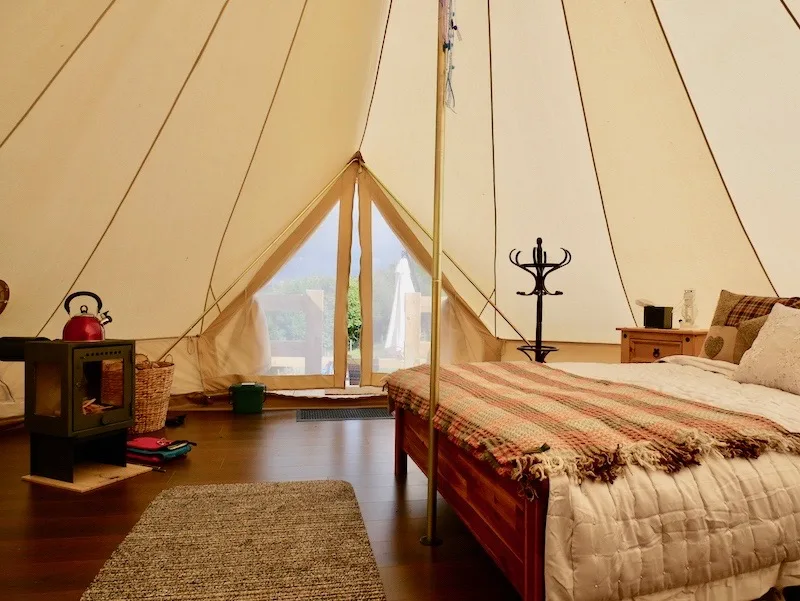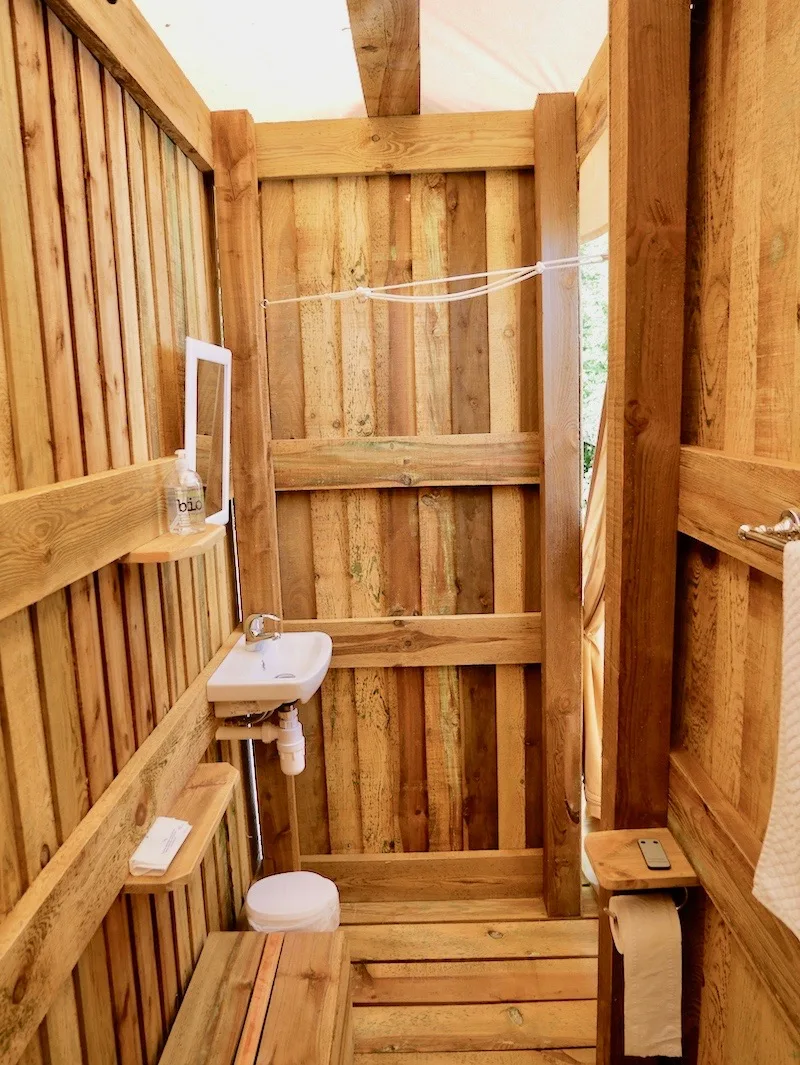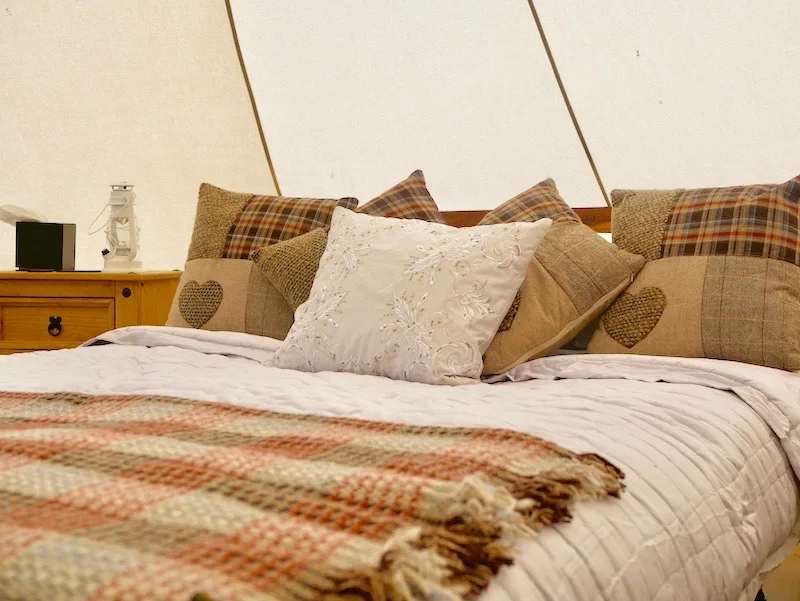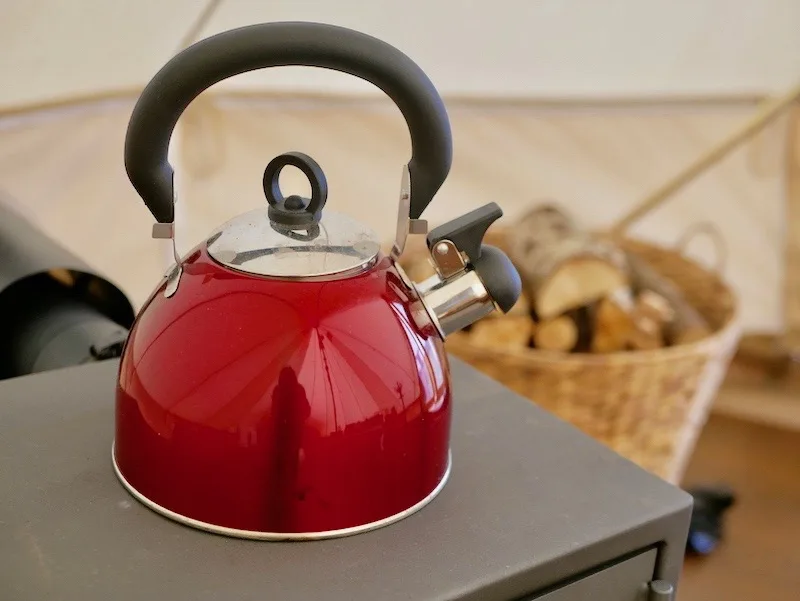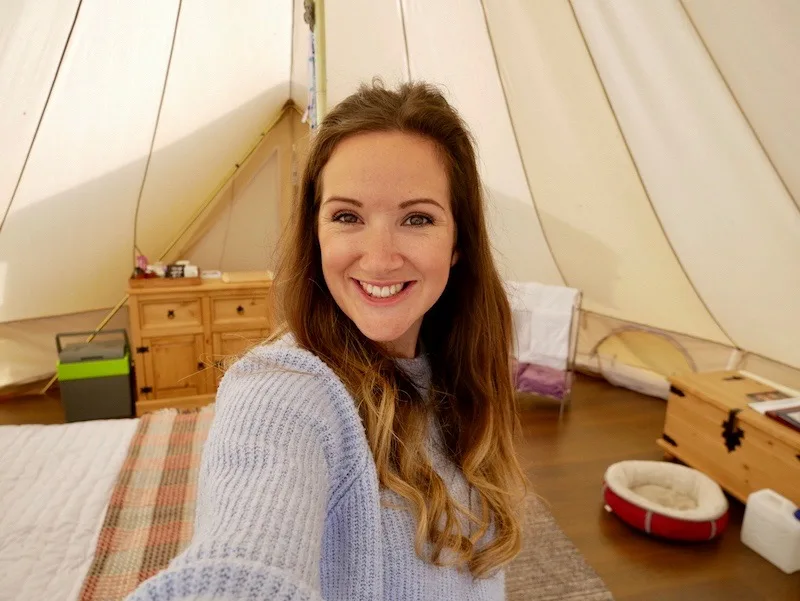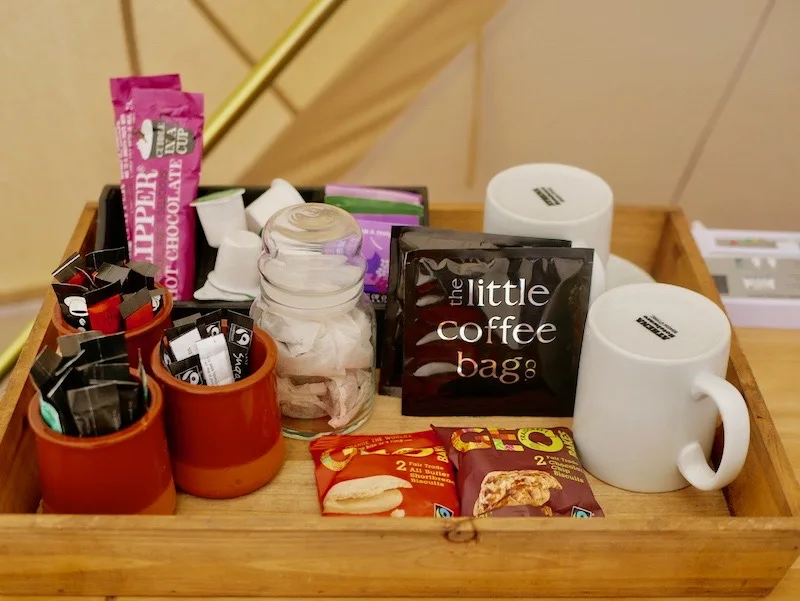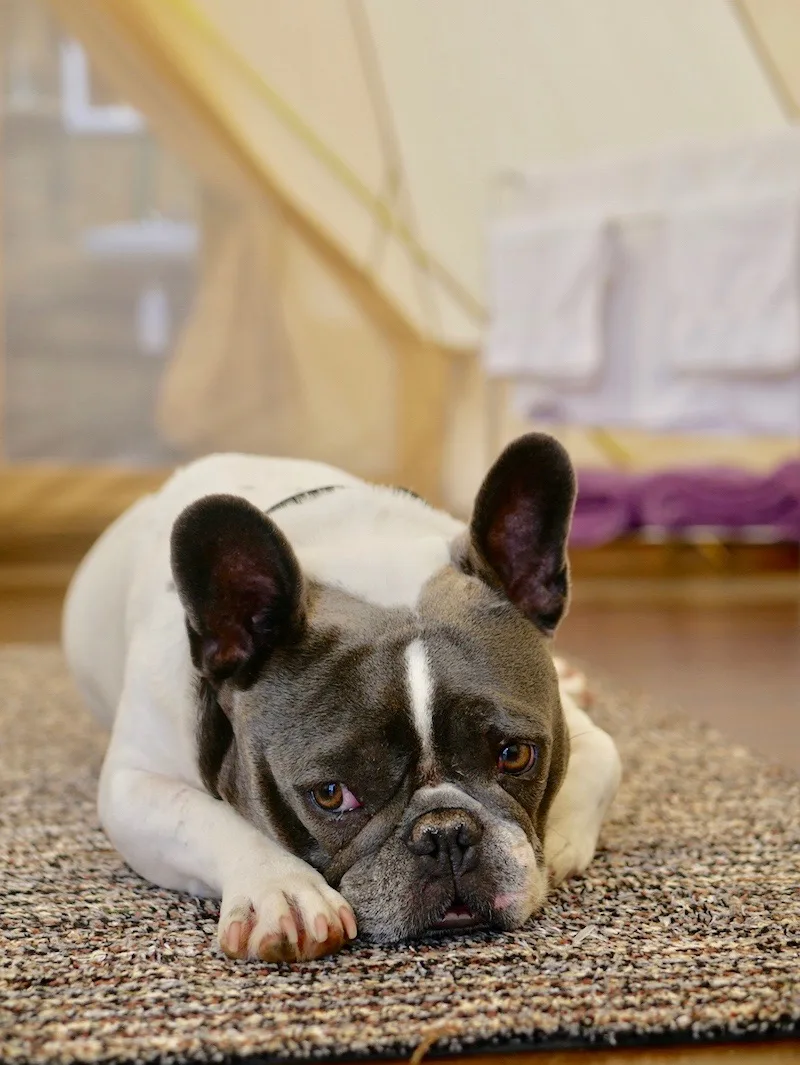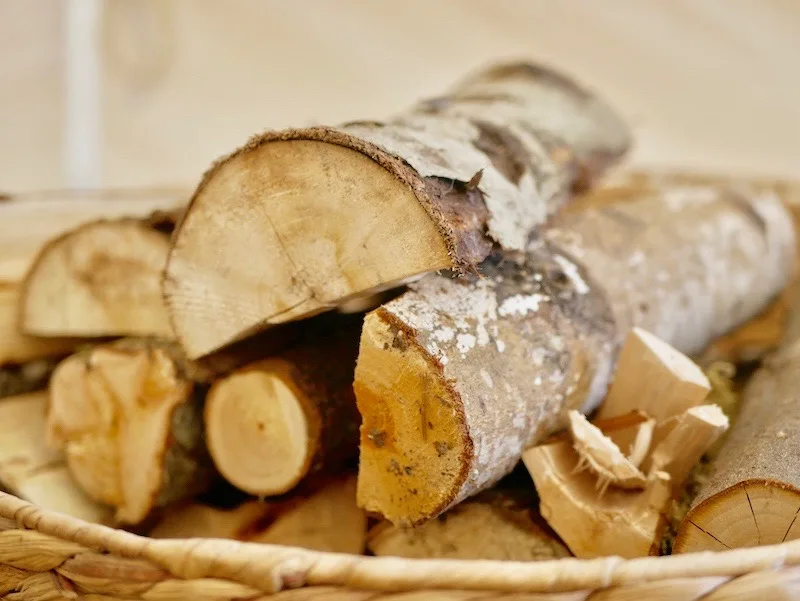 My eyes landed on the large wooden bed and chunky wooden furniture that was homey and inviting. A log burner and a basket of logs sat nearby and a dresser was filled with everything you'd need to cook up a meal on the BBQ outside. A spacious bathroom was at the far end with a hot water shower, wash basin and eco toilet.
I looked around and realised that this place put a normal tent to shame. I'd never be able to step inside my regular tent again without feeling a pang of disappointment and longing to be back here.
Instinctively, I reached for my phone to check my messages and snap a quick photo for Instagram Stories, but I quickly realised I had no hope of getting a signal. I put my phone away and sat down outside, perched on the edge of my seat while inspecting the enormous black clouds that were rolling dangerously close.
It always takes me a while to relax and completely unwind on trips like this.
I don't think we realise how highly strung we are until we're in an environment away from all the things that make us that way.
Sometimes I need to be a in a place where I have nothing to do but sit back and watch the world go by. How often do you sit at home and read a book, enjoy the view, listen to the cows mooing and the chickens clucking and open a bottle of wine and enjoy it with the people you love without any distractions?
I couldn't help but wonder why life wasn't always this simple.
We BBQ'd some salmon for dinner and ate it outside as the sunset, all the while itching for it to be a reasonable time to light the fire.
It was still sunny and warm outside but we couldn't resist. The fire had already been laid so it was quick and easy to light and the flames were dancing merrily in minutes.
There's something so instinctively mesmerising about a fire, especially one in a glass box like Glampotel's. I sat cross legged on the floor, watching it like a child watches TV, enchanted by the flames that seemed so gentle and soft within their glass case.
The kettle ontop of the stove began to bubble and whistle, signalling it was time for a big mug of hot chocolate. The type with marshmallows floating on top and needs to be eaten with a spoon rather than drank.
The tent was heating up and becoming a cosy little cocoon, a delicious little sanctuary in the middle of a field.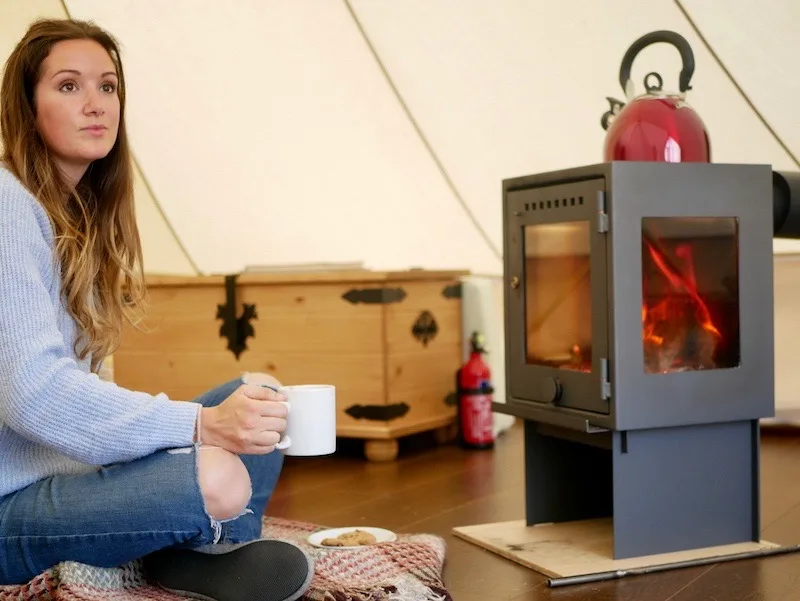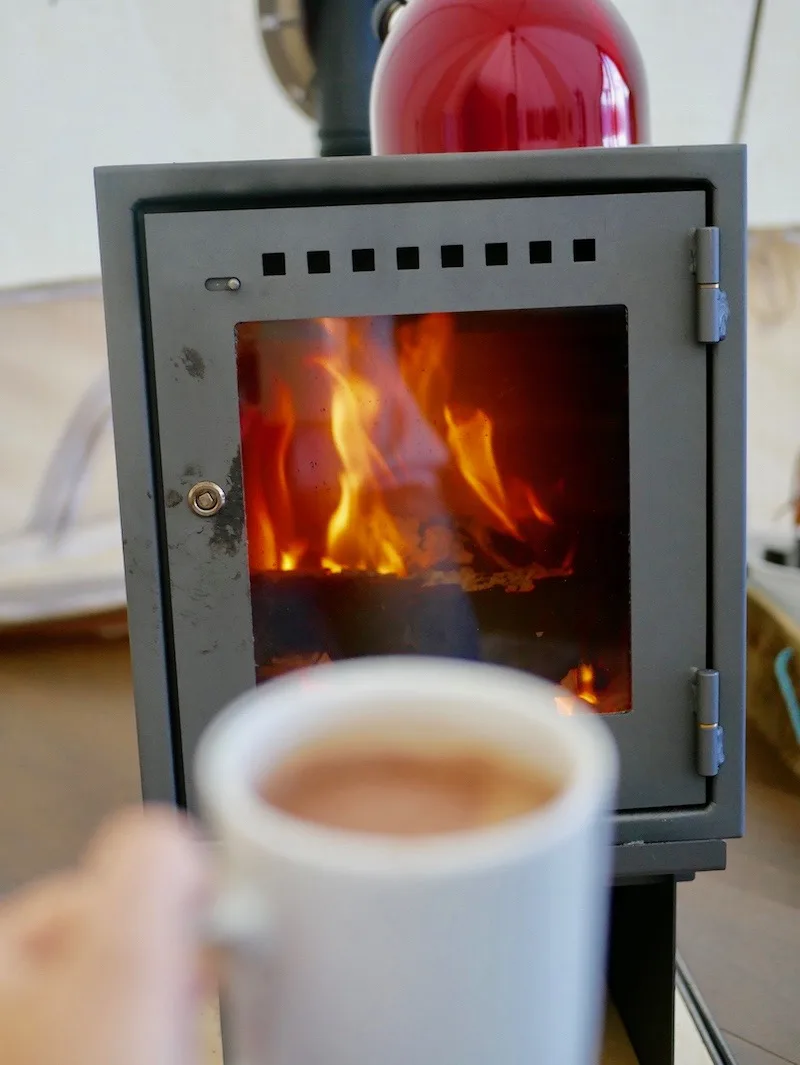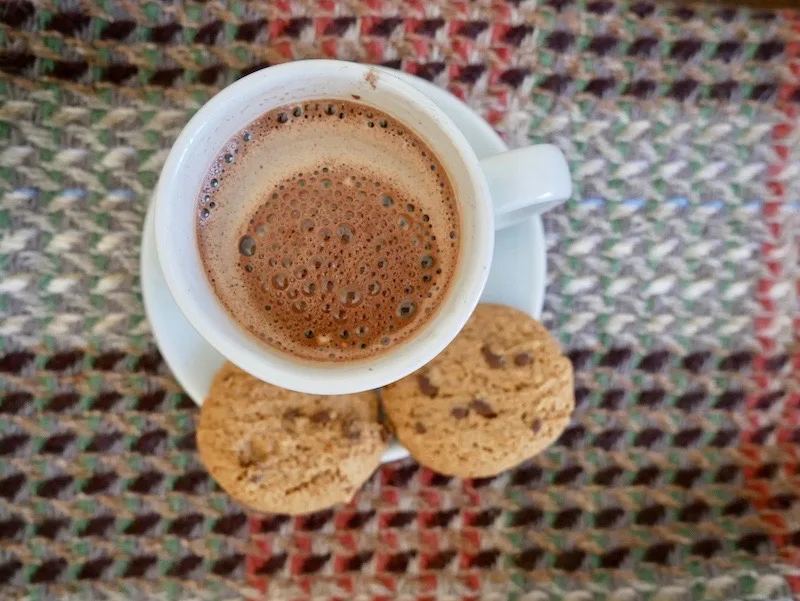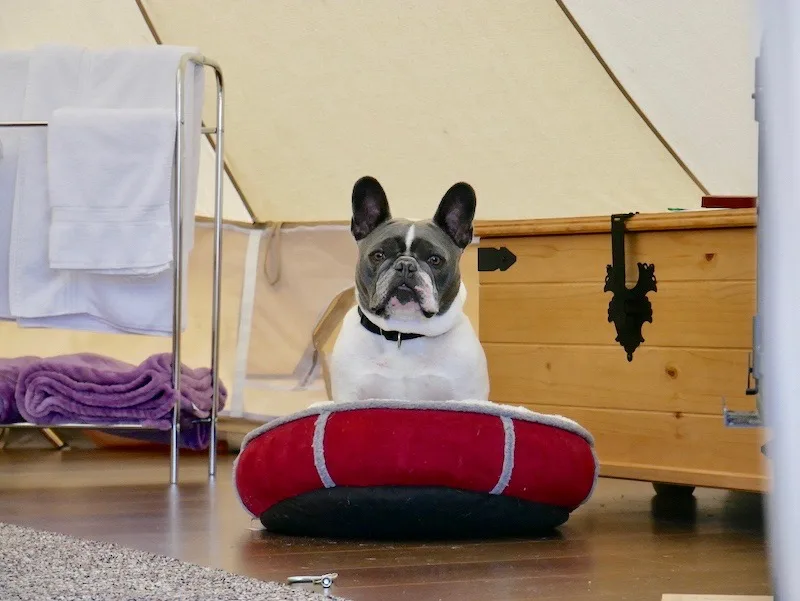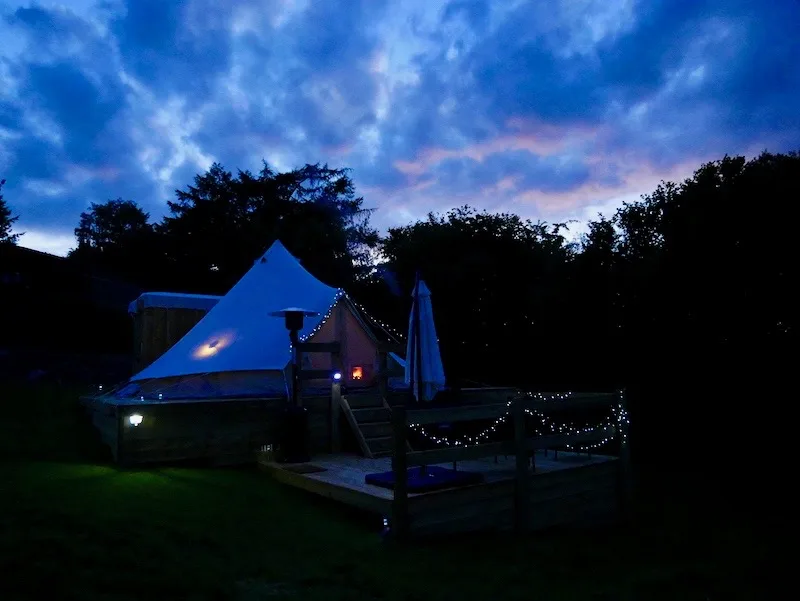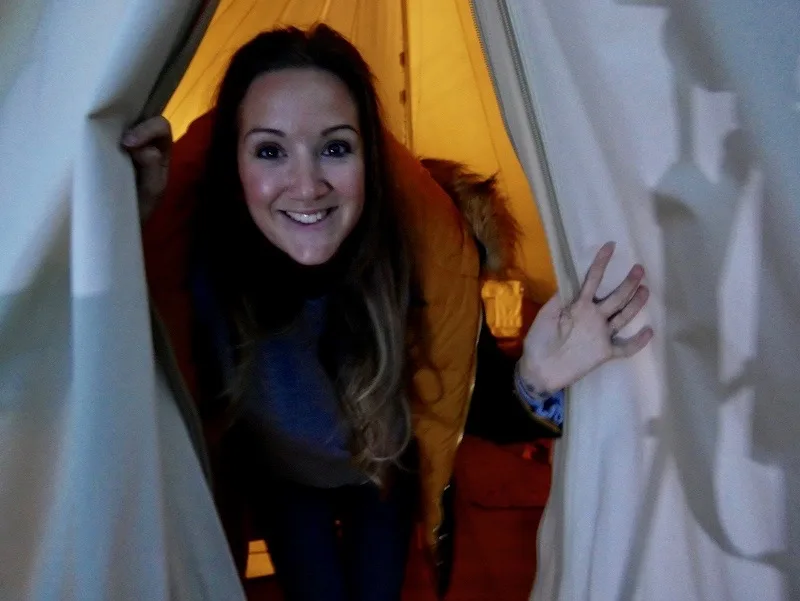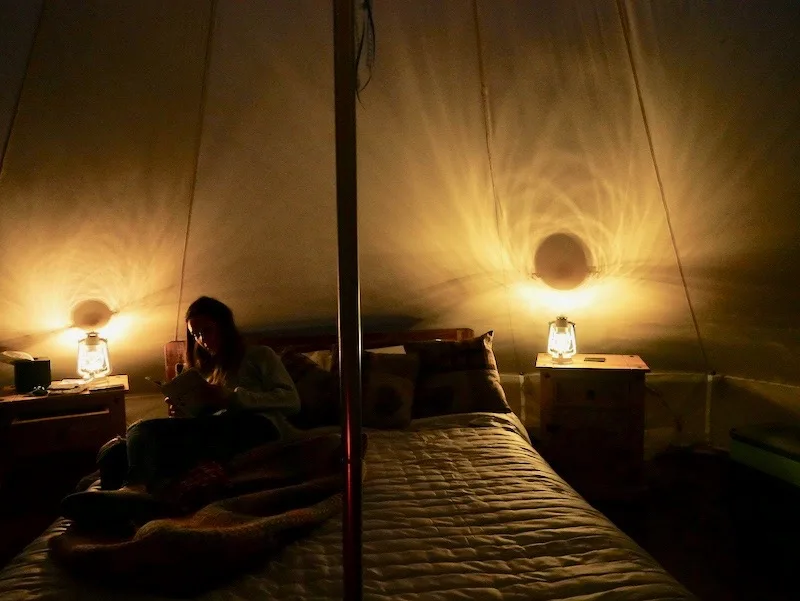 I loved the fact that from the outside you'd never guess how warm and homey it was in here. I loaded the fire with logs until the heat was almost unbearable and retreated to a safe (and much cooler!) distance to read.
I loved being able to hear the animals around me and get the fresh scene of country air, whilst being cosy and comfortable in this massive snuggly bed. This is what glamping is all about and I fell asleep wondering if I could trade in my house for a Canvas Cottage?
Massive thanks to Glampotel who hosted me for this stay in return for an honest review.
You can find more of my glamping blog posts and reviews here and more of my blog posts from Wales here.