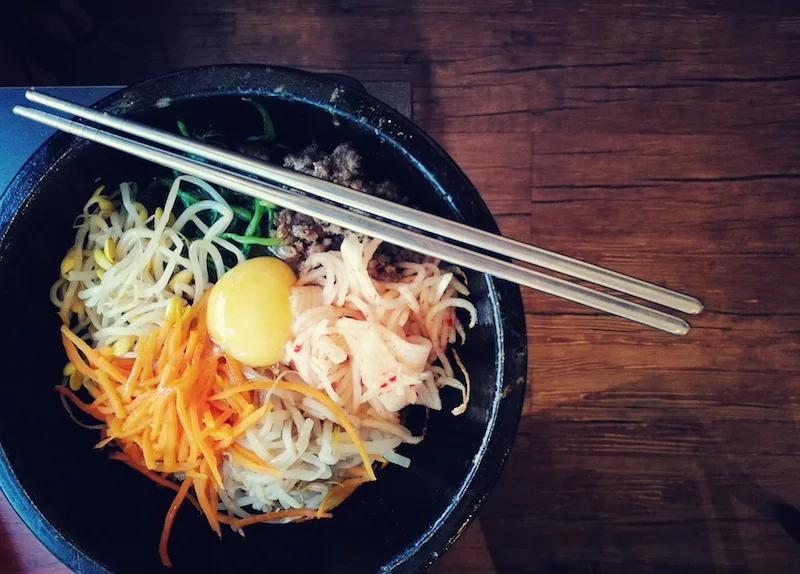 If you follow my weekly newsletter you would have seen a request I sent out a few months ago asking for recommendations or suggestions for up-and-coming foodie trends around the UK. The reason for this was because I'd been set a very special challenge. A challenge that saw Elle and I travelling around the UK in search of these rising foodie trends.
How awesome is that!? Sometimes I have to pinch myself that this is actually my job. Yes, we travelled around the UK eating ALL THE FOOD!
This challenge was set by Huawei, the Chinese mobile phone brand who have recently launched the Huawei P9. This phone has been co-engineered with Leica and has the most incredible camera on it. It's so good that Elle and I have pretty much ditched our DSLRs over the past few months and almost all of our photography on the blog has been taken on the phone. Huawei challenged us to capture our foodie adventure on the P9 with photos and videos.
Over the next five weeks I'll be sharing out foodie adventure, beginning with our first stop on the tour in New Malden, South West London…
---
If you live in London, you've probably noticed a particular food trend emerging in areas like Soho and Holborn. Korean food, once relatively obscure, is suddenly popping up on menus all over the capital.
But the Central London restaurants aren't the trendsetters in this case. In a quiet corner of London's outer suburbs, some of the best Korean food outside of Korea itself has been enjoyed for decades.
The destination is New Malden, and it's here that Europe's largest Korean population has found its home. Up to 20,000 residents of this small, leafy area of south-west London are Korean, with around 600 North Korean refugees having made their way to this unlikely suburb halfway across the world.
So why New Malden?
In the 70s, the South Korean ambassador moved into the area, encouraging others to follow suit. Around the same time, Korean company Samsung opened its UK headquarters in New Malden, and these factors, along with more affordable housing prices than neighbouring areas like Wimbledon, created a thriving Korean community.
As a result, there's an abundance of incredibly authentic restaurants and cafes serving Korean favourites up and down the high street.
Determined to try the best of the bunch, we took the 20-minute train ride from London to New Malden to sample as much Korean food as we possibly could.
First stop, Sorabol…
You have to walk past a lot of other Korean cafes and restaurants to reach Sorabol, but this little eatery at the end of the High Street is worth the walk.
Their lunch specials start from £5.90, and they specialise in Korean BBQ and Bibimbap.
We ordered a variety of starters, including kimchi, which is an essential accompaniment for any Korean meal. Kimchi is a fermented vegetable dish, but that description doesn't do it justice.
The tart, spicy, crunchiness is delicious, and with over 180 varieties of kimchi (the vegetables and seasonings differ according to taste or tradition), it tastes different wherever you go.
Sorabol's kimchi was as good as any I've ever tasted, but then again, so were our other starters: a dumpling soup and crisp, salty seaweed slices.
We both ordered bibimbap for our main course – Elle's came with raw beef strips and mine was vegetarian, served with a fried egg on top. Traditionally, the egg is cracked raw into the hot stone bowl, and as you stir everything up it cooks into the rice, meat and vegetables. It acts as a bit of a sauce – well that, along with the Korean hot sauce that you just can't enjoy bibimbap without.
Both of our dishes were delicious – tasty, hot and with plenty of those crispy rice bits that stick to the bottom of the bowl.
And the best part? The bill came to about £30 for both of us, which included starters, mains and bottled water.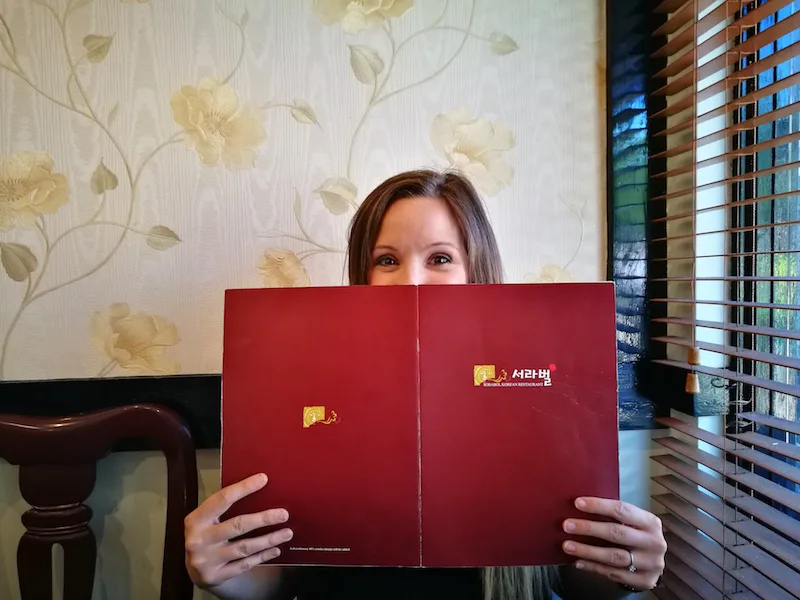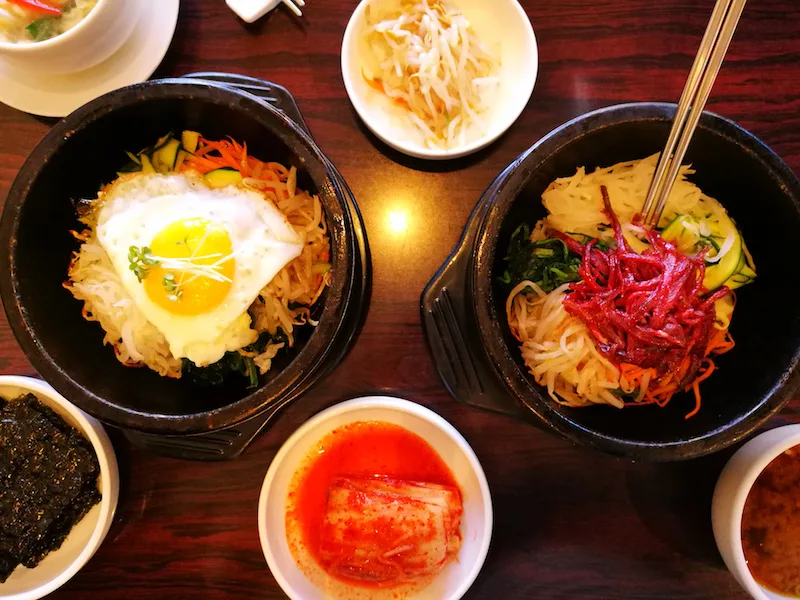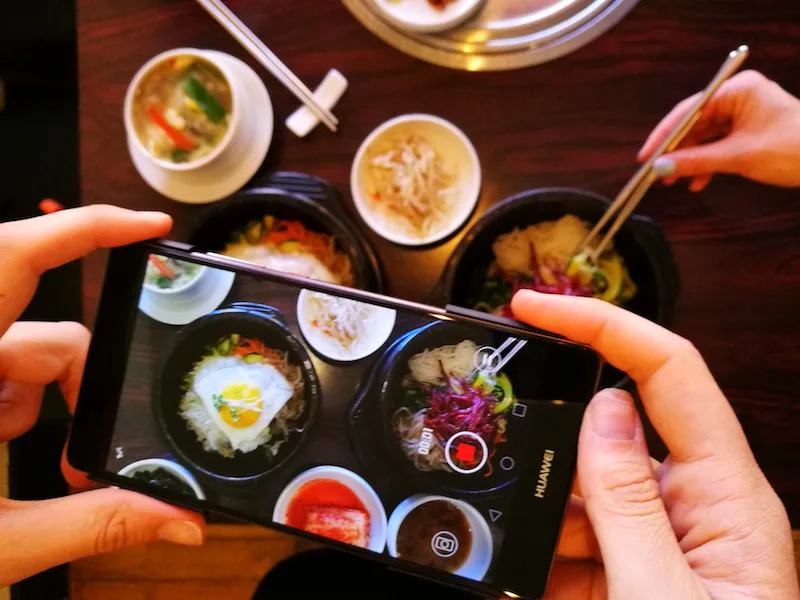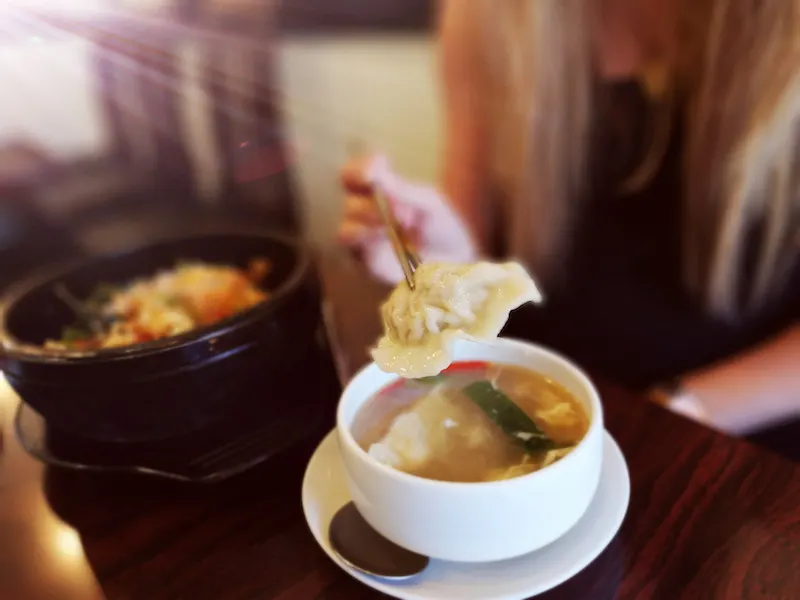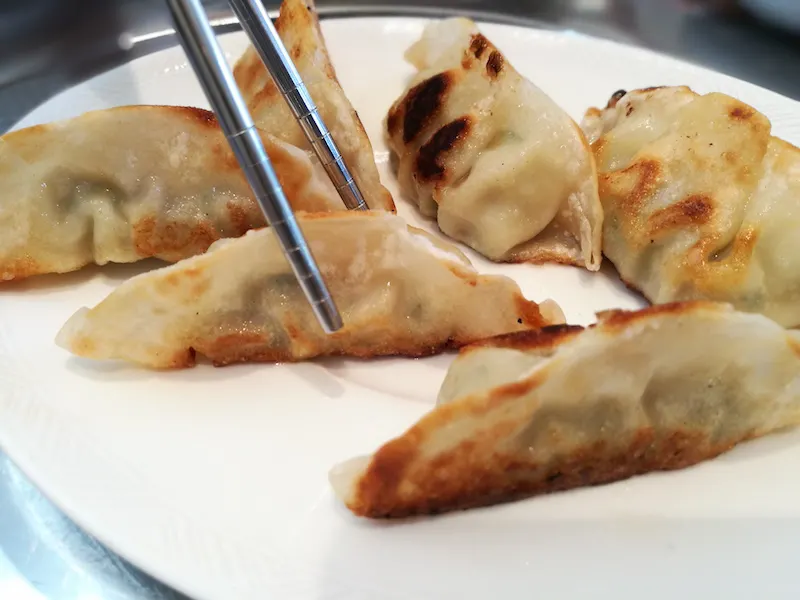 Sorabol: 180 High St, New Malden KT3 4ES
Lunch number two at Yami
Yes, we had two lunches. Don't judge, it was all for a good cause 😉
Elle and I both worked in New Malden (we were social media specialists at Flight Centre and this is where the HQ is) a few years ago, and we used to visit Yami for a quick and tasty lunch. Their lunch special – £5.90 for a hot stone bibimbap – is a total bargain, and it's tasty, to boot.
Our bibimbap came with a raw egg yolk on top which made the whole thing creamier than the one we tried at Sorabol – but it wasn't quite as flavoursome. The kimchi was missing its satisfying crunch, although the spices were perfectly balanced, and cut right through the hearty meat in the bibimbap.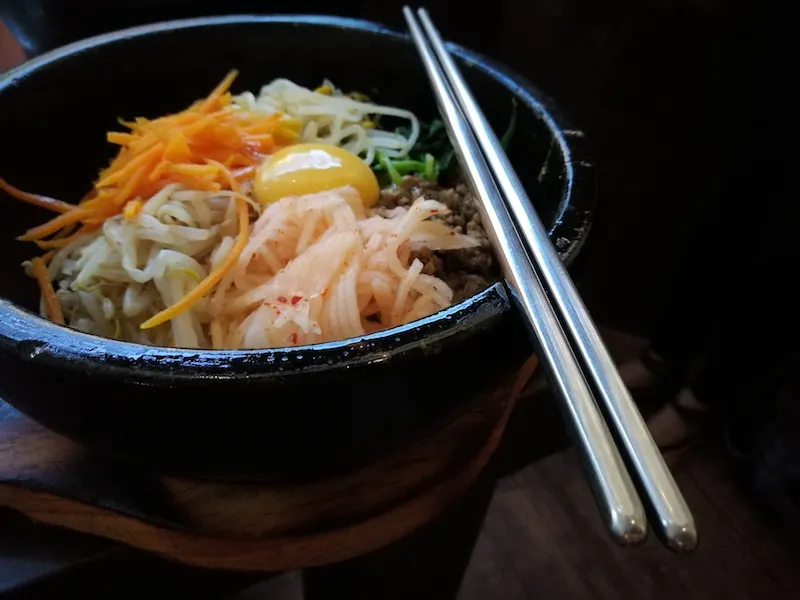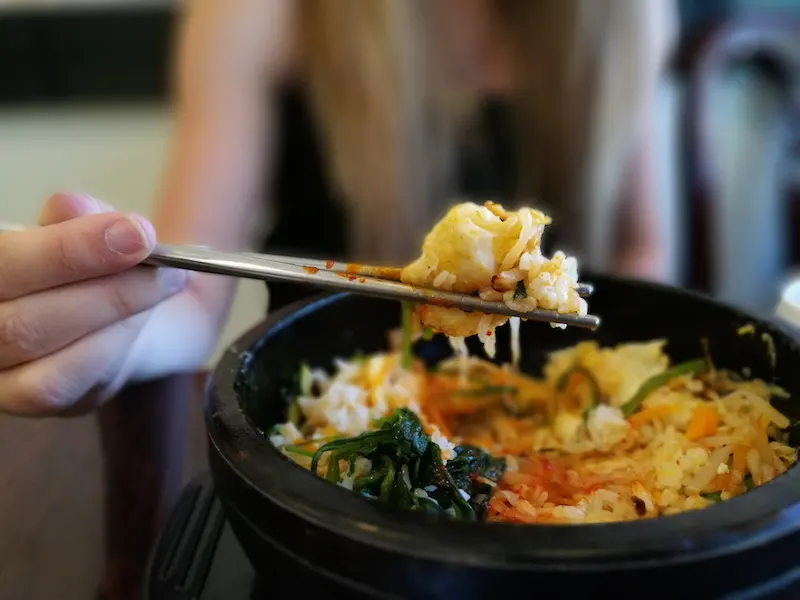 Although Yami offered value for money, and a tasty bibimbap, its service was a bit of a letdown, with not so much as a smile from our waitress. We'll put it down to her having a bad day, and still recommend you check it out for a great Korean bibimbap experience.
Yami: 69 High St, New Malden KT3 4BT
Butcher Korean BBQ
Bibimbap is a classic dish, but the real joy of Korean cuisine is in the BBQ experience – it's interactive, theatrical, and always delicious.
We discovered Butcher Korean BBQ near New Malden station and thought we'd give it a try – we were the only customers (it was early) but we were soon settled at a table and ordered our BBQ meat of choice: sirloin steak.
A hot plate was promptly brought to our table (most Korean BBQ restaurants have their grills built into the middle of the table – and most of the tables in this restaurant did have this feature, but we hadn't booked ahead so we had the portable version).
Next, a platter of meat, decorated with an elaborate fish carved out of a carrot, was presented to us complete with all the trimmings – lettuce leaves, spring onion, chilli, and the all-important kimchi.
We also ordered some dumplings because they looked delicious. And they were.
Once the hot plate was steaming, the meat was cooked and chopped into bite-sized pieces for us to dip into various sauces and eat alongside fried onions and peppers.
We used the lettuce leaves like taco shells, stacking them with meat, sauce, veg and garnishes, and eating them not-so-daintily, because who cares how you look when the food tastes that good?
The meat was so tender, the sauces so tasty and the service so incredibly helpful that we didn't have to wonder why the dining room had filled to bursting since we'd arrived.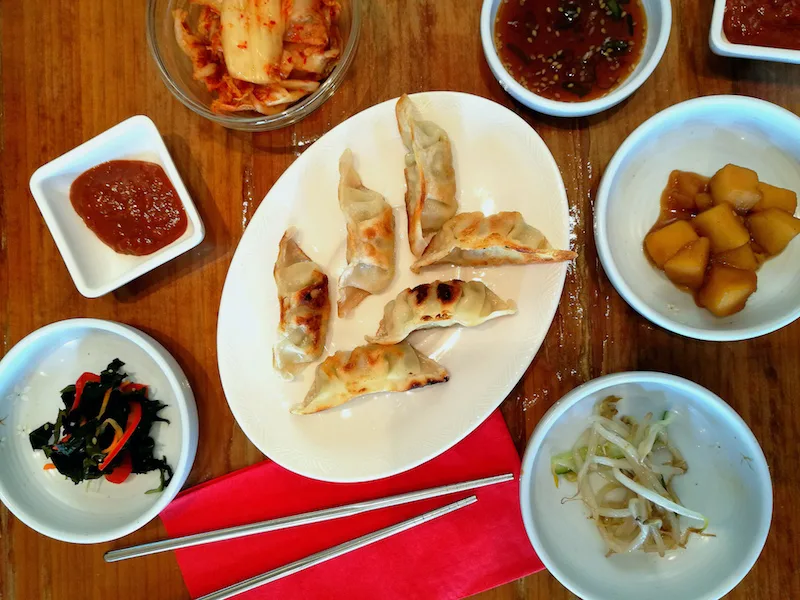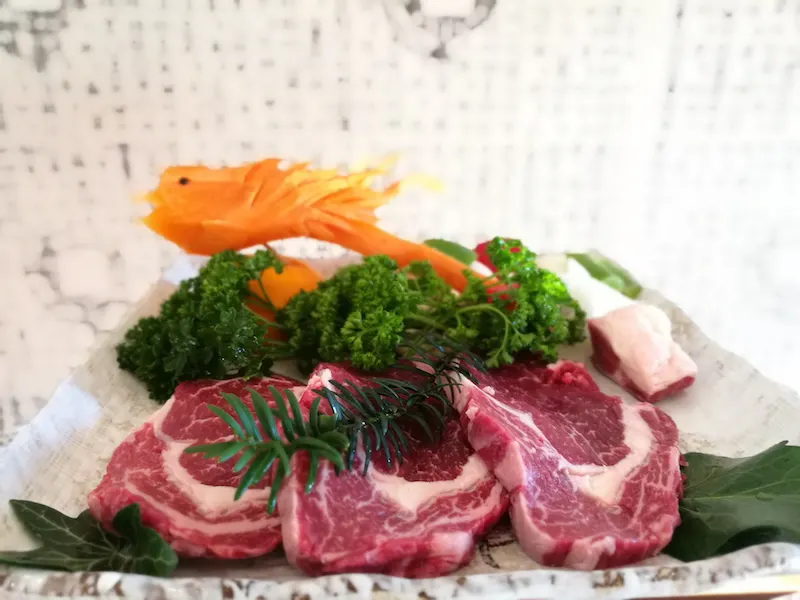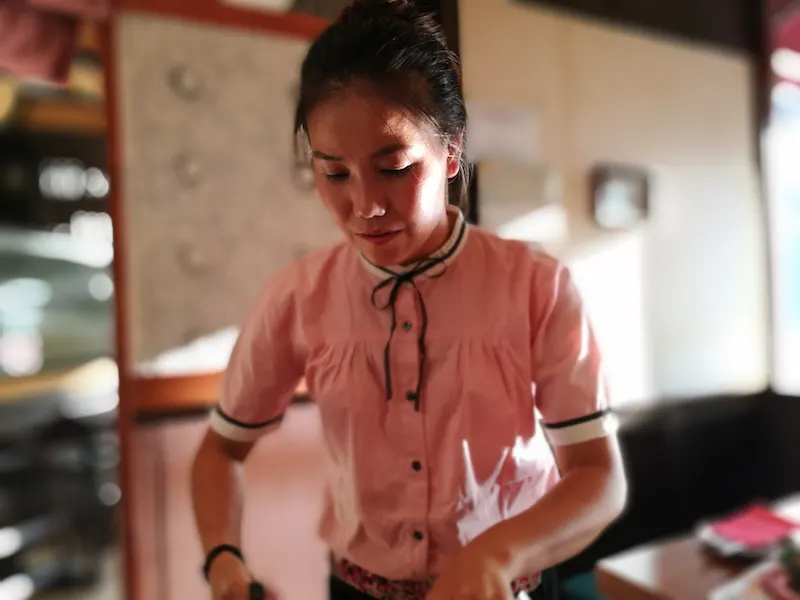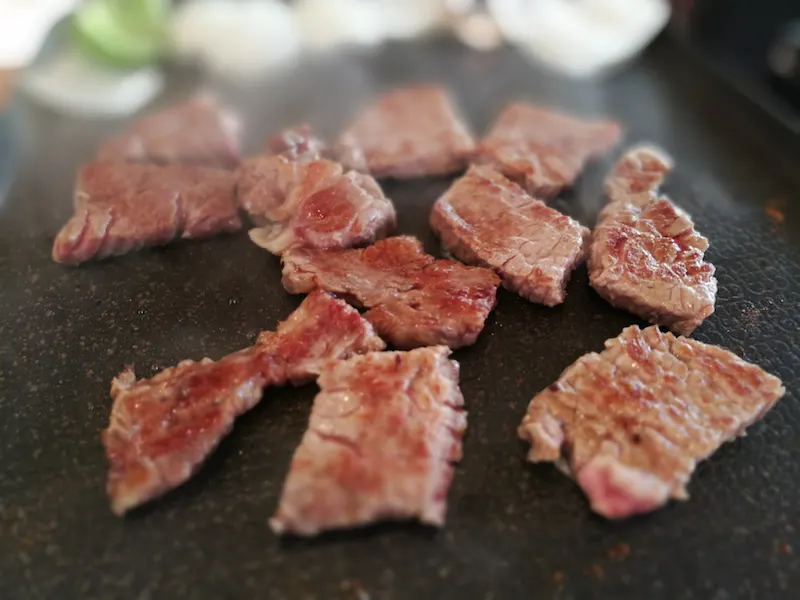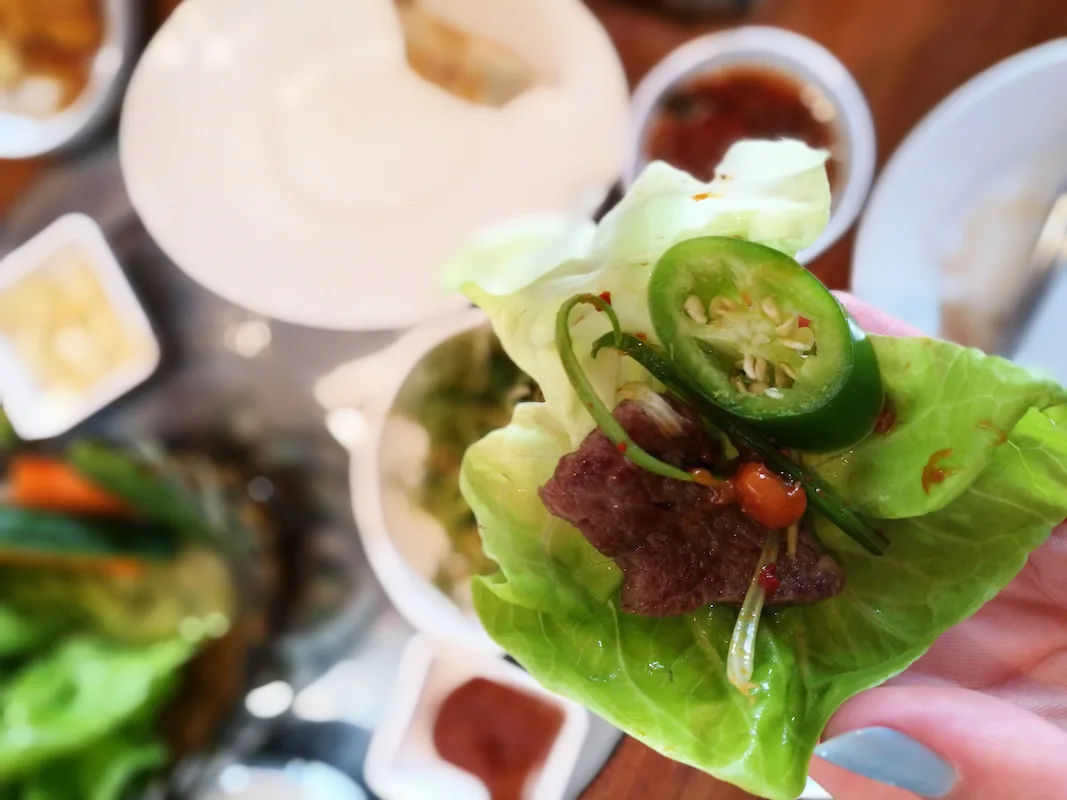 Although the bibimbaps we ate were perfect for a quick and tasty lunchtime treat, for a memorable dining experience, book a table at Butcher Korean BBQ and bring your friends along – it's an inherently social meal, best enjoyed along with good company.
If you're visiting the English capital with friends, be sure to stay at one of the top London vacation rentals.
Butcher: 27 Coombe Rd, New Malden KT3 4PX
All photos taken with the Huawei P9 Plus, co-engineered with Leica camera technology.