If you're looking for a weekend break in the UK that's not far from home but feels like a million miles away from your normal routine, then I can't recommend Northern Ireland enough!
Northern Ireland is one of those places that's so close but so far. It's just a hop, skip and a jump across the Irish Sea but it's one of those places we tend to say we'll get over to 'one day'.
As a travel blogger who takes lots of weekend breaks around the UK and Europe, I knew it was time for me to finally get over to Northern Ireland! Admittedly, the filming of Game of Thrones in parts of Northern Ireland had really sparked my interest in the area and after lots of Google image searching I was already starting to fall in love with this gorgeous place.
Here's what I got up to during my weekend in Northern Ireland. Our itinerary had a baby-friendly vibe and was put together by the Causeway Coast and Glens Borough Council.
I've documented our whole itinerary because it was just so perfect and I hope it makes it easier for anyone planning their own weekend break to Northern Ireland. Seriously, I'd just copy exactly what we did because it was all great!
My weekend in Northern Ireland
I flew over to Northern Ireland in May with my partner, Sam, and our little boy, George who was 14 months old at the time. We hired a car so we could see everything at our own pace and squeeze in as much or as little as we wanted to. This is the best way to travel with a toddler as it's stress free and you can plan your days around meal times and nap times without worrying about anyone or anything else. Car hire is expensive but I think it's worth it's worth the extra cost for that freedom and flexibility.
Friday – Day 1 of our weekend in Northern Ireland
10am – Fly from Liverpool to Belfast with easyJet
The flight takes 50 minutes so you're landing almost as soon as you take off.
11.30am – Pick up hire car and leave airport
Midday – Drive to The Dark Hedges
The Dark Hedges were one of the filming locations for Game of Thrones and it's a long and dramatic road lined with creepy looking trees that form a spooky tunnel. Even if you're not a GoTs fan I'd still recommend stopping here as it's a spectacular sight and a great photo opportunity.
Note: There is the possibility that a tour bus will turn up and ruin the views. I'd recommend just being patient and waiting until the crowds pass.
Sat Nav address: Bregagh Rd, Ballymoney BT53 8TP
(It's well sign posted)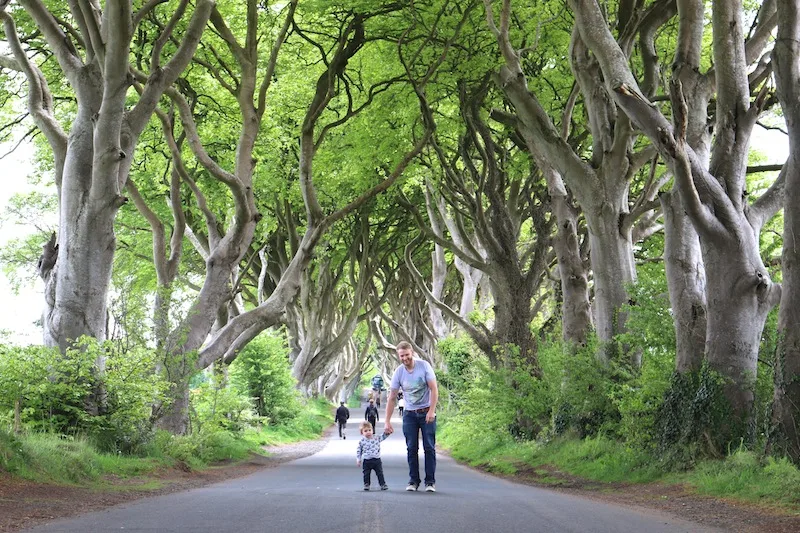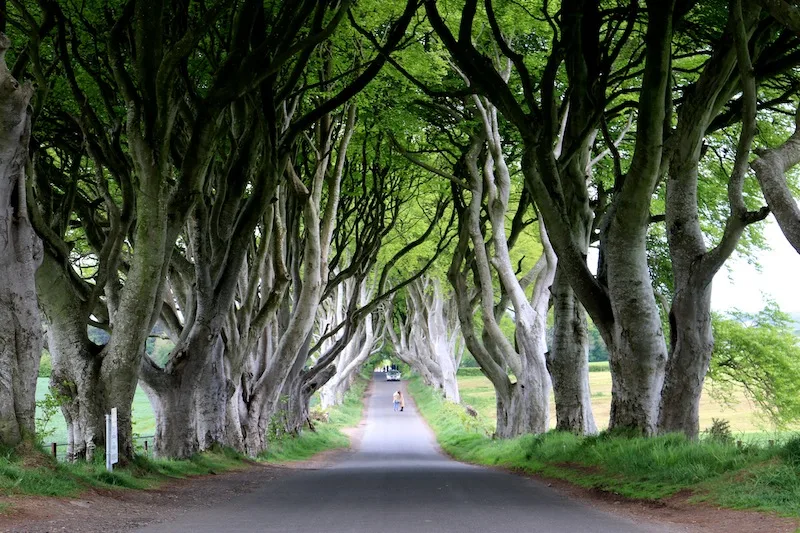 1.30pm – Lunch in Ballycastle
Ballycastle is a really cute little town with a seaside vibe, colourful houses and beautiful views across the coast. We found a little café/bakery serving pies and pasties, sandwiches and hot meals.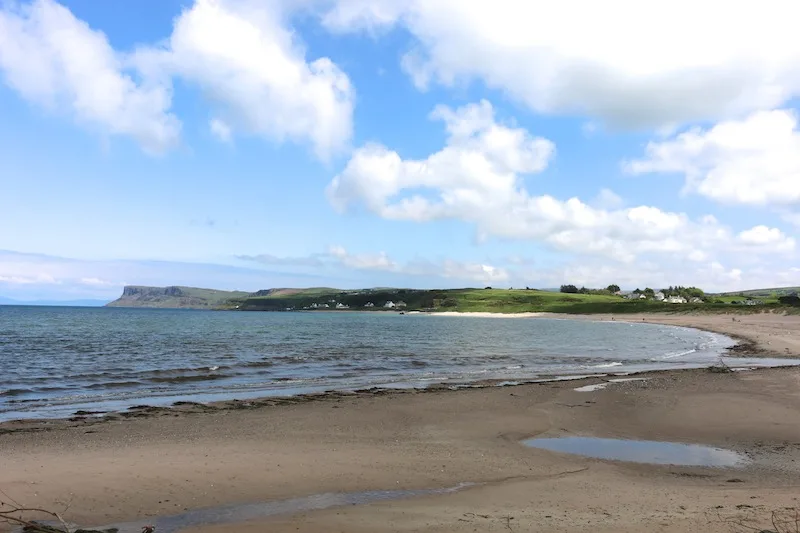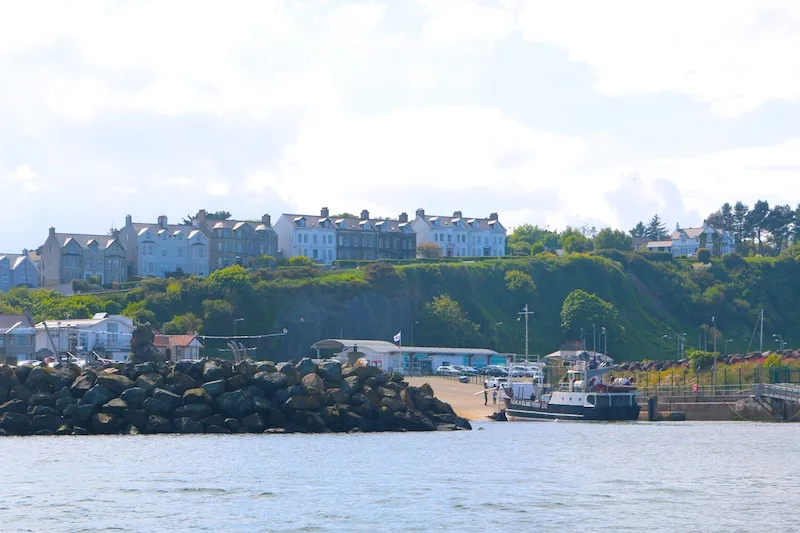 2.30pm – Sea safari with Aquaholics
Northern Ireland's coast is absolutely stunning and there's no better way to see it than from the sea. I didn't realise just how stunning it was until we were on the Aquaholics boat and I felt so lucky to see it from this vantage point.
The little boat skimmed across the water as we took in the golden beaches, rugged cliff tops, dramatic mountains and craggy peaks. Our skipper had a fantastic eye for spotting birds so I stuck close to him when we arrived at Rathin Island Bird Sanctuary. The island is home to Northern Ireland's largest seabird population and we saw gannets, gulls and puffins. My eyesight is terrible but I loved bobbing about on the sea, feeling the fresh sea breeze and watching the birds swooping overhead.
Top Tip: This was one of the highlights from our trip and I really, really recommend it. The sea safaris are really affordable and suitable for all ages.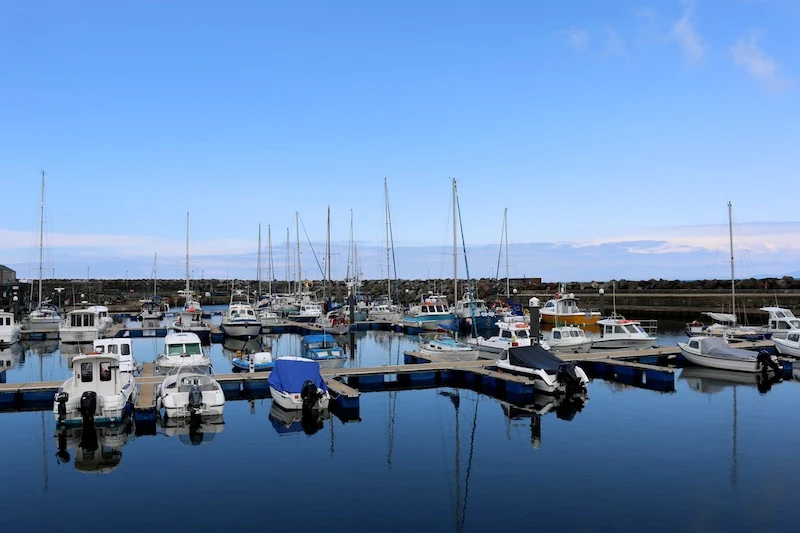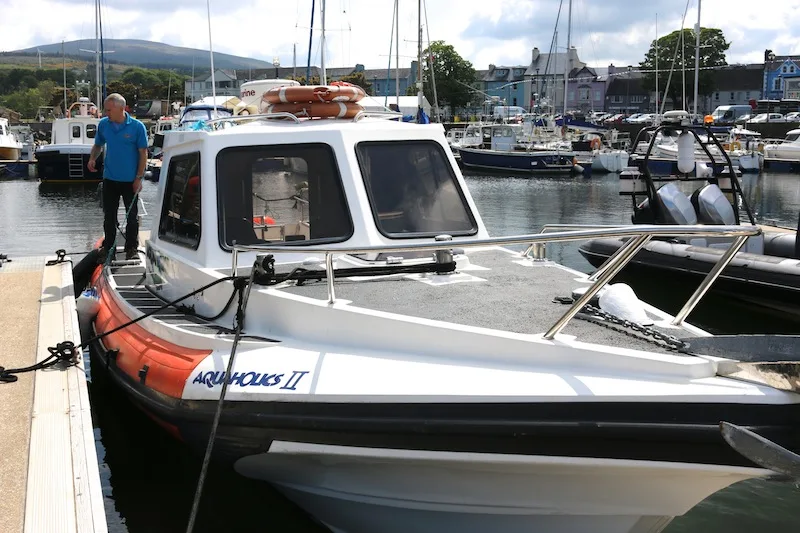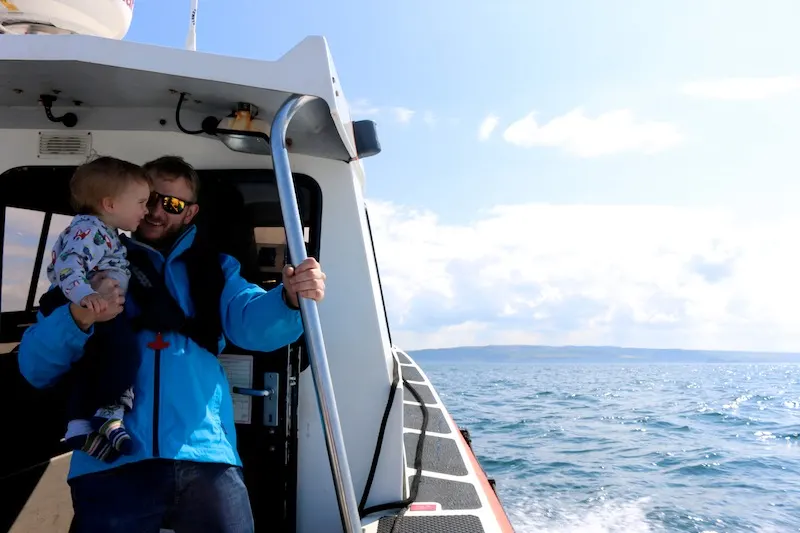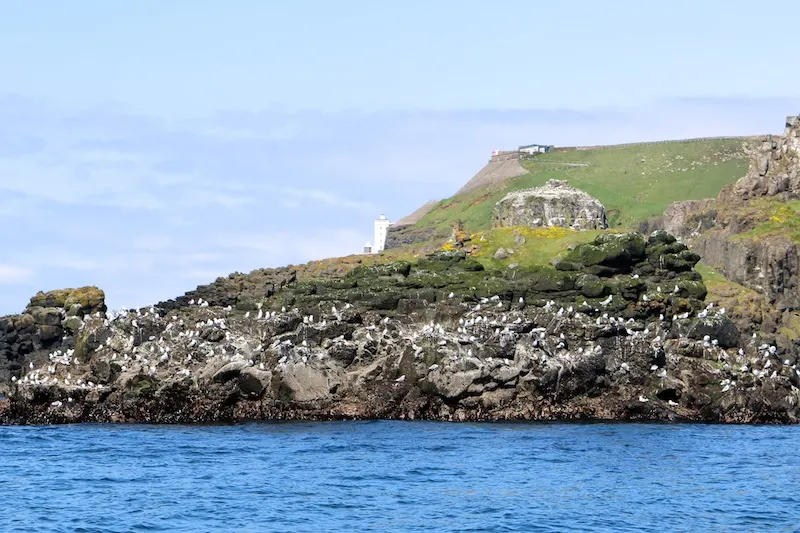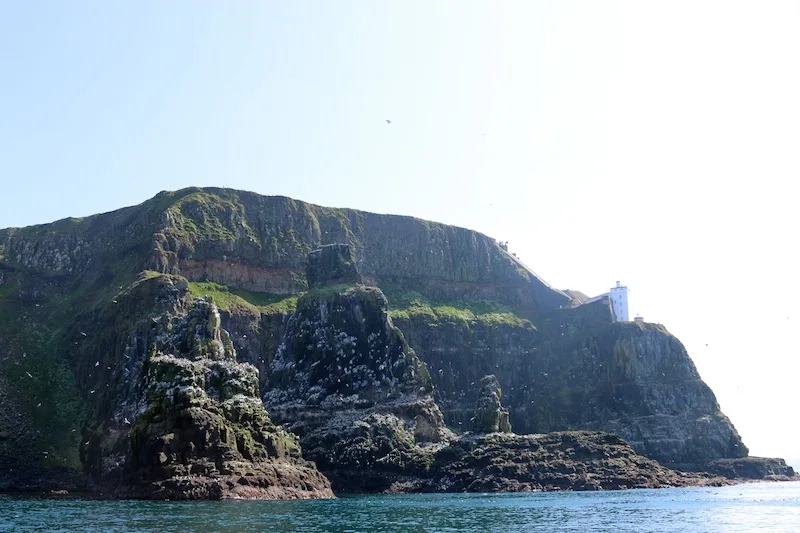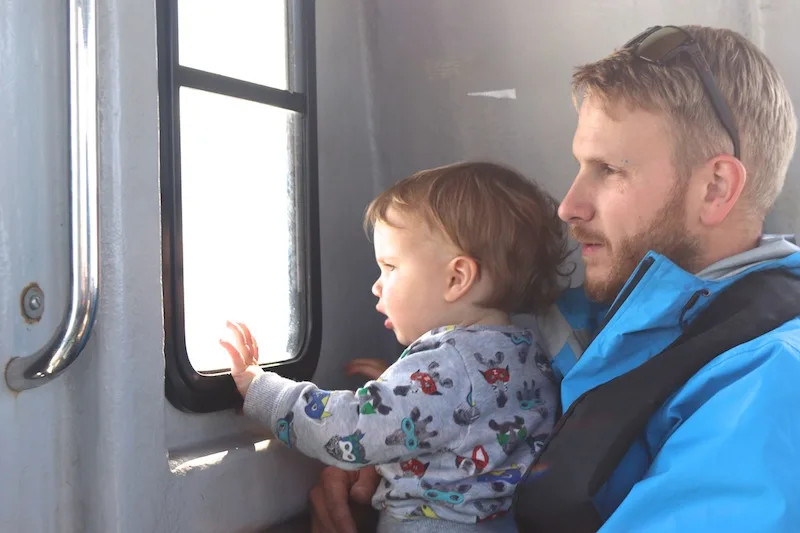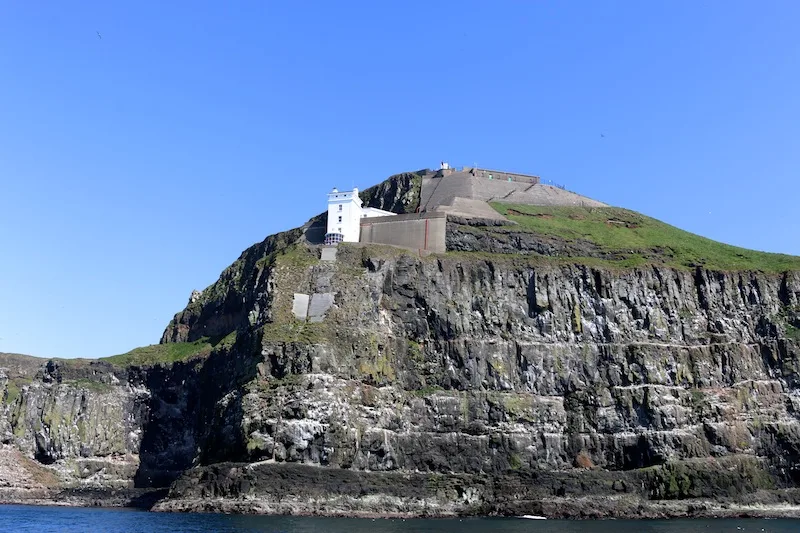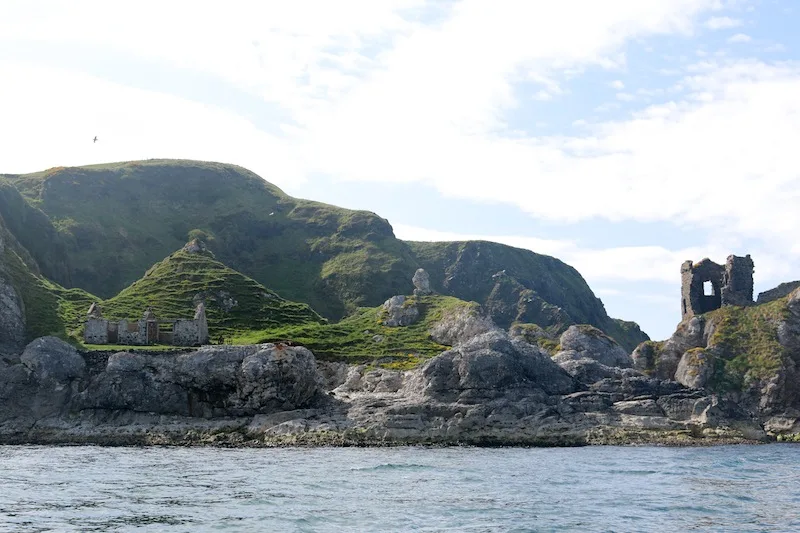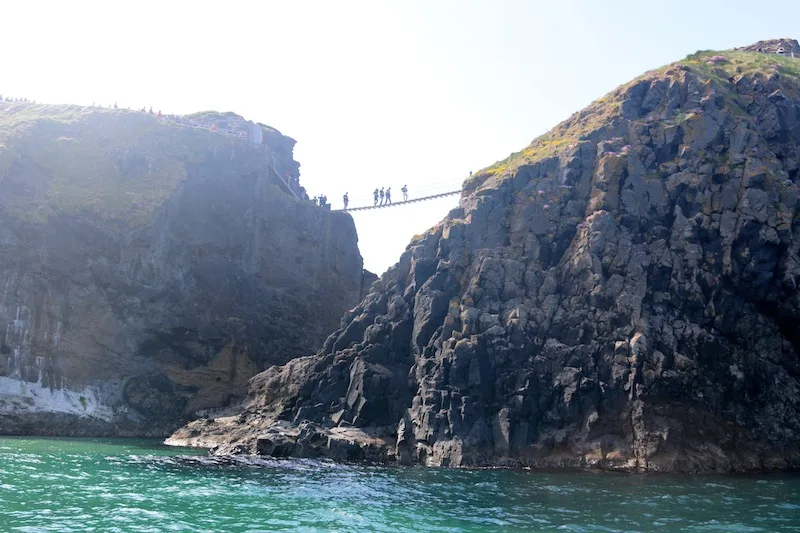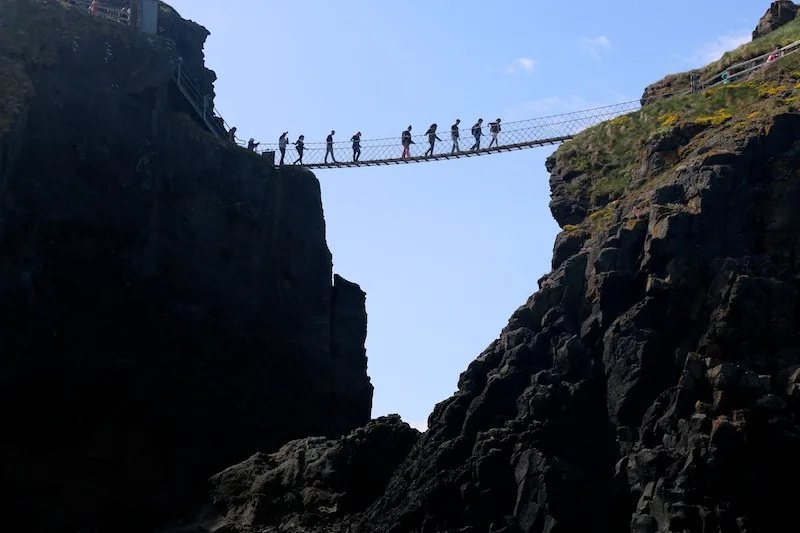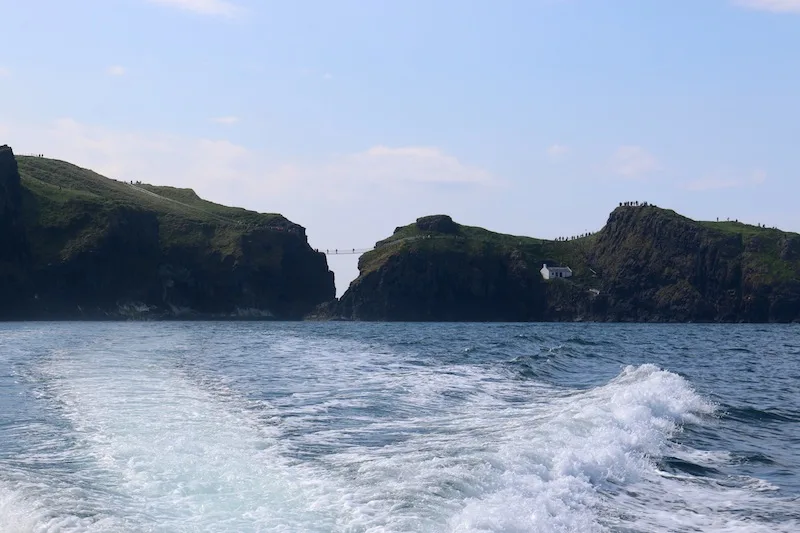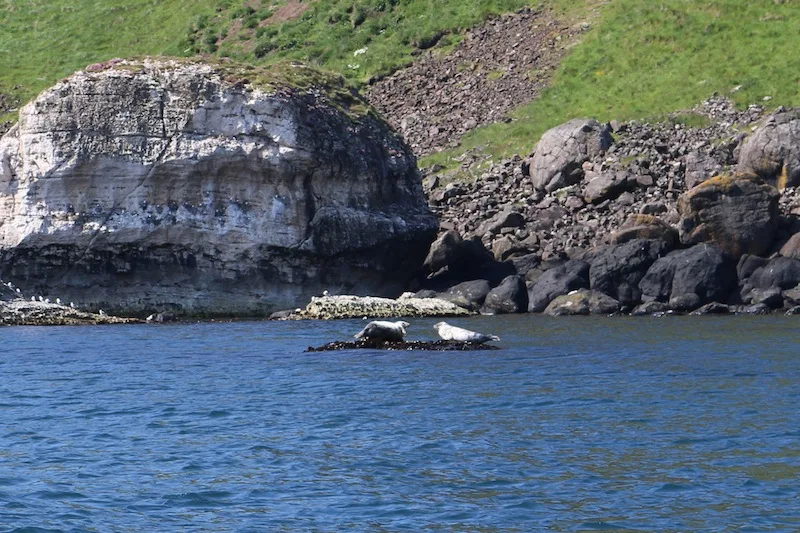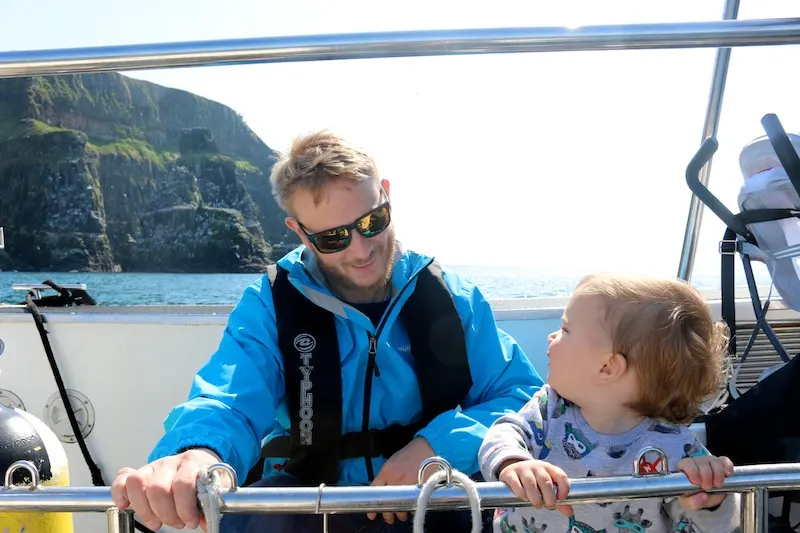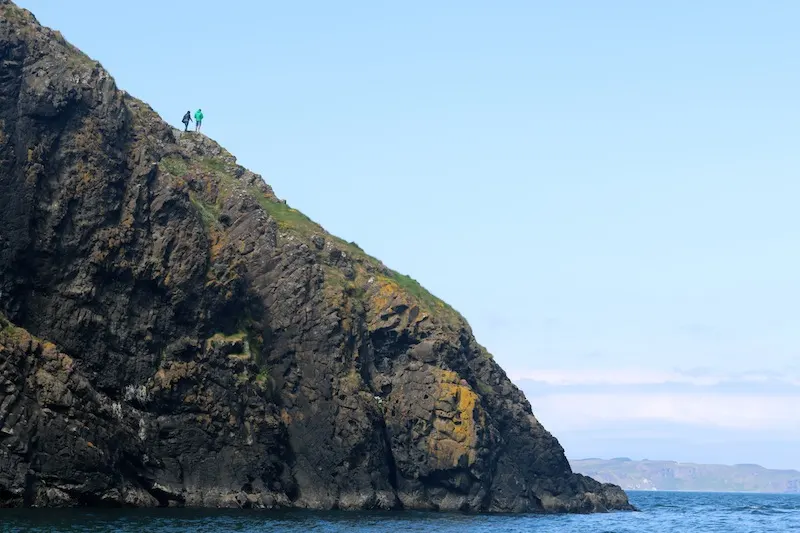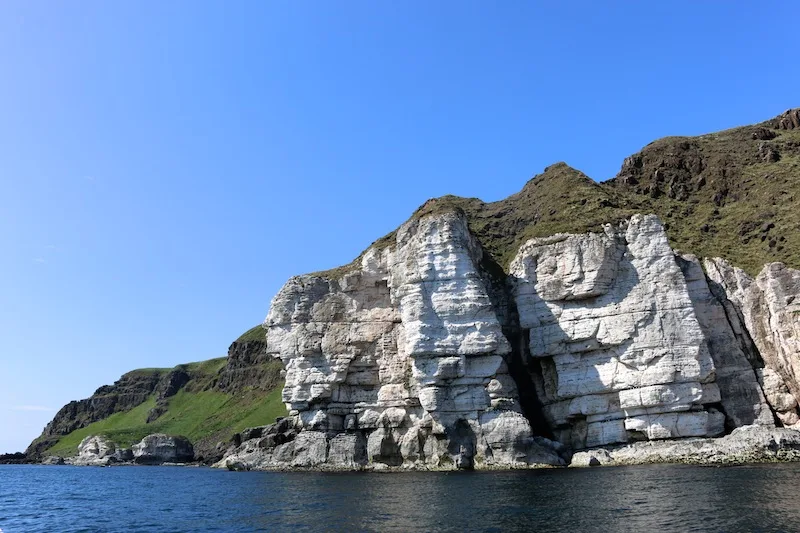 5.30pm – Dinner at Ramore Wine Bar, Portrush (perfect for families)
Whenever possible, I avoid family-friendly restaurants like the plague but Ramore Wine Bar is different. It was bustling and noisy (which is actually what you want with kids so no one can tell how noisy your child is!) but it was also stylish and fun with a great menu, friendly staff, delicious food and gorgeous views.
Top Tip: I'd recommend arriving early and making time for a stroll around Portrush. It's another beautiful town that's not to be missed.
[column size=one_half position=first ]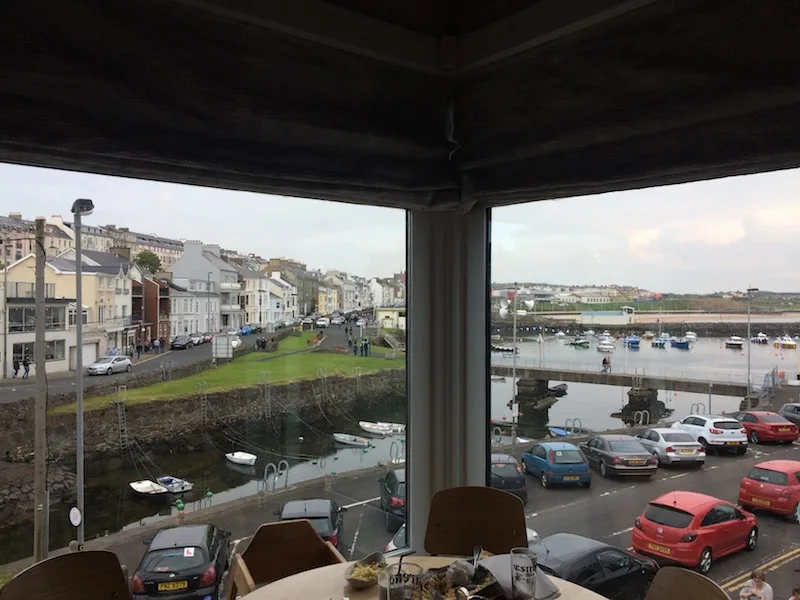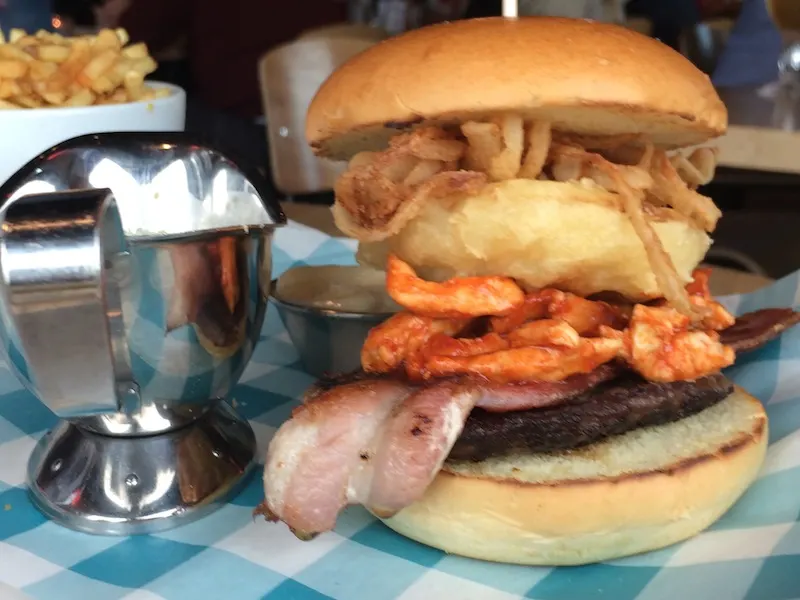 [/column]
[column size=one_half position=last ]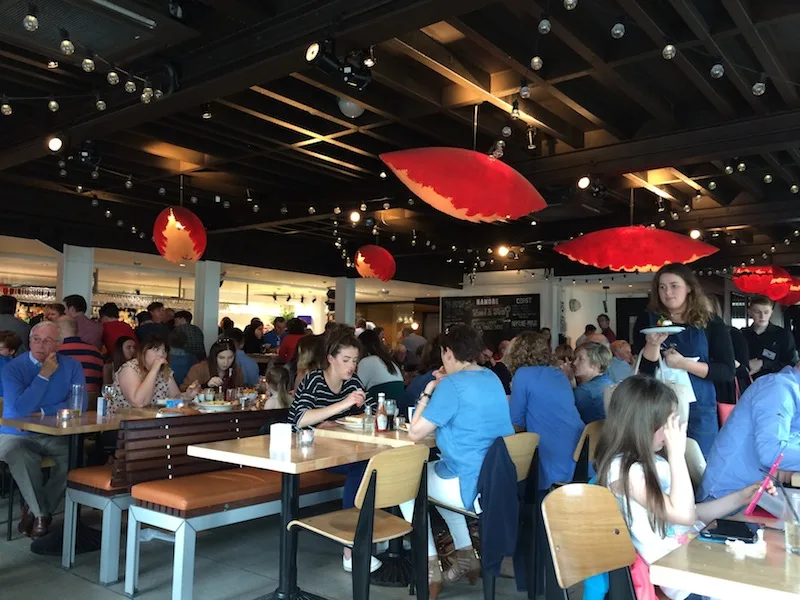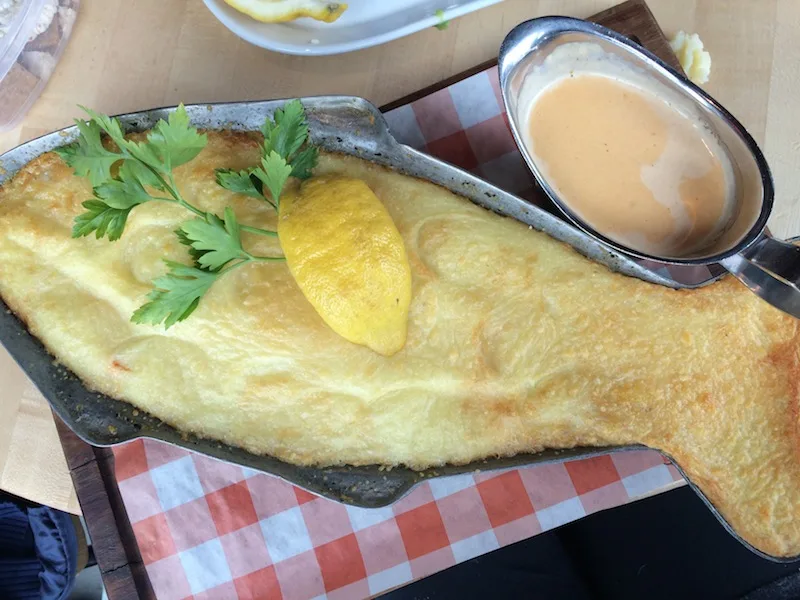 [/column]
Check-in to Roe Park Resort
Roe Park Resort is a beautiful, 4* resort in Limavady. We were lucky enough to have one of the gorgeous suites at the hotel and we couldn't have been happier. If it hadn't been in such a lovely area I think we would have spent all weekend in our suite!
We were greeted with prosecco and chocolates which we enjoyed while George had his first Jacuzzi bath.
Top Tip: If you're travelling with young children it's 100% worth splashing out on a suite, no matter where you stay – especially if they're light sleepers. We were all tired after a busy day so it was great to put George to bed in the bedroom while we relaxed in the living room and didn't need to worry about being quiet and tip toeing around him.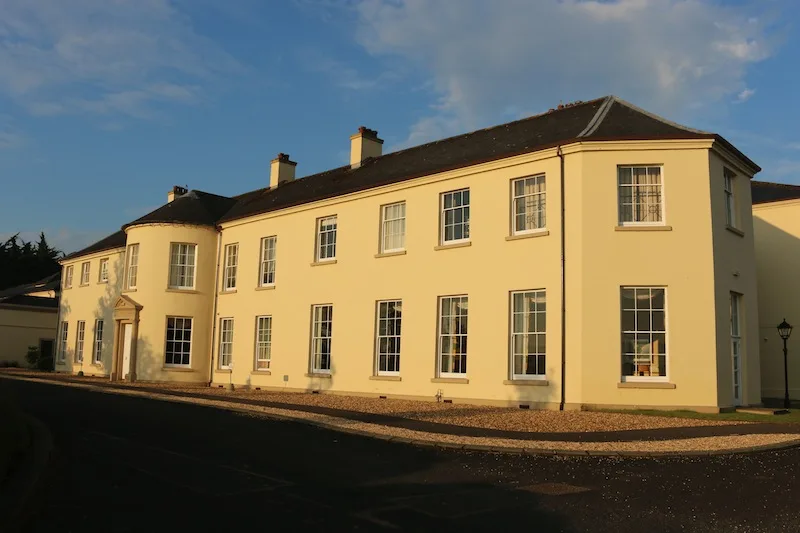 [column size=one_half position=first ]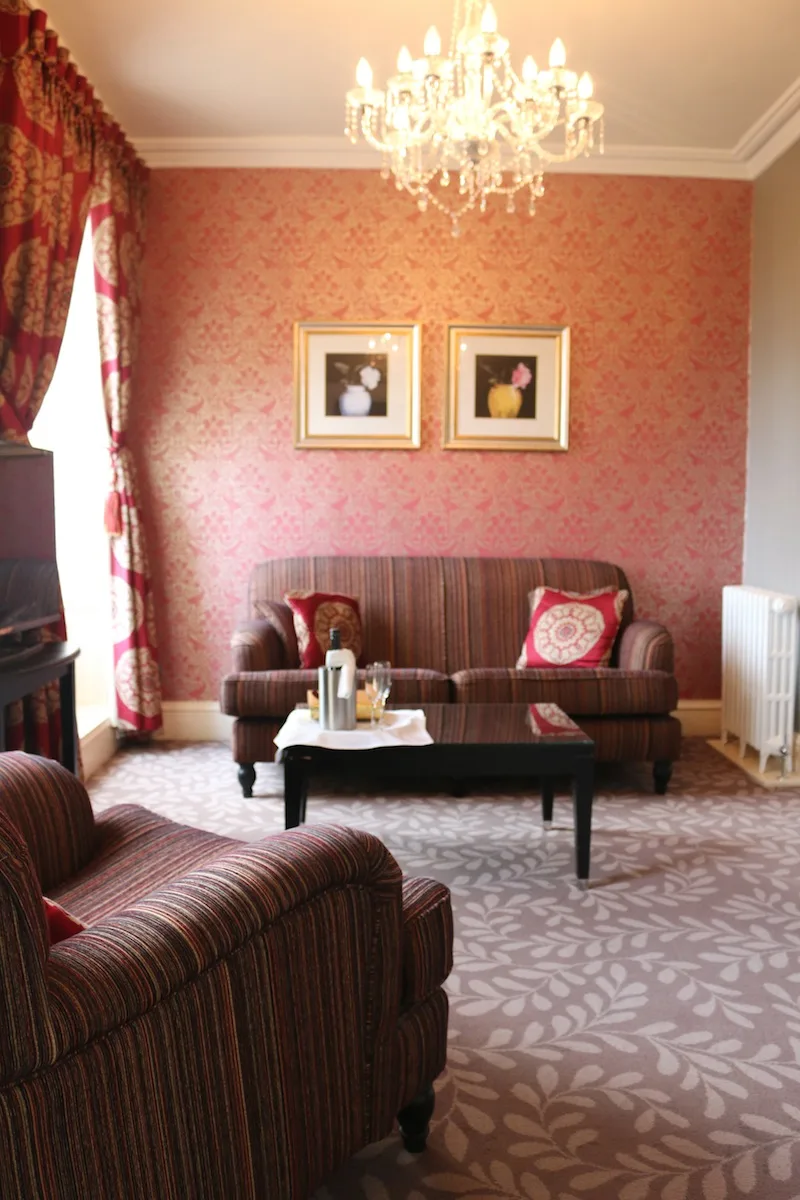 [/column]
[column size=one_half position=last ]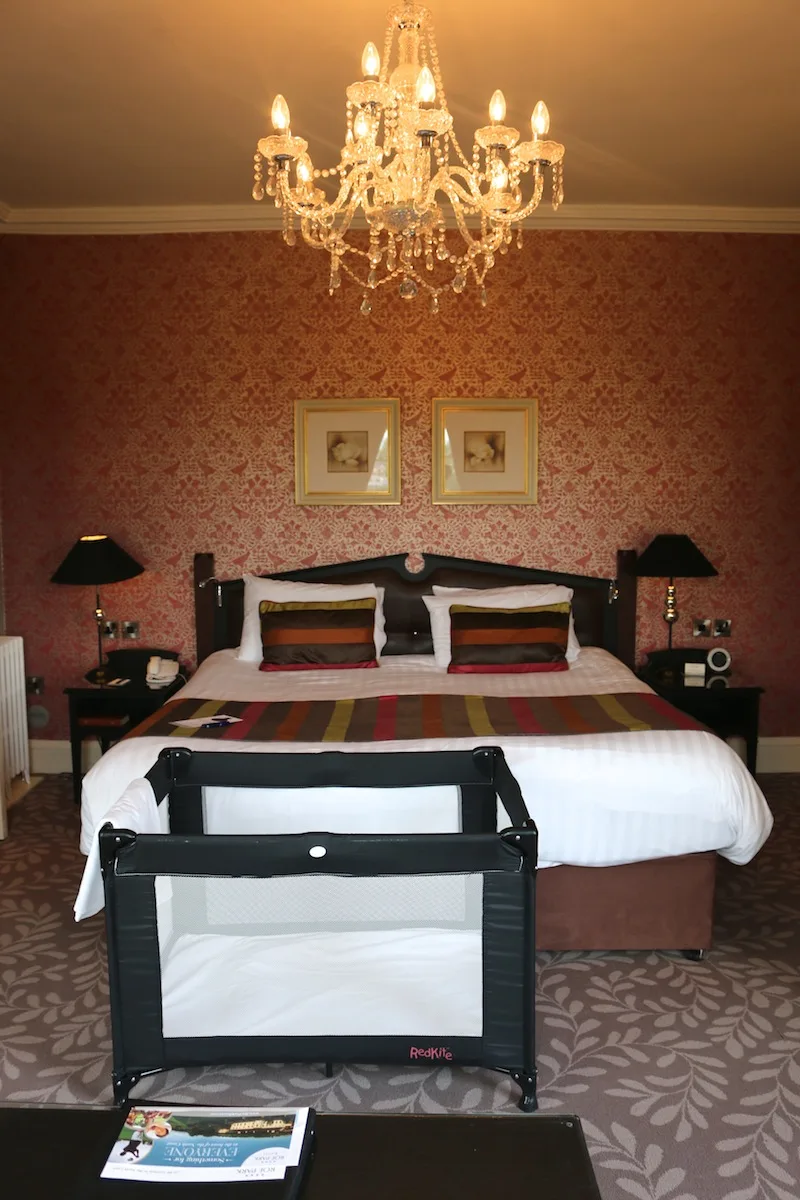 [/column]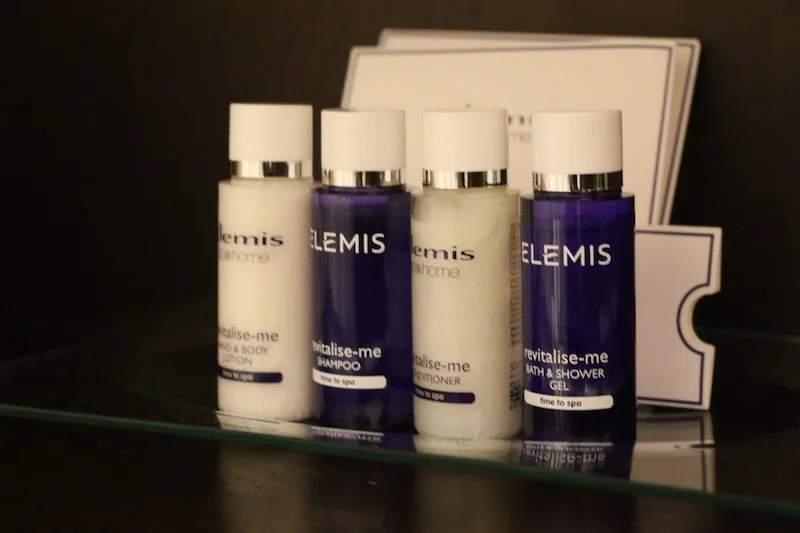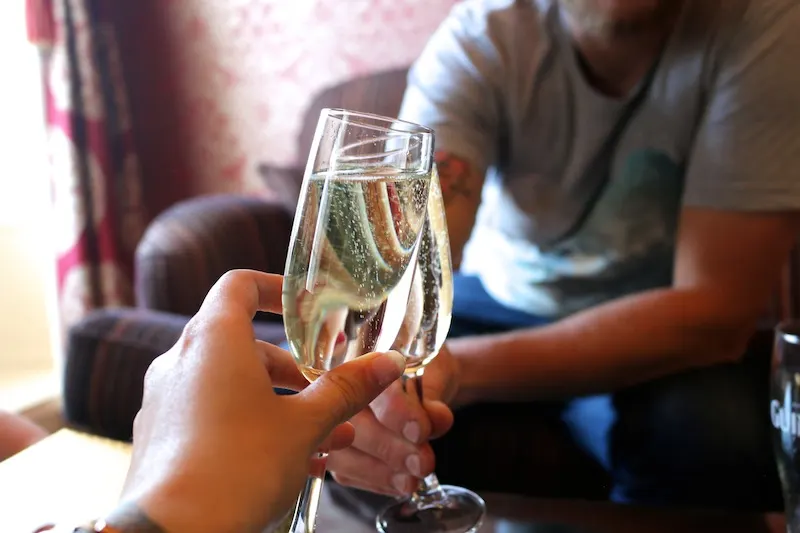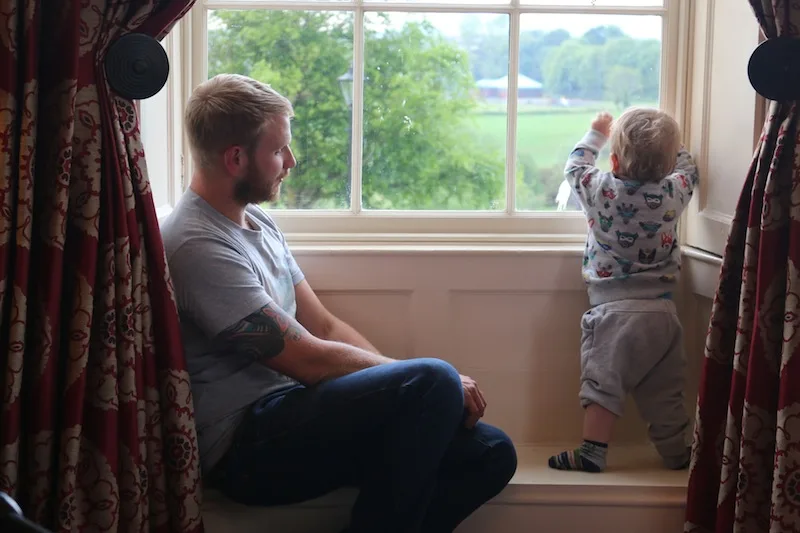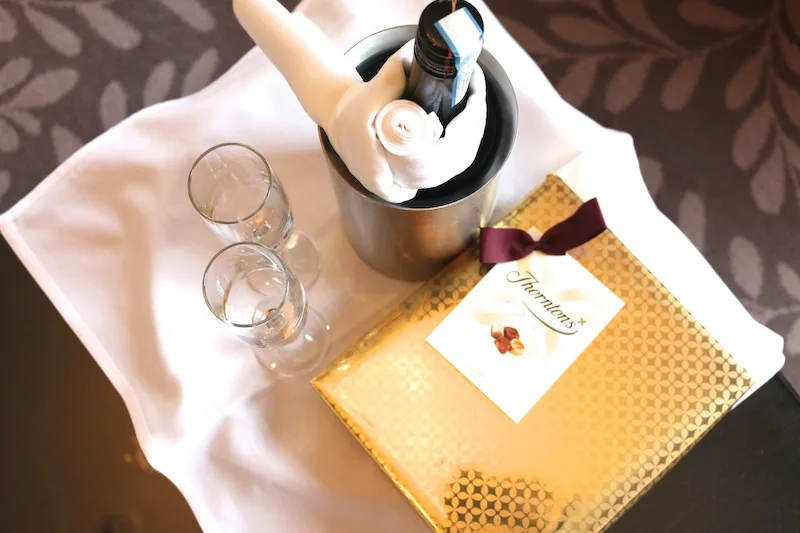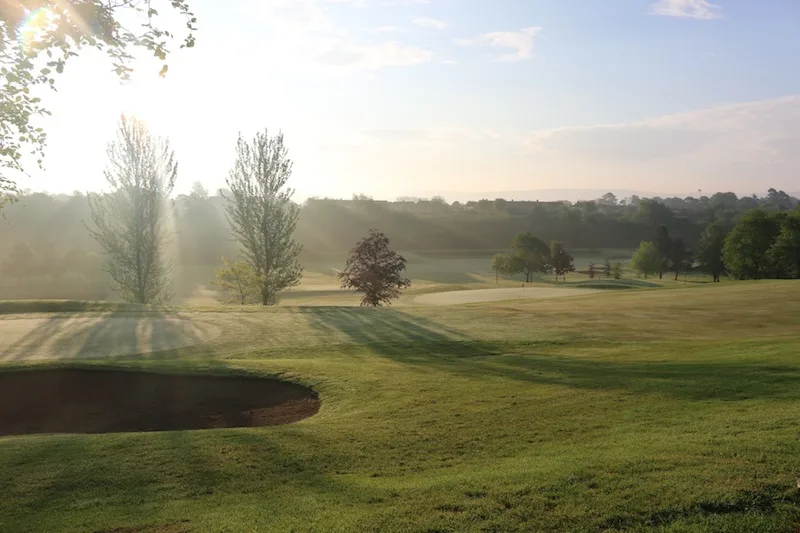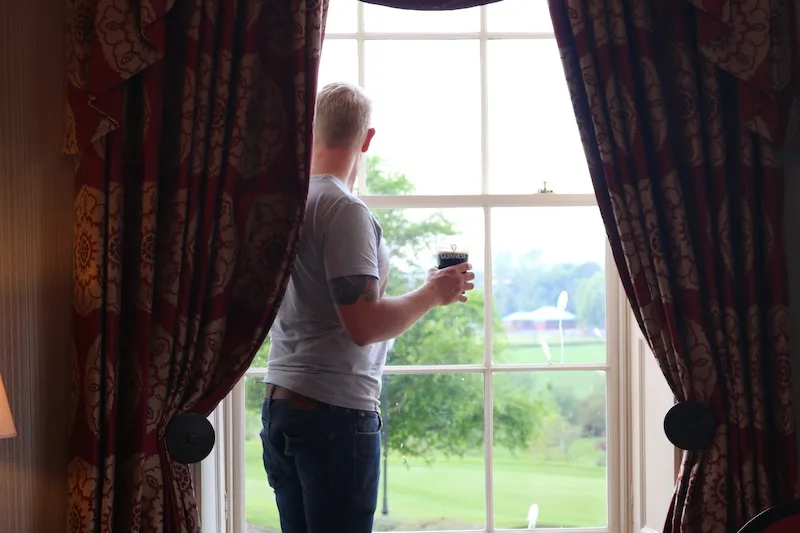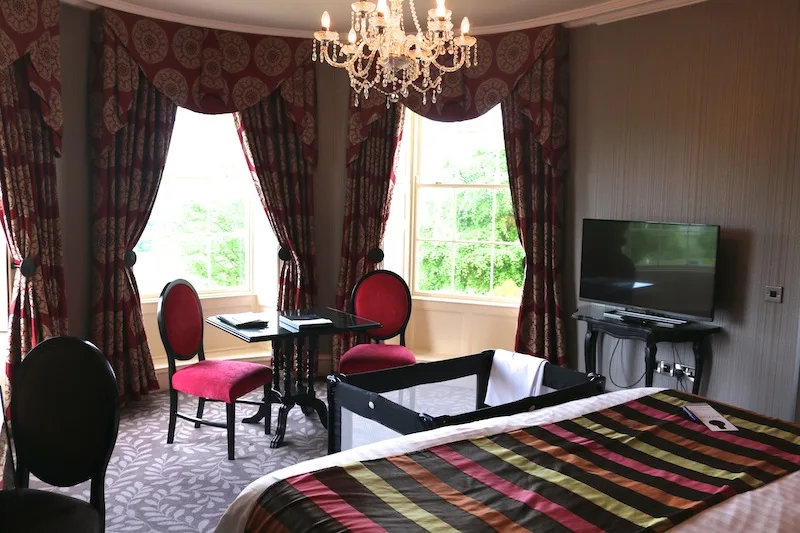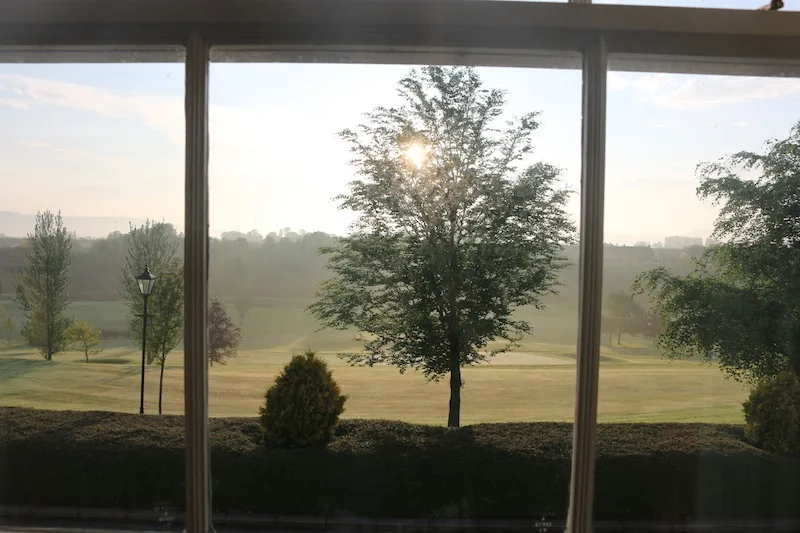 ---
Saturday – Day 2 of our weekend in Northern Ireland
We were up early and one of the first guests at the breakfast buffet. We had a feast to set us up for a busy day.
9am – Our first stop was Roe Valley Country Park
We were surprised to find we were pretty much the only people in the country park but enjoyed the peaceful tranquility as we strolled along the river.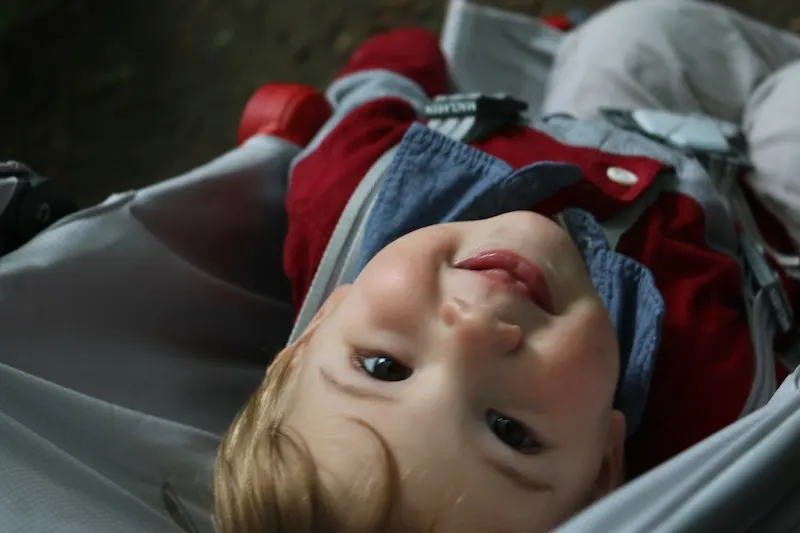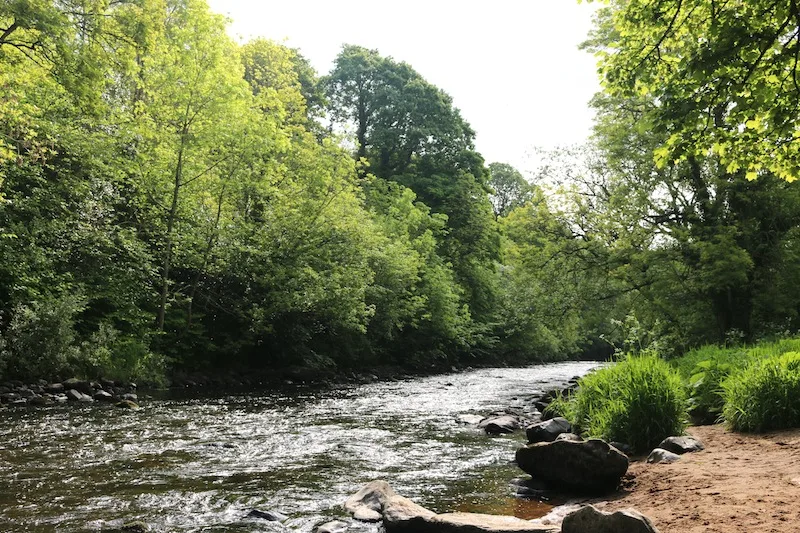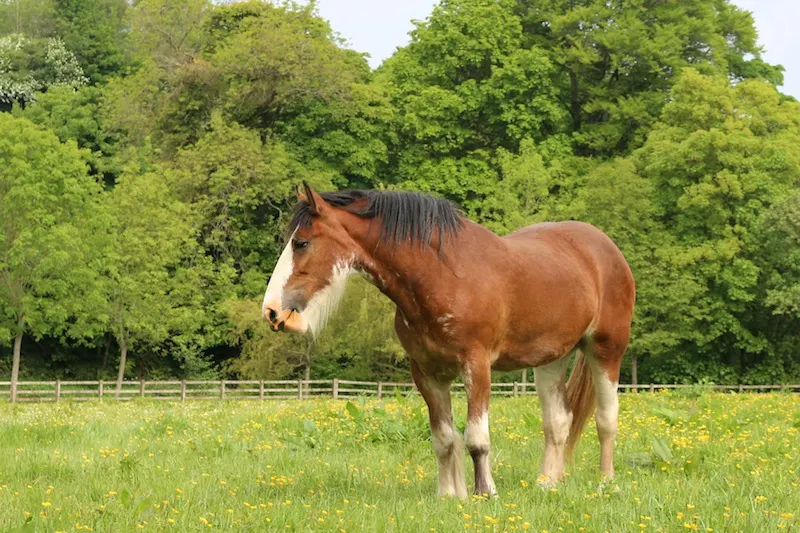 [column size=one_half position=first ]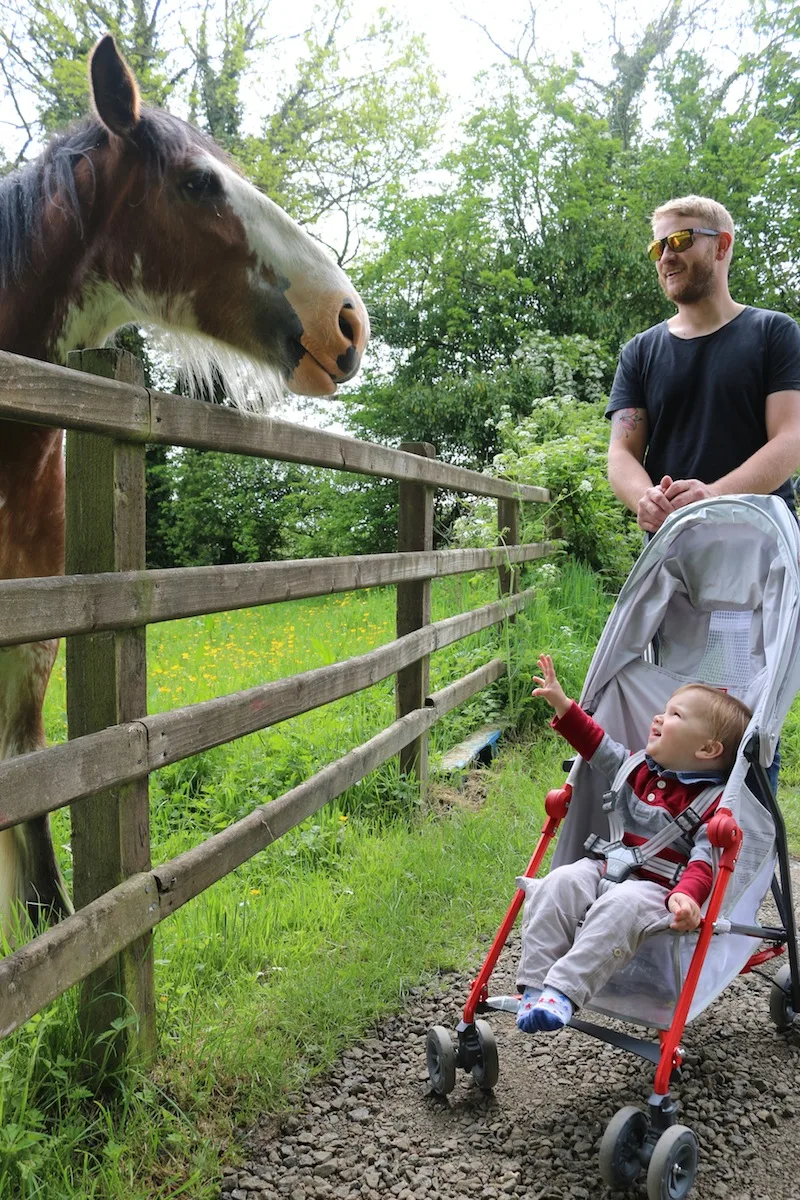 [/column]
[column size=one_half position=last ]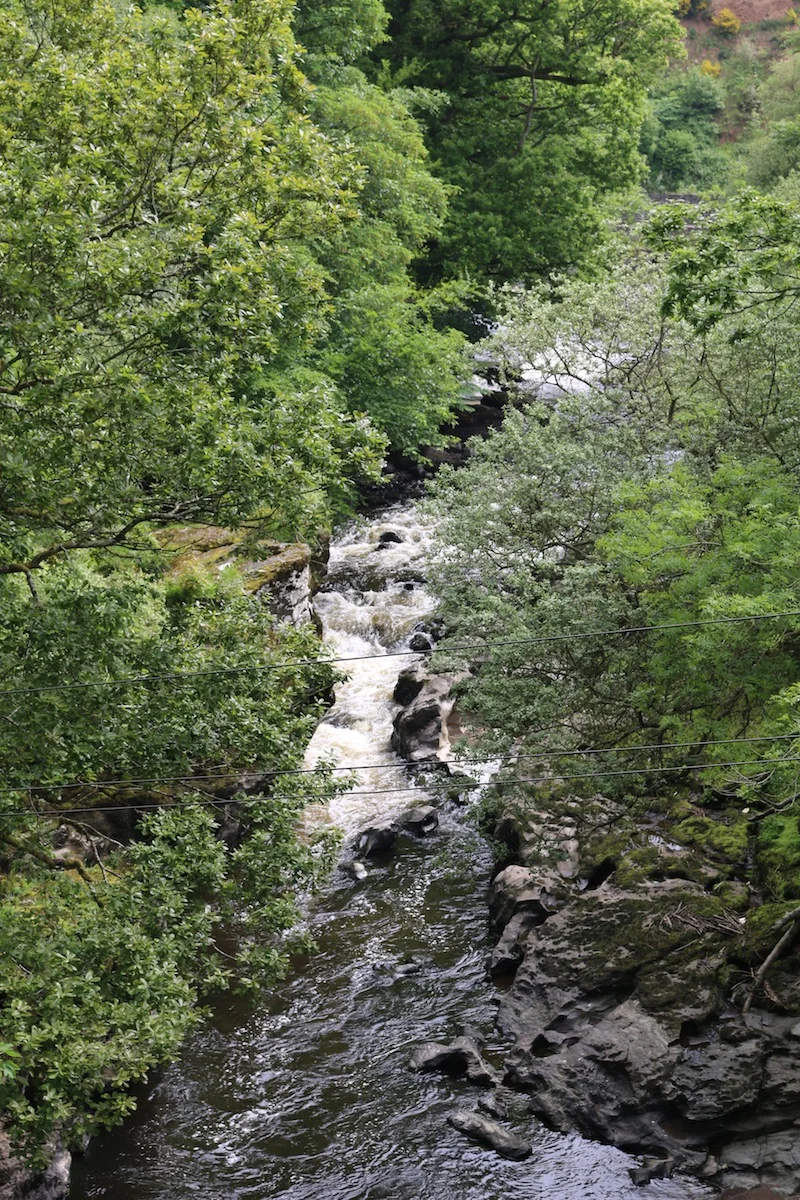 [/column]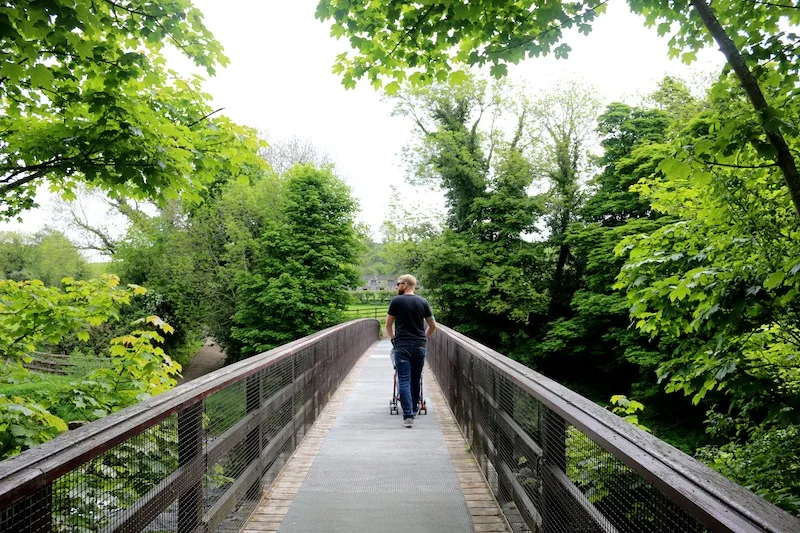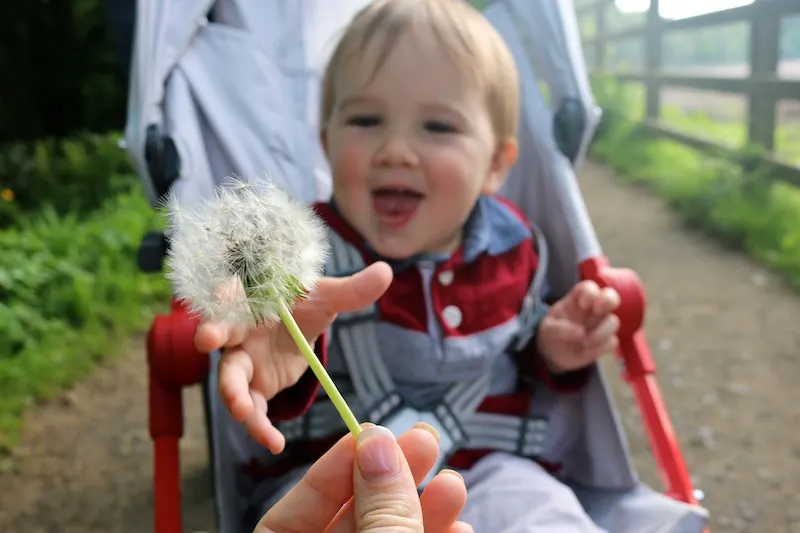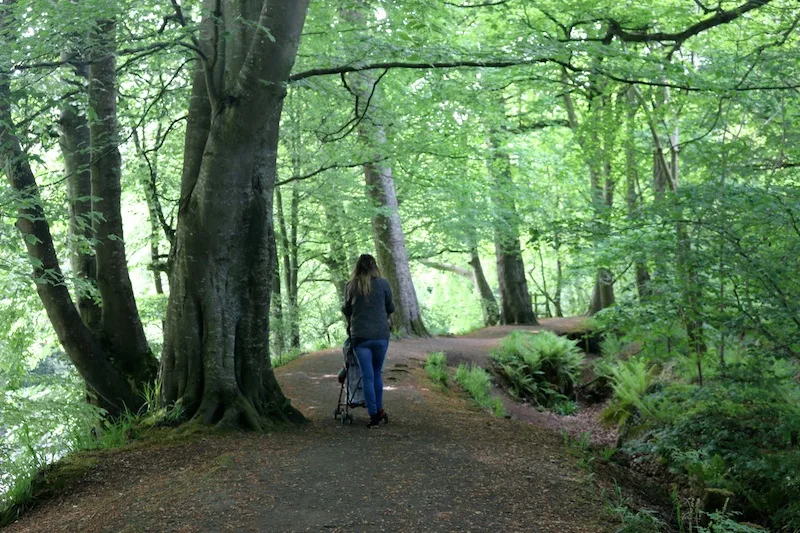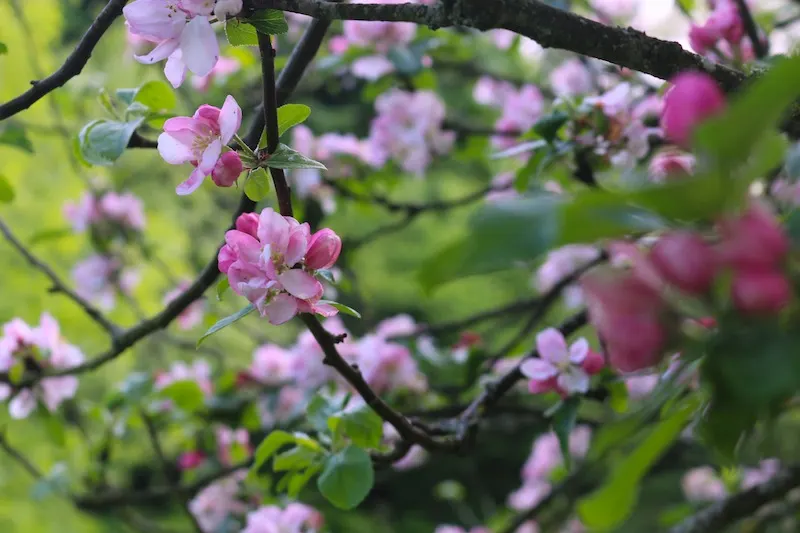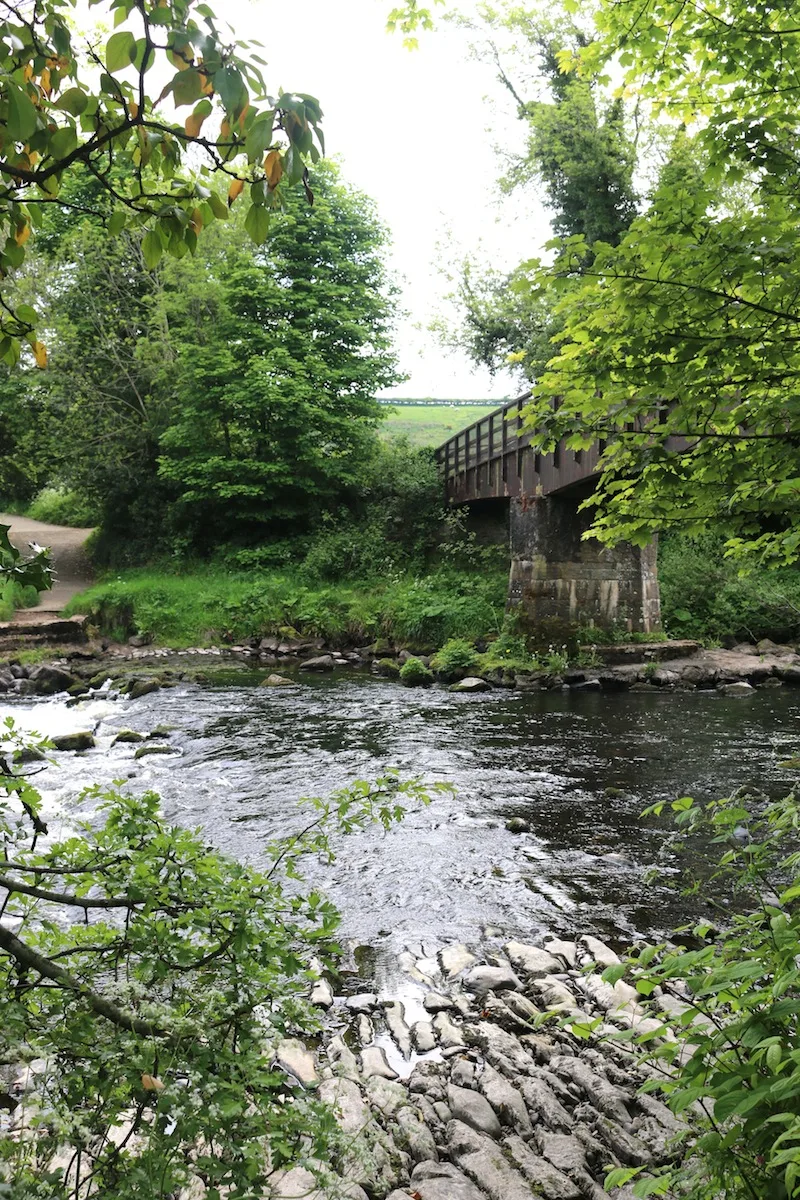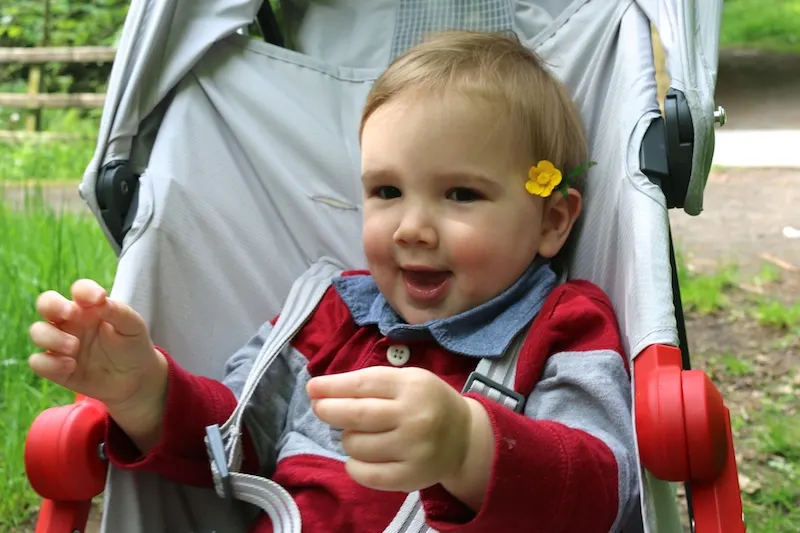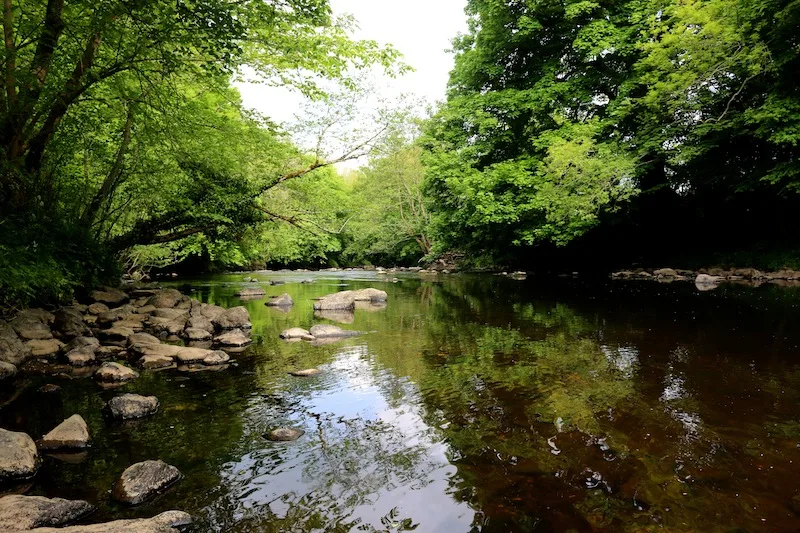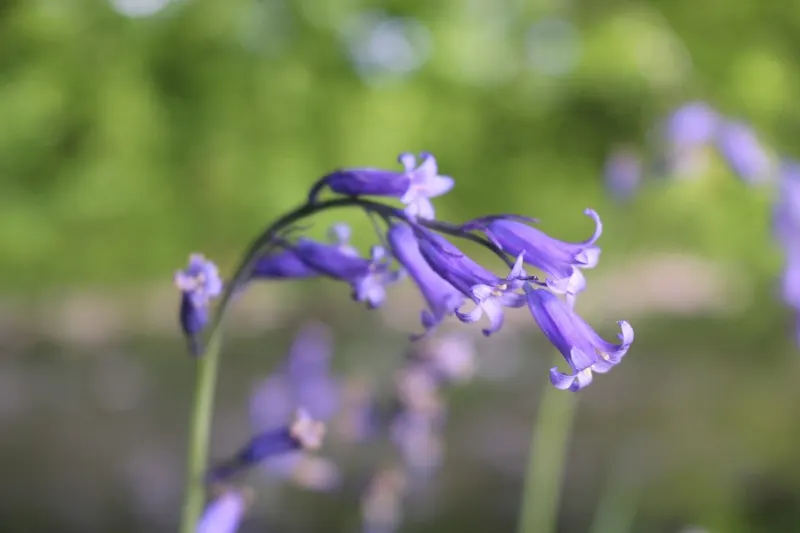 12.30pm – Lunch at the Causeway Hotel
We managed to walk up an appetite before we headed to the Roe Park Resort for lunch. The hotel is a grand and elegant hotel and restaurant just next to the Giant's Causeway. I was a little nervous about taking a toddler here as it was pretty fancy. I needn't have worries as it had a lovely, relaxed and welcoming feel and the staff were all lovely. We enjoyed homely pies and fish and chips.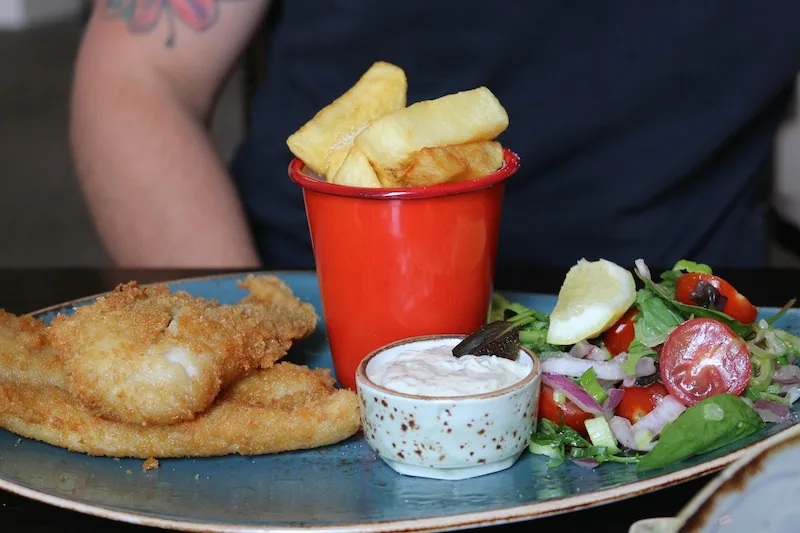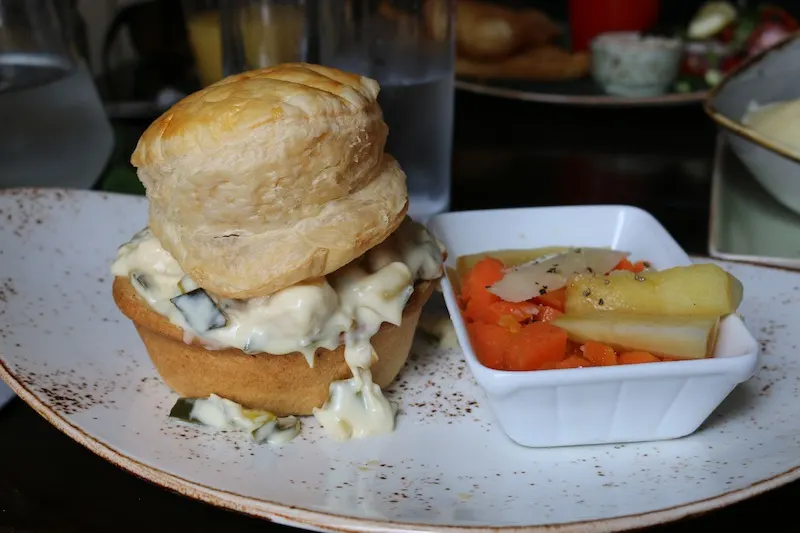 1.30pm – The Giant's Causeway
Another incredible highlight of the trip was visiting The Giant's Causeway. You've probably see countless photos of this incredible place but it really has to be seen to be truly appreciated.
Over 40,000 basalat columns interlock along the coast creating enormous stepping stones along the coast. The scene was created by a volcanic eruption but I prefer the legend that claims it was built by giants.
The Giant's Causeway is a UNESCO World Heritage Site managed by the National Trust.
Top Tip: As you would expect, the Giant's Causeway is VERY busy. You may want to swap your visit to Roe Valley Country Park with the Giant's Causeway and get there as early as you can. There will be crowds at any time of day but we were told it was quieter first thing in the morning.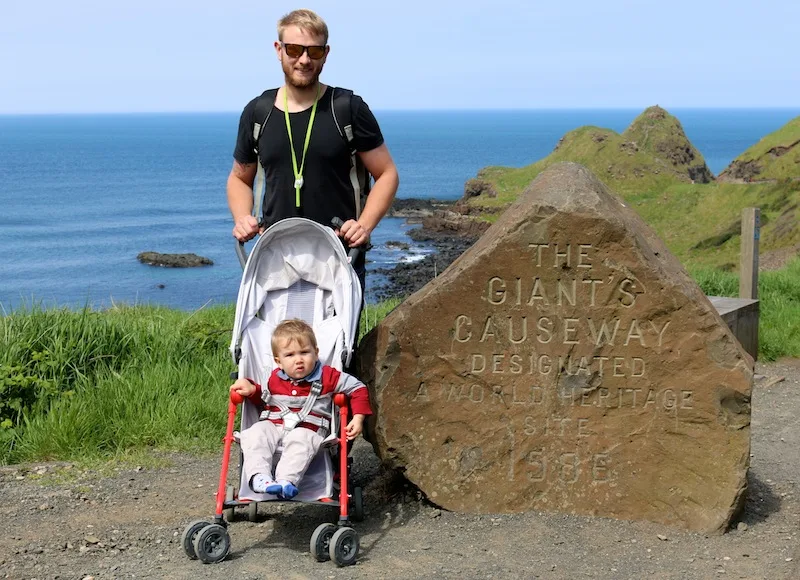 [column size=one_half position=first ]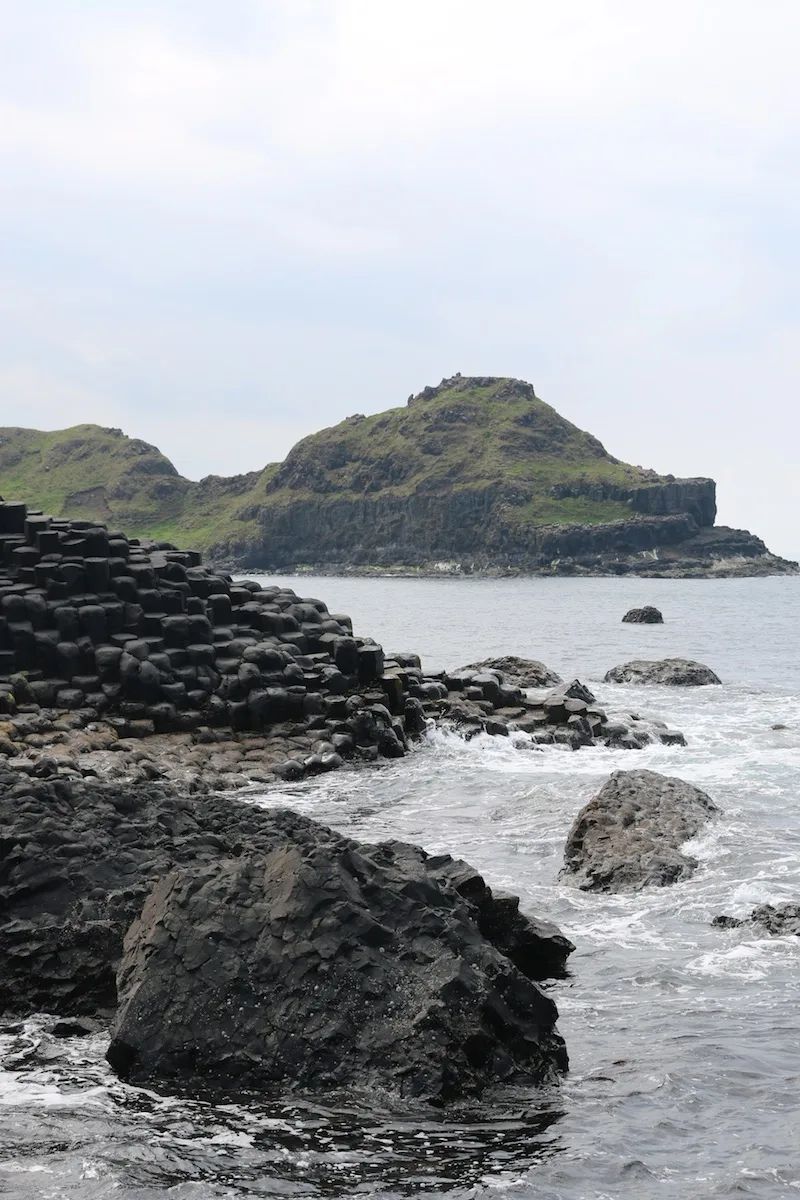 [/column]
[column size=one_half position=last ]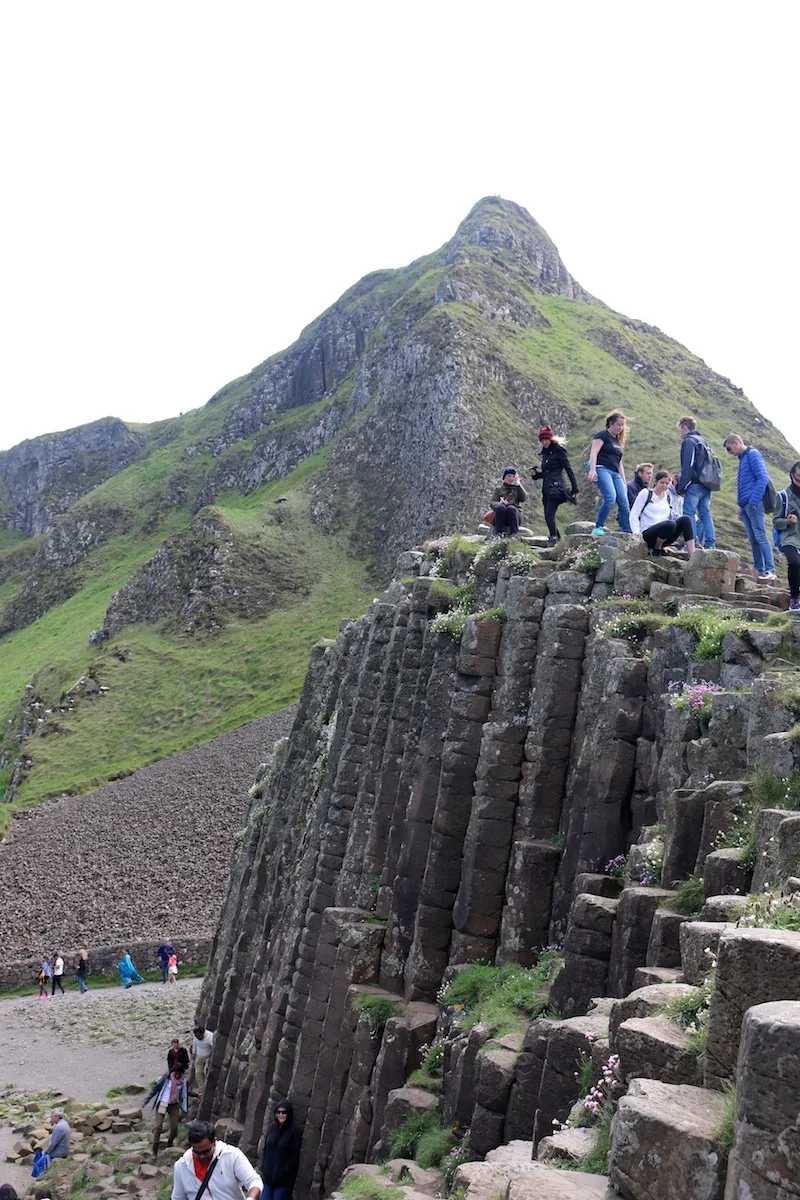 [/column]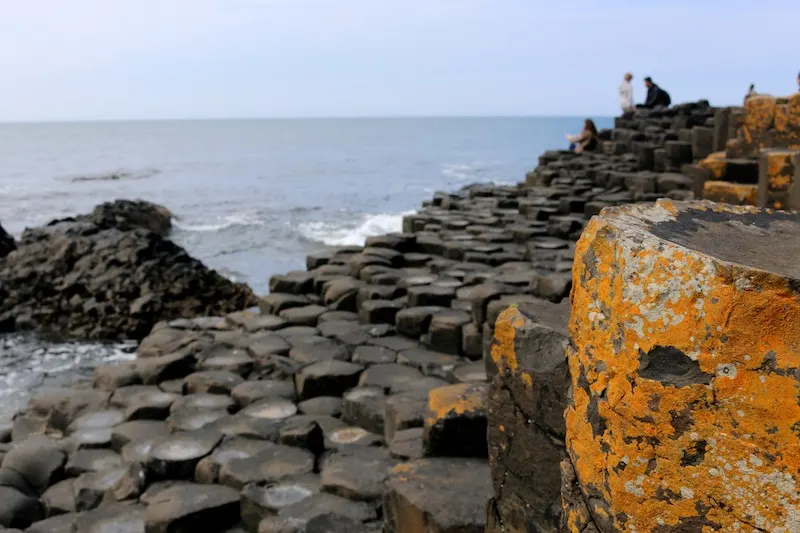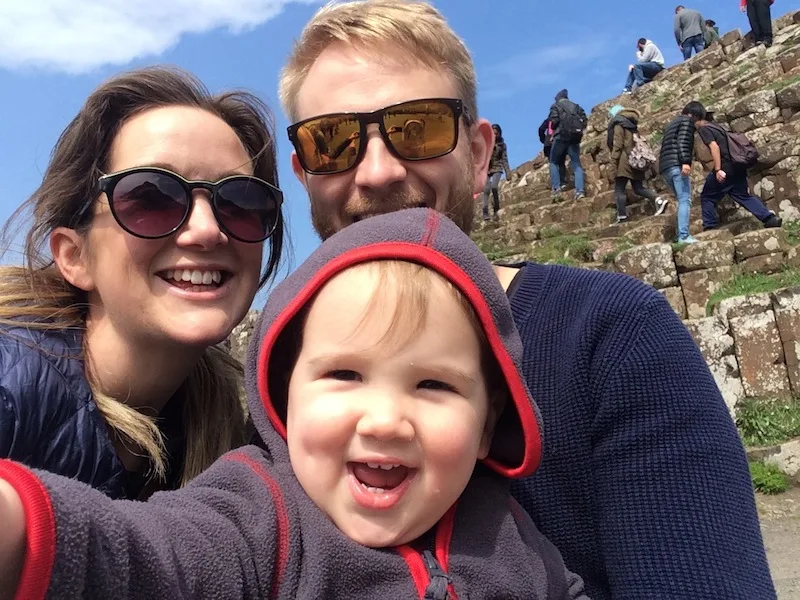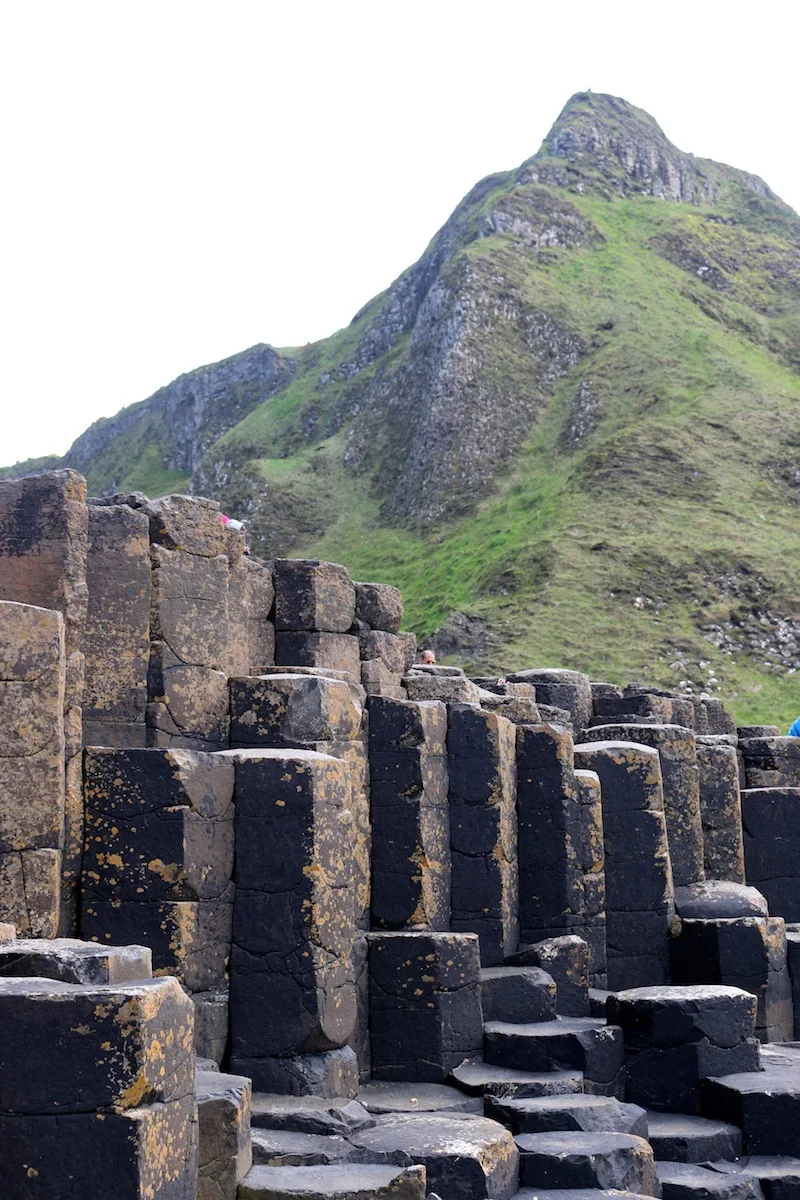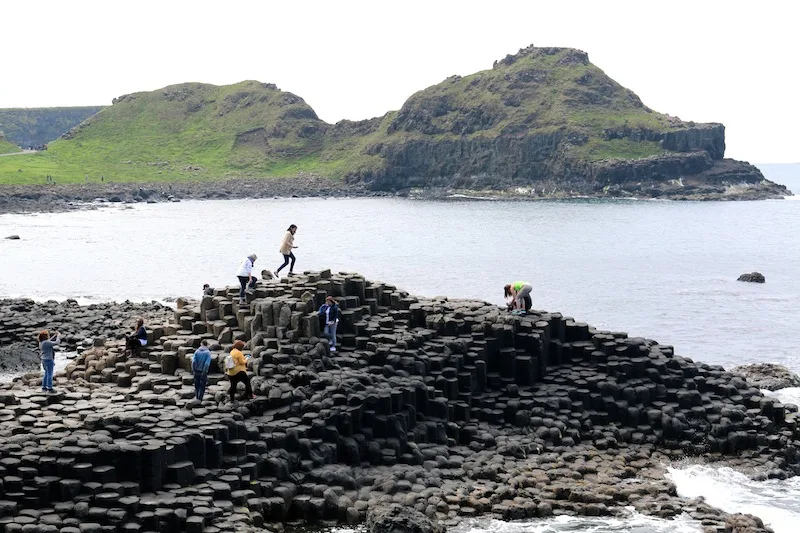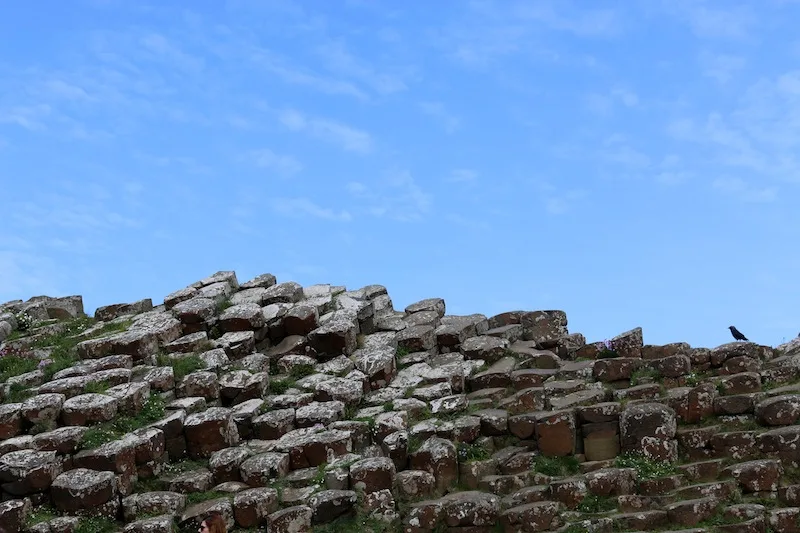 3.30pm – Carrick-a-Rede Rope Bridge
This famous rope bridge was originally erected by fishermen fishing for Atlantic salmon over 350 years ago. It has been restored and links the mainland with the tiny island of Carrickarede It now provides a fantastic photo opportunity and nail-biting walk!
Top Tip: Once again, this bridge was very, very busy. It was actually a bit too busy with a long queue and large crowds. I'd go as early as possible and take a flask of coffee and some munchies to keep you entertained if you do end up queuing.
Dinner at the Lime Tree Restaurant
This lovely little restaurant is a local treasure using locally sourced produce for the traditional menu.
This would be a great place for a quiet, romantic meal but isn't the place to be with a tired toddler. We enjoyed our delicious meals but left fairly quickly to have room service desert at the hotel the second George fell asleep!
Sunday – Day 3 of our weekend in Northern Ireland
We headed to Belfast on our third day in Northern Ireland. It was a beautiful, sunny day and there was a maritime festival in the Titanic Quarter.
Top Tip: Belfast in beautiful and well worth a look around but nothing opens until 1pm so don't expect to do much shopping before your flight home!
Other options for your final day include:
Visit Mussenden Temple and Dunluce Castle

Explore Binevenagh Mountain or Glenariff Forest Park

Enjoy a drop of the world famous whiskey at the The Old Bushmills' Distillery
Pin this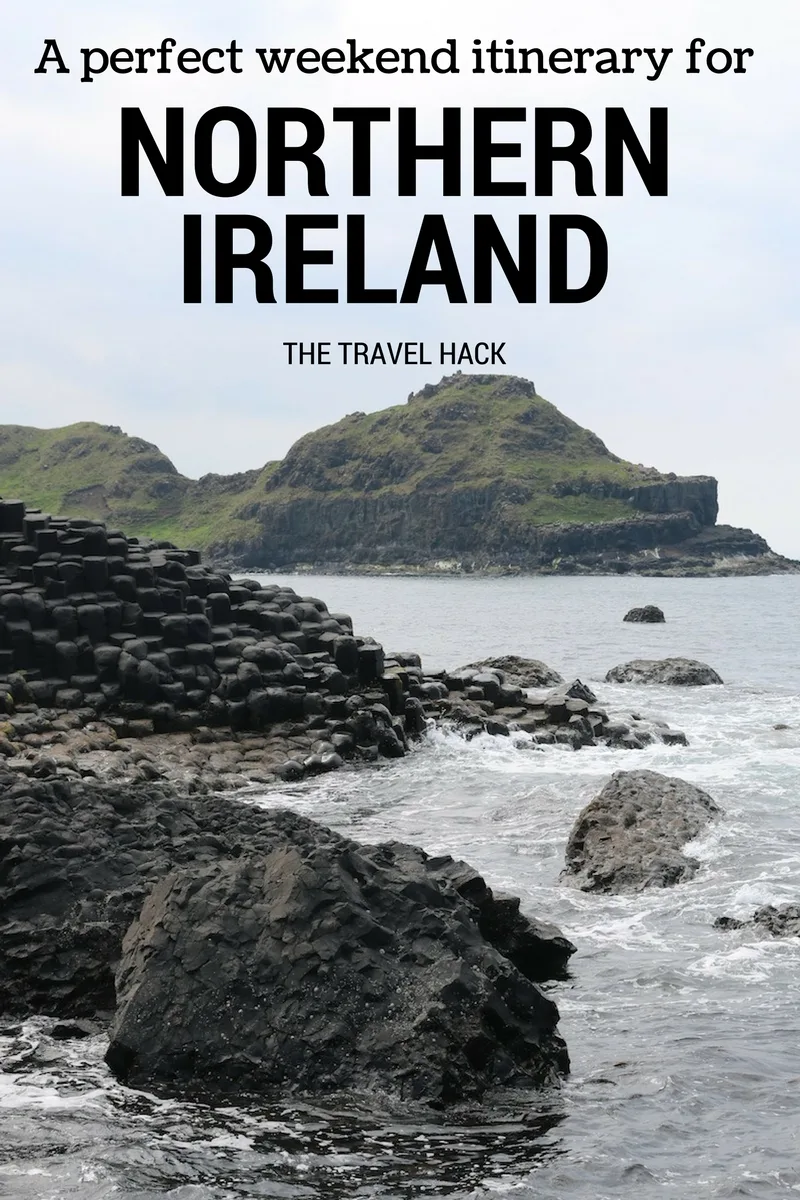 Massive thanks to the Causeway Coast and Glens Borough Council for organising our trip. We had such a great time and I thoroughly recommend this area of Northern Ireland for a weekend break.