We might not have the best reputation for our food in the UK but, these days, British restaurants are serving up a gastronomical storm. London is home to some of the best restaurants in the world and the variety and choice is so extensive it can often be overwhelming!
When choosing a London restaurant it's not just about the food anymore – and to be honest sometimes it's not even about the food at all – it's about the cocktail menu or the perfect doorway for an Instagram shot. In my case it's about the views.
I'm sure you've heard people saying that the best way to see a city is to get up high and dining in London is no different. There are plenty of gorgeous restaurants in the city, but I think you might as well get your money's worth ('cos let's face it, eating out in London isn't cheap).
Top food, top drinks, top views and well, I'll leave the top company for you to sort out.
These London restaurants offer impressive views of the city, so they're great for a special occasions like an anniversary meal or birthday. Feel free to send this blog post to someone as a not so subtle hint!
So let's go to it…
London's best restaurants with a view
Where? Sky Garden, 1 Sky Garden Walk, London, EC3M 8AF
Why? There are a few places to eat in London's Sky Garden and Darwin Brasserie is my favourite. The decor is very easy on the eyes, the views are great and the food isn't pretentious or expensive. My sister had the fish and chips, which arrived on an adorable plank with a cute pot for the chunky chips.
A dinner reservation also allows you to enjoy the Sky Garden itself. It's a big open space, high up in the London skies, filled with plants and greenery. Huge glass panels allow you to enjoy London from a new view point. Wander round at your own pace.
The Travel Hack Tip: Book dinner for a little before sunset, so you can see London in the day light, enjoy the sunset skies as you eat and then see London twinkle as you make the most of Sky Garden.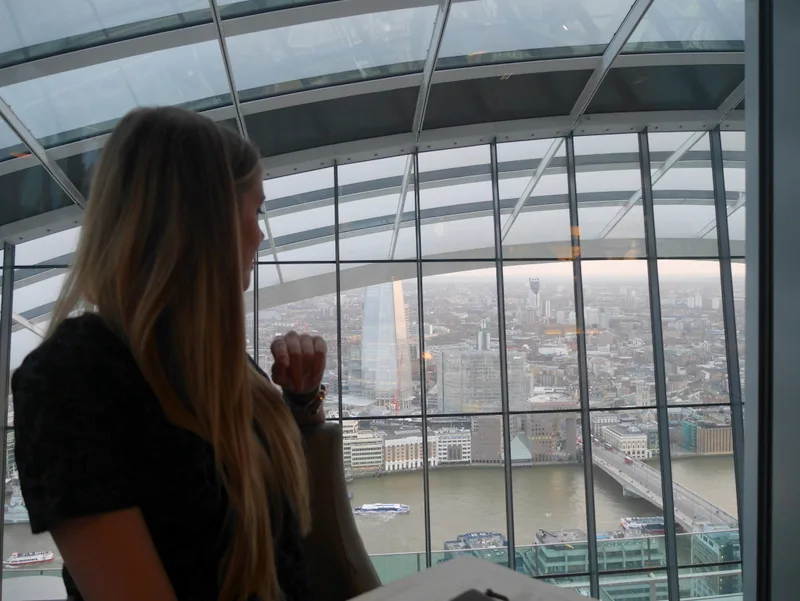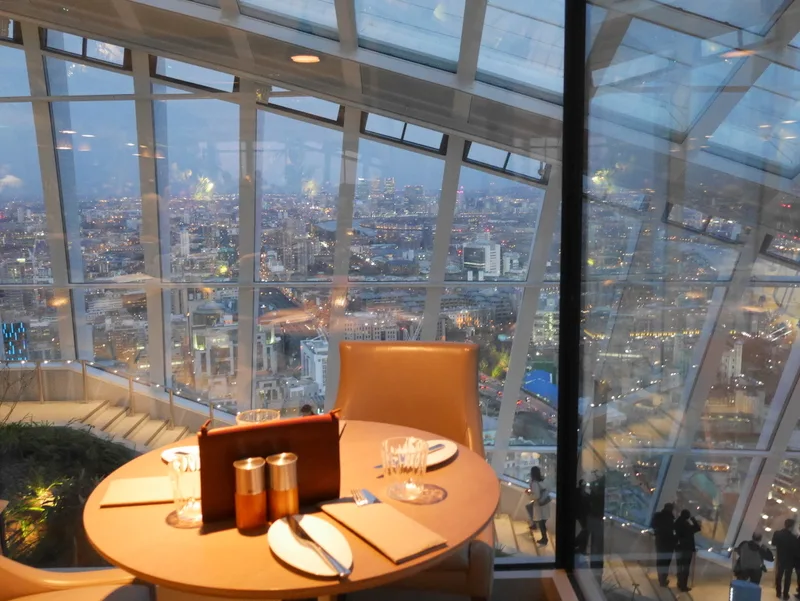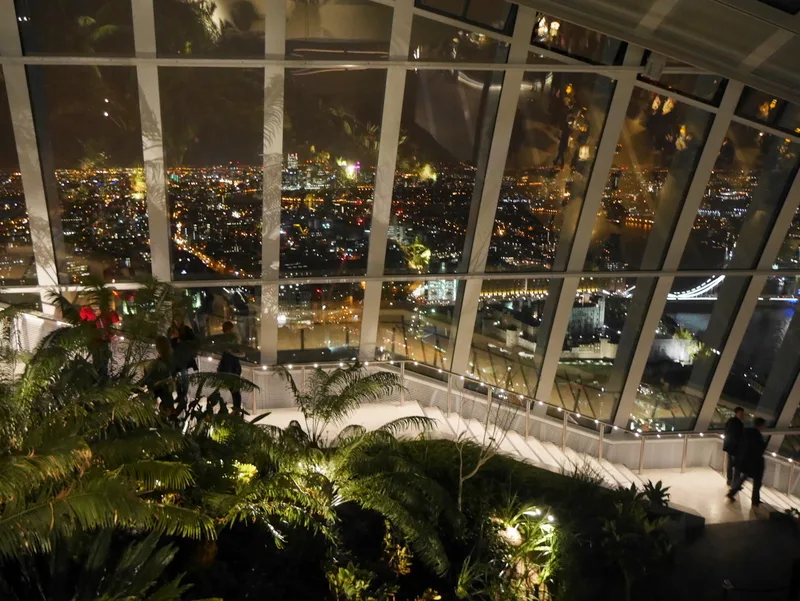 Where? 110 Bishopsgate, Heron Tower, 110 Bishopsgate, London, EC2N 4AY
Why? Located on the 40th floor of one of London's tallest buildings, 110 Bishopsgate, this restaurant offers panoramic views of the city. The best bit? No, it's not the waffles (though they are pretty good) or the gorgeous bar area (it's a stunner), it's open 24 hours a day.
Yep, you can eat at 1pm or you can eat at 1am. You decide! It's a tricky decision to make though – do you go for a meal around sunset or sunrise? Monica and Elle went for breakfast and the views were incredible. See here for more pics and their review.
I don't think the food (British cuisine with European influences) correlates to the wait list (book ahead!) or warrants a special trip to London just to dine here, but I'm a vegetarian so maybe it is if you have the classic 'duck and waffle' dish?! Whatever meal you go for, there's no disputing those lovely views (or mimosas!).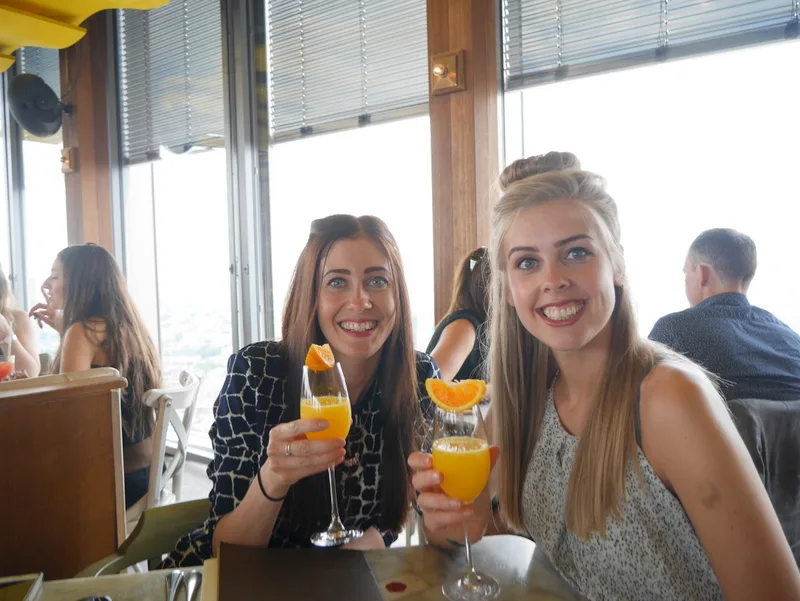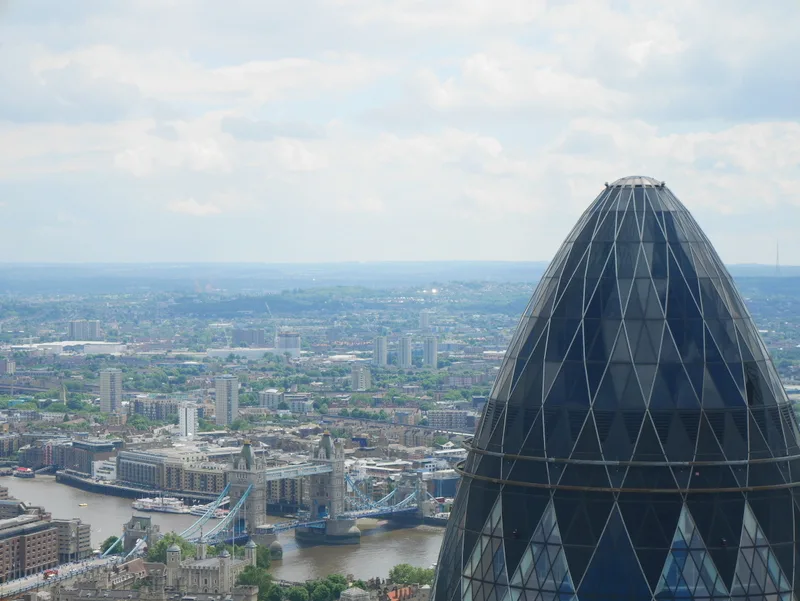 Where? 535 Oxford St, London, W1C 2QW
Why? This pop-up restaurant has cocktails in cans, bar swings and views over famous Oxford Street. Need I say more?!
The food is street food style and with delicious little dishes but the menu is limited if you're a vegetarian like me!
It's an ideal place to impress a first date or new colleagues – casual enough to look like you haven't tried too hard, but cool enough to earn you some points.
This place is a pop-up for the summer, so you'll need to visit pretty soon to enjoy it. Monica, Elle and I visited not too long ago, so you can see what we thought and more pics here.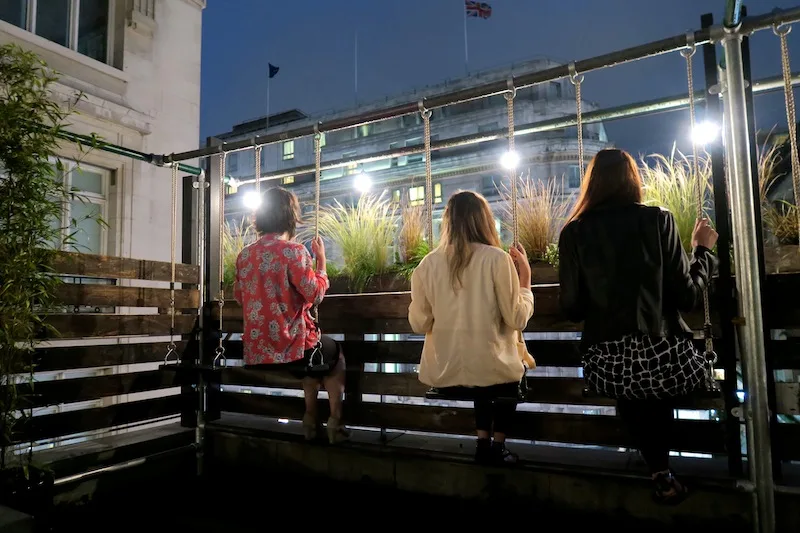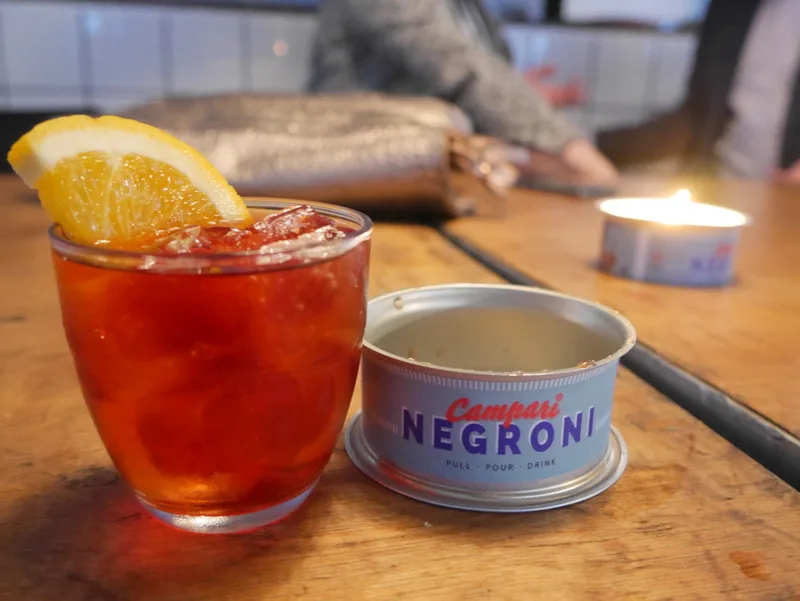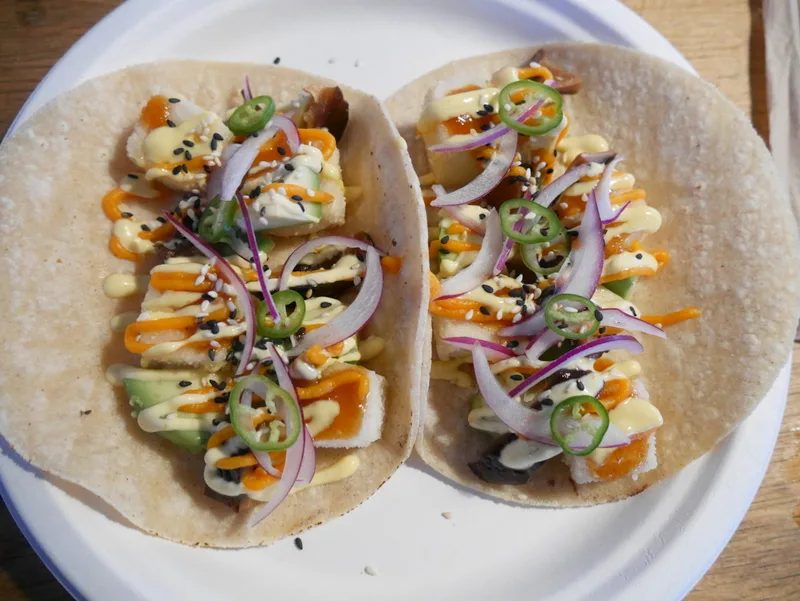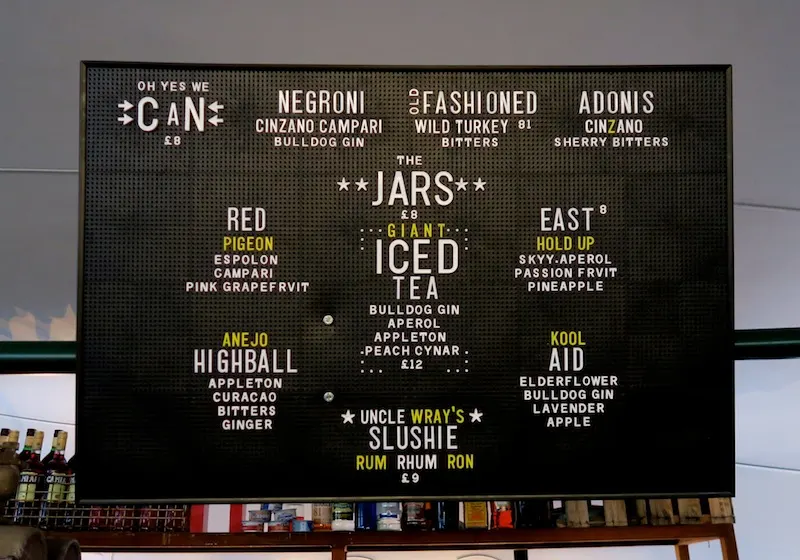 Where? Level 32, The Shard, 31 St. Thomas Street, London, SE1 9RY
Why? Everyone talks about Aqua Shard, but what about the other restaurants at The Shard? Oblix is on the 32nd floor and offers sweeping views of the city. It offers a modern and sophisticated setting, yet it's a relaxed dining experience. Phew!
The menu includes items that have been spit-roasted, charcoal grilled or wood-fired. I don't think you need to know what they are though because there's a pecan nut and chocolate bar with crunchy bourbon ice-cream. Erm, hello!
Where? 8th floor, Oxo Tower Wharf, Bargehouse Street, South Bank, London, SE1 9PH
Why? There's more than one veggie option (hurrah!), the cocktails have their own hashtag (#drinkinaview) and the river views are gorgeous.
If that's not enough, there's also an OXO chocolate plate; 'four little tastes of total chocolate indulgence'. Oh, and you can have a cocktail masterclass.
So, what are you waiting for? London's pretty skyline is ready for you.
Pin for later…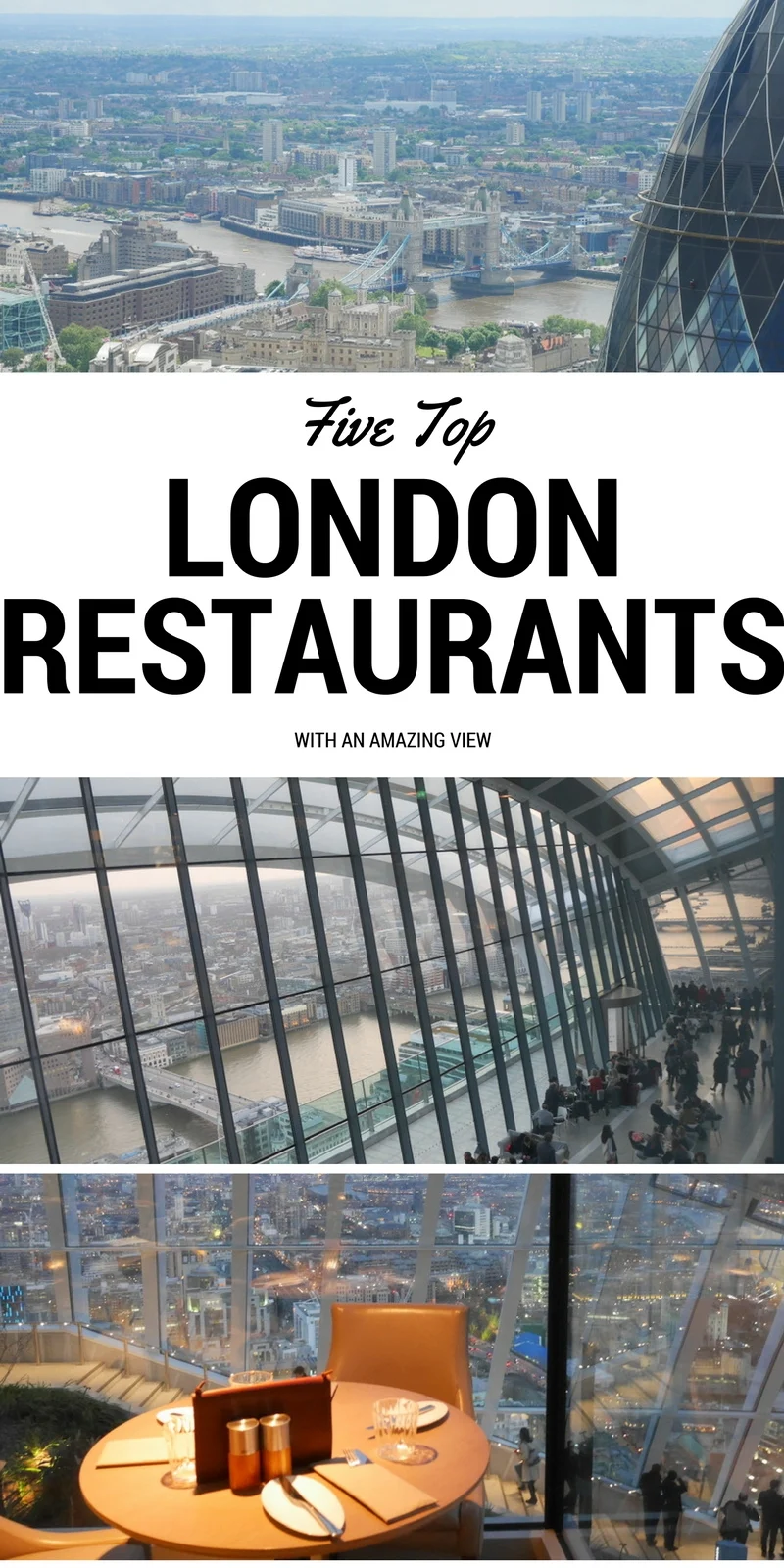 Have you been to any of these places? Do you have any to add to our list?